Most Popular Cuisines & Foods on Instagram
There is no stopping the fascination in all things food. It may have all started with celebrity TV chefs and culinary competitions, but social media, and Instagram in particular, has turned viewers into creators as virtually millions of people share their foodie experiences online.
Instagram is not only the place to showcase food, food is the most photographed subject you'll find there. The top food hashtags of 2020 were #Food, #FoodPorn, #Yummy, #Foodie, and #Delicious.
Instagram is the place to be to showcase food. As of February 2021, #food alone accounted for 430 million Instagram posts.
And restauranteurs recognize the power of the media, designing photo-worthy menus and even redecorating interiors for more pleasing photo backdrops.
So important is Instagram that it is even driving culinary trends worldwide. Yes, it's a platform for inspiration for tonight's dinner, a place to discover the best new burger joint in town, find upscale dining destinations or be wowed by the most crazy and creative food styling.
And while the visual aspect is probably the most important on Instagram, it is not the only one.
Research shows 44% of consumers are happy to follow brands that resonate with their ethical values and #sustainability has more than 3.3 million mentions.
But it's the food trends we are looking at here, and Chef's Pencil has put together a list of the most used hashtags by country cuisine and food type.
Most Popular Cuisines on Instagram
If you've been following our series of top ethnic cuisines around the world, you'll know that Japanese is pretty popular everywhere. But nowhere does it come close to Chinese, Italian, Thai or Mexican.
That is until you look at Instagram. #Japanesefood comes a stomping first with over 15 million tags. That's almost a million more than 2nd-placed #Italianfood and not far off double that scored by Indian cuisine, in 3rd place with 8 million.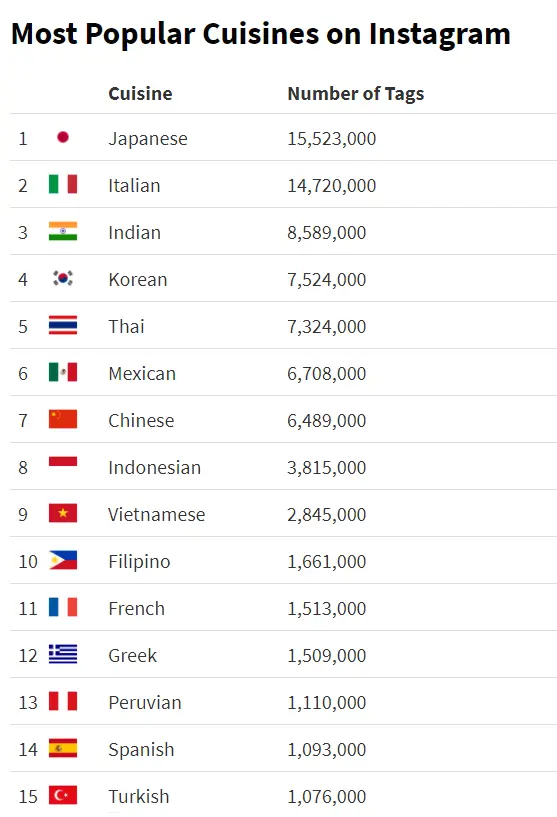 That's quite a conundrum. Japanese restaurants are way outnumbered by Chinese, Italian or Indian, and making sushi at home is nowhere near as popular as pasta or curry.
And there's the value of Instagram – it's visual, and we eat with our eyes. This is exactly what the Japanese realized centuries ago.
In Japan, they say you eat with your eyes first. Plating and presentation is just as important as how the food tastes.

Kaz Matsune, founder of Breakthrough Sushi.
There can be no denying the visual appeal of sushi, Japan's top food export. Not just the vibrancy of the colors, but the plumpness of the fish, the intricacy of the rolls. There is a rhythm in a plate of sushi, a symmetry in repeated patterns that has a primeval appeal. In short, they are works of art that our brain registers in a split second.
There is much for marketers to learn from a beautiful plate of Japanese food.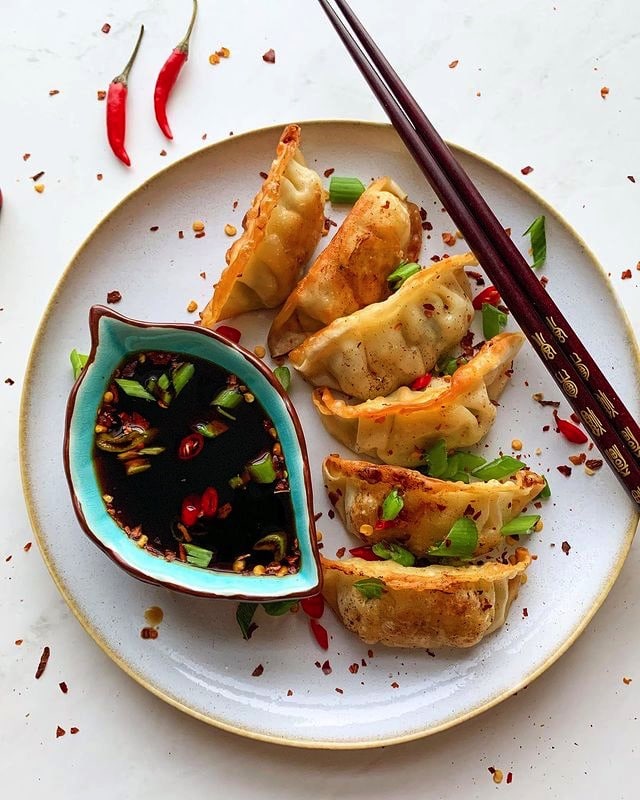 Italian Cuisine – Eliciting an Emotional Response
Italian cuisine on Instagram comes a close 2nd, perhaps because pizza and pasta are two of the most popular foods worldwide, but also because, coming from the home of fine art, Italians know very well the importance of aesthetics.
But there's more. Italian food is the ultimate comfort food, so any picture, good or bad, will elicit an emotional response tell us Jim Mumford, a food blogger who regularly features Italian cuisine.
Moreover, Italian food often involves dramatic colors that pop, like reds and greens. These colors are easier to enhance with filters too, making the contrast even more pronounced. Finally, Italian food is often based on a white food – pasta, gnocchi, risotto – which, according to Jim, provides more color variety and contrast in the shot.
Asian Cuisines Dominate the Top 10
Apart from Italian and Mexican, which comes 6th with nearly 6.5 million tags, the top 10 Instagram hits are for the tastes of Asia.
Whether Instagram is driving the trend or reflecting it, the scores show a clear preference for all foods Asian. Supermarkets are seeing this trend too, with Asian-inspired foods their highest growth category as people get tired of sriracha and pho and look for new flavors from the continent.
Thai food has become the most popular international cuisine in Australia and New Zealand, and is one of the most popular international cuisines in Canada, the US and South Africa.
A survey conducted among 250 chefs by Chef's Pencil last year ranked three South-Asian countries – Philippines, Thailand and Vietnam – among the world's five most underrated foodie destinations. The chefs we interviewed felt that these three cuisines, and pretty much all of South-East Asia, deserve more respect and higher recognition in the culinary world. Talking about South-East Asia, Indonesian cuisine is a surprising entry in the top 10 world-wide.
And even more so, as Asian food has gained a reputation for being healthier than Western food. Health-conscious Millennials and Gen Zs love to take to Instagram to brag about their healthy food choices, which not only looks great, but also makes them look better and healthier.
Lastly, some Asian foods such as Korean offer something that foodies have begun craving for: an experience. It's not only about the food you're fed: the experience itself is just as important. And perhaps the huge success of the film Parasite helped turned the world's attention to South Korea and everything it has to offer.
Italian, French, Greek and Spanish – Highest Ranked European Cuisines
European cuisines continue to enjoy high popularity worldwide, though aside from Italy, they seem to be losing pace as trendier cuisines from Asia and the Americas have stepped up.
French cuisine ranks 11th with 1.5 million tags – only 11th! – followed closely by Greek. Spanish and Turkish cuisines rank a respectable 14th and 15th place.
African Cuisine Joins the Top 20
According to Food&Wine, one of the biggest trends in 2021 will be deeper dives into the food of the African diaspora. Instagram reflects this with Nigerian cuisine ranking 16 with over 1 million tags.
The African continent has an under-developed restaurant industry, but arguably one with the highest growth potential. And there are many top-notch African-inspired restaurants opening all over the world, further popularizing the cuisine worldwide.
Surprisingly, Ethiopian cuisine, which is fairly popular in the US and Canada, ranks outside of the top 30.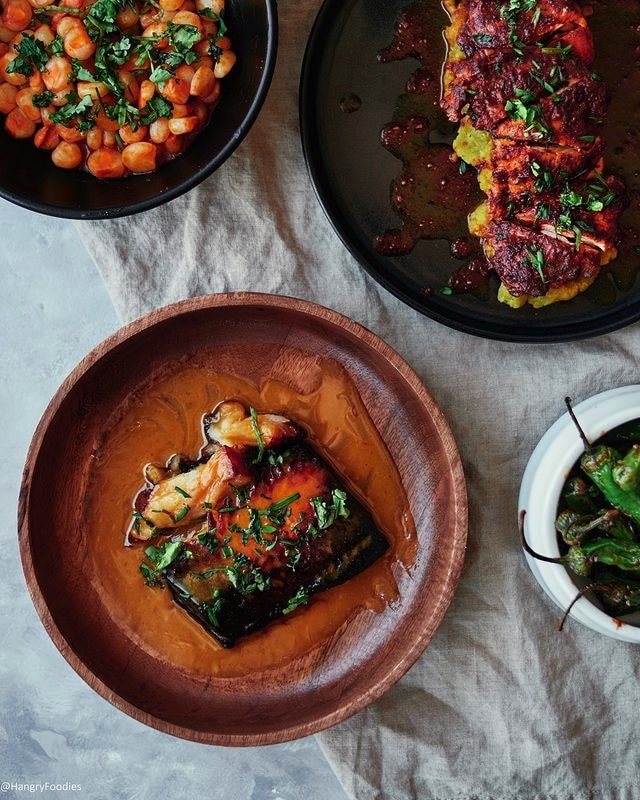 Peruvian Cuisine Confirming its VIP Status
Perhaps surprising to some, but definitely not to the seasoned foodie, Peruvian cuisine is confirmed as among the world's best cuisines.
Peru has a fantastic biodiversity and a multicultural heritage, but only recently (in relative terms) has it been recognized as one of the best culinary destinations.
Lima, its capital city, is a fantastic foodie city and home to some of the best restaurants in the world.
Instagram confirms its VIP status among the world's top cuisines and it's one of the most popular cuisine of the Americas, second only to Mexican.
Jamaica Food – Top Cuisine in the Caribbean's and 3rd in the Americas
Jamaican cuisine ranks 19th worldwide and 3rd in the Americas, just behind Mexican and Peruvian. This is no small feat for the small Caribbean island nation.
But the high popularity of Jamaican food is probably not that surprising. A panel of 250 chefs voted Jamaican cuisine one of the most underrated cuisines in the world.
The chefs we interviewed felt that Jamaican food deserves greater recognition and a place among the world's top cuisines. Instagram users seemingly agree!
| Ranking | Cuisine | Number of Tags |
| --- | --- | --- |
| 1. | Japanese | 15,523,000 |
| 2. | Italian | 14,720,000 |
| 3. | Indian | 8,589,000 |
| 4. | Korean | 7,524,000 |
| 5. | Thai | 7,324,000 |
| 6. | Mexican | 6,708,000 |
| 7. | Chinese | 6,489,000 |
| 8. | Indonesian | 3,815,000 |
| 9. | Vietnamese | 2,845,000 |
| 10. | Filipino | 1,661,000 |
| 11. | French | 1,513,000 |
| 12. | Greek | 1,509,000 |
| 13. | Peruvian | 1,110,000 |
| 14. | Spanish | 1,093,000 |
| 15. | Turkish | 1,076,000 |
| 16. | Nigerian | 1,031,000 |
| 17. | Lebanese | 867,000 |
| 18. | Taiwanese | 692,000 |
| 19. | Jamaican | 650,000 |
| 20. | American | 626,000 |
| 21. | Pakistani | 617,000 |
| 22. | Brazilian | 403,000 |
| 23. | Venezuelan | 394,000 |
| 24. | Persian | 389,000 |
| 25. | Moroccan | 384,000 |
| 26. | German | 358,000 |
| 27. | Cuban | 353,000 |
| 28. | Sri Lankan | 283,000 |
| 29. | Polish | 275,000 |
| 30. | Colombian | 257,000 |
Most Popular Foods on Instagram
Summing up the top Instagram foods is easy – comfort. Perhaps it's the lockdown mood and the serious challenges the world is throwing at us, but the top Instagram food tags are pure and simple comfort-inducing, feel-good foods.
Cake, chocolate, pizza, ice-cream, cookies, pasta, burgers, and bread all in the top 10 – there is no mistaking the theme here! Though salad did sneak in at number 7 with just over 22 million.
But as we've said, Instagram is all about the visual. Let's hope it represents what we like to feast our eyes on rather than all that we put in our belly.
Methodology
Chef's Pencil has analyzed Instagram data in February 2021. The number of tags reported are rounded down to the nearest thousand. Rankings are based on number of tags.
Fair Use and Redistribution
Chef's Pencil grants you permission to reuse, host, or repost the graphics and images from this article. When doing so, we ask that you kindly attribute the authors by linking to Chef's Pencil or this page.