9 Spicy Substitutes for Sriracha Sauce
Known as "sot" in certain Asian countries (or as Nam prik in Thailand, where it originated), sriracha is now a household, universal name for all hot sauces.
However, true sriracha is made in Thailand using the original recipe developed by a modest Thai woman by the name of Thanom Chakkpak. She named the sauce after her hometown of Si Racha in Thailand.
The original sriracha recipe uses red chilis, cooked with vinegar, salt, sugar, and garlic. The mixture is cooled and blended and then cooked down until thick. This results in a well-seasoned, flavorful, deep red hot sauce that is perfect on eggs, in noodle dishes, on rice, and with seafood.
Sriracha is something you probably already have in some form in your home, but if you don't, you can always try to make your own version by simply blending some hot peppers and water to make a paste.
If you want more depth of flavor, you might consider cooking this liquid down and adding some acid and/or sugar, as well as spices and salt… but we'll leave that up to you. We're here to tell you about some exciting alternatives for sriracha if it turns out you don't have any on hand.
1. Sambal Oelek
This Indonesian condiment is used on everything from eggs to noodles, to rice and meat dishes.
Sambal is not a good substitute for vegans, vegetarians, or anyone allergic to shellfish.
Sambal Oelek (more commonly sambal) is slightly different from sriracha and is typically made from green and red chili peppers, cooked down with garlic, ginger, shallots, and green onions. It is typically sweetened with palm or coconut sugar and often includes shrimp paste.
For this reason, sambal is not a good substitute for vegans, vegetarians, or anyone allergic to shellfish. It is prevalent in Malaysia, Sri Lanka, and Singapore, but if you open the fridge of any spice lover anywhere in the world, there is a good chance you will find sambal!
Sambal is cooked and cooked but never puréed, so you can still see the chili seeds making this chili paste have a somewhat chunky texture, so depending on its use, you may want to purée it first if you are looking for an exact sriracha alternative.
2. Gochujang
This spicy Korean chili paste is the perfect condiment for soups, rice dishes, and meats. It has a serious depth of flavor because gochujang takes months (or sometimes years!) to make.
This condiment contains fermented rice, soy, and barley malt, which are aged and mixed with chilies.
The result is a paste that is zingy, pungent and has a depth of flavor that you cannot get from typical hot sauces. Gochujang can range from mild to very, VERY hot, so take note when using this as an alternative to sriracha which is considered to be of medium heat.
3. Frank's Red Hot
Frank's Red Hot is another beloved spicy condiment that originated in America and is produced by McCormick's spice conglomerate. It is the primary ingredient in buffalo sauce, used by many restaurant chains, and is one of the most popular condiments in North America, meaning it will be readily available in any grocery store.
Frank's Red Hot (or more simply, Frank's) is rated medium on the spice scale but contains a lot more vinegar, making it a bit more acidic than sriracha. It will still make a great substitute and is a similar color and texture as sriracha.
4. Curry Paste
Curry paste is especially popular in Thai food where red or green chilies are mashed with garlic, ginger, galangal, lemongrass, and other spices, and then stirred into a broth, water, or coconut milk to make Thai curries.
India has their own recipes for curry pastes which typically contain dry spices such as cardamom, cumin seeds, coriander, and often fresh turmeric and ginger.
Either way, there are plenty of curry pastes you can buy or make at home that will make a great substitute for sriracha because they are equally spicy and are often thick enough to spread or dip. Try adding a spoonful of curry paste to peanut sauce, coconut milk, or red pepper jelly for an instantly delicious condiment that everyone will love!
5. Tabasco
Tabasco is another American-made hot sauce that is similar to sriracha in that it is deep red and contains a lot of heat. Tabasco uses only tabasco peppers and does not contain any sugar.
In fact, it only contains three ingredients: chilies, vinegar, and salt. Tabasco is much thinner in viscosity than sriracha and will not make a perfect substitute, but it will add spice to whatever you're cooking and can certainly be used at a pinch!
6. Harissa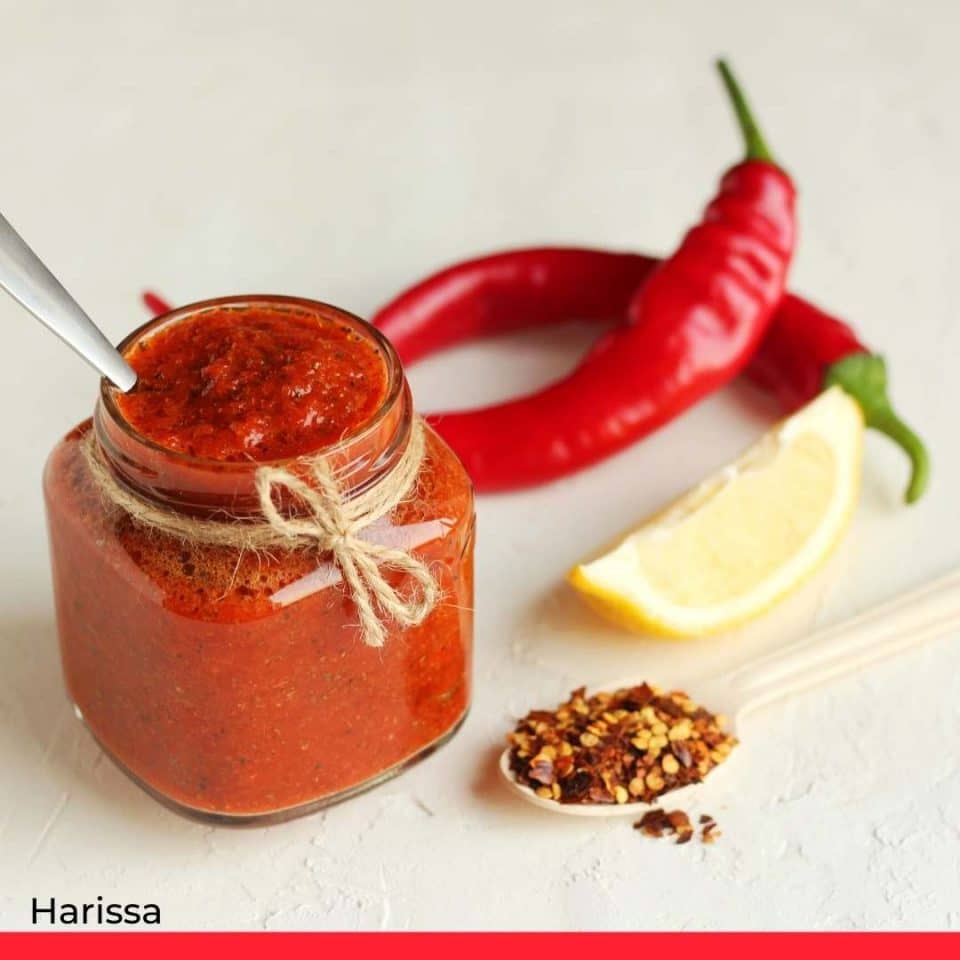 Harissa is a popular chili paste used in Middle Eastern cuisines to spice up mild foods like yogurt, grilled vegetables, and meats. It derives its name from the Arabic word harasa, which means "to pound," because to make harissa, the spices and chilies are ground in a clay pot (or mortar and pestle.)
The result is a thick paste that is chunky and has lots of texture. The main ingredients in traditional harissa include chilies, cumin, coriander, caraway, and salt. Authentic harissa made in Maghreb is made primarily from Baklouti chilis, which have a bright, dark burgundy color and higher oil content.
Harissa can be quite spicy and is often stored out of the fridge to let it age, and is topped with a thin layer of oil to prevent spoilage.
7. Salsa
If there is one country that knows how to make spicy food it's Mexico! Mexicans love chilies and it's no surprise; their climate is perfect for growing a variety of hot peppers year-round.
Mexicans often favor jalapenos and habaneros, which are less spicy than chilies used in Asia or India but still pack a lot of heat!
Hot sauces are often made from green chilies, and salsa is made from a combination of cooked chilies, onion, garlic, and tomato. This mixture is often seasoned with sugar, salt, vinegar, or lime and can be thin and pourable or quite thick, making it a perfect substitute for chili paste in any kitchen!
8. Piri Piri
Known as Portuguese hot sauce, Piri Piri (or Peri Peri) is a thick sauce made from cooked and puréed chilies, along with onion, garlic, vinegar, sugar, and salt.
Piri Piri is a common marinade for chicken, seafood, and other meat dishes in Portugal, and is also used as a table condiment, the way you might see ketchup on tables in America.
Sometimes Piri Piri is quite thick or oily, other times, drier. Look for a puréed version that is of a similar thickness if you are using it as a srichaca substitute!
9. Cayenne Pepper or Red Pepper Flakes
Cayenne pepper is ground-up hot peppers, which means it is an excellent alternative to sriracha sauce as a spicy flavoring! You can mix cayenne pepper with a bit of water to make a paste, or simply sprinkle the powder (or red chili flakes) onto whatever you are eating that needs a little extra spice.
Sriracha is used all over the world but is especially popular in Thailand and Vietnam, where locals are known to carry around a small bottle on key rings or in their pockets! True spice lovers everywhere favor sriracha for its depth of flavor and for having a heat that is detectable but not overpowering.
It is also well-balanced because along with spice, the recipe also contains acid and sugar, making it a perfect, well-rounded condiment and it is easy to see why it has become one of the world's most famous hot sauces.
Sriracha is considered medium heat and will certainly quench any spice lover's craving, but it is not considered to be so hot that it will burn your tastebuds. This makes it much more versatile than other sauces on the market.