Most Popular 24 German Foods (With Pictures!)
German cuisine may not have the international recognition of some of its European counterparts, but German foods are so much more varied than its 200 types of sausage, sauerkraut, and potatoes might suggest.
Each German region offers typical dishes, rich with tradition. In the north of Germany, dishes are mainly based on fish and seafood, while in the south of the country, they are more likely to be based on red meat and game.
Baked goods are especially popular in Germany – for example, whole wheat bread, Bavarian pretzels, and different kinds of rolls. Moreover, you'll find that Germany has many excellent cakes such as bee-sting cake, cheesecake, and poppy-seed cake. All are classics which surprise and delight visitors and natives alike.
Although German cuisine is stereotypically meat-based, vegetarian cookery is a growing trend. In addition, vegan dishes increasingly feature on many menus and Germany consistently ranks among the most vegan countries worldwide.
German cookery continues to evolve. Casseroles, soups, potatoes, and pasta are the staples of many delicious meals -with couscous becoming an increasingly popular ingredient.
In this article we'll help you get familiar with the richness and diversity of German dishes with 24 of the most popular.
Read on and we guarantee you'll be surprised!
Best German Dishes
Each region of Germany has its own typical dishes, some of which date back hundreds of years. .
1. Braunkohl and Bregenwurst
This dish from Northern Germany is a country-style sausage dish, often served with boiled potatoes and kale on the side. Bregenwurst can be either smoked or unsmoked.
The kale is typically seasoned with salt, pepper, and onions. The sausage is only sold from November to February, so Braunkohle and Bregenwurst is a popular comforting winter dish.
2. Hamburger Labskaus
Hamburger Labskaus, is a classic of the port city Hamburg.
Boiled and riced potatoes are stewed with beef and onions, and the dish is elevated by the addition of gherkins – with finely sliced beetroot added on the side! The mixture is seasoned with salt, pepper, and allspice before frying. It is often paired with pickled herring, or a fried egg on top! 
3. Potato Fritters or Potato Pancakes (Kartoffelpuffer)
Another potato dish famous all over Germany is potato fritters, aka potato pancakes. The recipe typically calls for peeled and grated low-starch potatoes, mixed with egg, onion and seasonings.
The pancakes are fried until golden brown and typically served with applesauce or apple compote, as a refreshing contrast.
4. Hamburger Pannfisch
The main ingredient of Hamburger Pannfisch is fish – typically coalfish or redfish. In addition, it incorporates sliced, low-starch potatoes, spring onions, and vegetable stock.
This fishy treat also includes cream and mustard, which elevate it to something really special. Finally, a rasher of fried bacon is often added to give the dish a more intensive taste.
5. Turnip Stew: The Winter Stew
This hearty stew has a long tradition in Germany and is found in every Grandma's kitchen. It's mainly consumed in late autumn and winter – when turnips were the most widely available vegetable. In the past, the turnip was considered a poor man's food, but today it has regained popularity due to its high vitamin and mineral content. Packed with healthy fiber and exceptionally high in vitamin C, turnips help the immune system ward off winter colds and flu.
6. Pork Knuckle with Sauerkraut
Sauerkraut is renowned as the German vegetable dish. To prepare the sauerkraut, white cabbage is cut into thin slices and pickled until tender with spices, pepper, and salt. For a special kick, fruits can be added. Generally, potatoes are served on the side. As a fermented food, sauerkraut is now acknowledged as aiding optimal digestive health.
7. Swabian Raviolis with Fried Onions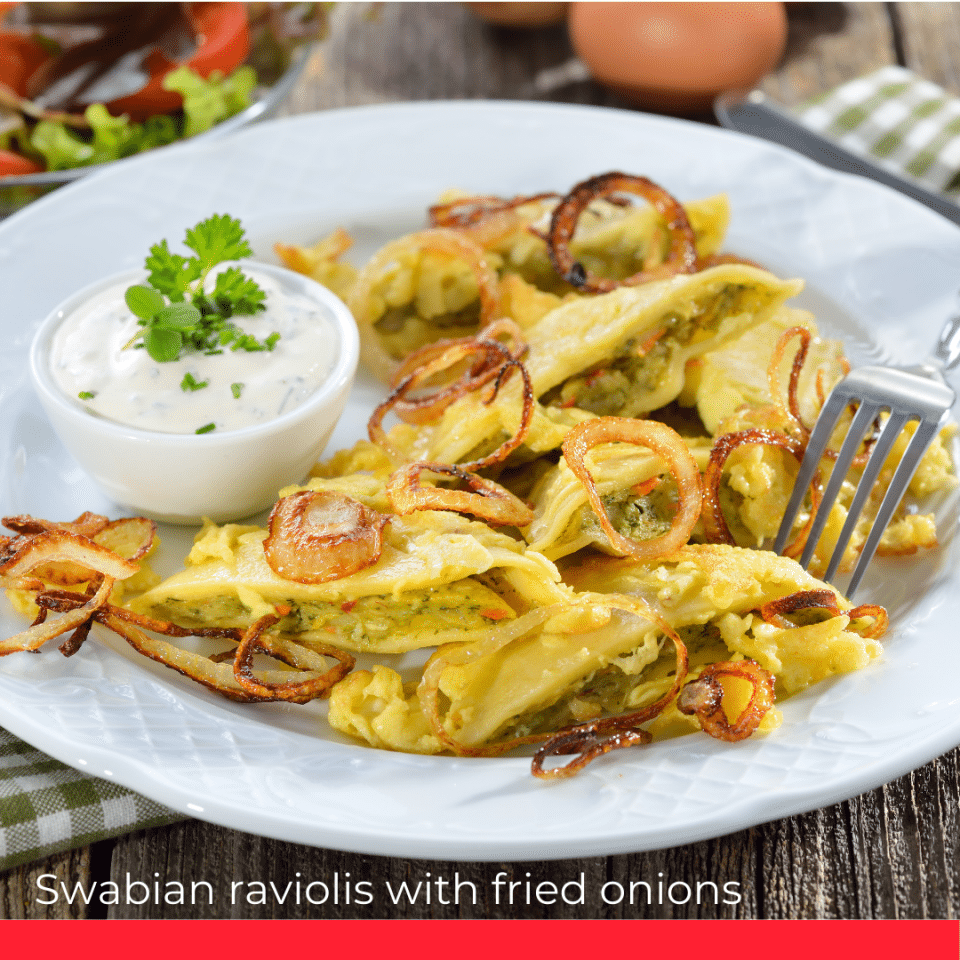 Swabian ravioli is a very popular dish in the southwest of Germany. It resembles the famous Italian ravioli pasta dish and can be made with many different fillings, meat or vegetarian.
Swabian ravioli is often served with fried onions, to intensify the flavors.
8. Veal Sausage: The Bavarian National Dish
Bavarians love their veal sausage, which has become their signature regional dish. However, it is rarely eaten in northern Germany, where supermarkets do not sell it. The main ingredient is veal, with the addition of sweet mustard to improve the flavor. Veal sausages are sometimes  steamed to cook them more quickly.
9. Baden Brägele with Bibliskäs
This traditional Gericht from southwest Germany is one of the country's most popular dishes. The dish comprises fried potatoes and delicious fresh herb cheese. The cheese is often homemade with a variety of herbs added..
Those who like a hearty meal should eat it with a glass of Schorle, a fruit juice combined with fizzy water, or some wine diluted with water.
10. Stuffed Cabbage Filled with Millet
Vegetarians who want to enjoy a lovely roulade should try this meat-free dish which comprises just two basic ingredients: cabbage and millet. However, a little crème frâiche and cheese can be added to the sauce for extra taste. Generally, the dish is eaten with boiled or mashed potatoes, adding to the taste. Being high in vitamin C, it's helpful in winter to guard against colds and flu.
11. Döner with Curried Sausage
In Berlin, döner with curried sausage has become an authentic national dish. Despite its Turkish name, döner was developed in Berlin. This dish is unique because two classic snacks are served together: döner and curried sausage.
The curried sausage is also famous – without the döner- in the west of the country. It is often served with ketchup or tomato sauce spiced with curry powder.
12. Saxon Mustard Meat
Saxon mustard meat is an absolute classic from eastern Germany. Although, as in the past, especially during the days of the GDR, meat was prohibitively expensive, it was served on special occasions. Either pork or beef was used, as well as a tasty vegetable broth.
Potatoes, onions, cucumber, wholemeal bread, or Pumpernickel are included to soak up the juices. This hearty and comforting dish is spiced with hot mustard, cloves, salt, pepper, and caraway.
13. Königsberger Meatballs
These meatballs originated in the east German town of Königsberg. The traditional recipe contains meatballs made from minced meat, stale bread, and onions.
They're served with a white sauce made from broth, cream, eggs, and capers. Though not the most attractive-looking dish, it is delicious. When eaten cold, it's even tastier!
14. Tarte Flambée with a French Influence
The German version of tarte flambée is similar to the French onion tart and is prepared exactly the same way. The base is a thinly rolled bread dough coated with sour cream. On top, go onions and cubes of bacon seasoned with salt and pepper.
n addition to the classic savory tarte flambée, you may also come across sweet versions.
15. Curry Sausage in Western Germany: A Real Classic
Popular in Berlin, curry sausage is also a favorite in other towns in western Germany, such as Bochum, Cologne, and Düsseldorf. Wherever it's made, it is considered a real delicacy. The spicy sauce can be hotter or thicker and contain more or less tomato according to the local taste.
In western Germany, it's typically served with a roll, rather than a döner.
16. Braised Beef Rheinland-style
The preparation of Rheinland-style braised beef starts with pickling the meat for several days in a marinade of vinegar, oil, wine, onions, and carrots.
There are different versions of this dish, Rheinland-style and Baden-style.  Typical accompaniments are usually potatoes or dumplings, salad, or red cabbage.
Typical German Side Dishes and Sauces
Several popular side dishes enhance German dishes. Potatoes are undoubtedly the favorite side dish, used to soak up sauces. The following sides are popular alternatives to the classic jacket or boiled potatoes.
17. Butter Noodles
Butterspätzle is a noodle variety mainly consumed in the southwest of Germany. The main ingredients are flour, eggs, and salt. Once cooked, they are slathered with cheese.
They partner beautifully with meat dishes that include lashings of sauce or gravy, such as goulash or roast meat. Vegetarians can enjoy butter noodles and fried onions alone to make a tasty and nutritious meal.
18. Dumplings
Several traditional side dishes use potatoes: boiled potatoes, potato fritters, or potato dumplings. Classic dumplings look like big balls of potato but have a softer texture.
Delicious potato dumplings, also known as potato lumps, can also contain a mixture of grated cheese, eggs, and flour. Often parsley is added for a fresher taste. Irresistible!
19. Potato Salad
One of the most famous German side dishes is potato salad, which is very popular in all regions of Germany, although the recipe varies considerably.
While basic potato salad is a relatively simple dish, the variations are endless, and it lends itself to creative cooking.
Generally, this salad is made with boiled, sliced potatoes, cucumber, and onions, covered in mayonnaise or a vinaigrette.
20. Frankfurter Green Sauce
Frankfurter green sauce is ideal for pouring over potatoes. The main ingredients are fresh green herbs (without the stems), lemon balm, and sour cream, all seasoned with salt, pepper, and mustard.
It is generally served with mashed or boiled potatoes or wheat bread.
German Bread is Popular Worldwide
There are endless varieties of German bread, rolls, pastries, and cakes, which are high quality and very well known—and not only in Germany.
Bread and its many varieties have a long history in the country, which is why Deutsche Brotkultur (German Bread Culture) has become an intangible cultural heritage of UNESCO. Let's have a closer look at these famous breads.
21. Pretzen from Bavaria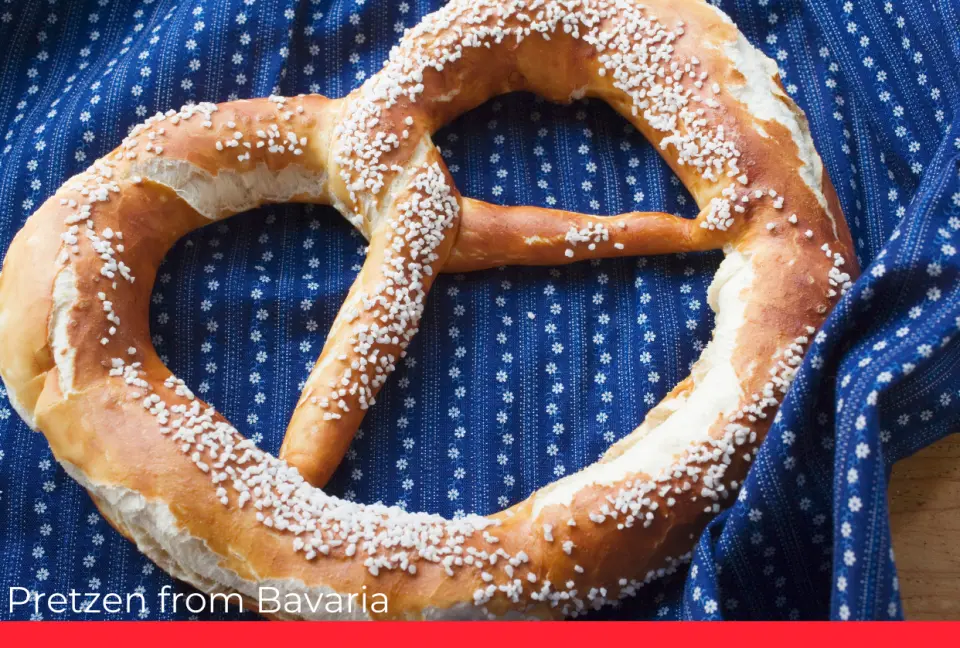 Pretzels sprinkled with large salt crystals are a standard bakery product in Bavaria.
Surprisingly, the wonderful golden-brown color and the unique taste are created by immersing them in a sodium hydroxide solution. This also helps keep them fresh.
Pretzels are excellent with fresh cheese and chives.
22. Pumpernickel from Lower-Saxony
Pumpernickel is a traditional wholemeal bread that is enjoying a revival in popularity as people turn to healthier alternatives to fluffy white bread. Dark, nutty, spicy, and crust-free, it contains many high-grade ingredients and stays fresh longer.
This black bread was first baked in 1450 in Osnabrück, a German town near the Dutch border in the western region of Lower Saxony.
23. (Wholemeal) Rolls from all Regions of Germany
Wholemeal rolls are produced in bakeries throughout Germany and are eaten for breakfast and as snacks.
The country produces an incredible 3,200 types of bread, all listed in an official German bread registry – a testament to how vital bread is for Germans. 
24. German Beer—Simply Amazing
There are 7,500 different beer varieties in Germany, and many are enjoyed worldwide.
German Pils is a classic beer with a rough texture often enjoyed in the north of Germany. Hefeweizen is a sweeter traditional beer popular in the south.
Many Germans enjoy their beer mixed with other alcoholic and non-alcoholic drinks.
All German beers adhere to the Deutsche Reinheitsgebot (German Order of Purity), developed in 1516 in Bavaria. This specifies that beer brewed in Germany or by German companies must only contain four components: malted barley, hops, yeast, and water, which ensures purity, consistency, and delicious taste!
Have you spotted any iconic German foods that haven't made it onto our list? Let us know in the comments and share your insights with our community!
---
Related: Most Popular German Cookies
Related: Popular German Easter Foods