Top 25 Jamaican Foods (Soups, Main Dishes & Sides)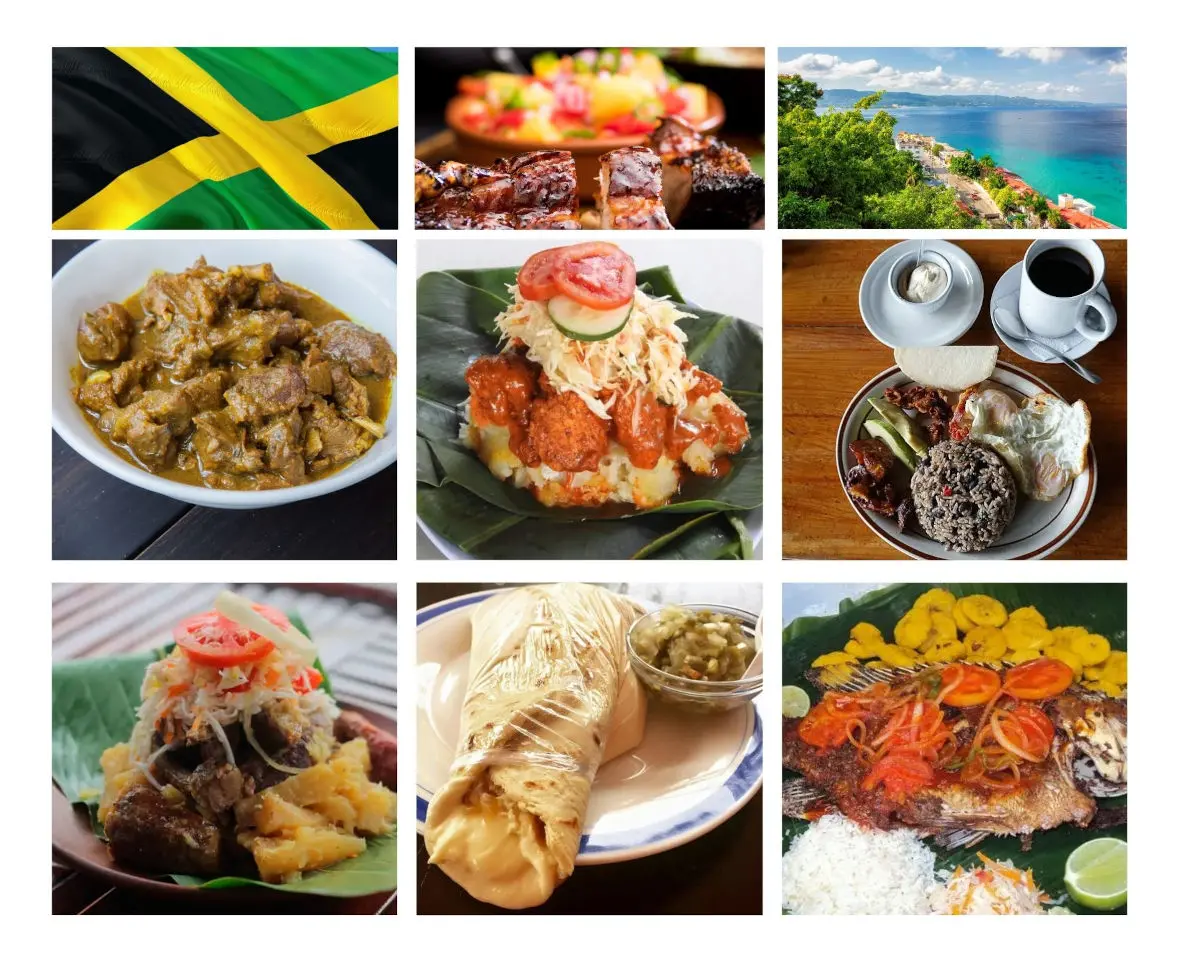 About Jamaican Cuisine
Jamaica, an island in the Caribbean, is known for its white sandy beaches, world-famous athletes, warm and friendly people, and tantalizing cuisine. Jamaican cuisine is diverse, full of flavor, and chock-full of spices. Jamaicans love to marinate their meats to the very bone! Its national motto: "Out of many, one people," is reflected in its cuisine, a unique blend of all its people who hail from different ethnic groups.
The foods below represent the potpourri of the varied cultures, including the Tainos (indigenous Jamaicans), Spanish, African, Asian, and British.
Soups
A delectable Jamaican favorite, this is a soup made with goat's head, feet, and intestines. The head and feet are roasted to remove the hair and then chopped into bite-sized pieces. These are boiled with green bananas, potatoes, and yam cut into small pieces, spinners (small elongated flour dumplings), flavored with herbs and spices, and served hot.
2. Chicken Foot Soup
Soups in Jamaica are thick and often served as complete meals mainly for lunch. This tasty soup is prepared using chicken feet, pumpkin, chochos, turnips, carrots, yellow yam, and flour dumplings, and seasoned with a soup mix and a medley of herbs and spices. A delicious lunchtime treat.
3. Fish Tea
Jamaican fish tea is a broth. It is called "tea" because it is thinner than other types of Jamaican soups. This mouthwatering delight contains fish and vegetables, such as carrots, chochos, okras, and is flavored with Jamaican herbs and spices.
Fish Dishes
4. Steamed Fish
This is a must-have for seafood lovers. There is nothing quite like freshly prepared steamed fish. The fish is not steamed as in the traditional cooking method, but an assortment of vegetables such as cubes of pumpkin, chochos, okras, carrots, and tomatoes are cooked with lots of onions, scallions, thyme, multi-colored sweet peppers, and scotch bonnet peppers. The fish is then immersed in this rich, tantalizing sauce and allowed to cook. It is often served with Jamaican water crackers and sides of festival or bammy.
5. Escoveitched Fish
The term escoveitched is known as "escabeche" in other parts of the world. Fish that has been rubbed on the outside and the cavities with salt and black pepper is fried crisp on both sides. Slices of onion, scotch bonnet peppers, and pimento seed cooked in vinegar are then poured over the fish. This scrumptious dish is often served with festival and bammy for lunch or dinner.
6. Mackerel Rundown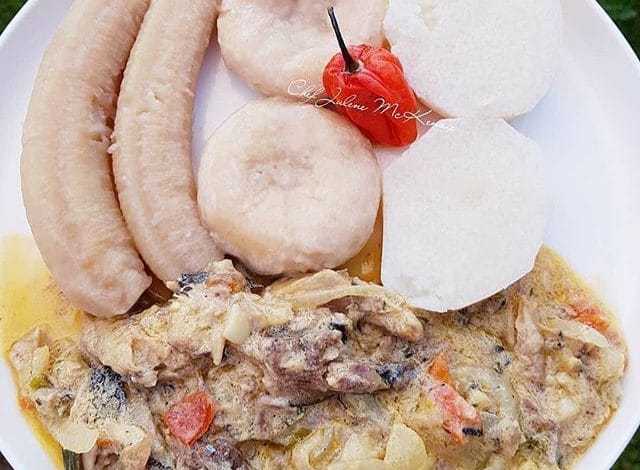 Mackerel Rundown, also called "Dip and Fall Back," is pickled mackerel cooked with herbs and spices in coconut milk which forms a sweetish custard. Boiled green bananas and roasted breadfruit are the ideal accompaniment for this tasty breakfast dish.
7. Ackee and Saltfish
This is Jamaica's national dish made with the national fruit—ackee. No Jamaican breakfast is complete without a serving of ackee and saltfish. The ackees are deseeded, cleaned, and boiled, then stir-fried with a medley of seasonings and boiled flaked saltfish. This is usually served with fried or boiled dumplings, boiled yams, roasted breadfruit, and fried plantain.
Meat Dishes
8. Patties
Patties are the all-time Jamaican lunch favorite, made with spicy ground beef enclosed in pastry. Patties are also available with chicken, shrimp, lobster, soybeans, and vegetables. They are sold in patty shops all over the country. Everyone in Jamaica enjoys hot patties!
9. Jerk Pork
Jamaica is well-known for its "jerk" dishes. Jerk is an authentic Jamaican method of cooking that fuses the Taino and African cultures. This is a very spicy dish in which the pork is marinated in a unique combination of herbs and spices including Jamaican pimento, thyme, scallion, and scotch bonnet peppers. It is then grilled over an open fire of coals and mainly pimento wood.
The process of jerk is a slow and savory one, trapping all the flavors involved to produce an authentic smoked flavor. It is served with sides of hard dough bread or festival. This scrumptious, hot, and spicy dish will tantalize your taste buds. Jerk pork or chicken is part of everyday dining and stalls selling this food are located all over the island. The popular Pan Chicken is jerk chicken done in repurposed oil drums.
10. Curried Goat
No Jamaican special occasion is complete without this entrée— a fusion of Jamaican and Indian heritage. Goat meat is cut into bite-sized pieces and seasoned with a variety of herbs and spices including Jamaican curry powder. It is then stir-fried in hot oil. Water is added and the meat is stewed until it is tender. This mouthwatering dish is usually served with white rice and roti.
11. Oxtail and Beans
Oxtail is cut into serving pieces, marinated in a variety of herbs and spices, and fried brown in a heavy saucepan. Excess oil is removed and water and dried beans are added and the stew is cooked until tender. A pressure cooker is often used to reduce the cooking time. A very popular entrée that is served with rice, boiled yam, and a salad.
12. Stewed Peas
This is a stew of red kidney beans with salted beef or salted pork or salted pig's tails, cooked in coconut milk, herbs, and spices. The Jamaican stewed peas dish is not complete without the addition of spinners. This very delicious dish is usually served with white rice.
13. Fricassee Chicken
Jamaicans love chicken, so this is a favorite entrée and a quick, easy method of cooking the all-time favorite. The chicken is cut into serving pieces, seasoned, and fried in shallow fat until golden brown. A small quantity of water, the seasoning that was removed before frying, tomato ketchup, and soya sauce are added and cooked until the chicken is tender and not overdone.
Desserts and Sweet Treats
14. Sweet Potato Pudding
Sweet potato pudding is a very popular treat on the dessert menu and is often sold in roadside shops. It is made with grated sweet potatoes, coconut milk, brown cane sugar, margarine, and spices that have been blended and baked. A delectable custard on top provides the finishing touch.
15. Coconut Drops
This is a favorite Jamaican snack for children and adults. The flesh of dried coconut is cut into tiny cubes, combined with brown cane sugar, ginger, and water, and boiled. When cooked, the sticky mixture is dropped in small mounds on a sheet of greased paper and allowed to cool and harden.
16. Grater Cakes
Grater cakes are made in a similar way to coconut drops, except that the dried coconut flesh is grated.
17. Christmas Fruit Cake
The Jamaican Christmas fruit cake is a version of the English plum pudding. No Jamaican household is without this tasty dessert at Christmas time. The cake is made with dried fruits such as raisins, currants, prunes, and other dried tropical fruits pre-soaked in Jamaican rum and red wine. A delightful accompaniment to Christmas dinner.
18. Easter Bun
Buns are a Jamaican favorite all year round, but at Easter, they are a must-have. A remnant of the British heritage, Easter buns are made with dried fruits including raisins and currants with stout or red wine. Slices of Jamaican cheddar cheese complete this delicious snack.
19. Duckunoo
The duckunoo (also known as Blue Drawers or Tie-a-Leaf) reflects Jamaica's African heritage. This is a delicious dessert made with cornmeal, grated green bananas, coconut, spices, and brown cane sugar, all of which are mixed, then wrapped and tied in small parcels of banana leaves and cooked slowly in boiling water.
Beverages
20. Sorrel Drink
Sorrel drink is a key part of Christmas fare in Jamaica. The drink is made from boiling the red flowers of the sorrel plant (Hibiscus sabdariffa) with ginger and pimento seeds. Sugar is added to soften the tangy taste, and a dash of white overproof rum may be added for flavor. It is packed with vitamins and is believed to be a powerful antioxidant.
21. Rum Punch
This drink is a well-balanced eclectic blend of exotic fruit flavors with distilled white rum. It is smooth, classy, and always a favorite.
22. Soursop Juice
This delightful drink is made from the flesh of the soursop fruit (called graviola in other parts of the world). The seeds are removed and the flesh is processed in a blender with pure water, then sweetened with sugar or condensed milk and flavored with vanilla and nutmeg. Soursop is rich in vitamins and is believed to have curative properties, hence its popularity among the health-conscious.
Sides
23. Bammy
Bammy is a flatbread made from cassava and was a staple among the Tainos. It is made mainly in rural areas and sold in markets, stores, and by street vendors. No fish dish is complete without it.
24. Festival
Festivals are made from a soft dough of flour, cornmeal, baking powder, sugar, and salt. Small portions are then kneaded lightly, rolled, and deep-fried until golden brown. They are often enjoyed with jerk or fish dishes.
25. Rice and Peas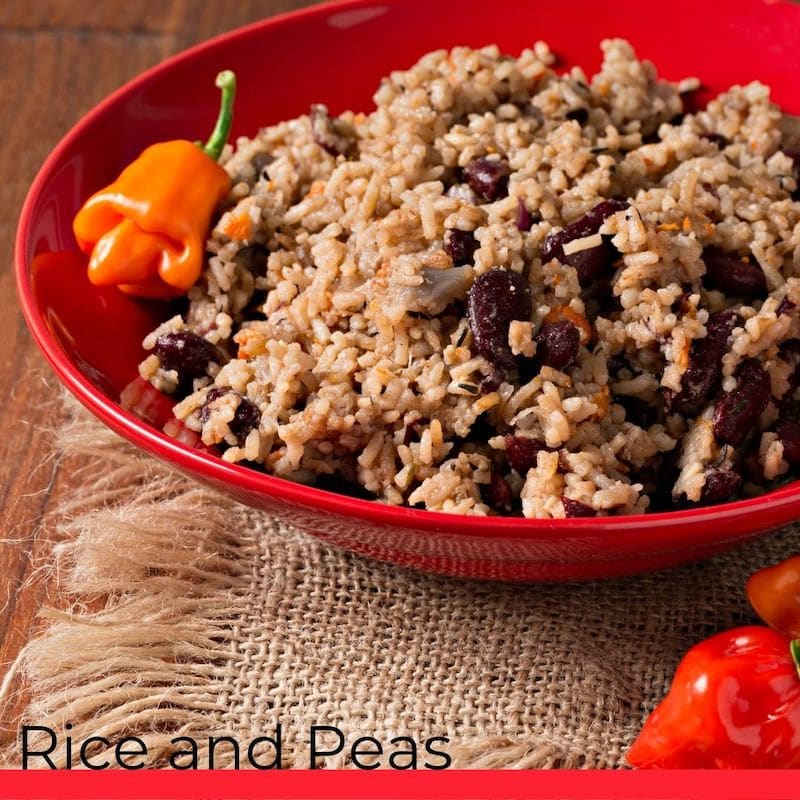 This is a very popular accompaniment to the entrée that is served for either lunch or dinner; usually a must-have for Sunday dinner and special occasions. Red kidney beans are cooked until tender. Rice, coconut milk, herbs, and spices are added and allowed to simmer until all the water is absorbed and the rice is cooked. Gungo (pigeon) peas are sometimes used in place of kidney beans.
---
Related: Most Popular Jamaican Drinks
Related: Most Popular Jamaican Desserts