Most Popular International Cuisines in New Zealand
Today, New Zealand is a hive of culinary invention, fusion, and gastronomic celebration – hosting numerous festivals, including the award-winning Wild Foods Festival in Hokitika. But it wasn't so long ago, less than 30 years in fact, that the staple was meat and two veg.
The culinary tastes on the two islands have come a long way in a short time. As air travel became more affordable in the 1960s, travelers brought new tastes from around the world. But it was only in the 1980s and the loosening of immigration rules that Asian delights began to arrive from Japan, Malaysia, China, Vietnam, and Thailand.
But just how do these ethnic foods rank in the country. Chef's Pencil turned to Google Trends.
Google provides data on a whole range of topics, including national cuisines, and allocates a score that indicates the level of interest in the topic.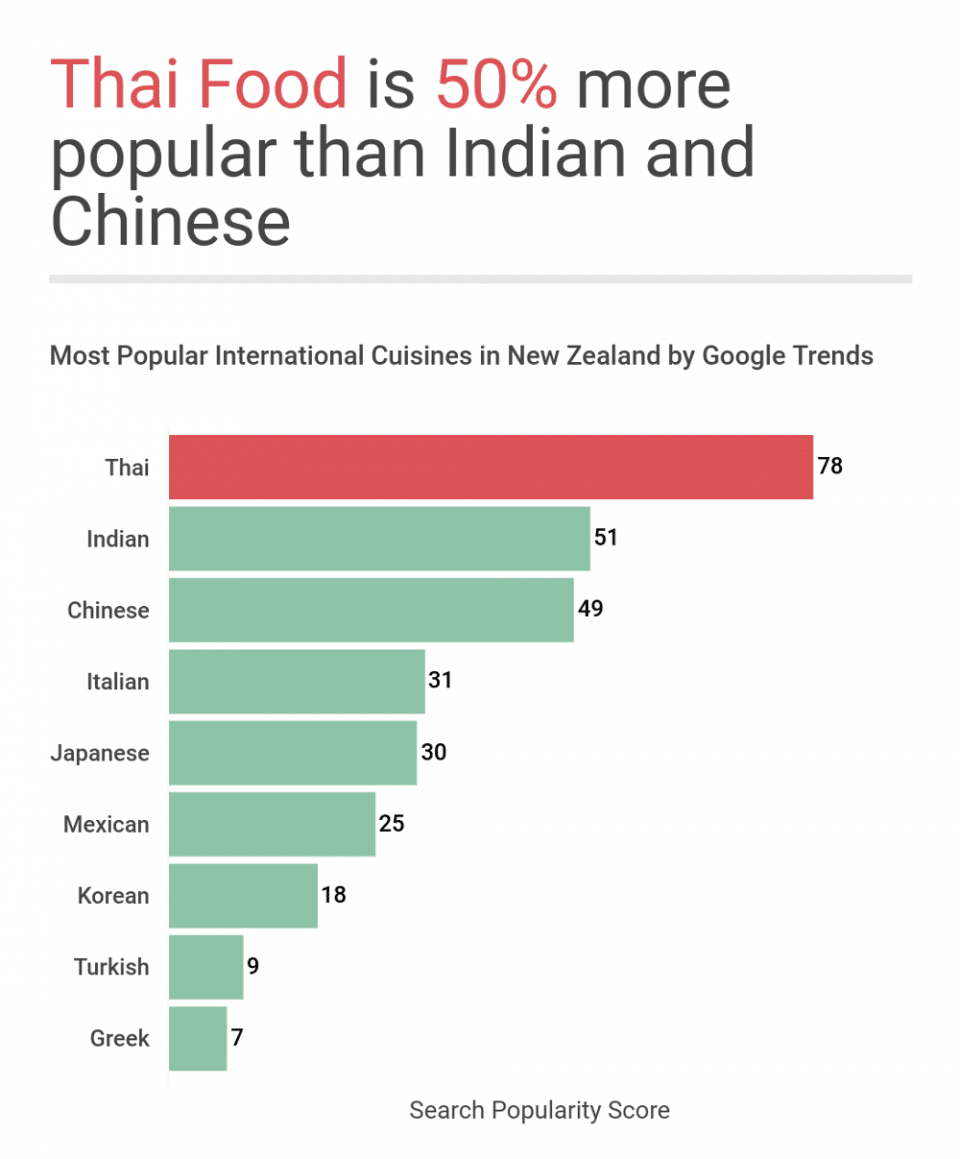 Google uses AI to categorize search terms for national cuisines. For example Japanese cuisine will comprise hundreds or thousands of searches related to the topic such as Japanese restaurants, Japanese rice, sushi, sushi recipes, Japanese food, and even names of well known Japanese restaurants.
Google then counts how often they are used in countries, regional areas, towns and cities relative to all local searches and allocates an interest score.
For example if Christchurch scores 100 for Chinese cuisine and Auckland scores 80, it means that there is a higher percentage of people from Christchurch searching for Chinese cuisine, but not necessarily that there are more searches made from Christchurch compared to Auckland.
What is unique about the data is that it doesn't only indicate the New Zealanders dining out habits. It also shows what they are eating at home – or googling to satisfy curiosity.
Read on to find out how the world's food ranked in New Zealand last year.
5. Japanese (Popularity Score 30)
For an agricultural economy and health conscious people, adopting Japanese food was seamless. With its emphasis on seasonal ingredients and seafood, plentiful along New Zealand's 14,000 miles of coastline, Japanese cuisine has become a firm favorite.
Hitting the top of the trending list are Miso and Saki.
The region loving Japanese the most is Auckland (100). With 538 Japanese restaurants in the region, mostly in the metropolitan Auckland City, also the country's most populous, there is plenty of choice for eating out.
Second comes the wild and wonderful Otago (88), sitting down in the far south. Third is arty-crafty Nelson (78), followed closely by the breathtakingly beautiful Canterbury (76).
4. Italian (Popularity Score 31)
Italians have been arriving in New Zealand since the mid-18th century, though in small numbers, it being easier to get to the States. More came with the gold rush of the 1860s and throughout the next few decades, although never in great numbers, bringing with them their food, language and culture.
Most of those with Italian descent live in the major cities, which might explain why Wellington (100) and Auckland (83) come top of the regions favoring this classic cuisine.
Coming third is Otago (82) – Italian dishes no doubt going well with all the wine they produce down there in the south. A close fourth comes, you guessed it, Hawke's Bay (80), that other great wine region. We can only wonder why Marlborough (64) comes in at a very low 10th position.
3. Chinese (Popularity Score 49)
Otago was desparate for labor during the gold rush and invited thousands of Chinese from the Guandong mining region. As elsewhere, they suffered much rascism and were even subject to a "Poll Tax" levied only on Chinese migrants. In the late 1990s, the government apologised for all that and a second wave of Chinese migrants entered the country, mostly from the business sector and mostly heading for Auckland.
For many years the Chinese community, along with Greeks, dominated the restaurant trade, keeping Chinese food one of the top favorites over the two islands.
The capital for this cuisine, though, is Canterbury (100), the home of the iconic Chung Wah Restaurant established by Mr Toi Yee Chan, who arrived in 1968 with £10 in his pocket.
But both North and South celebrate the food, with Southland (87) coming second and Northland coming sixth (79). Auckland (85) also gives it a big thumbs up coming in third.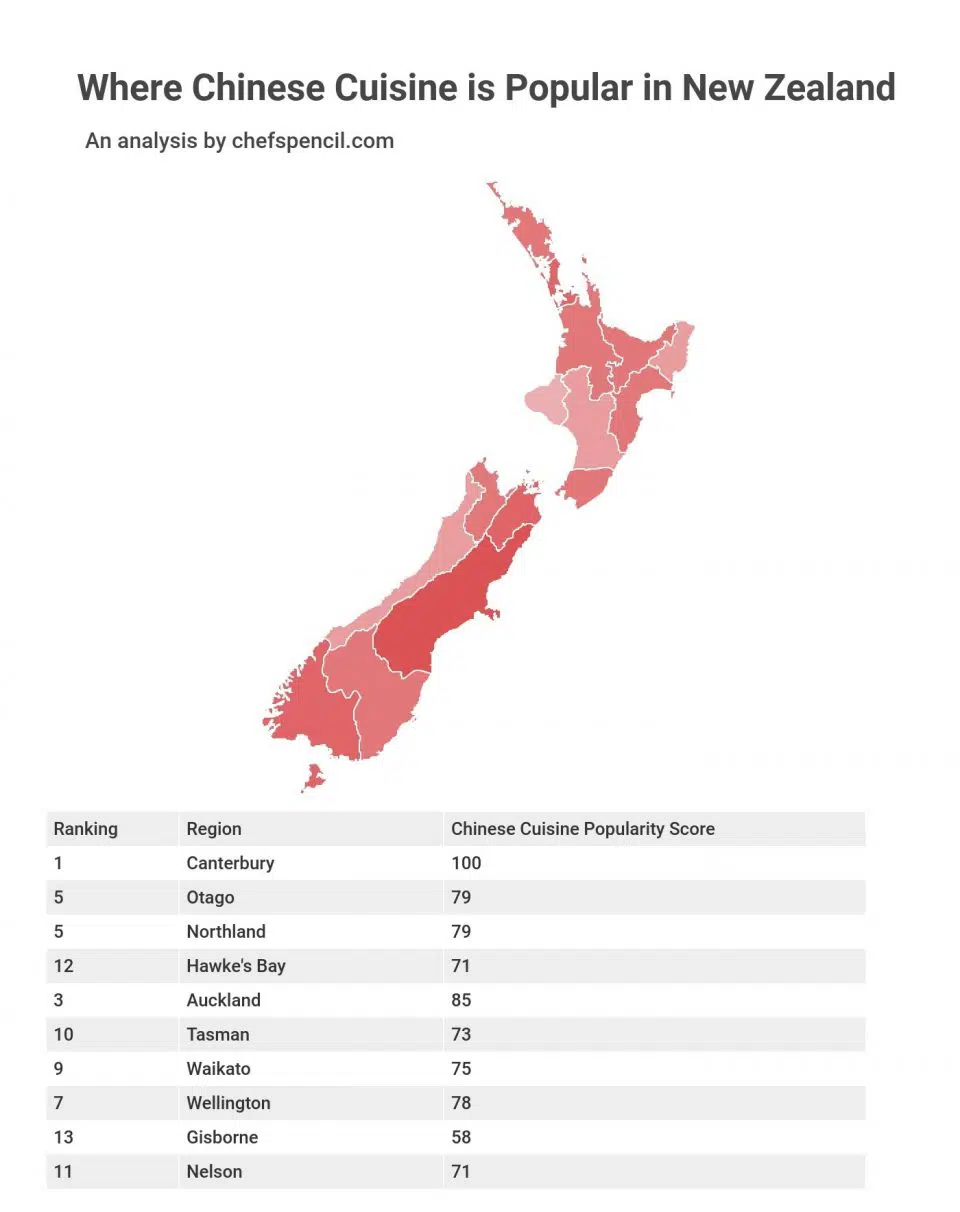 2. Indian (Popularity Score 51)
Indians were pretty much involved right at the start of modern New Zealand, the first arriving in 1769 two months after Cook. As the centrepiece of the British empire, Indian citizens were moved around from place to place and many eventually settled in New Zealand.
More came to answer the call for cheap labor in the late 19th and early 20th centuries, and a third wave arrived after World War II. The 2013 census records 155,178 people of Indian descent living in the country, the vast majority in Auckland.
New Zealanders have been fans of butter chicken for years, but now they are learning to appreciate the finer nuances of Indian cuisine and hankering for more authentic Indian cuisine.
But top of the chart of regions' favoring Indian cuisine comes Hawke's Bay (100) followed closely by Bay of Plenty (94) and of course Auckland (93).
1. Thai (Popularity Score 78)
Bold and fresh, Thai food takes the top spot for favored ethnic foods in New Zealand. And why not, so perfectly balanced as it is. But surprisingly there are many more Chinese and Indian restaurants than Thai, so it must be the number of people cooking the aromatic dishes at home that puts Thai at the top.
And with so many sumptuous panang, Thai green, massaman curries to choose from, it's no wonder Thai is attracting so much interest.
Canterbury (100) is the undisputed capital of Thai appreciation. Perhaps it's the wild coastline, the majestic Alps, or the sparkling Pacific that inspires such tantilizing taste choices because nearby Otago (93) comes second. Third comes Northland (91), that subtropical paradise of forests and beaches surrounded by the Pacific Ocean and Tasman Sea.
This taste for Thai is no blip either. While little separated preferences of ethnic foods back in the early naughties, by the end of that decade Google data shows that Thai had begun to separate from the pack and throughout the 2010s has remained firmly at the top. By the middle of the decade the race for second place was between Chinese and Indian, while Italian and Japanese were left fighting it out for fourth.
---
See how New Zealanders culinary preferences compare to Americans, Canadians, the British and Aussies.
---
Methodology
Chef's Pencil has analysed Google Trends data for the year 2019. Google Trends popularity scores are relative and not absolute. Please see below how Google defines regional popularity scores:
Values are calculated on a scale from 0 to 100, where 100 is the location with the most popularity as a fraction of total searches in that location, a value of 50 indicates a location which is half as popular. A value of 0 indicates a location where there was not enough data for this term.
Note: A higher value means a higher proportion of all queries, not a higher absolute query count. So a tiny country where 80% of the queries are for "bananas" will get twice the score of a giant country where only 40% of the queries are for "bananas".
Fair Use and Redistribution
Chef's Pencil grants you permission to reuse, host, or repost the graphics and images from this article. When doing so, we ask that you kindly attribute the authors by linking to Chef's Pencil or this page.