25 Most Popular Thai Foods
Thailand is a country that boasts dreamy white-sand beaches, bustling cities, and incredible culture. And on top of all of that, one of the most flavorsome, fragrant, and exciting cuisines in the world.
Thailand is world famous for its delicious culinary offerings, from starters to desserts and everything in between. Thai cooks carefully balance savory, sweet, spicy, sour, and salty flavors in each dish. The Land of Smiles has something to get everyone's taste buds tingling and leave you wanting more.
Incredibly, Thai dishes can be found for around 80-100 baht. That's between one and two dollars! So, nothing is stopping you from trying all 25 delicious meals and snacks on our list.
Note: Most dishes can be made vegetarian. Thai cooks are great at catering to dietary requirements, so don't be afraid to experiment!
1. Pad Kra Pao Moo (Minced Pork Stir-Fried with Chilli and Thai Basil)
Forget Pad Thai. Straight into the top spot is Pad Kra Pao Moo. This dish consists of stirfried minced pork with lots of chilies, garlic, onion, green beans, and Thai basil served over rice. This is a classic dish eaten almost daily by many Thai locals, and is extremely popular with travelers also.
A serious contender in the most-loved Thai food category, this dish is delicious, spicy, and found in every restaurant, and at most street food vendors.
Tip: We recommend adding a fried egg to balance out the spice.
2. Tom Kha Gai (Coconut Soup with Chicken)
Tom Kha Gai is a soup rich in coconut milk and galangal root, made with earthy Asian mushrooms and tender chicken. It contains fragrant ingredients, such as lemongrass and kaffir lime leaves, giving it a slightly sour taste. Sprigs of cilantro add a delicious freshness.
Chilli is optional in this dish, so Tom Kha Gai is an excellent choice for those that aren't so keen on lots of spice.
3. Khao Pad (Fried Rice)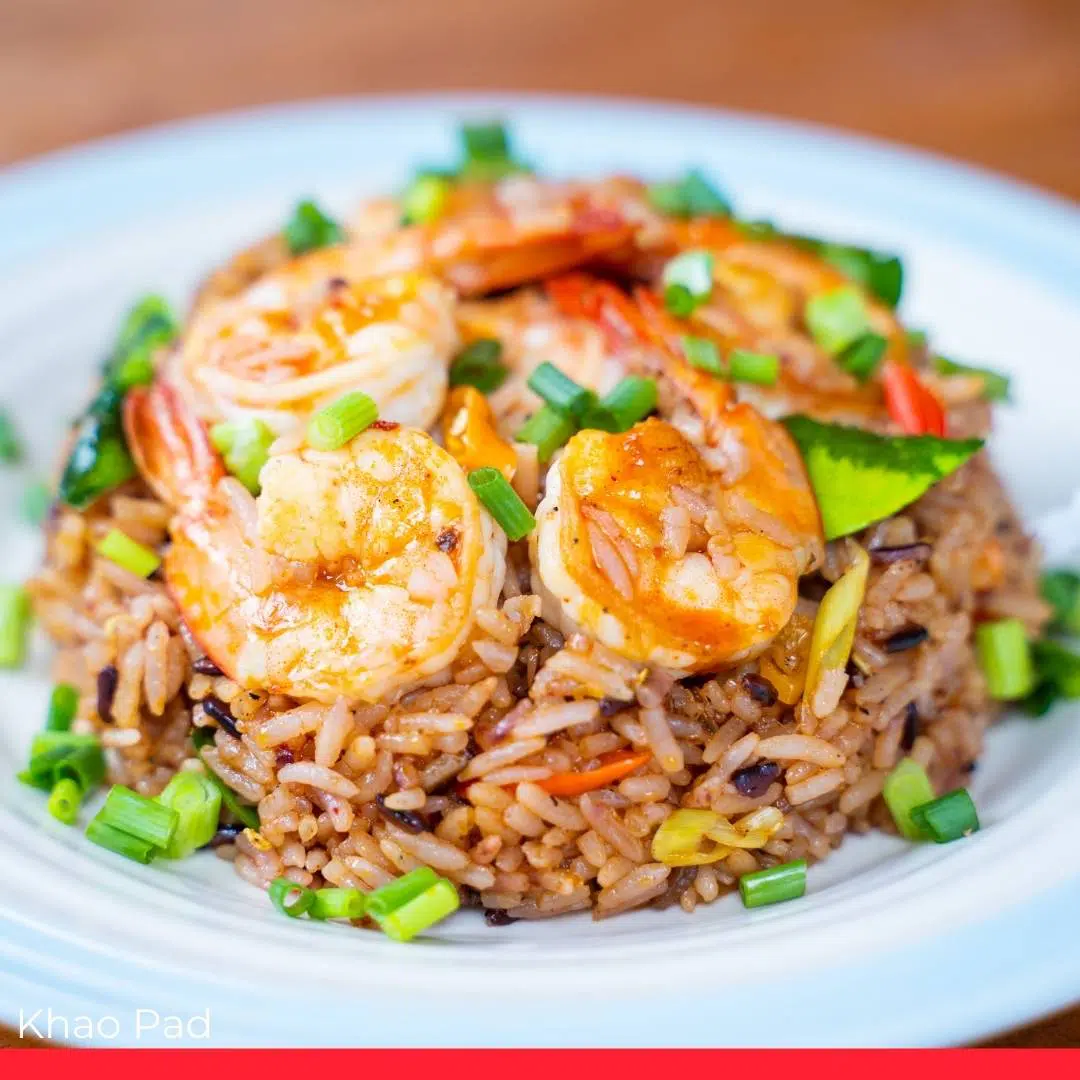 This simple, cheap dish can be found everywhere in Thailand, both in restaurants and cooked by street vendors. It is often served with shrimp.
However, Thai fried rice can be cooked with chicken, beef, pork, or vegetables. Either option is delicious. Fried rice is made with various ingredients, and no two servings will ever be the same. Thai cooks use whatever is on hand, which commonly includes garlic, onion, egg, meat, and fish sauce.
Tip: Try adding a squeeze of lime and sprinkle of chili flakes.
4. Pad Thai (Thai Fried Noodles)
A dish that has become synonymous with Thai cuisine, Pad Thai is a well-loved stir-fried noodle dish served in every kind of establishment imaginable, from street stalls all the way up to Michelin star restaurants.
Loved for its peanutty flavor, you'll also find tofu cubes, egg, and crunchy bean sprouts sprinkled throughout or piled next to the noodles. Choose your favorite protein, add a squeeze of lime and let your taste buds dance.
5. Moo Satay (Pork Satay)
This classic Asian snack can be found widely throughout South-East Asia and is loved by Thais and foreigners alike. Traditionally satay is barbequed meat marinated in turmeric and coconut milk, put on a skewer served with a rich and indulgent peanut sauce. Commonly pork or chicken is used.
However, you will find that the choice of meat may vary from restaurant to restaurant. Perfect as a starter or an afternoon snack.
6. Tom Yum Goong (Sweet and Sour Soup with Prawns)
Tom Kha Gai's not-so-distant, spicier and fishier cousin, Tom Yum, is a clear soup with the perfect balance of sweet and sour flavors. You'll find mushrooms, tomatoes, lemongrass, lime juice, galangal, chilies, kaffir lime leaves, onions, and fresh juicy prawns swimming throughout, with a blend of other secret herbs and spices to create this taste sensation. The exotic flavors of Tom Yum perfectly encapsulate the tastes of Thailand.
7. Khao Niew Mamuang (Mango with Sticky Rice)
Khao Niew Mamuang may be the only dessert to get a mention, but our list would not be complete without it. This simple, traditional Thai dessert is made by pairing fresh mango with sweetened sticky rice served with coconut milk.
Well-loved by locals, it is available all year round but is cheapest and freshest during Thailand's mango season, from April to May.
8. Kai Yad Sai (Stuffed Thai Omelet)
Made famous by Jay Fai and her Michelin-star Bangkok street-food restaurant, this stuffed omelet is becoming increasingly popular in Thai cuisine. Traditionally, a beaten egg is stuffed with minced pork and vegetables with a tangy sauce but there are plenty of other possible fillings.
Jay Fai has pushed the boundaries and created her own version of the dish. Her seafood-heavy menu includes a thin egg omelet filled with succulent chunks of sweet crab. This Michelin version comes with a heavy price tag though. Expect to pay about 1000 baht ($30) for this dish.
9. Khao Soi (Curried Noodle Soup)
This dish from Northern Thailand, with influences from Laos and Myanmar, is slowly making its way down south due as its popularity spreads. Created with a mix of boiled and crispy egg noodles, Khao Soi is a curry-flavored thick coconut broth with pickled mustard greens, shallots, lime, and ground chilies fried in oil, and served with succulent chicken on the bone.
Khao Soi is not often found in Thai restaurants abroad, so don't pass up the opportunity to give it a try.
10. Pad See Ew (Fried Flat Noodle with Soy Sauce)
Another yummy and frequently ordered Thai noodle dish is Pad See Ew. Large, flat rice noodles are cooked with lashings of garlic, onion, egg, cabbage, and your choice of protein. Soy sauce is mixed through to give the dish its well-known dark color.
Eat like a local, add a sprinkle of chili flakes and chili vinegar, and enjoy. Delicious!
11. Laab Moo (Minced Pork Salad)
Laab is originally a Northeastern (Isaan) dish, but is enjoyed throughout Thailand. It is usually served as part of a set meal with papaya salad and rice. Minced pork is combined with lime juice, fish sauce, chili flakes, fresh herbs, and toasted rice for crunch. Though minced pork is the common ingredient, Laab is also often made with chicken or duck.
12. Gaeng Panang (Panang Curry)
Panang is made using a thick curry paste with cilantro seeds, cumin seeds, red curry paste, shrimp sauce, and peanuts. The paste is then combined with coconut milk to create its well-known creamy flavor. Add some kaffir lime leaves for a fresh taste, and slow cook your onion, potato, and meat in the sauce until tender and delicious. Serve with rice for a rich, indulgent, hearty meal. Heaven.
13. Gai Pad Med Ma Muang (Stir-Fried Chicken with Cashew Nuts)
Chicken pieces and cashew nuts are deep-fried to become the bulk of this mouthwatering dish. Onions, garlic, shallots, chillis, and often brightly colored bell peppers are then combined with the holy grail of Thai cooking sauces: soy, oyster, and fish, to finish off. Easy to find and even easier to fall in love with.
14. Som Tam (Spicy Green Papaya Salad)
Salads aren't often found in Thailand, and this Thai salad won't fit your view of a conventional Western salad. Som Tam is incredibly simple, but packs a punch and is full of flavor. This dish is made by pounding a variety of ingredients together in a pestle and mortar. Som Tam includes garlic, chilies, fish sauce, peanuts, dried shrimp, tomatoes, sugar, lime juice, green beans, peanuts, and of course, grated sour green papaya.
There are a few variations to the traditional Som Tam that are also worth a try.
Som Tam Thai ส้มตำไทย – Green papaya salad dressed with fish sauce and lime juice.
Som Tam Boo ส้มตำปู – With fermented crab.
Som Tam Pla Raa ส้มตำปลาร้า – With fermented fish.
Som Tam Hoy Dong ส้มตำหอยดอง – With fermented oysters.
Fresh, simple, and delicious.
15. Poh Pia Tod (Thai Spring Rolls)
Everyone loves a spring roll, but Thai folk really do know how to make them well. Perfect as an appetizer or to grab from a street vendor after a few Chang beers, Thai spring rolls hit the spot every single time. Carrot, cabbage, mushroom, and onion are mixed with rice noodles before being rolled into their spring roll wrapper and fried until perfectly crispy and golden. Choose your meat – they have them all – or leave it without. It is entirely up to you!
Tip: Dip into sweet chili or plum sauce for an addictive treat.
16. Gaeng Massaman (Massaman Curry)
Massaman curry is similar to Penang curry in its look and textures. It is mild, sweet, tangy, and peanutty, and, as with many Thai dishes, it has a coconut cream base, making it rich and delicious. It is, of course, elevated with a plethora of herbs and spices, including bay leaves, cinnamon, cumin, cilantro, galangal, lemongrass, nutmeg… the list goes on!
Massaman curry is derived from Indian dishes, and has a Persian influence. There is a distinct lack of vegetables in this curry, with only onion and potato making an appearance. So, serve with some rice and embrace the double carbs!
17. Pla Kapung Nueng Manao (Steamed Fish with Spicy Lime Sauce)
Thailand has access to some of the best and freshest fish in the world. If you walk along any busy seaside street in Thailand, you will see rows of restaurants with their catch of the day on the ice, ready to be cooked for you to enjoy.
Barramundi (Asian Seabass) or Red Snapper are the locals' choice. Fresh off the boat, steamed and served with a sharp limey sauce with an abundance of raw garlic, cilantro, and chili. Fresh and flavorsome. This dish is definitely one of the healthier choices in Thailand.
18. Tod Mun Pla (Thai Fish Cake)
Another tasty Thai appetizer is this fish cake.  It is made using fresh fish, Thai basil, lime leaves, and green beans, formed into round patties before being deep-fried. Piled high on a plate, Tod Mun Pla are served with a spicy dip, usually containing cucumber, peanut, shallot, chili, vinegar, sugar and, fish sauce.
Tip: Add a side of rice or noodles to enjoy as a main meal.
19. Gaeng Ped (Red Curry), Gaeng Garee (Yellow Curry), Gaeng Keow Wan (Green Curry)
Red, Yellow, and Green curry are undoubtedly the most famous of all the Thai curries. Each carries similar ingredients such as garlic, shallot, shrimp paste, lemongrass, and galangal. They do, however, have some crucial differences.
Red Curry uses red curry paste, which provides its vibrant color and is heavily spiced with red chili.
Yellow Curry uses turmeric and is rich in taste and color.
Green Curry is spiked with fresh green chillies, and draws on cilantro, lime leaves, and basil for its vibrant green color.
Each type is made with coconut milk for a creamy balance, and is delicious when served with rice. Which color will you choose?
20. Moo Ping (Barbequed Marinated Pork Skewers)
A favorite for those on the go, pork shoulder is thinly sliced and marinated in cilantro root, pepper, garlic, and oyster sauce. It is lightly barbequed over charcoal and served with sticky rice.
This classic snack can be found at every street vendor and night market in the country. Each vendor will have their own special marinade, so you will never taste the same Moo Ping twice. It is a breakfast favorite among locals.
21. Durian
One of the most controversial foods in Thailand, durian is not easy to miss. You'll smell it before you see it. Its scent has been compared to body odour, sewage, and dirty feet.
With a smell so strong, it is banned from most public transport and hotels around Asia. We know this isn't the best way to convince someone to try new food, but… supposing you can get past the smell, you'll be rewarded with a sweet, custardy taste and creamy texture, often compared to caramel or vanilla. Go on, take the plunge!
22. Sai Ooah (Northern Thai Sausage)
Nothing will get your mouth watering as much as Sai Ooah. This Thai sausage can be found in Northern Thailand and is truly heavenly. Minced pork is mixed with distinct flavors such as lemongrass, garlic, and chili, providing a spicy, lemony kick.
If you think you love regular pork sausages, just wait until you try Sai Ooah.
23. Hoy Tod (Oyster Omelet)
This dish will have you shamelessly licking your plate clean. Hoy Tod translates as "deep-fried oysters" but this is more like a big crispy omelet laced with juicy, fresh oysters. It is served on a bed of bean sprouts and topped with black pepper and cilantro. Simple yet heavenly.
24. Kuay Teow Reua (Thai Boat Noodles)
Gaining its name from the vendors who sell it directly from boats, these Thai Boat Noodles are treasured. The beautifully dark, rich broth is the main event in this meal, with the secret ingredient being pig's blood. Keep an open mind, these noodles are sure to leave you wanting more.
25. Mu Kratha (Thai Barbeque)
Influenced by Korean BBQ and Chinese Hotpot, Mu Kratha is the Thai version of a tabletop barbeque, directly translating as "pan pork". It's a great choice for for a relaxing meal with friends or family, accompanied by a few drinks.
There are no specific ingredients to this meal, just choose your favorite meat, fish, or vegetables and get cooking! The domed hot plate surface can be used for grilling meats, and the bottom moat contains a fragrant broth to cook your vegetables.
Well… our list could go on and on, but we have to stop somewhere! We hope you will give some of these exciting and enticing choices a try when you get the chance! Which number are going to try first?