The Atlas of Pizza: 23 Types of Pizza (With Pictures!)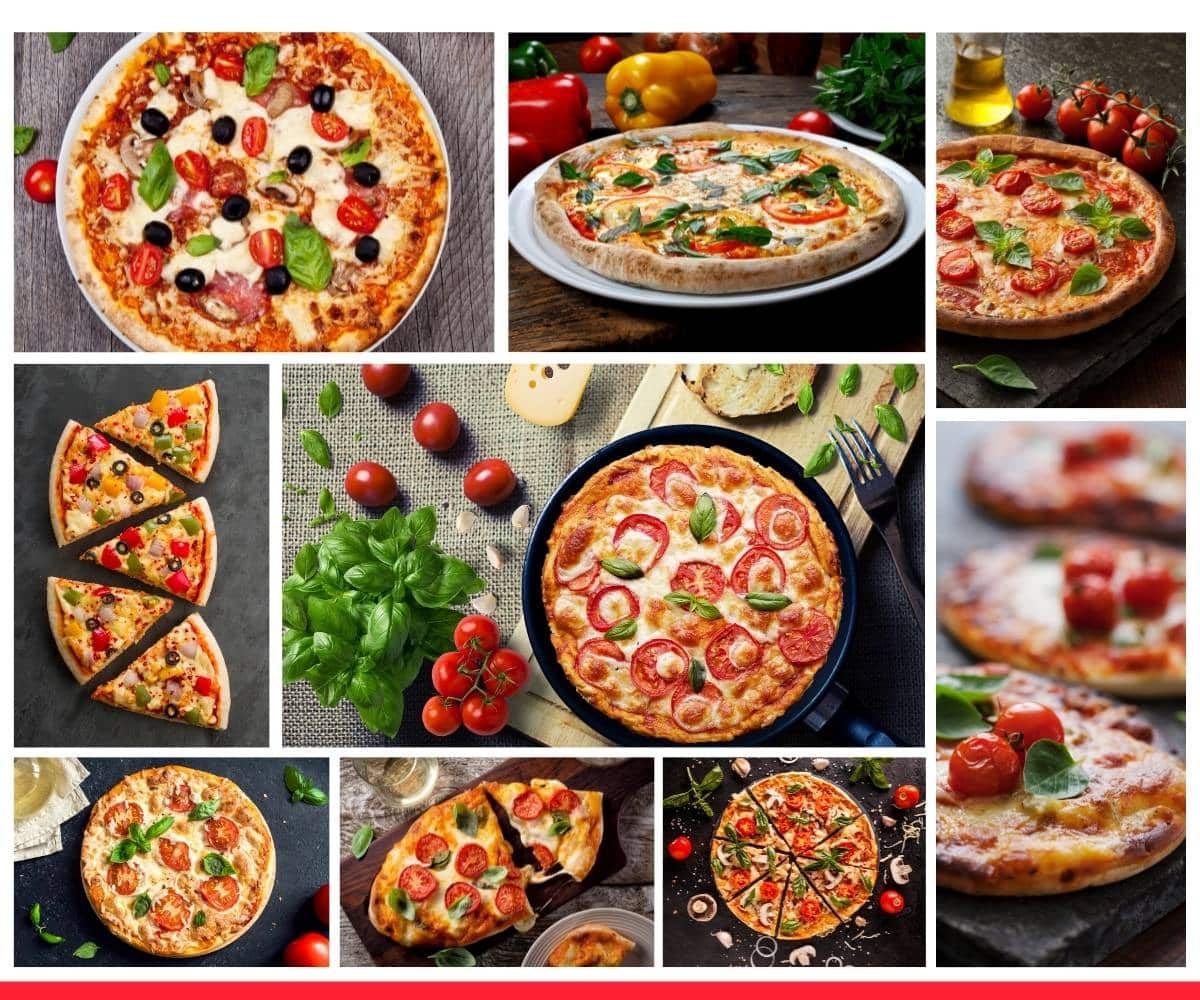 It's late at night and you want to nibble on something good but don't feel like cooking. That's the perfect occasion to order the family a pizza. But there's so much more to pizza than you'd think. There are many varieties found around the globe. Here are some of the most popular pizzas out there. Get inspired and maybe next time you'll discover a new one to try.
A crunchy and yet soft crust. A mouthful of sweet and slightly tangy, fresh tomato sauce. Gooey, rich, unctuous cheese. Toppings of choice. It's pizza time! While we take pizza for granted, there are many ways to enjoy this great dish.
There's Italian pizza, American pizza, and even Canadian and Chinese pizza. And yes, they're all great. So great we've written about them all. Check out the most popular pizzas around the world!
Pizzas from Around the World
Pizza is a universal favorite food all around the globe. We could say pizza is a love language in itself. After all, that melted cheese combined with a soft, crunchy dough and plenty of delicious toppings, what can be wrong with that? And since we're all mad about pizza, we've compiled a yummy list of pizzas you should try at least once in your lifetime.
1. The True Italian Pizza: Neapolitan
Napoli is where it all started. Neapolitan pizza is the one original. ıt was created in the 18th century in Naples, Italy and it all because of poverty. The poor inhabitants of Naples came up with something filling and delicious, but, most of all, affordable. So pizza came to life, and thank God for that!
Related: Most Popular Southern Italian Foods
Neapolitan pizza has a thin, crispy yet fluffy light crust. It's not made to handle a lot of toppings, just a couple of light toppings and it's good to go. Extra info: Did you know Neapolitan pizza is so thin you need a knife and fork to eat it? And did you know a pizza so thin and light is cooked in less than two minutes? Yum!
Other Italian pizzas:
There are tons of pizza in Italy alone. While it all began with the Neapolitan pizza, things then got creative. The first two on the list are variations of the original Naples pizza.
The Margherita is Pomodoro or San Marzano tomatoes, mozzarella di Buffala, extra virgin olive oil, and fresh basil, ingredients that don't compete with each other. Simple ingredients in an amazing combo.
Sometimes Margherita has extra mozza di buffala or mozzarella from Campania, or fior di latte, for extra richness and creaminess. Extra info: Did you realize pizza Margherita displays the three colors of the Italian flag: red, white, and green, aka tomatoes, mozza, and fresh basil?
Marinara started as a pizza for… well, sailors and fishermen. Marinara is made with the usual pizza crust, Pomodoro, garlic, oregano, extra virgin olive oil, and sometimes, anchovies. Cheap, delicious, filling, and, boy oh boy, does it go well with rum or wine!
Aglio e olio has tomato sauce, olive oil, and garlic.
Mozzarella di buffala pizza is like Margherita, but with mozzarella di buffala.
Mari e monte combines tomatoes, mushrooms, garlic, onion, and seafood, or, as Italians say, frutti di mare.
Alla Vongole is made with tomato sauce, mozzarella, garlic, chili powder, and small clams.
Bolognese contains bolognese sauce and mozzarella.
Calabrese pizza is made with tomato sauce, Parmigiano Reggiano, tuna, olives, garlic, capers, onion, and hot Calabrian chili peppers.
Caprese combines mozzarella, tomato sauce, and cherry tomatoes.
Capricciosa pizza is made with tomato sauce, mozzarella, mushrooms, artichokes, olives, olive oil, and cooked prosciutto (ham).
Carbonara is rich and filled with dairies, such as Pecorino Romano cheese and heavy cream. It also contains eggs, scallions, and a dash of black pepper.
Carciofi contains, uhm, well, carciofi (artichokes), tomato sauce, and mozzarella.
Carpaccio is made with tomato sauce, mozzarella, beef carpaccio, arugula, and Parmesan.
Cipolla combines tomato sauce, mozzarella, plenty of onions, and oregano.
Diavola is topped with tomato sauce, mozzarella, spicy Italian salami, and hot chili peppers.
Frutti di Mare is made with tomato sauce, mozzarella, and seafood (vongole, tiger prawns, mussels).
Al funghi contains fresh mushrooms, tomato sauce, and mozzarella.
Parma gets its name from Prosciutto di Parma, a main ingredient. Other ingredients are tomato sauce, mozzarella, arugula, and cherry tomatoes.
Pepperoni has tomato sauce, mozzarella, and chili flakes on top.
Prosciutto combines prosciutto crudo, tomato sauce, and mozzarella.
Pugliese comes from the region of Puglia and has tomato sauce, mozzarella, and onions. Plenty!
Quattro formaggi is made with tomato sauce and four cheeses (mozzarella, Pecorino, Gorgonzola Piccante, and Parmigiano Reggiano).
Quatro stagioni, aka Four Seasons pizza, is made with tomato sauce, mozzarella, Parmesan cheese, basil, mushrooms, artichokes, cooked ham, olives, and olive oil.
Regina has tomato sauce, mozzarella, ham, and mushrooms.
Romana has tomato sauce and toppings such as mozzarella, anchovies, olive oil, and oregano.
Salame contains tomato sauce, mozzarella, and Italian salami.
Salmone is topped with tomato sauce, creamy Mascarpone cheese, smoked salmon, and arugula.
Salsiccia combines tomato sauce, mozzarella, Salsiccia, and Raddichio Trevisano.
Spinaci is made with tomato sauce, mozzarella, spinach, olive oil, and salt & pepper.
Tartufata contains mozzarella, mushrooms, Oyster mushrooms, truffle oil (hence the name), arugula, and Parmigiano.
Tonno e Cipolla combines tomato sauce, mozzarella, tuna, and onions.
Con verdure (vegetarian,) is made with tomato sauce, mozzarella, and veggies.
2. The Sicilian Pizza
La Siciliana, also known as sfincione (thick sponge) has a thick, extra fluffy crust with a crunchy exterior.
This pizza is topped with a lot of tomato sauce and cheese is usually added (if it's added) between the dough and the sauce, stopping the crust getting soggy. Another interesting piece of info about this pizza: It is square. For toppings, it usually has tomatoes, onions, anchovies, and herbs.
3. Roman-style Pizza
The Roman-style pizza has a thick curst that resembles focaccia bread. Cut into square slices, Roman pizza is usually served al taglio (by the slice). It has small amounts of simple, fresh ingredients.
4. The Staple American Pizza: Chicago Deep-dish, New York- or Detroit-Style Pizza
Going from Italian to American pizza is quite a jump, especially if you compare the thin Neapolitan with the thick, deep-dish pizza from Chicago, though other variants like New York-style pizza are much closer to the original Neapolitan version.
American pizza is now considered a quintessential American food and it was voted as America's most favorite food in a survey conducted by the Harris Poll.
In the early 1900s, Italian immigrants in Chicago missed their Naples staple, not being able to find the pizza they knew from home. But they did find the Chicago pizza, involving a thick crust with raised edges, resembling a pie or tart.
Its ingredients are added in reverse. Mozzarella on the bottom, meat (ground beef, sausages, usually), then vegetables, and then the tomato sauce, well away from the dough. Sometimes it is sprinkled with Parmesan, sometimes with onion, mushroom, green peppers, and pepperoni beneath the sauce. Extra info: Did you know this pizza takes a full 30-35 minutes to bake?
New York–style pizza is equally famous to Chicago deep-dish pizza and it is made with a characteristically large hand-tossed thin crust, often sold in wide slices to go.
It's not only Italy with a great variety of pizza. America has also got creative with this flavorsome dish. What types of pizza are there in the US, but "the classics" aforementioned? Keep on reading for pizzas other than the aforementioned classics.
Apizza, aka white clam pizza, is made with clams, Pecorino Romano, garlic, oregano, and olive oil. Apizza is also known as New Haven-style pizza and it's a staple in the US. The dough is left to ferment longer and is then shaped rather asymmetrically. It can be topped with tomatoes, other cheeses, and meats, but it also has white sauce and clams. While it's not the sexiest pizza there is, it sure is tasty!
Bhut Jolokia contains tomato sauce, cheese, and extremely hot Bhut Jolokia chili peppers.
Broccoli is made with tomatoes, ricotta, broccoli, and spinach.
Carolina Reaper combines tomato sauce, cheese, and the famous hottest chilis in the world, the Carolina Reaper. Do you dare?
Philadelphia tomato pie, referred to as bakery pizza, is quite thick. It is always square and comes with a rather soft, tender doughy bottom, not crispy or charred. It's served lukewarm and has no cheese.
Buffalo Chicken is a "busy" pizza in that it has many toppings. Hot sauce, Monterey Jack cheese, blue cheese, chicken breast cutlets, spring onions, and olive oil make this pizza to die for!
Cheesy crust or stuffed crust pizza is made with tomato sauce and mozzarella. And, let's not forget all the cheese baked in the crust. More often than not, it has many other toppings.
Cheeseburger style is made with tomatoes, cheese, ground beef, cheese sauce, bacon, pickles, and lettuce. We can't say we're not creative!
Chicken Alfredo is a rich, fatty pizza. It contains butter, onion, garlic, grilled shredded chicken, heavy cream and milk, Parm cheese, mozzarella, olive oil, green onions, and ground black pepper. Yikes! You'll need quite a workout after this one!
Habanero combines tomato sauce, cheese, and Habanero peppers.
Mac and cheese pizza is made with macaroni, cheddar, and mozzarella. Yes, as in a pizza with pasta on top!
Meatball pizza contains tomato sauce, meatballs, salami, and cheese.
New England Greek-style pizza is prevalent in the Midwest, mainly New England. It's a pan-style pizza, with a doughy crust and a hint of a crispy bottom.
Greek pizzas were created in America by Greek immigrants. With a thick, rather chewy, doughy, spongy crust, this one is baked in shallow pans. The result? A deep-fried bottom pizza with a puffy, chewy texture. As far as toppings go, this pizza is on the heavy side! Tomato sauce with a strong oregano flavor, a mix of cheeses (mozzarella, cheddar, provolone), and sometimes Greek ingredients such as Feta cheese, red onions, black olives. Sounds goooood! Opa!
Ohio Valley Pan pizza combines tomato sauce, grated mozzarella cheese, and Pepperoni salami.
Old Forge red is made with sweet tomato sauce, onions, mozzarella, and cheddar. It is baked in a deep-dish tray.
Old forge white contains mozzarella and cheddar. It also is baked in a deep-dish tray and yes, it doesn't have any sauce!
Stromboli is made with mozzarella, tomato sauce, salami, ham, and vegetables that are rolled in pizza dough and then baked.
Colorado Mountain pie is a big pizza! Expect a doubt crust loaded with plenty of toppings.
Tomato pie (New Jersey pizza) is made with tomato sauce and many toppings. The interesting thing about this one is that the ingredients are layered in reverse.
Tropical contains pineapple cream, mozzarella, mango, lime, shrimps, and parsley. Yum!
5. The New York-style Pizza
Another American staple: the NY pizza! You've seen it in movies, we're pretty sure! It's that cheesy pizza that melts and gets gooey. It's that pizza that the women in Sex and the City ate every once in a while, in a slice or two.
This pizza comes in large slices that are elastic enough to be folded in half and a crispy outer crust. It resembles the Margherita, but it's bigger and a little greasier since it contains more cheese and a mozzarella that is low in moisture. And boy, is it good!
This pizza usually comes with tomato sauce and mozzarella. But it can handle many toppings, such as sausages, pepperoni, mushrooms, and anchovies. It is usually topped with chili flakes, garlic powder, oregano, or Parmigiano cheese. How can you not <3 NY?
6. The Californian Pizza
Also known as gourmet pizza, California pizza was invented in the late seventies. It's one of the "busy" pizzas in that it contains many ingredients, often all aromatic and different. Chef Ed LaDou created a pizza with mustard, ricotta cheese, pate, and red pepper. After this hit, he came up with 250 recipes found in the chain restaurant California Pizza Kitchen.
7. The Detroit Pizza
The Detroit pizza speaks volumes about the area it became famous in. It was created in the forties in Detroit and was originally baked in a square automotive parts pan. Yes, it was originally baked in the spare industrial entrails of this city's factories.
From bottom to top, the Detroit pizza includes toppings such as pepperoni, brick cheese spread to the edges of the pie, creating a caramelized cheese base, and tomato sauce added on top. It has a thick crust, with a crispy, crunchy bite on the outside and an airy, tender, soft interior. Sometimes it has onions or olives.
8. The St. Louis Pizza
From one thick pizza to one of the thinnest. The St. Louis pizza is light with a cracker-like, thin crust. It's made without yeast and it's to die for!
Usually cut into squares, ala "tavern" or "party" cut, this pizza is topped with Provel processed cheese (a mix of Provolone, cheddar, and Swiss cheese), sweet tomato sauce, aromatized with plenty of oregano. This was created in the 19th century by immigrants from Milano and Sicilia wanting to remind themselves of home.
9. Canadian Pizza
While you'd think pizza is pizza everywhere, all regions leave a mark. Such is the case in Canada. Here are some of the most famous ones you should try if you're there:
All-dressed involves spicy tomato sauce, pepperoni, onions, mushrooms, and green chili pepper slices.
Donair is made with Donair sauce, mozzarella, Donair meat, onions, and tomatoes.
Garlic fingers, also known as Nova Scotia Garlic Fingers pizza, is made with garlic butter, cheese, and parsley. Talk about yum!
Pictou County combines brown sauce, tomatoes, onions, mushrooms, celery, garlic cloves, oregano, and black pepper.
Poutine is made with tomato sauce, Mexican cheese, beef gravy, bacon, and fries. My oh my!
Sushi pizza is quite appreciated in Canada. The crust is made from rice dough and as far as toppings go, you'll find sliced avocado, sliced salmon, crab, tuna, wasabi, and mayonnaise.
Toronto style is made with tomato sauce, mozzarella, garlic, basil.
Hawaii Pizza was invented by a Greek-born Canadian. Hawaii pizza is one of the most loved (and equally hated!) types of pizza. It is traditionally topped with pineapple and either ham or bacon.
10. The Mexican Pizza
Bell peppers, chili peppers, onions, cilantro, corn, black beans, tomatoes: these are the most common toppings for Mexican pizzas, a delicious Mexican street food. Here are some you can chow down on in Mexico.
Avocado pizza is made with slices of avocado, tomatoes, and Mexican cheese. Simple and delish!
Chicken pizza combines fresh tomatoes, sliced chicken cooked Mexican style, Mexican cheese, hot chili powder, and sun-dried tomatoes.
Chili con carne has to be one of the most ordered pizzas here! It's made with tomatoes, ground beef, black beans, hot chili peppers, corn, onions, garlic, salt, and at times, sour cream. Ay, ay, ay!
Chipotle combines tomatoes, Mexican cheese, smoked jalapeno peppers (chipotle), and various toppings.
Taco style involves tomatoes, black beans, red onions, bell pepper, garlic, jalapenos, cilantro, hot pepper sauce, cumin, and pepper Jack cheese.
11. South American Pizza
Here are some pizzas you can try while visiting South American countries.
A la parrilla is an Argentinean pizza made with red sauce, cheese, and various toppings. The interesting thing about this pizza is that it's grilled from both sides and the toppings are added after it's turned.
A la piedra is made with tomato sauce, mozzarella, and various toppings. It has a thin crust and it's baked in a wood-fired oven. You can try it in Argentina as well.
Argentinian deep-dish involves tomato sauce, mozzarella, and various toppings.
Canchera combines tomato sauce, onions, garlic, and red pepper flakes.
De molde is the pizza you order in Argentina if you fancy a thick crust topped with all the cheese there is.
Fugazza combines tomato sauce, oregano, and three types of cheese.
Jamon y morrones is made with Provolone cheese, blue cheese, sliced ham, roasted red peppers, heart of palm, and… chopped hard-boiled egg.
Longaniza combines tomato slices, a Spanish sausage called Longaniza, and red chili peppers. It's another pizza found in Argentina.
Atum can be tried in Brazil and is made with tomato sauce, tuna, and onions.
Banana com Canela is a sweet pizza found in Brazil. It contains condensed milk, sweet banana slices, and cinnamon.
Mussarela is made with mozzarella, tomato sauce, and oregano.
Plantain is another Brazilian pizza. It's made with sliced plantain, chicken, Scotch bonnet peppers, chopped carrots, garlic, and red onion.
Portuguesa is made with tomato sauce, mozzarella, Calabrian salami, olives, ham, egg, bell peppers, and onions. It's also to be found and savored in Brazil.
Colombiana contains tomato sauce, corn, Columbian chorizo, diced avocado, fresh cilantro, red hot pepper flakes. You can find it in Colombia.
De Pepperoni is another Colombian pizza. It combines tomato sauce, Pepperoni salami, and many kinds of cheese.
Jamon y pila pizza is the Colombian version of Prosciutto e funghi. It contains tomato sauce, mozzarella, mushrooms, and ham.
12. French Pizza
From sweet to savory, from light to hearty , pizzas in France are a gourmet experience. French cheeses, Port wine, truffles; there are so many flavors to expect when exploring French pizzas. You'll find there are no limits to creativity here!
Grapes and Port wine is made with gorgonzola, grapes, Port wine, and a sprinkle of black pepper.
Lavande combines gorgonzola, cherry tomatoes, lavender, arugula, and rosemary.
Pissaladiere is made with anchovy fillets, black olives, caramelized onions, olive oil, garlic, Herbs de Provence, thyme, salt, and pepper.
Provencale has amazing toppings: green Provencal basil sauce, tomato sauce, Cantal cheese, herbs de Provence, ham, and olive oil.
Puttanesca is made with tomato sauce, mozzarella, gorgonzola, pine nuts, and hot chili peppers.
Tuffes combine tomato sauce, mozzarella, truffle cream, all topped with basil leaves.
13. Spanish Pizza
When in Spain, go for pizzas with traditional local ingredients. You can expect Jamon de Serrano ham, tapas, chorizo, or Spanish cheeses.
Catalan coca is a Catalan flatbread without cheese or tomato sauce but with various toppings.
Chorizo pizza is made with Marinara sauce, goat's cheese, garlic, oregano, and, of course, chorizo.
Diavola combines marinara sauce, mozzarella, Serrano chili peppers, and hot Spanish salami.
Gamberi is made with tomato sauce, mozzarella, hot chili peppers, and garlic prawns.
Jamon Serrano combines tomato sauce, mozzarella, Jamon Serrano, Parmesan, and rocket.
Olives pizza is made with tomato sauce, Spanish olives, Manchego cheese, and olive oil.
Patata y salchicha is a pizza made with tomato sauce, mozzarella, sliced potatoes, Salchicha, caramelized onions, hot chili, and rosemary.
Tapas pizza involves Marinara sauce, Manchego cheese, chorizo sausage, red onion, roasted red peppers, olive oil.
23 varieties of pizza you should try
1. Bagel Pizza
Ah, yes, the quick and easy way to make your tiny pizzas at home, without kneading, without the hassle. We love pizza. We love bagels. What could go wrong? Nothing! Bagel pizza is a popular choice. With a bagel used as a crust, you can add your favorite toppings, and voila! After putting in the oven until the toppings are golden, you can binge on them. And you will!
2. Breakfast Pizza
Breakfast pizza has become a popular choice for weekend brunches. It's no wonder since it contains bacon, sausages, eggs, cheese, and even potatoes.
3. Dessert Pizza
It seems it wasn't enough for pizza to be savory. It can be sweet too! Dessert pizza, aka sweet pizza, is topped with chocolate, Nutella, caramel, cream, peanut butter, nuts, fruit, and whatever sweet goodness comes to mind.
4. Calzone
There's no pizza history without Calzone! Calzone is a pizza that is folded before baking. It's like a doughy pouch that holds all the ingredients. Created in Naples sometime in the 18th century, this Italian pizza contains salami, Parmigiano Reggiano, mozzarella, ricotta, and ham. The dough is not thick nor is it thin. It can also contain veggies, but it's rather famous for its dry fillings since the dough doesn't get soggy.
5. French Bread
While it may sound posh, French bread pizza is made by topping a split baguette, then letting it bubble and melt beautifully in the oven until it's crispy.
6. Bresaola
Bresaola is another French pizza you should try. It's loaded with tomato sauce, mozzarella, Pecorino, and Bresaola, an Italian air-dried beef ham, ta bit like Prosciutto Crudo only made with beef.
7. Crudaiola
Crudaiola is a great pizza to look out for around the world when you feel like loading up on veggies. It's made with mozzarella and plenty of vegetables, such as baby carrots, zucchini, tomatoes, black olives. It's also topped with spices such as thyme, black pepper, and olive oil.
8. Russian Black Caviar Pizza!
You should try it. It's made with Thousand Island sauce, Parmigiano Reggiano, Black Caviar, and dill.
9. Russian Sauerkraut Pizza
Russian Sauerkraut pizza is another that you need to try when in Russia. It's topped with boiled Russian pickled cabbage, eggs, onion, and loaded with cheese and herbs.
10. Bone Marrow Pizza from the UK
This pizza contains tomato sauce, bone marrow, mushrooms, beetroot, garlic, and rocket. Might not want to miss it!
11. Chicken Tikka Masala
Chicken tikka masala is a pizza you can taste in India and the UK. It's made with tomato sauce, mozzarella, chicken breast, and plenty of herbs, condiments, and spices.
Cumin, cayenne pepper, black pepper, garam masala, chili powder, paprika, and coriander are added to this pizza. It's served with yogurt and lemon.
12. Nutella Pizza
Nutella pizza can be found in many countries as a sweet pizza. It's topped with Nutella and fruit, usually strawberries and sliced banana, sometimes with the addition of powdered sugar. More often than not, it is served while hot with ice cream. Mamma mia!
13. Avocado Biltong
Avocado biltong is the pizza you should try in Africa. Made with hot tomato paste, cheese, avocado slices, and a dry, cured meat, named biltong, this is a staple of the continent.
14. Harissa Pizza
Harissa pizza is another pizza from Africa. Instead of tomato sauce, the crust is topped with harissa paste. After that come mozzarella, cured olives, onion, and lemon juice.
15. Zapiekanka
Zapiekanka is an open-faced sandwich, a bit like bagel pizza. It has a thick crust, just like deep-dish pizza, and it's topped with tomato sauce and cheese.
16. French Tarte Flambee
French tarte flambee is from Alsace. It has a yeast-based thin crust topped with crème fraîche, lardons, and caramelized onions. Sometimes fromage blanc is used as a sauce base.
17. Florida Scachatta Pizza
Scachatta Pizza is an iconic food in Florida and the best Scachatta pizza can be found in Tampa. This Cuban-Sicilian-American pizza is famous for the corn cassava flour added to the dough. Sometimes the dough is made with eggs, as well, making it even richer. This pizza has a thick crust and the tomato sauce includes extra spices and ground beef.
18. Moroccan Pizza
Moroccan pizza is made with marinara sauce, mozzarella, chicken, carrots, green onions, green olives, spices such as cinnamon and cumin, and olive oil.
19. Lahmajoun
Lahmajoun is Turkish pizza but it can be found in Armenia as well. It's a very thin flatbread topped with ground beef or lamb, tomato sauce, veggies, onions, parsley, sometimes pomegranate. It's served with lemon and eaten rolled up with fresh parsley.
20. Crocodile Pizza
Crocodile pizza is, of course, to be found in Australia. It's made with tomato sauce, mozzarella, lime, parsley, and crocodile fillets.
21. Emu Pizza
Emu pizza is also from the Land Down Under. It's made with goat's cheese, mozzarella, emu meat, red bell pepper, red onion, salt, and hot chili pepper.
22. Eggplant Pizza in Iran!
Made with yogurt, goat's cheese, sun-dried tomatoes, plenty of spices, and eggplants, this pizza will have you craving more.
23. Iranian Beef Tongue Pizza
Iranian beef tongue pizza is not for the squeamish. It's made with few ingredients and you'll either love it or avoid trying it. It contains mushrooms and beef tongue. What about you: yum or yuk?
It's no wonder pizza is the most popular food in the world! In the US alone, three billion pizzas are purchased per year. Read that again! Three billion pizzas! We can't even imagine how many pizzas are eaten worldwide! But it doesn't really matter. We simply enjoy them! Thin crust, thick crust, fluffy or crunchy, with a couple of toppings or piled high with them, we simply love eating them all! With so many out there, we might as well start now!
---
Related: The Best Pizza in Florence
Related: The Best Pizza in Rome