35 Asian Foods You Absolutely Need to Try At Least Once
Asia is known for its rice and noodle culture and is home to some of the best food in the world. Asia is home to an amazingly diverse range of cuisines and whilst many countries have similar dishes, they all make use of local traditions and ingredients to create mouth watering dishes.
Let's get into the top 35 Asian dishes!
1. Sushi – Japan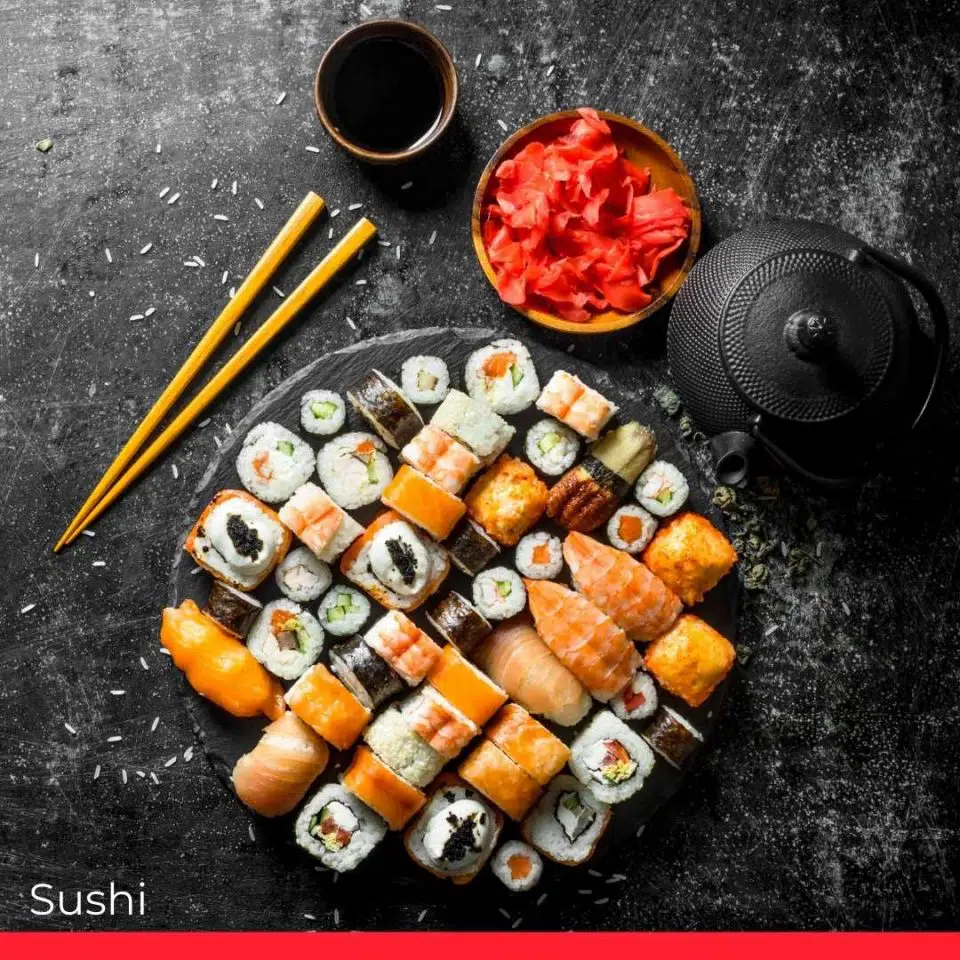 Sushi is one of the quintessential Japanese dishes that is loved around the world. Sushi rice, flavored with rice vinegar, is delicately hand-pressed and topped with various kinds of raw seafood.
Sushi comes in many different forms, such as nigiri, makizushi, and gunkan maki. Sushi is enjoyed with soy sauce, wasabi, and pickled ginger, called 'gari.' Whilst it is common to use raw seafood, other ingredients, such as tamagoyaki (a Japanese-style omelet) and eggplant, are also often used.
2. Kimchi – Korea
Korea is known for its fermenting and pickling of foods, and kimchi is at the top of the list.
Commonly, Chinese cabbage is used; however, other vegetables, such as cucumbers, can also be used. The vegetables are marinated and placed in brine with hot chili peppers, salty fish paste, leeks, ginger, sugar, and garlic.
They are then left to ferment over weeks or months, becoming spicy, salty, sweet, and sour. Kimchi is a classic side dish or starter to any Korean meal.
Check our Kimchi quesadilla recipe.
3. Dim Sum – China
Dim sum is a variety of bite-sized foods served with Chinese tea. These delicious small treats can include small dumplings, buns, and noodle rolls, served in bamboo steamers.
Typically, dim sum is consumed during brunch—late morning to lunchtime. Popular dim sum dishes are shumai, BBQ pork buns, chicken feet, and rice noodle rolls. Small, delicate, and delicious egg tarts finish the meal.
4. Biryani – Iran/North India
The main ingredients of biryani are basmati rice, spice, and meat, eggs, or vegetables and numerous optional ingredients, such as dried fruits, nuts, and yogurt.
Traditional biryani is made by layering marinated chicken with par-cooked rice, various herbs, saffron-infused milk, and ghee (Indian clarified butter).
5. Satay – Indonesia & South East Asia
Satay is a traditional Indonesian dish that is made up of skewered meat that's served with a peanut sauce on the side. It is popular throughout South East Asia from Malaysia to Singapore and Brunei.
The chicken is marinated in a mix of herbs and spices including dark soy sauce, garlic, turmeric powder, and coriander powder. Other, more exotic, meats can be used, such as crocodile and snake.
The skewers can be eaten as is or alongside jasmine rice and a squeeze of lime juice.
6. Ramen – Japan
Ramen is a staple in Japanese cuisine. First appearing in 1910, it was adapted from Chinese cuisine and has since become one of Japan's most popular dishes.
A broth, made with a special tare and stock, fills the bowl along with chewy noodles. It is topped with some nori (seaweed), a marinated egg, scallions, and char sit pork. Within each region in Japan, the style of ramen differs, from tonkotsu (pork broth) in Fukuoka to miso style in Hokkaido.
7. Pho – Vietnam
Pho is one of the staples of Vietnamese cuisine and is the nation's comfort food. Whilst being a simple dish, the complex aromas and flavors make it one of the most beloved dishes of Vietnam.
The bones of chicken or beef are simmered for hours to create a delicious broth, which is accentuated by further spices, herbs, and condiments. To finish, chewy noodles and succulent beef are added.
8. Donner Kebab/Shawarma – Turkey & Middle East
Donner kebab is one of the many kinds of shawarmas in the world and a staple of the Middle Eastern cuisine. A mix of marinated poultry, lamb and beef is layered onto a vertical rotisserie, which slowly rotates, cooking the meat slowly and delicately.
Once cooked, the meat is sliced thinly off the rotisserie and is typically served in flatbread such as lavash or yufka. Various vegetables and sauces accompany the donner meat, such as lettuce, cucumber, and garlic sauce.
9. Pad Krapow – Thailand
Pad krapow is ubiquitous to Thai cuisine as it is quick, delicious, and cheap, similar to that of a burger or sandwich in Western cuisine.
Chicken is fried and seasoned with dark and light soy sauce, chilies, and garlic with plenty of fragrant Thai holy basil adding a beautiful aroma. Alongside jasmine rice and topped with a crispy fried egg, pad krapow is one of Thailand's most delicious dishes.
10. Khoresht-e Ghormeh Sabzi – Iran
Persian cuisine is incredibly rich and diverse and stews are a staple of Persian cuisine. One of the most famous Persian stews is Khoresht-e Ghormeh Sabzi, which is served on public occasions and a favorite for family meals. It is rich in five kinds of herbs and red kidney beans, which gives it an unforgettable taste.
There is a herb called shambalileh, which gives this meal its unique flavor. The first thing that Persians do when they move abroad is to find the nearest store selling shambalileh or they ask their family and friends to send it dried from Iran.
11. Tandoori Chicken – India
The name tandoori chicken derives from the Persian word tannur, meaning 'fire.' Skinless chicken legs and thighs are marinated in a mixture of yogurt, lemon, cumin, garam masala, and a host of other spices.
The chicken is scored open to help with marination and to tenderize the meat, and it is cooked in a tandoor clay oven, adding a beautiful, charred taste, making it one of India's favorite dishes.
12. Adobo – Philippines
Adobo is the national dish of the Philippines, which is made using chicken thighs. The chicken is marinated in a special soy sauce mix and then gently fried. The marinade is poured on top and reduced into a deliciously sweet, sticky, and salty glaze.
Subtle pops of peppercorns add slight heat to the dish, while garlic and onion add an umami base along with the sweetness of brown sugar.
13. Falafel – Lebanon and the Middle East
The popular falafel is a vegan patty made from different beans. It is traditionally fried in oil and served in a pita bread with tartar sauce, tomatoes, radish, and parsley. You can find different ways of serving and preparing falafel in the Middle East – for ex. instead of tahini sauce, in Iraq a local amba sauce is used, a tangy mango pickle condiment.
These golden nuggets are a go to if you're stuck in traffic and craving a filling, delicious sandwich.
14. Peking Duck – China
Whole ducks are blanched and left to dry over a couple of days, letting the fat render and tighten. They are then roasted in wood-fired ovens, rendering the fat further and becoming deliciously crispy.
After delicately carving the crispy skin and succulent meat, the duck is served alongside Mandarin pancakes with hoisin sauce, julienned cucumber, and scallions.
15. Nasi Goreng – Indonesia
Nasi goreng is Indonesian-style fried rice, made simply with a little meat and onions. The main difference to other Asian-style fried rice is the use of kecap manis, a sweet dark soy sauce, which gives the dish its distinct brown color.
The soy sauce caramelizes as it is cooked, adding plenty of umami as well as sweetness. Shrimp paste is often added to give that extra punch, and a sunny side up fried egg on top helps tie everything together.
16. Pilav, Pilaf or Osh – East and Central Asia
Osh, also known as pilaf or pilav, is the most popular food in Uzbekistan and a popular food throughout Central Asia.
The Uzbek version is prepared with just seven ingredients: butter, meat, onions, carrots, rice, water, and salt, though you can find multiple variations in other countries where pilaf is a staple food.
17. Tempura – Japan
Japan's take on deep-fried food involves a delicate batter and deep-frying until light and crunchy. There is no marination or added flavors, and it is known for its clean flavors, simplicity, and minimalistic approach to ingredients.
Commonly, vegetables such as shiso, eggplant, and shiitake mushrooms, as well as proteins such as shrimp, are used in tempura.
The batter (made simply with eggs, flour, and water) is essential to the dish, ensuring it has the right consistency to get the vital crunch whilst being light. Tempura is served with sea salt, lemon, and a special tempura sauce. Check out this delicious vegetable tempura recipe.
18. Naan – India
Served alongside curry, naan is a popular flatbread with a delicious light and chewy texture. It is made from white flour, yeast, eggs, milk, salt, and sugar and is baked in a tandoor oven, adding a slightly charred taste. The drop shape is formed as the naan dough drops as it is cooking in the tandoori oven.
Traditionally, naan is brushed with ghee (clarified butter), but other variations include garlic and sometimes raisins and onions.
19. Manti – East and Central Asia
Manti is a traditional dish of East and Central Asia, such as Kazakhstan and Turkey. They are like steamed large ravioli and incredibly delicious. The filling consists of chopped dough, lamb fat, and onions. Sometimes pumpkin, potatoes, and herbs are added.
20. Jiaozi – China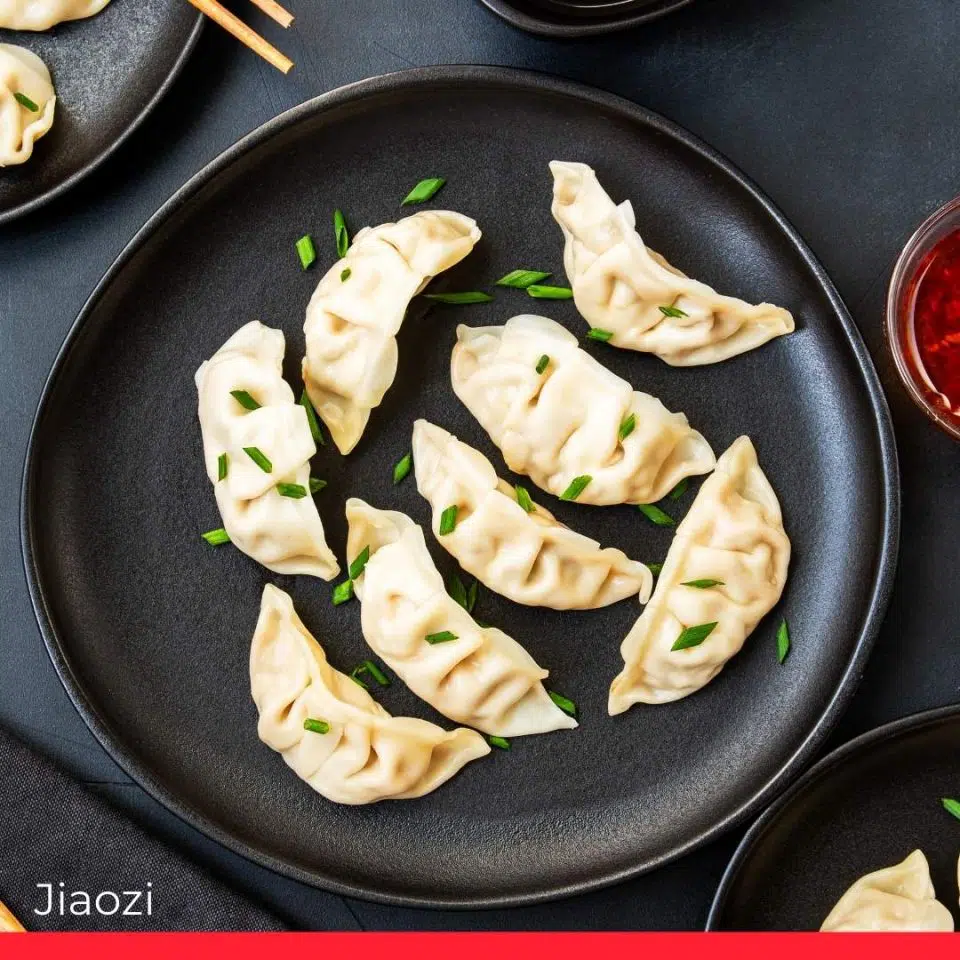 Chinese dumplings, or jiaozi, consist of thinly rolled dough wrapped around a meat or vegetable filling. It is one of the most popular dishes in China and also in East Asia, where there are different takes on the Chinese classic, such as gyoza in Japan.
Jiaozi can be boiled, steamed, or pan-fried, each offering different textures and flavors. The dumplings are served alongside a soy sauce dip and are always eaten during Chinese New Year.
21. Gaeng Keow Wan (Green Curry) – Thailand
Also known as Thai green curry, this is a popular dish prepared from the fragrant green curry paste. A blend of spices and herbs, mainly containing plenty of Thai green chilies, shrimp paste, and coriander, makes a powerful, spicy, and fragrant paste.
The addition of coconut milk while cooking helps lighten the dish, which is topped with some fresh basil and served alongside some jasmine rice.
22. Bánh mì – Vietnam
Bánh mì is a popular variety of sandwiches from Vietnam that uses a baguette as its base. During the colonial period, baguettes were introduced to Vietnamese cuisine and have become an integral part of it.
Marinated meat is packed alongside refreshing pickles and cilantro, making a delicious and refreshing sandwich.
23. Yakiniku – Japan/South Korea
Traditionally a Korean style of cooking, yakiniku is grilling small bite-sized pieces of meat and vegetables on a table grill. Yakiniku was inspired by the Korean dishes galbi and bulgogi, but the meat is not typically marinated before grilling.
Beef, pork, and chicken are all available to grill, each with various cuts. Common cuts, such as sirloin or ribs, are available, but more unconventional parts, such as intestines, gizzards, and tongue, are also very popular.
Accompanying the meat is a range of sauces, like a special soy-based tare, garlic oil, and lemon juice.
24. Kung Pao Chicken – China
A simple yet absolutely delish dish, kung pao chicken is one of the kings of stir-fried Chinese foods.
Succulent chicken is marinated in a fragrant soy-based sauce. It is then stir-fried along with a host of spices and vegetables, the most important being Szechuan pepper. It has the perfect balance of sweetness, saltiness, and spiciness.
25. Paratha – India
Paratha is a buttery, layered flaky flatbread that is served with curries or served as a snack with chai tea and raita for dunking. It can be plainly flavored, but spices can be added to give the flatbread an extra kick.
26. Sambal – Indonesia
Sambal is one of the most important condiments in Southeast Asian cuisine. Traditionally it is made with only spicy chili peppers and salt, but other adaptations use umami-packed shrimp paste, lime juice, ginger, onions, and many other ingredients.
Sambal is used in many dishes as a sauce, condiment, or seasoning for proteins and fried rice.
27. Gỏi Cuốn – Vietnam
Gỏi cuốn, or Vietnamese rice paper rolls, are packed with bright and refreshing flavors. A mixture of lettuce, bean sprouts, noodles, basil, and shrimp are delicately rolled in thin rice paper, served alongside a peanut dipping sauce.
The vivid pink and orange from the prawns line the rice paper rolls, making a stunning pattern with intertwining mint leaves. It is the perfect umami-packed yet refreshing dish.
28. Butter Chicken Curry – India
This dish originated in the 1950s at a restaurant called Moti Mahal. Initially, it was made by coincidence by combining leftover marinade juices with tomatoes and butter.
Then, the tandoor-cooked chicken was stewed inside the curry, creating one of the most loved dishes in India as well as around the world.
29. Samgyeopsal – South Korea
Samgyeopsal is a South Korean delicacy consisting of pork belly, the most expensive cut of pork in South Korea.
The pork is accompanied by lettuce, garlic, kimchi, onions, and other small pickles and condiments. The pork is grilled on a table grill until crispy and tender. It is then wrapped in lettuce leaves along with onions and one of two special sauces, making a small parcel.
One sauce is called ssamjang, consisting of sesame oil, chili paste, and soybean paste, and the other is gireumjang, consisting of sesame oil, salt, and black pepper.
30. Char Siu – China
Char siu is a style of Cantonese roast meat that is marinated in a sweet BBQ sauce. Char siu has the perfect balance of saltiness, sweetness, and just a hint of spice, allowing the natural flavor of the pork to come out.
Pork loin can be used but, traditionally, fattier cuts such as the shoulder and belly are used. Although it's considered a Chinese dish, many other Asian countries have integrated char siu into their cuisines, such as into Japanese ramen.
31. Wonton Noodles – China
Made from egg noodles, this dish is popular throughout Asia and also in many Chinese-style restaurants throughout the world.
Traditionally, in Hong Kong, egg noodles are served in a hot broth with shrimp wontons and garnished with bok choy. There are many other variations, such as one with soup on the side and dressed with a special sauce.
32. Bibimbap – South Korea
Bibimbap directly translates to 'mixed rice.' Rice is mixed with a variety of ingredients, such as marinated beef, sliced vegetables, soy sauce, and gochujang.
It is served in a scorching hot bowl and is still cooking as it arrives on your table. A raw egg is cracked on top and mixed through while the bibimbap is still cooking.
33. Tabbouleh – Lebanon & the Middle East
Tabouleh is a finely chopped salad with a base of parsley and finely chopped tomatoes and onions and is another staple served next to hummus in a Lebanese spread. Its lemon-oil sauce seeps through and adds flavor to the rest of the items in your plate.
34. Bulgogi – South Korea
Literally translated, bulgogi means 'fire meat.' Traditionally, it is made with beef, but pork or chicken can be used as a replacement. When beef is used, top sirloin or tenderloin cuts are the most delicious.
The beef is tenderized and marinated with a slightly salty, mildly sweet, and nutty soy-based sauce. It is then usually served on white rice to let all the juices soak in.
35. Wagyu – Japan
Wagyu is one of the most prized ingredients in all of Japan, if not the world. The fatty cuts of beef come from cattle that have been meticulously cared for and looked after.
The meat is ranked from A to C for yield, with A being the highest. Then it is ranked from 1 to 5 for marbling, with 5 being the best quality.
The high-fat content renders slowly as it is cooked, creating a butter-like piece of beef that melts in your mouth. It can be enjoyed in numerous ways, such as in teppanyaki, sushi, or sukiyaki.