Top 25 Greek Foods – The Most Popular Dishes in Greece
While Greece is widely known for its fascinating history, enchanting islands, and magnificent weather, it is also known to have some of the tastiest food in the world!
With age-old recipes, Greek cuisine has been influenced by Middle Eastern, Italian, and Ottoman cultures. Fresh vegetables, fish, olive oil, wine, meat, and grains play a significant role in these dishes, as well as cheese, bread, olives, herbs, and yogurt.
Your taste buds will thank you for trying out this mouth-watering cuisine!
Moussaka is a creamy delicious dish made of spiced meat (beef or lamb) cooked in tomato sauce and then layered with fried eggplant and bechamel sauce. This is one of the ultimate traditional Greek dishes.
Papoutsakia is stuffed eggplants that are first baked until soft and then filled with a tomato-based meat sauce, topped with bechamel sauce and cheese, and baked till they get a beautiful golden color! The dish is called papoutsakia (little shoes) because its shape resembles little shoes. Due to its ingredients, the dish tastes a lot like Moussaka.
Pastitsio is another traditional Greek dish that consists of baked layers of pasta, juicy minced beef, bechamel and tomato sauce, topped melted cheese. The minced beef is cooked in a tomato sauce along with some spices.
This traditional Greek recipe is also called "Greek lasagna", as its beef sauce has a similar taste to the Italian bolognese sauce.
Souvlaki is considered one of the most popular dishes in Greece! A very important thing to keep in mind with this dish is that it is all about the place you buy it from. Almost every restaurant has its own unique recipe, and, as the quality of the meat and sauce really matters, they certainly do not all taste the same.
Souvlaki can be served either wrapped in pita or plated on a dish with any preferred meat along with french fries, lettuce, tomatoes, and its distinctive sauce.
Soutzoukakia are sausages made from a mixture of ground pork and beef, cumin, and olive oil which are cooked in a red wine sauce. These Greek meatballs are served with rice on the side. Soutzoukakia are very filling and are perfect on cold winter days.
6. Seafood
While some of you may well have tried seafood dishes in different countries, if you haven't tried Greek seafood yet, you will quickly realize that it is truly exceptional. You definitely need to try out octopus, oysters, squid, jumbo shrimps, snapper pie, and barbouni (striped red mullet) fish dishes at least once in your life!
7. Stifado (Greek Beef Stew)
Stifado is a traditional Greek beef-stew cooked with tomatoes, onions, cinnamon, vinegar or red wine, and a variety of spices and herbs. Traditionally, this Greek dish is either served with rice, chip potatoes, hilopittes (egg pasta), or orzo/kritharaki pasta. For cold winter days, serve it with mashed potatoes for a hearty and warming meal.
With meals like this readily available, it is no surprise that Greece has been named one of the best holiday destinations of 2021.
Tomatokeftedes, or tomato fritters, are a traditional appetizer on the island of Santorini. Made with diced tomatoes, onions, mint, and feta cheese, these small bites of heaven provide a unique combination of flavors.
Due to the volcanic nature of the island's soil, the local tomatoes have an amazing texture, which make for the best tomato fritters!
9. Tzatziki
Tzatziki is a classic Greek dip/appetizer made of strained yogurt, garlic, cucumber, olive oil, fresh dill, and sometimes lemon juice. It is a simple and easy appetizer to prepare and it goes perfectly with almost every dish!
10. Kolokithokeftedes (Fried Zucchini/Courgette Balls)
Kolokithokeftedes is a popular Cretan appetizer that will mesmerize your taste buds with its flavorful texture. The starter consists of zucchini, fresh mint, feta cheese, and extra virgin olive oil.
These zucchini balls are nicely served with some tzatziki or a plain yogurt dip. To all the vegetarian lovers out there, you will want to add this very tasty appetizer to your list!
11. Giouvetsi (Beef Stew with Orzo Pasta)
The Greek Giouvetsi is made with orzo pasta, onions, red wine, delicious tomato sauce, and beef. It makes for a perfect Sunday family dish!
Giovetsi can also be prepared with chicken or lamb. Check out our fantastic lamb giovetsi recipe shared with us by Greek celebrity chef Giorgos Tsoulis.
12. Choriatiki (Greek Salad)
An all-time favorite for all Greeks is Choriatiki salad, which is a must with almost every single meal. This Greek salad is made with cucumber, olives, tomatoes, and a big piece of feta cheese.
The dressing is left for each person's preference, which is why every restaurant serves olive oil, salt, vinegar, and pepper with the salad. Choriatiki is traditionally eaten as a starter but can also be a great side dish.
Just like seafood, lamb is a specialty in Greece and their lamb dishes are exceptional! This traditional Greek dish is slow oven cooked lamb infused with olive oil, lemon juice, and garlic. The recipe was originally called for an earthen oven to trap smoke and heat.
The word 'Kleftiko' translates as 'stolen' and the name for the dish is said to have originated from the Klephts (descendents of Greeks who were anti-Ottoman insurgents) who would steal goats or lamb and cook the meat in hidden underground ovens in order to seal the smells and flavors and avoid getting caught!
Gemista is a traditional home cooked meal that includes tomatoes stuffed with rice, various herbs, and minced meat (meat can be excluded). You can experiment with different types of herbs and spices and you can use different types of vegetables, such as potatoes or green peppers, instead of tomatoes.
15. Fasolada (Greek Bean Soup)
Although not so well known internationally, another traditional Greek dish, is this simple and hearty white bean soup called Fasolada. The recipe consists of beans, crushed tomatoes, carrots, celery, and onion. It's often flavored with bay leaves, parsley, and thyme.
Bougatsa is a Greek breakfast dessert made with either semolina custard or cheese and wrapped in layers of crispy phyllo, a thin dough used in pastries. You can also garnish it with cinnamon and powdered sugar to give it an even more scrumptious flavor.
Tiropita, otherwise known as 'Greek cheese pie', is popular throughout Greece and is eaten for breakfast or as a mid-day snack. The main ingredient you will need to make these phyllo dough triangles are various types of cheese (mostly feta).
To prepare, simply crumble the feta cheese and mix it with two otherkinds of yellow cheese for added flavor. The mixture is then wrapped in phyllo pastry, brushed with olive oil or melted butter, and baked until crispy and golden!
This heartwarming dish can also be made with chicken if you prefer!
Spanikopita, otherwise known as 'Greek spinach pie', is another very popular pie throughout Greece and is prepared very similarly to the Tiropita dish mentioned above. This delicious dish can be eaten any time of the day, breakfast and dinner, or as a starter or snack. Spanikopita is also a popular Greek Easter dish.
To prepare the spanakopita, you will need to crumble feta cheese and mix it with spinach. The mixture is then wrapped in phyllo pastry, brushed with olive oil or melted butter and baked until crispy and golden. In the spinach-feta filling you can use dill, onions, and eggs (the eggs hold the mixture together).
19. Feta Cheese with Honey
You may find the combination of honey and feta cheese odd but, honestly, this dish is not to be missed. The feta cheese is wrapped in layers of phyllo and after it's baked, some Greek honey is drizzled over it and it's topped with a sprinkle of sesame seeds.
20. Horta (Leafy Boiled Greens)
Horta is the classic vegetable dish in Greece that consists of lightly-boiled leafy greens, including vleeta, chicory, dandelion, or mustard, seasoned and served with lemon or vinegar and olive oil.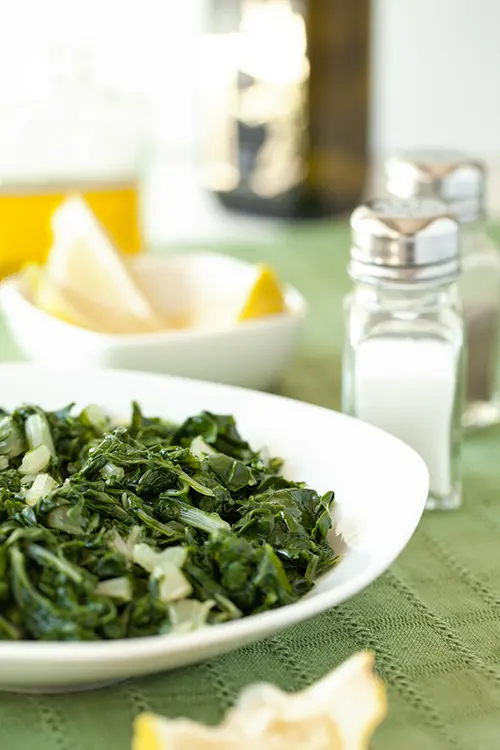 21. Tirokroketes (Fried Cheese Balls)
Tirokroketes (fried cheese balls) is a dish for all you cheese lovers out there. Usually eaten as an appetizer, these delicious small bites are made from a combination of various cheeses, graviera, feta, and gouda, which is then mixed with bread crumbs before being fried.
Briam is an all-vegetable dish (perfect for vegetarians) that consists of zucchini, eggplant, and potato mixed with tomato sauce and garnished with oregano. The vegetables are flavored with garlic and onions, coated with olive oil, and then baked to create a tasty Mediterranean flavored dish.
23. Saganaki (Fried Cheese)
Attention cheese lovers! You will love this appetizer. You will need less than 20 minutes to prepare this beloved Greek recipe, using only two ingredients—cheese and flour. A block of cheese is cut into thin slices and then dredged in the flour. The cheese is then fried at a high temperature, until it forms a golden crust. Easy and very tasty!
A very enjoyable and healthy meal, gigantes are giant beans baked in tomato sauce and fresh herbs. Often times they are garnished with crumbled feta cheese, but even without any topping at all, they are not to be missed!
Dolmades are a great vegetarian dish that is popular in every Greek restaurant worldwide. They are made from tasty grapevine leaves that are stuffed with lemon-flavored rice, fresh herbs, and spices. After being stuffed, they are rolled up and boiled until tender. Note: The grapevine leaves can be substituted with cabbage.

---
If you love Greek cuisine, check out our next articles on the best 20 Greek desserts and the most popular Greek Christmas Foods & Desserts.