Top 25 Cuban Foods (Traditional Cuban Dishes)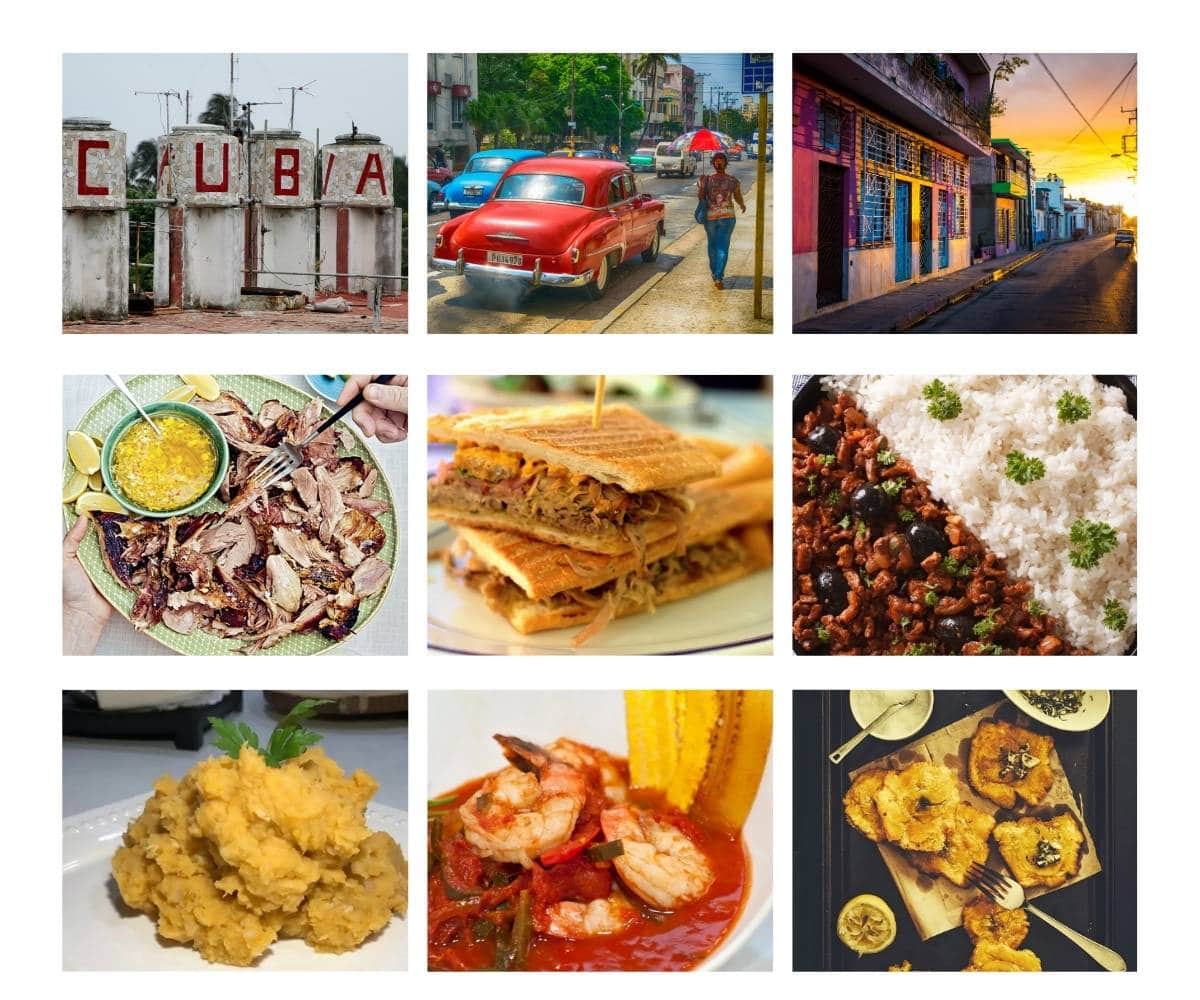 Surely you have tried a good Cuban sandwich, or a creamy and delicious Cuban-style flan. Well, those are just the tip of the iceberg of variety found in traditional Cuban cuisine.
There are so much attractions in Cuban culture and, without a doubt, food is one of them. Surprisingly simple and appetizing, Cuban recipes are hidden in a humble culinary style, far from many of the modern technological innovations.
The center of Cuban food is its intense and neutral flavor, a very well balanced taste that doesn´t know extremes. This excellent feature evokes the very nature of the Cuban people. A good Cuba dish is like the eternal joy and charm of its music, dance, and tropical nature.
Cuban food thrives on the same diversity as its culture. Its greatest influences are Spanish, African, indigenous, and other Caribbean cultures. This mixture of flavors is the most precious treasure of Cuban food.
A single Cuban dish contains a story and an unforgettable flavor. There are different versions of each Cuban recipe, always depending on the resources available. What we give you here are the 25 Cuban foods that you really need to experience.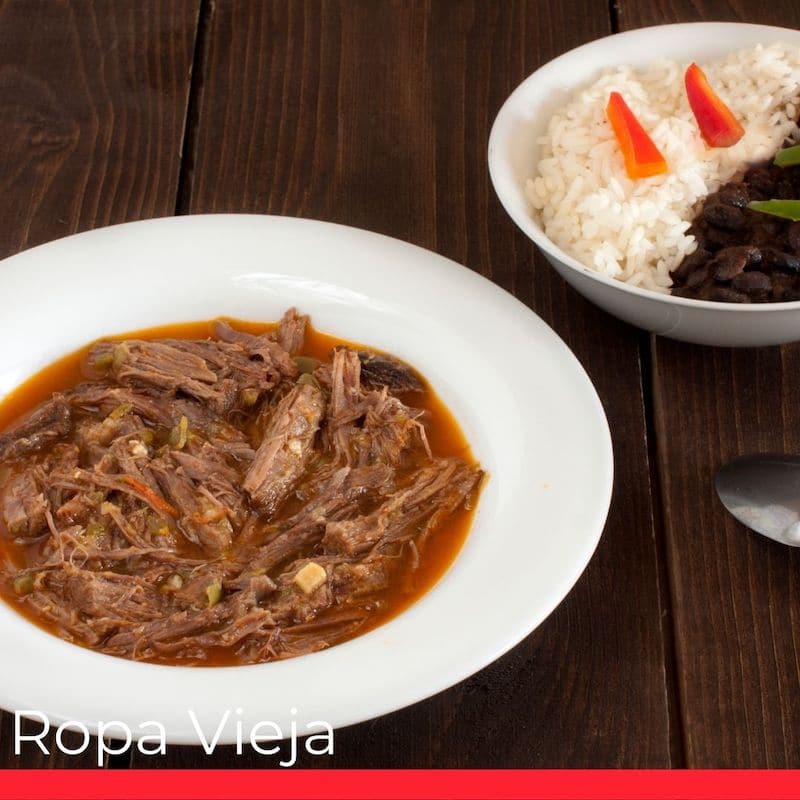 Ropa vieja is possibly one of the most recognized Cuban recipes throughout the world. This dish is, apparently, an inheritance of the peninsular culture of the Spanish Canary Islands. The dish consists of previously boiled and shredded meat, cooked in a sauce with onion, bell peppers, bay leaves, and cumin, among other ingredients.
Beef is the meat used in this recipe, but it can also be done with pork or, in some rare cases, chicken. The key to this recipe is to highlight the flavor of the meat. Therefore, always be careful when boiling it. A secret: stew the meat in a good bean broth; this will give you a very special result.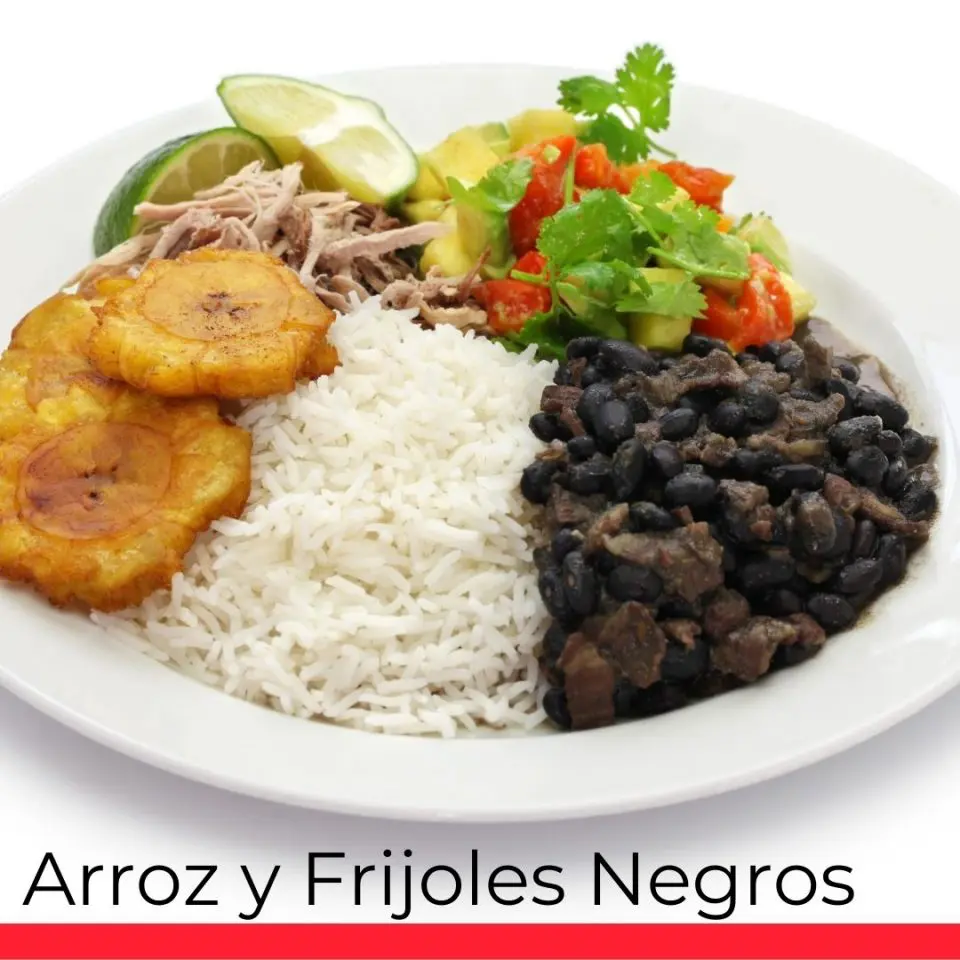 Rice and black beans are an essential complement to Cuban dishes. Without them, it is impossible to have a good Cuban lunch or dinner. The rice and black beans always accompany the main dish such as Ropa vieja or Lechón asado.
The recipe is simple, but it takes time, especially the beans. No canning involved here. The special processing of these two products is the key to this dish. The key to the rice is to cook it till it falls apart. The beans should have a creamy, smooth texture like a stew.
The Moors and Christians are like this mix of rice and beans. This dish is considered part of Cuba's African heritage. You can also find another version of this dish called congri. The only difference is the type of grain. Moors and Christian rice is made with black beans while red beans are used for congri.
The pre-processing of the black beans is about the same. It is important that the grain is soft before mixing with the rice. Once ready, both elements are combined and seasoned the same as black beans, with garlic, onion, bell peppers, and cumin.
Roast Pork is one of the special dishes on Cuban holidays. In some cases, the process of roasting the pork starts from the rearing of the animal, and end when it reaches the necessary weight. Currently, this is very common in the Cuban countryside, mostly in the east.
Each Cuban family or restaurant has its own method and techniques for roasting the pork. However, something that doesn´t vary is the long cooking time, and mojo salsa. This quintessential Cuban sauce composed of garlic, seasonings, and vinegar is the secret to achieving the authentic flavor of roast pork.
Yucca with mojo is another dish always found at Cuban family celebrations. It is a simple and healthy dish usually offered as an appetizer. And that's because given the high concentration of glucose in this tuber, it is not a good idea to eat it in large It is not recommended to eat in large quantities due to the high concentration of glucose caused by this tuber.
There are two different types of cooking for cassava with mojo: boiled and fried. However, in both cases it is necessary to boil the cassava to obtain a soft texture. After achieving the required texture, it only remains to add the mojo sauce, and sometimes pork rinds.
The Cuban sandwich is one of the most popular contributions of the Cuban American community to Cuban cuisine. This semi-hard bread is the base of two popular sandwiches: pan con lechón (roast pork), and the ham and cheese sandwich.
The Cuban sandwich is made up of ham, cheese, and roast pork. Afterwards, you just add some mustard, pickles, and sometimes mojo salsa.
If you have ever visited Cuba, you will probably know what this next offering is. The tasty pan con lechón is a typical sandwich that you can buy in any Cuban cafeteria, as well as at small timbiriches (food stands) in the middle of the street.
Bread with roast pork is possibly the most popular sandwich on the island. The soft dough of the bread goes perfectly with the shredded pork, and its special mojo. You can also add tomato, lettuce, and pickles.
Rice with fried eggs is a staple food in Cuban homes. This dish has been a bit denigrated for its simplicity and some describe it as food for low-income families. However, these are just stereotypes.
The truth is that Cubans love this dish, especially when a ripe banana is added. Fried egg and rice is as simple as its name. Its secret is hidden in the texture of the egg yolk. The yolk should be soft to cover the dryness of the rice.
The ground beef a la habanera is an exquisite ground meat cooked over low heat with seasonings, tomato sauce, potatoes, and olives. This dish derives from Cuba´s Spanish heritage. Any type of meat can be used for its preparation, but the most common are beef, pork, chicken, and turkey.
This dish is an everyday meal for Cubans. It is regularly served with rice, fried ripe plantains, and, occasionally, beans.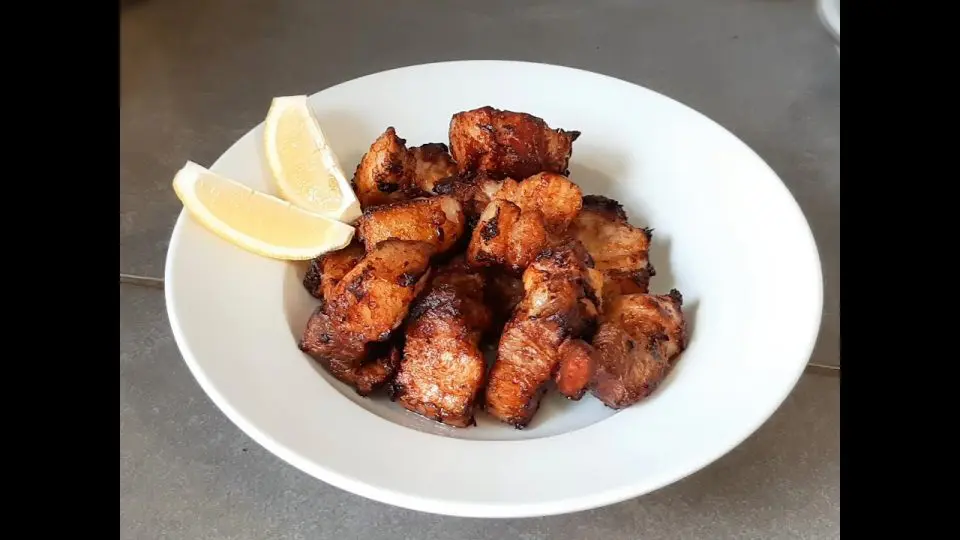 Fried pork dough or masitas are another famous Cuban approach to cooking pork. The pork is diced and marinated in lime or sour orange and a little salt and then fried.
This type of fried pork is very common on a plate of authentic Cuban food throughout the island. It is generally served with mojo sauce and onion to soften the fried meat.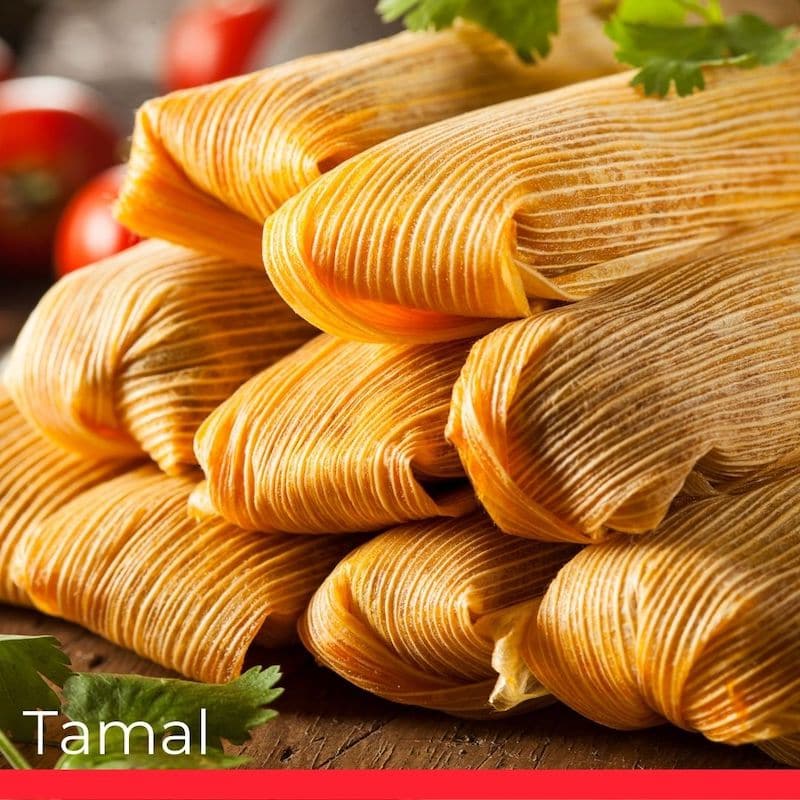 The tamale is a typical food of many places in Latin America, precisely because it is based on corn, which is a major agricultural product in this part of the world. However, each region or country has its own way of developing this recipe.
In Cuba you can find several variants of the tamales recipe that affect both the flavor and the texture of the corn. The flavor of the Cuban tamale ranges from sweet to seasoned meat and sauce. The texture depends on the cooking process: in sheets (solid) or in a casserole (thick or pasty soup). It is important to note that the leaf used to make the Cuban tamale is corn.
Fried beef is a dish quite similar to Ropa Vieja and the preparation of the meat is practically the same. But, unlike Ropa Vieja, fried beef does not contain tomato sauce.
Boiled and shredded beef is marinated with a little lime or sour orange, and salt. Then it is fried with garlic and onion. A very simple and tasty recipe.
The ripe banana is the most faithful companion to Cuban meals. It is a direct legacy of the African cultures that arrived on the island. The sweetness that it offers to each dish is very special to Cubans. The recipe is very simple. The banana is cut into slices and fried in hot oil. Sometimes a little salt and seasonings are sprinkled on top.
The best combinations of meals including fried ripe plantain are: rice, black beans, and some types of cooked meat; rice and fried egg; and rice and picadillo a la habanera.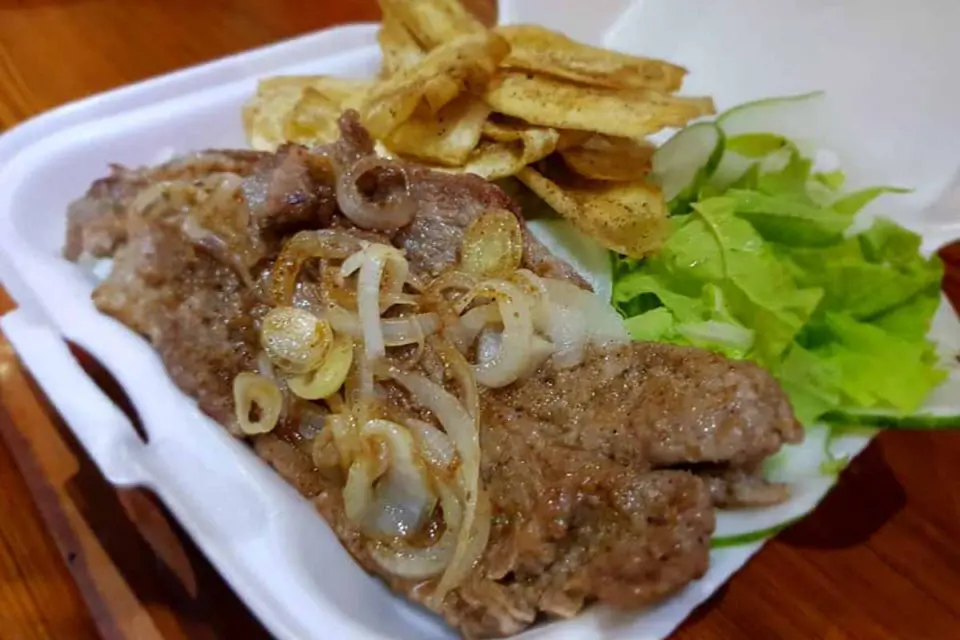 The pork steak is seen as the Cuban version of a beef steak. Originally this term referred only to beef, but in Cuba it is applied to other meats such as pork or chicken.
Pork steak and onions, in particular, stands out as a Cuban favorite. The steak is generally thin and juicy. In addition, a little salt, garlic, onion and oregano are added.
Tostón or chatino is one of the most traditional Cuban starters. It is made with green or ripe banana. To prepare it, the banana is cut into round slices, fried, and then mashed with a mallet. Then they are fried again until golden brown.
This is the simplest and most basic recipe. Sometimes these tostones and accompanied by a sauce or dressing. Tostones can also be made with different fillings. You just shape it into a pot and fill it before frying.
Combined rice dishes are very popular on the Creole menu. They are generally offered for Sunday family gatherings and other celebrations. This dish is the simple version of the Spanish paella, easy to cook in large quantities. But despite its simplicity, it retains a very special flavor.
Yellow rice with chicken can have different textures depending on the cook's taste. You can enjoy it dry and solid, or more liquid and soggy. This last, more liquid version is also known as arroz con pollo a la chorrera.
Imperial rice is another of the famous Cuban recipes for combined rice. Like the arroz con pollo, this recipe includes colorings or tomato sauce, turning the rice yellow.
This type of rice dish contains various ingredients such as shredded chicken, fried ripe banana, mayonnaise, and bell peppers. All ingredients are prepared separately, then they come together forming a kind of rice cake.
Banana fufu is one of the few vegan dishes in Cuban cuisine. This healthy meal is made with boiled banana and a fried seasoning known as sofrito. The boiled banana is mashed with a fork and mixed with the sauce, creating a soft, semi-dry dough.
While it is generally vegan, fufu is also be a meat lover's favorite. This delicious seasoned banana dough is often accompanied by fried pork skin known as chicharrones.
The chicken fricassee is another of the delicious dishes in which meat is accompanied with a tasty tomato sauce with seasonings. The chicken is cut into portions and marinated for a few hours with salt, crushed garlic, onion wheels, chili pepper, bay leaf, and sour orange juice.
Then the chicken pieces are browned in the hot butter or oil, the marinade with the onions, chili peppers, the well-crushed garlic, the bay leaf and the orange are added. To finish, add the tomato puree, dry wine, water, salt and pepper.
Another very versatile food that is part of the culinary tradition of Cuba is shrimp. It is an excellent ingredient like lobster. The truth is, while it is not very affordable for Cubans, it is very inexpensive for tourists.
It is said that shrimp enchilados cannot hide because of the aroma from the seasoning as it cooks. Preparing it is very easy, just a sauce of spices and tomato is enough.
The ajiaco is one of the emblematic dishes of Cuban cuisine, both for its flavor and for its cultural value. The wide variety of ingredients included represents the cultural diversity of the nation.
This dish consists of a thick broth made of vegetables, yucca, ripe banana, potato, pumpkin, pork, stir-fry, etc. The ajiaco is eaten very hot and brings together different types of meat and the typical Creole seasoning composed of garlic, chili and onion. It is simply irresistible.
22. Carne con Papa (Meat and Potatoes)
This Cuban food is based on pork or beef. Spices, a rich tomato sauce, and potatoes cut into squares are added. In some places wine is added and in others beer. It is served with rice, fried or ripe plantains, and vegetables.
The truth is that there is no specific season to taste this Cuban dish, so you can try it in any traditional restaurant.
23. Arroz con Leche (Rice Pudding Dessert with Milk)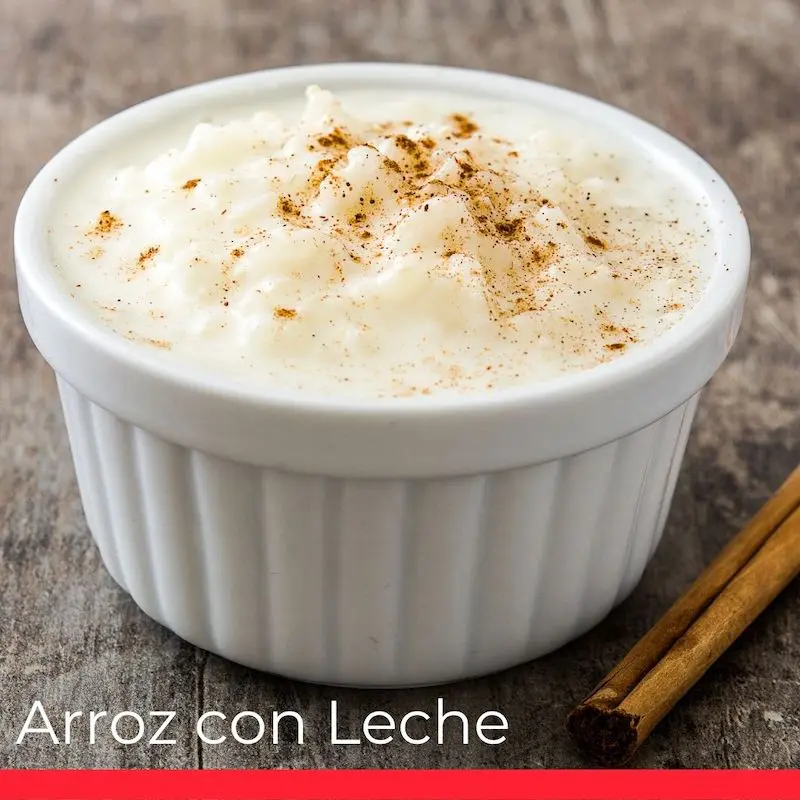 Rice pudding is one of Cubans' most coveted sweet rice recipes. You don't need many ingredients to make this delicious dessert; it is simply rice, milk, sugar, and cinnamon.
This dessert is often homemade but can also be found in restaurants. It is generally served in round bowls and sprinkled with a little ground cinnamon.
Flan de leche is possibly one of the most recognized Cuban desserts in the world. It is exquisite and you definitely need to taste it. It is prepared either plain or with added flavors such as coconut, pineapple, etc.
This flan is generally composed of several types of milk: evaporated, condensed and regular. The recipe also includes egg and sugar. The cooked sugar syrup is one of the special secrets of this dessert. It is generally added during and after cooking to seal the edges of the flan.
25. Casquitos de Guayaba (Little Guava Shells)
Guava is one of the most internationally known Cuban fruits along with mango and mamey. It has multiple culinary uses, especially in desserts. Guava casquitos is a rich traditional dessert which is accompanied with regular cheese.
Its name is due to the shell shape of the guava. The seeds are scooped out of the fruit, leaving the shell-shaped flesh. the fruit is only cooked for a short time so it doesn't get too soft. The syrup made with sugar is added afterwards.