Top 25 Most Popular Polish Foods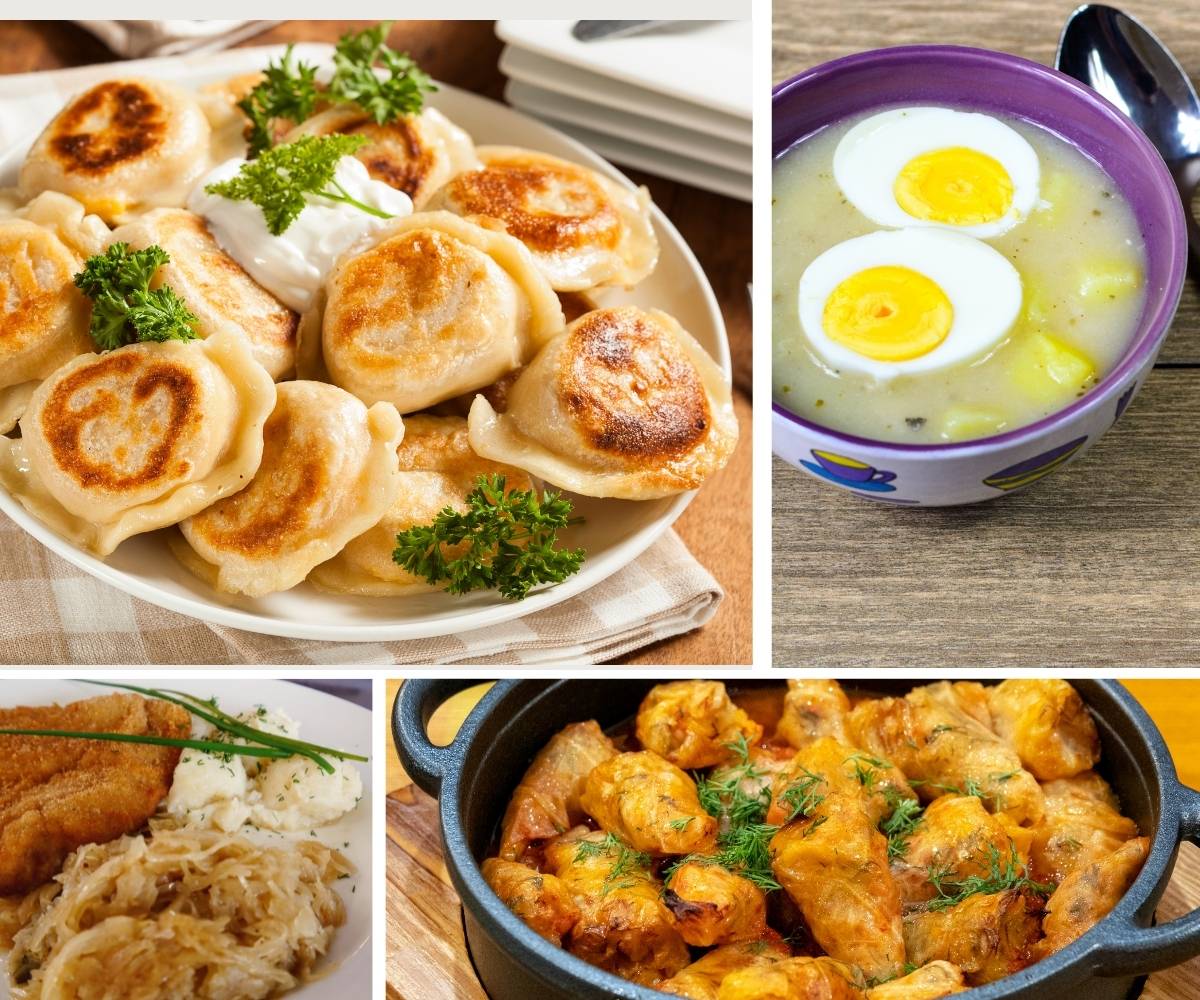 Poland is geographically located in the very center of the European continent. As the midpoint of Europe, for centuries, Poland has served as a bridge between the East and West. It brought a whole cultural exchange, which included areas such as trade, religion, fashion, and cuisine. The varied gastronomic influences have contributed to the wealth of tastes and complexities of Polish food.
Poland's eclectic cuisine is full of diversity but if it were to be described in just one word, "heartfelt" would perhaps be the most fitting choice. It is rich in various kinds of meat and famous for its excellent bread and delicious sausages. In addition, Polish food consists of a lot of cabbage, potatoes, and dairy – simple but full of flavor, nutrition, and vitamins from the seasonal and fermented vegetables.
Polish cuisine is one of the most undiscovered gastronomies of the world. Polish food culture is truly versatile and eating out in Poland is not only highly recommended, it is also quite affordable.
Due to Poland's assimilation into the great empires and the formation of numerous political unions with neighboring and even distant countries in the past, the local cuisine has integrated elements of foreign cultures into its heritage. So, you will find many recipes of Jewish, German, Russian, Lithuanian, Belarusian, Mongolian, and even Hungarian origin, all given a distinct a local twist.
But most of all, Polish cuisine is, in nature, true comfort food, enjoyable to eat and simply making you feel happier. It is nutritious and honest—it does not try to be exotic or pretend to be top notch; instead it uses its local products and their limitations to take its cuisine to a whole new level!
So, just stop counting your calories and read on to learn more about 25 most popular Polish dishes that will make your mouth water!
1. Pierogi (Dumplings)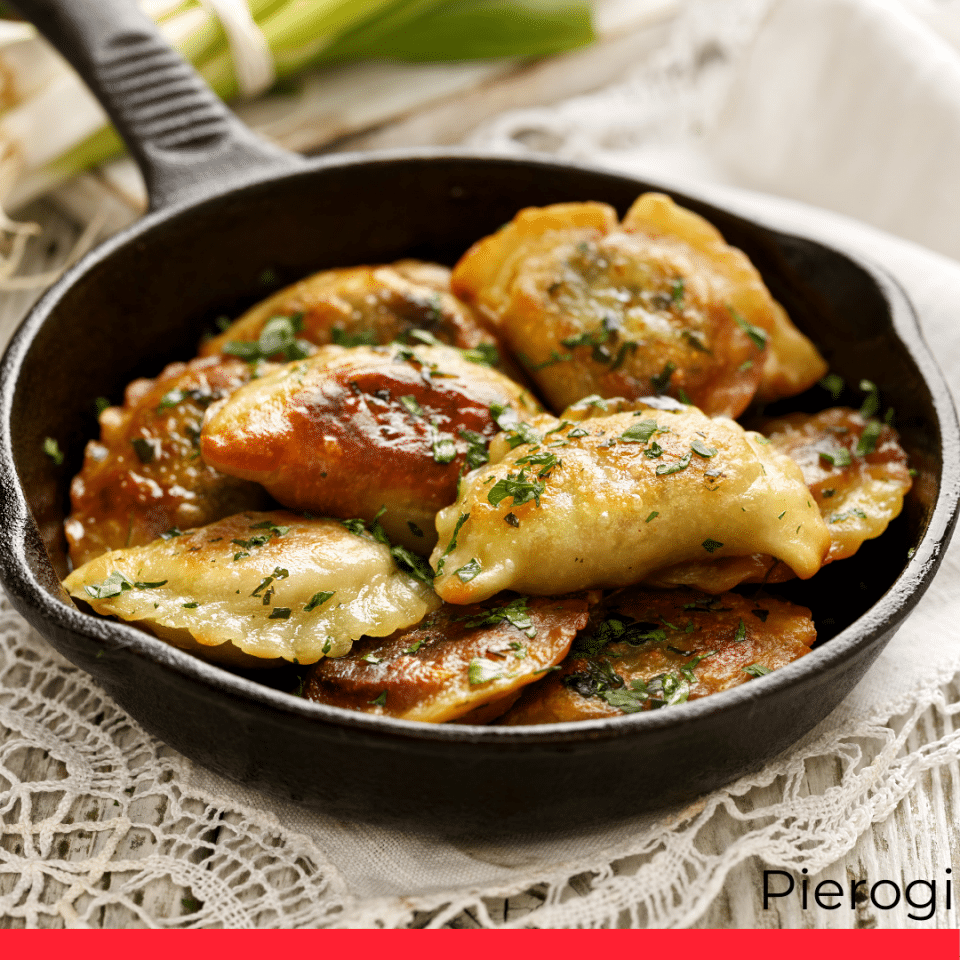 The most iconic Polish food of all time, pierogi needs little introduction. Polish dumplings are made of thinly rolled-out dough filled with endless varieties of fillings, both savoury and sweet, including: meat, sauerkraut, wild mushrooms, cheese, bilberries, blueberries or strawberries. Pierogi are boiled or fried and served steaming hot.
The popularity of pierogi probably originates from the fact that this dish comes in so many flavors, easily fulfilling everyone's preference. In addition, they can be served as an appetizer, main dish or dessert. Undoubtedly, pierogi are Poland's finest culinary delight and one of the most recognizable Polish food.
2. Kotlet Schabowy (Breaded and Fried Pork Chop)
Probably Poland's finest and most popular main course is the almighty kotlet schabowy, served with mashed potatoes and pickled cabbage. You can walk into almost any restaurant in the country and be assured you will find it on the menu.
This delicious, flattened and breaded pork chop, which is fried in lard or clarify butter, is quite similar to the Viennese schnitzel, and is a solid, filling, risk-free meal. If you don't like pork, try the chicken cutlet, made the same way.
3. Bigos (Hunter's Stew)
Bigos, also known as hunter's stew, is a meaty dish and the epitome of Polish cuisine. This unique combination of sauerkraut, different meats, sausages, mushrooms, and spices cooked for hours (and sometimes even days) is very delicious and filling.
This popular one-pot dish, once upon a time cooked over the fire and consisting of whatever the hunters brought home, is a meal in itself, best eaten alongside thick slices of crusty sourdough bread and butter.
The recipe generally changes from house to house but it's very hearty and sometimes described as the Polish version of chili. In fact, metaphorically, bigos translates to big mess or confusion in Polish.
Gołąbki translates literally as little pigeons, although these cabbage rolls have nothing to do with birds at all. Typically, boiled cabbage leaves are wrapped around a filling of minced pork and rice. However, there are also other variations of fillings such as poultry and mutton, and others without meat. The rolls are then braised in stock. When laid on plates, a delicious dense home-made tomato sauce is poured over the gołąbki. Polish cabbage rolls are served with bread, sometimes with boiled potatoes.
So, what's with the name? Polish legend claims King Kazimierz fed his army with gołąbki before a battle outside Malbork against the Teutonic Order, and their unlikely subsequent victory has been attributed to the hearty meal ever since.
Cabbage rolls are a staple food in many Central and South Eastern European cuisines. You can find similar recipes in Romania, Bulgaria, Ukraine, Greece, Turkey and Hungary.
5. Żurek (Sour Rye Soup)
Fermented flour for a soup? Yes, it is possible – in Poland. Żurek is one of the most surprising, tasty, and old-fashioned soups in the country's cuisine. The soup is made with sour rye flour; sour rye is a naturally fermented liquid mixture of water, spices, and rye flour.
The soup is served with an egg, mushrooms, white sausage, and potatoes. Sometimes restaurants offer it in a bread loaf.
Żurek is a traditional Polish Easter dish but can be eaten any day. Many believe that this outstanding combination of flavors and nutrition can actually cure hangovers.
6. Barszcz Czerwony (Red Beetroot Soup)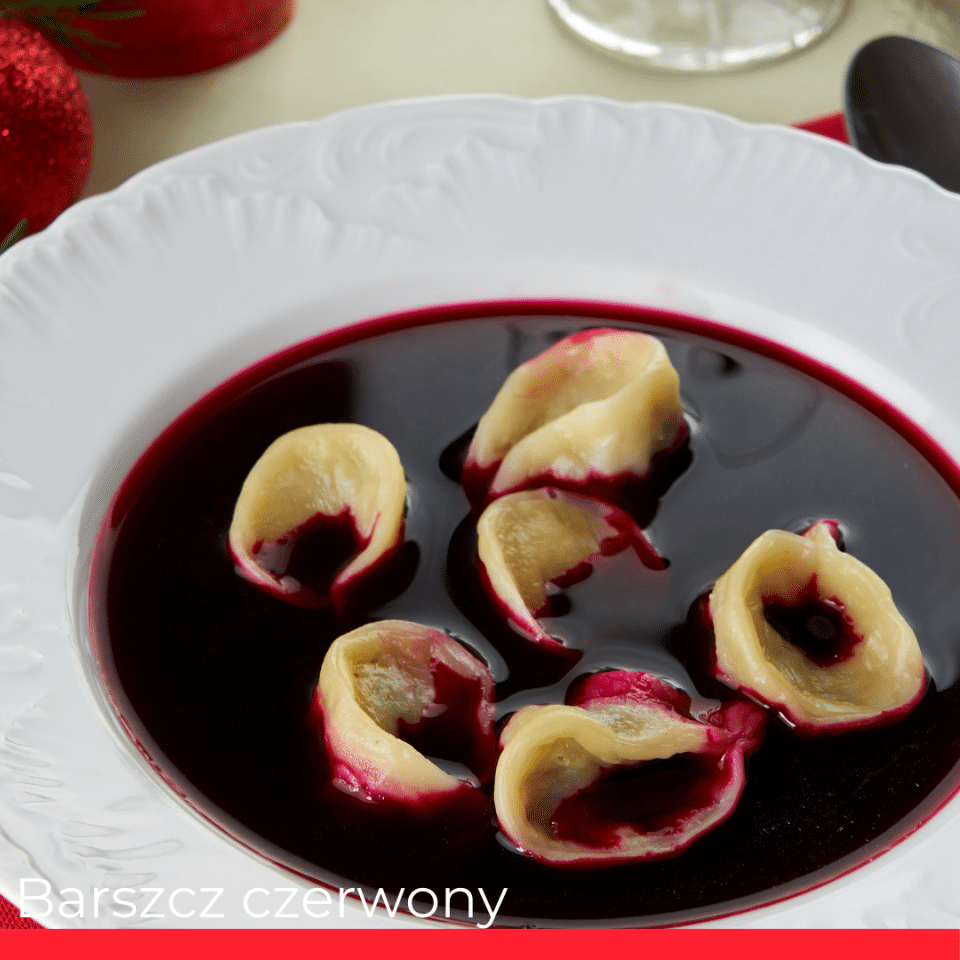 Barszcz czerwony (red beetroot soup) is another truly intense-tasting Polish soup that typifies the country's healthy food culture. It is typically made using a large amount of beetroots, combined with meat or bone stock and may include vegetables, such as cabbage, carrots, onions, and potatoes.
Poles love a hot bowl of barszcz czerwony on a cold winter's day, served with a dollop of sour cream on top and their favorite bread on the side.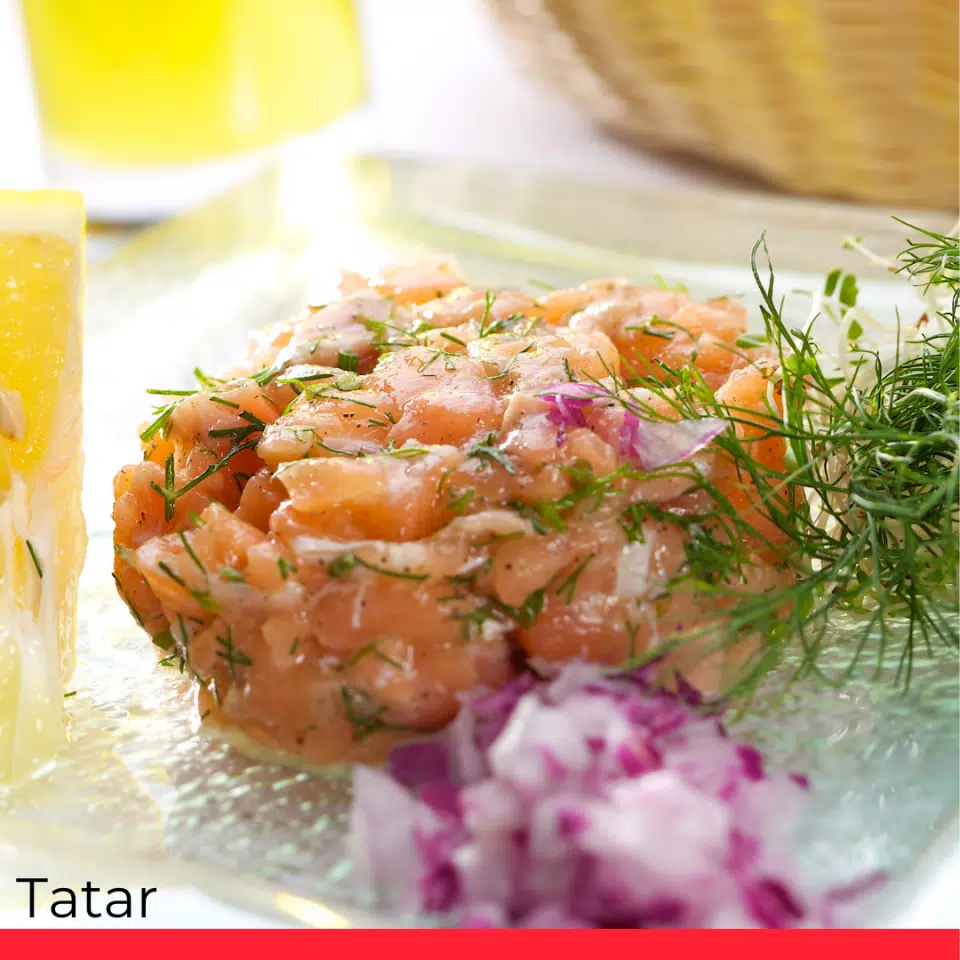 Tatar is essentially made up of all ingredients that are required to make a hamburger, except they are all served raw and unmixed. Once you have ordered this dish, you will receive a small pile of raw ground beef with an egg cracked over the top. Next to it, you will usually find raw onion, pickles, spices, and dill. Tatar is usually served as an appetizer and it may be accompanied by a shot of vodka.
8. Placki Ziemniaczane (Potato Pancakes)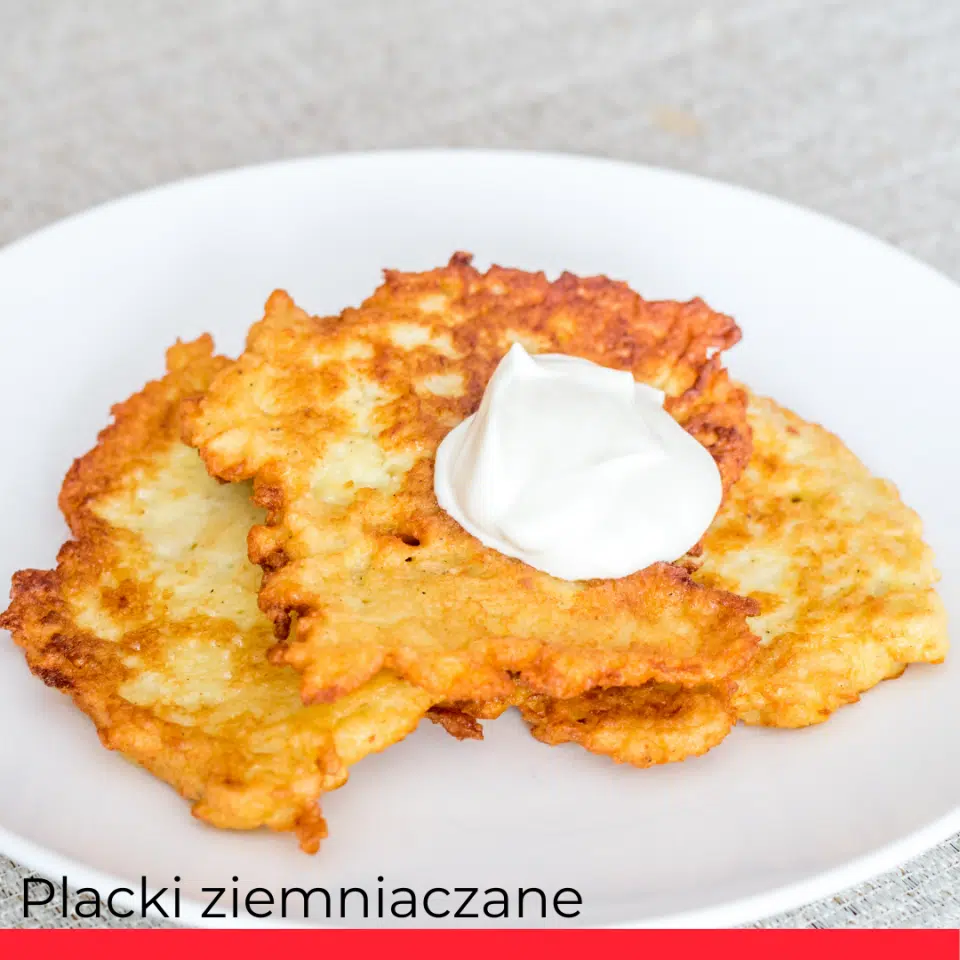 The authentic Polish potato pancakes are a traditional comfort food eaten all over the country. Everyone has their own family recipe but the base is always potatoes, grated onions, eggs, and flour, flattened and fried into savory pancakes.
They are often served with mushroom sauce or sour cream. This may be a starter, a main course accompanied by chopped meat or a simple desert just sprinkled with white sugar.
9. Kartacze (Potato Dumplings)
These large, oval-shaped potato dumplings are traditionally filled with a combination of sautéed onions and ground meat, while some versions include mushrooms, sauerkraut, or cheese.
They are believed to have been influenced by a similar Lithuanian dish that goes under the name cepelinai.
Kartacze are usually served with sautéed onions and crispy bacon bits, and are typically enjoyed as a filling main course.
Fried carp is a national food of Poland, though it is eaten only once a year—on Christmas Eve. Depending on local and family traditions, carp is fried with or without a coating.
Although in Western countries, carp is seen as an inedible fish, in Poland it is bred in special conditions, thanks to which it becomes a real delicacy.
In addition, Poles believe that carp brings luck. If you put a scale from the carp into your wallet after your Christmas Eve meal, the following year, you will enjoy good luck.
11. Ogórki Kiszone (Pickled Cucumber)
It can be said that most Poles are obsessed with perfectly picked cucumbers. It is literally the most common appetizer that accompanies every major occasion—they will always be found at family parties and dinners. Even in pubs offer pickled cucumbers as appetizers with alcohol.
Poles are fond of a variety of sour delicacies, pickling all sort of pickle-able vegetables such as onions, pepper, baby pumpkin, and many more.
What's worth knowing is that pickles contain probiotics, which are extremely healthy for your digestive system, giving us even more reason to enjoy them!
12. Grzyby Leśne (Wild Mushrooms)
Mushrooming is a very popular family activity, so, unsurprisingly, whatever is collected in the forest is eaten.
Wild mushrooms are served in many ways. You can have wild mushroom soup (a traditional Christmas Eve dish) with a drop of sour cream, wild mushroom sauce as a topping for a meaty main course, or as a filling for pierogi.
In addition, during the summer months, Poles enjoy scrambled eggs with chanterelle mushrooms for breakfast, which is considered to be a top delight.
The poppy-seed roll is one of Poland's most popular sweet foods. Makowiec is a strudel-esque, yeast-based cake. The filling is made of finely ground poppy seeds, honey, butter, raisins, and walnuts. The cake is then glazed with icing and finished with orange peel.
A poppy, containing thousands of seeds in one head, is a symbol of harvest and fertility in the Christian tradition. Therefore, traditionally, Poles believed that eating poppy-seed cake during the Easter and Christmas holidays would bring them luck in life.
14. Leniwe Pierogi (Lazy Dumplings)
Leniwe pierogi are another kind of Polish dumpling. They are made from curd cheese, eggs, and flour and cooked slowly in slightly salted water. Leniwe pierogi are served with whipped cream, sugar, and cinnamon or spiced up with some butter and breadcrumbs.
It is considered a dish that is quick to prepare, which is reflected by its name, lazy dumplings.
15. Pampuchy (Steamed Dumplings)
Pampuchy also known as bułki na parze (steamed rolls) are a kind of large, soft dumpling made from a yeast dough. After steaming, pampuchy are dished up covered with savory or sweet sauce.
They can be served as the main course with a stew and pickles or as a dessert with strawberry sauce, a very popular summer dish.
16. Smalec (Lard Spread)
Smalec is a very popular and traditional savoury snack that goes great with a mug of beer or a shot of vodka. It is actually pure animal fat spread full of fried lard chunks (the more the better), served with hunks of homemade bread.
Traditional Polish restaurants offer it as a free starter.
17. Kaszanka (Blood Sausage)
This is the Polish variation of blood sausage. In practice, it is pig's blood mixed with groats, and served fried with onions. Though sold in sausage casings, the casing itself is not meant to be eaten.
A variation on the blood dish is czernina, a soup made of duck's blood mixed with poultry broth. Interestingly, this dish was served by a young woman's parents to a suitor if they rejected the marriage proposal.
18. Golonka (Pork Hock)
Golonka are actually the ankles of the pig, and when made the traditional way, the meat should be fork-tender and literally fall off the bone. It's served with roast vegetables, boiled potatoes, and, of course, some sauerkraut.
It's a simple meal, and since this part of the meat is quite inexpensive, it has been an affordable dish for the middle and lower class throughout the country's history.
19. Oscypek (Sheep's Milk Cheese)
Cheese lovers need to delve into this pure culinary delight. Oscypek is a cheese made from sheep's milk, and is delicious eaten both cold or grilled. Hailing from high, the Polish Tatra Mountains, it is a trademark dish, often served grilled and accompanied with cranberry jam (also a Polish specialty).
The cheese has been a protected brand name in Europe since 2007 (more info about Polish cheeses here).
20. Chłodnik (Cold Beetroot Soup with Sour Cream)
Poland serves up some truly exceptional soups, and chłodnik is a healthy choice. The soup is made with beets that are simmered until tender and usually blended with cucumber, radishes, and various milk products, such as yogurt, kefir, sour milk, or sour cream.
Always served well-chilled, chłodnik is typically garnished with boiled eggs, dill, and chives. The soup is a common starter all over the country, especially in the spring.
21. Kiszka Ziemniaczana (Potato Sausage)
Kiszka ziemniaczana is a savoury dish made from grated potatoes, eggs, onions, and pieces of smoked, boiled or fried bacon. It is often oven-baked in a crock. The potato sausage can be served as a separate dish or with sour cream and pork flitch.
22. Rosół (Chicken Soup)
Rosół is the most common soup served in Poland. It tastes best after church on a cold Sunday. It is very easy and quick to prepare, and commonly served with homemade noodles. The ingredients needed for the soup are water, any piece of chicken, onion, small leek, green celery, parsley, cabbage, salt, and pepper.
Herrings are very popular in Poland at any time of the year. No wonder they made their way to the Christmas Eve table.
The most popular preparations are classic herring fillets (matjes) served in oil, or with cream, sour apples, and chopped onions, often accompanied with a potato salad.
In the Great Lakes Mazury District, they have been served fried for centuries.
24. Flaki (Tripe Soup)
Although the name flaki might not be too appetising—it literally means guts, tripe soup has had quite a strong presence on Polish tables for centuries.
The Polish tripe soup is one of the heartiest and spiciest dishes on the menu, where ginger, nutmeg, pepper, and marjoram are all used in large quantities.
Flaki is widely considered a great remedy for hangovers.
25. Beverages
Last but not least: What to drink with Polish cuisine? Please see my, very, subjective list below:
VODKA – A shot of vodka is an appropriate addition to festive meals and helps you digest the heartfelt food. It is worth knowing that Poland produces several exquisite luxury vodkas, highly recommended by connoisseurs.
CIDER – Poland is the largest apple producer in the EU. With 3 million tonnes of apples grown every year, Poland produces as many apples as Spain produces grapes. No wonder this light, alcoholic beverage made from fermented apple juice is a popular accompaniment to many Polish feasts.
DRIED FRUIT COMPOTE – A traditional Polish non-alcoholic beverage based on dried fruits. Although it is served mainly at Christmas Eve dinner, there are those who like to drink it all year long, as it is great for quenching thirst.
Before you go, check out our round-up of the most popular Polish desserts.
Related: Most Popular Polish Drinks
Related: Popular Polish Christmas Cookies