Best 30 Brazilian Foods (With Pictures!)
Brazil is a vast country with a diverse, multicultural heritage reflected in its traditional dishes.
Despite its dark history as a Portuguese colony worked by African slaves, Brazil has a rich cuisine thanks to its fertile land and variety of exotic ingredients.
Brazilians have mastered the art of fusing produce creating unique food culture that's fun to explore. So check out our list of the 25 most popular Brazilian foods to discover the amazing flavors of this incredible nation.
1. Feijoada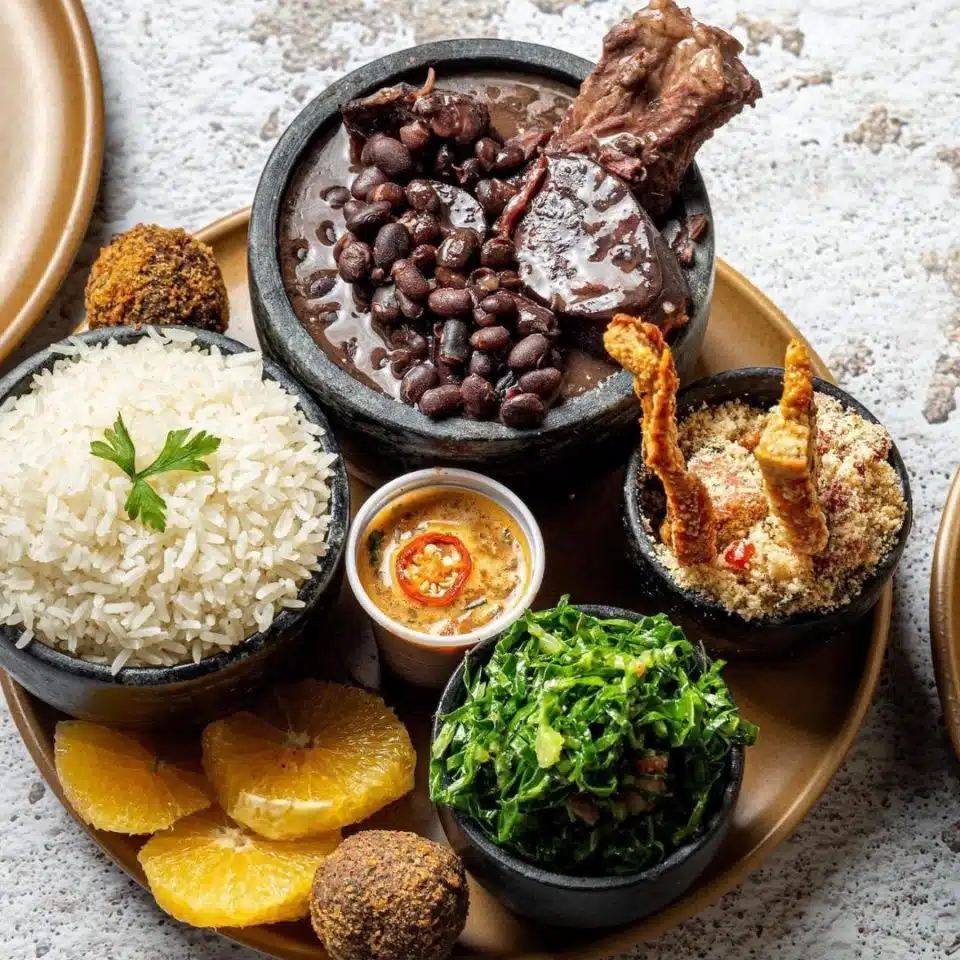 Feijoada is a stew made with black beans and chunks of mostly pork meat, cooked until the broth is thick and flavorful. It's served traditionally with white rice, braised cabbage, slices of raw oranges, and crunchy "farofa".
Unlike most Brazilian dishes that are region-specific, feijoada is popular all over the country. Although its roots are in the northeast state of Pernambuco, it gained popularity in Rio de Janeiro due to its simplicity and taste.
These days, restaurants serve it with finer cuts of meat, but traditional versions still include cheaper, random cuts that create an even more flavorful dish.
Brigadeiros are hands-down the number one Brazilian dessert. You could have a birthday party without a cake, but if there aren't enough brigadeiros to fill a table, the guests might end up leaving early.
The brigadeiro is a very simple Brazilian bonbon about the size of a golf ball, made out of condensed milk, chocolate powder, and a fair amount of butter. The key to making perfect brigadeiros is to stir the mixture non stop over a low heat for about 30 minutes, until t's thick enough to be rolled up into small spheres that are then covered with chocolate sprinkles.
Brigadeiros are just sweet enough to make you realize that after dozens of pieces, you finally realize it might be a good idea to stop, maybe after one… last… bite…
3. Pão de Queijo (Cheese Bread)
The pão de queijo has taken the global snack business by storm. It's now so popular internationally that, luckily for the many aficionados, one can satisfy an urge to have a pão de queijo in nearly every airport on the entire planet.
The name translates as cheese bread, but the pão de queijo contains no wheat. Instead, the dough is made of crunchy manioc flour which contrasts perfectly with the creamy, squidgy interior mushy, savory cheese.
The perfect way to eat a pão de queijo is steamy hot, straight from the oven!
4. Carne de Sol ("Sun Meat")
Carne de sol is a heavily salted piece of beef that's been cured is left to cure for a couple days under the scalding sun of the Brazilian northeast sertão. The technique was likely adapted from the Portuguese colonizers who preserved their codfish this way.
Carne de sol is typically served with a generous helping of onions. The distinctive, pungent flavor of the meat means it remains a popular serving in every corner of the country.
5. Tapioca
Tapioca is a white dough made from the manioc plant. It's served like a crepe with fillings varying from the traditional tapioca served with a stick of butter to more elaborate ones, such as cheese, ham, fruit jam, chocolate, or even meat.
The characteristic that makes the tapioca a staple Brazilian food, besides it's health benefits, is its unique consistency. it's at the same time a solid dough and a gummy paste, incredibly easy to eat, yet delicious! And as it doesn't have much flavor on its own, it lends itself to a range of creative fillings.
Tapioca is served in most hotels for breakfast, but is also sold on small stalls around the cities during the entire day. Pro tip: the best stalls tend to have large queues!
6. Açai
Açai has gained a well-deserved reputation as a superfood. It has a notably bitter taste that might be too much for first timers without adding a little sweetner
It's a favorite dish after high intensity activities like going to the gym, spending a day at the beach, or playing soccer.
The texture of acai can vary from an almost liquid form to a purple paste that is eaten with a spoon, usually accompanied with pieces of banana and other fruits. Adding granola turns it into an incredibly energy-dense meal, containing up to 1,000 calories! Best served ice cold.
7. Pamonha
Pamonha is another unique dish that's only found in Brazil. It's made out of fresh grated corn, mixed with milk, and salt (or sugar) so it can be savory or sweet..
The dough is molded into a tube and inserted into the corn's own husk.After being cooked in a water bath, it has a solid but extremely smooth pudding-like consistency. Complex fillings such as sausages or cheese which provide even more flavor have gained popularity.
Pamonha are served mostly during the Festa Junina, a festival that celebrates the beginning of winter, but you can buy them throughout the entire year in any supermarket, usually frozen.
8. Churrasco de Picanha (Barbecue)
The south region of Brazil is proud of its fine cuts of meat and the picanha is the most famous. Cut from the rump muscle of a cow, it always comes with a generous amount of fat.
The picanha is grilled in its own fat, keeping it moist and tasty. It's ideally served rarem traditionally seasoned with coarse salt that brings out the flavors. If you're a fan of barbecues, a well prepared cut of picanha is a must-try when you're in Brazil.
9. Quentão (very literally translated as "Very Hot")
The quentão is a heated, strong cachaça (sugarcane-based distilled liquor) seasoned with sugar, lemon, ginger, cloves, and cinnamon.
It's usually served during Festa junina, a festival celebrating the coming of winter. Brazilians are typically very sensitive to low temperatures, and as soon as the thermometers start showing anything below 60°F (16 degrees Celsius), they begin preparing a good quentão.
The strong flavor of the alcohol combines beautifully with the other ingredients to create a unique and unforgettable taste experience.
10. Escondidinho de Carne
The escondidinho de carne is topped with a generous helping of mashed manioc, which is similar in appearance and consistency to the more common mashed potatoes.
However, the star of the show is the meat, "hidden" in the middle of the dish, specifically designed to surprise the taste buds, with added mozzarella cheese for an even more creamy appetizing result.
11. Cachorro Quente (Hot Dog)
You might be asking yourself right now: Hot dog? Surely not a traditional Brazilian food!
But there is no way to talk about the most popular foods in Brazil without talking about the hot dog.
In Brazil you can find a hot dog stall in every corner of a city. What makes the Brazilian hot dog different from those in the rest of the world is the addition of corn, shoestring potato, and a huge amount of delicious sauces and condiments to spice it up.
In every stall there are at least five different sauces to choose from: the traditional "vinaigrette", made from olive oil, tomatoes, onions, vinegar, peppers, and salt, the strong "pasta de alho", a paste made of highly concentrated garlic with a very strong flavor that Brazilians love, white sauce, rose, tomato sauce…
There are even cities, like São paulo, where it's very common to have mashed potatoes inside the hot dog. Because of all the fillings, Brazilian hot dogs tend to be really large and a messy endeavor for the unprepared.
12. Acarajé
Acarajés are small dumplings that can be very spicy. The original recipe originates from Africa and was brought to Brazil by slaves and today they're most popular in the northeast, especially in the state of Bahia.
They're made from string beans, onions, and garlic and fried in palm oil which imparts their characteristic taste and crunchiness. Acarajés are served with various spicy condiments and often with dried shrimp
On the beaches of Bahia there are so many acarajé vendors that the appetizing aroma is impossible to escape – or resist!
13. Farofa
Farofa is one of the most popular side dishes in Brazil, and you'll find it accompanying servings of fish, chicken, or meat. it's made by frying manioc flour with butter, garlic, and onions until toasted.
In many states, pieces of fried bananas are included in the farofa, while other places use eggs and bacon to the same effect. For many working people in Brazil, the farofa is a blessing that makes their everyday meals of rice and beans extra tasty.
14. Cocada (Coconut Candy)
Cocada is a luscious sweet made out of grated coconut, condensed milk, and sugar, cooked at a low temperature.
It can be served either hot or cold. Its sweet taste lingers in the mouth for quite a while and because of this, it's one of Brazil's favorite desserts.
15. Arroz Carreteiro
Arroz carreteiro is a culmination of the southern Brazilians' never-ending love of meat and the ingrained habit that every Brazilian has of eating rice daily.
It's made by frying the rice using animal fat and tiny cuts of meat, giving it the flavor of a true barbecue.
16. Doce de Leite (Sweet Made of Milk)
Milk and sugar: these are the only ingredients you'll need to make the sweetest Brazilian recipe. Created in the state of Minas Geraes, it's made by slowly cooking the milk for hours while stirring constantly until it turns a caramel color.
It's so excessively sweet that it's difficult to eat large amounts at once, unless you are really committed to it. Its sweetness is incomparable and it leaves you craving for some if you go for too long without a bite.
17. Pato no Tucupi (Duck Boiled in Tucupi Sauce)
Pato no tucupi is the most famous dish for special occasions for the people of the northern state of Pará.
It's made by boiling a duck in a large clay pot full of tucupi sauce.
The yellow tinged sauce is extracted from the root of the manioc tree which is extremely toxic when raw. It has to be boiled for at least three whole days to ensure that it's free from all the toxicities and is safe to be used in the recipe! It has a peculiar acidy, citric flavor that complements the fattiness of the duck perfectly.
18. Moqueca de Pirarucu
A moqueca is a delicious traditional fish-based stew cooked in a clay pot with generous quantities of bell peppers of all colors, tomatoes, coconut milk, palm oil, and cilantro.
The pirarucu is the largest fish found in the mighty Amazon River, and can be up to 16 feet long.
The characteristic smooth flavor of its meat contrasts with the highly flavored seasoning of the stew, resulting in a surprisingly thick, rich flavored broth. The large chunks of white meat deep in the stew are so tender they melt in the mouth, and it can be served with any number of side dishes.
19. Creme de Cupuaçu (Cupuaçu Cream)
The cupuaçu is a strong-flavored fruit native to the Amazon rainforest with a very distinct acidy taste. While too sour to be enjoyed raw, it's the number one fruit in the entire country when used in sweet flavored recipes.
By mixing the fruit's fresh pulp with milk, cream, and a generous amount of sugar in a blender, the result is a refreshing sweet with a slight hint of citrus. Many people like to add cupuaçu cream to their açai, a mix known as "Romeo and Juliet".
20. Feijão Tropeiro (Tropeiro Beans)
Brazilians love their beans, especially when they're boiled in a well seasoned broth. The only exception to this rule is the feijão tropeiro, an amazing recipe where purple beans are fried together with manioc flour, sausages, and bacon. The result is a mouthwatering dish.
It can be served with any kind of meat, but it's the perfect accompaniment for carne de sol together with huge lumps of fried manioc.
21. Mandioca Frita (Fried Manioc)
These "Brazilian French fries" are typically served as a side dish but are also very popular bar snacks. .
There are two things that make any bar distinctly Brazilian. First, the huge television tuned to a live soccer game, and secondly, the copious amount of fried manioc served straight out of the pan.
Mandioca frita is typically seasoned with salt, and sometimes melted butter. You won't find a single bar anywhere in Brazil that doesn't serve an inviting fried manioc for its guests.
22. Canjica
Canjica is an ultra-sweet dessert made from white corn, typically served hot in a soup bowl.  Seasoned with cloves and cinnamon, you can't call a festival a " Festa junina " if you don't have a huge queue of people eagerly awaiting their canjicas. 
23. Galinhada
Galinhada is a mouthwatering dish originating from the central region of Brazil.
It's made out of cuts of recently slaughtered chicken cooked in the same pot as a specially seasoned rice. Saffron and different kinds of peppers give the entire dish an attractive vibrant yellow look.
Even after the fresh chicken cuts have been devoured, the flavor is already entrenched deep inside each rice grain. Galinhada offers a deep, satisfying feeling of fullness to everyone that tries it.
24. Espetinho de Coração (Chicken Hearts)
It's not uncommon for tourists to react with distaste when faced with the option of being served half a dozen chicken hearts skewered on a stick. Understandable, perhaps. But chicken hearts are so ingrained in Brazilian culture that it's unthinkable that eating them might be weird for other people.
The most popular order on barbecue stalls across the country, they're chewy, juicy and even a little sweet.
Try  them once, and you'll wonder why you waited so long! .
25. Bolo de Rolo (Roll Cake)
Bolo de rolo tastes as good as it looks, guaranteed. This dessert was originally from the Pernambuco state but today is sold all over the country.
It consists of a sweetened dough made of eggs and flour wrapped around layer after layer of melted guava to create a delicious spiral.
The city of Recife is so famous for its bolo de rolo that friends and family expect to receive it as a gift from anyone who visits.
26. Baião de Dois
Baião de dois is a traditional dish from the North of Brazil, and it's particularly popular in the northeast of the country. It's a tasty and nutritious concoction based on rice and green beans or black-eyed peas. Bacon, jerk beef or pieces of smoked sausage can be included to make the dish extra filling and rennet cheese is also an optional addition. 
27. Polvilho ( Sprinkle Biscuit)
"Biscoito de polvilho" is a dry, crisp, very airy and light cookie. The word "polvilho" (the main ingredient of this recipe) comes from the Spanish "polvillo", meaning "fine powder".
28. Caldo de Piranha
The much-feared piranha fish is actually quite small and boney, without much taste, but this soup,  a specialty of the Pantanal area in Mato Grosso do Sul, is both nourishing and delicious, full of fresh flavor. Other ingredients include onions, tomatoes, annatto, chili peppers, and plenty of  coriander, parsley, and spring onions. Some recipes also call for garlic, lime juice, vinegar, and other vegetables such as bell peppers. It's well worth a try!
29. Coxinha
A wildly popular street snack and appetizer, a coxinha (little thigh) is a crunchy croquette stuffed with chicken meat and cream cheese, shaped into a teardrop, bread-crumbed and deep-fried. According to legend the first coxinha was made in the 19th century for the Brazilian princess Isabel's son as he only liked chicken thigh meat, but it's more likely that the recipe gained popularity as it uses cheaper cuts of chicken and so was more affordable to workers.
30. Damurida
Damurida is an indigenous stew recipe from Roraima. It can be made with beef, chicken or roasted fish together with varied local chili peppers, tapioca gum and tucupi (juice of the manioc root). Due to its intensely fiery flavor, take care before you take your first mouthful – but if hot and spicy dishes are your thing, you'll love the rich, intense flavor.
The Brazilian cuisine mirrors the Brazilian people: A country proud of its mixed heritage, with a huge variety of cultures. The ingenuity of the Brazilian people never fails to surprise visitors, whether inside the kitchen, on the football field, or out there in the world. Enjoy exploring the richness and flavors of Brazilian cuisine!
---
Related: 17 Delicious Brazilian Cheeses
Related: Best 20 Brazilian Drinks
Related: 15 Famous Brazilian Meat Dishes
Related: 16 Popular Brazilian Christmas Foods