French Food: 50 Popular French Dishes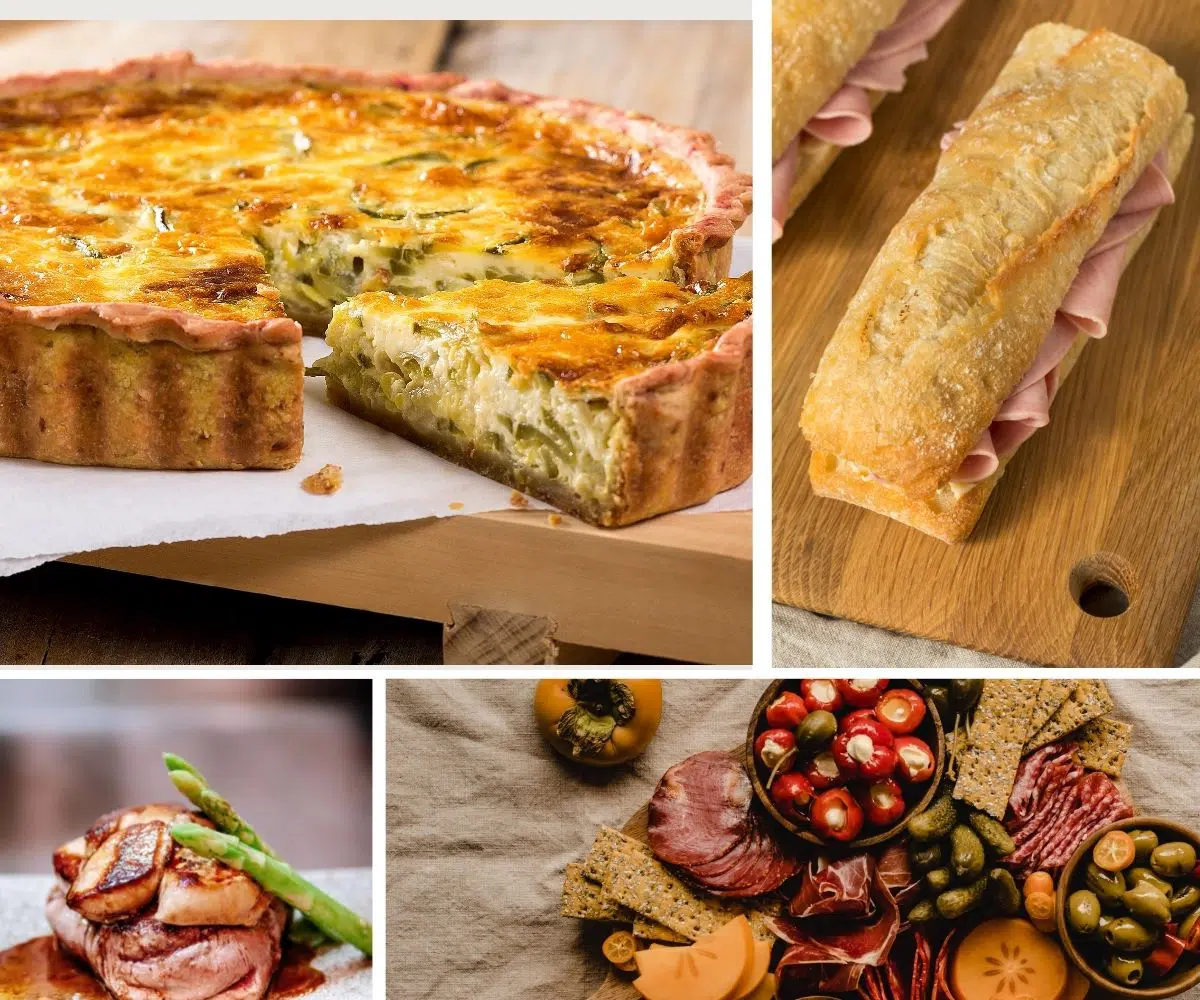 French gastronomy is famous worldwide for its fine cuisine, with fancy preparations, and dishes such as foie gras, scallops, and frogs' legs. However, there is much more than high-end gastronomy to discover!
What makes French food specific is the range of great local and regional specialties that vary widely from north to south, from west to east. And then, of course, you have all the cheese and charcuterie, which each deserve a list of their own. But without further ado, let's get this ranking started!
50. Cuisses de Grenouille
I had to start with this one because while it's a classic of French gastronomy, there is a myth attached to it that needs to be corrected: No, French people don't eat frogs' legs all the time.
In fact, most of us haven't eaten them at all. Ever. Because they are outrageously expensive. And to be honest, they taste a bit like chicken—only slightly better, softer, and more delicate. They are usually prepared sautéed with butter and garlic.
49. Soupe de Poissons (Fish Soup)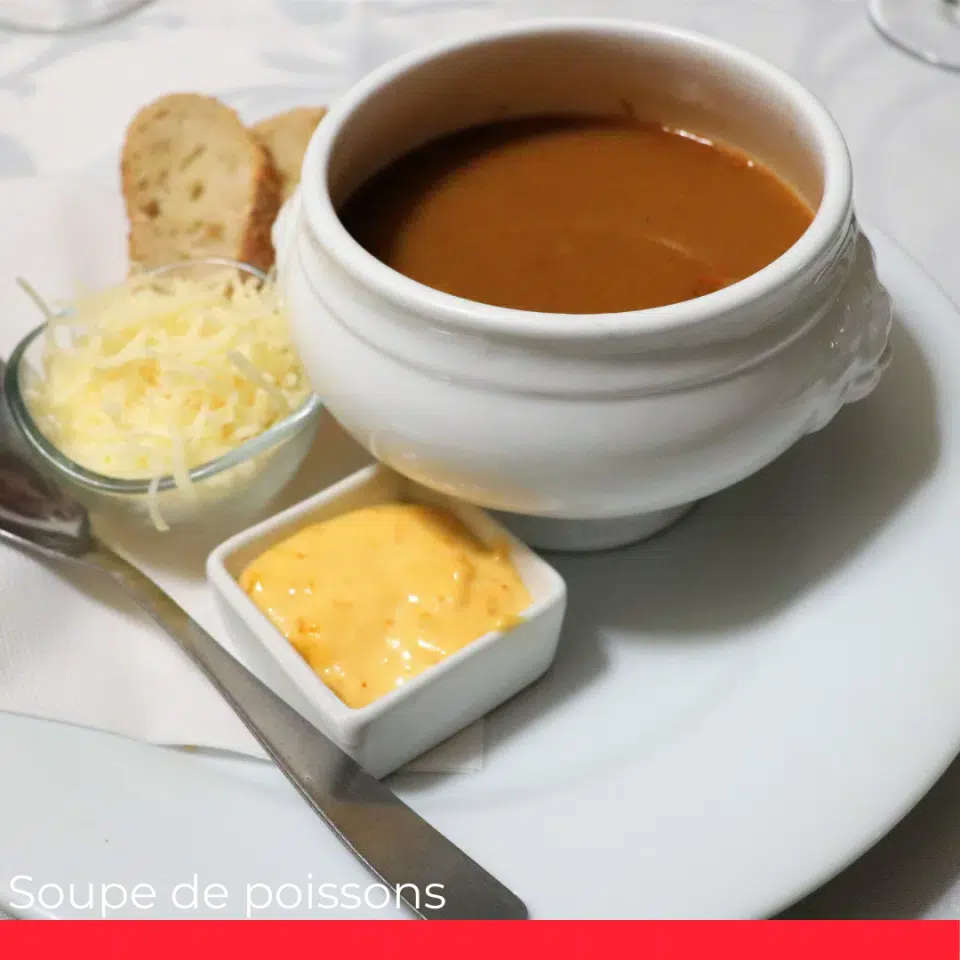 At the opposite end of the price range, fish soup is a very simple, inexpensive dish that comes from the port of Marseille, France's second largest city, on the Mediterranean Sea. It was invented by local fishermen who used their unsold fish to prepare this stew—and for that reason, it's often made with the cheapest varieties.
In the original recipe, the fish is slowly cooked with a purée of tomato and fine herbs. Today, soupe de poissons has become popular across the country, especially as a winter dish. But it is still better to have it in Marseille, where they add the rouille, a special saffron mayonnaise that goes on top of the soup.
48. Salade de Chèvre Chaud (Goat Cheese Salad)
Ever since people became more conscious about eating healthily, salads have been booming in French restaurants. This one is typical and is from the southwest of France, which produces the best goat's cheese in the country. It features a basis of green leaves with balsamic and olive oil (or walnut oil, which tastes even better)!
Cherry tomatoes, walnuts, slices of apple, or tiny cubes of bacon can be added, if you like. On top, comes the main ingredient: slices of toasted bread topped with warm goat's cheese—and sometimes with a dash of honey. This is one of many gourmet salads you will find in French restaurants nowadays.
47. Tomates Farcies (Stuffed Tomatoes)
Another healthy option, these stuffed tomatoes are a light and popular dish that is usually homemade. The stuffing is a preparation of ground meat, breadcrumbs, onion, and fine herbs—although the meat can easily be replaced by vegan ingredients.
The tomato is emptied of seeds, stuffed with the filling, then cooked very slowly in the oven, allowing the tomato juices to seep into the filling. Simple, but great!
46. Gigot d'Agneau (Roasted Leg of Lamb)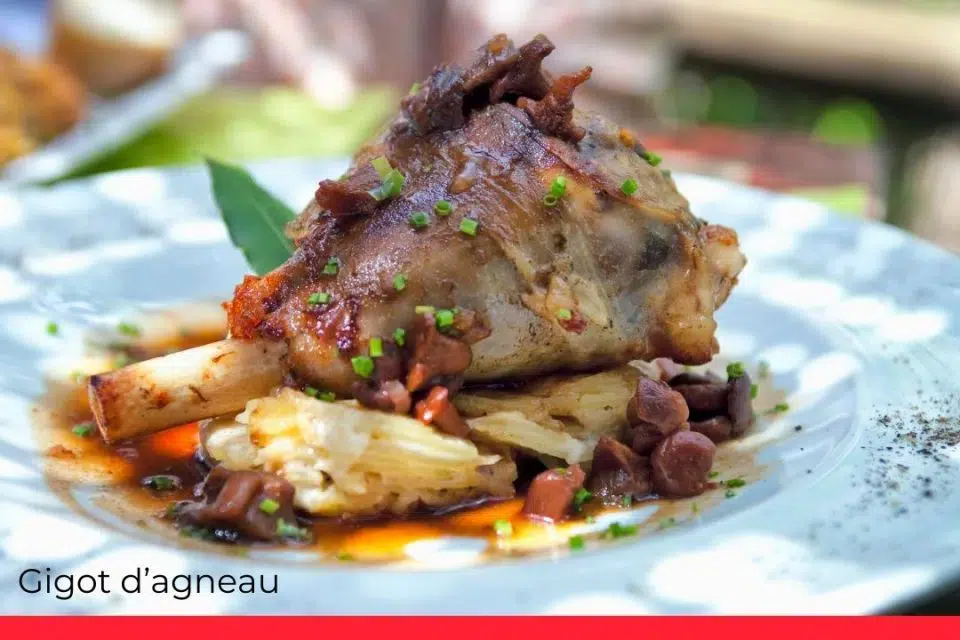 Lamb is not the most popular meat in French gastronomy; that would be beef, duck, pork, and chicken—almost anything other than lamb. This is a country that consumes rabbit, horse, pigeon, wild hog, and even wild deer (although they are all eaten less nowadays). I know this can be shocking for some, but this is the heritage of centuries of game hunting by kings, lords, and peasants.
But let's get back to the lamb. Gigot d'agneau (leg of lamb) is slowly cooked on an oven rack, with potatoes placed on the rack underneath. That last detail makes all the difference, as the juices from the meat fall onto the potatoes, making them particularly soft and tasty.
Another popular piece of lamb that is often prepared is carré d'agneau, but that's considered a noble piece and is, therefore, quite expensive. There is also the navarin d'agneau, which is similar to boeuf bourguignon (more on this one later), except that it's lighter and is prepared with white wine rather than red.
45. Poulet Basquaise (Basque Chicken Stew)
Coming from the Basque Country, this braised chicken recipe features some rare breeds of chicken (or duck) from that region—meaning that a real poulet basquaise is made from free-range poultry. But what makes it really special is the sauce that goes with it, called piperade, in which the meat gets cooked, becoming more tender.
The piperade is composed of Bayonne ham, fine herbs, tomatoes, and the special espelette pepper: a tiny, lightly spicy local variety that is traditionally dried on the walls of houses in the Basque countryside.
44. Flammeküche, aka Tarte flambée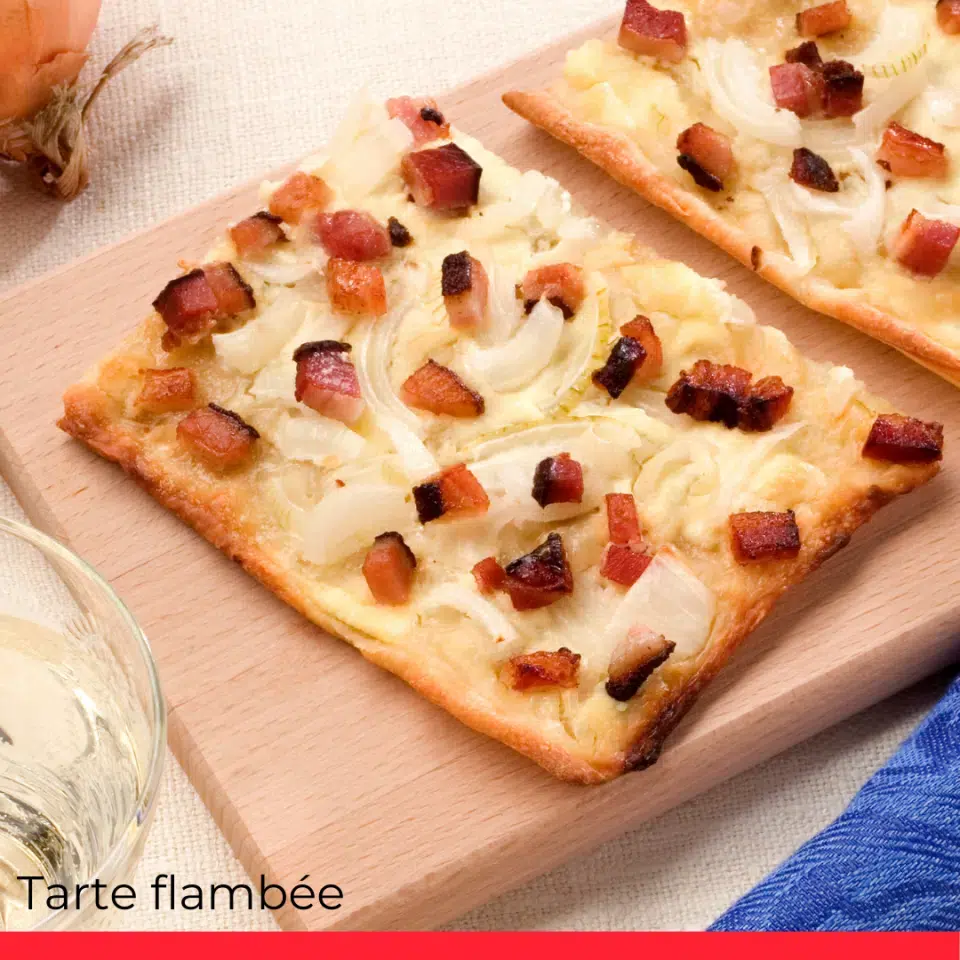 If it seems German, it's because it is. Sort of. Flammeküche is a specialty from Alsace, which for a long time was part of Germany and where a dialect similar to German is still spoken.
This is the local version of pizza: a thin, crispy flatbread covered with fresh cream, cheese, onions, and locally produced bacon. It is called a flaming tart because it is baked close to flames in a brick oven.
43. Soufflé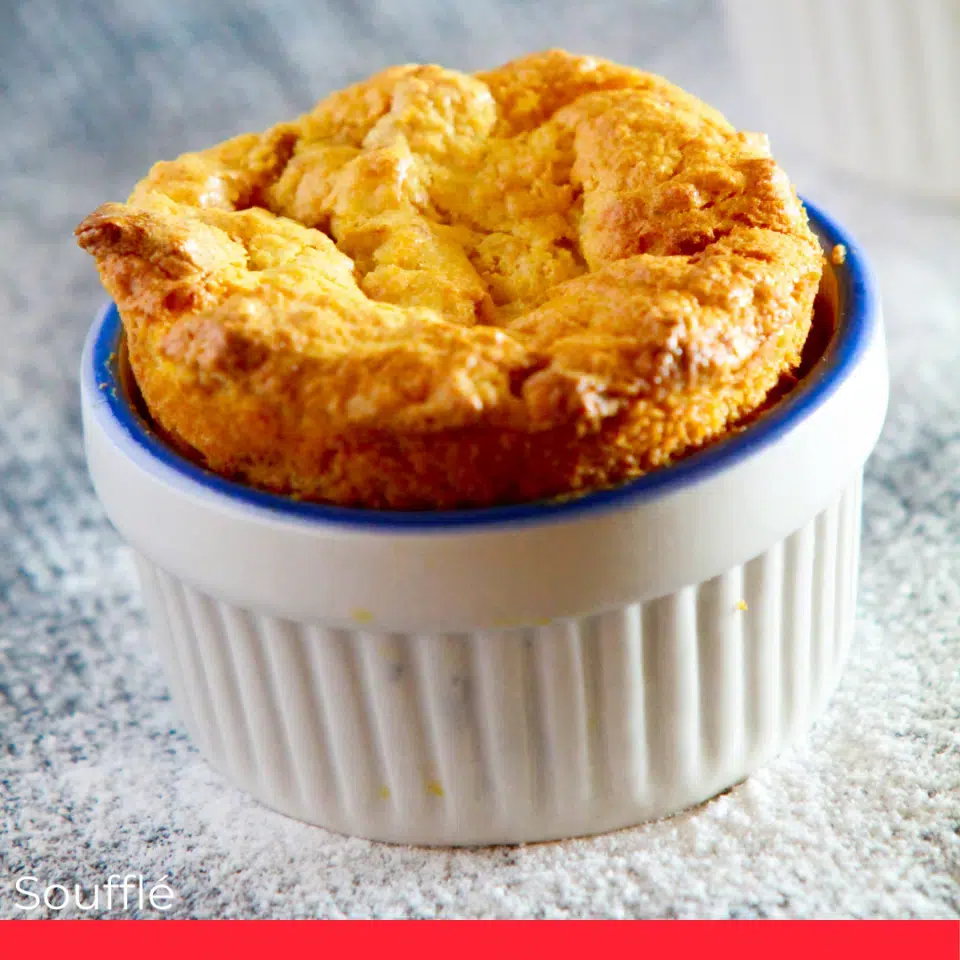 Soufflé means blown, which is what happens as the preparation of beaten eggs grows and elevates during cooking in the oven—almost to the point of blowing up! When well made (which is always a challenge, considering it can easily collapse), the result is a dish that is lighter than air.
The most traditional version is cheese soufflé, but it can also include mushrooms or even be prepared as a dessert, chocolate soufflé and lemon soufflé being the most popular varieties.
Soufflé is often served with béchamel, probably the most iconic of the numerous French sauces. A smooth, white preparation made out of milk, it is also used for lasagnas, potato dishes, eggplant dishes, and can also be the base for more complex sauces.
42. Salade landaise & Salade périgourdine (Duck Salad)
Two very similar gourmet salads, the landaise and the périgourdine, share almost the same recipe. The landaise is made with a base of green leaves, tomatoes, and cucumber, on which are added more sophisticated ingredients such as asparagus, apples, and, most importantly, several pieces of duck—placed warm on top of the salad. Usually, a slice of toasted bread with a piece of foie gras is added as well.
The périgourdine is very similar but even richer, as it includes warm potatoes, ham, walnuts, and bacon! I should also mention the even heavier duck gizzards salad, prepared with potatoes, mushrooms, and figs. As you can imagine, this is definitely not the lightest of salads, but is a nice way to eat decadent meats that stıll count as the "healthy" option.
41. Petit salé aux lentilles
This is the first of several recipes that involve pork as the main ingredient. Petit salé means tiny salted, referring to the small pieces of meat that have been preserved in brine.
These small pieces are washed to get rid of the excess salt, cooked separately, then added to a preparation of black lentils, onions, and carrots, along with sausages. This is a rather filling countryside winter dish that you will not find in restaurants. It is, rather, homemade — or you can find it pre-cooked in supermarkets.
40. Côtes de Porc & Ventrèche
This one is 100% pork. Côtes de porc are merely pork ribs, and ventrèche, also known as poitrine fumée, is a piece of meat that has been salted, dried for about a month, and sometimes smoked.
A specialty from the southwest of France, similar to Italian pancetta, it is widely popular grilled on a barbecue with aromatic herbs and put in a bread for a good sandwich. However, côtes de porc and ventrèche are often used in more elaborate preparations and can be added to vegetable soup or purée, with beans or lentils, for instance.
39. Hachis Parmentier (Meat Pie)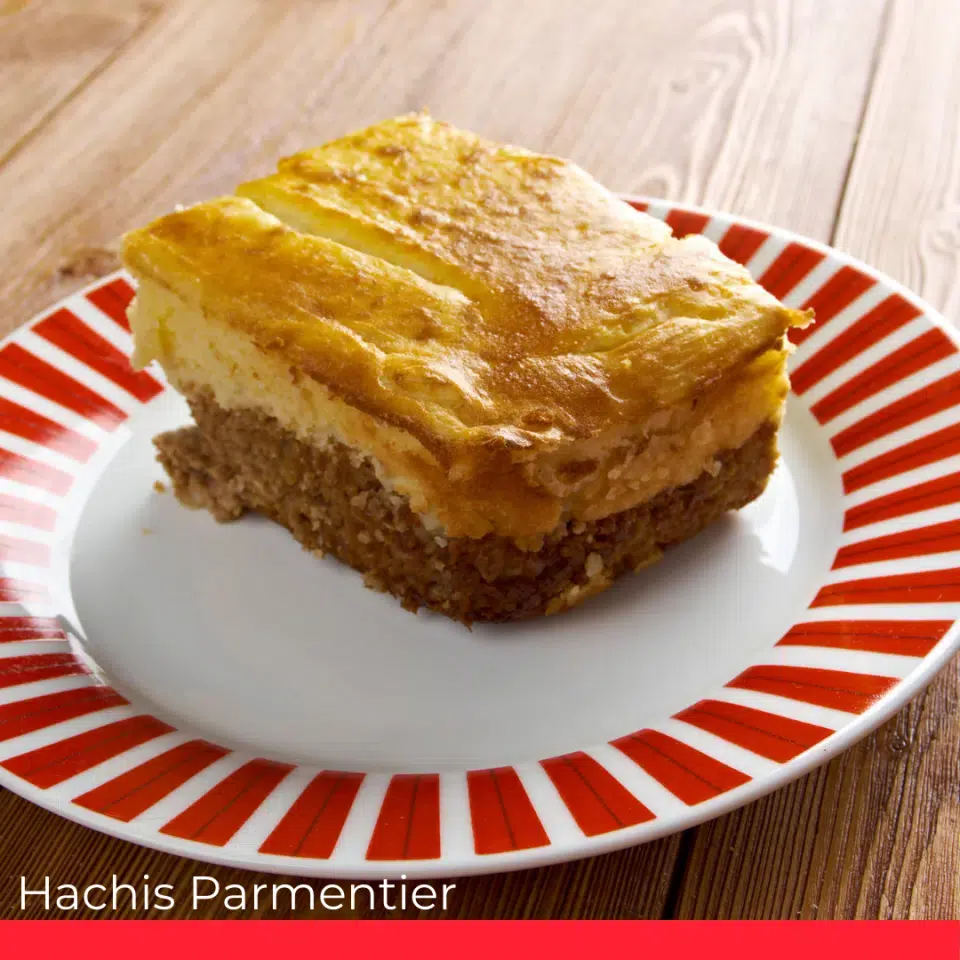 A French version of the shepherd's pie, hachis parmentier consists of two layers: ground beef with fine herbs at the bottom and mashed potatoes on top. This is all cooked together in the oven, giving the potatoes a gratinated finish.
This is a simple yet perfect combination of taste and textures. Despite the time it takes to prepare, this is usually a homemade dish for the entire family—and the first of many dishes featuring potatoes on this list. A green salad on the side couldn't hurt!
38. Sole Meunière (Sauted Sole)
Being a country with access to three different seas (the Mediterranean, the North Sea, and the Atlantic Ocean), you would expect France to have many fish specialties. Well… yes and no. We do have a lot of great seafood dishes, but it's mostly shellfish and crabs.
Fish themselves have never been considered "noble" enough by the founders of French gastronomy to make a big deal out of them. As a consequence, this is the one and only fish dish on the list.
Sole is a family of flat fish that is common in Europe, with a tender, fine, white flesh. Meunière refers to the preparation: the fillets are covered with flour, then sautéed in butter. Lemon juice and parsley are added at the end. A straight-forward recipe, it brings together a great combination of textures and flavors in one simple dish.
37. Quenelles
The emblematic specialty from Lyon, France's third largest city, quenelles are rich… very rich. That's because this very unique dish is made with a base of white flour, eggs, Gruyère cheese or milk, butter, and water. These five ingredients are mixed together to form what looks like small sausages, then slowly baked in the oven.
It is also possible to add minced white meat, such as chicken or pike (yes, the fish! That's the most traditional recipe!) The result? A preparation that looks and tastes like nothing else I know: light and fluffy in texture, subtle in taste… and yet very, very rich!
However, the quenelles are not complete without a heavy amount of sauce almost entirely covering them. In fact, according to 3-star French chef Daniel Boulud, "fifty percent of the pleasure of the quenelle is in the sauce—without the sauce, it's not that interesting".
And he is probably right. What gives the dish all its flavor is either nantua sauce (made from a mix of crayfish, tomatoes, cream, nutmeg, and peppers) or the famous béchamel sauce. Heavy, but delicious!
36. Gratin Dauphinois (Baked Potatoes)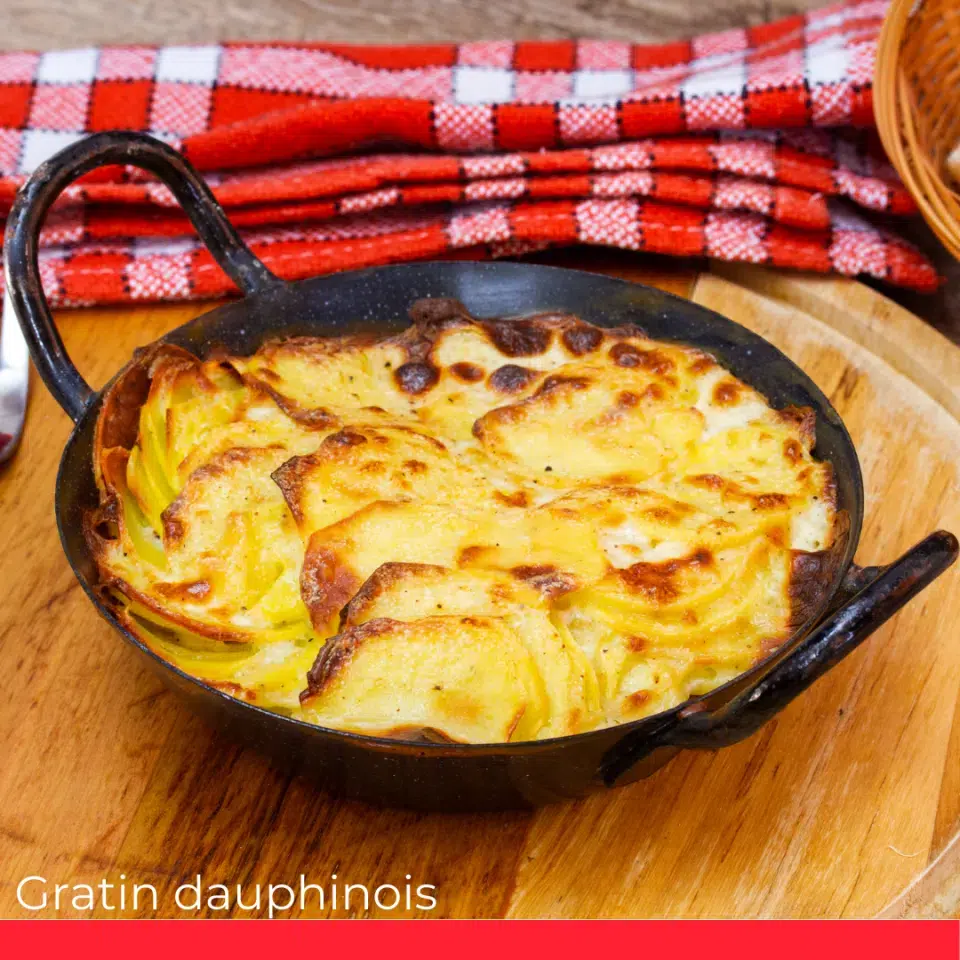 First, let's start with gratin: in French, this refers to any dish baked in the oven with a crispy topping—usually involving cream, cheese, or breadcrumbs. Which is funny, considering that originally, "gratin" referred not to the top, but to the bottom part of the dish that got burnt during cooking and had to get grated off the plate.
There can be gratin of cheese, potatoes, vegetables, noodles, among others. But one of them stands out: the gratin dauphinois.
Coming from the region of Dauphiné (hence the name) in the French Alps, it's composed of sliced potatoes cooked with cream, milk, and nutmeg prepared in a shallow pan.
When well made, the cream and the very top of the potatoes get crusty, but not burnt! The original recipe does not include cheese; however, it's becoming more and more common to add some. Talk about a great winter dish!
35. Coq au Vin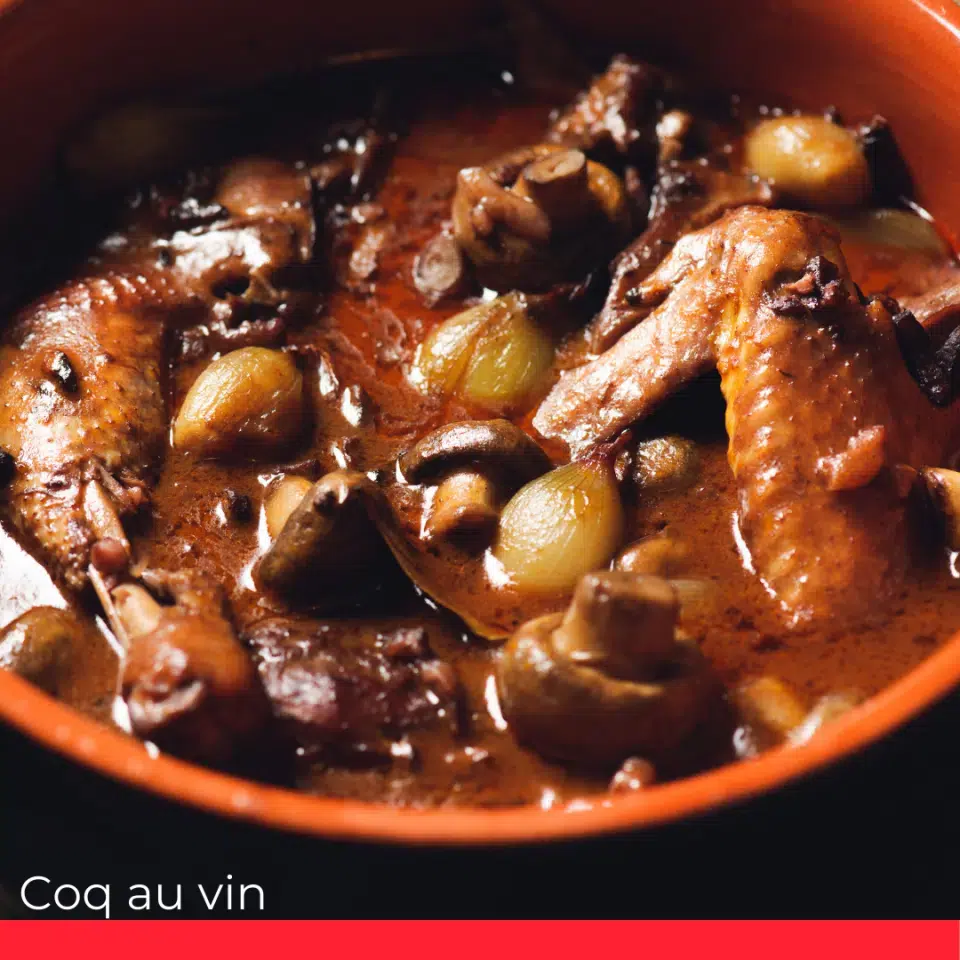 This is a great classic of French gastronomy, created centuries ago (some claim it already existed during the Roman Empire, when they invaded the territory known today as France). However, I don't place it higher on this list because it has lost popularity over time. And what is more, the "rooster in wine" is actually a chicken most of the time—not a rooster at all.
The dish itself is a stew, with the chicken being slowly cooked in a mixture of onions, carrots, garlic, mushrooms, and of course, a good amount of red wine—rustic and bold. Some recipes even add bacon, butter, and beef stock, which makes another heavy dish for the cold season.
34. Coquilles Saint-Jacques (Scallops)
Something a bit lighter, after three heavy dishes. Coquilles Saint-Jacques are scallops. However, the French have several unique ways of preparing this delicate shellfish. My personal favorite is with leeks chopped and sautéed in butter—the two flavors combine perfectly and mutually enhance each other.
Another popular recipe consists of cooking the scallops separately, putting them back in their shells, then adding breadcrumbs and a small amount of cheese on top and, guess what? Gratinate them in the oven!
33. Tartiflette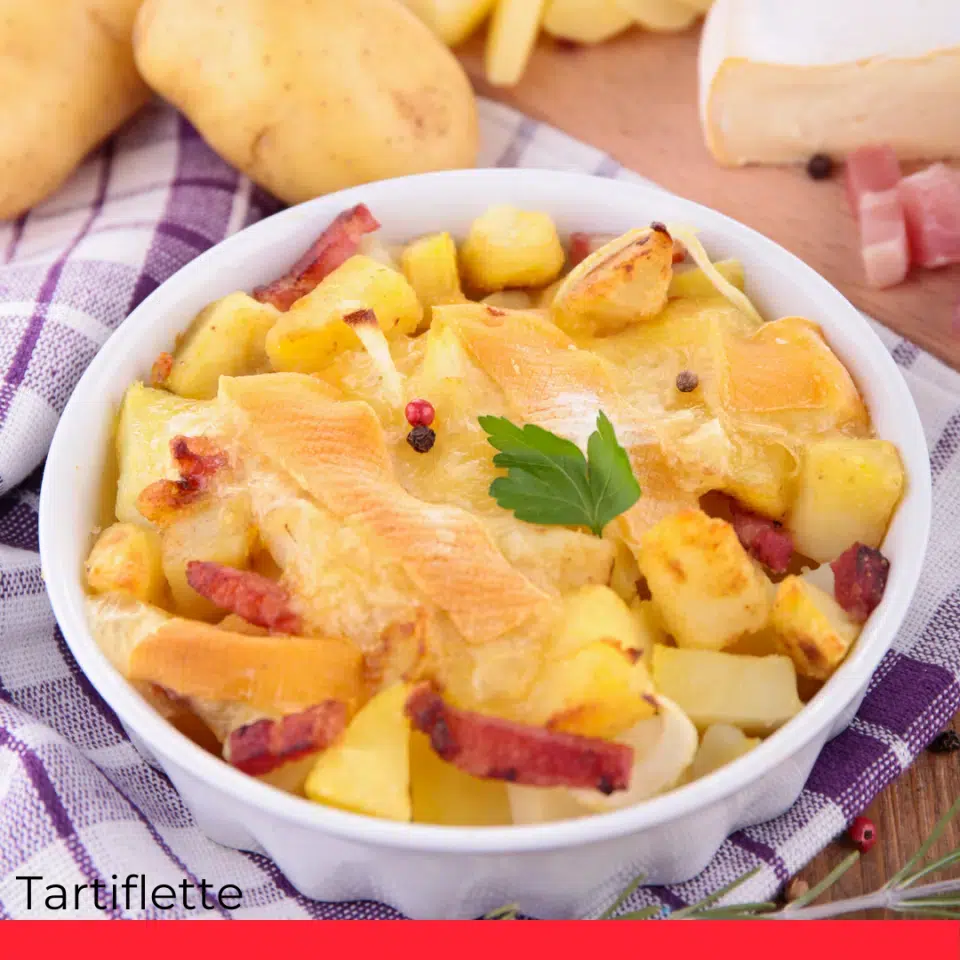 Another specialty from the French Alps, this dish is now very popular nationwide. It consists of gratinated potatoes (again!) prepared with onions, smoked salt pork, fresh cream, white wine, and, the most important ingredient, Reblochon, a local cheese from the mountains.
While the crème fraîche brings moisture to the bottom of the preparation, the Reblochon added on top provides crustiness and taste. Tartiflette is often served with a green salad on the side, and also with smoked ham—just in case the main dish wasn't rich enough! And while this recipe is great for winter, it is also ideal to share for a dinner with friends or family, anytime of the year.
32. Fondue Bourguignonne (Beef Fondue)
Talking of winter dishes and gathering with friends, this one is even better: The fondue bourguignonne is, indeed, a very friendly specialty and is only prepared for a small group of people (usually a minimum of four people, though some restaurants do it for two).
A pot of boiling oil is placed on the table. Each guest receives a plate with several pieces of raw meat—typically beef, but it could be other red meats. Then, they plunge their meat into the pot and wait for it to cook.
Once the meat is ready, you can plunge it again into one of the several sauces that you can choose from. Potatoes, cheese, and green salad are the most common side dishes.
Despite its name, this beef fondue is not from Burgundy but from Switzerland. However, it is really popular in France and deserves a spot on this list.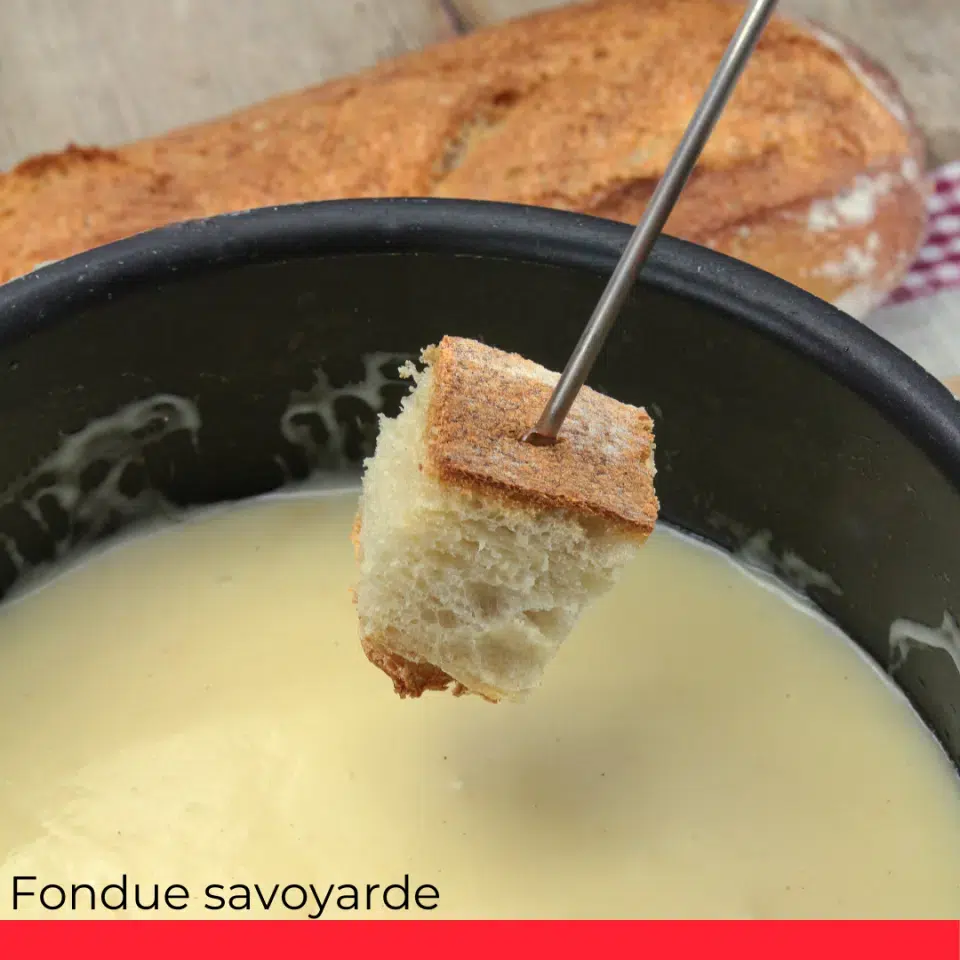 This one is even more fun for a great dinner with friends on a cold winter evening! While the fondue bourguignonne features meat, the fondue savoyarde, a recipe from the French and Swiss Alps, features bread and cheese.
That's right: instead of a pot of boiling oil, it's a pot of melting cheese placed in front of you, and small pieces of bread to plunge into it. To be more specific, the traditional recipe uses a mix of four different cheeses from the area: Gruyère, Beaufort, Emmental, and Comté, along with some white wine and garlic to give it a nice kick.
In a way, this dish is like sushi. Really?? Yes, in the sense that it takes some time and practice to fully master the special skewer that is used to pierce the bread: once dipped in the cheese, it's easy to lose it in the pot! Which is why the cheese fondue is a really convivial way to enjoy great cheese and have fun—in fact, if you go skiing in the Alps, this is by far the most popular dish for dinner!
30. Raclette
And if we are talking about the two fondues, we have to talk about raclette as well—also a Swiss recipe, also beloved by the French, also involving a lot of cheese, and also great to share with friends, as you'll see! The word raclette refers to three different things: the dish, the electric grill used to melt the cheese (although traditionally it was melted on a wood fire), and the cheese itself.
It can be confusing at first when somebody asks you "passe-moi la raclette", but in the end, it's probably the most complicated thing about this dish. Indeed, the only thing you need to do is to put pieces of raclette cheese in a pan, melt them on the raclette grill, and then cover baked potatoes with your melted raclette. That's it! And to make it a full meal, it is served with cured meats such as ham, prosciutto, pancetta, or salami—and some greens.
Careful! It has nothing to do with tartare cheese! I'm telling you this because a friend of mine from the US ordered this dish at a restaurant thinking it was a piece of well cooked beef with melted tartare cheese on top.
You should have seen the look on his face when he got a completely raw piece of minced beef (or horse!), with a completely raw egg on top! Priceless! So… now you know what a steak tartare is. It may seem off-putting, but hey, it's not that much different from sashimi, if you think about it. This cold dish is typically served with French fries (which are cooked and served warm!)
28. Rillettes
Rillettes is a kind of pâté, without really being a pâté. It's part of what the French call charcuterie (more on this later), and is one of the most typical dishes in this category of food. Is is made from small bits of pork that are slow-cooked in their own fat—although it can be also made out of duck, goose, rabbit, or other meat.
Rillettes is then spread cold on bread, along with pickles. Usually served as an appetizer, it also works really well as a sandwich. You will find it at any charcuterie stall in France, and, in the countryside, it's not uncommon to find it homemade.
Check this recipe: Salmon Rillette
27. Soupe à l'Oignon (Onion Soup)
A typical French specialty, onion soup is also a staple of Spanish cuisine, and has existed since the Roman empire. A very simple preparation, it was for a very long time a "poor people's dish" but ended up finding a place on restaurant menus.
It consists of a broth made with caramelized sliced onions and meat stock (although vegetarian versions exist), which is topped with crispy croutons and cheese, which both end up melting in with the rest.
A classic from Provence, southeast of France, this seafood stew is similar to the soupe de poissons we mentioned earlier, but more elaborate. Also invented by the fishermen of Marseille, it can contain different types of fish (depending on what's left from their daily catch), as well as clams, crab or lobster, along with tomatoes, potatoes, onion, saffron, fennel seeds, and the local alcohol, pastis—all these ingredients make it a very flavorful dish.
But what makes it a really special preparation is the use of rascasse, or red scorpionfish, a local rockfish that has a characteristic taste. The stew is brought to a boil (bouillir, in French) and then the heat is lowered (baisser, in French). These two words put together formed bouillabaisse. Sort of.
25. Ratatouille and Piperade
I guess you have all heard of ratatouille, thanks to the famous animated movie. To be honest, it's not as fancy as it looks in the film. In fact, it's a very humble dish made with very simple ingredients—which is why it makes total sense for it to be prepared by a very humble rat. Rat, ratatouille, you know… But I digress.
While bouillabaisse comes from Marseille, ratatouille is originally from Nice, the second largest French city on the Mediterranean Sea in the Provence region. It's a simple vegetable stew (yes, there are vegan specialties in France!) made with zucchini, eggplant, tomatoes, onions, bell peppers, olive oil, and a mix of local aromatic plants, including garlic and parsley.
A very colorful dish, ratatouille can be eaten alone, on toasted garlic bread, or with rice or any meat. It's that versatile!
Ratatouille has a cousin in the Basque Country called piperade. A couple of differences: tomatoes, onions, and locally grown red peppers are the main ingredients in piperade, making it a spicier dish; and instead of eggplant and zucchini, eggs and small pieces of meat are mixed together with the stew—they are optional, though.
24. Saucisson Sec (Dry-Cured Sausages)
What's more of a cliché than a French man with a béret and a baguette under his arm ? Well, the same French man with a dry saucisson under his arm in place of the baguette! Saucissons are dry-cured sausages that you will find everywhere in the country.
They are made with pork, or with a mix of pork and other meat, and belong to the great family of charcuterie. They are similar to salami, but thicker, drier, often more aromatic in flavor, and… harder (I mean, you can transport it under your arm and it remains as straight as the baguette!).
Saucisson can be served in small slices as an appetizer, or as part of some elaborate preparations such as a cassoulet (more on this later), or inserted into a sandwich with butter and pickles. And it goes very well with a glass of red wine.
23. Assiettes de Fruits de Mer (Seafood platter)
Ok, this one is not exactly a dish. It's merely a (very!) large platter filled with different types of seafood, which can be oysters, mussels, shrimps, lobster, crab, and other varieties of shellfish. Everything is cooked, except the oysters.
Usually served in restaurants for two people or more, it always comes with fresh lemon, vinegar with scallions, slices of bread, and mayonnaise sauce. Oh, and wet towels with a lemon scent to clean up your fingers—because, yes, you need to open the shells yourself; in fact, it's part of the charm of this dish. And if you like wine, a bottle of crisp Sauvignon Blanc is a great match.
22. Choucroute, aka Sauerkraut
While sauerkraut is a German specialty, choucroute is the French version of it, from the Alsace region—although it is said to be originally from China. The Alsatian take on sauerkraut consists of fermented cabbage with potatoes, pork ribs, and different kinds of sausage.
There is also a spin-off of this classical recipe called choucroute de la mer, in which fish and shrimps replace the pork and sausage. Choucroute is usually homemade and prepared as a large family dish.
21. Croque-Monsieur
Back to something more simple with the croque-monsieur. It's basically a sandwich composed of two slices of bread, with a thin slice of ham and melted Gruyère cheese tucked in-between. A more elaborate version consists of adding more cheese and a bit of béchamel sauce on top. It is always served hot and crispy.
A poached or fried egg can be added on top of the sandwich. In that case, it's called croque-madame, as the shape of the egg resembles that of a lady's hat. Supposedly.
Croque-monsieur means something like crunch mister, due to the fact that the Parisian restaurant owner who invented it had the reputation of being a cannibal.
One day, as he ran out of baguette, he took out some soft bread, cut two slices, and stuffed it with other ingredients to make a sandwich. When he was asked what was inside, he jokingly replied "a meat of Monsieur, of course".
20. Pot-au-feu (French Beef Soup)
This is a typical dish from the countryside, usually prepared for a large family meal. While the ingredients may vary depending on the season and availability, the basis remains the same: beef, carrots, turnips, and onion. Everything is cooked together in a large pot, slowly, for several hours.
If they can be found in the market, leeks give some extra flavor to the broth. Some people add potatoes as well to make it more filling. In the old days, the pot used to be put over the fire, hence the name, pot-on-the-fire. It is always served with bread—good to plunge into the sauce left on your plate once you have eaten everything else!
19. Boeuf Bourguignon (Burgundy Beef Stew)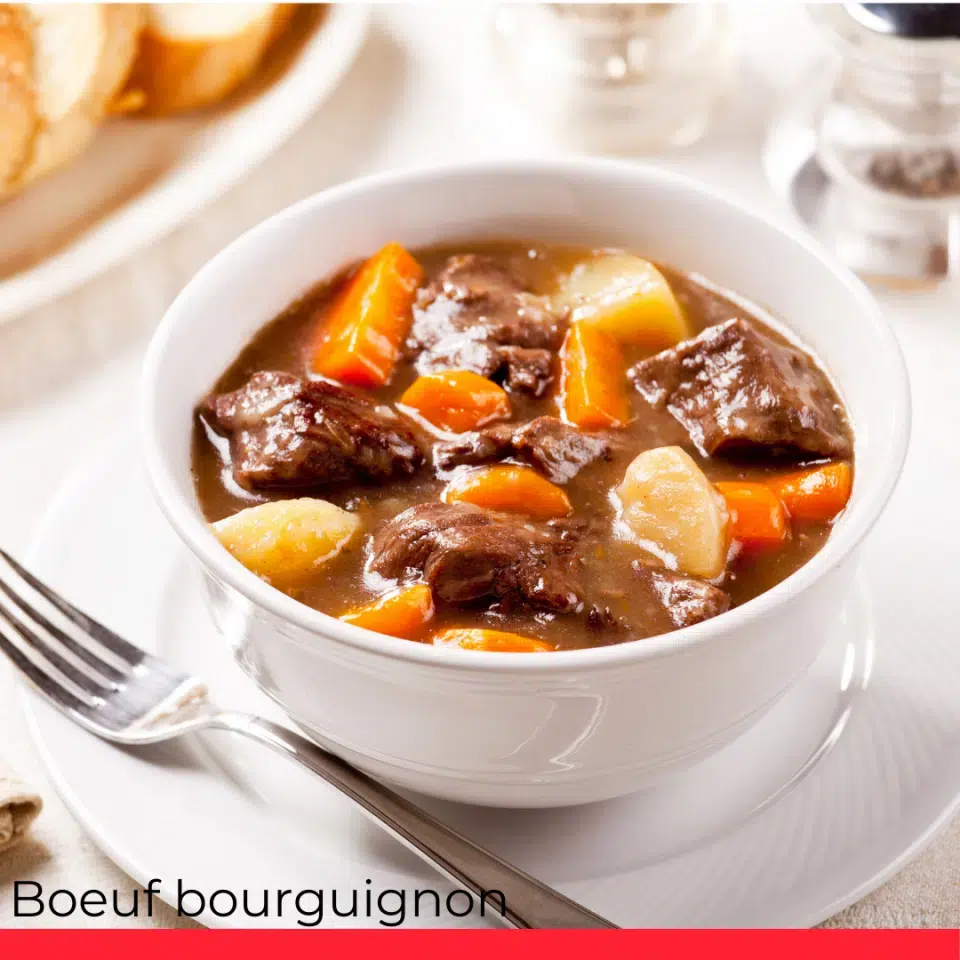 A classic of French cuisine, originally from Burgundy, boeuf bourguignon is a rich, complex stew that features the most famous regional specialties: red wine and Charolais beef—a variety of cow whose meat is particularly tasty and tender. The rest of the stew is composed of vegetables: garlic, onions, thyme, carrots, mushrooms, and potatoes.
Everything is simmered together for several hours, until the meat is completely tender and all the juices have mixed together into a thick, brown sauce. If you want an even better result, refrigerate the boeuf bourguignon over night, then reheat slowly the next day: this allows for all the juices and flavors to really blend in together. (This is actually true for other preparations on this list, especially stews such as ratatouille.)
Nowadays you can find various variations of bourguignon with pork or chicken.
18. Blanquette de Veau (Veal Stew)
Less famous outside of France than the more iconic boeuf bourguignon and coq au vin, this stew recipe is, however, more popular and consumed more by the French nowadays. Blanquette de veau is a piece of veal (usually shoulder or chest) slowly cooked with a white sauce made with fresh cream, flour, butter, lemon juice, and egg yolk.
A carrot and onion broth complete the stew. This traditional dish is often served with a side of white rice and mushrooms. It can also be prepared with other types of meat, such as lamb, chicken, or even white fish.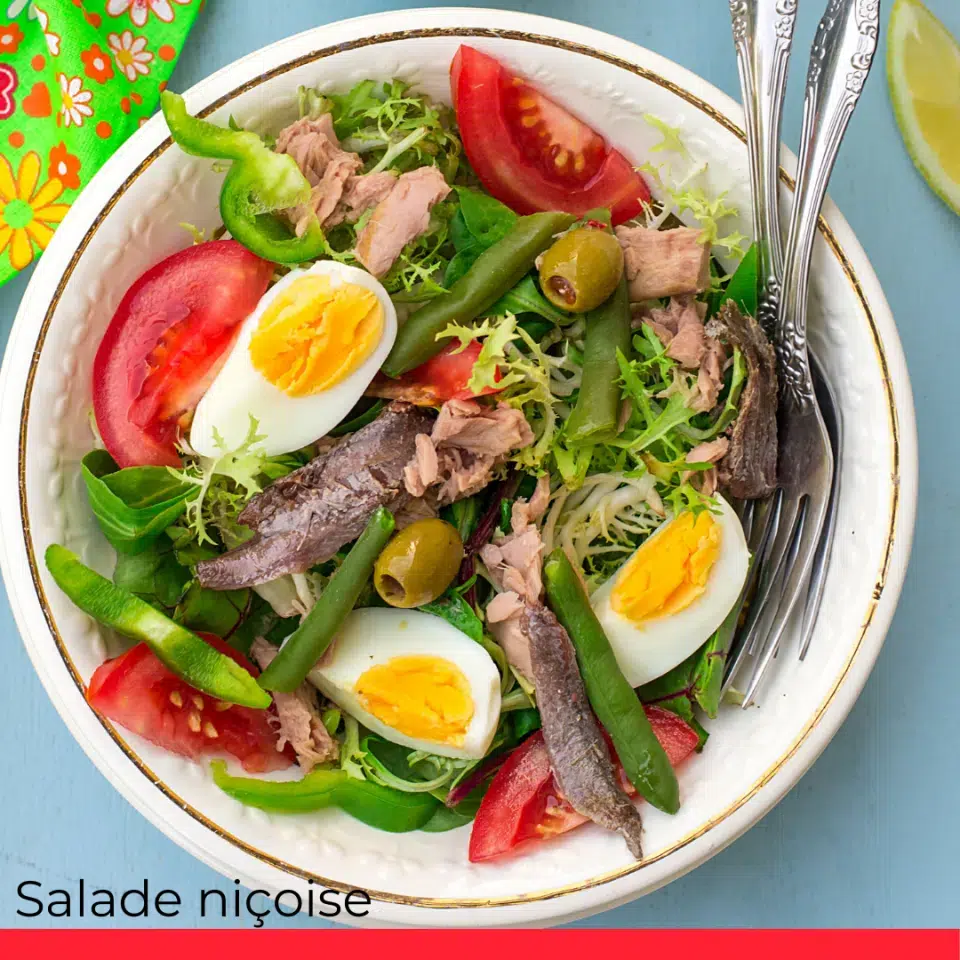 The third and last salad on this list, salade niçoise, is originally from Nice (like the ratatouille), but is widely consumed throughout the country. A very colorful dish, it is famous for including smoked tuna or anchovies, along with tomatoes, hard boiled eggs, onions, black olives, and a few greens that vary depending on the season.
The combination of ingredients is so popular in the Nice area that it gave birth to the pan bagnat, which is basically a sandwich made with a round bread, filled with a tiny portion of salade niçoise. By far the most popular food to take away if you are going to the Côte-d'Azur.
16. Poulet Rôti (Roasted Chicken)
I know, roasted chicken is a very popular dish in many countries, and, as such, it doesn't qualify as a French specialty. And yet, it has to be on this list. It is a traditional Sunday lunch in France, when families buy an entire chicken for the day.
Poulet rôti is usually prepared with the full skin, making it nice and crispy. Baked potatoes or French fries are typically cooked with the juices of the chicken and served as a side, although risotto or a gratin of vegetables is popular as well.
While there are several recipes, one of the favored preparations consists of inserting garlic into the meat, so that it gets roasted along with it.
We are really getting into the more popular French specialties here. And if there is one thing that our gastronomy is famous for (other than bread, cheese, wine, and snails), it's duck! Magret de canard is one of the most mouth-watering pieces of meat you can get in the country.
The recipe consists of cooking the duck breast as if it was a beef steak, until it is medium-rare. However, most French people like their magret just seared and very juicy. It is always served in thin slices, along with potatoes with cream and a green salad. Wild mushrooms are also a great side to go along with this delicious piece of meat.
Those from the US may know this dish as duck breast. However, the magret from French ducks have a better, richer taste. The breed is the same that is used to prepare foie gras, another French classic.
And due to limited space, I had to add confit de canard here—which is just as good as magret. It consists of slowly roasting duck meat in its own fat for up to 24 hours, until the melted fat entirely covers the meat.
This preparation was originally created to store the duck meat in glass jars and save it for later consumption. However, it has become a popular restaurant dish. It is usually served with pepper, thyme, garlic, and shallots. But the best part? You can use the duck fat for frying potatoes!
14. Cassoulet
One of the most traditional dishes from southwestern France, cassoulet is a French casserole made with white beans and various types of meat: different parts of pork, sausage, and even duck legs in some recipes. All the ingredients are slowly braised together for hours in a glazed terracotta pot.
For how long? As long as it takes for the hardest piece of meat to get so tender that it disaggregates by itself! There is a hot debate between the three cities of Toulouse, Castelnaudary, and Carcassonne, regarding where this famous, heartwarming dish was first invented—resulting in three slightly different recipes.
What's for sure is that cassoulet has been around in the countryside for centuries, and is now widely enjoyed around the entire country—especially during cold winter evenings.
13. Escargots (Snails)
The second most exotic French specialty (after frog legs), snails are also much more widely consumed than the tiny batrachians. If you wonder what they taste like, well… they are in fact very chewy, a bit like clams, and somehow lack taste. What gives all the flavor and makes all the difference is the sauce with which you eat them.
The sauce is traditionally a creamy mix of garlic, butter, parsley (or thyme), and white wine that is added on top of the snail meat, inside each shell. Escargots are usually served as an appetizer. And even if you don't really enjoy the taste (which is my case), it's kind of fun to catch the meat inside the shell with a little skewer—like a game, really!
So, when they are served in more elegant settings, such as with toasted bread, it's kind of boring, if you ask me…
Mussels are one of the most popular seafoods both in France and Belgium—heck, they are even the national dish in Belgium, where they serve them with French fries. While this recipe is also quite popular in Paris, there are a couple of more French-ish ways to prepare mussels.
The most widespread is called moules marinières, which consists of cooking them with a white wine broth, shallots, and parsley and to serving them with white rice.
Less known but even tastier, mouclade charentaise uses the same recipe, but adds to it a mix of white cream, curry, and a local sweet liqueur called Pineau des Charentes to create a delicious sauce. And finally, there is an even more local preparation called éclade, which consists of putting the raw mussels on a flat wooden platform, covering them with pine needles, and setting fire to them.
This gives them a lovely smoky taste and they are then eaten on their own, with a bread and butter on the side.
11. Champignons (Mushrooms)
While wild mushrooms are rarely the main ingredient of a dish, they are very frequently used in French gastronomy, and deserve to be mentioned here. While the most famous of them is the truffle, which is too strong in flavor (and too expensive!) to be prepared by itself, some other varieties are just aromatic enough to be the main protagonist.
That's the case with cèpes (porcini in English), simply cooked in olive oil with parsley and garlic—and can then be served with vegetables, rice, baked potatoes, or meat. Other French favorites include morilles (morels), especially prepared in a risotto or an omelette; and chanterelles, which are delicious with a plate of spaghetti, white cream, garlic, and onions.
10. Omelette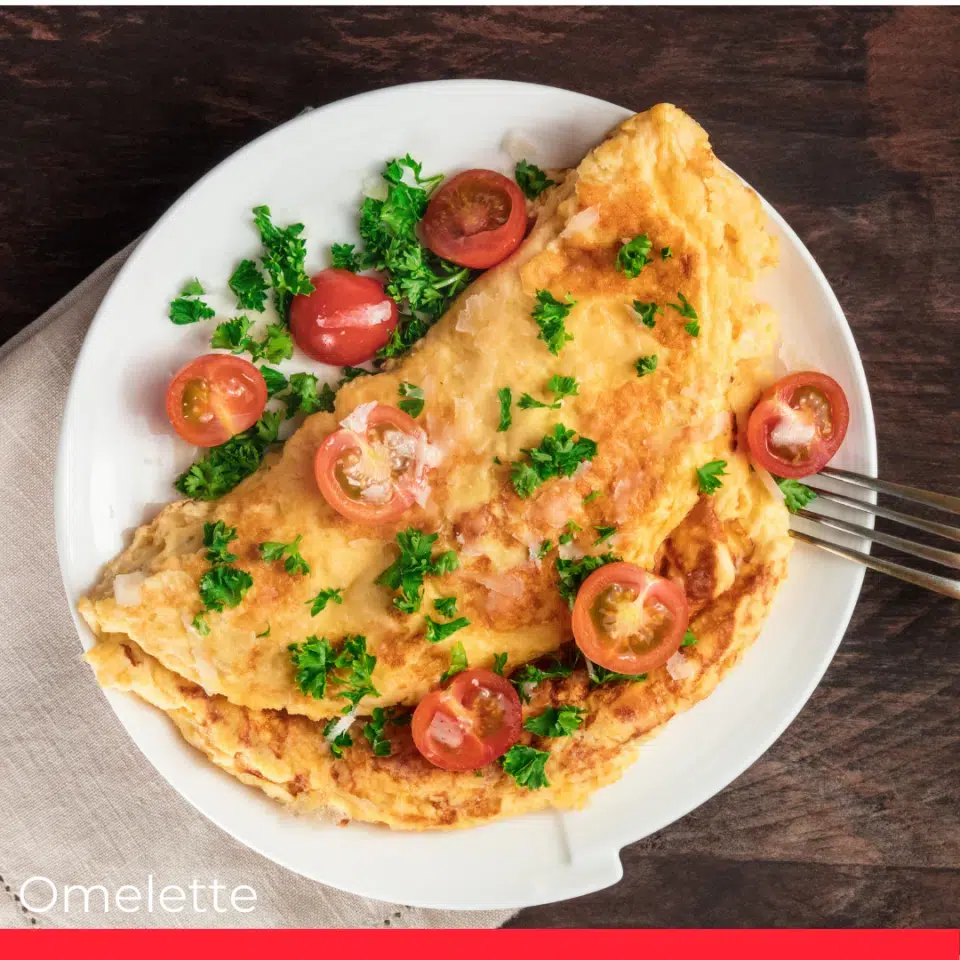 Why would I put such a basic preparation so high on the list? Well, because it is a very popular dish, and because it can be much more complex and fancy than you would think.
With may different types of cheese, with ham, with leeks, or with potatoes like the Spanish tortilla… there are many ways to add ingredients to very versatile eggs. A more high-end version of an omelette consists of adding wild mushrooms, such as porcini, chanterelles, or even black truffles; then you have the one with cheese, smoked salmon, and arugula… or even a shrimp omelette. The possibilities are infinite, really!
By the way, there is a debate whether the omelette is genuinely French or not. And while it seems that it's not, there is a general consensus that it is indeed in France that is has gained its current and most popular form. Whoever disagrees can throw an egg at me!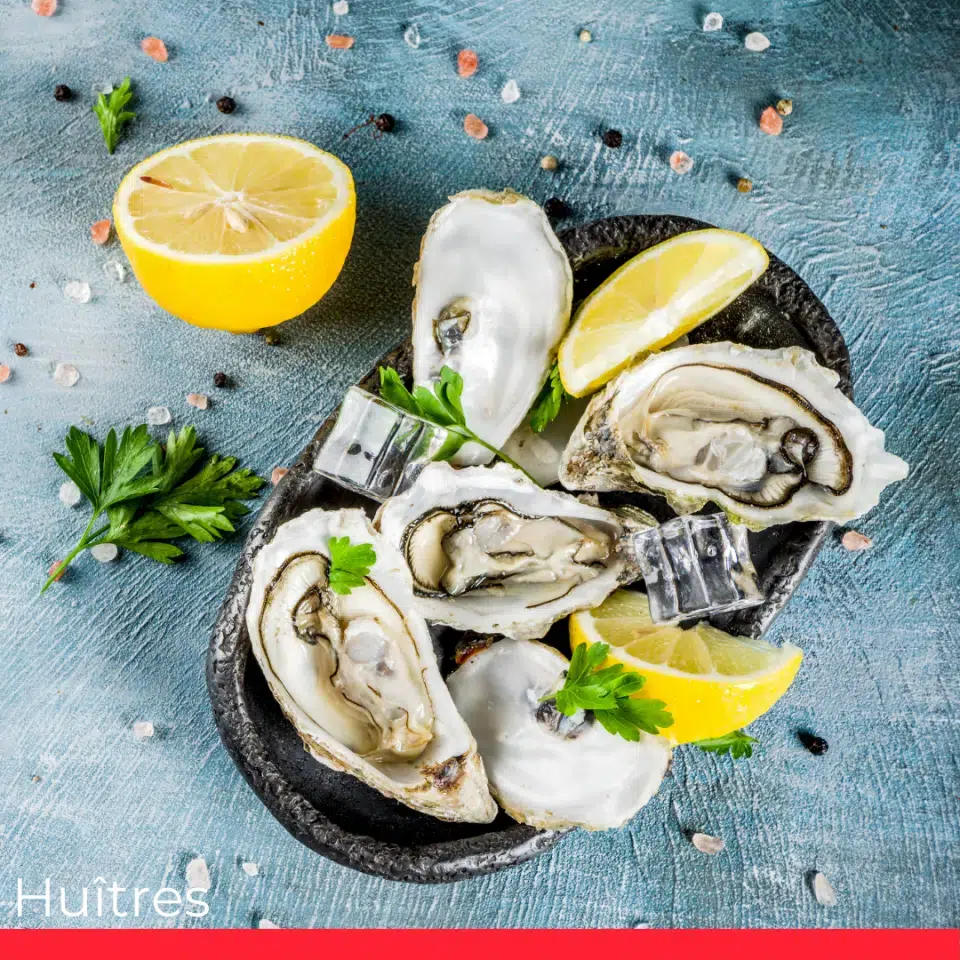 Ah, oysters! After frogs and snails, this is probably the third most "disgusting" specialty on this list. After all, we eat them raw, directly from the shell, with just a dash of lemon juice.
What's even worse? They are still alive just before you throw lemon at them. Now, if this seems too gross, there are other ways to consume them. One of them consists of opening the shells, covering the oysters with cheese, and heating them in the oven so that they get slightly cooked, and the cheese slightly gratinated.
While oysters are a staple of Christmas and New Year's holidays, they are consumed all year long on the French coast, especially on weekends. They are usually served as an appetizer, along with a crisp, fresh white wine.
Oysters normally come in batches of twelve (just like eggs). And it's not uncommon to see people eating all of them, one after the other. But if you are not used to them, it's wise to stick to two of three, tops.
8. Quiche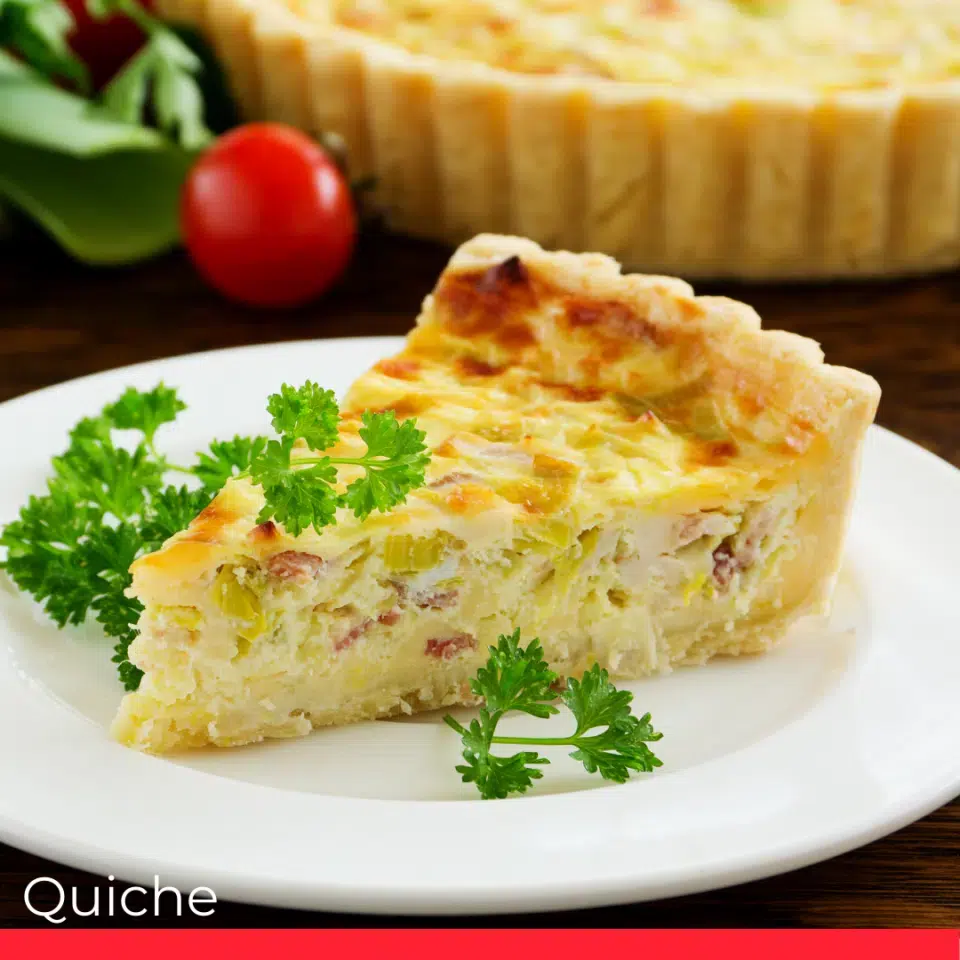 You could argue that quiche is to the French what pizza is to the Italians. Indeed, this savory pie with a crusty dough is found everywhere in the country, with many different types of filling: cheese, vegetables, smoked salmon, meat, anchovies, mushrooms, herbs, shrimps… you name it!
It is so widely popular that you will find quiche at most bakeries, but also at restaurants, and frozen at the supermarket. It can be served hot or cold, as an appetizer along with a green salad. But it's also a frequent guest at receptions and parties, where it is cut into thin slices and served on buffets.
Now, let me introduce to you the mother of all quiches: the quiche Lorraine. This particular tart contains bacon or grilled ham, eggs, cream, a hint of nutmeg, salt, and black pepper.
It comes from the region of Lorraine, which once belonged to Germany—hence the name quiche, which comes from the German Küche: cuisine. The quiche Lorraine is baked in a such a way that the top gets slightly brown, giving it a bit of a smoky taste.
7. Galettes bretonnes, aka crêpes salées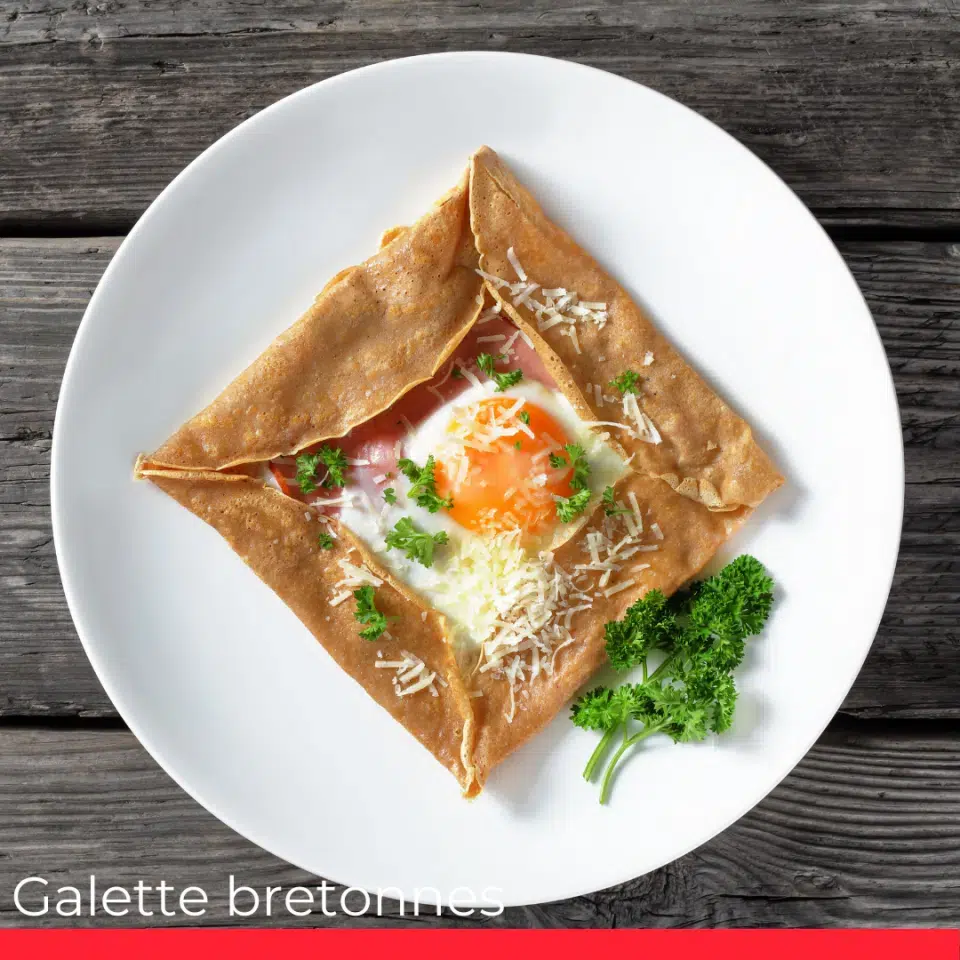 Galette bretonnes, also known as crêpes salées, are the savory equivalent of the famous and sweet crêpes. These thin buckwheat pancakes, originally from Brittany, are extremely popular all across the country.
Just like the quiche we mentioned earlier, they are very versatile and can be filled with a wide variety of ingredients, from salmon to duck to any kind of vegetable or cheese. But the original, the galette complète, is a pancake filled with ham, cheese, and egg, and sometimes onion. That's it.
Many restaurants in France, especially in Brittany and Paris, are dedicated to making nothing but these buckwheat pancakes and are, therefore, called crêperies. Not only are the galettes bretonnes delicious but they also make for a quick, inexpensive dining option—either to eat on site or to take away.
And by the way, if you go to Brittany, please don't use the word crêpes to talk about buckwheat pancakes. Only the word galette is tolerated there!
Related: Tomato Galette
6. Charcuterie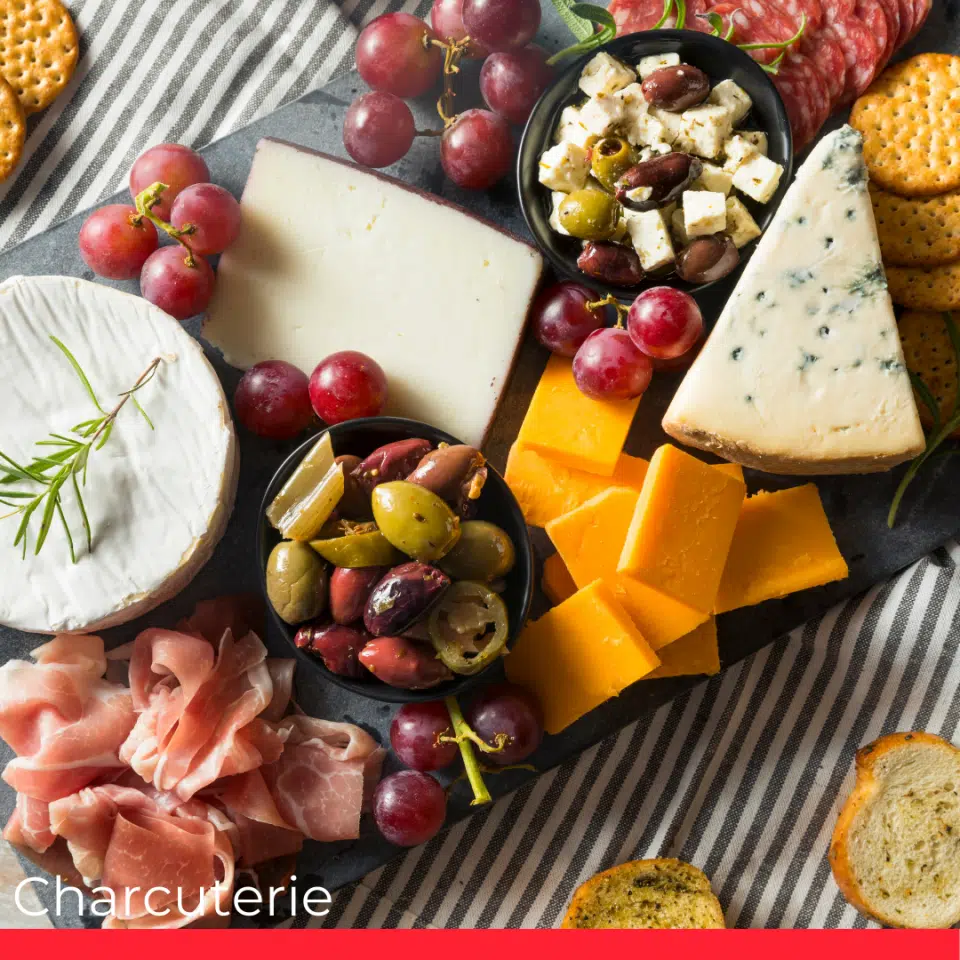 Charcuterie is a category of food in itself, consisting of a wide variety of cured meats and preparations using meat (usually pork) as a base. It deserves a list in itself, but that may be for another time. I already mentioned rillettes and saucisson earlier, but these are just two of the most famous examples.
Pork sausages, pâté, and of course the iconic foie gras are some other very well-known items, but there are many other charcuteries that deserve to be mentioned. Boudin noir (blood sausage served with baked apples—a French Christmas favorite) comes to mind, as well as pâté en croûte (an elaborate preparation which is like a sponge cake with a crispy crust, enveloping a cooked salami), andouilles and andouillettes (two different types of sausages), or terrine (similar to a meat loaf).
And then there are is offal: guts, beef tongue, calves' liver, veal thymus, pork brains… There is actually a famous saying in French: "dans le cochon, tout est bon!", meaning that everything in a pig can be eaten. But all of these are getting less and less popular nowadays. What is still popular, though, is to order a platter of charcuterie at a restaurant, something to share as an appetizer.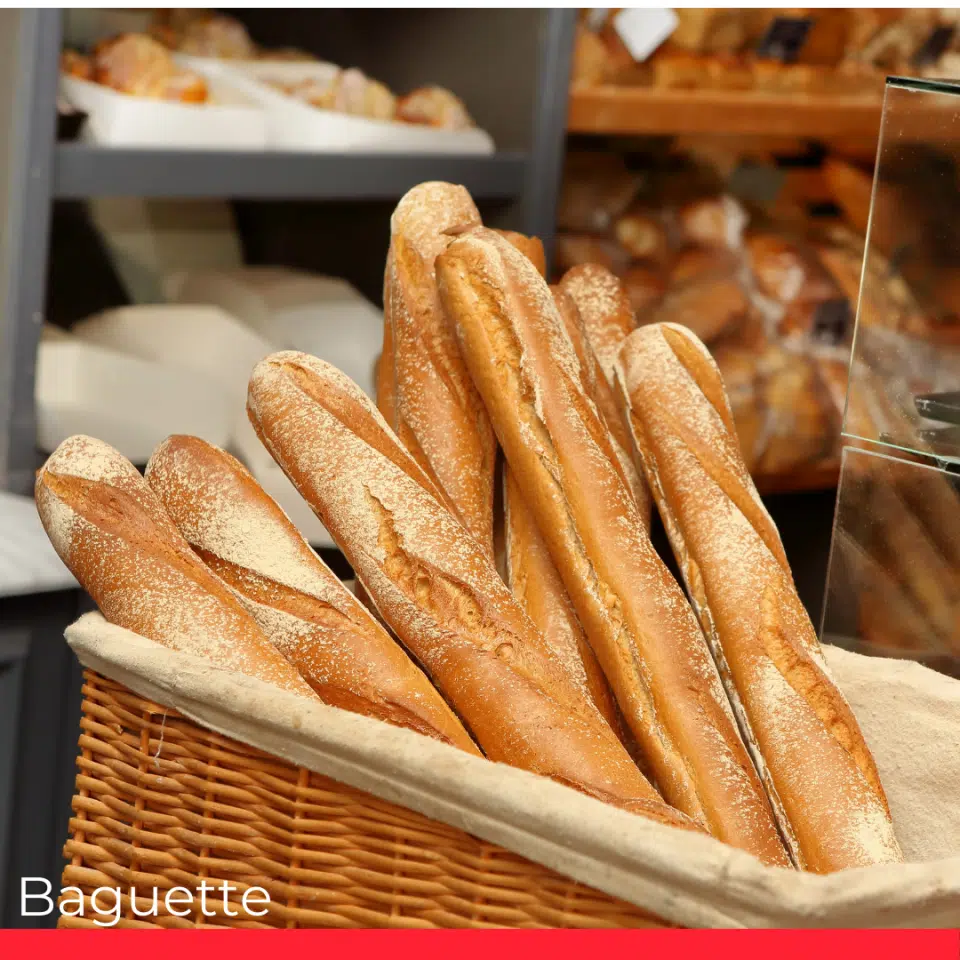 Ah, the famous, enduring cliché of the French walking around with a baguette under their arm! I know, I know, I have already talked about it with the saucisson. But still: the sight of people walking around with this long, thin, airy, white bread is getting less and less common in France today.
The main reason is that while the baguette is still the most popular type of bread in the country, it is loosing ground to other varieties such as the healthier pain de campagne (made with natural yeast), the large boule (literally a bowl-shaped bread), and more elaborate varieties involving other types of cereals and seeds.
What is still true, though, is that the French serve bread with anything: as tartines (spreads) of butter and marmelade for breakfast, with lunch and dinner, with Nutella or chocolate for a snack… Or sometimes, we just eat the bread alone by itself—especially when it's still warm and crunchy from the bakery and the smell is too good to resist! And by the way, French bread is not meant to last long, as it is free of preservatives and additives.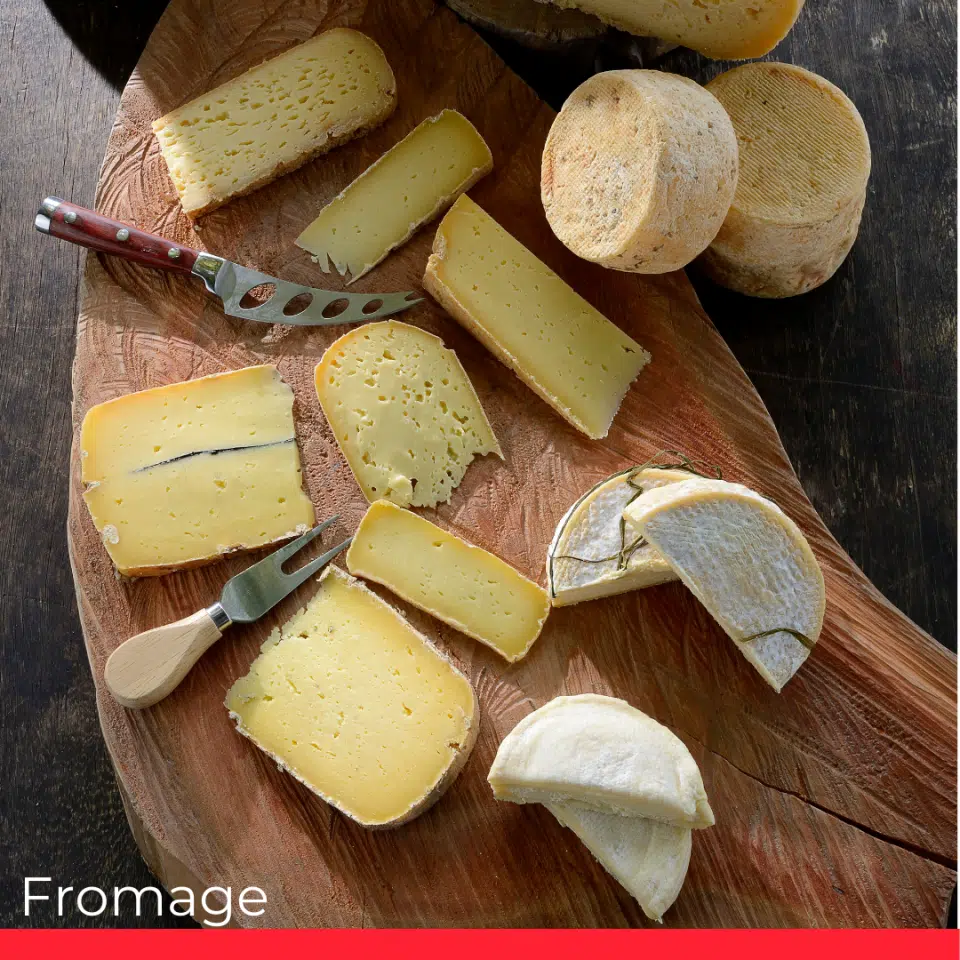 What goes better with bread than fromage? Nothing, if you ask me! While the baguette is the visual icon of French gastronomy, cheese is perhaps the element that stands out the most from our gastronomy. Soft, creamy, hard, strong, blue, spicy, smoked… there is a cheese for everyone's taste.
In fact, we commonly hear that there are 365 different cheese varieties in France—one for each day of the year. The truth is, there are probably many more than 365! Just like charcuteries, they deserve their own list.
One thing that you may not know about fromage is the way they are consumed in France. Indeed, in most countries, cheese is served as an appetizer, or as a snack with bread.
But if you go to a traditional French lunch or dinner, you will find that the cheese comes after the main course, in a platter (the famous plateau de fromages, typically involving anywhere between 4 and 8 different types of cheese). And it is such an important part of the meal that on many restaurant menus, they give you the option to choose between fromage and dessert!
3. Jambon-Beurre (Ham Sandwich)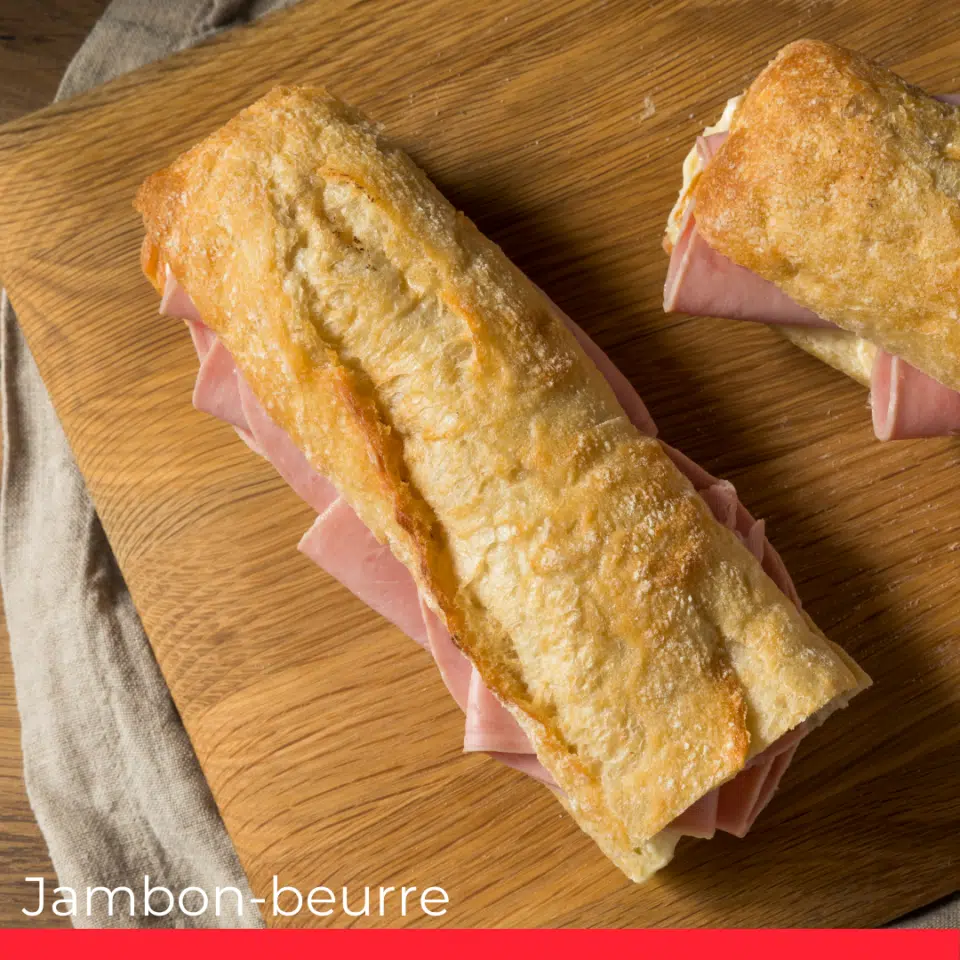 This is the most classical and popular sandwich in France: the one that you will find in every single bakery in the country; the one that people buy at the railway station to snack on during their journey; the one that families prepare for a picnic at the beach; the one you make yourself in the morning when you know you have a busy working day ahead and won't have time to go out for lunch…
Jambon-beurre, as the name indicates, is a sandwich made with ham and butter, put inside half a baguette (of course!).
You can always add more ingredients though: cheese, pickles, some green leaves or tomatoes, black olives… You can replace the regular ham with smoked, salty ham, replace the butter with goat's cheese…
But then, it wouldn't be a jambon-beurre anymore, would it? However, what all of them have in common is that they come with the same piece of bread: half a baguette.
2. Steak-Frites (Steak with French Fries)
If there was a national dish, it would have to be steak-frites, which is a piece of beef with French fries. Now, before I go any further, French fries are not French, they come originally from Belgium—that's the reason why I decided not to give them their own spot in the list.
And yes, we love them, they are the most popular side dish in the country, and, just like in Belgium, we deep-fry them twice (that's the secret to their golden color and crunchiness).
Now, on to the steak: this can be a rib-eye cut, sirloin or T-bone. The French usually like their beef rare or medium-rare, with butter and parsley on top, and with a simple Béarnaise or hollandaise sauce on the side.
However, there are more elaborate versions—as always. Steak sauce au poivre is covered with a dressing of crushed, fried peppercorns mixed with the juice of the meat. Then you have sauce roquefort, made with a reduction of this famous blue cheese.
Honorable mentions:
French cuisine is so rich and full of traditions that it is almost impossible to make a comprehensive list. Here are a few dishes that deserve consideration:

– Aligot: One of many French specialties made mainly with potatoes, this one is a mixture of a melted cheese called trufe, garlic, and mashed potatoes all blended together. Very similar to another dish called truffade.
– Bisque de homard: Somewhere between a soup and a purée, made with a base of cream and seafood, usually lobster.
– Daube: Another of the traditional slow-cooked stews, this one being made with lamb or beef, vegetables, and many fresh seasonings from the south of France.
– Gougères: Tiny, round, crispy pastries which look just like the famous choux à la crême, except that they are savory and filled with cheese.
– Pissaladière: Provence being a neighbor of Italy, has its own version of pizza: the pissaladière, which is made with onion, olives, and anchovies.
– Tapenade: An olive-base spread with capers made in Provence which can be used as a snack on a slice of bread, as a vegetarian sauce, or as stuffing for a chicken.

1. Foie Gras
Because it is so unique and so famous worldwide, I had to go with foie gras as number 1—despite the criticisms about how the ducks reared for this purpose are overfed to make them fatter. Foie gras is the star of French charcuterie, an incredibly soft and buttery pâté made with duck liver. The texture is actually similar to that of ice cream!
A staple of Christmas and New Year's holidays, foie gras is usually prepared with sea salt and black pepper. It is also widely use for parties and ceremonies, spread on tiny toasts of crispy, warm bread. It goes very well with caramelized onions, with fig jam, or with tiny pieces of black truffle—and a glass of dessert wine such as Sauternes, which comes from the same region.
But the very best way to consume it is pan-seared, along with a plate of porcini and beef steak. Unhealthy? No doubt! But at this point, this is so mouth-watering that… who cares???
---
If you enjoyed this article, check out our rankings of the best 40 French desserts and the best French cheeses.
Related: Popular French Cookies