Peruvian Food: 15 Traditional Dishes in Peru
Most people visit different countries to experience new cultures, visit iconic landmarks, and explore completely different gastronomy. So when you visit magnificent Peru, be sure to take a break from sightseeing and try out the local dishes – they are guaranteed to give your taste buds an incredible experience and add a whole new dimension to your stay.
In this article, we're taking a look at 15 of the most iconic Peruvian foods and recipes that you're likely to come across. Experiment and enjoy!
1. Ceviche (Peruvian Sushi)
Undoubtedly the most popular dish in Peru, ceviche is best known internationally as Peruvian sushi.
It's composed of diced fish with lots of lemon, garnished with red onions, chopped cilantro, and fresh seafood, all of which give it a fresh, vibrant taste and an appetizing presentation. It has an intriguing texture and an explosion of tastes.
What's more, the marinade is an absolute gem. All the ingredients are perfectly balanced, and the dish explodes with freshness and endless flavors. You'll never get bored with Peruvian Ceviche due to the wide range of fish that can be used to make it.
2. Lomo Saltado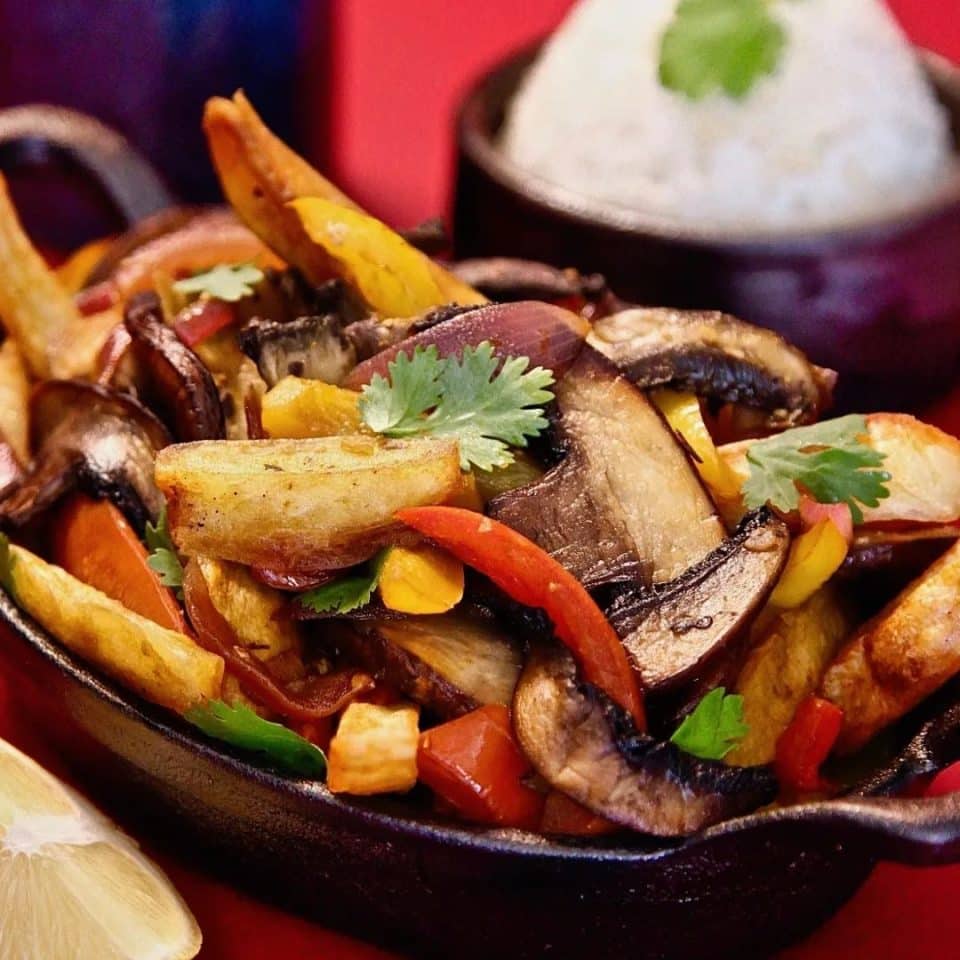 Lomo Saltado is a traditional Peruvian creole dish that should be on every visitor's 'must-try' list. However, the more I taste it, the more I realize its similarity with Chinese food, due to the elaborate preparation.
Most ingredients are stir-fried in a wok for a short time on a very high flame. A splash of vinegar adds piquancy. Result: the finely minced meat remains juicy, and the aroma is irresistible. The precise cooking technique and perfectly-balanced ingredients mean the flavors are unforgettable.
3. Anticuchos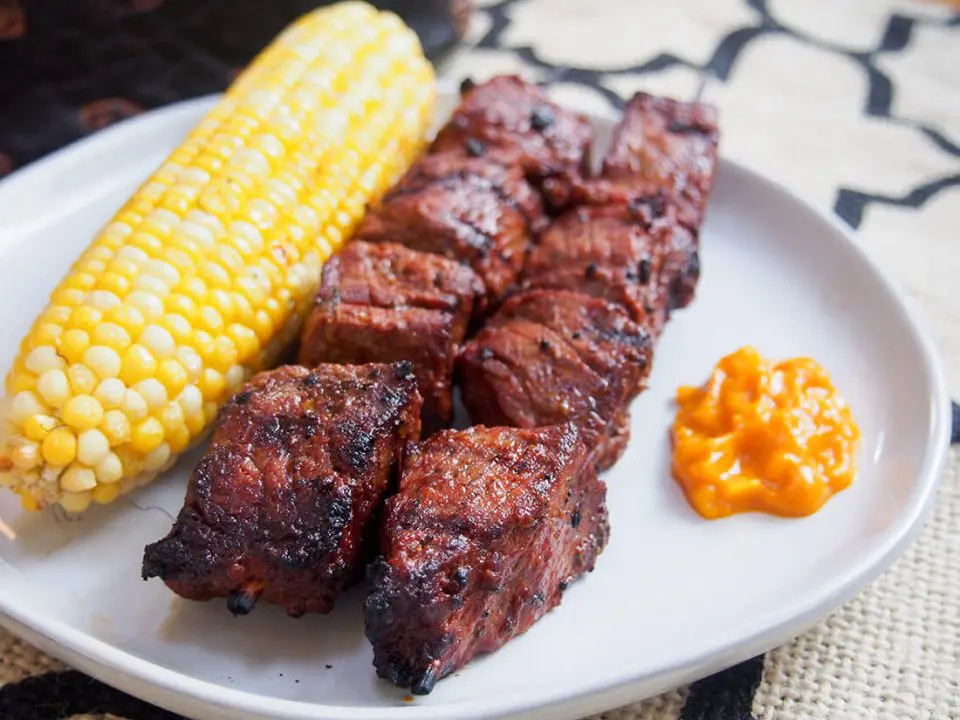 Antichuchos are skewers of meat chunks or grilled beef hearts. Although they don't sound exceptional, the opposite is true – they are rich and succulent. You'll find them everywhere – served in gourmet restaurants as an appetizer and street stalls as a snack. You decide which ones are the tastiest!
Antichuchos are typically served with Andean corn or yellow potatoes, with an exciting mix of condiments that make these delicious skewers an unforgettable culinary experience.
4. Aji de Gallina (Peruvian Chicken Stew)
A gastronomic fusion of different cultures has resulted in the creation of this delicious Peruvian creole dish – Aji de Gallina. It's a filling stew made with milk, chicken, rice, and many other ingredients that combine to create a pleasantly spicy flavor. The texture and softness of the chicken enhance the recipe , which is typically served with rice and salad greens.
In addition, using a wide range of fresh, locally-grown ingredients results in an exquisite stew – you'll remember the taste long after the meal is over! On no account must you leave Peru without sampling it!
5. Causa Rellena Alimeña (Layered Potato Casserole)
Causa Rellena is another traditional Peruvian recipe whose origins are buried deep in the mists of time.
Its name doesn't seem to make sense when translated directly into English – because what is a 'stuffed cause'? However, in this context, 'causa' is derived from the Quechuan word 'kausaq', which means 'gives life.' Causa refers to that Peruvian staple, the yellow potato (papa amarilla), and 'rellena' to the other ingredients.
It is actually a layered potato casserole, commonly served as an entree at a typical Peruvian meal, and the distinctive yellow potatoes are the main focus.
Causa Rellena is a cold dish with a creamy and soft consistency in which the different layers or sections hide various wonderful ingredients such as boiled eggs, olives, corn, or avocado. The flavors and textures mix as you eat, which results in a memorable gastronomic experience.
6. Rocoto Relleno (Stuffed Red Peppers)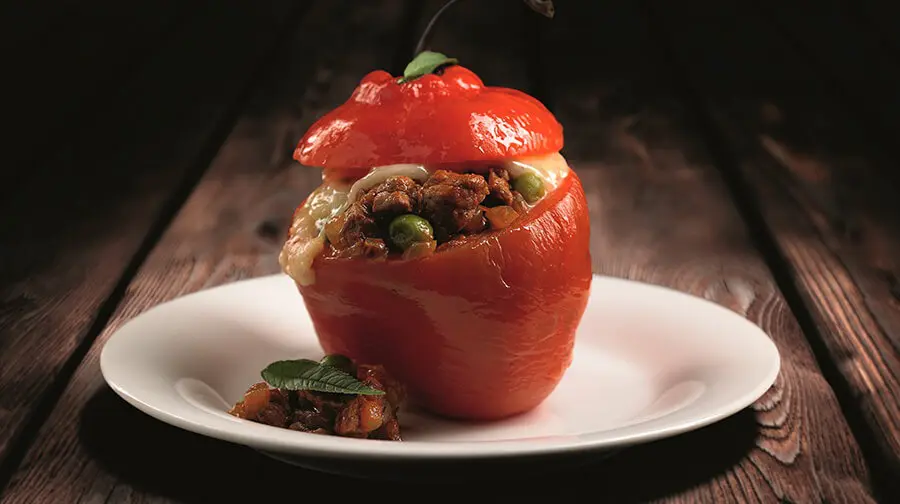 This healthy appetizer originates from Arequipa and is emblematic of Peruvian cuisine. Rocoto, a type of hot Peruvian pepper, is packed with a luscious mixture of minced meat and cheese. Due to the creamy goodness of the filling, this traditional recipe has conquered the hearts of tourists and locals alike.
The vibrant color and presentation as well as the combination of spicy and cheesy flavors make this dish a perennial favorite.
7. Tacu Tacu
In Peru, when someone talks about Tacu Tacu, they are likely referring to a traditional re-fried dish with rice and day-old beans. There's plenty to satisfy a good appetite.
It is usually prepared with mild, yellow Mayacoba (canary) beans, but this can vary from place to place. Straightforward to prepare, the flavor differs according to the locally-available favorite ingredients. Tacu tacu is a pleasant comfort food that every visitor should try.
8. Arroz con Pato (Duck with Rice)
Arroz con Pato (Duck with Rice) is cooked in a similar way to the famous "Arroz con Pollo" in many Latin American countries.
First, the duck is lightly fried for several minutes and then cooked with broth, beer, and pisco, a Peruvian alcoholic beverage. Everything works together to give the duck a unique flavor, and, along with the rice, it all comes together to make a satisfyingly tasty experience.
9. Pollo a la Brasa (Roast Chicken)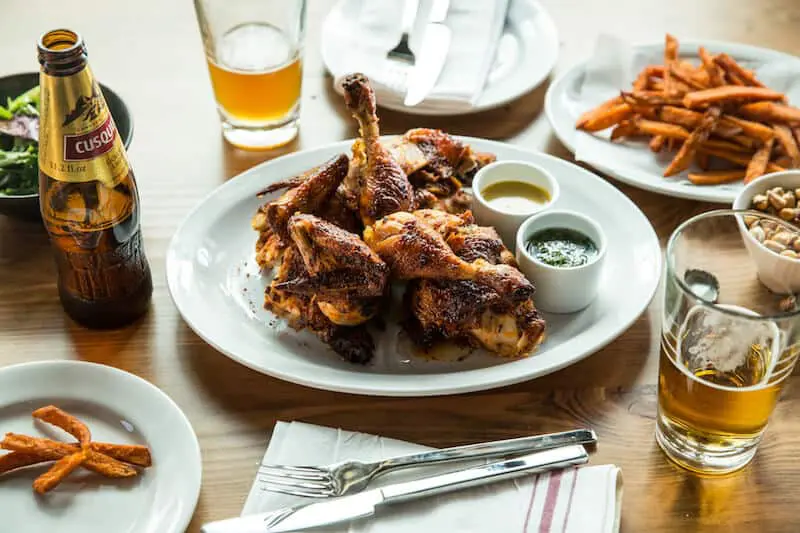 Easily the most frequently consumed dish in Peru, Pollo a la Brasa is a favorite at family reunions or any special occasion.
The marinated chicken is cooked in a special oven, rotating until it's tender and juicy. A serving of crunchy fries and salad usually accompanies it.
Fun fact: this dish is so embedded in Peruvian culture that it has its own day of the year: 16 July is celebrated as the "Dia del Pollo a la Brasa"!
10. Cuy Chactado
The cuy is a large rodent, perhaps more commonly known as a guinea pig, that's been enjoyed as a delicacy in Peru since the times of the Incas. The dark meat tastes a little like chicken, but has a richer, fattier flavor.
This dish is prepared by frying an entire cuy in vegetable oil, using a special stone oven, until it becomes crunchy and can be easily broken up. It is typically served with a side of potatoes and salad.
So, if you're visiting Peru and want to tell the folks back home about your culinary adventures – search for a plate of fried cuy!
11. Papas a la Huancaina (Huancaina Potatoes)
The popular entree Papas a la Huancaina consists of milk, saltine crackers, cheese, and peppers, all blended to make a cream and poured over slices of boiled yellow potatoes.
The plate is usually garnished with lettuce and olives, though the garnish can vary so that you may get slices of boiled egg or even slices of tomato. The softness of the boiled potatoes combines perfectly with the consistency of the cream. This is an easy-to-make yet delightful dish that will have you returning for more!
12. Carapulcra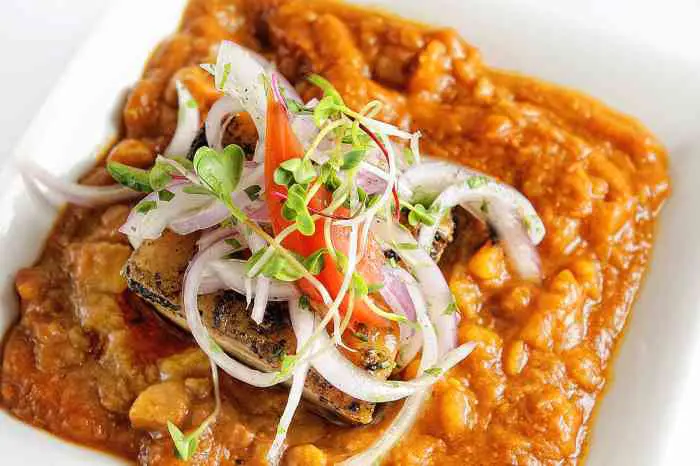 Carapulca is a unique Peruvian stew-like dish made with dehydrated potatoes and either pork or chicken, dressed with a combination of onion, garlic, cloves, yellow peppers, salt, and pepper. These ingredients are all cooked together on a low flame. Once done, baked peanuts are added to give the dish a characteristic twist.
It can be served with rice or yucca, but either way, the dish is delectable!
13. Pachamanca
Pachamanca is a traditional Andean dish that originated in the days of the Incan empire, so it has exceptional cultural significance.
It's made by slow-cooking, with the help of hot stones and cut grass, red meats including lamb and pork and cuy, with chicken, all together. Potatoes, sweet potatoes, corn, green lima beans, and yucca can also all be included.
The succulent meats take on the delicious taste of the many other ingredients during the cooking process – making it a genuine feast!
14. Papa Rellena (Peruvian Stuffed Potatoes)
Papa Rellena is a popular street dish in Lima, the capital of Peru. It's made from a sort of dough with some lightly fried potatoes, and filled with tasty ingredients such as meat, onions, olives, and hard-boiled eggs. The result is deep-fried, creating an economical yet deliciously filling snack.
15. Arroz Chaufa Peruano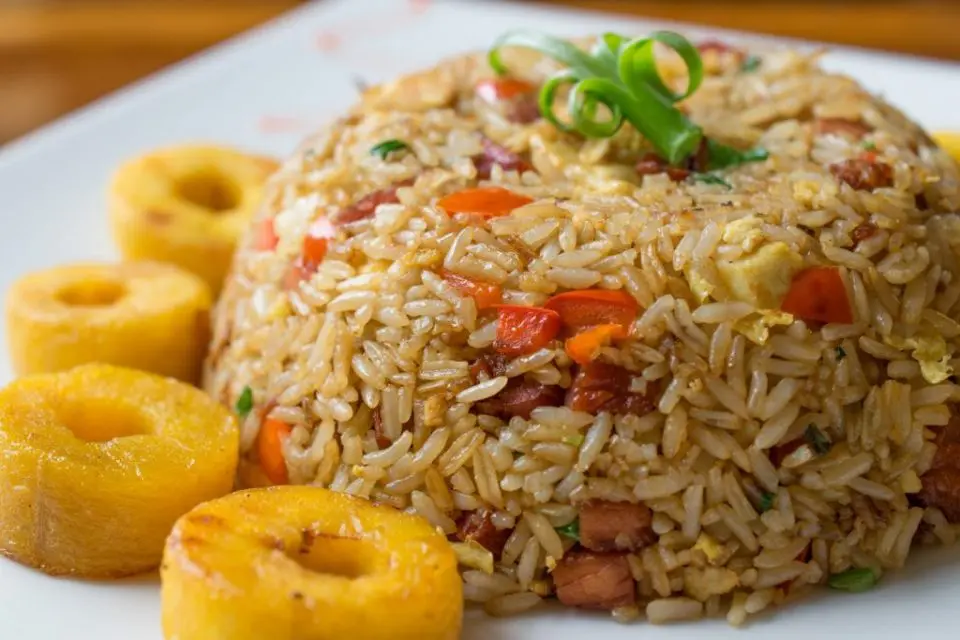 Arroz Chaufa traces its origins back to the fusion of Chinese and Peruvian cultures. It mainly consists of fried rice accompanied by pieces of chicken and meat and an egg tortilla. An absolute classic of Peruvian cuisine, this dish is primarily served at stalls or locales known as "Chifas".
Did we miss any of your favorite Peruvian foods off this list? If so, please let us know by leaving a comment below – and share your recommendations with our community!.
---
If you love Peruvian food, check out our list of the most popular desserts in Peru.
Related: Popular Peruvian Christmas Foods