The Top 15 Peruvian Foods (& Recipes) – Most Popular Dishes in Peru
Most people visit different countries to experience new cultures, to visit iconic landmarks, and, of course, to explore a completely different gastronomy. So when you visit the lovely Peru, be sure to try out these dishes – they are guaranteed to give your taste buds an incredible time.
1. Ceviche (Peruvian Sushi)
Undoubtedly the most popular dish in Peru, Ceviche is best known internationally as Peruvian sushi.
It is diced fish with lots of lemon garnished with red onions, chopped cilantro, and fresh seafood, giving it a pleasant and appetizing presentation. It has a perfect texture and an explosion of flavors. And, I must say, the marinade is an absolute jewel. All the ingredients are perfectly balanced and the dish expresses freshness and endless flavors due to the variety of fish that can be used to make it.
2. Lomo Saltado
A traditional Peruvian creole dish that is very delicious indeed. But the more I taste it the more I realize its similarity with Chinese food due to the elaborate process whereby most of its ingredients are salted in a wok for a short time on a very high flame. The finely minced meat is very juicy and has a pleasant aroma.
The technique and precision and perfectly balanced cooking used to prepare the dish means the flavors remain pervasive. I think the secret of this dish is in the vinegar.
3. Anticuchos
These are skewers of meat or grilled beef heart. Although they don't sound very interesting and much less delicious, the truth is actually the opposite. This dish can be found in both luxury restaurants and on street stalls. The overall sensuous delicacy makes it most effective as an appetizer.
Enriched by the ingredients of the Andes, it is usually served with corn or yellow potatoes and a very good mixture of condiments giving these delicious skewers their lovely flavor.
4. Aji de Gallina (Peruvian Chicken Stew)
A gastronomic fusion of different cultures gives life to this delicious Peruvian creole dish. It consists of a soup made of milk, chicken, rice, and many other ingredients that provide a pleasant spicy and delicious flavor. The texture and softness of the chicken allows for an explosion of tastes as it enters your mouth.
The wide range ingredients results in an exquisite stew that has buried itself deep in the hearts of anyone who's tasted it. I assure you, there is nothing more rewarding than this stew.
5. Causa Rellena Alimeña (Layered Potato Casserole)
Causa Rellena (stuffed cause) is another traditional recipe of Peru. It is most commonly found as an entree to Peruvian cuisine, with Peruvian yellow potatoes being the main focus.
It is a cold dish with a creamy and soft consistency in which the different layers or sections hide different types of lovely ingredients such as boiled eggs, olives, corn, or avocado. When eating the different ingredients, the flavors and textures mix, resulting in an enjoyable gourmet experience.
>>Causa Rellena Alimena Recipe >>
6. Rocoto Relleno (Stuffed Red Peppers)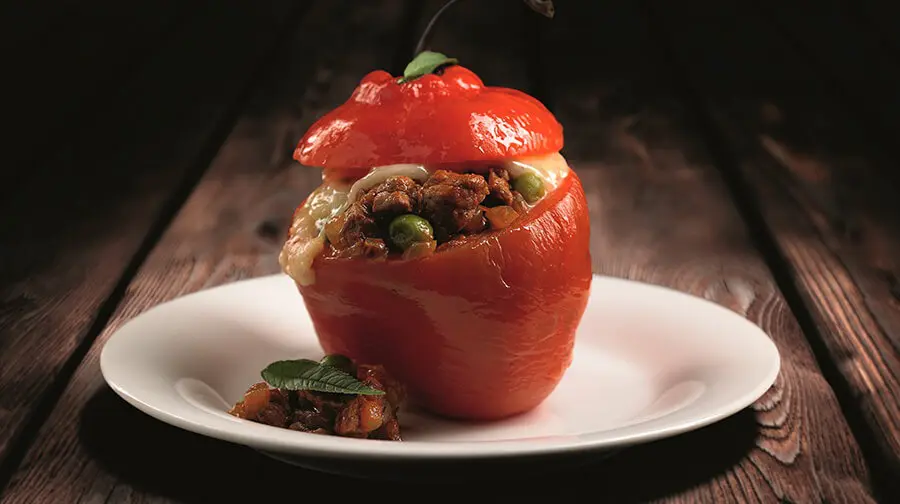 This is a healthy appetizer that originates from Arequipa and is emblematic of Peruvian cuisine. The pepper, famously served filled with creamy goodness, has conquered the hearts of tourists and locals alike. The base of the dish is the Rocoto, a type of hot Peruvian pepper, which is filled with minced meat and cheese.
It is very striking for its color and presentation, not to mention its very soft texture and delicious mixture of spicy and cheesy flavors.
7. Tacu Tacu
In Peru, when someone talks about Tacu Tacu, they are referring to a traditional dish prepared with rice and day-old beans strong in flavor and texture, plenty to satisfy a good appetite. It is usually prepared with canary beans but this can vary from place to place. It is very easy to prepare and with a range of flavors, it is very pleasant for the first-time consumer.
8. Arroz con Pato (Duck with Rice)
One of the most typical dishes found in Peru is the Arroz con Pato (Duck with Rice), which, in terms of the seasoning in the rice, is a cooking style similar to the famous "Arroz con Pollo" found in many Latin American countries.
The duck is lightly fried for several minutes and then cooked with some broth, beer, and pisco, an alcoholic beverage made in Peru. This all works to give the duck a very unique taste and, along with the rice, it all comes together to make a remarkable and tasty experience.
9. Pollo a la Brasa (Roast Chicken)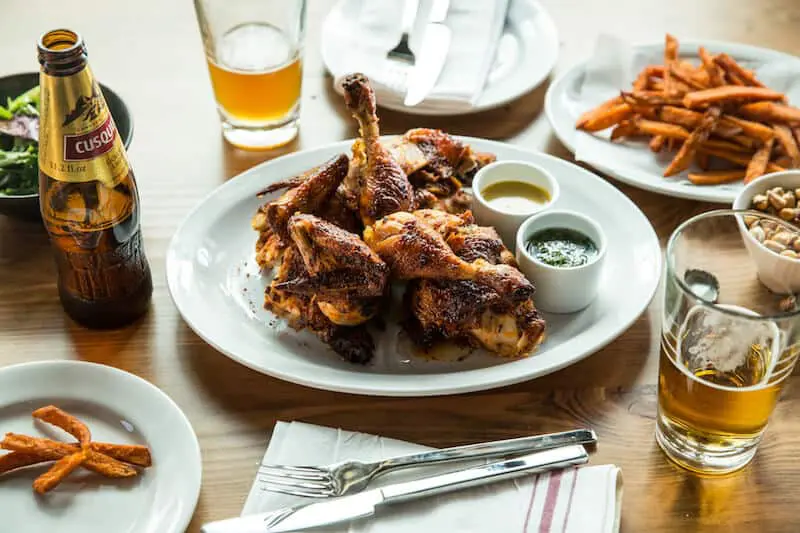 Easily the most consumed dish in Peru, Pollo a la Brasa is a favorite for family or friend reunions. To make this dish, a marinated chicken is cooked in a special oven that allows it to rotate for several minutes. It is usually served accompanied with a serving of crunchy fries and salad.
The dish is so common and embedded in Peruvian culture that it even has its own day of the year: 16 July is celebrated as the "Dia del Pollo a la Brasa".
10. Cuy Chactado
The cuy is a large rodent commonly found around Peru. This particular dish consists of frying an entire cuy with abundant vegetable oil in a special stone oven until it becomes crunchy and can be easily broken up. It is then served with a side of potatoes and salad.
You can break up pieces of the cuy to combine it with the salad or the potatoes for maximum enjoyment of the dish.
11. Papas a la Huancaina (Huancaina Potatoes)
Considered a popular entree, Papas a la Huancaina consists of milk, saltine crackers, cheese, and peppers all blended together in a blender to make a cream that is then poured over slices of boiled yellow potatoes.
The plate is then usually garnished with lettuce and olives, though the garnish can vary and you may get slices of boiled egg or even slices of tomato. The softness of the boiled potatoes combines perfectly with the consistency of the cream. This is overall an incredibly enjoyable dish.
>>Papas a la Huancaina Recipe >>
12. Carapulcra
A special stew-like dish made with dehydrated potatoes and either pork or chicken which is then dressed with a combination of onion, garlic, clove, yellow peppers, salt and pepper.
This is all cooked on a low flame and, once done, baked peanuts are added to give the dish it's very particular taste. It can be served with rice or yucca, either way the taste is magnificent. The baked peanuts are what really make this dish as unique as it is.
13. Pachamanca
A more rural traditional dish, Pachamanca is most commonly eaten in the Andes region of Peru. This is a particularly important dish in Peruvian culture since it has existed since the times of the Incan empire.
It consists of cooking red meat, lamb, pork, cuy, and chicken all together with the help of hot stones and cut grass, along with potatoes, sweet potatoes, corn, green lima beans, and yucca.
It can actually be described as a feast, with the meats taking on the delicious taste of the many other ingredients during the cooking process.
14. Papa Rellena (Peruvian Stuffed Potatoes)
Papa Rellena is a popular street dish in Lima, the capital of Peru. Made by making a sort of dough with some lightly fried potatoes and filling it with tasty ingredients such as meat, onions, olives, and hard boiled eggs and then frying it in abundant oil, it makes for a remarkably delicious dish.
15. Arroz Chaufa Peruano
A dish that originated from the fusion of Chinese and Peruvian cultures, this dish mainly consists of fried rice accompanied by bits of chicken and meat and an egg tortilla. An absolute classic of Peruvian cuisine, this dish is mainly served at special stalls or locales known as "Chifas".
>>Arroz Chaufa Peruano Recipe >>
Did we miss any popular Peruvian foods? If so, please leave us know leaving a comment below.
---
If you love Peruvian food, check out our list of the most popular desserts in Peru.
Related: Popular Peruvian Christmas Foods