15 Most Popular Filipino Foods
"Kain na!" – a Tagalog phrase which translates as "Let's Eat!" – is a kind gesture typically heard from every Filipino while they're having a meal, whether friend, relative, or just a random passer-by asking for directions, as a generous offer to share a humble meal.
Situated in southeast Asia between the Pacific Ocean and the South China Sea, the Philippines is home a of over 7,000 islands, the three main islands being Luzon, Visayas, and Mindanao.
Philippine cuisine is not only rich in its bold flavors but also in history and culture that has evolved throughout the centuries from its Austronesian origins to a mixed cuisine of Malay, Spanish, Chinese, and American influences.
Many might think that because of these influences, the Philippines lacks a distinct cuisine that they can call their own, but the uniqueness of Philippine cuisine comes from its inclusion of ingredients from all over the globe. Rather than being fully influenced by other countries, these foreign influences have been "Filipinized", creating a unique culinary culture and the baseline of Philippine flavors.
This famous dish was influenced by the Spanish when they invaded and settled in the Philippines during the 16th centrury. Adobo originated from the word Adouber which means "to dress meat in vinegar or spices". As the century went by, the word Adouber changed to Adobar, to Adobado, and finally, Adobo.
There is a vast variety in the way Adobo is prepared and cooked across the different regions of the country, but there is one ingredient that is a must and is seen as the heart and soul of this dish: vinegar. Adobo's other basic ingredients include soy sauce, garlic, bay leaf, and peppercorns.
The meat is marinated and stewed in this mixture for hours and is usually served over a bed of white rice that complements Adobo's sweet and tangy sauce. Over the centuries, other ingredients are added to the marinade. Some recipes include coconut milk, which mellows the strong acidity, others use a sweetener (sugar or honey) to balance the flavor of the soy sauce and vinegar, and some include ingredients like ginger or onions to create a more robust flavor. It's not just the spices that vary in Adobo, the type of meat varies too.
The most common Adobo is cooked with chicken or pork, sometimes both, but it's also cooked with seafood such as shrimp or fish or exotic meats like crocodile or frogs. There's even a vegetarian version of this dish using tofu, kangkong (water spinach) and sitaw (string beans).
Sinigang is a hearty Filipino sour soup cooked with tamarind which gives it its distinct flavor. There is no documentation on where this dish originated but most people compare it with similar dishes from neighboring countries, for example the Assam Pedas Ikan of Malaysia, Sayur Asem of Indonesia, and Tom Yan of Thailand.
Traditionally, Sinigang is made by boiling and crushing Tamarind, the juice of which gives it its irresistibly sour yet savory flavor.
Aside from tamarind, other souring agents are used to flavor this dish such as guava, green mango or calamansi. Sinigang is a common dish found in Filipino homes across the country any day of the week. It's composed essentially of meat, garlic, tomato, onion, and whatever souring agent is preferred. This dish would not be complete without its vegetables, which are usually water spinach, eggplants, radish, okra, or long beans.
The meat usually used in the dish is pork but this can be substituted with beef, chicken, fish, or shrimp. One can also choose to completely omit the meat and just have a vegetarian Sinigang, which is just as delicious.
Sinigang can be eaten on its own but is best paired with steamed white rice, especially when it's very sour. Sinigang's versatility makes it a truly great dish for all.
When Anthony Bourdain unabashedly proclaimed the Filipino Lechon "the best pig ever", it gained a global reputation overnight. Lechon, derived from the Spanish word for "roasted suckling pig", is probably the most popular dish of the country. It is traditionally the star of any festive occasion, from Christmas to birthdays and local festivals. Lechon is definitely a mouthwatering showstopper.
The art of roasting Lechon starts with marinating the pig in salt, pepper, soy sauce, or coconut water for a few days before stuffing it with aromatics such as lemongrass, garlic, tamarind, onions, or chives. It is then roasted on a large bamboo spit over an open fire for hours.
Once the Lechon is cooked, the skin, which is the best part of the dish, is served with pieces of meat, with white rice on the side.
Lechon is best served with a traditional rich liver sauce made from chicken liver cooked in vinegar, sugar, and herbs.
Beef Kaldereta (beef stew) is a traditional Filipino dish most commonly seen at parties and holidays. The name Kaldereta came from the word caldera or cauldron, which is a vessel for cooking stews. Goat is traditionally used for this dish, but many use beef as a substitute. This stew is simmered in tomato puree for hours, cooked with liver spread, bell peppers, and a bit of soy sauce for extra flavor. Every household has its own variation of Kaldereta – some add carrots, cheese, green peas, and potatoes.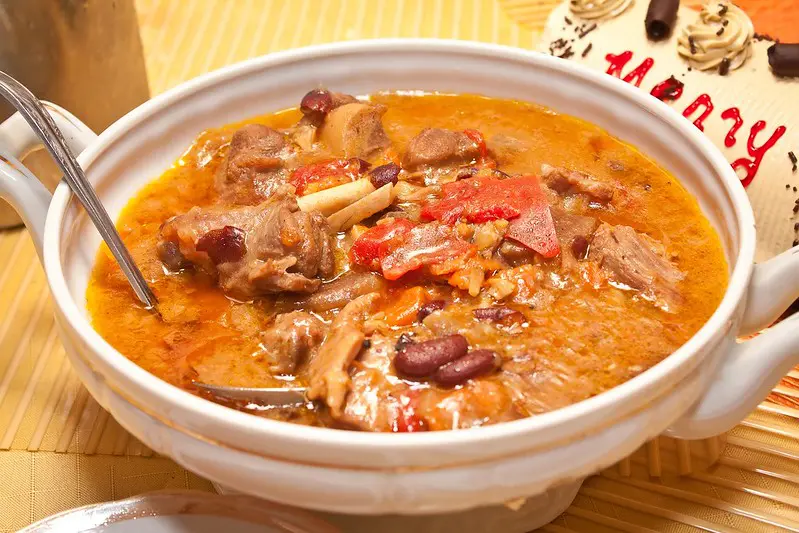 This popular Filipino oxtail stew is simmered nice and slowly with peanut butter. The dish includes annatto seeds for flavor, and which gives it its vibrant yellow-orange color. Kare-kare is usually only cooked on very special occasions because preparing it can be time consuming.
The process starts with tenderizing the ox tail, beef, and (sometimes) ox tripe for almost two hours. It is then cooked with ground peanuts and creamy peanut butter, seasoned with fish sauce, and finished off with bok choy, string beans, and eggplants. Kare-kare is a real crowd pleaser as its nutty-sweet and savory flavors excite the taste buds with an explosion of flavors. This dish has to be eaten with rice, otherwise the flavors can be overwhelming.
Along with Adobo, Sisig is another famous Filipino dish known around the world. This dish contains cut up pig's ears, snout, cheeks, and belly sauteed with garlic, onion, green chilies, and vinegar and is served on a sizzling plate.
There are so many different ways to cook Sisig, but the process is always the same: boiling, grilling, and finally frying the meat to produce those crunchy pieces. Sisig originated in the province of Pampanga, the Culinary Capital of the Philippines, and has gained international acclaim in recent years, once proclaimed as "arguably the best pork dish on earth" by The New York Times.
Bulalo is a beef marrow soup cooked simply by boiling all the ingredients on a low simmering heat. This ultimate Filipino comfort food contains a good chunk of beef shank boiled in water with onions, garlic, peppercorns, and salt.
Vegetables such as cabbage, corn, and potatoes are then added. This tasty soup originated in Batangas province, where the best cattle can be found, and is best eaten during the cold months, but is just as delicious any time of the year.
Laing is a Bicolano dish (found in Bicol Region) that is made up of dried taro leaves and coconut milk. It is carefully and slowly simmered, which brings all the flavors together to create this mildly spicy addicting dish.
Cooking Laing is very simple – but it does require some patience while the taro leaves absorb all the liquid from the coconut milk and the meat (usually pork). When cooked the right way, Laing is left a day or two after being cooked and served with warm rice.
Another dish that originated in the Bicol Region of the Philippines, Bicol Express, is a type of stew that makes use of coconut milk and coconut cream. Pork is traditionally the meat used for this dish especially the fatty parts such as the belly and shoulder.
The pork is cooked by boiling it in coconut milk, along with chilies and spices. This deliciously numbing dish is best eaten with rice to balance the spiciness.
Tinolang Manok or Chicken Tinola is a classic comfort food made by sautéing chicken pieces with garlic, ginger, onion, and fish sauce and then simmering it in chicken stock for about an hour.
It is traditionally cooked with green papaya, which can be substituted with sayote. This easy, light and healthy soup is a big bowl of hugs in cold weather. With the addition of malunggay or chili leaves, this dish is not only packed with delicious flavors, it also provides medicinal benefits.
Pansit (lo mein) is a versatile noodle dish influenced heavily by the Chinese. There are numerous Pansit dishes made with an assortment of noodles and cooking methods, making each one uniquely distinct. This dish is an important part of any Filipino feast or gathering. The most common types of Pansit are: Pansit Bihon (thin bihon noodles), Pansit Canton (thick egg noodles), Sotanghon (thin glass noodles), to name a few.
The most common type of cooking method for Pansit includes sautéing meat (usually chicken) with garlic, onions, and soy sauce, then tossing with toppings such as fish balls, cabbage, carrots, Chinese sausage, quail eggs, shrimp, and sometimes pieces of pork. Throughout the centuries, Filipinos have developed variations of Pansit in different regions, some make it as a soup while others as a side dish.
Lumpia is the Filipino version of the Chinese spring roll, similar in size and shape but completely different in terms of flavor.
The common ingredients of Lumpia include ground pork, carrots, and prawns, and it is seasoned with just the right amount of soy or oyster sauce. These ingredients are sealed in a crepe-like rice or flour Lumpia wrapper that is sealed with an egg wash and deep fried until golden brown. A sweet and sour Banana Ketchup dipping sauce is served with this Filipino classic for the ultimate Lumpia experience.
Originated from the Ilocos Region of the Philippines, Pinakbet is a popular vegetable dish that uses Bagoong (fermented shrimp paste) to enhance the flavors of the other ingredients. The dish usually includes bitter melon, eggplant, okra, string beans, chili peppers, winged beans, and pumpkin. It is then spiced with ginger, onions, or garlic.
Pinakbet is traditionally cooked until almost dry, but some variations have an almost soupy consistency; the flavors of the vegetables are then accentuated with shrimp paste and best paired with rice.
Dinuguan comes from the word "dugo", which translates as blood, and is a savory Filipino pork blood stew made of diced pork, vinegar, pork blood, and chili peppers. Some people like using pork offal such as intestines or other pork body parts, although this is an acquired taste. Dinuguan is savory but not heavily salty and usually has a sour note. The texture varies widely from a fairly thin soup to a thick, dark grainy stew. This special dish is usually served at weddings, fiestas, and in Lechon houses.
Filipino Spaghetti, also known as Sweet Spaghetti, is similar to the regular spaghetti Bolognese. The ground beef or pork is first browned with aromatics and then simmered in tomato sauce and a choice of herbs until thick and hearty. What sets this Filipino favorite apart is the addition of sweet banana ketchup to the meat sauce plus the grated cheddar topping when it is served. This cult favorite is a very popular dish served at most Filipino fast food restaurants and is commonly seen at children's parties.
Want to learn more about cuisine in the Philippines? Check out below our guide to the most popular Filipino desserts.
If you want to cook some delicious Filipino dishes, try out this amazing Pork Asado Sliders by Rey's Place, a popular Filipino restaurant in Sydney.
---