50 Famous Indian Foods
India is one of the most culturally diverse countries in the world, being a central hub for trade and commerce throughout the ages. It has a rich tradition of food inspired by the many people who have traveled through this beautiful land and those who have come to call it home.
Hinduism is India's main religion followed by Islam, Christianity, Sikhism, Buddhism, Zoroastrianism, Judaism, and the Bahá'í Faith. Each of these religions and their people have had a significant impact on the country's cuisine, merging it into one of the most colorful and flavorful cuisines of the world.
Without further ado, I present 50 famous dishes from India that are sure to get your mouth watering and have you planning your next trip to this amazing country I call home.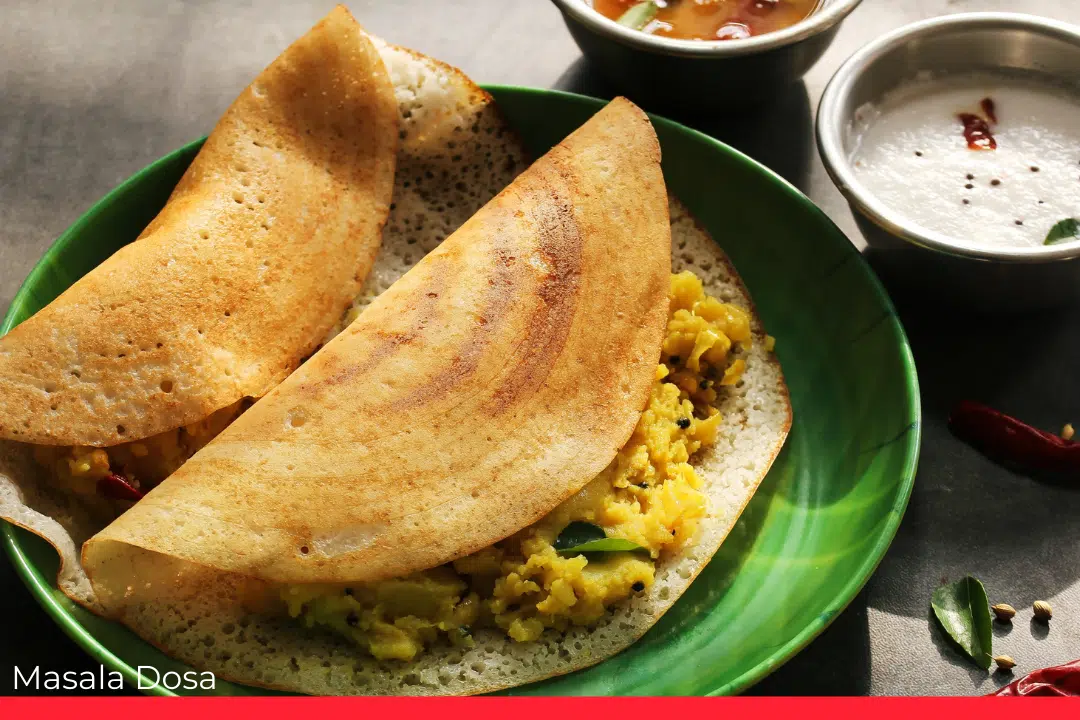 Rice and wheat are the top two grains consumed by Indians, with rice topping the list. Indians have taken this humble grain and transformed it into a plethora of sweet and savory dishes unlike any other culture in the world.
The humble Dosa is an ode to the unending love between the people of this country and rice. Dosa is the ever-popular South Indian breakfast of crispy crepes made with fermented rice and lentil batter. It is usually poured into a thin crispy crepe and served with a side of spiced mashed potatoes, lentil stew called sambar, and coconut chutney.
Idli or idly is a type of savory rice cake, originating from the Indian subcontinent, popular as a breakfast food in Southern India and in Sri Lanka.
The cakes are made by steaming a batter consisting of fermented black lentils and rice. Traditionally each region has its own version, and it is usually served with Sambar(spiced lentil stew) and coconut chutney.
Some of the new contemporary variations are button idli, tatte idli, sanna, rava idli, and masala idli.
Parathas are flatbreads usually made from wheat flour with or without a savory vegetable stuffing. It is famous around the Indian subcontinent and can be found in the neighboring countries of Pakistan, Afghanistan, Bangladesh, Sri Lanka, and beyond.
Variations of this humble flatbread include ones stuffed with a spicy potato filling called Aloo Paratha. Modern renditions even include parathas stuffed with copious amounts of cheese. Parathas are usually served with mint coriander chutney, thick yogurt, and dollops of homemade butter.
It is a versatile dish eaten during any part of the day.
Poha, also known as pauwa, chira, or aval, among many other names, is flattened rice originating from the Indian subcontinent. Rice is parboiled before flattening so that it can be consumed with very little to no cooking.
It is a common breakfast dish and is seasoned lightly with cumin and turmeric and mixed with boiled green peas and toasted peanuts. It's a quick healthy meal to start your day and is usually accompanied with coconut or mint chutney and a dollop of curd.
The Samosa is a deep-fried savory pastry filled with either spiced mashed potatoes, onions, peas, lentils, chicken, or other meats varying from region to region in the country.
Sometimes it is eaten as a part of breakfast, or a midday or evening snack. Originally an Ethiopian dish called Somerset, it is eaten during Easter to signify the Holy Trinity. It has spread its wings far and wide across the country, and many people fondly relish and enjoy the humble Samosa.
It's usually served with curd, or mint chutney, or a sweet date and tamarind chutney.
This dish is best enjoyed on an empty stomach. Rich, spicy and heavy, this is one of the most popular Punjabi dishes and is a must-try dish in Delhi. Don't be surprised if you find it on the breakfast menu of restaurants across the capital.
It usually consists of deep-fried flatbread (Bhature) paired with a spicy chickpea dish (Chole).
You can find this lip-smacking dish at all food joints, be it local joints or restaurants, given its popularity with Delhiites. It is generally accompanied by a thick, cold glass of Lassi.
Medhu Vada or Udin Vada are deep-fried doughnut-shaped fritters from southern India with a crispy exterior and soft, spongy interior. It is generally made with Urad Dhal (black lentils) and a mix of rice flour. It is naturally leavened with curd and seasoned with mustard seeds, onions, bits of coconut, and green chilies.
It is usually eaten as a breakfast dish along with Idli or Dosa and served with a side of lentil stew sambar and coconut chutney.
Upma, uppumavu, or uppittu is a dish originating from the Indian subcontinent, most common in Kerala, Andhra Pradesh, Tamil Nadu, Karnataka, Maharashtra, Gujarat, Odia, and Sri Lanka.
As a breakfast dish, it is cooked as a thick porridge from dry roasted semolina. Various seasonings and sometimes a wide range of vegetables may be added, and it may be garnished with a variety of beans (raw or sprouted), cashews, and peanuts.
The most popular version with wide variations of upma is made with whole or refined ground semolina made out of durum wheat.
For a variation called masala upma (known as kharabath in Karnataka), sambar masala or garam masala is added along with red chili powder, instead of green chilies.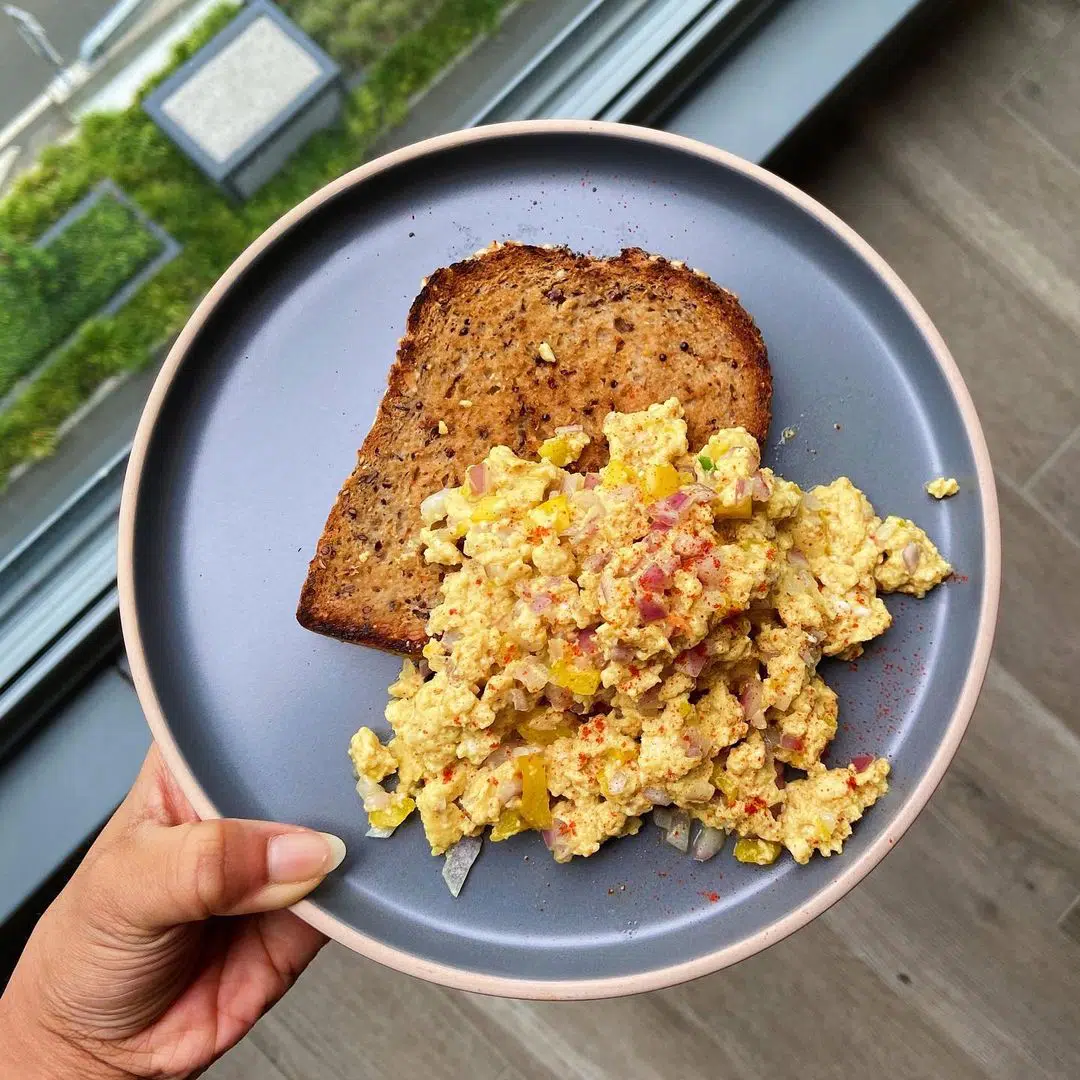 Akuri is a spicy scrambled egg dish made by the Parsi community of India. Akuri is typically never overcooked, the eggs remain loose and slightly runny, mixed with mild spices, and served with bread and salad.
It is believed that the Parsis have a love affair with eggs, as each of their traditional delicacies includes eggs in some form.
They also do not limit eggs only to breakfast, as is typically done. This Akuri recipe is seasoned with onions, tomatoes, with heat from chilies, and creaminess of fresh cream. It is famous in Bombay or Mumbai because of the large Parsi community present there.
If you are not a Mumbaikar, this is something that should not be skipped, whether it's for breakfast, lunch, or teatime.
It's a simple yet sublime sandwich that many Indians hold close to their heart. It generally consists of a deep-fried potato fritter sandwiched between Pav bread and topped with a spicy green mint coriander chutney, as well as a sweet date and tamarind chutney, accompanied by a deep-fried chili pepper.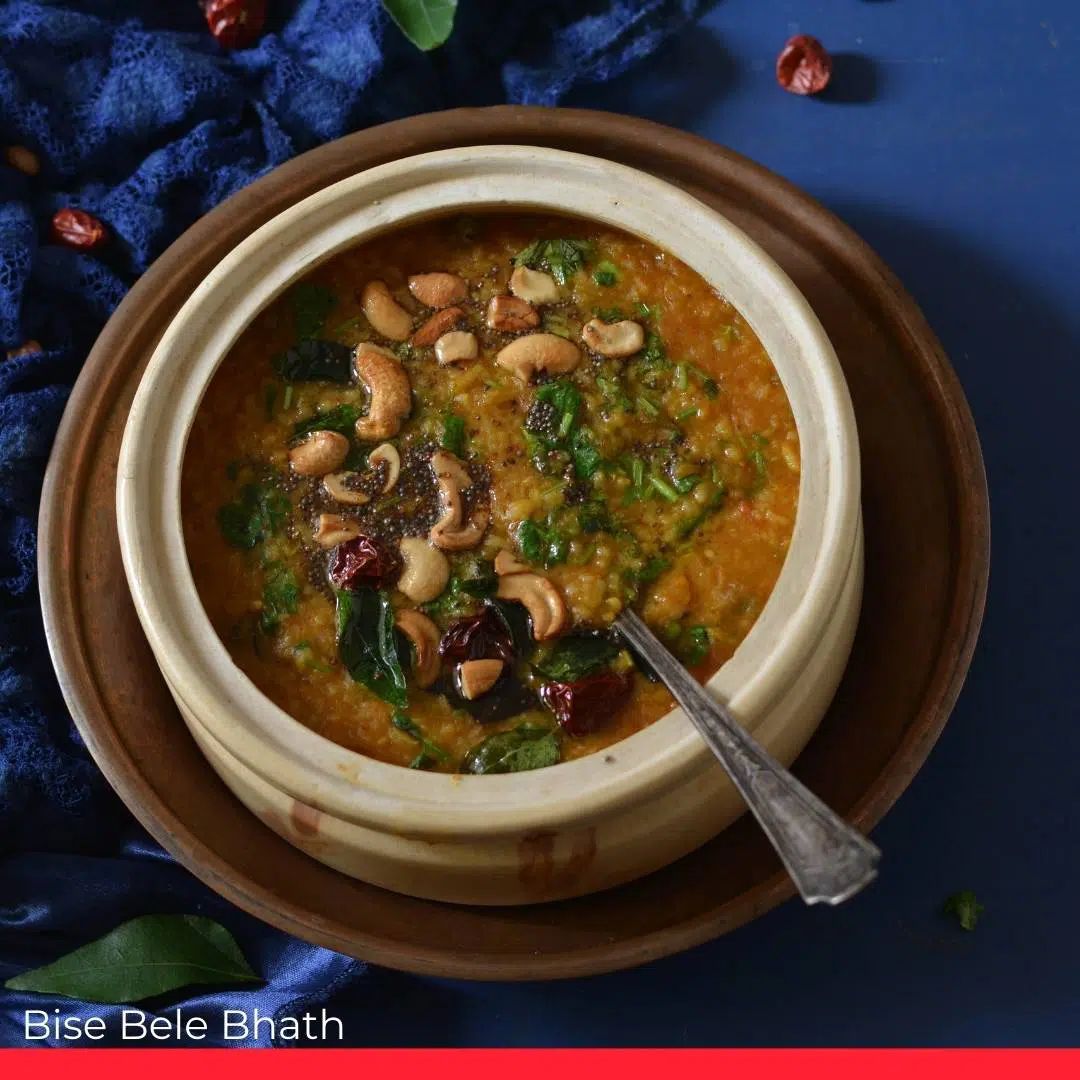 Bise Bele Bhath translates to "Hot Dal Rice." The dish features daal, rice, and vegetables blended like porridge and served with boondi (deep-fried chickpea flour). It's soul food at its best.
It is usually seasoned with freshly ground spices and is a common breakfast or lunch dish across the southern peninsular. It has an innate sweet and savory taste owing to the addition of cane sugar in the dish.
12. Appam and Stew
A popular breakfast dish from the southern state of Kerala, it comprises rice hoppers with a thin crispy outer and soft spongy thick center. It is usually served with a vegetable or meat (lamb/chicken) stew made with coconut milk and seasoned with whole spices.
Remnants of the British Raj and their influence over the local cuisine gave birth to this beautiful combination. Fondly referred to as Ishtew and appam. Don't miss out on this dish if you're visiting Kerala.
A popular Sunday morning treat in most Bengali households comprises deep-fried poori bread usually served with a lightly spiced and slightly sweet potato curry made with onions, tomatoes, and spices.
Though traditionally a dish hailing from the state of Bengal, it can be commonly found in most other states of India as well and is a very popular dish on most menus.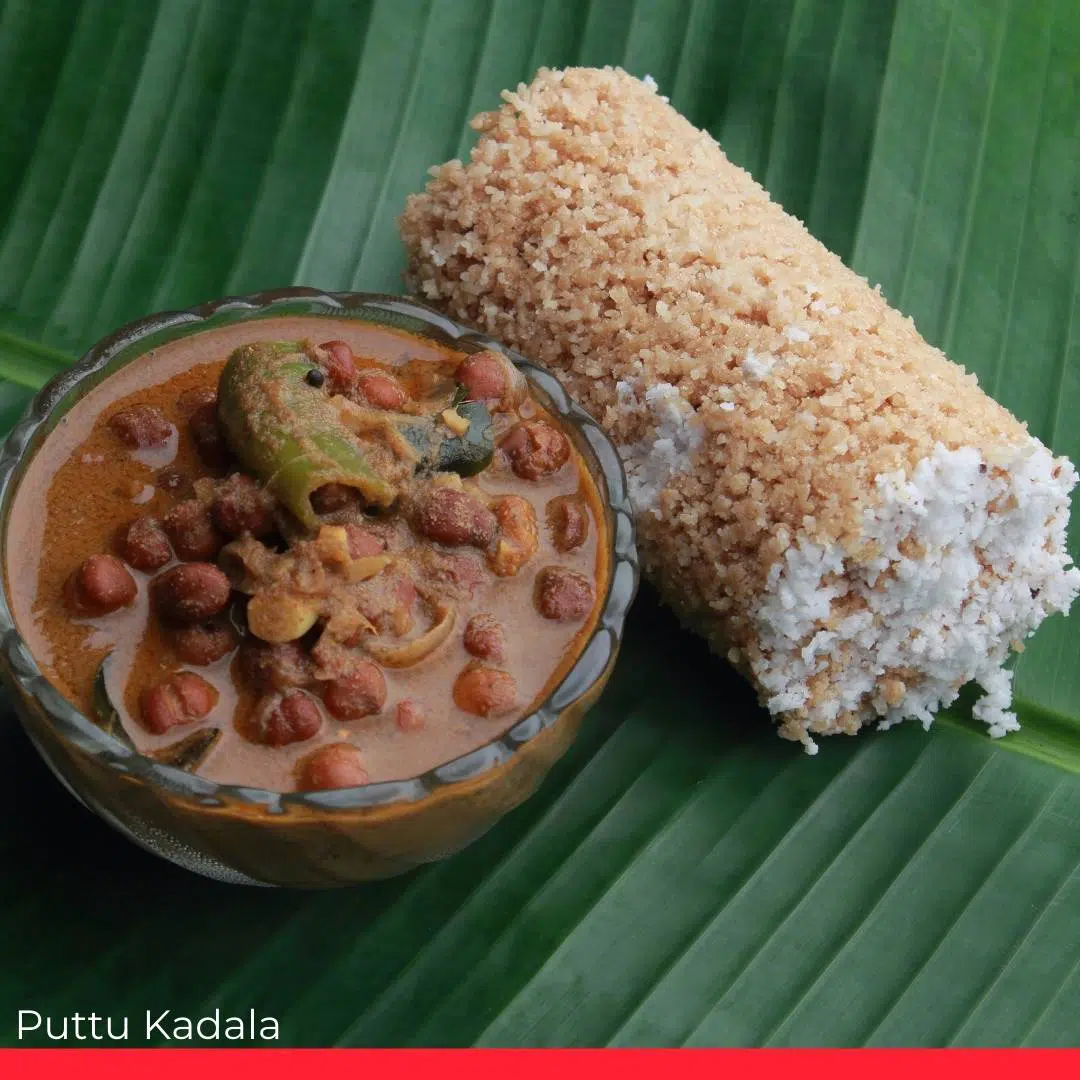 For a Malayali, nothing is more comforting than a piping hot plate of Puttu and Kadala curry for breakfast. A quintessential dish in almost every household in Kerala, Puttu is a preparation of ground rice, layered with coconut shavings (and sometimes banana), and then steamed; while Kadala curry comprises Kala chana, or black chickpeas, cooked in roasted coconut gravy.
Contemporary versions of this humble dish have been made with quinoa, broken wheat, millet, and much more.
15. Bombay Sandwich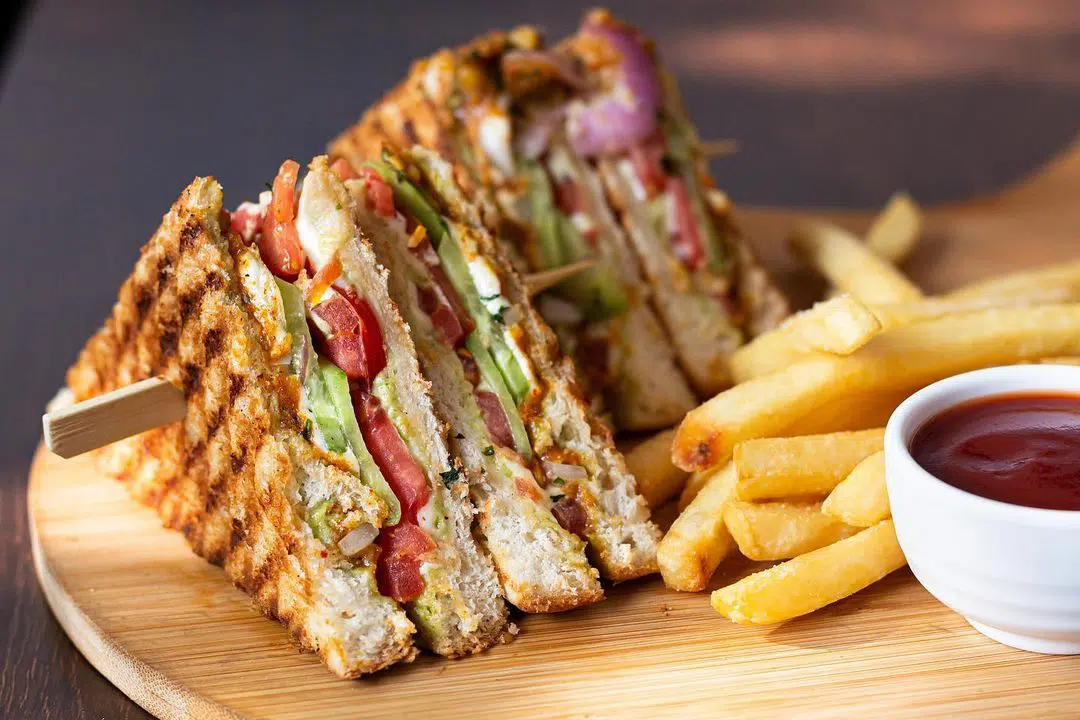 The Bombay sandwich is a mixture of the most unlikely ingredients prepared from buttered white bread. Its ingredients include thin slices of tomatoes, cucumbers, beetroot, onion rings, boiled potatoes, and mint chutney. Giving you the most refreshing tangy taste, it is something which can be found in every cafe or street of Mumbai. It has a toasted version with steamed vegetables inside that give it a totally different flavor.
Variations include the addition of paneer, corn, and copious amounts of cheese spread, or grated cheese and mayonnaise. It's a tasty treat aptly made for the busy Mumbaikar to eat on the go.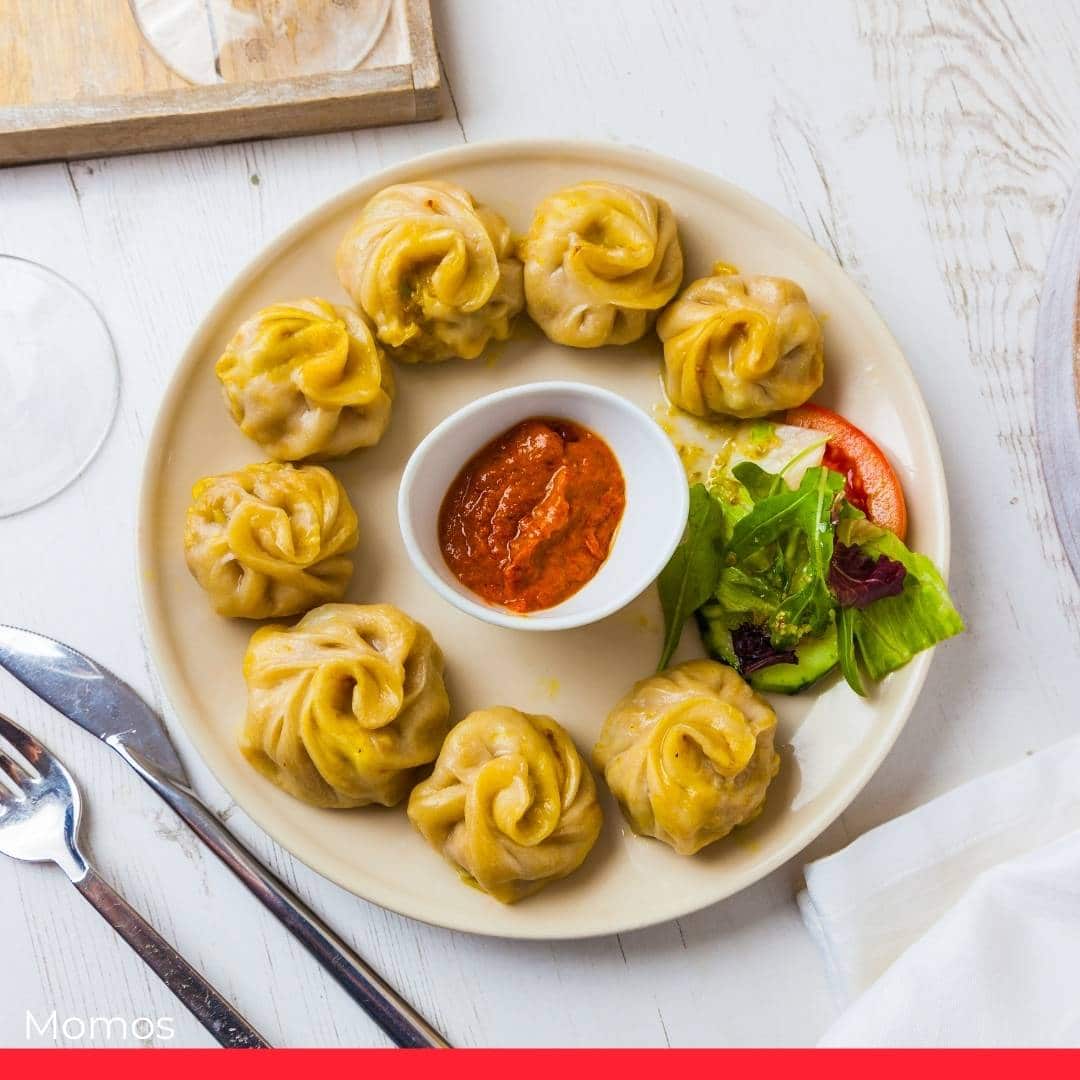 A mouth-watering treat from the North East of the country, this humble dumpling has made its way across the entirety of the country finding its way into the hearts of many Indians.
Momos are thin, wheat flour-based wrappers filled with a savory mix of vegetables or meat. They are either steamed or deep-fried, depending on your choice, and are usually served with a spicy red chili dip.
Common variations may have a filling of corn, cheese, beef, or even pork.
17. Gobi Manchurian
A fusion of Chinese and Indian influences brings forth this dish that can be found all across the country, transcending culture and traditional practices.
It's composed of cauliflower florets, battered and deep-fried, and tossed in a spicy tangy sauce made of chili paste, garlic, soy sauce, tomato ketchup, peppers, and spring onions. These bite-sized snacks are perfectly oily and spicy, with garlic and green chiles giving it its signature dragon-breath after burn.
18. Mumbai Frankie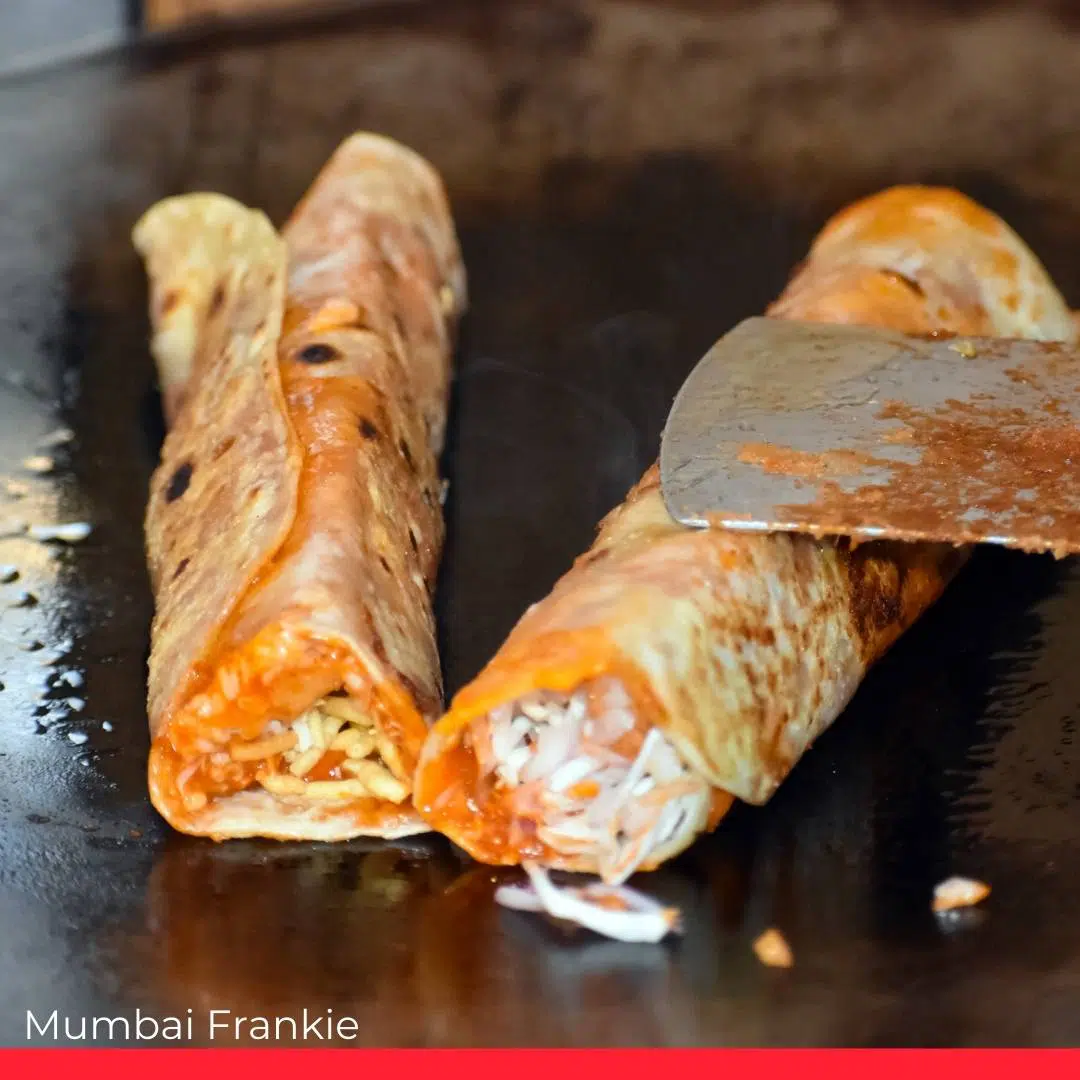 As unique as its name, Frankie is made from juicy naan bread coated with an egg and rolled up with mutton or chicken inside.
A unique combination of spices is sprinkled to enhance the flavors. The vegetarian option skips the eggs, and the stuffing includes paneer or potatoes or mushrooms. This famous and most-picked dish is inspired by the Lebanese pita bread wrap. It is a quick delectable snack that is usually eaten on the go.
It is served usually with a side of mayonnaise and ketchup or green mint and chili chutney.
19. Ragada Pattice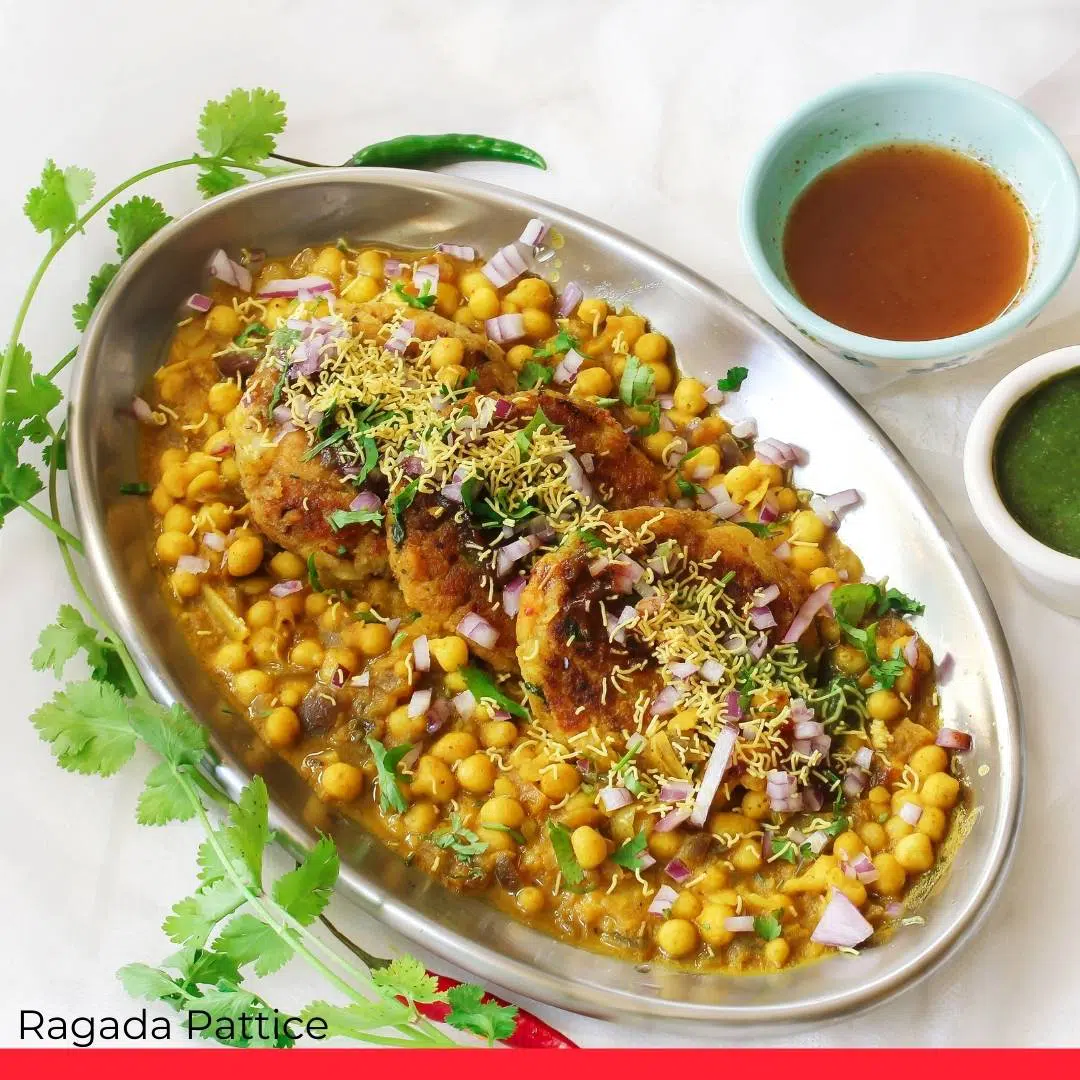 It is the combination of the two delicious dishes, Ragda (soft, spicy, rugged-flavored chickpeas) and Pattice (mashed potato shaped into fat patties and fried). The best way to have it is by crushing the ragda with the pattice with chopped onions, tangy lip-smacking sauce, and spicy green chutney.
Mix everything together and experience what Mumbai tastes like. It's usually eaten with a hot pav (bread) on the side and is perfect for the monsoon.
20. Thukpa (Noodle Soup)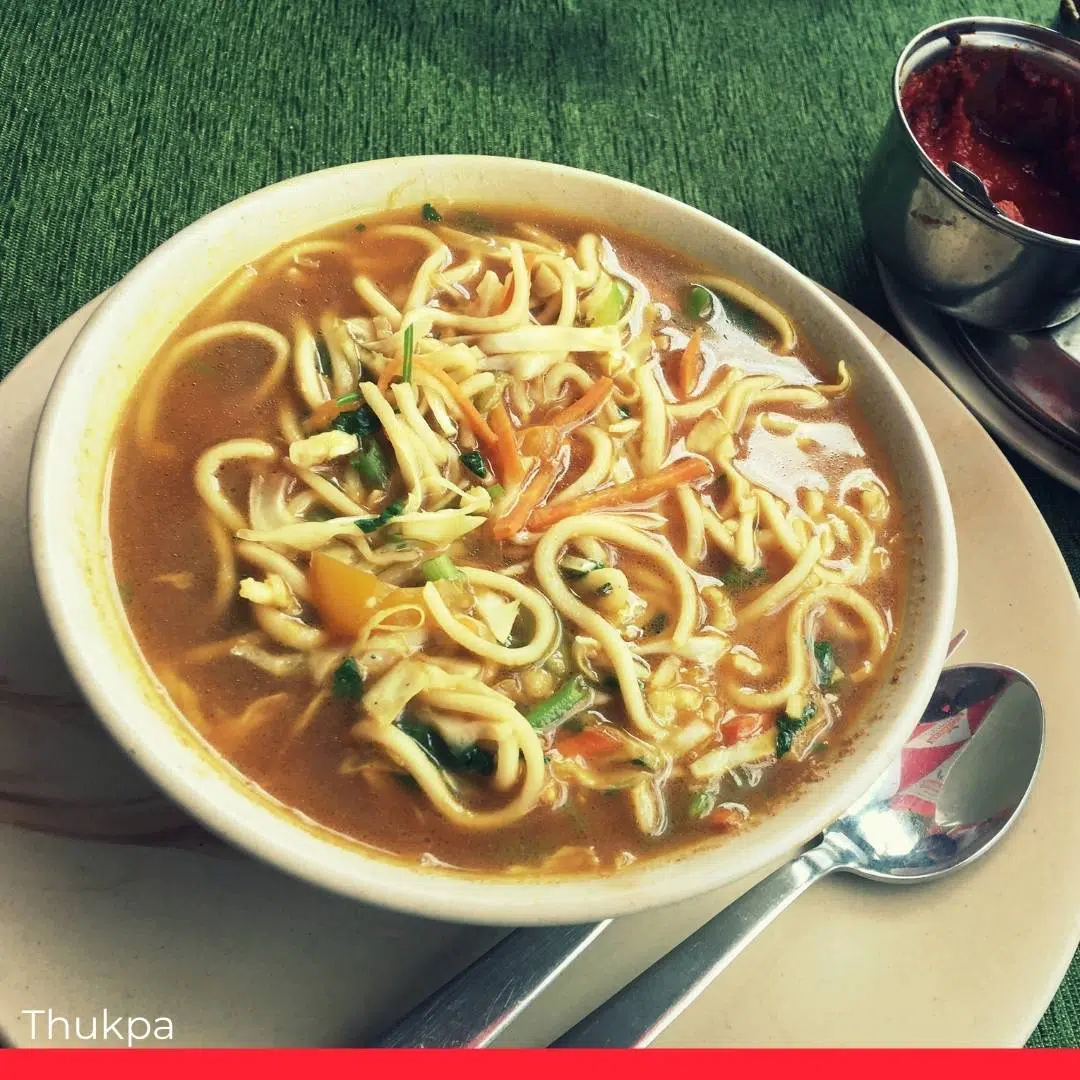 Thukpa is a Himalayan noodle soup, usually served with meat and is really delicious with lean chicken. It is popular in Tibet, Bhutan, Nepal, and some parts of India. "Thuk" means "heart," and it is certainly a heart-warming dish. In Bhutan, it is usually be made with buckwheat noodles.
With more and more Indians embracing the various diverse cuisine of the country, dishes such as Thukpa have seen a huge fan following and are considered delicacies.
Traditionally available in the Himalayan states, today Thukpa can be found in all major cities.
21. Dahi Puri
Dahipuri, or Dahi puri, is a snack originating from India that is especially popular in the state of Maharashtra, India. The dish is a form of chaat (a small plate of sweet and savory snacks served on the streets of India) and originates from the city of Mumbai. It is served with mini-puri shells (golgappa), which are more popularly recognized from the dish pani puri.
---
Related: 25 Popular Indian Snacks
---
The round, hard, puffy puri shell is first broken on top and partially filled with the main stuffing of mashed potatoes or chickpeas. A small amount of turmeric powder or chili powder, or both, may be added for taste, as well as a pinch of salt. Sweet tamarind chutney and spicy green chutney are then poured into the shell on top of the stuffing.
Finally, sweetened beaten yogurt is generously poured over the shell, and the finished product is garnished with sprinklings of crushed sev, moong dal, pomegranate, and finely chopped coriander leaves.
22. Kachori
Kachori is a spicy deep-fried snack originating from the Indian subcontinent. Alternative names for the snack include kachauri, kachodi and katchuri.
It consists of a wheat flour-based outer layer stuffed with a spiced mix of onions, fennel seeds, moong dhal, and chilies.
There is another kind of kachori made in Delhi that is called Khasta kachori or Raj Kachori. There is also a sweet kachori made with potato, coconut, and sugar. Kachoris are often served with a chutney made from tamarind, mint, or coriander.
23. Pazham Pori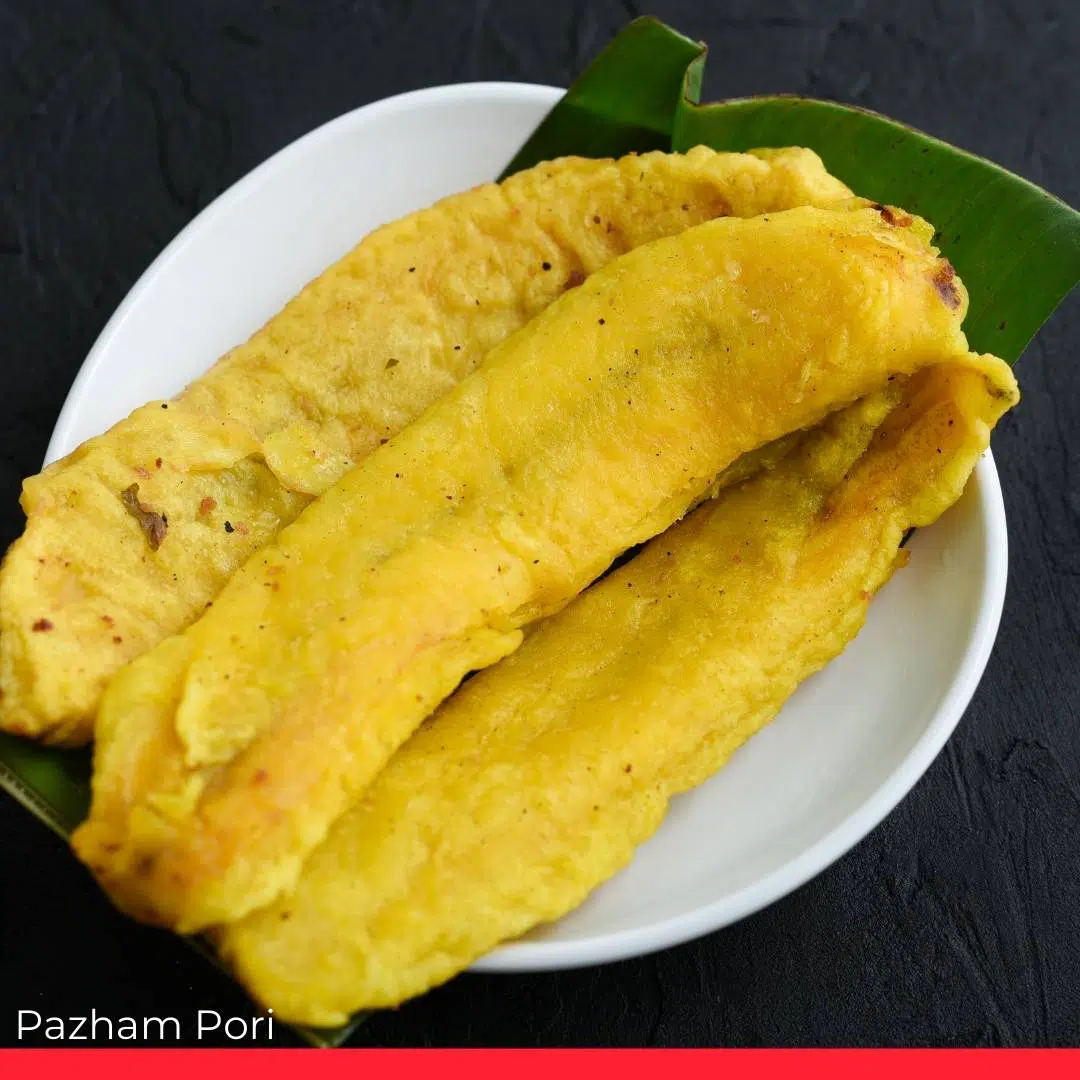 Sweet banana fritters, or pazham poori, is a famous snack from the southern state of Kerala. Pazham pori is made from a ripened plantain called nendram pazham, which is a local fruit found in most of the regions in Kerala. The banana is dipped in a sweetened flour batter and fried till it is golden brown and crispy.
Usually served as an accompaniment with evening tea, this delicacy can also be paired with braised beef for a wonderfully sweet and savory combination.
24. Pani Puri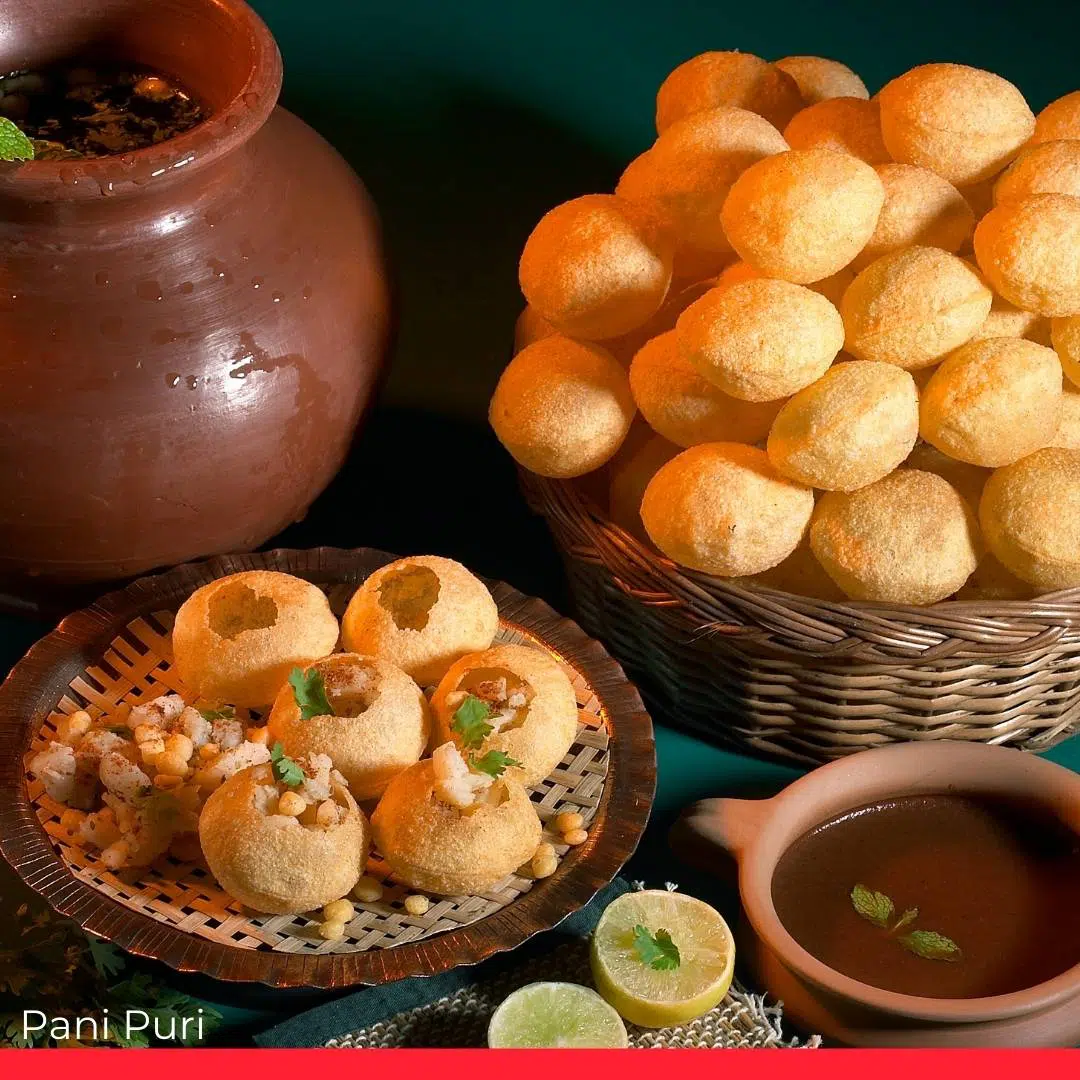 Pani puri (also called fuchka fhuchka, gupchup, golgappa or pani ke patake) is a type of snack that originated in the Indian subcontinent and is one of the most common street foods.
Pani puri consists of a round or ball-shaped hollow puri (a deep-fried crisp flatbread), filled with a mixture of cumin flavored water (known as jaljeera), tamarind chutney, chili powder, chaat masala, potato mash, onion, or chickpeas.
It falls under the category of chaat or street-food snacks famous across the country.
25. Dhokla
Dhokla is a vegetarian dish that is found mainly in the Indian state of Gujarat and parts of the adjacent states. It is made with a fermented batter derived from legumes such as chickpea, pigeon pea, and urad and rice. Dhokla can be eaten for breakfast, as the main course, as a side dish, or as a snack.
It's a soft and fluffy, lightly sweet, and savory cake that's perfect to enjoy any time of the day. It's easy to prepare steamed on the stovetop or even in the Instant Pot.
26. Pav Bhaji
Pav bhaji is a fast food dish consisting of a thick vegetable curry (bhaji) served with a soft bread roll (pav). The dish originated as a fast lunchtime dish for textile mill workers in Mumbai. Pav bhaji was later served at restaurants throughout the city. Pav bhaji is now offered from simple hand carts to formal restaurants in India and abroad.
Pav bhaji is a spiced mixture of mashed vegetables in a thick gravy served with bread. Vegetables in the curry may commonly include potatoes, onions, carrots, chilies, peas, bell peppers, and tomatoes. Street sellers usually cook the curry on a flat griddle (tava) and serve the dish hot.
A soft white bread roll is the usual accompaniment to the curry, but this does not preclude the use of other bread varieties such as chapati, roti, or brown bread.
Butter chicken or chicken makhani is a delicious, lip-smacking, popular dish enjoyed by many across the world. It is traditionally a Punjabi dish coveted most for its rich, creamy texture and flavors. Today it is a staple among many Indian menus with each chef adding his own twist. Made famous by Indian curry houses across the UK, it's best enjoyed with garlic-butter naan or basmati rice.
It's made from a base of tomatoes and onions, cooked with sweet spices and nuts, and finished with a hearty serving of butter and fresh cream.
28. Chettinad Chicken Curry
Chicken Chettinad or Chettinad chicken is a classic Indian recipe, from the cuisine of the region of Chettinad. It consists of chicken marinated in yogurt, turmeric, and a paste of red chilies, kalpasi, coconut, poppy seeds, coriander, cumin, fennel, black pepper, groundnuts, onions, garlic, and gingelly (sesame) oil.
It is a South Indian recipe famous for its complex roasted spice mixes and is best enjoyed with Malabar parottas.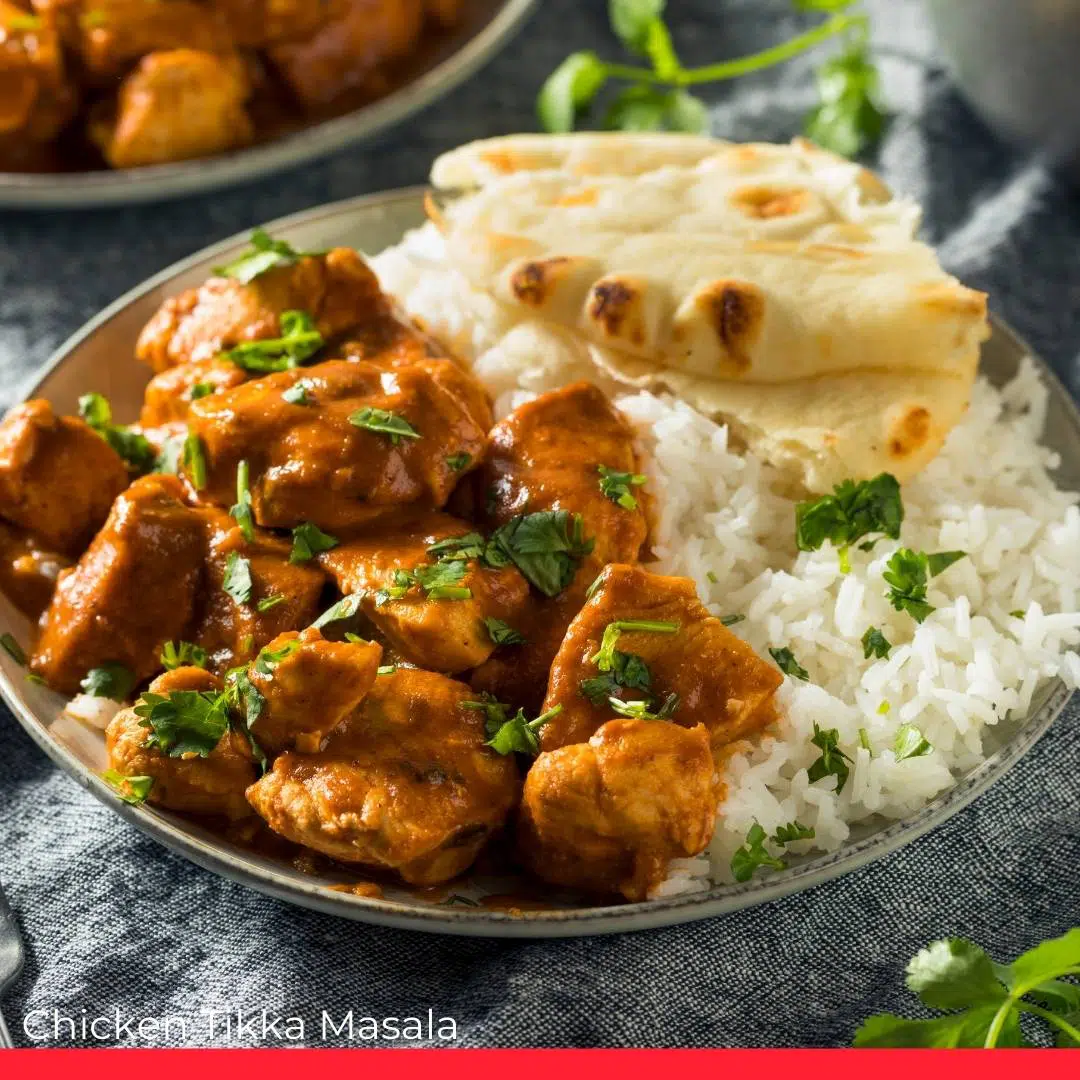 Chicken tikka masala is a dish consisting of roasted marinated chicken chunks (chicken tikka) in spiced curry sauce. The curry is usually creamy and orange colored. The dish was popularized by cooks from South Asia living in Great Britain.
The dish is offered at restaurants around the world and was described by former UK foreign secretary Robin Cook as "a true British national dish." Boneless chunks of chicken are marinated in spices and yogurt, roasted in an oven, and served in a creamy curry sauce.
A tomato and coriander sauce is common, but no recipe for chicken tikka masala is standard. In fact, a survey found that of 48 different recipes, the only common ingredient was chicken. The sauce usually includes tomatoes (frequently as puree), cream, coconut cream, and a masala spice mix. The sauce and chicken pieces may be colored orange using turmeric, paprika, or tomato puree.
30. Biriyani
Biryani is a mixed rice dish originating among the Muslims of the Indian subcontinent. It is made with Indian spices, rice, and meat, which is usually chicken, goat, lamb, prawns, or fish. It sometimes includes eggs or vegetables, such as potatoes in certain regional varieties.
Each region in India boasts its own variation of the traditional biriyani. Originally inspired by the Persian roots of the Mughal Empire, today it is a beloved dish that can be found in any part of the country and is the highlight of most lavish Indian meals.
No Muslim wedding would be complete without traditional lamb biriyani as the central highlight of the evening.
The long grain basmati rice is preferred across the north, while the south usually prefers a shorter denser variety of rice called samba.
31. Chicken Korma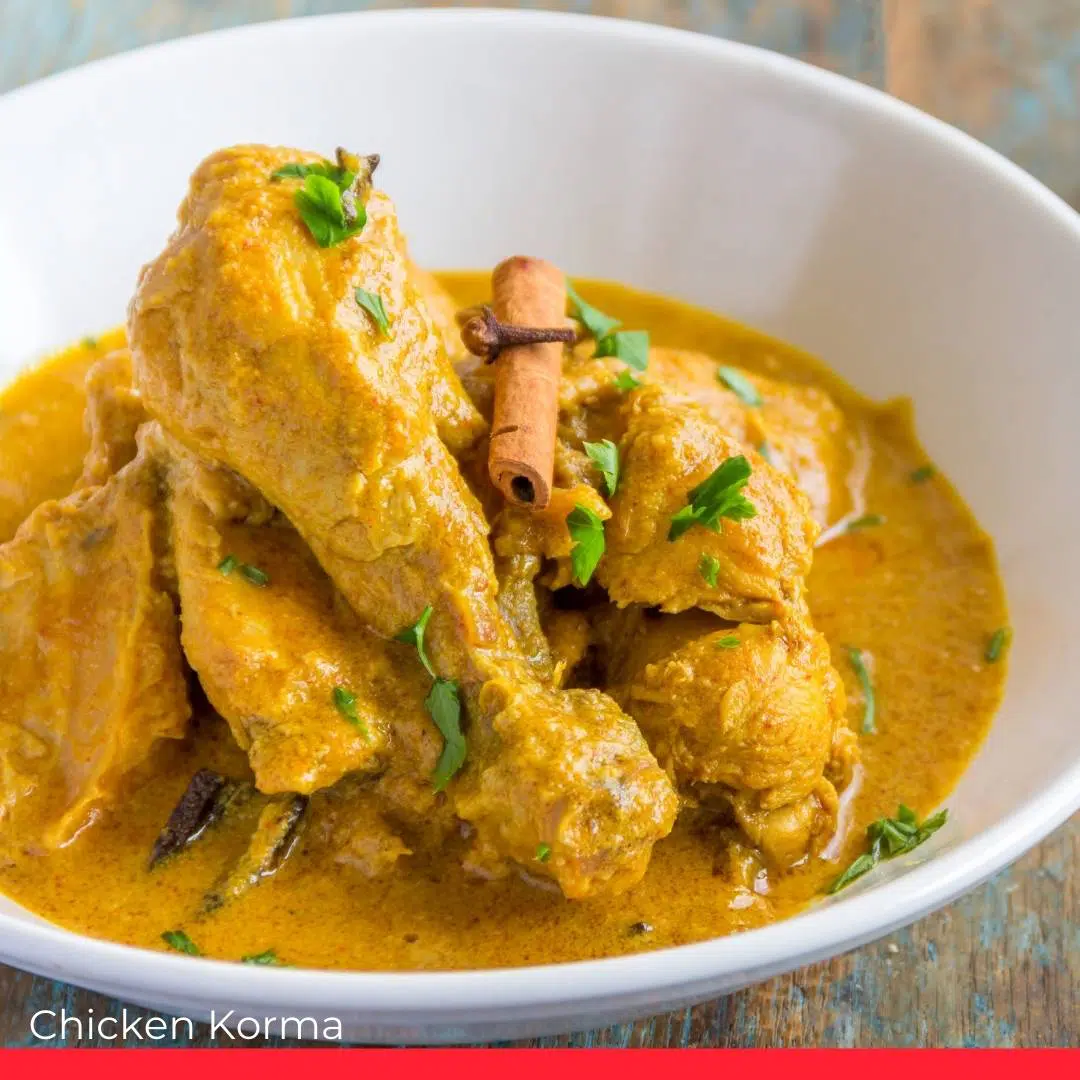 Korma or qorma is a dish consisting of meat or vegetables braised with yogurt (dahi) or cream, water or stock, and spices to produce a thick sauce or gravy.
Korma has its roots in the Mughlai cuisine of the Indian subcontinent. A characteristic Mughal dish, it can be traced back to the 16th century. Kormas were often prepared in the Mughal court kitchens, such as the famous white korma in Emperor Shahjehan's royal kitchen.
32. Mutton Rogan Josh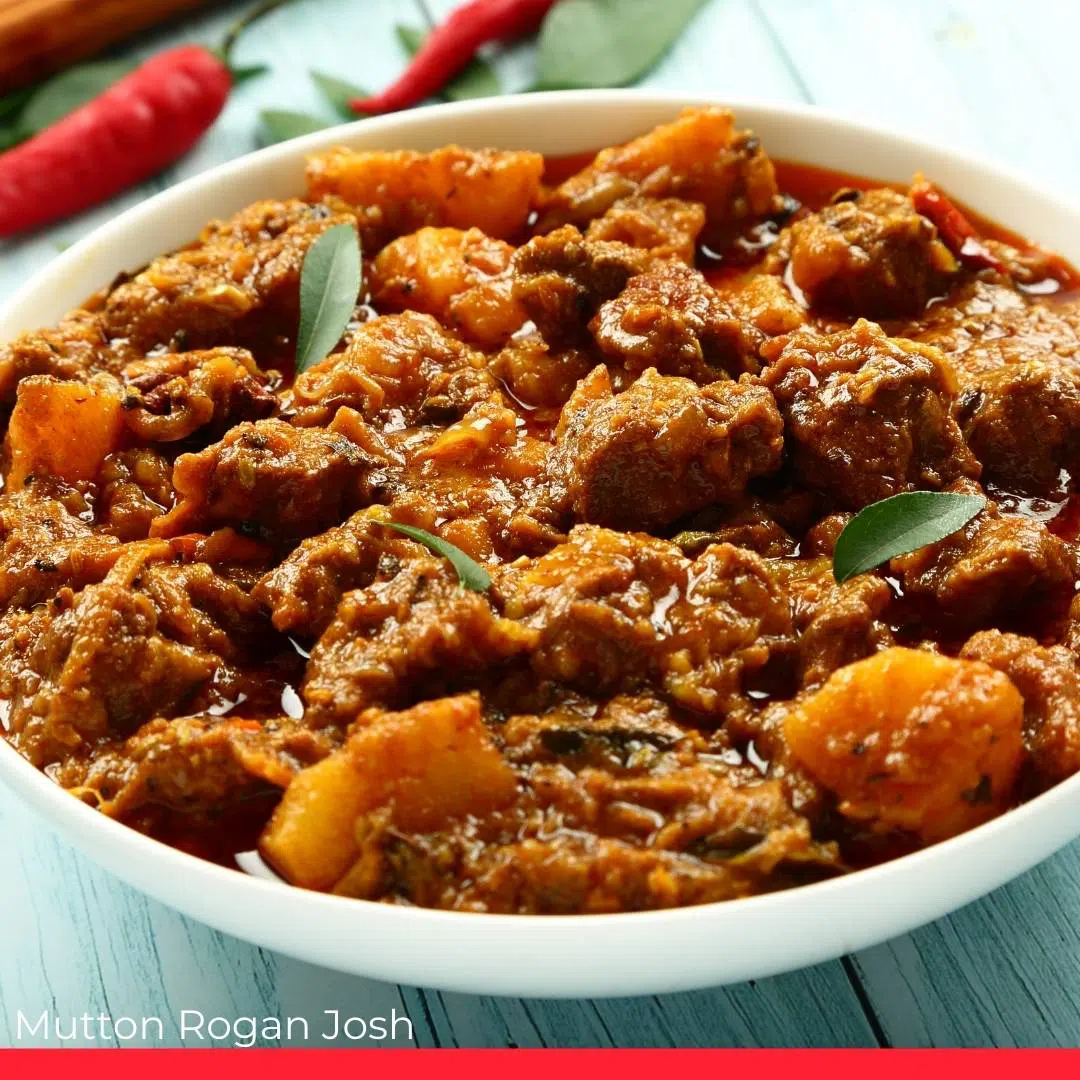 Rogan Josh or Mutton Rogan Josh is a mouth-watering traditional lamb curry recipe with origins in Persia and also popular in Kashmir. It is prepared using a slow cooking method with a variety of aromatic spices. This dish has a fiery red color and a creamy texture. While biryani and haleem are popular recipes, Rogan Josh follows close behind. Soft and tender mutton pieces cooked in rich gravy and served with Naan can make your lunch or dinner full of bliss.
33. Hyderabadi Haleem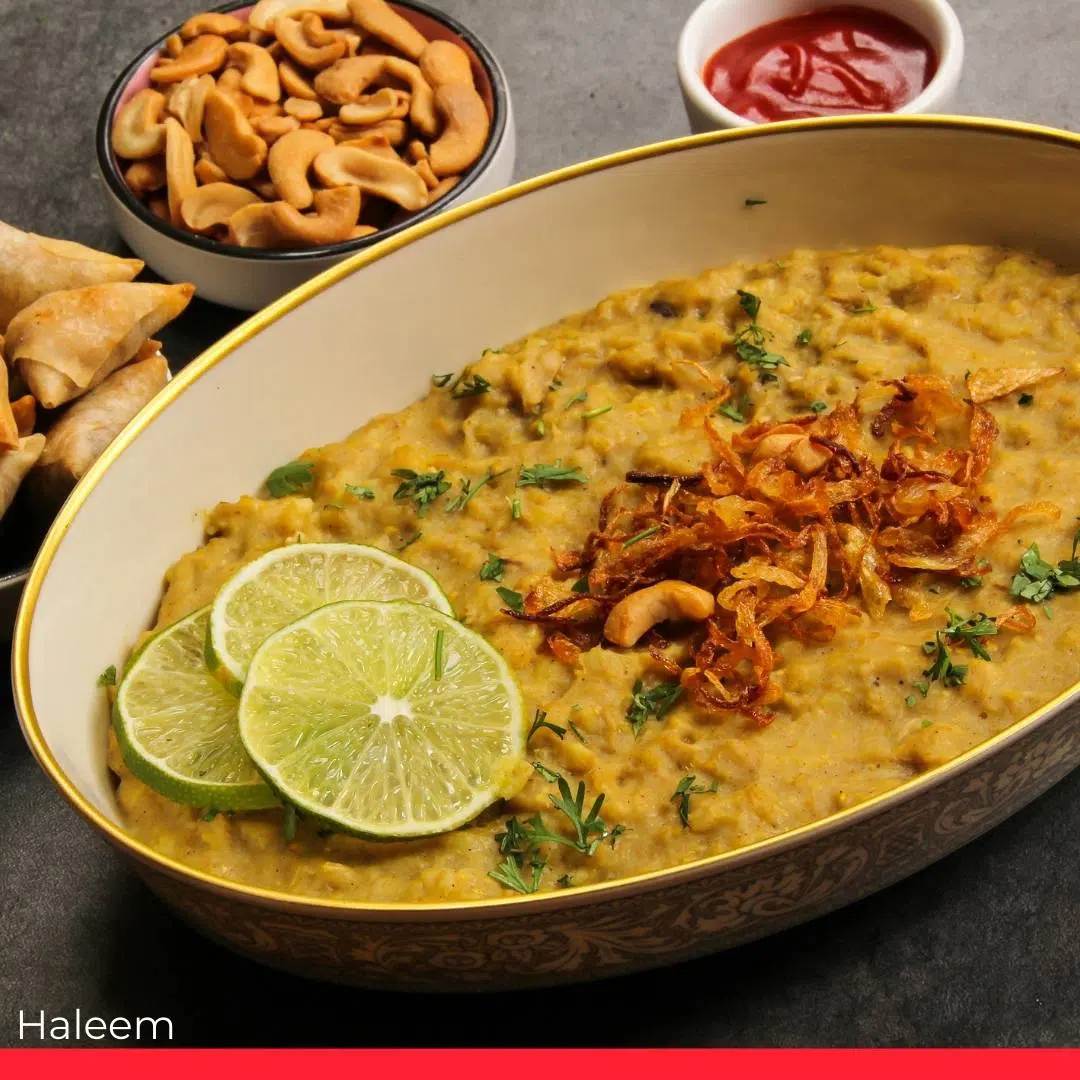 Hyderabadi haleem is a type of haleem popular in the Indian city of Hyderabad. Haleem is a stew composed of meat, lentils, and pounded wheat made into a thick paste. It is originally an Arabic dish and was introduced to the Hyderabad State during the rule of the Nizams.
The recipe calls for a mixture of grains such as broken wheat, rice, and even oats blended with exotic spices and herbs such as rose petals and saffron.
It is particularly consumed in the Islamic month of Ramadan during Iftar (the evening meal that breaks the day-long fast) as it provides instant energy and is high in calories. This has made the dish synonymous with Ramadan.
In recognition of its cultural significance and popularity, in 2010 it was granted Geographical Indication Status (GIS) by the Indian GIS registry office, making it the first non-vegetarian dish in India to receive this status.
34. Rajasthani Laal Maas
A fiery meat curry from Rajasthan, this one is loaded with red chilies. Mutton is cooked in mustard oil and flavored with the local kachri spice. This one is surely not for the faint-hearted!
With its burst of spices and goodness of meat, this is a great dish to add to the dinner party menu. Garnished with coriander leaves and a generous amount of ghee, Rajasthani Laal Maas has an extremely appetizing appearance. It is best enjoyed with roti or naan.
35. Chicken 65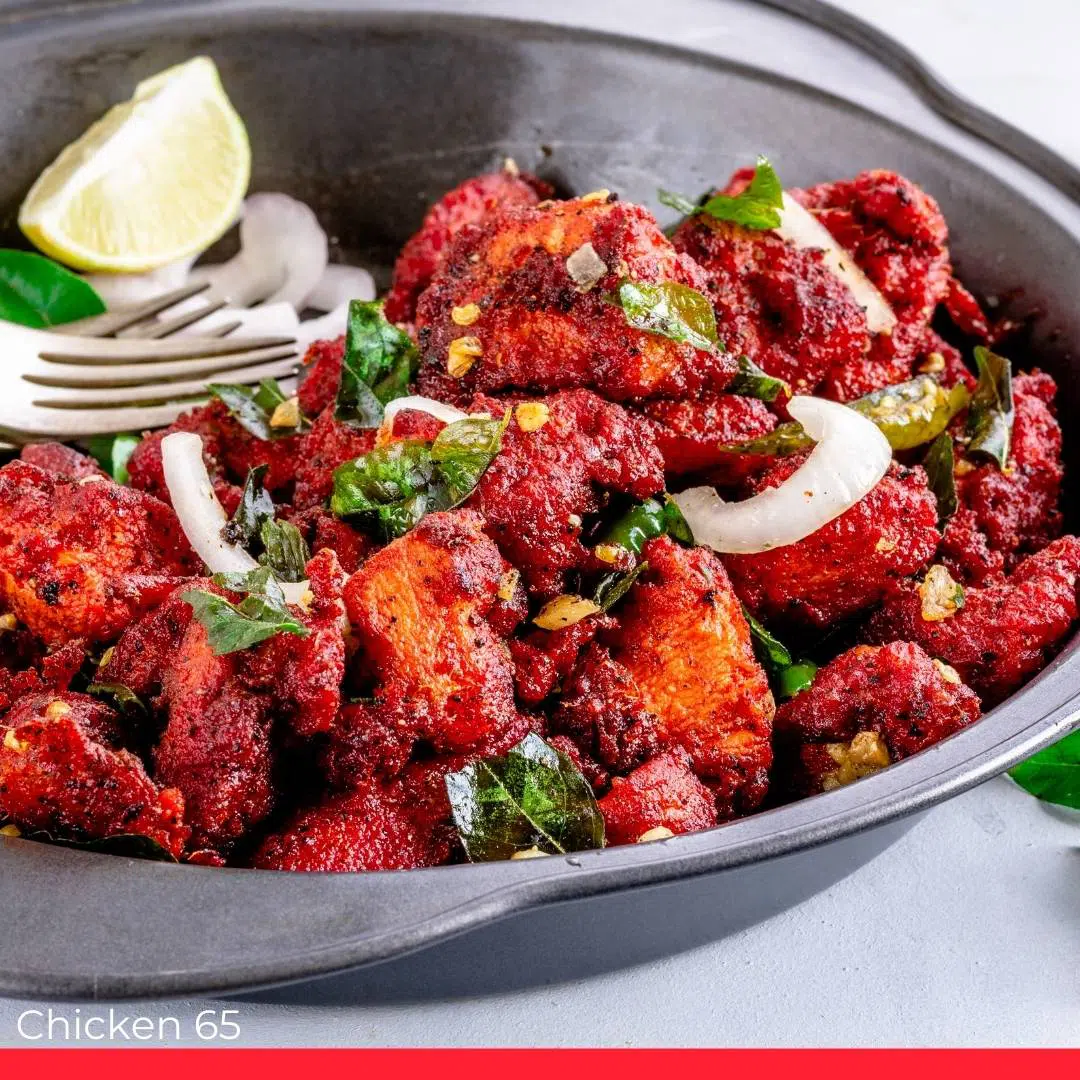 Chicken 65 is a spicy, deep-fried chicken dish originating from Hotel Buhari in Chennai, India. The flavor of the dish can be attributed to red chilies, but the exact set of ingredients for the recipe can vary. It can be prepared using boneless or bone-in chicken, and is usually served with onion and lemon garnish. Vegetarian variations such as Paneer 65 or Gobi 65 use paneer or cauliflower instead.
Legend has it that the number 65 refers to the 65 different spices or chili peppers added to the dish, or that it was invented in the year 1965, or that it is prepared from a bird aged just 65 days.
36. Chettinad Mutton Masala
This Chettinad Mutton or Lamb Chettinad is a classic South Indian curry originating from the Chettinad region of India. Most of the dishes in the region are eaten with rice and rice-based accompaniments such as dosais, appams, idiyappam, adais, and idlis.
The recipe calls for the following spices to be roasted and ground to a thick paste to form the base of the dish: peppercorn, cardamom, chilies, cinnamon, and coconut.
It has a rich wholesome aroma and flavor contrary to the mildly spiced creamy dishes of the north.
37. Mutton Mappas
Mutton Mappas is a traditional dish from the state of Kerala and is a gravy made out of thick and creamy coconut milk. Mappas can be made with fish, chicken, vegetables, or even eggs.
This dish is best served with appam, idiyappam (string hoppers), rice, and roti. Mappas and stew are similar, but not the same. In a stew, usually green chilies and black pepper are used to spice up the curry. Whereas in mappas, red chilis and a few other spices are usually added. Mutton Mappas is very delicious but a bit difficult to eat as the lamb is cut into small pieces and cooked on the bone until it melts in the mouth.
It is a typical southern-style gravy prepared with fresh coconut milk, making this curry creamy and all the more delicious. The final seasoning takes this curry to another level. The juicy meat and creamy gravy give the curry an aroma that is truly divine.
38. Mutton Do Pyaza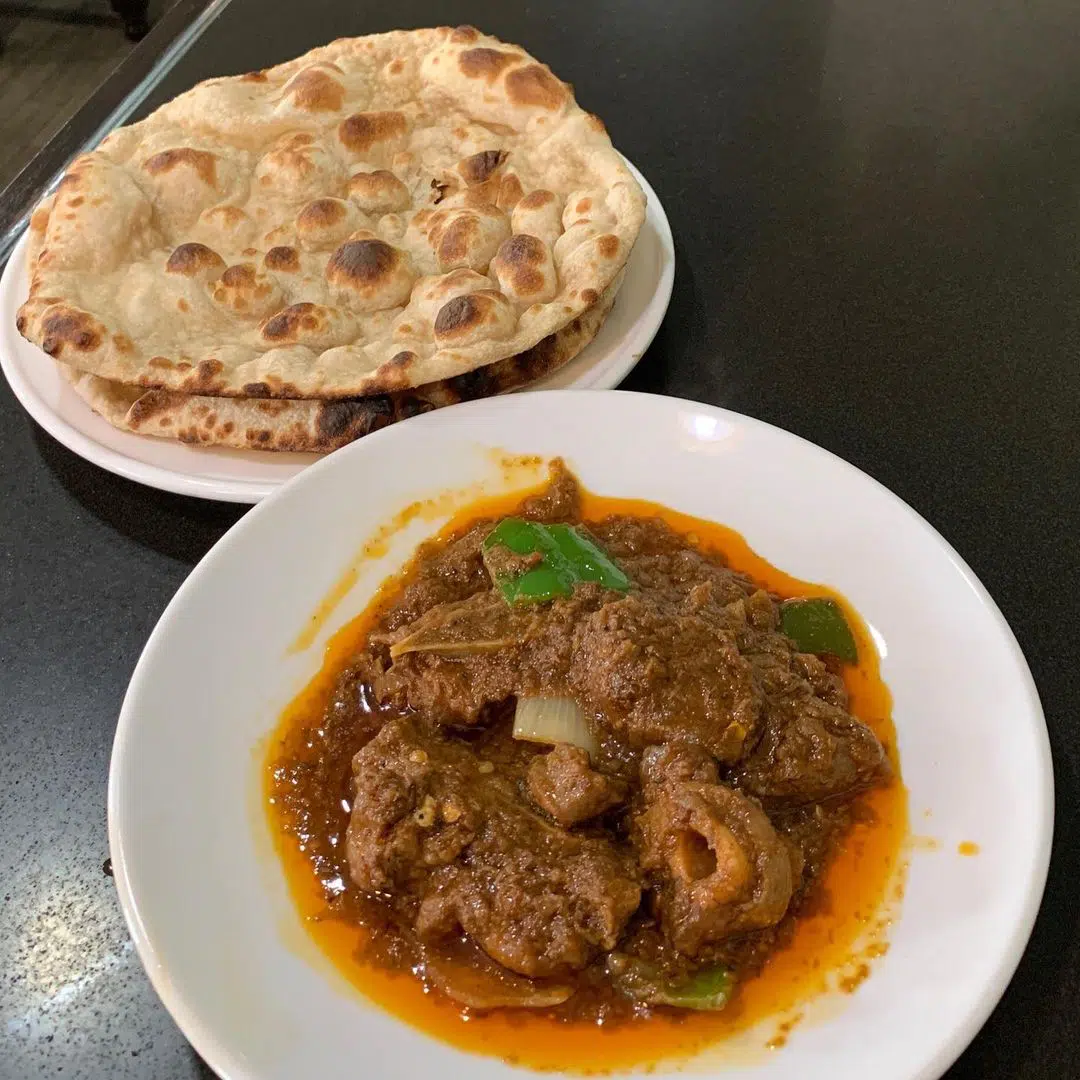 Mutton do pyaza is a delicious Mughlai dish of Hyderabadi cuisine. It is quite famous for its delectable flavor and tender texture, along with the generous amount of onion that give it a unique flavor. With its melange of spices, it is the perfect dish for any special occasion.
The onion base is slow-cooked until caramelized and produces a sweet, rich and mellow nuance of flavors across the entire dish.
39. Jhinga Nisha
Jhinga nisha, or jheenga dum nisha, is a traditional seafood dish originating from India. Although there are a few variations, the dish is usually made with a combination of shrimp, ginger-garlic paste, yogurt, cheese, hot chili peppers, lemon juice, sesame seeds, cinnamon, fenugreek, cloves, and white pepper.
The shrimp are rubbed with ginger-garlic paste, salt, and lemon juice, then marinated in a combination of yogurt, hot chili peppers, cinnamon, cloves, white pepper, and fenugreek. After an hour, they are skewered and roasted until lightly golden, and then covered with roasted sesame seed powder and roasted again.
40. Prawn Koliwada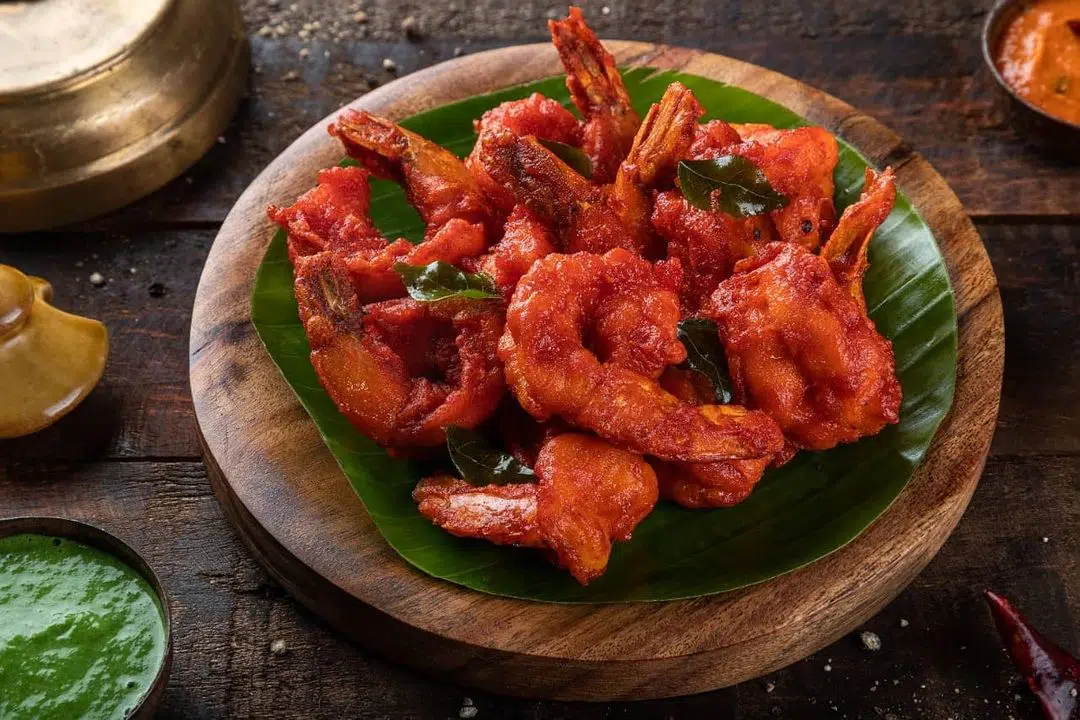 Prawn Koliwada is a traditional Indian dish originating from Punjabi immigrants who first started selling it in a village called Koliwada in Mumbai. The main star of the dish is fried prawns, and they're usually served as an appetizer. What characterizes these prawns is their red color coming from the red chili powder.
They are first marinated in ginger-garlic paste, red chili powder, lemon juice, and salt. After a short while, the prawns are dipped in a batter consisting of maida flour, cornflour, lemon juice, ajwain, oil, yogurt, and a bit more chili powder. The battered prawns are then fried in oil until they become golden brown.
41. Karimeen Pollichathu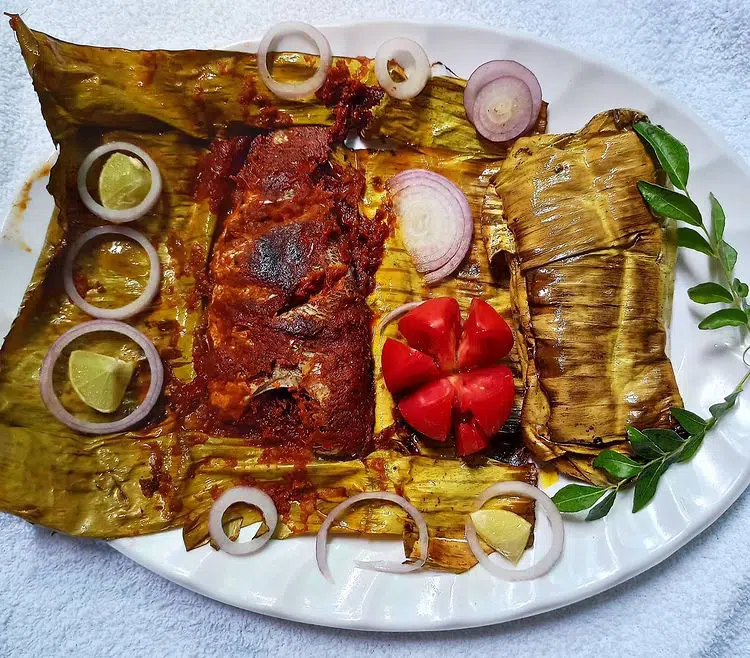 Karimeen pollichathu is a traditional Indian fish dish originating from Kerala. It's made by wrapping marinated pearlfish (karimeen) in banana leaves, then grilling it until done. The marinade consists of turmeric, chili powder, pepper, lime juice, coconut oil, and salt.
Other ingredients used to prepare the dish include onions, tomatoes, ginger, garlic, green chili peppers, chili powder, turmeric, vinegar, and curry leaves. The ingredients are sautéed and placed on banana leaves before the fish is wrapped in them.
Once prepared, this dish is usually served hot with chapati or rice on the side.
42. Bombay Duck or Bombil Rava Fry
Bombil fry is a traditional Indian dish originating from Maharashtra. It's prepared with bombil, or Bombay duck, as the main ingredient. Despite the name, it's not a duck but a fish (lizardfish) that's found in the waters of Mumbai, and hence the unusual name.
During the times of the British Raj, this fish was transported with the mail (daak) from Mumbai, so the name Bombay duck remained in its colloquial form. For this dish, a fresh bombil fish is cleaned and marinated in lemon juice, turmeric powder, and salt.
43. Nadan Meen Curry
Hailing from Kerala, this coastal Indian fish curry is made by simmering chunks of firm fish in a strongly seasoned gravy that is often infused with coconut milk and spices such as mustard seeds, fenugreek seeds, red chili, and curry leaves. The curry is traditionally prepared in a clay pot called manchatti. It gets its bright red color and heat from the use of Kashmiri red chili powder, while its distinctive tanginess comes from the addition of kodampuli, or Malabar tamarind.
Other typical ingredients contained in this spicy dish include shallots, green chilis, ginger, garlic, and turmeric powder. There are numerous variations of this curry, and it can be prepared with various types of fish, as long as they are fresh and have firm flesh, such as kingfish, seer fish, salmon, wild sea bass, halibut, tilapia, or haddock.
44. Goan Crab Masala
Crab Masala is a delicious, spicy Goan-style crab preparation. The state of Goa has a rich heritage passed down from their Colonial rulers, the Portuguese. In this dish, crabs are cooked in a spicy curry made from onion and tomato and combined with coconut to finish it off. It is usually served with rice, rotis, or bread.
Different spices, such as coriander seeds, fenugreek seeds(methi), black peppercorns, cloves, and dry red chilies, are roasted along with grated coconut and ground together. This is then ground to a thick smooth gravy. Onion and tomatoes are sautéed, then the gravy is mixed and simmered. Finally, marinated crabs are added and simmered until the crabs are cooked.
45. Macher Jhol
Machher jhol, or machha jhola, is a traditional spicy fish curry in Bengali and Odia cuisines in the eastern part of the Indian subcontinent. It is a very spicy stew or gravy that is served with rice. Machher jhol is liberally seasoned with turmeric, garlic, onions, grated ginger, and Indian spices. Potatoes are added to the curry as a thickening agent.
Tomatoes are also added to impart the dish with a reddish color, which is preferred by the people of Bengal.
The kinds of fish that are typically used in Bengali and Odia households are hilsa (called ilish), rohu (called rui or rohi), and catla (called bhakura).
46. Gulab Jamun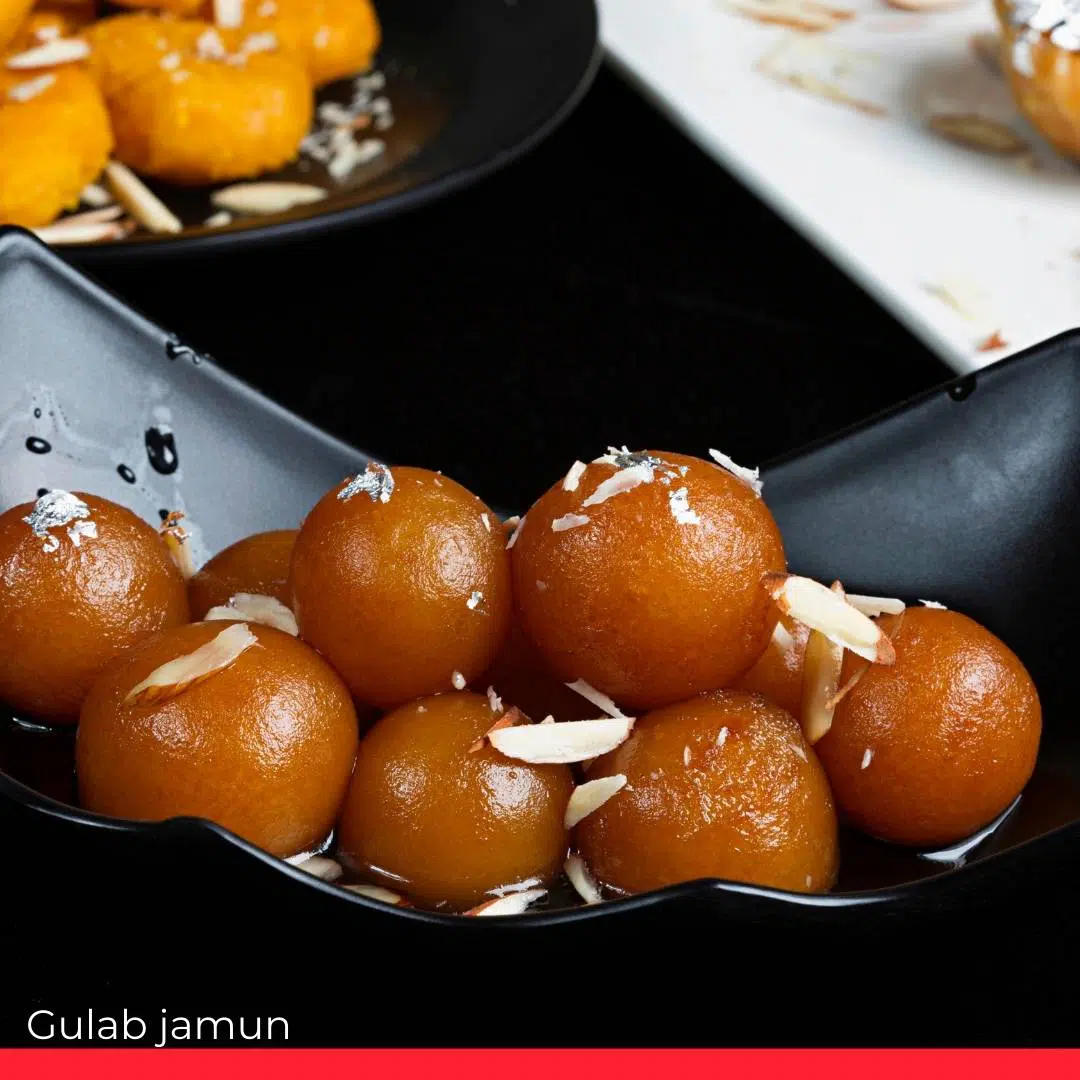 Gulab jamun, or fondly referred to as jamun, is a traditional and famous Indian sweet prepared from milk fudge that has been deep-fried and then soaked in a thick saffron-based sugar syrup with a hint of anise flavor. It is usually served with ice cream.
In the Hindi language, the word "gulab" means "rose," and "jamun" is a darkish purple berry (java plum, black plum) available in India. The sugar syrup for gulab jamun is flavored with rose water, and the fried dough balls have a size similar to jamun berries; hence the translation "rose berries."
This treat is made traditionally with dried milk solids. These dried milk solids are also called khoya or mawa in Hindi. An easy version is also made with milk powder.
47. Gajar Ka Halwa or Carrot Halwa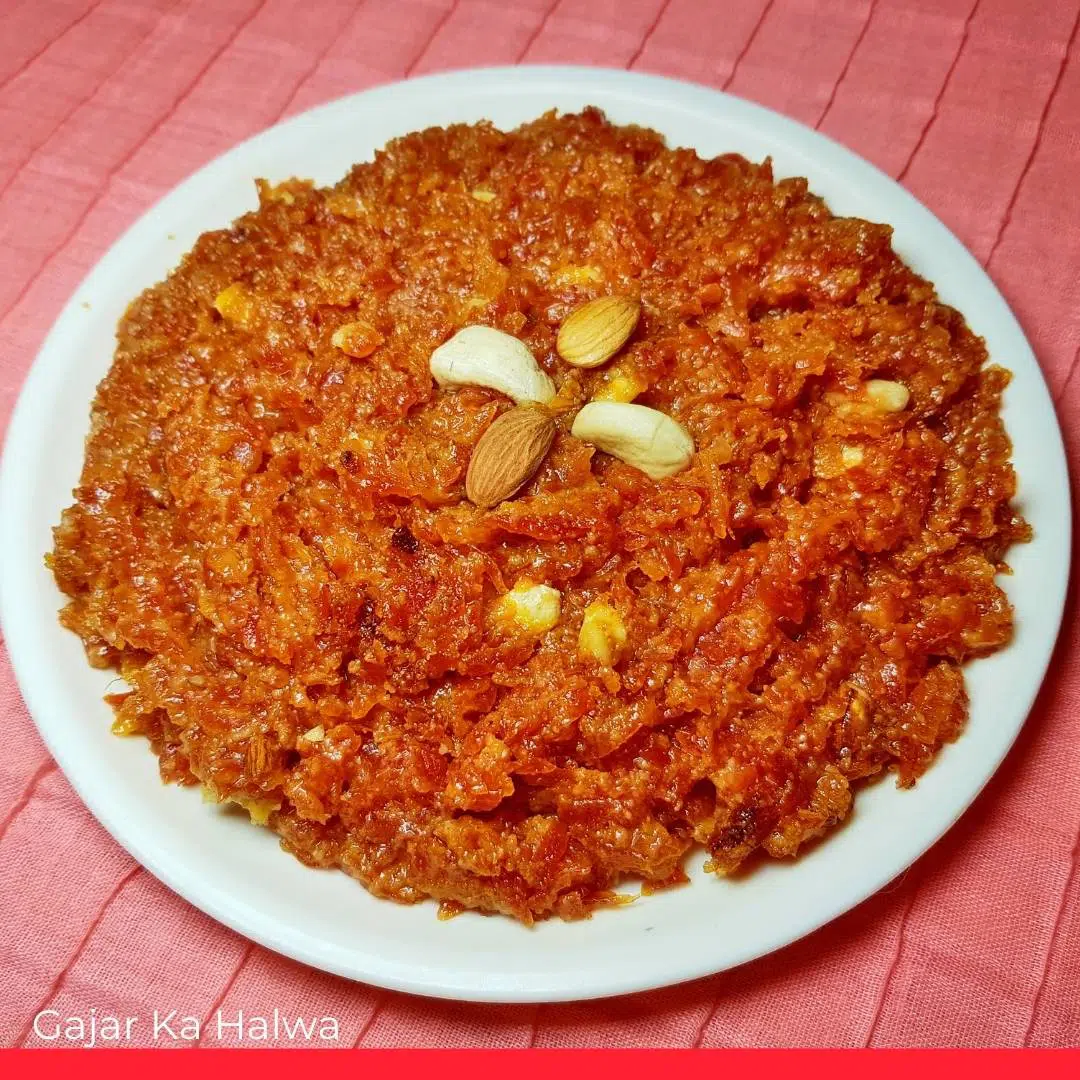 Gajar ka halwa (also known as gajorer halua, gajrela, gajar pak, and carrot halwa) is a carrot-based sweet dessert pudding from the Indian subcontinent. It is made by placing grated carrots in a pot containing a specific amount of water, milk, sugar, and cardamom, and then cooking until a fudge-like consistency is achieved.
The addition of condensed milk gives this dish a creamy, silky texture making it an absolute delight. The slight hints of cardamom are complemented by the crunch and richness of the nuts. It is a simple yet sought-out dish throughout the country.
Contemporary versions use purple and yellow carrots, though the authentic one calls for red carrots.
48. Jalebi
Jalebi (also known as jilapi, jilebi, jilipi, zulbia, jerry, mushabak, or zalabia) is a popular sweet snack. It is made by deep-frying a batter of maida flour (plain flour or all-purpose flour) in pretzel or circular shapes, which are then soaked in sugar syrup.
This dessert can be served warm or cold. They have a somewhat chewy texture with a crystallized sugary exterior coating. Citric acid or lime juice is sometimes added to the syrup, as well as rose water. Jalebi is eaten with curd or rabri (condensed milk), along with optional other flavors such as kewra (scented water). A common variation is made using condensed milk fudge that is blended with the flour and deep-fried. It is denser and has a more profound milky flavor.
49. Mothichur Laduu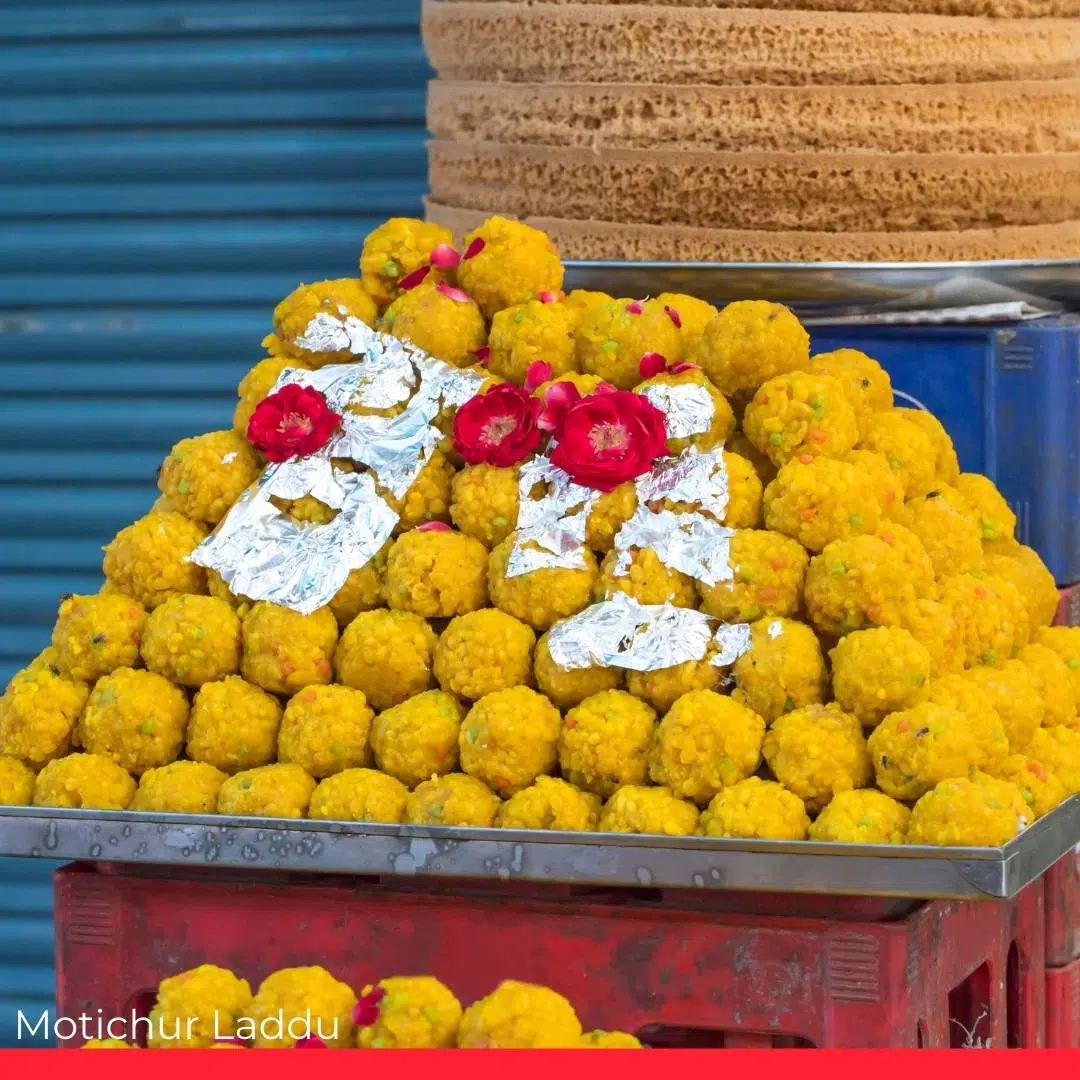 Motichur laddu is a soft, delicious melt-in-the-mouth treat made mainly with gram flour, sugar, and spices. The gram flour batter is fried to make tiny balls, or boondi, and mixed with sugar syrup, nuts, or seeds, and later shaped into neat, round balls. Motichoor ladoo is a popular sweet from the North Indian cuisine and is often made during festivals or celebrations.
Ladoo refers to anything round and sweet. Basically, grains, lentils, dried fruits, or nuts can be converted into a ladoo. These ladoos can be flavored with saffron, cardamom, rose water, kewra water, etc.
Ghee or clarified butter is preferably used in place of oil to enhance the flavor even more.
50. Ras Malai
Ras malai (or rossomalai or rasamalei) is a dessert originating from the eastern regions of the Indian subcontinent. The dessert is called rossomalai in Bengali, ras malai in Hindi, and rasa malei in Odia.
Although ras malai is made in different places, it is prominently known in the Comilla District in Bangladesh and Kolkata in the Indian state of West Bengal, where it is claimed to have been invented.
Ras malai consists of flattened balls of chhena (cheese curds) soaked in malai (clotted cream) and flavored with cardamom. Milk is boiled and a bit of vinegar or lime juice is added to split it. The whey is discarded, and the milk solids are drained, cooled, and kneaded into a dough. The dough is divided into small balls, and the balls are cooked in hot water with a bit of rose water.
The balls are then cooked in milk with saffron, pistachios, and kheer as stuffing.
---
Related: 50 Popular Indian Desserts
Related: 20 Most Popular Indian Curries