Top 25 Favorite Spanish Foods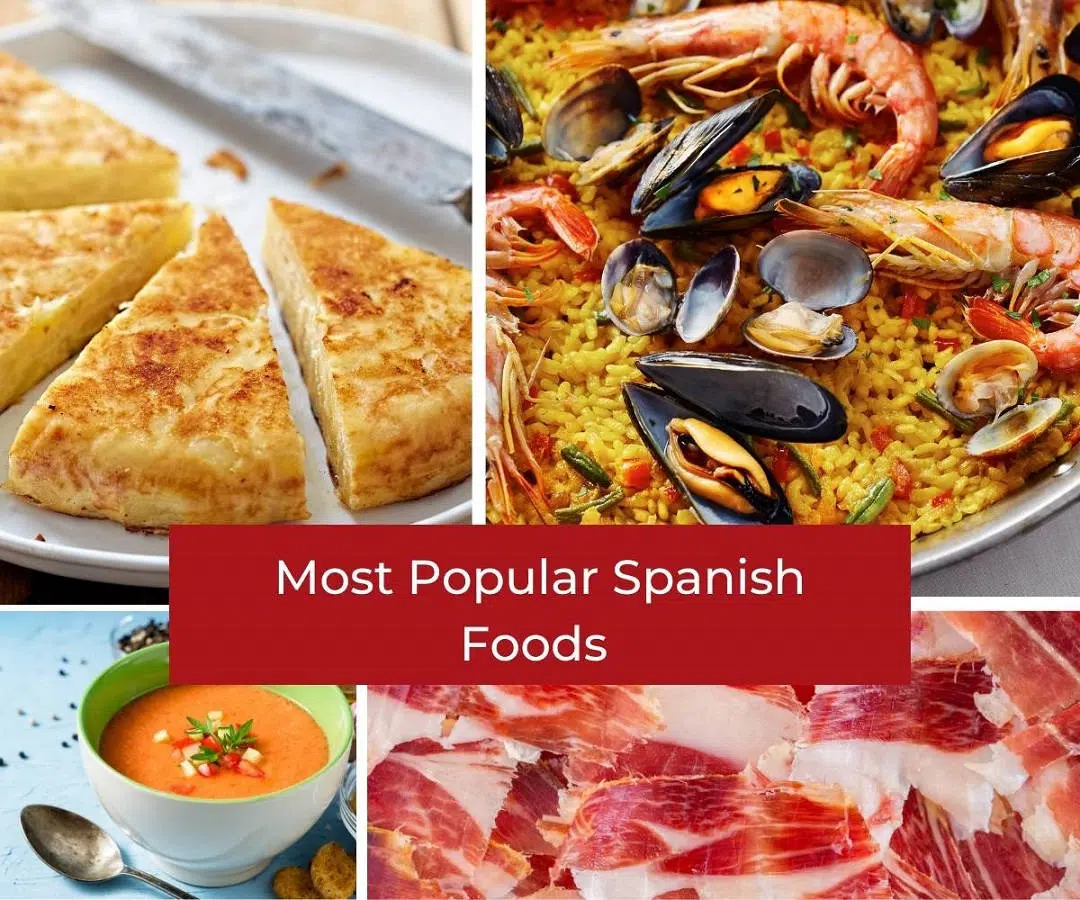 Spanish cuisine is among the most varied and well-known in the world. The quality of the ingredients is magnificent. Many dishes have humble origins and are simple to prepare. Through the centuries, the cultures that have inhabited the Iberian Peninsula have provided Spanish dishes with an unparalleled richness.
You hear a lot about good Spanish oil, wine, cereals, fruits, recipes with pork, legumes, potatoes, eggs, and many other ingredients. It's not surprising that the UN has put this Mediterranean diet on a pedestal, qualifying it as the Intangible Cultural Heritage of Humanity. Still, Spanish cuisine is much more than that.
The number of typical Spanish dishes is almost infinite and varies greatly depending on the region. Here, we present a list of the 25 most typical dishes in Spain that will delight any tourist.
1. Tortilla: Potato Omelet
The potato omelet is a delicacy in many regions of Spain and one of the most popular dishes in the country. It can be ordered in numerous bars and restaurants of all areas and is one of the most iconic. For some, it's even their daily breakfast.
This humble omelet does not come without contention: should it be cooked with onions, or not?
It's simple to prepare, and you can eat it at any time of the day, in the form of a tapa (or pincho, if you order it further north) and serve for dinner.
This humble omelet does not come without contention: should it be cooked with onions, or not?
What would this list be without paella? It's the most internationally famous Spanish dish and the most iconic food of Valencia, Spain's third largest city. However, Valencians look with despair at those who try to imitate it by adding other ingredients.
Paella is a rice dish that can be made with fish and seafood, vegetables, meat, or a mixture of these. The best paella is known to be found near the Mediterranean coast. You can also taste fideuà in many places, a plate of black rice similar to paella and equally delicious.
3. Gazpacho and Salmorejo
Gazpacho is a soup made of tomato, cucumber, olive oil, pepper, and garlic. It originates from Andalusia, and is very refreshing dish, perfect for the hot days of summer.
Also of Andalusian origin, from Córdoba, salmorejo is similar to gazpacho but it's usually accompanied by hard-boiled egg and ham. Whichever you choose, an Andalusian summer does not pass without one of these dishes.
4. Madrid-style Stew
Madrid-style stew is a filling dish with a working-class and agricultural origin. It's a very nutritious chickpea stew that includes green beans, chicken, bacon, chorizo, cabbage, and beef.
Like other recipes of Spanish gastronomy, there are many variations, and it's common to see it prepared with different ingredients. If you go to Madrid, you should definitely try it!
5. Asturian Bean Stew
Another delicious stew comes from Asturias. It's one of the most internationally known Spanish dishes and made with beans, chorizo, bacon, pig's ear, and blood sausage. Like the Madrid-style stew, you should try it when visiting Asturias, and you will be equally satisfied.
Its history is not known with certainty; although we do know that it appears in 13th-century texts. It must be a good dish if it has 800 years of history!
6. Marmitako
Marmitako is one of the most famous recipes of the Basque Country and is immensely popular among fishermen. This recipe was traditionally prepared in summer because that was when fishermen and sailors fished for tuna.
Its name means from the casserole in Basque, and it's a stew with oil, garlic cloves, onion, tomatoes, salt, potatoes, and chorizo ​​pepper. It's the quintessential dish of Basque gastronomy. If you go to Euskadi, you must not miss it.
7. Cod Pil and Vizcaya-style Cod
We are still in the Basque Country, a region known for its delicious cuisine. Cod pil is a noteworthy dish presented in a clay pot with chopped cod, oil, chilies, and garlic.
If cod is your thing and you travel to the province of Vizcaya, you can also try Vizcaya-style cod.
8. Riojana-style Potatoes
Riojana-style potatoes is one of the most popular dishes in the region. It consists of a stew made with potatoes accompanied by chorizo ​​and paprika.
It's a very substantial dish that dates back to when the potato was introduced to Spain after Europeans discovered America. Then, laborers from the region began to mix the potatoes with Riojan chorizo in their recipes. This wonderful and filling dish will leave you satisfied for the rest of the day.
9. Vegetable Stew
One of the star dishes of Navarra is the vegetable stew, made with artichokes, broad beans, peas, and Navarrese asparagus. It's not surprising that vegetables are a primary component of their cuisine since the local ingredients are of very high quality.
If you find yourself hungry when traveling in Navarra, you can also try cheese made with sheep's milk. Its characteristic chistorra (lamb sausage) is also worth a mention.
10. Manchegan Pisto
Manchegan pisto, as the name suggests, is originally from Castilla-La Mancha. The agricultural richness and the quality of their products are very characteristic of this region of southeastern Spain. This recipe is made with tomatoes and peppers, a traditional harvest there.
In some regions of La Mancha, pisto is made with more ingredients such as aubergine and zucchini. If you happen to visit a traditional festival, you can even watch a massive dish of pisto being cooked, as in Villanueva de los Infantes.
Roasted suckling pig is a traditional Castilian delicacy, and those from Arévalo and Segovia are the most popular. It's presented in a clay pot and served hot with a crispy rind. Wine is its most common pairing with this food.
The exquisiteness of this dish is not really surprising as the meat from the Castilla y León region is very well known. The ingredients included in roasted suckling pig can vary depending on where you eat it. For example, in Burgos and Segovia, roast lamb is typical.
12. Iberian Ham
Iberian ham is very popular across the globe. This finely sliced ​​pork leg meat serves as a side to any meal or as a dish on its own. The Iberian or Serrano ham is very expensive due to the purity of the animals and how they are fed.
Pata Negra is the top rated ham. You can taste the so-called Iberian table in different parts of Spain in the form of a starter and ham accompanied by other sausages such as loin or salchichón.
Galician octopus, or polbo à feira, in Galician, is the best-known dish in Galicia and a delicacy that you can't miss if you travel to the westernmost region of Spain.
Commonly, you see it served as a tapas, in the form of pieces of cooked octopus seasoned with paprika.
14. Croquettes
Croquettes are addictive! Is there anyone who doesn't like this wonder? The croquettes are a fried dish made with béchamel sauce, battered with egg and breadcrumbs.
They can be made with many other ingredients, some of the most common being ham and cod. Croquettes are tapas —or pinchos if you travel north—that are very filling and delicious. You can find them anywhere in Spain.
15. Callos Madrileños
Callos is a dish made with tripe—usually from lamb or cow—and stewed with chorizo, accompanied by blood sausage and ham. Some restaurants also include chickpeas.
It's a delight! The most famous within the Iberian Peninsula are the callos from Madrid, known in many places outside the capital.
16. Escalivada
The escalivada is a jewel of Catalan cuisine and is a mixture of roasted vegetables, onion, tomato, pepper, and aubergine. It is made with high-quality extra virgin olive oil.
The name means roast over embers, which is how it should be cooked. However, it can also be cooked in the oven. Do not miss the opportunity to try it in a Catalonian restaurant.
17. Catalan Cream
We continue in Catalonia with another of its star dishes: Catalan cream. It's a very popular dessert within the autonomous community and is similar to custard. It's made with a soft cream cooked with a base of egg yolks and then covered with a layer of caramelized sugar.
This rich contrast of flavors has made Catalan cream a delicacy inside and outside its lands and can be tasted throughout the Peninsula.
18. La Marinera
La marinera is a small dish that you can find in almost all the bars in the region of Murcia. It's a tasty bite that you can enjoy while having a soft drink or a good cold beer on a hot summer's day.
The dish is made with a donut base, covered with a salad made of tuna, potatoes, olives, spoonfuls of vinegar, and mayonnaise. If anchovies are placed on top, it's called marinero, equally popular in Murcia.
19. Murcian Salad
Murcian salad is also known as moje or mojete. It is the main dish of Spring Festivities or during the September Fair of the region. It's made from eggs, canned tuna, black olives, tomato sauce, chives, olive oil, and salt. It can also be seen with cod, and it's advisable to taste it cold.
20. Cantabrian Anchovies
If you're traveling to Cantabria, you need to taste their anchovies. Cantabrian anchovies are so famous that they can be seen in all kinds of dishes, and their quality is second to none. Their origin is in a long and ancient fishing tradition.
Cantabrian anchovies can be prepared in olive oil, smoked, or salted.
21. Caricos Stews or Red Beans from Cantabria
The caricos stew can be prepared in many ways. The most traditional, however, is to cook it with chorizo ​​and other meats such as marinated ribs or ham. The texture of the beans is very tender, they have a thin skin, and they are really delicious.
These Cantabrian red beans are a pleasure to taste, especially when the weather is a bit cold, as is often the case in northern Spain.
22. Extremaduran Crumbs or Migas
Extremaduran migas is a delicious dish prepared with stale bread, hence its name. It's one of the most typical dishes of Extremaduran cuisine, although it's also eaten in Castilla-La Mancha and Andalusia. It is simple to make, very filling, and an excellent breakfast on cold winter mornings.
23. Canarian Potatoes
Potatoes are a blessing in any gastronomy, and in the Canary Islands, they surely know it. These Canarian potatoes (papas arrugadas) are prepared with mojo picón (a spicy sauce from the islands).
It's a delicious appetizer cooked with a special technique and, thanks to the salt, they have a unique taste. Mouth-watering!
24. Frito Mallorquín
Frito mallorquín from the Balearic Islands is a recipe that dates back to the 14th century. It's roast lamb (heart, liver, and lungs) accompanied by potatoes, red pepper, and onion, among other ingredients.
The potato and the pepper were added after the Europeans discovered America. Traditionally, it only included lamb, onion, broad beans, and fennel.
25. Chilindrón Chicken
Chicken is traditionally raised in the province of Zaragoza and chilindrón chicken is a hearty dish from that province and of the autonomous community of Aragon. It can be eaten in different regions of Spain in different variations.
The significant difference in the delicacy of this food is its sauce, made with vegetables grown in the region, such as tomatoes, peppers, and onions. Natural and delicious!
---
Related: Most Popular Spanish Christmas Foods
Related: Most Popular Spanish Desserts