Top 25 Most Popular Italian Foods & Dishes
A land rich in warmth, art, music, architecture, history, and certainly also cuisine: beautiful Italy is known the world over for its extraordinary culinary delights— a country that offers dishes that are appreciated by the entire globe, unique and inimitable.
Who doesn't know pizza, lasagne, spaghetti, or gelato? These and many others are among the delicious foods that were born in Italy and are appreciated everywhere. Let's discover the main Italian foods, a gastronomic journey through this boot-shaped peninsula, from north to south, to the sound of a fork to wet your appetite.
Buon appetito!
1. Risotto
Risotto is a typical northern Italian dish that can be cooked in an infinite number of ways. Creamy and rich in cheese, it is prepared with rice typical of northern areas, such as the Arborio, Carnaroli, and Vialone varieties, and cooked slowly in broth.
---
Risotto Cacio e Pepe Recipe By Chef Massimo Bottura
Asparagus and Prosecco Risotto Recipe
Green Herb Risotto with Goat Cheese Recipe
Saffron Risotto with Prawns & Sea Urchin Fritter Recipe
---
Among the most popular is "risotto alla milanese", which is prepared with white wine, Parmesan cheese, butter, onions, and saffron, which gives it its unmistakable yellow color. But it can also be made with many other ingredients such as pumpkin, red radicchio, mushrooms, sausage, or shellfish.
2. Pizza
Pizza. Inevitable if we speak about Italian food: pizza is a national symbol, a food that represents Italy in the world, and has been recognized by UNESCO as an Intangible Cultural Heritage of Humanity.
Every pizza maker has their own secrets and every pizza, made of flour, water, brewer's yeast, and salt, can be stuffed or topped in many different ways.
The original pizza was created in Naples, in southern Italy, at the end of the 18th century in honor of the Queen of Italy, Margherita di Savoia. It is presented with a high "cornicione" (the edge) and is lower in the center, and is strictly baked in a wood-fired oven.
The "pizza margherita" is the most famous and simplest of pizzas, with its tomato sauce, mozzarella, and basil, recalling the colors of the national flag.
3. Pasta
Another symbol, a national icon, loved all over the world, is pasta. Born in Sicily, in a short time it expanded its production to other regions by the sea that at the time had ports and an ideal climate for the drying of the product. Among the most famous areas are Naples and Imperia.
Rome, however, became the capital of spaghetti, and where "spaghetti alla carbonara" made history. It was born almost by chance, from the imagination of a young cook from Bologna, who added bacon with egg yolk, milk, cream, and cheese.
---
Prawns and Chickpeas Fettuccine Recipe

---
The recipe has changed little over the years and now includes bacon, egg yolk, and cheese. In the Italian capital, they also eat "bucatini al cacio e pepe" made with just butter, pepper, and pecorino cheese. The secret is to mix them at the right times. Another famous pasta dish is the "penne all'arrabbiata"—pasta with a spicy tomato sauce.
Yet another classic example of Italian pasta is "tagliatella al ragù", originally from Bologna, with long-cooked meat and tomato sauce.
4. Gnocchi
And after pasta, we had to follow with gnocchi, another typical Italian dish. Gnocchi are small rounds of potato dough. Each region has its own variation, but the most typical ingredients are cheese, spinach, eggs, and a variety of sauces.
5. Pesto alla Genovese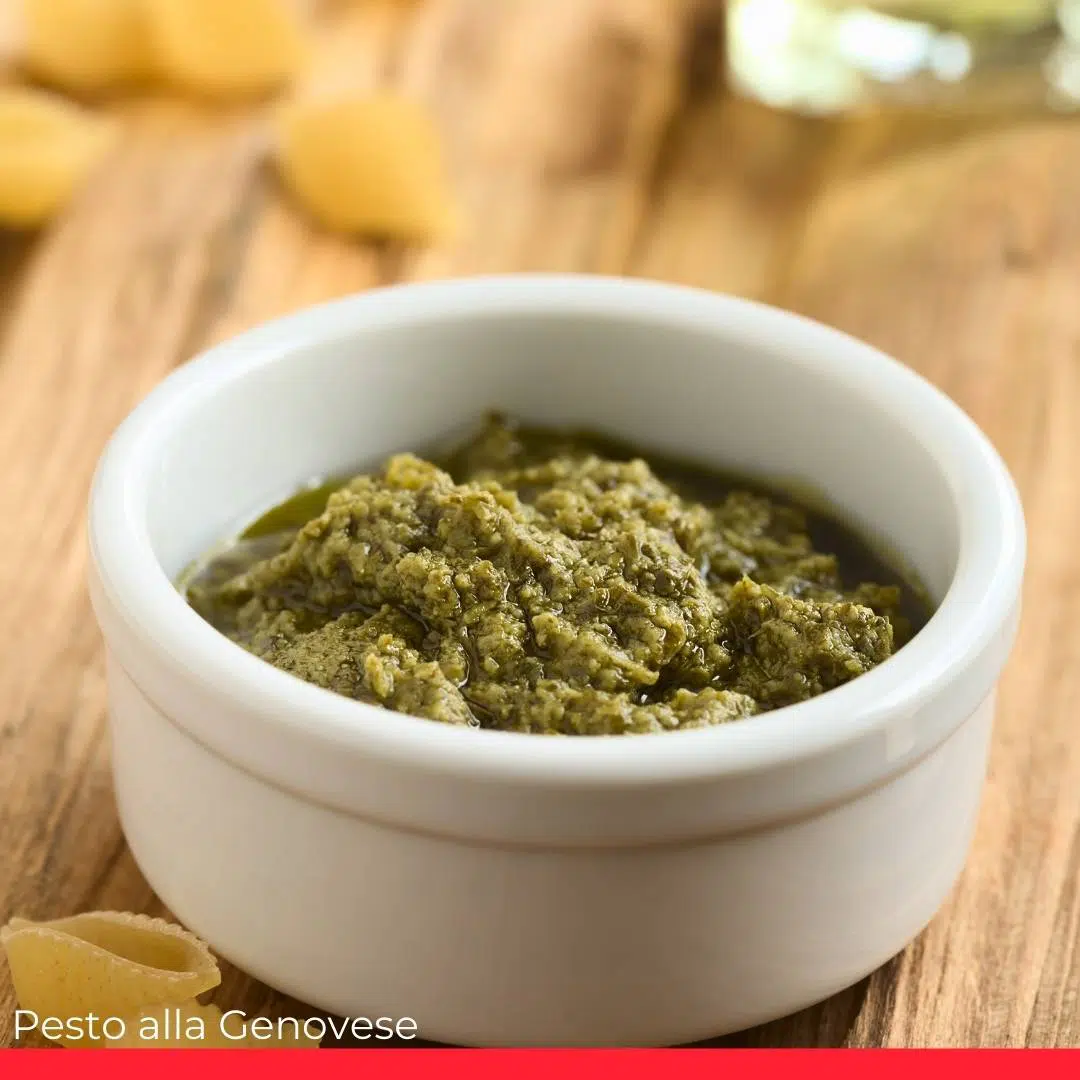 Pesto is a delight that comes from Genoa, Liguria. A traditional sauce, simple, but to be prepared strictly with a marble mortar, a wooden pestle, and 7 essential ingredients: Genoese basil DOP, extra virgin olive oil, preferably from the Ligurian Riviera, Parmesan cheese, Pecorino cheese, pine nuts, garlic, and salt.
Ideal for seasoning dry and stuffed pasta or for spreading on croutons.
6. Lasagne
Another cornerstone of Italian cuisine is lasagne. This baked dish, typical of Bologna, is made up of layers of fresh pasta covered in béchamel sauce and the famous "ragù bolognese."
A sauce composed of sautéed celery, onion, and carrot to which pieces of beef, pork, and concentrated tomato are added is cooked slowly and for a long time.
7. Gelato (Ice cream)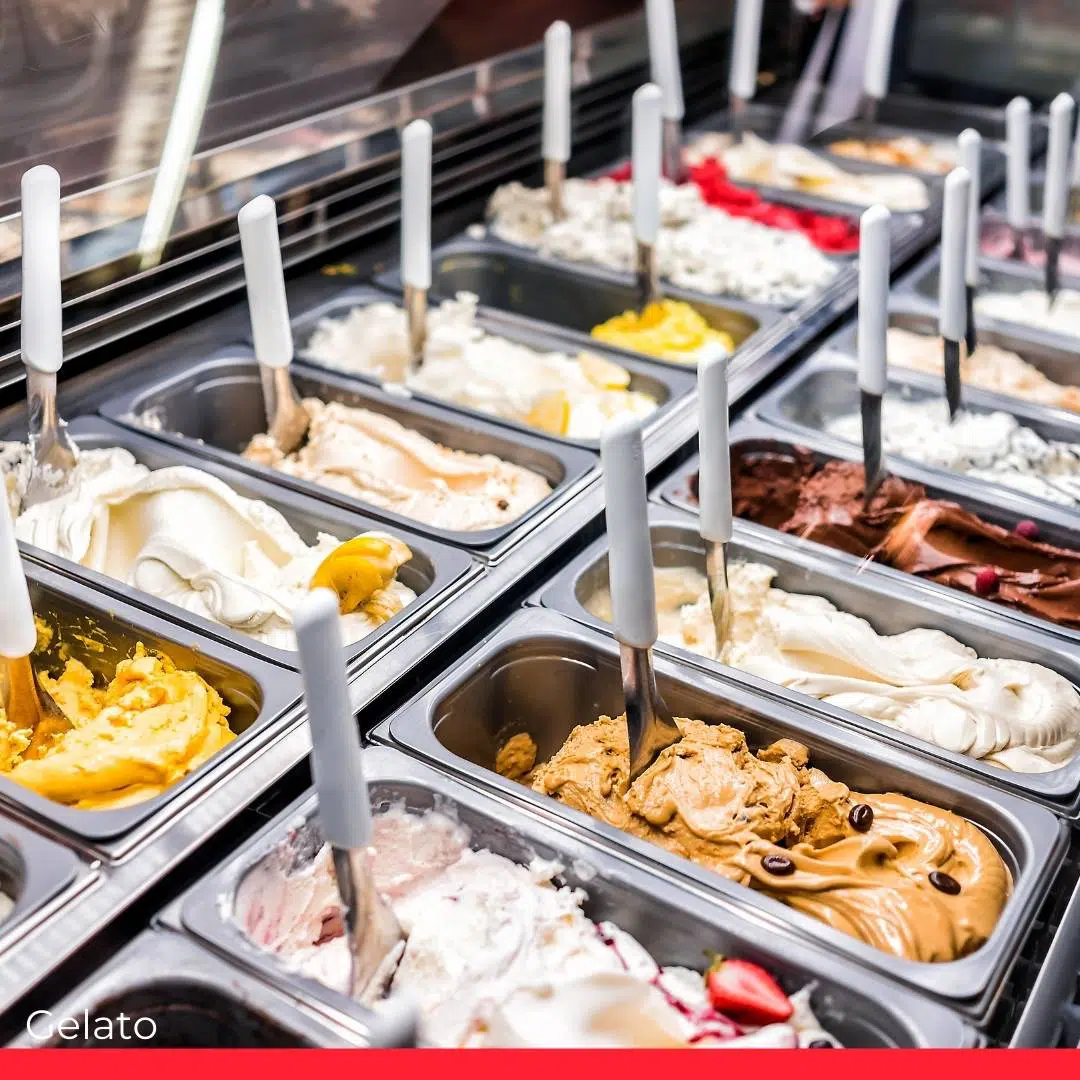 In Italy, it is a traditional dessert that is enjoyed all year round. It is eaten on walks, as a snack, or as a dessert at the end of a meal. It tends to be more consistent and richer than other "semifreddos," and there are hundreds of gelato flavors. It will not be difficult, in Italy, to find places that make it perfectly.
8. Prosciutto di Parma (Parma Ham)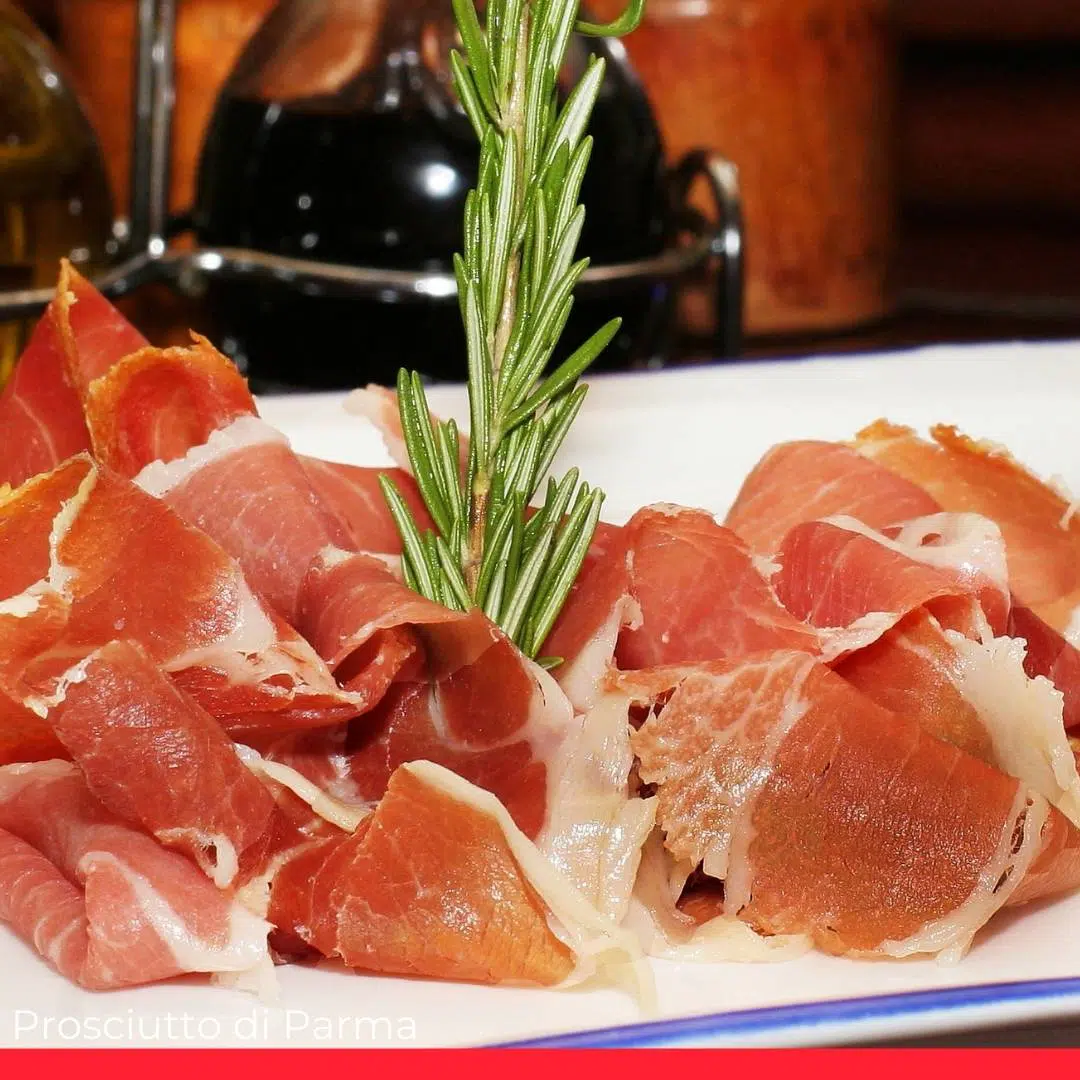 Italy is the kingdom of cured meats. Among the famous mortadella, salami, coppa, and culatello, the cured raw ham stands out, usually served as an appetizer.
It is also excellent as a snack in a sandwich or as a main course, cut into thin slices and accompanied by "piadina," "gnocco" or "torta fritta," "tigella," "grissini," "focaccia," "pitta," "michetta," "mafalda," "parrozzo," or "biga," depending on the city in which you are.
Each region has its own variant, but Parma ham is the best known. It is a DOC product, with an unmistakable sweetness, and has its 'crown', the branding mark, impressed with fire, which is only present on the original. It also has to pass strict tests to be considered authentic.
Originally from Tuscany, ribollita is a rural soup, a symbol of poor people's cuisine, which dates back to the Middle Ages. The story goes that in those days, the peasant families were numerous and could not afford meat, so they prepared soups in large quantities with the ingredients available in the countryside. They also added bread to increase the volume. The soup lasted for weeks and was reheated several times.
Today, it is an appetizing, easy-to-cook dish, combining vegetables, beans, herbs, olive oil, and Parmesan cheese with pieces of dry bread.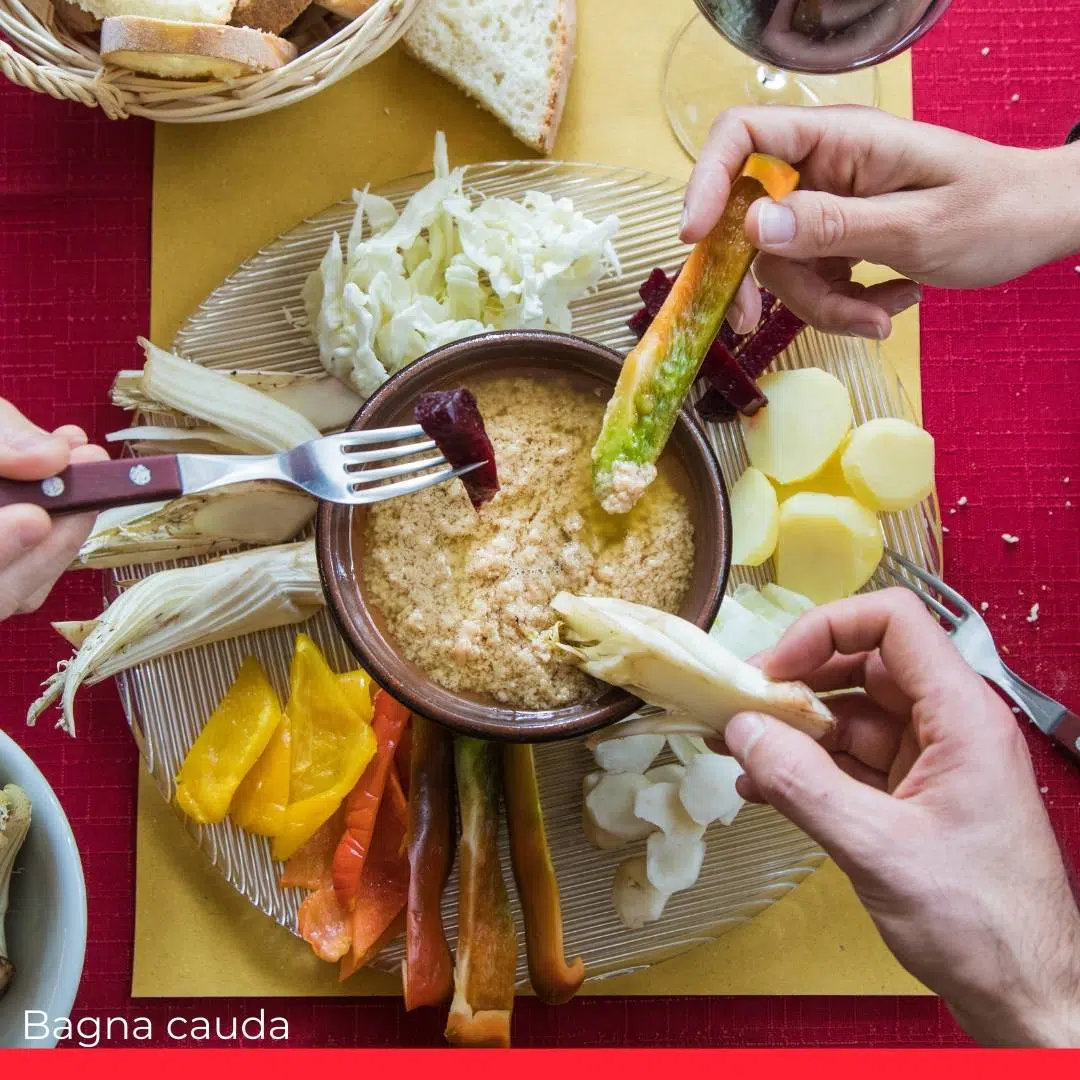 A typical Piedmontese dish, bagna cauda (translated from the dialect: hot sauce) is a preparation based on extra virgin olive oil, anchovies, and garlic, all reduced to a sauce after long cooking. It has become a UNESCO World Heritage Site and is used as a dip for fresh vegetables in the autumn season.
It is a hearty dish, and, for this reason, it is considered a main course but can also be served as an appetizer. More than food, it is a ritual, a convivial moment of sharing among the diners, who all eat from a single terracotta container.
11. Polenta
Its origins date back to the days of ancient Rome, and it is a simple dish made of corn flour from all regions of northern Italy.
Polenta is served in slices, even fried, to be brought to the table without seasoning, or as an accompaniment to various types of meat, with butter, soft cheeses, fish, or dishes that contain a lot of sauce.
12. Tortelli and Ravioli
The family of stuffed pasta in Italy is really very large. From north to south, almost every region has its own preparation. And many are well known, such as "tortellini" from Emilia, made of pork with prosciutto and mortadella, to be eaten in meat broth, and the dry "tortelli," with a larger rectangular shape, stuffed with herbs, pumpkin, or potatoes and served with butter and cheese.
---
Kohlrabi Ravioli Stuffed with Avocado Cream and Pea Purée
Ricotta and Smoked Quails Egg Ravioli with Butternut Squash Velouté
Pumpkin Ravioli with Sage and Hazelnut Pesto
---
"Agnolotti del plin," from Piedmont, filled with mixed meats and vegetables, are served seasoned with roast sauce or butter and sage.
The traditional Ligurian ravioli are stuffed with meat cooked in tomato sauce, chard, and borage or filled with fish.
13. Focaccia
A humble mixture of flour, water, yeast, and salt, with the final touch of olive oil: these are the ingredients that have decreed the success of focaccia—a food that originated in Liguria but has conquered Italy and the world with its infinite number of variations.
An ancient preparation that must follow its tricks: the quality of the flour and oil, the manual skill of those who prepare and manipulate the dough, and a very hot oven.
A must-eat Sicilian dish that is perfect to enjoy when you are out for a walk: arancini. These are balls of rice with meat sauce, peas, and cheese that are breaded and then fried. Tasty and appetizing, every bite is a real pleasure.
15. I formaggi ( the Cheeses)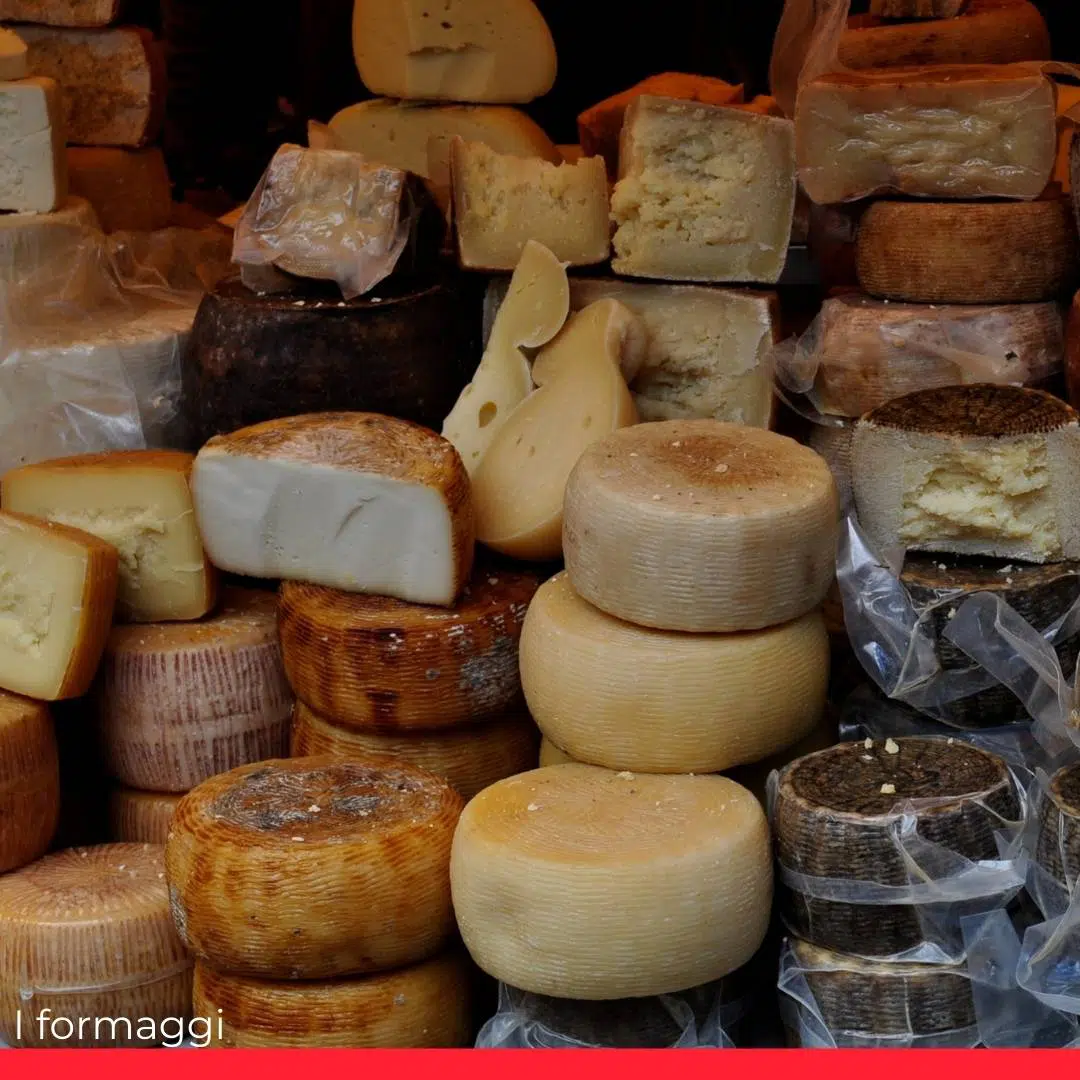 How can we fail to mention Italian cheeses, national excellences that have crossed the world's borders? They can be tasted alone, at any time during the meal, or as an accompaniment to many dishes.
Among the many are the mozzarella, the soft cheese that originated in southern Italy and has been produced for centuries; Gorgonzola, a DOP blue cheese, produced from whole cow's milk, originating in the province of Milan; and Parmigiano Reggiano, a hard DOP cheese, made from raw cow's milk, partially skimmed, with no additives, and with a production area that includes the provinces of Reggio Emilia, Modena, Parma, and Bologna.
Check out our in-depth review of the most popular Italian cheeses.
16. Il tartufo (the Truffle)
Italian truffles add a unique flavor to first courses, meat, and mushrooms, and in some side dishes they are added as flakes.
Known for their opulence, truffles are as expensive as they are delicious. The best known and most sought after are the white truffles found in Alba, Piedmont, where you can taste delicious dishes and participate in a festival dedicated to them.
17. Panzerotto fritto (Fried Panzerotto)
A small crescent of pizza dough filled with mozzarella and tomato, crispy on the outside and soft on the inside. It can be bought and enjoyed hot as a snack in the alleys of Bari or, in countless variations, in any rotisserie in the Puglia region.
The panzerotto dates back to the 17th century and was born from the invention of a housewife who mixed the few ingredients she had available, creating a masterpiece of taste.
18. Fiorentina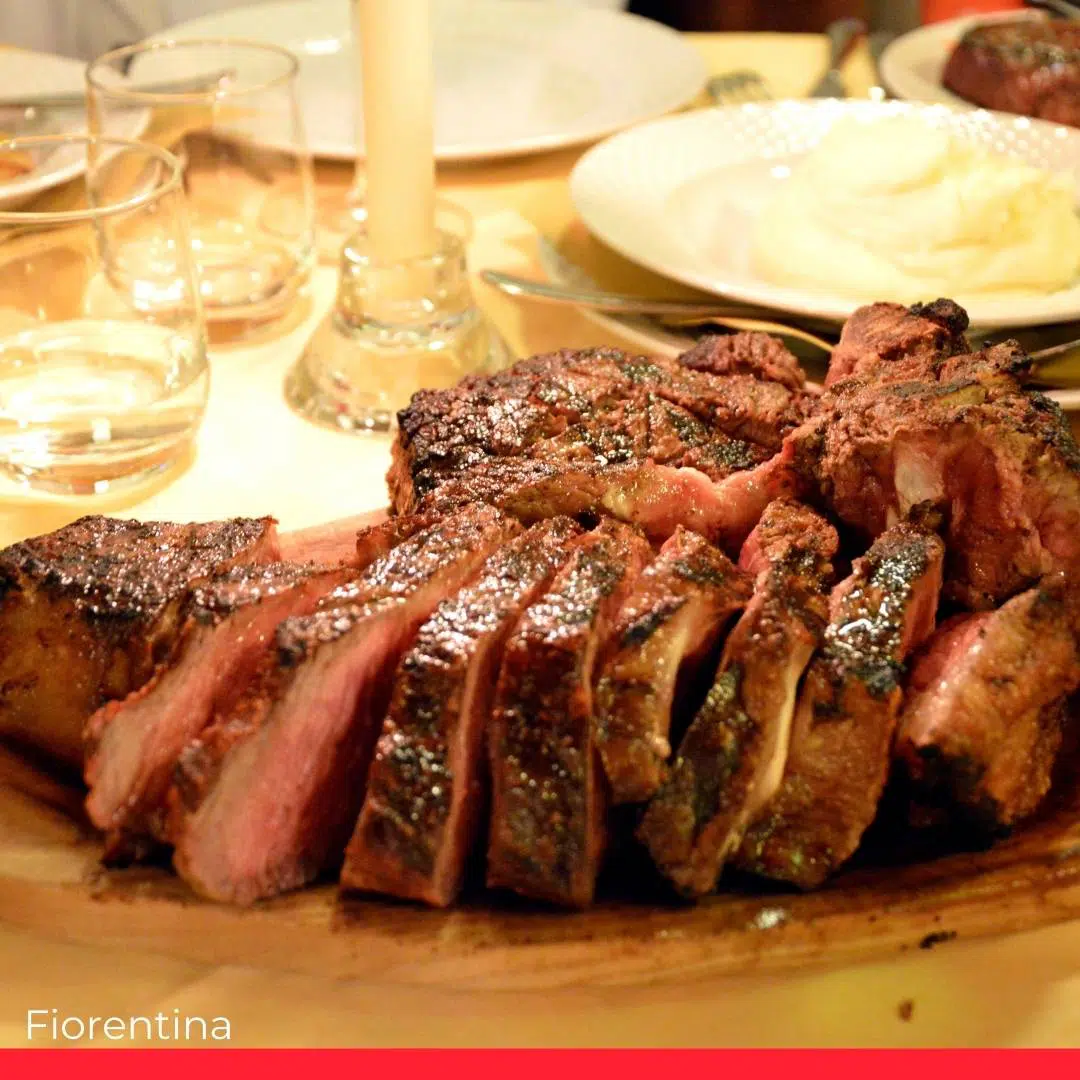 The most famous Italian beef steak bears the name of its city: Florence. The real Fiorentina is made from specimens of the Chianina breed. The meat must be matured for about twenty days and when cut looks like a classic T-bone steak.
It follows a very precise weight and cut, as well as cooking times and methods, and must remain rare. No aromatics are added and coarse salt is only added at the end.
19. Minestrone
Minestrone is a dish that unites the country from the far north to the deep south; a symbol of the Italian dinner until the 1970s.
It is a soup based on a mixture of vegetables, different from region to region, sometimes accompanied by rice or pasta. A noble and nutritious meal, even if the very word "minestrone" has become synonymous, in a negative way, with great mixing and enormous confusion.
Let's go to Friuli Venezia Giulia to taste the typical frico. It is a type of omelet cooked in a pan with onions, butter, and Montasio cheese (a local semi-hard cheese, made from cow's milk), which can also be served as a single dish.
There is a soft version and a crunchier one. It was the typical dish of woodcutters and farmers, who took it with them when they went to work in the fields.
21. Arrosticini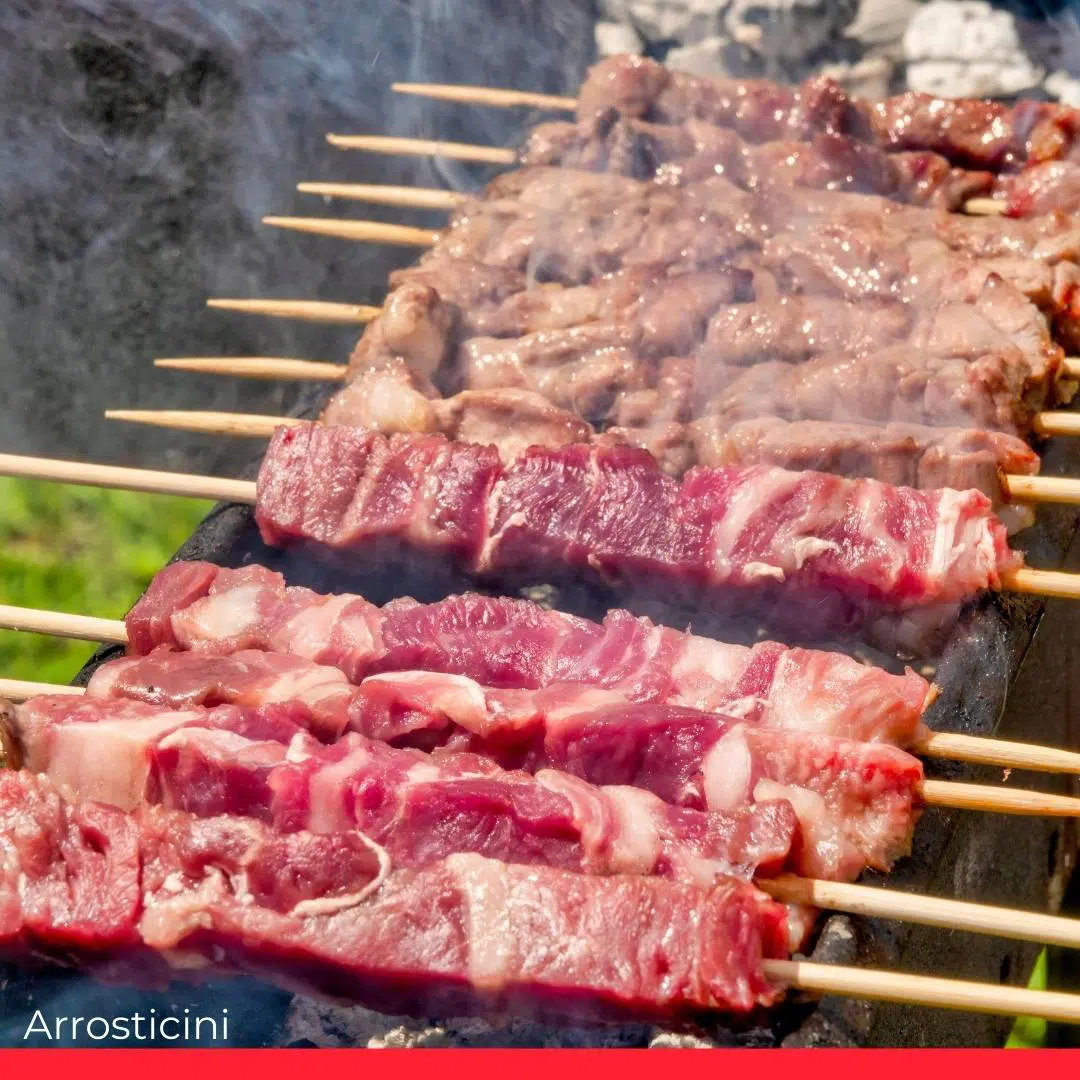 A typical specialty that comes from Abruzzo are arrosticini. They are lamb meat cut into small pieces, skewered on a stick and grilled or barbecued. It is a dish that is quick and easy to eat, and can also be taken away.
They come from the Marche region and are large olives stuffed with meat and then fried. This dish dates back to the 19th century when the cooks of noble families invented this filling to consume the large quantities of meat they had available.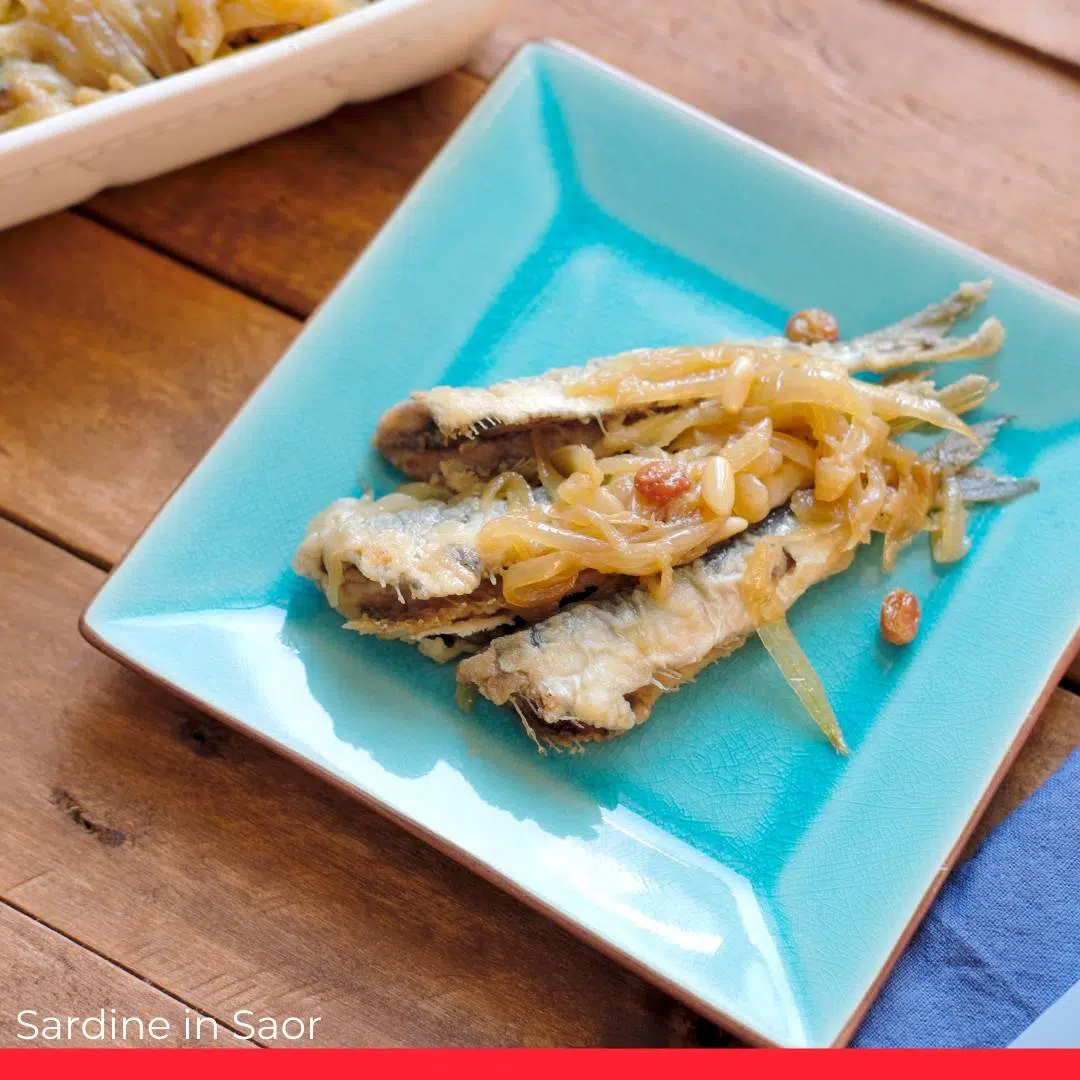 "Saor" means flavor and this speaks for itself: a humble dish consisting of fried sardines seasoned with vinegar and sweet and sour onions. In Venice, sardines in saor are real institutions.
24. Fritto misto piemontese
This is one of the most famous dishes of Piedmontese cuisine. Traditionally it was served as an appetizer, but over the years many new 'pieces' have been added to make it more suitable as a second course.
It may seem like an easy dish to prepare, but it's not: the cooking times are all different, but everything should be freshly cooked and piping hot when served. It should consist of no less than eighteen pieces, both savory and sweet. Along with various pieces of meat such as veal, pork sausages, lamb chops together with brains, liver, and sweetbreads, fruit and vegetables are also added. Everything is breaded and fried.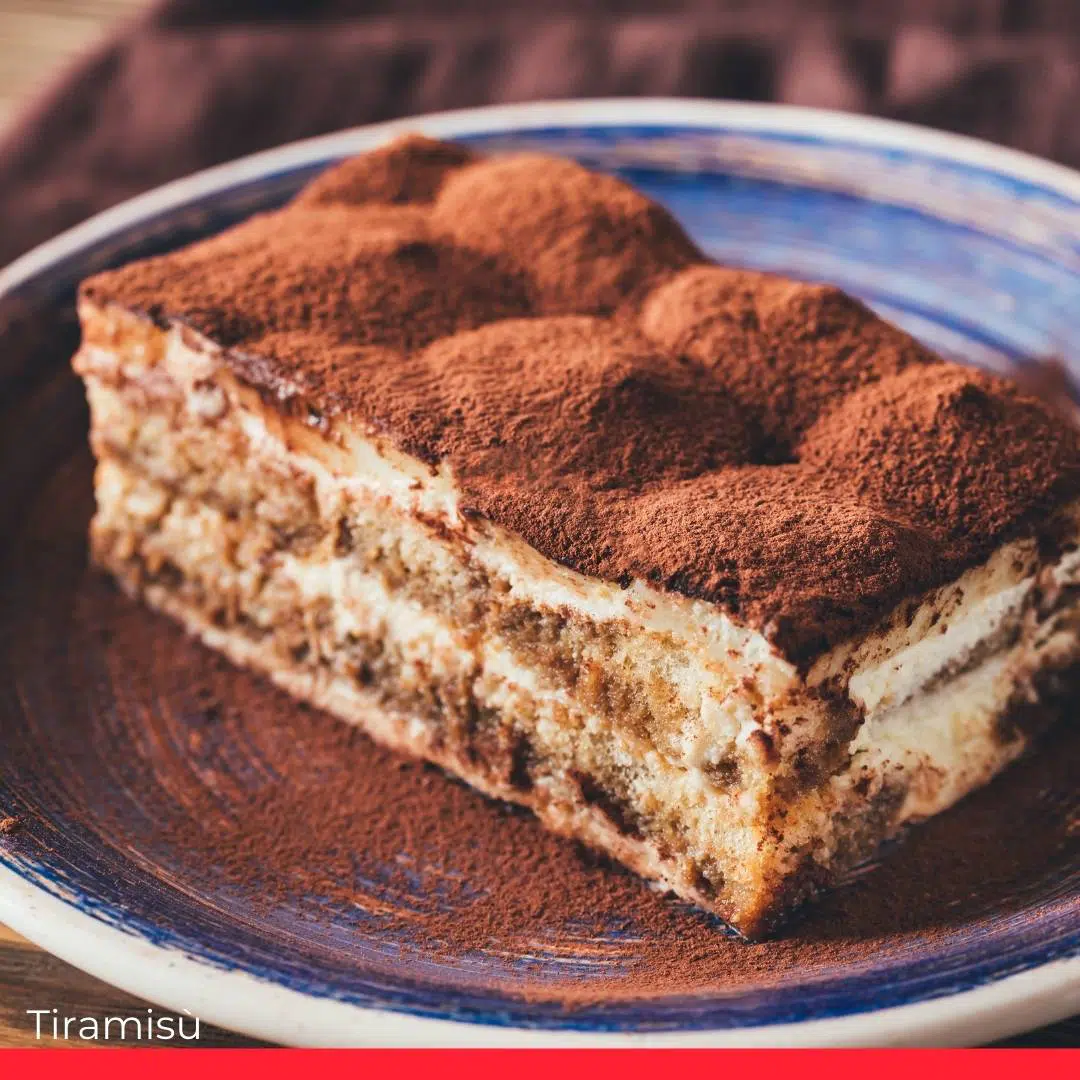 And dulcis in fundo (last but not least), we conclude this culinary journey through Italian tables with one of the most famous and envied national desserts, now known throughout the world: tiramisù.
Originally from the Veneto region, this cold spoon dessert owes its name to its alleged aphrodisiac effects. It consists of a base of Savoiardi biscuits, dipped in coffee and Marsala (a liqueur wine), covered with mascarpone cream, eggs, and sugar, with a sprinkling of cocoa.
---
You may also like our stories on the most popular Italian cheeses, Italian desserts and Italian sauces.
Related: The Most Popular Italian Meat-Based Dishes
Related: Most Popular Italian Easter Foods