Top 25 Most Popular Persian Foods (Top Dishes of Iran)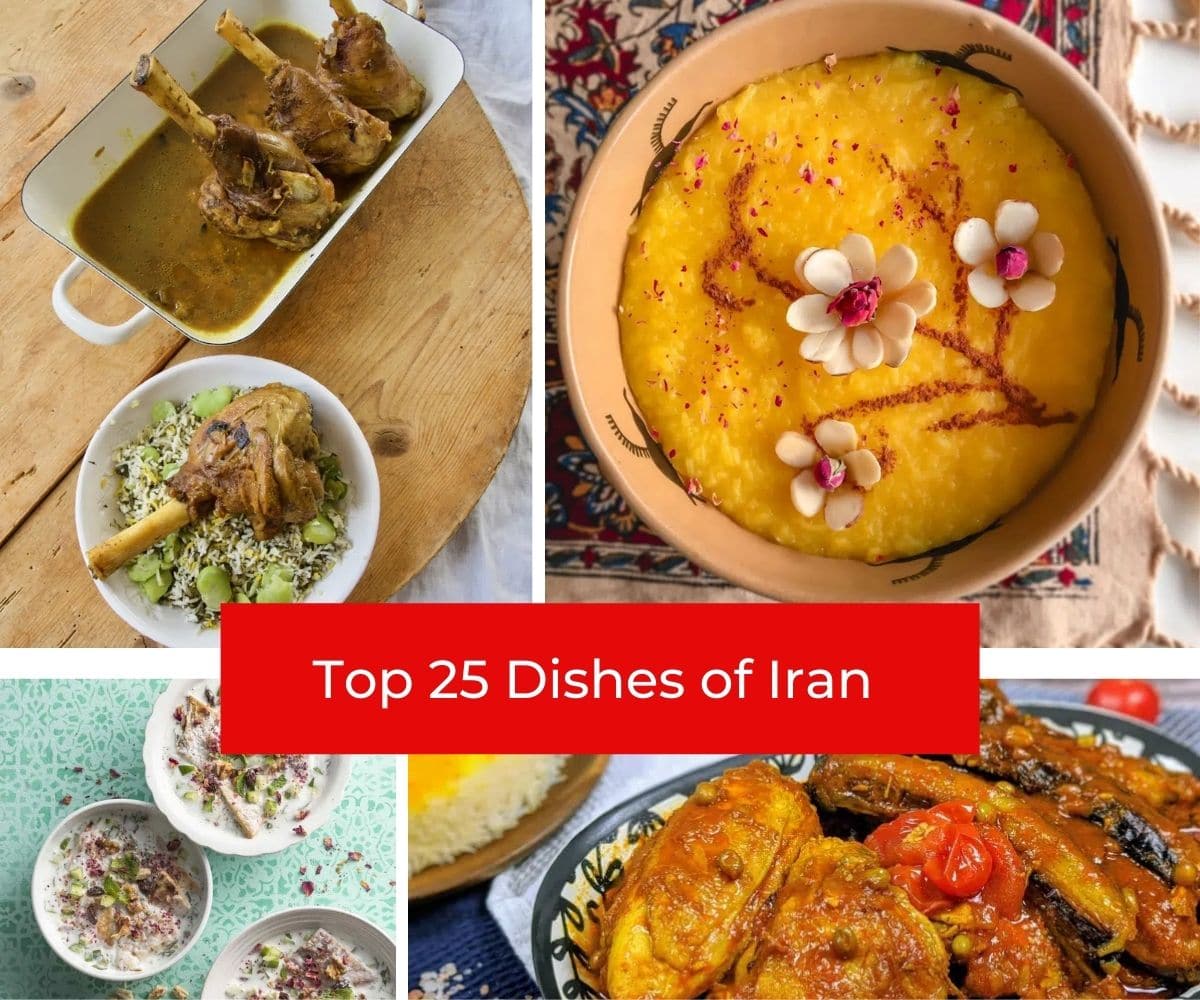 If you have ever spoken with a Persian, you will have definitely talked about Persian food, and probably been invited to try it.
It's not easy to ignore the most delicious meals on offer, rich in spices. Iran is a country where each region has its own specific meals based on the geographical environment. For example, northern Iran, near the Caspian Sea, has diverse fish dishes. In the south, however, spicy food is very popular because of the warmer climate.
Persian food is famous for its unique ingredients and recipes. Although most dishes require a lot of preparation and cooking time, they are very healthy and really have unforgettable tastes.
If you have yet to try Persian food, you should search for your nearest Persian restaurant and try one of the following meals; it's a definite to-do for your bucket list.
1. Persian Steamed Rice
Rice, or polo in Farsi, is the most important dish for almost all meals. It is served with stews, kebabs, barbeques, chicken, fish, etc. Simply said, a Persian dish is not complete without Persian rice. In Iran, people acknowledge your cooking skills by how well you prepare steamed Persian-style rice.
The basics of cooking rice are similar to Chinese and Indian, but it should be cooked so that the grains separate and are not smashed or stuck together. For some meals, saffron is added to a quarter of the rice and designed on top with a smattering of fruit such as barberries and sultanas.
With kebabs and barbeques, it's served with a small cube of butter melting on top.
2. TahDig
TahDig literally means the bottom of the pot and is a side dish to mains, though, for some, it is a separate meal. If you have tried it, you'll understand why! TahDig is a crispy layer of rice, bread, or potatoes.
The secret to cooking this golden treasure is to put the bread or potato on the bottom of the pot before the last cooking stage. TahDig needs to be cooked on the correct heat during this stage so that it doesn't burn or is undercooked.
Once you take that first bite, you'll see how irresistible it is.
Stews are one of the most common Persian foods. The most famous stew is Khoresht-e Ghormeh Sabzi, which is popularly served on official occasions and for family meals. It is rich in five kinds of herbs and red kidney beans, which gives it an unforgettable taste.
There is a herb called Shambalileh, which gives this meal its unique flavor. The first thing that Persians do when they move abroad is to find the nearest store selling Shambalileh or they ask their family and friends to send it dried from Iran.
4. Chelo Kabab Koobideh
Kebabs or barbeque is one of the most famous and popular foods for Persians, with a large variety of meat and cooking methods. The most popular is Koobideh, which is ground meat seasoned with onion, salt, pepper, and then some secret spices.
It's served with rice, onion, and barbecued tomatoes. Before serving, sumac and a squeeze of lemon are added for extra flavor.
5. Khoresht-e Gheimeh
Another famous stew is Khoresht-e gheimeh, which has the same bases as other stews, such as diced meat, fried onions, and dried lemon, and it is boiled with yellow split peas and spices.
It is often served with French fries on top and accompanied with rice. Yellow rice mixed with white rice is a popular way to showcase this stew.
6. Baghali Polo ba Mahiche: Broadbean Rice with Lamb Shanks
This is also a famous dish and is often served on official occasions, weddings, gatherings, and during various festivities. In the south of Iran, Baghali polo is made with fresh fish, caught from the Persian Gulf, which is then deep-fried and served with rice.
However, the more popular version is made with lamb shanks. It is absolutely delicious, and when cooked right, the tender lamb just melts in your mouth. A spoonful of lamb with the Baghali polo really tingles your taste buds.
7. Zereshk Polo
Zereshk Polo is another meal served on special occasions and is usually served with chicken. Zereshk, the Persian word for barberries, is known for its unique sweet and sour flavor. Sometimes, it is fried with sugar to balance and mellow down its sweetness and sourness, creating a harmonious taste.
It is also one of the most colorful and vibrant decorations to put on top of the rice and is a feast for the eyes as well as the taste buds.
8. Tahchin
If you're a fan of rice, chicken, and saffron, this dish will quickly become one of your favorites. Picture a delightful cake made with rice, yogurt, saffron, egg, and tender chicken fillets – a mouthwatering combination that you won't be able to resist!
You can also make it with beef, fish, or without meat for a vegetarian version. It can be served as a separate meal or as a side dish with kebabs and Khoresht stews.
9. Salad Shirazi
As you can probably tell, this is a salad from the city of Shiraz. What makes it unique is that all the ingredients, cucumbers, onions, and tomatoes, are chopped into very small, finely cut pieces.
Olive oil and lemon juice go best as a dressing for this salad, which is often referred to as the 'bride of Shiraz'. It's easy to prepare and tastes great!
This iconic stew is an important menu option at every Persian wedding. Khoresht-e Fesenjan is traditionally made with duck and also works well with chicken or lamb. Sometimes, in the north of Iran, it is made with fish. This stew is said to require a good cook, as it needs to be simmered just right to allow the flavors to develop in the sauce.
It may not be the most appetizing to look at, as it tends to be rather dark and thick, but the combination of walnuts and the sweet and sour pomegranate molasses give it a unique flavor. It is simply delicious!
11. Dizi or Ab Goosht
Dizi or Ab Goosht, meaning meat water, dates back to the early 16th century. It used to be a meal for laborers and the working class; however, nowadays, it's a sought-after meal served in restaurants. The original dizi is cooked slowly in a clay pot to ensure the flavors of the meat and herbs thoroughly mix for a wholesome flavor.
Chopped potatoes are also added to this dish. You can also soak up the broth with bread and then mash the meat and potatoes together. It goes well with bread, onion, and fresh greens on the side.
12. Ashe Reshteh
Ash means soup in Farsi. Ashe Reshteh is a thick soup made of Persian noodles, known as Reshteh, and herbs. This is a great vegetarian dish.
The greens and spices used in this dish make it taste so good, and it is the perfect dish to have in the middle of winter. Fried onions placed on the top give it a little flavor kick.
13. Kale Pache
Kale Pache is a heavy food famous for being served early in the morning, at around 5-6 am, particularly in winter. It consists of a lamb's head (kale) and hooves (pache). They are cooked overnight, (sometimes up to 20 hours) with onions.
Once it is ready for serving, various parts of the head are plated up, such as the cheeks, brain, eyes, and tongue. The smell can put some people off, but this dish is known to be very nutritious and is especially good for the bones.
14. Kuku Sabzi
Kuku sabzi is another vegetarian dish and is prepared with around five different kinds of fresh herbs, eggs, and spices. It is served in a hot pan and looks like a thick Frittata or omelet. This dish is famously served on Nowrooz, the Persian New Year.
15. Sholeh Zard
This is one of the best desserts that Persian cuisine has to offer. It is a lovely tasty dish made with rice and saffron, giving it an appealing yellow tint, and is essentially the Persian version of rice pudding. This dessert does not disappoint!
16. Mosama Khoresht
This is a popular vegetarian stew made with eggplants, highlighted by special spices, tomatoes, onions, and bell peppers. This is a great dish to have with rice and is also popularly served as one of the main vegetarian options at Persian restaurants. It is also known as Khoresht e Bademjan.
17. Halim
This is a delicious breakfast that is served during winter and takes several hours to prepare. It is essentially a meat and wheat porridge with a pasty consistency.
Imagine a delightful blend of wheat, barley, and shredded meat, like chicken, beef, or lamb, all infused with aromatic spices. To top it off, a sprinkling of cinnamon adds a touch of magic to its deliciousness. Halim is the perfect dish to keep you warm and satisfied throughout the day.
18. Kotlet
This is a really tasty dish and is great on its own, or served with either bread or rice. Kotlet is a meat patty made from ground beef, mixed with grated or mashed potato, onions, and spices. These patties are then fried in a pan and served hot. Some eat this as an appetizer, and some as a main meal. Kotlet can also be made with minced chicken thigh or breast. It can also be served with French fries and sauce.
19. Dolme
Dolme, a traditional Persian dish, is grape leaves wrapped and stuffed with meat, rice, and herbs. It is cooked at a low temperature so it steams and is mixed with a plum sauce. Best served with a lavash-bread loaf.
The filling can also include bell peppers and tomatoes. It's a common meal during the spring when the leaves are fresh.
20. Makaroni: Spaghetti
Persian makaroni is a mouth-watering meal with potato TahDig. It's similar to spaghetti bolognese, which is ground meat with tomato paste and spices, which is then mixed with boiled spaghetti. It is usually eaten with salad Shirazi or pickles. An interesting way to have pasta!
21. Sosis Bandari
Sosis bandari is a tasty Persian fast food, made of sausages, spicy sauce, and onions. A common dish from Bandar Abbas in the south of Iran, it is often eaten with chili and hot peppers in a baguette bread roll. It is quick and easy to prepare and is a great choice for parties and gatherings with friends.
22. Abdoogh Khiar: Cold Yogurt Soup
Abdoogh Khiar is like a cool breeze on a sunny day – so refreshing! You can sip it like a refreshing drink or use it as a delightful dip for your cucumbers.
It is eaten on hot summer days and is made with a mixture of yogurt, water, raisins, thinly chopped pieces of bread, walnuts, salt, and ice. It's a light and tasty treat that will keep you feeling fresh and satisfied.
23. Soup Vermishel: Chicken Noodle Soup
This nutritious soup is a real comfort on chilly days, especially when you're not feeling your best. It's a popular appetizer on Persian restaurant menus. And the best part? It's served with a zesty squeeze of lemon to brighten up your day! The soup broth consists of chicken stock, chopped carrots, potatoes, and noodles or Reshteh.
24. Salad Olivieh
Salad Olivieh is a cold salad influenced by the Russian original. It's very easy to make and its creamy texture simply looks good. It is made of boiled chicken breast, potatoes, carrots, and eggs chopped and mixed with mayonnaise, and a little bit of lemon juice and spices.
It is best served when chilled for a couple of hours. This dish can also be garnished with olives or flower-shaped tomatoes. For children's parties, this salad is often made in the shape of animals or letters.
25. Kashke Bademjan
One of the best appetizers is the vegetarian Kashke Bademjan. It is often referred to as the Golden Starter, as it is a delicious way to start a meal. The main ingredient is eggplant, and for an even better taste, it is best to barbecue the eggplant, although fried eggplant is commonly used.
Another important ingredient is Kashk, which is a sub-product of yogurt with a buttery texture. The eggplants and Kashk are mixed with walnuts and then garnished with fried onions and fried mint, known as Nana Dagh. Kashke Bademjan is an absolute delight when served with some delicious bread, like sangak. The combination is simply mouthwatering! You'll see just how tasty and irresistible it is when you will give it a try!
---