35 Popular Street Foods in Southeast Asia
Southeast Asia is home to over 655 million people, hundreds of languages, most of the world's major religions, and noteworthy cultural diversity. The region can be broadly divided into two geographic categories: mainland and maritime Southeast Asia.
Mainland Southeast Asia consists of the countries that were once known as Indochina (Vietnam, Laos, Cambodia, Thailand, Myanmar, and Peninsula Malaysia). Maritime Southeast Asia mainly consists of the Malay Archipelago (known historically as Nusantara): Indonesia, East Malaysia, Singapore, Brunei, the Philippines, and East Timor.
Many of the countries in this subregion participated actively in the historic Maritime Silk Route – especially in the spice trade. The region's wealth of natural resources and strategic location between the two great Asian centres of powers – India and China – has long attracted traders, merchants, missionaries, and military invaders from afar.
The diverse cuisines of Southeast Asia share several noteworthy similarities: a relatively liberal use of spices, herbs, and seasonings, noticeable influence from Indian and Chinese cuisine, and a traditional preference for rice and noodles as food staples.
Naturally, the consumption of pork in the Muslim-majority countries of Indonesia, Malaysia, and Brunei pales in comparison to their primarily Hindu-Buddhist, animist, and Christian counterparts.
This article explores the similarities and differences between the popular street foods in the region, paying attention to foods that have spread across the seas and land borders – while acknowledging more localized favorites.
South East Asian Appetizers and Snacks
1. Spring Rolls (Regional)
Once consumed to celebrate the arrival of springtime in mainland China, spring rolls are now consumed year-round throughout most of Southeast Asia. They are usually eaten as a standalone snack or as an appetizer, and can be consumed fresh or deep-fried. They often contain minced meat or seafood, but vegetarian versions are also easy to find.
Naturally, the ingredients can vary significantly (even within the same country) – as with the flavour profile and spiciness of the accompanying sauce. Spring rolls are known as popiah in Malaysia and Singapore; poh pia tod in Thailand; lumpia in Indonesia and the Philippines; and kaypyan in Myanmar.
Vietnam's gỏi cuốn is arguably the most visually distinctive version, with the translucent white paper (rather than the more opaque Chinese spring roll wrapper) revealing the pinkish shrimp, white glass noodles and leafy vegetables within.
2. Fried Tempeh or Tempe (Indonesia, Malaysia, Singapore, Brunei)
Tempeh is believed to have originated in Java, possibly through exposure to Chinese methods of tofu production. While also made from soybeans, it attains its noticeably firmer texture and earthy flavor from the fermentation process. Fermentation also gives it enhanced nutritional properties and resistance to spoilage – hence its widespread use as a cheap and accessible protein source.
Tempeh can be baked, fried, grilled, marinated in specific herbs, and even eaten as a burger patty. While Indonesia has the most variety of tempeh recipes, it can also be easily found within the Malay communities of Malaysia, Singapore and Brunei.
3. Fried Spiders (Cambodia)
How did fried spiders become a popular snack in Cambodia? The practice is believed to have begun in the spider-infested city of Skuon. During the traumatic rule of the Khmer Rouge, the locals turned to spider meat as a last resort against starvation. The practice continued after Pol Pot was overthrown and has spread to the rest of the country.
The flavor of the breaded, spiced, and deep-fried tarantulas has been described as a mix between chicken and cod. The legs, head, and body are edible, but the abdomen – which contains the spider's bodily fluids and internal organs – is left untouched.
4. Fried Carrot Cake (Indonesia, Malaysia, Singapore, Thailand, Vietnam)
The name is really a misnomer – chai tow kway or char kway actually consists of stir-fried radish cake, not carrots. It is believed to originate from the Teochew cuisine of Chaoshan, China.
It is made by stir-frying cubes of radish cake with eggs, spring onions, other seasonings, and shrimp (in some versions). The "black version" gains its color from the use of soy sauce.
5. Oyster Omelette (Malaysia, Singapore, Philippines, Thailand)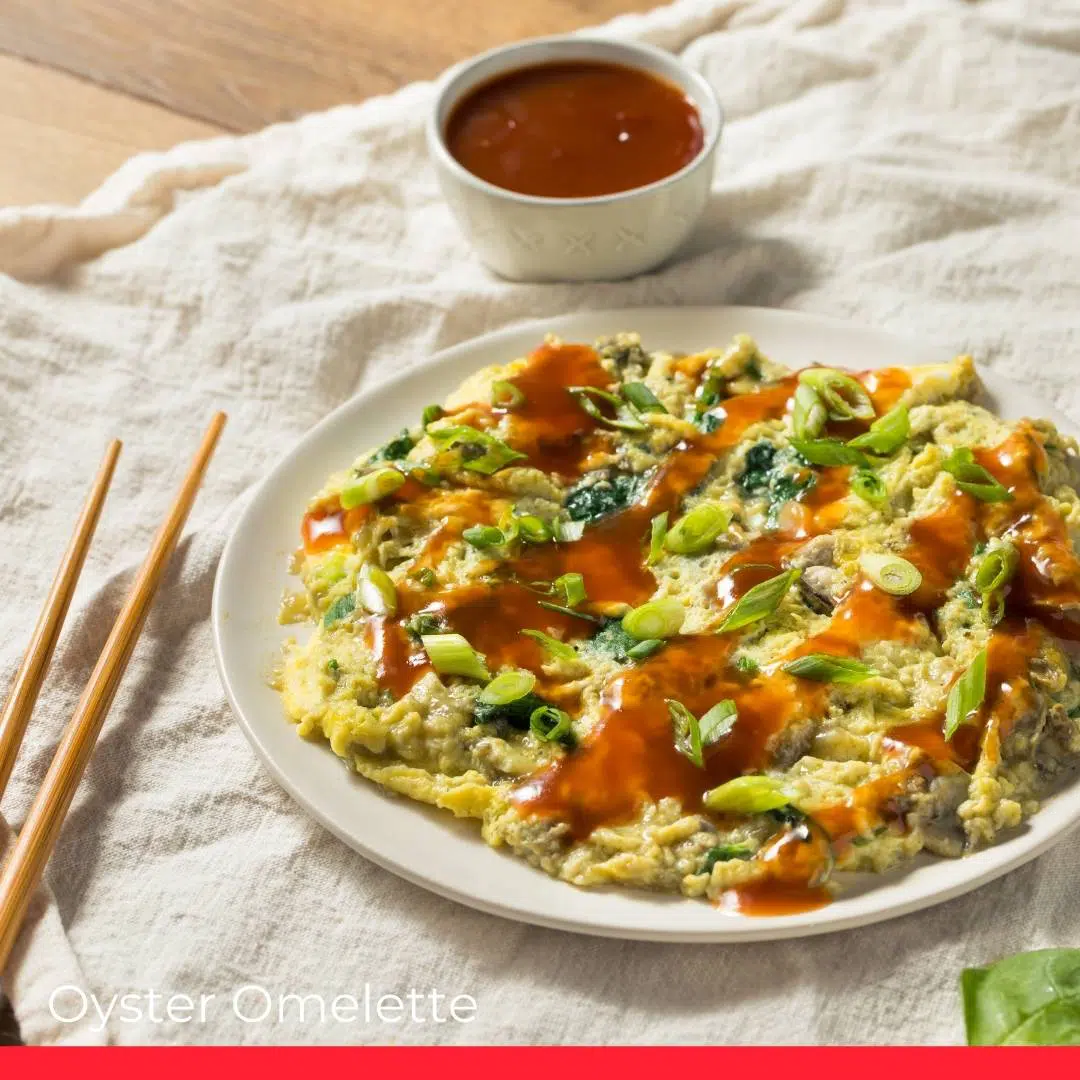 Like carrot cake, the popularity of oyster omelette in Southeast Asia can be attributed to Chinese migrants – particularly the Teochew and Hokkien diaspora.
A popular night time or supper snack, it is made by deep-frying small oysters in egg batter (made thicker through the use of sweet potato starch). In Thailand, mussels often replace oysters in hoi tod.
6. Glutinous Rice (Regional)
Glutinous rice doesn't contain gluten – its name refers to the glue-like stickiness that characterizes cooked Oryza sativa var. glutinosa. Unlike rice, glutinous rice has low amounts of amylose and high amounts of amylopectin.
While it is widely consumed (in numerous ways, either as a savory snack or a dessert, like Thai mango sticky rice or Burmese shwe yin aye) throughout Southeast Asia – and Asia as a whole – it is of particular significance in Laos. For Laotians, khao niao is the staple food – rather than rice or rice noodles.
There are many, many ways of preparing glutinous rice across Southeast Asia. It can be wrapped in coconut or banana leaves and then steamed (e.g. with ketupat and kelupis), grilled (e.g Brunei's pulut panggang), or boiled (Filipino pusô). Another common method of preparation involves cooking the glutinous rice in a bamboo tube (e.g. Myanmar's paung din and Filipino puto bumbóng).
7. Balut (Philippines)
While balut can be made from quail or chicken eggs, Filipinos generally prefer to use the egg of the mallard duck. The fertilised egg is incubated for a period between 12 to 21 days (depending on local preferences) to ensure that a well-developed embryo is formed. Balut is traditionally eaten from its shell after being hard-boiled or steamed (with some salt and vinegar), but it can also be cooked adobo-style or fried within an omelette.
---
Related: Popular Street Foods in the Philippines
---
Though balut might be off-putting to some, its fans describe eating it as consuming a mousse-like yolk while slurping a broth that tastes like duck soup. The embryo itself is meant to be mild-tasting. Balut is recognized as a national dish in the Philippines, but it is also popular in Cambodia (pong tea khon) and Vietnam (trứng vịt lộn).
8. Ambuyat (Brunei)
One of the small Islamic sultanate's national dishes, ambuyat consists of a sticky and starchy substance derived from the sago palm tree. It is eaten with a bamboo fork called chandas – after being dipped in a spicy and sour sauce (cacah).
It bears close similarities to linut (consumed by the tribal communities of East Malaysia, i.e. the Bornean states of Sabah and Sarawak) and papeda (consumed in eastern Indonesia, i.e. Sulawesi and West Papua).
Rice – based Foods
9. Batar Da'an (East Timor)
The cuisine of East Timor features many vegetarian dishes. While batar da'an translates as boiled corn from Tetum, it actually involves corn, squash, and mung beans. After the mung beans have been soaked, all the ingredients are boiled together and seasoned. The mixture is typically eaten over rice.
10. Chicken Rice (Indonesia, Malaysia, Singapore, Thailand, Vietnam)
Chicken rice is typically associated with a localized version of the Hainanese dish Wenchang chicken. It is believed to have been initially popularized by Hainanese immigrants in the region, and can now be easily found in Malaysia, Singapore, and Indonesia.
---
Related: Most Popular Street Foods in Indonesia
---
It is known as khao man gai in Thailand and Hai Nam chicken in Vietnam. Hai Nam chicken is easily distinguished from Vietnamese chicken rice (cơm gà Hội An), a Hoi An specialty that pairs chicken salad with yellow turmeric-spiced rice.
11. Fried Rice (Regional)
This popular street food can be prepared in a wide variety of ways. All it takes is stir-frying cooked rice in a wok. Minimalist versions might simply include some egg and vegetables (e.g. spring onion, onions, chopped up long beans). Other recipes might call for the inclusion of seafood or meat.
What ultimately makes the difference between Thai khao phat, Malay nasi kampung, Yangzhou fried rice, Burmese htamin gyaw, and Sinangag (Filipino garlic fried rice) is how the rice is seasoned.
12. Nasi Lemak (Brunei, Indonesia, Malaysia, Singapore, Southern Thailand)
This staple of Malay cuisine was traditionally a breakfast favorite. The simplest versions consist of fragrant rice (cooked in coconut milk and pandan leaf) with a side serving of sambal, fried anchovies and peanuts, slices of cucumber, and hard-boiled egg. Those seeking a fuller meal can add fried chicken, rendang (beef stew), sambal sotong (spicy cuttlefish), or acar (spicy pickled vegetables).
Noodle-based Foods
13. Laksa (Indonesia, Malaysia, Singapore)
The wide variety of laksa recipes that are consumed across Indonesia, Malaysia, and Singapore can be divided into three main categories. The first category is the rich and creamy type (from the use of coconut milk), e.g. curry laksa, laksa Betawi, Bogor laksa, and Katong Laksa.
The second type has a fresh, tangy, and sour taste (from the use of tamarind), e.g. Penang assam laksa, Ipoh laksa, and laksa Medan. The third category involves a combination of coconut milk and tamarind, e.g. Sarawak laksa.
14. Beef Noodle Soup (Laos, Vietnam)
Given its status as Vietnam's national dish and its international popularization by the sizable Vietnamese diaspora in the wake of the Vietnam War, phở's popularity is no surprise. The hot beef-based broth brings richness to an otherwise simple dish of rice noodles, beef slices, and fresh herbs and vegetables. Laotian feu is believed to be a localized version of phở.
15. Mohinga (Myanmar)
This staple of Burmese cuisine is eaten across the country throughout the day (although it was once deemed a breakfast dish). It consists of rice vermicelli in a thick fish-based soup (usually made from catfish or carp), seasoned with lime, coriander, spring onions, fish sauce, and crushed dried chili.
16. Fried Noodles (Regional)
Like fried rice, stir-fried noodles can be easily found across the region – with a wide variety of noodle types, flavors, and aromas. It is typically made with flat rice noodles, yellow wheat noodles, rice vermicelli, or instant noodles (Maggi and Indomie are popular, but technically any brand can be used).
Particularly popular versions include Thailand's pad thai; Filipino pancit bihon; Malaysia and Singapore's char kway teow and Hokkien mee; Cambodian lort cha; Laotian lard na; and Malay/Indonesian mee goreng.
Bread-based Foods
17. Banh Mi (Vietnam)
French colonization of Indochina introduced the baguette to Vietnam in the 19th century. It became a staple food by the early 20th century, but it took approximately a century before the distinctly Vietnamese sandwich that is widely consumed today took over the streets of Saigon.
Though the meat filling and condiments used varies from recipe to recipe, banh mi usually features the same combination of herbs and vegetables: fresh cucumber slices, cilantro, shredded pickled carrots, and white radish.
18. Roti Canai or Roti Prata (Brunei, Indonesia, Malaysia, Singapore)
Immigrants from South Asia have popularized the consumption of unleavened flatbread across Maritime Southeast Asia. Roti canai can be eaten plain or cooked with various fillings (e.g. egg, onion, cheese, sardines, banana slices). Diners can usually request a specific side serving of curry (chicken, fish, mutton, lentil, etc.) to dip their roti in.
Meat-based Foods
19. Tom Yum Goong (Thailand)
This famous sour and spicy soup can be made with shrimp, chicken or pork. Its fragrant and rich aromas are achieved with fresh lemongrass, kaffir lime leaves, lime juice, fish sauce, galangal, and crushed red chili peppers.
20. Steamboat or Hot Pot (Regional)
Steamboat or hot pot is a popular dining option for families and large groups. Diners are seated around a pot filled with simmering broth and access to a wide variety of raw ingredients. National and regional variations take shape through the seasoning used for the broth (e.g. the use of coconut milk in Cambodian yao hon, the sourness of Vietnamese lẩu canh chua) and the specific variety of dipping sauces offered.
Thai mookata is noteworthy for combining the option of boiling and barbecuing in a single setup.
21. Pork Sausage (Cambodia, Laos, Thailand)
Pork sausages are popular across Indochina. The popularity of Thai sai ua, Cambodian sach krok and Laotian sai gork transcends borders, with each recipe relying on a slightly different mix of spices.
22. Bakso (Indonesia)
Bakso (meatballs), one of Indonesia's most popular street foods, are typically made from finely grounded beef. The meatballs can be eaten as a standalone soup dish or as part of a noodle dish.
23. Ayam Penyet (Indonesia)
Penyet is the Javanese word for pressed or squeezed. Ayam penyet involves smashing fried chicken against a mortar to make it more tender. The chicken is then eaten with rice, alongside fried tofu, tempeh, cucumber slices, and a signature sambal. The same cooking method is also used for a few types of fish (ikan penyet).
24. Skewered Meat (Malaysia, Indonesia, the Philippines, Singapore, Thailand)
The spread of satay from Java across Indonesia, Malaysia, and Thailand is a testament to the popularity and versatility of grilled skewered meat. Chicken, goat, and mutton are most popular in the former two countries, while pork skewers are easily found in Thailand. The Philippines has more localized options, with isaw (grilled pig or chicken intestines) and betamax (grilled chicken blood).
25. Rendang (Indonesia, Malaysia, Singapore, Brunei, and the Philippines)
Rendang was once reserved for ceremonial occasions in West Sumatra, but is now widely consumed across the Malay Archipelago. The beef in rendang acquires its rich flavour and tender texture after being slowly cooked in a mixture of coconut milk, herbs, and spices. The pot is then stirred periodically until all the liquid evaporates.
Drinks, Desserts and Fruit-based Foods
26. Egg Coffee (Vietnam)
Cà phê trứng originates from Hanoi, but can now be found across the country. The idea of egg coffee appears to have been inspired by the scarcity of milk in the 1940s. Today, the egg yolks are hand-whipped with sugar and milk, creating an aesthetically pleasing and aromatic meringue-like foam above the coffee.
27. Durian (Indonesia, Malaysia, Thailand)
Native to Borneo and Sumatra, durian is now widely cultivated across Indonesia, Malaysia, and Thailand. The Malaysian Musang King variety (also known as Mao Shan Wang) and Thailand's Mon Thong variety are both highly valued by locals and foreign aficionados alike. Durian fruit can be eaten by itself, incorporated into a dessert (e.g. durian ice cream, durian cake) or cooked into a savory dish.
28. Cendol (Regional)
This sweet, simple, and refreshing dessert may have originated from Java, but it is now popular across the region. It consists of shaved ice, coconut milk, the visually striking green rice flour jelly (the color comes from pandan leaves), and gula melaka (palm sugar syrup).
29. Red Ruby aka tub tim krob (Thailand)
The beautiful and chewy 'rubies' are created by soaking water chestnut cubes in beetroot juice, coating the cubes in tapioca flour, and then boiling them. Once cooled, they are served in a refreshing mixture of sugar syrup, pandan-flavored coconut cream, and shaved ice.
30. Unripe Fruit Salad (Regional)
While Thailand's som tam (green papaya salad) is probably most widely known, the practice of using unripe fruit (mango, pomelo, cucumber) as a salad base is common across Mainland Southeast Asia. The spicy versions are more popular, but non-spicy and sweeter versions are also consumed.
Meanwhile, rujak (Indonesian spelling) or rojak (Malay spelling) is popular across Indonesia, Malaysia, and Singapore. A wider variety of fruits are used (mangoes, water apple, pineapple) in the same dish, often alongside some vegetables (jícama, cabbage, bean sprouts, and cucumber). The mixture is brought together by a spicy, peanut-based dressing.
31. Fried Bananas (Regional)
Deep-fried battered banana or plantain fritters are a popular snack across the region. They can be eaten on their own, or eaten with honey, powdered sugar, sugar, ice cream, condensed milk, or chocolate syrup.
32. Coconut Ice Cream (Thailand)
What could be better than half a coconut shell filled with ice cream on a hot day? Itim gati is usually dairy-free, with coconut cream substituting for milk. It is often eaten with coconut bits and other toppings.
33. Ube Halaya (the Philippines)
This popular dessert gains its striking color from purple yam, which is mashed with condensed milk or coconut milk. It can be eaten on its own after being chilled, or used as a filling for pastry.
34. Leche Flan (the Philippines)
The popularity of desserts in Filipino cuisine can be traced back to the export sugar economy of the colonial era. This localized version of caramel pudding is one of the country's most popular sweet treats. The liberal use of egg yolks and condensed milk creates a richer and silkier taste and texture.
35. Shaved Ice (Brunei, Cambodia, Malaysia, the Philippines, Singapore, Thailand)
The regional popularity of shaved ice desserts is no surprise given the region's hot and humid climate throughout most of the year. The difference between Filipino halo-halo, Indonesian es campur, Cambodian Teuk Kork Chus, Bruneian, Malaysian, and Singaporean ice kacang, and Thai namkhaeng sai lies mainly in the combination of toppings and the flavor of the syrups.
With the exception of Thai food, Southeast Asian cuisine is not widely available outside the region. Citizens of countries which host significant diasporic Vietnamese and Filipino communities can also get a taste of what the region has to offer. With that said, other countries in the region are increasingly seeking to emulate the Thai government's practice of diplomacy and making serious efforts to improve the visibility and accessibility of local street favorites abroad.
Though it is possible to recreate popular recipes on distant shores, it is next to impossible to recreate an entire food culture. The fullest, freshest, and richest experience of Southeast Asian street food awaits those who make the trip to this dynamic region – the crossroads of the world for centuries.
---
Related: Most Popular Filipino Street Foods
Related: Most Popular Korean Street Foods
Related: Most Popular Japanese Street Foods
Related: Most Popular Street Foods in Malaysia
Related: Most Popular Indian Street Foods