Top 20 Most Popular Foods in Taiwan
Though Taiwanese cuisine is heavily influenced by Chinese flavors, the country's rich history and unique geographical location have led to a cuisine that is extremely diverse and full of flavor, employing plenty of garlic and soy sauce.
Let's round up the most popular foods in Taiwan.
1. Beef Noodle Soup (Niu Rou Mian 牛肉麵)
Beef stew noodle soup is Taiwanese comfort food. You can find the world's most expensive bowl of beef noodle soup in Taipei, but there are also affordable beef noodle shops on practically every corner.
The dish is made from a slow-cooked stewed or braised beef in a rich, dark broth with vegetables such as cabbage and scallions, and thick chewy noodles. Yongkang Street (永康街)in Taipei is especially well-known for it.
2. Marinated Pork Rice (Braised pork over rice or lu rou fan 滷肉飯 )
Salty, meaty, and tasty. lu rou fan is minced pork in gravy served over freshly steamed white rice, and it's a simple yet wonderfully tasty meal served in most local Taiwanese restaurants.
A good bowl of lu rou fan comprises finely chopped pork belly, slow-cooked in aromatic soy sauce, and Shaoxing rice wine with five spices. The tenderized pork is then served alongside pickled vegetables and sometimes an extra soy sauce egg on the top of steamed white rice.
lu rou fan can be relished on its own as a complete dish, or as the base of a meal that includes a number of different sides.
3. Bubble Tea (pearl milk tea/bubble milk tea/boba 珍珠奶茶)
The world-famous bubble tea was born in Taiwan. This popular flavored iced tea began in the early '80s in Taichung's Chun Shui Tang (春水堂) teahouse that came up with an idea of concocting a cold flavored milk tea. The shop added ingredients like starchy balls made from flour, jelly, and sometimes cut fruits, or syrup, and bubble tea was eventually born.
Nowadays, all sorts of flavored milk tea are offered at drink stands. This is the perfect drink to wash down your food with when visiting one of the many night markets in Taiwan. You can have it either hot or cold and with any number of add-ons like tapioca pearls, pudding, and fruit jellies. You can even specify your desired level of sweetness and temperature. The original one, the pearl milk tea, is black tea, milk, sugar, and tapioca pearls.
4. Gua Bao (割包)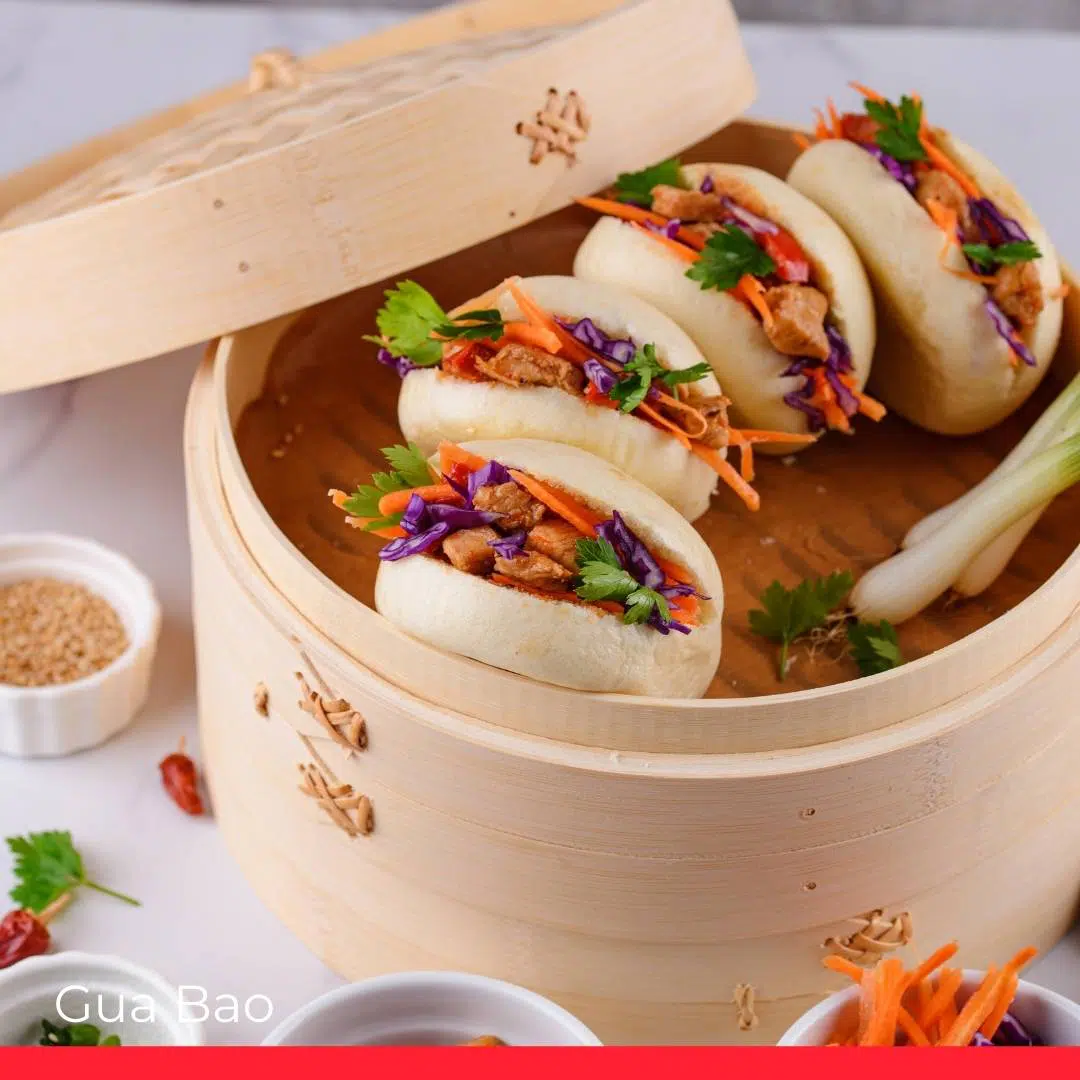 It's often compared to a type of Taiwanese "burger". Gua Bao is a street snack filled with braised pork belly that has been braised in a mixture of rice wine and soy sauce, along with cilantro, pickled mustard greens and crushed peanut powder, sandwiched in puffy mantou steamed buns.
The steamed buns themselves are soft, pillowy, and fluffy bread—like a cloud made of dough—unlike the thicker pita bread version in the West.
5. Oyster Omelette (O-A-Chian/蚵仔煎)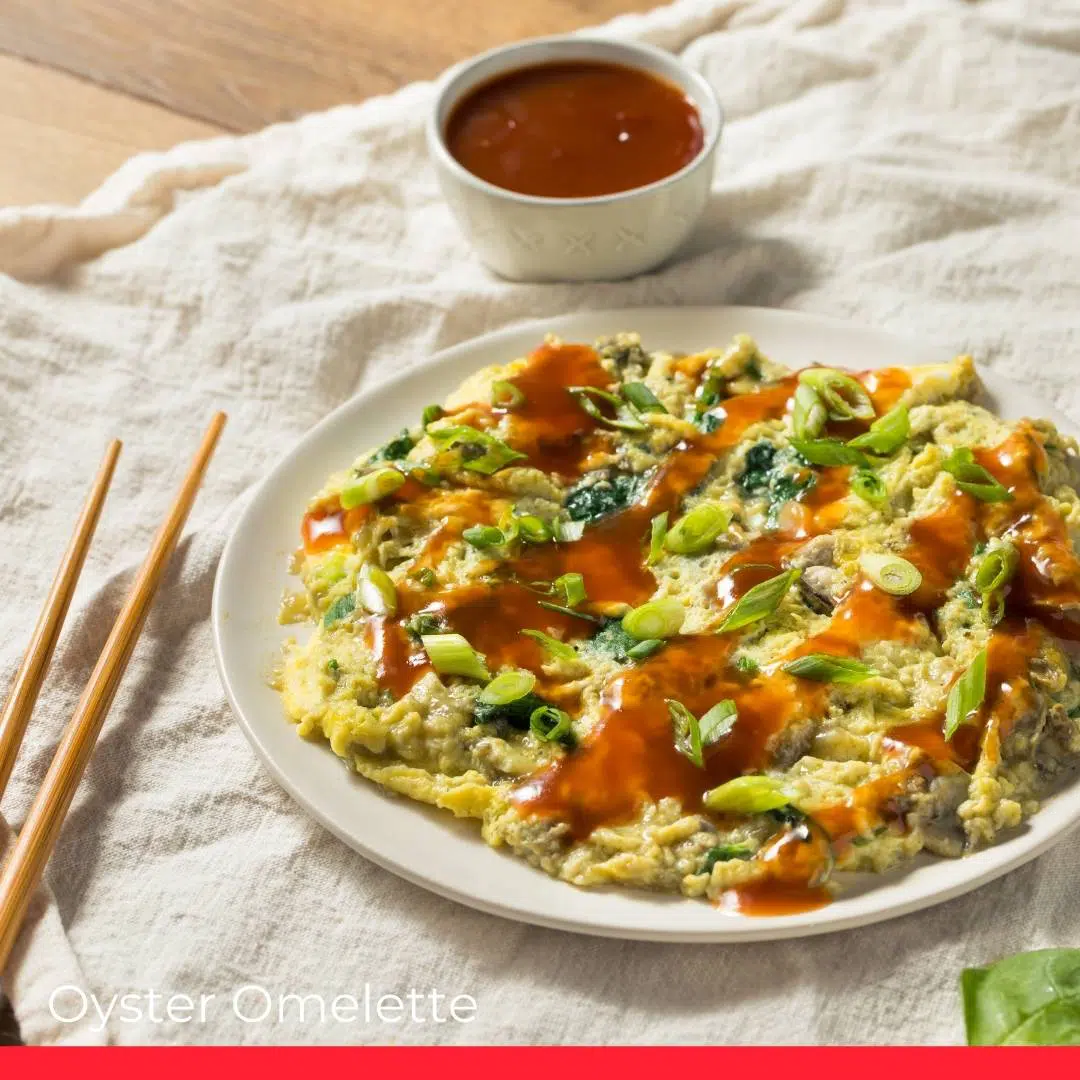 O-A-Chian can be found in almost every night market across Taiwan. It is a snack that really showcases Taiwanese food, as it is something from the sea and something from the soil.
The omelette is prepared slightly differently from western omelettes because Taiwan uses sweet potato as an ingredient to achieve a thicker consistency. The oyster omelette consists of eggs, juicy oysters, flour, bean sprouts, and lettuce.
This dish is typically topped with a mildly sweet chili and sour tomato sauce.
6. Small Sausage In A Big Sausage (Taiwanese sausage with sticky rice/Sausage in a rice bun)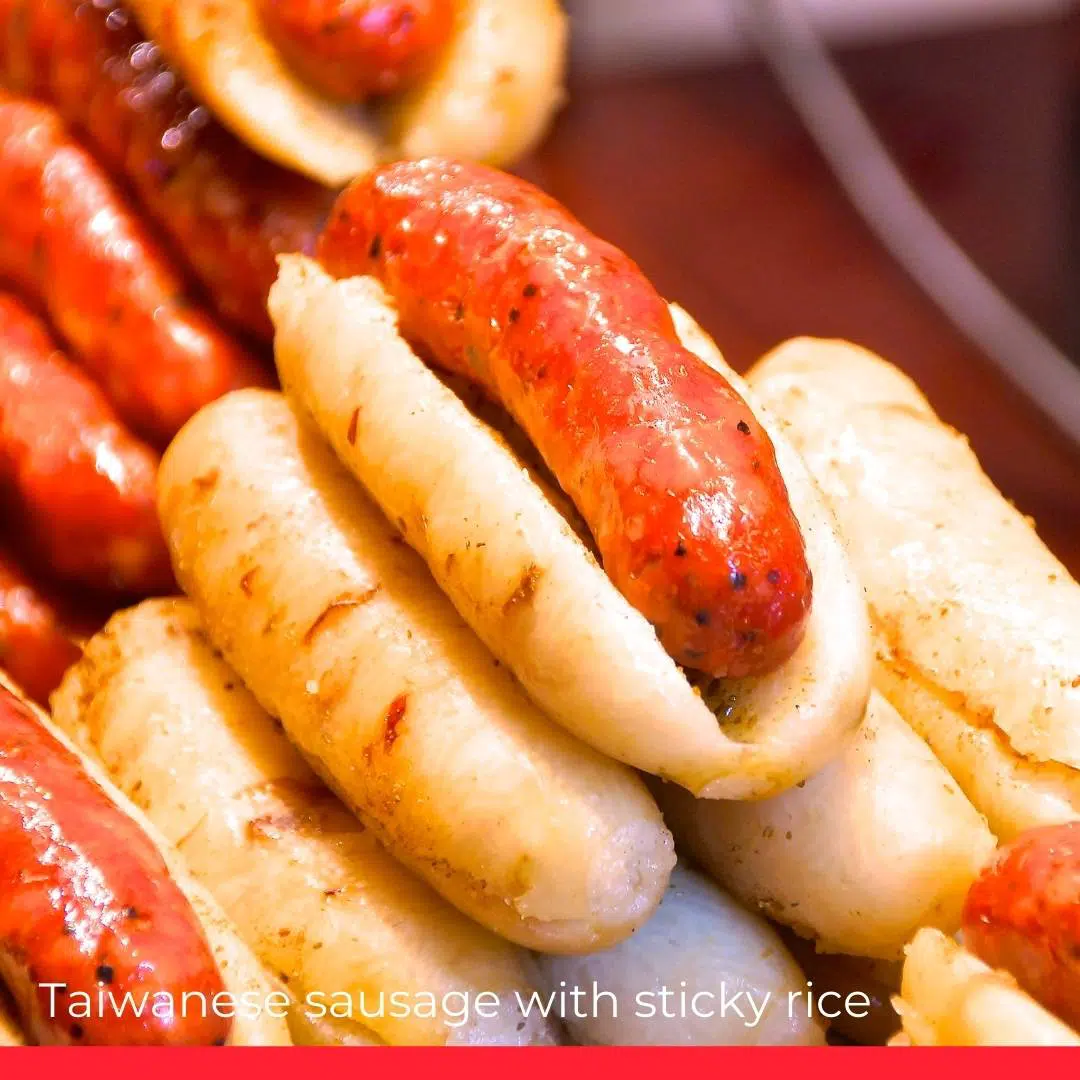 This is the Taiwanese version of a hot dog. "Small Sausages," Taiwanese pork sausages, are a lot sweeter than western sausages. "Big sausage" refers to the glutinous rice shaped like a hot dog bun.
"Small Sausage In A Big Sausage" is to have the small sausage wrapped in this rice bun, grilled using charcoal fire, and brushed with a sweetened garlic soy sauce. The dish is typically served with toppings like pickled vegetables and garlic.
7. Stinky Tofu
This could be the world's most love-it-or-hate-it snack. It's actually tofu that stinks, but Taiwan does it just right. Stinky tofu is fermented in a brine that usually includes meat, fermented milk, Chinese herbs, dried fish or shrimp, bamboo, mustard, and amaranth greens, and left for several months.
The vendors often deep-fry it and drizzle it with hot, sweet, and spicy sauce, or kimchi on the side. Stinky tofu may not sound pleasant, but if you hold your nose, it looks and tastes just like a plain piece of fried tofu, with a crisp casing and a soft pudding-like center. Worth trying.
8. Pineapple cake
These small pastries filled with pineapple paste are the tastiest after-dinner treats that go perfectly with a cup of tea. Pineapple cake is also one of Taiwan's best food souvenirs, as they can be brought home on the plane.
Pineapple cakes are filled with a mix of local pineapple and chewable bits of winter melon; the result is a darker filling, rougher texture, and sourer taste than most: the filling of it is like a jam, only thicker and stickier. It's served inside a pastry similar to a shortcake. They have a fruity sweetness and a golden casing of crumbly, buttery pastry.
Pineapple cake is a popular dessert in China as well.
9. Tian bu la (Taiwanese oden)
Tian bu la is a fish paste that's been molded into various shapes and sizes, deep-fried, then boiled in a broth. The food is basically a Taiwanese take on Japanese oden, with more sugariness, tougher fish cakes, and a signature sauce.
Before eating, the pieces of solid fish paste are taken from the broth and smothered in brown sauce. Get some soup from the vendor and add it to the remaining sauce in the bowl. Mix and drink the resulting flavor bomb. tian bu la delivers plenty of sweet flavors and chewy textures, making it a beloved Taiwanese food.
10. Ba wan (Meatball Dumplings, Giant meat dumplings)
Ba wan is a Taiwanese mega-dumpling. Pork, veggies, and sometimes eggs are stuffed inside and gravy poured on top. It can be either fried or steamed and is usually sold on the streets and at night markets.
Ba wan, the disk-shaped chewy dumpling casing is made from a dough of rice flour, corn starch, and sweet potato starch which when steamed becomes slightly transparent. The juicy meatball filling is made from tender pork meat that's been soaked in red yeast and mixed with bamboo shoots and shiitake mushrooms. When served, the dumpling is cut into bite-sized pieces and topped with thick gravy or a sweet and sticky sauce.
11. Oyster vermicelli (o-a-mi-suann/oyster noodle string/slender noodles with oysters)
A bowl of great oyster vermicelli is fleshy chunks of oysters and pieces of tender braised pork served with a thick and flavorful soup base of thin rice noodles. Some people add chopped intestines to add a new dimension to the soup, but the oysters retain their distinct texture, though.
mi-suann is a type of thin wheat flour noodle that is almost translucent and, while some would expect to eat them with chopsticks, just a spoon would suffice because it is easier to eat them using a single hand. Add some chili oil, black vinegar, minced garlic, and coriander to the bowl to elevate the flavor. It's a gooey dish with an intense, briny taste.
12. Shaved ice mountain (Baobing/礤冰)
Shaved ice mountains are usually big blocks of flavored ice that are shaved by machine into ribbony sheets or a fine snow-like powder. The traditional version is served with red-bean stuffed tapioca shaved ice.
Nowadays, they are heaped with fresh fruit and flavorings, such as mango pieces, Taro balls, mung beans, tapioca balls, grass jelly, all soaked with a heavy dose of condensed juice and sweet milk, to appeal to the young generation.
13. Mochi
These glutinous rice balls are as soft as marshmallows and filled with sweet or salty ingredients. The most traditional mochi are filled with red bean paste and rolled in peanut powder. In recent years, strawberry jam, sesame paste, green tea jam and peanut paste have become popular fillings.
14. Three-cup chicken
Three-cup chicken is cooked in a cup of rice wine, a cup of oil, and a cup of soy sauce. Fresh basil, chilies, and garlic are added to make an irresistible combination.
Some kitchens offer a different version of three-cup chicken that includes a cup of wine, a cup of sesame oil (or a sesame oil substitute), and a cup of sugar. This iconic Taiwanese culinary dish is now seen as one of the best Chinese delicacies.
15. Biandang (bento, meal box)
Taiwanese biandang (bento) is the takeaway lunchbox that packs rice with a main dish (usually a type of meat or fish) and small, often unappealing, side dishes such as fried and preserved vegetables.
It's a convenient, quick, cheap, and generally decent way to eat. Biandang isn't one of the most delicious foods in Taiwan, but it's a staple for countless working parents and busy urbanites. Nowadays, Biandang is available in most convenient stores.
16. Pig Blood Cake (豬血糕)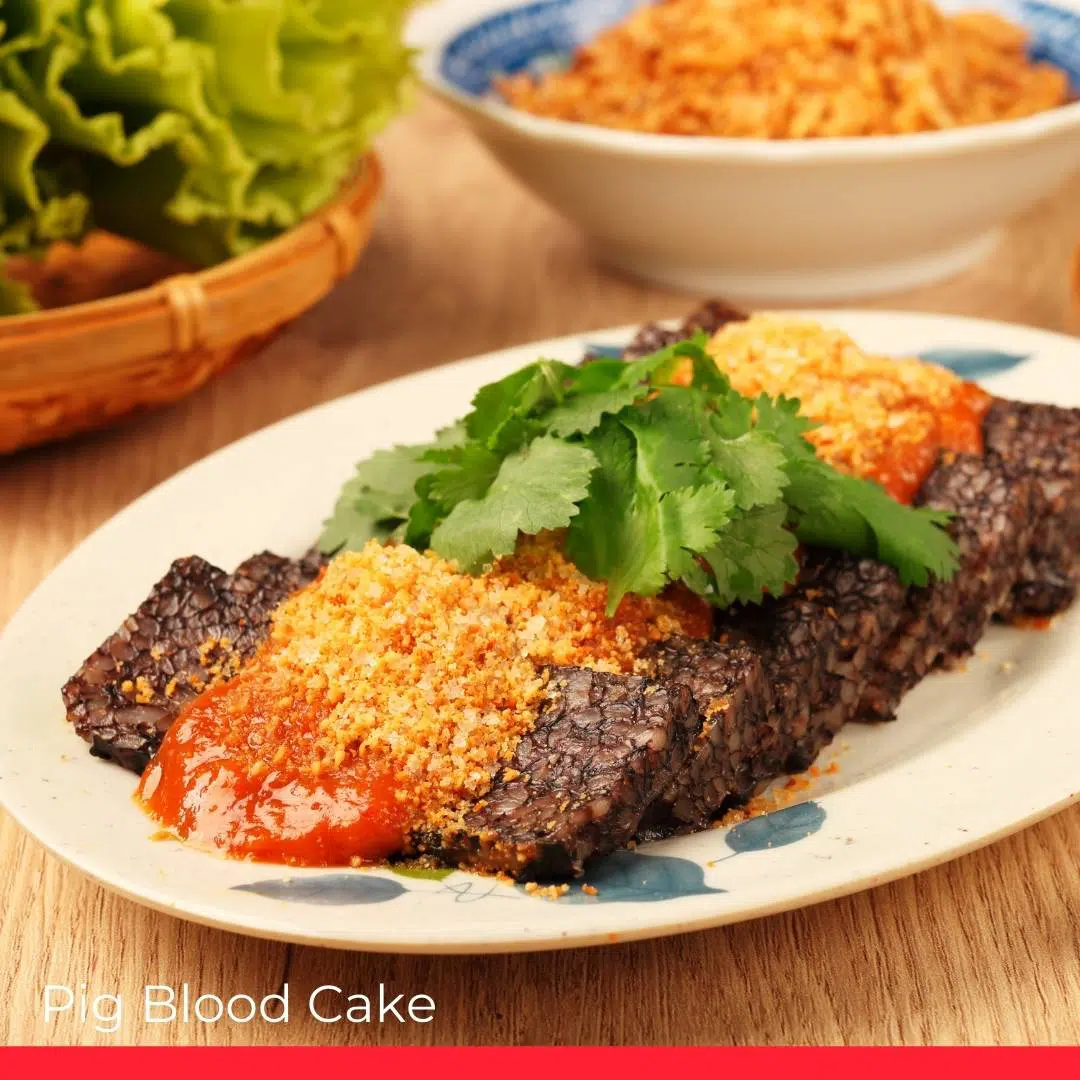 It is literally made with pig blood and sticky rice that is steamed or fried before being covered in a sweet soy sauce and coated in peanut flour and coriander. The sticky rice makes it firmer and chewier. It's a very common food in Taiwan.
17. Taiwanese fried chicken
Taiwanese fried chicken may sound like common fried chicken, but the deep-fried version with seasoning like salt, pepper, or teriyaki, is a great-tasting local street snack. Some like it hot and will request more chili powder seasoning.
Taiwanese fried chicken is one of the people's favorite late-night snacks and can be found at many night markets stalls and fast-food restaurants. It's so big it is almost the size of your face!
18. Xiao Long Bao
Xiao Long Bao in Taiwan are small soup dumplings. The dish gets its name from the bamboo basket in which the dumplings are steamed, the xiaolong, and the dumplings are traditionally filled with a pork meatball and a gelatinized meat stock that melts into a rich soup broth when heated in the small bamboo basket. To keep you from burning yourself, you're meant to pierce the skin of the dumpling and slurp out the soup first before eating the whole thing.
Aside from the traditional pork, you can even get them mixed with crab roe and truffle. Din Tai Fung was voted one of Taiwan's best restaurants and a top 10 in the world. This dish has spread to other countries and can now be found in Singapore, Hong Kong, and London.
19. Re chao (熱炒)
In Mandarin Chinese, Re chao means "hot" and "stir-fry". Re chao is not a name of a specific dish, instead, it's more like an eating culture—like the Taiwanese equivalent of a western bar, or a Japanese izakaya, all casual, noisy places where nightlife and mealtimes converge.
City workers in Taiwan tend to go for Re chao after a long day of work. A parade of small stir-fry dishes like three-cup chicken, fried tofu, and grilled seafood, among tons of other small plates, along with beer, is perfect for soaking up the night.
20. Steamed spring rolls (潤餅run bing)
Run bing are delicious meats, vegetables, and other ingredients wrapped in a soft and chewy homemade wrapper. The wrapper is made from a few simple pantry ingredients: flour, water, and salt. Every Taiwanese household and street vendor has their own recipe for run bing.
The most common ingredients to spread on the wrapper of run bing are white sugar, egg strips, pork, cucumber, garlic, cabbage, carrots, celery, dried bean curd, shrimp, sprouts, beans, and chicken. A spinoff of run bing for summer is filled with ice cream and peanut brittle shavings. The vendor may add a touch of sea salt to the peanut brittle to heighten the sweetness and flavors of the wrap.