Top 25 Most Popular Foods in Morocco – Best Moroccan Dishes
The Moroccan table is adorned with unique and varied dishes that highlight the rich cultural heritage of the country, making it one of the most prominent international cuisines.
Dishes differ from one region to another in Morocco, as each region is characterized by specific dishes which translate its history and customs. Certain dishes are prepared according to certain special rituals, or on certain occasions. The Moroccan table encompasses dishes of Berber, Arabic, Jewish, Andalusian, African and Maghrebi origins, given that the Kingdom has been, since ancient times, a land of coexistence of several civilizations and cultures.
Experts stress that preparing most Moroccan meals depends on fresh vegetables and fruits, natural oils, and authentic spices, noting that all these ingredients have benefits for human health.
Several previous studies have classified Moroccan cuisine among the most famous in the world, as it always occupies advanced positions alongside French and Italian cuisines. The following are the top 25 popular dishes in Morocco.
Tagine is made from spiced vegetables that are cooked with a little and often light broth, accompanied by meat, chicken or fish. All ingredients are placed inside heavy pottery vessels called "tagine".
Tagines have a clay cover with the purpose of distributing the heat from the top to the whole pot. This ensures a healthy and slow cooking process that lasts for a long time sometimes, until all the ingredients are absorbed through it with the flavor-loaded steam. It becomes soft and the bone separates automatically from the meat, making it a real pleasure to eat it, especially if some lemon is placed on it to add a special taste.
The secret of the tastiness of tagine lies in the spices used when cooking, which are: cornflowers, ginger, free saffron, ghee, onions, and garlic. These are the basic ingredients that give the tagine its taste. The tagine is served with bread that is considered necessary. Tagine is not eaten without bread. Cooking food in the tagine is very healthy because it is cooked with steam and steamed food is the best healthy food ever.
2. Couscous
Couscous is made from wheat or corn flour in the form of small grains, and it is taken with spoons or by hand. It is cooked with steam and added to meat, vegetables, green pulverized beans, milk, butter, and fine sugar, according to tastes and occasions. In Morocco, couscous is prepared with 'halal' meat types, turnip, eggplant, and red pumpkin, and thus it is served with broth, while couscous with milk, called 'Saikok' is served without broth or vegetables, only couscous with milk.
Couscous is a very popular traditional Moroccan dish, which is almost unique to Friday in Morocco, as most Moroccan households prepare it during this 'sacred' day of the week. Couscous is present in all occasions in Morocco, be them marriages, funerals, and sacred feasts.
There are many types of couscous according to the ingredients and the ceremony celebrated, but the most popular one is the one made with 'the seven vegetables' (pumpkin, carrots, potatoes, tomatoes, white and yellow turnips, cabbage, onions … Some regions utilize lentils or white beans).
In 2019, the countries of the Maghreb (Morocco, Mauritania, Algeria, and Tunisia) made a joint demand to the UNESCO asking it to consider this popular dish as an intangible cultural heritage of humanity.
3. Tanjia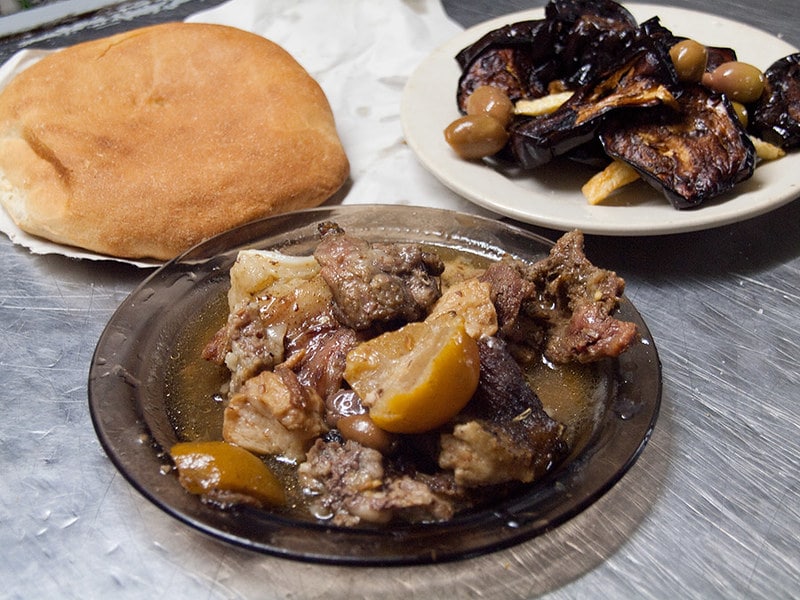 It is a pot made of puffed clay, and a meal of lamb or beef, with which the spices are mixed and cooked in the same pot and buried under hot ash.
Tangia is always associated with the city of Marrakech, Morocco. It is the most famous dish that the citizens of the city of Marrakech serve their guests as a distinctive dish with its meat and spices.
Tanjia has a unique taste and a wonderful flavor. It is cooked in the traditional 'Farran' (Bakery) in Marrakech. There are sometimes when those traditional bakeries get crowded, especially during religious feasts. It is the specialty of men, as it is their 'sacred' companion in their excursions! Especially in Ramadan and spring holidays, where men enjoy it in gardens and orchards. Women rarely prepare Tanjia!
4. Fried Chicken
Fried Chicken is one of the basic dishes that Moroccans have relied on since ancient times. Fried chicken is one of the well-known and widely enjoyed Moroccan dishes. It is the main dish that is served on occasions, such as weddings, birth parties, circumcision, and various other parties. It is served with olives, sour and sometimes hot pepper.
5. Trotters
Trotters are lamb and cow's feet cooked with hot spices and hummus. Its broth tastes of garlic and vinegar, and it is rich in fats, protein, and vitamins. It is advised to eat it once or twice a month, as its composition -mainly of a high number of calories and a large amount of fats- makes the body invest a lot of energy in its digestion process.
In Moroccan society, people tend to have fatty, high-calorie dishes, as they constitute for them full meals to compensate for the energy they lose after the long and tiring workdays or cold winter days. Trotters are a well-known dish, and whoever wants to strengthen his bones, as they say, should eat trotters.
6. Pastela
As soon as you mention it, the Moroccan Kingdom is the first thing to strike your mind, and specifically the city of Fez. This ancient and imperial city; known for its Bazaars and narrow streets; is the home for many traditional Moroccan dishes. Pastela is one of the most luxurious Moroccan dishes.
It is highly demanding in preparation, which made it a strong competitor to some other well-known Moroccan dishes, such as Couscous and Tagine; in terms of taste as well as the ingredients used in it. In the city of Fez, it is prepared with chicken and pigeons, while in the north of Morocco, it is prepared with fish and seafood, while in the southern parts, such as Rachidia, for example, it has another form that looks like bread, called 'al-Madfuna'.
7. Rfisa
It is a family dish par excellence, as it is prepared in family reunions and religious occasions, or what is termed in Morocco as "Zarda". This dish is prepared mostly in the occasions of childbirth, as it is prepared for women who just gave birth, because it contains healthy, beneficial, and milk-producing ingredients such as fenugreek, lentils and special spices called "Msakhan ".
8. Zaalouk
A distinctive Moroccan popular dish, prepared from fried and grilled eggplant, in addition to the two types of pepper, hot and sweet, according to mood. It is often served as a salad, especially in winter, when Moroccans tend to have hot salads, rather than cold ones. It is known in some countries in the Middle East as "Baba Ghanouj".
It has a strong presence in some other Maghreb countries, such as Algeria and Tunisia, just like other many well-known Moroccan dishes -couscous-with the difference in the preparation process, methods and the ingredients used. In any case, the eggplant remains an essential ingredient in preparing the dish in all these countries.
9. Harira
The most famous soup that Moroccans have throughout the year and during the sacred month of Ramadan to break the fast every day. Harira is among the most complete dishes in the Moroccan diet. It consists of many ingredients such as, pastries, herbs, tomatoes … All these ingredients contain great nutritional value, such as proteins and starches that are abundant in pulses, like lentils and chickpeas, which provide the body with energy.
Harira is also rich in mineral salts and vitamins, especially vitamin "D", which is found in coriander, parsley, and celery, not to mention the vitamins in tomatoes that prevent cancer.
10. Bisara
The Bisara is dried crushed fava beans. It is peeled and cooked in water with some vegetables, spices, and olive oil. It is served hot with barley or wheat bread, at lunch, dinner, and for breakfast, in some regions.
11. Saffa
Saffa is a steamed couscous-like dish. It may be a vermicelli, rice, or any type of pastry. As for Saffa with chicken, each dish is prepared separately from the other. Saffa is cooked as usual, while chicken is prepared with spices and aromas. When served, the chicken is buried under Saffa. The dish is decorated with powdered sugar and cinnamon.
12. Meat with Prunes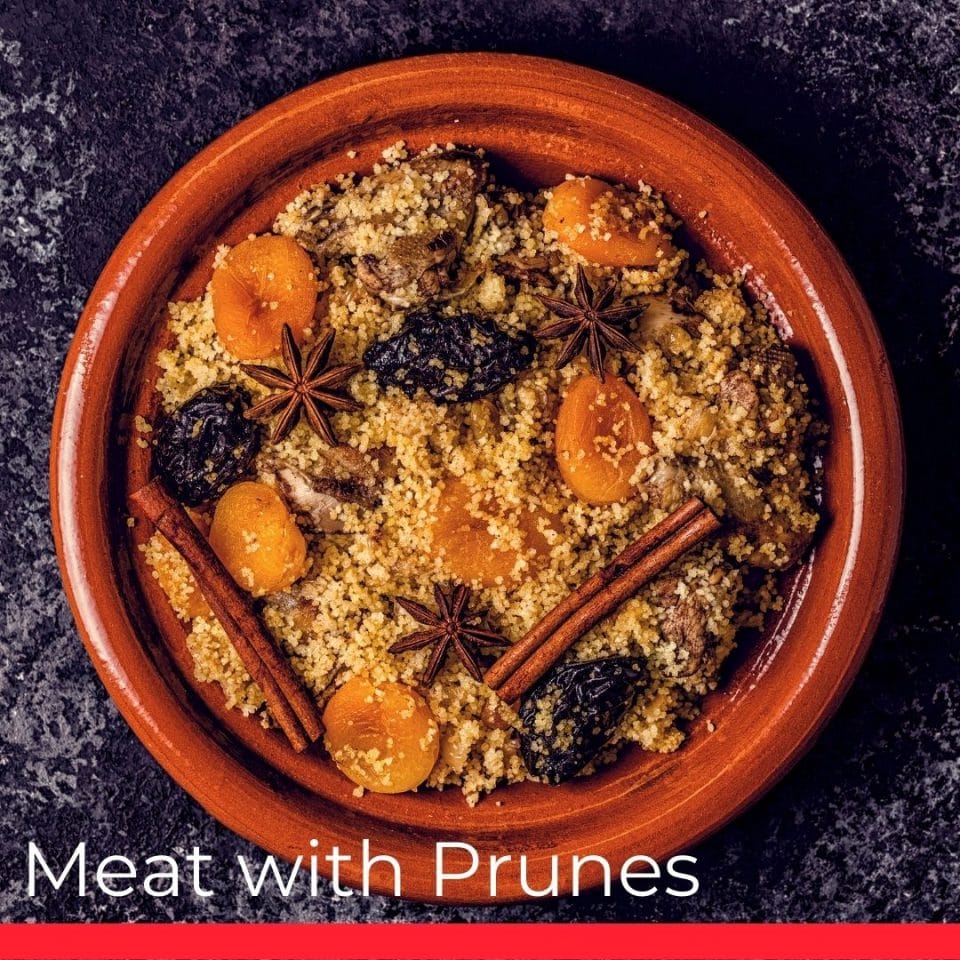 Meat with prunes is a dish that is served on most occasions and celebrations. It is the main dish in family reunions. It is served in weddings, child births, and even funerals. It is served in every region in Morocco. The prunes add a distinctive flavor to the meat because of its sweet and sour taste.
13. Moroccan Cured and Dried Meat – Gueddid
Gueddid is meat preserved by drying, either by putting it under the sun for a week or so, or on a charcoal fire. It is a common and traditional way for preserving meat that is found in old and tribal cultures all over the world.
It is one of the Moroccan customs and traditions that follows cutting the meat of the sacrifice on the third day of the 'Eid Aladha'; the biggest feast in the Islamic world. Women collect the meat slices in large containers, sprinkle them with salt and spices, mix them well and leave them for some time so that the effect of spices seeps into them. After washing the intestines well, the women collect the meat cuts and tie them to the bowel strips and make them into balls of different sizes.
It is sometimes used with Couscous and Rfisa.
14. Fried Sardines
Moroccans have a special and distinctive way when it comes to preparing sardines. After purifying the fish, washing it with vinegar and distilling it from the water, coriander, finely chopped, minced garlic, cumin, salt, seed, ginger, sweet red pepper are mixed with lemon juice and a spoonful of oil. The fish are then arranged, and certain amount of the mixture is added. The fish slices are put one on the other the other, and then sprinkled with flour well so that it does not stick, then it is put in boiling oil.
This dish is usually accompanied by Lentils or Zaalouk.
15. Tkalia
Tkalia with chickpeas is a 100% traditional Moroccan dish, which is prepared in feasts, weddings and for lunch on the second day of Eid al-Adha in certain regions. People who have a special taste and a great familiarity with the distinctive lamb meals adore it. Residents of Marrakesh make it in a distinctive way. This Moroccan dish consists of lamb guts (lung, fat, stomach), chickpeas, and spices.
16. Steamed Head Flesh
A dish served on the second day of Eid al-Adha in particular, as well as the rest of the year. The head of the lamb is cooked or steamed, just like couscous. However, different ingredients and spices are added here. This dish is cherished by Moroccans and tourists alike. It is the most famous dish that is served in the famous Jamaâ El Fna Square in Marrakech. Locals name it 'Bawlo'.
17. Khliaa
Moroccan Khliaa is considered one of the common traditional dishes found in the Maghreb. It is prepared for the celebration of January or the days of Eid al-Adha.
This dish consists of drying well-salted meat in the sunlight for several days. After that, other ingredients are added. The meat is conserved in bottles of glass for a month. Afterwards, it is used with several traditional dishes, eaten as it is, or used to prepare omelet. It is one of the very famous recipes/ingredients especially in the Moroccan city of Fez and its surroundings, and in the city of Marrakech.
18. Bulfaf
Bulfaf is one of the most famous dishes that Moroccans are keen to prepare for weddings, birth celebrations and circumcision parties. It is called "Bulfaf" because it consists of pieces of liver and lung wrapped with fat. Bulfaf is grilled on charcoal. It is the first dish served after sacrificing the lamb on the firts day of Eid Aladha.
19. Kidney Beans, Lentils, and Chickpeas
Traditionally, these dishes constituted some sort of 'savior' dishes in case the household should run of meat and vegetables. It is an alternative dish. However, with the changes that the food culture in Morocco has witnessed, these dishes came to occupy a high rank in the Moroccan diet.
Nowadays, these dishes are considered as some of the main dishes in Morocco. The cold winter days witness a high rise in the consumption of these dishes. In contrast to the summer when it becomes "heavy" on the stomach, with the high temperatures, and no one finds a desire to eat it except for necessity.
20. Berkuksch or Berkoux
It is a very tasty popular Moroccan dish made up of simple ingredients; but it is a bit difficult to prepare. It is one of the favorite dishes for many, which is distinguished and ancient, and it was at a certain stage a basic dish before it became part of the heritage and a seasonal dish.
Berkoux has become a modern basic dish on some occasions, such as marriages. Moroccans prepare it in a special way. There are those who prepare it with bacon and vegetables and there are those who serve it with 'Amlou' (made from amends and olive or Argan oil), and those who like it with milk and butter.
21. Chebakia
Chebakia is mainly a Ramadan Moroccan dessert and it is one of the oldest known desserts in Moroccan cuisine. It is considered indispensable in the month of Ramadan and it is often consumed with mint tea or with Harira.
It has a distinctive shape, covered with honey and sesame seeds. It is named Chebakia because it is carefully clamped in an ascending circle and is applied with anise on honey.
22. Msemen
Msemen is a square and crunchy Moroccan bread made from layers of thin semolina dough and butter. Some people eat it with soft cheese, jam, or olive oil.
These little squares are popular snacks as part of a delicious breakfast or afternoon snack with a cup of tea.
23. Baghrir
It is a round shaped, spongy bread prepared with flour or semolina and water and left hours to ferment and then poured over the skillet until browned, when properly cooked it is filled with small holes. The most common way to eat Baghrir in Morocco is to dip it in a mixture of butter and honey, but it can also be served with jam.
24. Sallo
Sallo, Al-Sfouf, Al-Tquawt or Al-Zumaita are all names used for this desert that have always been associated with the month of Ramadan and happy occasions, such as a wedding, birth celebrations etc. Sallo is made with roasted nuts, flour, sugar, and oil or butter.
These ingredients are rich in beneficial nutrients such as minerals, vitamins, fibers, and sugars. The latter nourishes the body and gives it the energy it has lost during the long hours of fasting, especially for people who suffer from thinness or loss of appetite.
25. Harsha
Harsha is a Moroccan meal that is prepared from semolina, oil, salt, and yeast, and is cooked over a hot frying pan, where it is very popular and is sold in most if not all shops, cafes, and even in modern bakeries.