104 Foods that Start with "H"
Whether you're looking for fruits, vegetables or traditional dishes that start with the letter H, we got you covered. These are some of the most popular 100 foods that start with H:
1. Hot dog
This is the actual star of any cookout, fair, or baseball game. Born in Germany, it was embraced by America and it has become a quintessential American food.
Some of the most notable hot dogs are the Chicago dog, "dragged through the garden" with relish, sport peppers, and tomatoes, the Coney dog with chili, cheese, and onions, and the Southern dog slathered in coleslaw.
2. Hummus
Hummus is a healthy and delicious Middle Eastern dip that's traditionally enjoyed with fresh pita bread, vegetables, or as a condiment alongside falafel and grilled meats. Adding tomatoes makes it richer, while hot sauce will give it a kick.
3. Harissa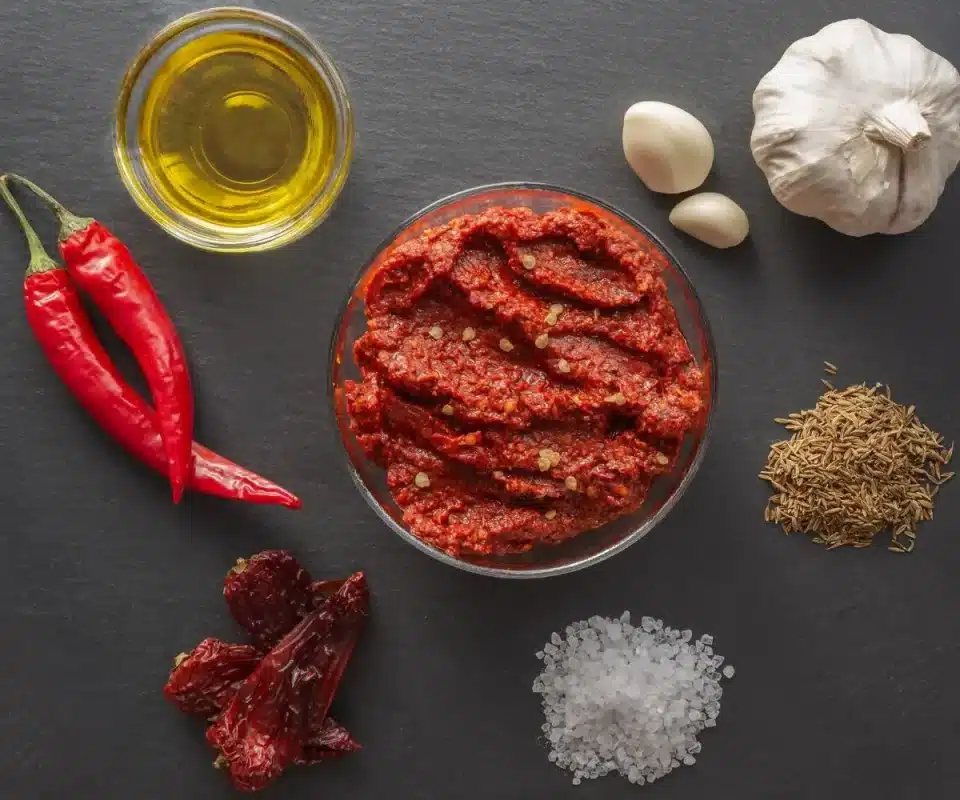 If you like your food hot and spicy, check out this homemade harissa recipe: roasted chili peppers (Aleppo, ancho, or piri piri) mixed with garlic, olive oil, and a pinch of salt, cumin, coriander and caraway. Harissa is great with chicken, seafood, and a staple in the Algerian and Tunisian cuisines.
4. Halva
This is a hugely popular dessert in the Middle East and South-East Europe. It is usually made with honey or syrup and a binding ingredient such as nut butter or flour. In Eastern Europe, you can savor sunflower halva, while carrot halva, with grated carrots cooked in milk, ghee, and sugar is popular in India.
5. Hákarl
Iceland's daring delicacy, it's also been called of the most disgusting foods in the world! Made from fermented shark, it's definitely an acquired taste. Hákarl is served in small amounts on toothpicks and commonly washed down with a shot of brennivín, a type of schnapps.
6. Honey
To produce just one pound (around 454 grams) of honey, bees need to collect nectar from approximately 2 million flowers. That's a lot of foraging! Once a field is located, they will do a "waggle dance" for directions. For more interesting stuff about honey, check out our story on the most expensive honey in the world.
7. Hefeweizen
Hefeweizen is a cloudy, effervescent beer style with hints of banana and clove, produced from malted wheat in addition to malted barley. A sip of Hefeweizen transports you to Bavaria, where beer culture shines. Prost!
8. Haggis
This quintessential Scottish dish combines sheep organs with oatmeal, onions, suet (animal fat) and spices. Served with "neeps and tatties" (mashed turnips and mashed potatoes), it's really much better than it sounds.
It might be hard to get in some places such as the US, as the USDA has labeled lungs an inedible animal by-product.
9. Halušky
These are simple potato dumplings proudly made in Slovakia. Of all the variations, make sure to try Bryndzové Halušky, which are tossed in a mixture of bryndza (sheep's milk cheese), bacon, and sometimes sautéed onions.
10. Hazelnuts
The combination of hazelnuts and chocolate is loved around the world. Nutella, the world-famous Italian spread made with hazelnuts and cocoa, is actually the reason behind an increase in hazelnut plantations and consumption.
11. Hoppang
These Asian balls of pastry are usually filled with red bean paste. Check out the many vending machines Japan is known for to try other options, including custard, chocolate or the likes of sausage, kimchi, vegetables, and even spicy meat.
12. Halibut
One of the most coveted parts of the halibut is its cheeks, which are considered a delicacy due to their tender and flavorful meat. Halibut cheeks often feature at high-end restaurants and seafood markets. Check out our selection of the best halibut recipes out there.
13. Horseradish
Known for its distinctive sharp taste, horseradish is commonly grated or ground before being used in various culinary preparations. "Horse" would refer to something being strong and coarse, an accurate description for this plant.
Btw, horseradish cream goes great with halibut.
14. Ham
Ham is a significant part of the culinary traditions of many cultures and a Christmas favorite. It's a common topping for pizzas and pastas; roasted, baked, or grilled, it makes for a wonderful main dish; and let's not forget how well it goes in sandwiches.
15. Horchata
Like a fiesta in your glass, this creamy, rice-based drink is a splash of refreshment with a hint of cinnamon. Popular in Latin American and Spanish cultures, it's a delightful way to cool off during torrid days.
16. Hamburger
National Hamburger Day in the United States is 28th May, and you can thank McDonald's for the popularity it enjoys today. Most fast food places will delight you with their own versions, but the Big Mac remains king.
17. Honeydew melon
This melon is great in fruit salads or appetizers or paired with prosciutto or other cured meats, providing a sweet-savory contrast. It's best to go for ones that feel heavy and have a slightly waxy feel to the skin.
A type of honeydew melon counts among the most expensive fruits in the world.
18. Hoisin sauce
Asia's flavor secret! A thick, dark sauce with sweet, salty, and umami notes, this is a cornerstone of Chinese cuisine. It's a go-to for stir-fries, glazes, and dipping, especially for Peking duck and spring rolls.
19. Hardtack
Ship's biscuit, or pilot bread, is a type of dry and durable cracker that has long been a staple ration for sailors, soldiers, and travelers. In fact, it earned the nickname tooth-dullers among sailors.
20. Honeycrisp
This popular variety of apple is known for its exceptional sweetness, crisp texture, and vibrant appearance. Their growing conditions and maintenance make them more expensive, but are totally worth it, especially for salads or pies.
21. Hamach
This is a highly sought-after choice of fish for raw preparations such as sushi and sashimi because of its buttery and tender texture. It's often served as nigiri (sliced fish on top of a small bed of rice) or in rolls.
22. Halloumi
This Cypriot cheese boasts a high melting point, making it perfect for grilling or frying. Try some Halloumi skewers with bell peppers, onions, and cherry tomatoes, or scrumptious Halloumi fries.
23. Hotcakes
Breakfast is the most important meal of the day, so spread some butter and drizzle some nice maple syrup on these simple but fluffy pancakes (don't forget the bacon).
24. Hushpuppies
Southern comfort in a bite! These deep-fried cornmeal delights are crispy on the outside, fluffy on the inside, and accompany fried fish or BBQ perfectly. Put some tartar or cocktail sauce on them and you're good to go.
25. Hot pot
A communal feast where friends gather around a bubbling broth, dipping and cooking an array of ingredients. From tender meats to crisp veggies, it's a wonderful way to socialize and share a meal.
26. Hummingbird cake
Sweet as nectar, this dessert is believed to have roots in the Southern states, particularly North Carolina. It's moist, with a rich and tangy frosting to balance the added sweet fruits, usually banana or pineapple.
27. Highball
This is one part spirits and a larger amount of a non-alcoholic mixer, typically served over ice in a tall glass. Whiskey and cola is a classic highball combination, but you can also have vodka with different sodas.
28. Hamantash
This triangular pastry, often filled with poppy seeds, fruit preserves, or chocolate, is a symbolic treat for Jewish celebrations such as Purim. Its folded shape is said to represent the villain Haman's hat.
29. Hoagie
Of course Joey from Friends doesn't like to share his hoagies! They are too delicious. Stuffed with layers of deli meats, cheese, veggies, and condiments, this heavenly sandwich was born in Philadelphia's culinary scene.
30. Habanero
This small but mighty chili pepper packs intense heat and has fruity undertones. It is a common ingredient in Mexican appetizers, salsas, sauces, and marinades, though is not for the faint of heart. Keep some ice cream ready, just in case.
31. Hunter's stew
This dish is made in many places, but is more culturally significant in Poland, where it's been enjoyed by both nobility and commoners. Bigos, as it's called there, is made with meats, sausages, and cabbage, cooked with spices and sometimes mushrooms.
32. Haleem
Brimming with flavor, Haleem is a slow cooked stew made with a mixture of wheat, barley, lentils, and meat (chicken, beef, or lamb). It is a very popular dish in Pakistan, India and Bangladesh. Bulgur, an essential food in Middle Eastern, South Asian and Mediterranean countries, acts as base.
33. Hard cider
As opposed to the non-alcoholic version, simply known as apple cider, this is a bubbly drink with a range of flavors (from dry and crisp to sweet and fruity) that has seen a resurgence in popularity, especially with the craft beverage movement.
34. Hallaca
This Venezuelan dish is a Christmas favorite. It is a type of tamale, made by wrapping a filling of seasoned meat, olives, raisins, and other ingredients in a maize (corn) dough, then encasing the entire package in plantain leaves and steaming or boiling it.
35. Hog's pudding
Cornwall has many wonderful sights to offer. This traditional Cornwall sausage is certainly one of them. It combines oats or barley with a meat mixture and special spices for an awesome breakfast. Its popularity led to Cornwall being a center of foodie tourism.
36. Herbes de Provence
The French seem to have mastered the art of spices. This aromatic blend of dried herbs, typically including thyme, rosemary, oregano, and lavender, captures the essence of the Provençal countryside giving the food there true soul.
37. Herring
The simple herring has starred as one of the most important fishes throughout history and it's a staple in Sweden, Poland, Germany, the Baltics and many other countries around the world. Fresh, pickled, smoked, canned, there are countless ways of enjoying them. Kippers (smoked and salted herring) with eggs is a popular British breakfast.
38. Havarti
This a semi-soft Danish cheese is known for its buttery texture and mild, tangy taste. A perfect companion on cheese platters, it also melts beautifully, making it a favorite for grilled sandwiches.
Btw, did you know that Denmark is the country with the highest production of cheese per capita in the world?
39. Harira
During the holy month of Ramadan, this Moroccan soup is a blessing and a staple food for many Moroccans. It blends tomatoes, lentils, chickpeas, and aromatic spices to provide layers of flavor, from earthy to zesty. It is served with dates and chebakia (traditional pastry).
40. Hachis Parmentier
This is the French equivalent of sheperd's pie and was named after Antoine-Augustin Parmentier, an 18th-century pharmacist and nutritionist who promoted the use of potatoes. It's said that Napoleon Bonaparte was a big fan of Hachis Parmentier.
41. Hurricane
A New Orleans classic, this vibrant drink blends light and dark rum with passion fruit, citrus, and grenadine. Served over crushed ice and garnished with a cherry and orange slice for a sweet, boozy glass of fun.
42. Heirloom tomatoes
This special category of tomatoes is prized for its distinct flavor and appearance. From large and beefy to small and delicate, striped and mottled to multi-colored and irregularly shaped, they come sweet and fruity, tangy and complex.
43. Hornado de Pernil
Hornado de Pernil is a popular Ecuadorian Christmas dish. You better have an appetite, because Hornado de Pernil is whole pig marinated in a flavorful mixture of spices and then slow-cooked. Not to mention the delicious sides, llapingachos (stuffed potato patties) and hominy corn.
44. Huarache
Named after a sandal, due to its shape, this is a thick, oblong corn masa base topped with beans, meat, cheese, and salsa. Bursting with flavors and textures, huaraches are a street food sensation in Mexico.
45. Haroset
A symbolic dish that is an essential part of Passover Seder, a Jewish ritual meal. During Seder, participants eat maror (bitter herbs) together with haroset and matzah (unleavened bread).
46. Hijiki
This nutrient-rich seaweed, native to Japan, offers a unique texture and umami flavor. Rehydrated, Hijiki is used in salads, mixed with vegetables, tofu, and other ingredients, and dressed with a flavorful sauce.
47. Hot toddy
Likely from Scottish and Irish roots, hot toddies were sometimes used as a medicinal drink to relieve cold symptoms and help people sleep. It typically consists of a combination of spirits, hot water, sweetener, and spices or flavorings.
48. Hweori Gamja
This Korean dish is made by spiraling a whole potato onto a stick then deep-frying it. Seasoned with various flavors such as cheese or spices, hweori gamja is a crispy, crunchy treat both visually captivating and tasty.
49. Haslet
This meatloaf-like dish hails from Lincolnshire, England and is made from minced pork, herbs, and spices. Served cold in thin slices, it's a hearty addition to ploughman's lunches, sandwiches and platters.
50. Haddock
The haddock is a fish and a common choice for the classic British dish of fish and chips but is also popular as a creamy chowder. It is considered the cousins to cod, having similar physical features. Finnan haddock (cold-smoked) has a nice smoky-sweet flavor.
51. Hoppel Poppel
When you want to transform leftovers into a wonderful meal, try Hoppel Poppel. From German and Austrian cuisine, it features a mishmash of ingredients such as eggs, diced meats, veggies, and potatoes, all cooked together into a hearty scramble.
52. Htamin Jaw
Htamin Jaw, or Burmese Golden Fried Rice, is made with cooked rice mixed with an array of ingredients such as turmeric, fish sauce, and often served with boiled peas, crispy fried onions, and a hard-boiled egg.
53. Harees
Porridge with a twist, harees combines bulgur, ghee, onions, spices and garnishes for a nourishing comfort food that symbolizes unity and hospitality in Arabian cultures. It's one of the most popular Arabic foods and a must try when visiting the Middle East.
54. Hotteok
Fans of pancakes shouldn't miss hotteok. These delightful treats are stuffed with a mixture of brown sugar, cinnamon, and chopped nuts, then cooked until golden brown. Some cafes and vendors offer fillings such as custard, fruit, or even ice cream.
55. Haldi Doodh
This drink is recommended for balancing the body's doshas (energetic forces), supporting digestion, and promoting overall well-being. Otherwise known as Golden Milk, it is made by combining milk with turmeric and spices like black pepper and ginger.
56. Hakka Noodles
A fusion between Chinese-style stir-fried noodles and Indian spices and flavors. They are quick to prepare, so a popular choice for takeout and fast-food menus. With its colorful appearance, hakka noodles are often a hit with children.
57. Humita
This name comes from the Quechua language, spoken by the indigenous peoples of the Andes region of South America. It is a traditional South American dish popular in Chile, Argentina, Peru or Ecuador and made with a mixture of fresh corn, onions, and seasonings, wrapped in corn husks and cooked.
58. Hopped-up beer
This refers to beer that has a higher-than-average amount of hops added during the brewing process, much like IPAs (India Pale Ales). The recent craft beer movement has led to an explosion of new types, including Double, Triple and Hazy Double IPAs.
59. Hasselback potatoes
You might have seen the viral videos about these potatoes cut like an accordion, fried and sometimes even stuffed with cheese, bacon, or herbs. A simple trick to make a meal stand out that's also fun for the whole family.
60. Hominy
Widely used in Latin American and Southern cuisine, hominy adds a unique texture and flavor to dishes such as pozole and grits. It's made with dried maize (corn) softened in a solution, similar to African kenkey.
61. Hotchpotch
Just as the name suggests, this refers to a dish made with a mixture of ingredients. Originally known as stews, in modern times, the idea of a hotchpotch can be seen in fusion cuisine and experimental cooking, such as Sushi Burritos or Fusion Tacos.
62. Hearts of palm
In Latin American cuisines, hearts of palm are a staple ingredient in dishes such as salads, rice dishes, and ceviche. They are the inner core of certain types of palm trees, such as coconut and açaí.
63. Hollandaise
It takes a bit of work to get it right, but this incredible French sauce is really worth the hassle. Generally served with dishes such as Eggs Benedict (poached eggs on English muffins with ham or smoked salmon) or fish.
64. Humba
This slow-cooked pork belly or shoulder is marinated in a savory-sweet sauce of soy, vinegar, and black beans. It is a particularly a satisfying dish from the Philippines' rich culinary tradition. Banana blossom is a surprising ingredient.
65. Hibiscus
Its dried petals make for a tart and tangy tea with a brilliant red hue. Packed with antioxidants, hibiscus brings a burst of color and health benefits to both your garden and your cup.
66. Hangikjöt
The only way to celebrate Christmas in Iceland is with hangikjöt. The name refers to the traditional method of preparing mutton, hung over a smoky fire to be slowly smoked and cooked. It is served with potatoes in béchamel sauce, green peas, and pickled red cabbage.
67. Haricot
More commonly known as kidney beans, these make a simple baked bean recipe, typically with a tomato-based sauce, but you can opt for a sweet variant with molasses or brown sugar.
68. Hokkien Mee
This Singaporean dish is a mix of yellow egg noodles and rice vermicelli, stir-fried with prawns, squid, eggs, and a savory soy-based sauce. It's completely umami, especially from the wok hei (wok's breath) which imparts a smoky and charred flavor.
69. Horn melon
This spiky fruit has a bright orange skin and a vibrant green, jelly-like interior studded with edible seeds. Its flavor is a blend of citrus and cucumber, making it a refreshing treat or rare garnish.
70. Hickory nuts
Native to North America, these nuts have been used as a food source for centuries by Indigenous peoples and wildlife alike. Squirrels, chipmunks, deer, and various bird species rely on them, year after year.
71. Horseshoe Sandwich
Springfield, Illinois is home to a decadent, open-faced sandwich made with thick slices of toast or bread, topped with a hamburger patty or ham, covered with a layer of French fries, and smothered in a rich cheese sauce.
72. Hot sauce
Even the Aztecs and the Mayans were in love with this fiery condiment. Different cultures have their own versions of hot sauces, including Tabasco sauce from Louisiana, Sriracha sauce from Thailand, and Harissa from North Africa.
73. Har Gow
What defines Har Gow is the translucent dumpling wrapper, which becomes almost transparent when cooked. This Cantonese dim sum dumpling is made with shrimp and bamboo shoots and is served with a mix of soy sauce and rice vinegar
74. Horiatiki
Also known as Greek salad, horiatiki is a vibrant dish featuring fresh tomatoes, cucumbers, red onions, Kalamata olives, and feta cheese, drizzled with olive oil and sprinkled with oregano. The name horiatiki derives from Greek, meaning village or country.
75. Hot cross buns
Initially associated with pagan rituals, these buns were later adopted into Christian tradition. There's even a nursery rhyme "Hot Cross Buns". These baked treats are marked with a cross on top, possibly symbolizing the crucifixion of Jesus Christ.
76. Huevos Rancheros
Got a hankering for a tasty, filling breakfast? Then fry up some eggs with tomatoes, onions, peppers, and spices, for a Mexican staple food, rancher's eggs. Add refried beans, avocado slices, sour cream, cheese, fresh cilantro. Don't forget the hot sauce!
77. Haminados
This slow-cooked stew is prepared before the Sabbath and left to simmer overnight. Featuring beans, barley, meat, and sometimes potatoes, haminados is a symbol of observance and unity in Jewish culture.
78. Hot wings
From sports bars to backyard BBQs, you can never get enough of these addictive appetizers. According to the National Chicken Council, Americans consume millions of chicken wings during Super Bowl weekend.
79. Hamburg Steak
The precursor to the modern burger! This dish, originating in Germany, features ground meat (often beef) mixed with breadcrumbs, onions, and seasonings, then formed into a patty and cooked. Not as cool as a Big Mac though.
80. Huckleberries
While huckleberries are primarily wild-harvested due to their specific habitats, there are efforts to cultivate them commercially, although it can be challenging. So appreciate every bite from that huckleberry pie.
81. Hoppin' John
Eating this dish on New Year's Day is considered a tradition to bring luck and good fortune for the upcoming year. Hoppin' John is made from black-eyed peas, rice, and flavored with ham hock or bacon.
82. Harcho
This is a traditional Georgian soup made with lamb, rice, tomatoes for color and acidity, as well as tkemali, a sour plum sauce that adds tanginess. It can be accompanied by traditional Georgian bread known as shotis puri.
83. Hyssop
This fragrant herb has a long history of culinary, medicinal, and even spiritual uses. The leaves have a strong, slightly bitter flavor with notes of mint and a hint of spiciness, great for seasoning soups and drinks alike.
84. Hmong Sausage
Part of the broader culinary identity of the Hmong people, the Hmong Sausage is flavored with a particular blend of spices and aromatic herbs, such as lemongrass, galangal, garlic, shallots, and cilantro.
85. Hermits
You might call it old-fashioned, but this cookie has a long history in American cuisine. Dense and chewy in texture, spiced with cinnamon, nutmeg, and cloves, often including dried fruits and nuts, it's been enjoyed for generations.
86. Hosomaki
Meaning thin roll in English, the name accurately describes the roll's size and composition. Unlike other sushi rolls, the hosomaki consists of only one type of filling, tuna or salmon, vegetables, or tamago (sweet Japanese omelette).
87. Huangmenji
Chicken pieces are kept in soy sauce, ginger, and other spices, then prepared as a richly colored and aromatic dish. Slow-cooked until the flavors meld, huangmenji is savory and slightly sweet, with a lovely golden yellow hue from the wine.
88. Hermelín
Also known as Czech Camembert, hermelín is a bloomy rind cheese, meaning it's coated with a layer of white mold that develops during the ripening process. It pairs well with cured meant and fresh fruit.
89. Hachée
Just one in the broad tradition of Dutch stews, hachée's main ingredients are meat and onions, which are slow-cooked until tender. Traditionally sweet from the onions, some variations incorporate tangy ingredients like vinegar, red wine, or apples, adding depth of flavor.
90. Hogao
Colombian sauce made by sautéing tomatoes, onions, and garlic with plenty of with cumin and cilantro. It's commonly paired with national staples such as arepas (corn cakes), empanadas, rice, beans, and grilled meats.
91. Hawawshi
Served with tahini sauce, vegetables, and sometimes pickles or onions, hawawshi is a stuffed savory pita bread. In Egypt, it's often associated with bustling street food markets where vendors eagerly await hungry clients.
92. Hawaij
Yemen's aromatic spice blend comes in two variants: one for coffee, with cardamom, ginger, and cloves, and another for soups or stews, with cumin, turmeric, and coriander.
93. Hủ tiếu
This consists of clear or opaque rice noodles served in a flavorful, clear or aromatic broth, adding to Vietnam's rich culture of noodle-based dishes, which includes other well-known options such as phở and bún bò Huế.
94. Hunza Pie
Part of the health-conscious lifestyle of the Hunza people, who are known for their longevity and well-being, this pie includes a blend of vegetables, cheese, and sometimes nuts, encased in a savory pastry crust.
95. Homard à l'Américaine
A French classic with American flair! This sumptuous dish features lobster cooked in a tomato-based sauce, often enriched with brandy or cognac and finished with cream and herbs.
96. Himmel und Erde
Otherwise known as Heaven and Earth, this dish combines apples (from the trees) and potatoes (from the earth). The apples are typically stewed or sautéed and served alongside mashed potatoes and sausages
97. Hornazo
Native to the regions of Salamanca and Extremadura, hornazo consists of a bread filled with a mixture of pork, chorizo, and hard-boiled eggs. It is traditionally consumed on Easter Monday, a day known as "Lunes de Aguas."
98. Hoppers
These bowl-shaped pancakes are made fermented rice batter and feature a crispy lace-like edge and soft, spongy center. It is a Sri Lankan specialty presented with curries, chutneys, or even eggs.
99. Hubbard Squash
With its bumpy, hard skin and sweet, rich flesh, hubbard squash is a staple of winter cuisine. Roasted, puréed, or used in soups and stews, it offers a warm and comforting taste of the season.
100. Holishkes
This is a type of stuffed cabbage roll, similar to dolma. While typical holishkes use ground meat, vegetarian and vegan versions have become popular, commonly incorporating ingredients such as mushrooms, lentils, or tofu.
101. Hutspot
According to legend, during the Siege of Leiden, Netherlands, the inhabitants combined the few available ingredients—carrots, onions, and a pot of hot water—to create hutspot. It has since become one of the most popular foods in the Netherlands.
102. Hoecake
This was a practical and portable food for early American travelers and workers, as they could be easily cooked over a fire. A hoecake is a simple flatbread, usually served with butter, syrup, molasses, honey, or savory spreads.
103. Hoja Santa
This Mexican leaf, known as sacred leaf, is used as an aromatic wrapper for various dishes, such as tamales or fish, adding a unique flavor reminiscent of anise, sassafras, and black pepper.
104. Horse gram
Some call it a superfood due to its nutrient content, rich in protein, dietary fiber, iron, calcium, and various vitamins and minerals. It is used in Indian dishes such as kulith usal (spicy stew), and horse gram dosa (fermented lentil crepe).
So here there are, just some of the most heavenly and healthy foods that start with H.