Weird Food? Our 17 Picks to Challenge Your Palate 
All of us tend to return to our favorite dishes and comfort foods again and again. We find comfort and safety in our favorites, and they make us feel at home, all warm and cozy and satiated. However, there are those who enjoy being more adventurous, those who are always eager to explore new recipes and ingredients.
If you're one of these and you're looking to spice up your routine and get out of your culinary comfort zone, then you will enjoy our list of 17 of the weirdest foods in the world.
Some of these dishes are considered exotic, some are deemed innovative and imaginative, while some are just plain strange. Keep reading to be inspired, and if this list is too boring for you, then be sure to check out our round-up of the nastiest foods around the world.
Just be warned, those dishes are definitely not for the faint of heart.
1. Cod Milt
If you're extra adventurous and really looking for a culinary challenge, then perhaps you should give cod milt a try. But be warned, this is not a dish for the faint of heart. Curious? Well, cod milt is considered a delicacy in Japanese cuisine, and it's basically a cod's sperm sac.
At first glance, it looks a little like brains, and has a white, whipped-cream-like consistency. It has a soft texture that melts in your mouth, but the taste is definitely not to everyone's liking.
Luckily, it's an affordable ingredient that can be pan-seared, deep-fried, steamed, and even scrambled with eggs.
Learn more about fish and cod milt here.
2. Haggis
If you've ever visited Scotland, you might already be familiar with haggis, the Scottish national dish. For the Scots, there is absolutely nothing weird about this dish, but if you've never heard of it before, it might sound…intriguing, to say the least.
Haggis is a type of pudding made from the liver, heart, and lungs of a sheep, usually minced and mixed with either beef or mutton suet and oatmeal, and topped with onion and other spices. So strange is this dish, it has even been banned by the US since 1971, as the USDA has labeled lungs an inedible animal by-product.
Haggis is banned in the United States.
It can still be enjoyed, however, as long as the sheep lungs are replaced with something else. And the Scottish people are not the only Europeans who enjoy haggis. It's a popular food in other countries such as Romania, who has its own haggis version that's very popular for Easter.
3. Chicken feet
Some of us think of chicken feet as a waste product that belongs in the trash, but as it turns out, we might be missing out on something truly delicious, albeit pretty weird, let's be honest.
Chicken feet are especially popular in China, where they're usually prepared Dim Sum style, topped with soy sauce, oyster sauce, and black beans.
The feet, also known as 'phoenix claws', are fried and braised with aromatics such as ginger, garlic, star anise, or oyster sauce, then topped with a salty, thick sauce and enjoyed as a snack or served with rice.
Chicken feet are also used to prepare aspic dishes in Eastern Europe, since they are extremely gelatinous, but are usually removed before serving.
4. Coconut Worms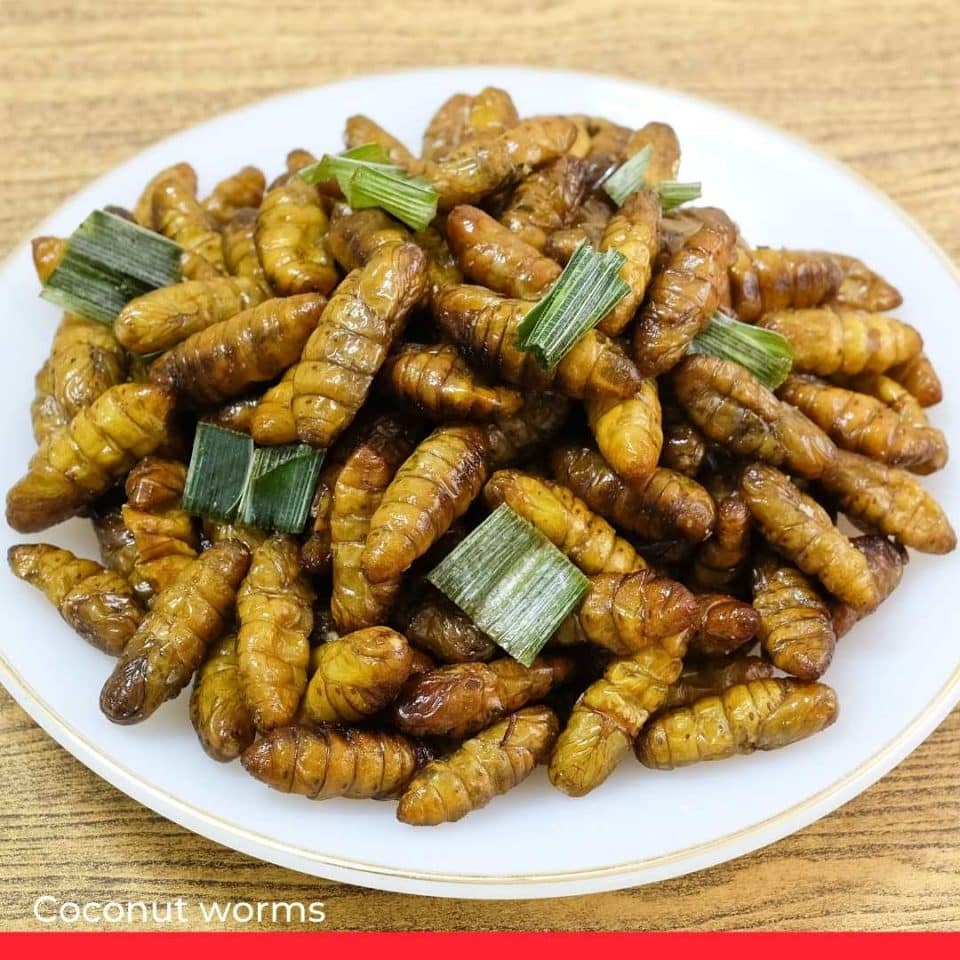 Another dish that's worth a place on our list of weird foods is coconut worms. A well-liked dish in Vietnam, it's definitely an acquired taste, and many people can't even bring themselves to try it because it virtually has no visual appeal!
The worms are usually served alive with some Vietnamese fish sauce. Delicious, right? Don't feel bad about eating them though as coconut worms are very harmful to coconut trees, so this is one way of getting rid of them.
But if live worms are not really your idea of comfort food, you can enjoy them deep-fried or grilled. Bon appetit!
5. Fugu
Fugu is a pufferfish dish that's hugely popular in Japanese cuisine. However, it's also one of the deadliest dishes on this list.
Fugu can be lethally poisonous because it contains tetrodotoxin, a dangerous neurotoxin that can basically kill you by blocking sodium channels.
Fugu is lethal if not cooked properly.
The cooking process involves removing the fish's toxic parts to avoid them contaminating the meat. Still, because this process is very meticulous, only chefs with more than three or four years' rigorous training are allowed to prepare the fish in restaurants. And even with rigorous care, accidental contamination can happen.
If you like to take risks and live on the edge, you might want to give Fugu a try.
6. Jing Leed (Grasshoppers)
Anyone who really dislikes the sight of bugs should look away now. That's because Jing Leed, a famous snack native to Thailand, basically consists of a huge plate of crispy grasshoppers.
That's right, a plate full of bugs – crickets, to be exact. Believe it or not, it's an incredibly popular street food in Thailand, served with Thai pepper and different sauces.
The result is a crunchy, salty, protein-rich snack that you might prefer to eat with your eyes closed. Or is it just us?
7. Lutefisk
Lutefisk is a popular dish in Scandinavia and other Nordic countries, and is part of the traditional Christmas feast in Norway, Sweden, and Finland. However, if you're not from around these parts, it might be somewhat of an acquired taste.
Lutefisk consists of cod from Norwegian waters that is dried until it becomes grippy like leather and solid like cardboard. Sounds delicious, right?
Well, to ready it for consumption, the fish is soaked in lye and rehydrated in cold water. After several days of soaking, it acquires a jelly-like texture, and it is then steamed in a covered pan with a bit of salt. It's served with boiled potatoes, mashed green peas, fried bacon, and melted butter.
8. Surströmming
If you have a delicate, sensitive nose, then you should probably avoid this one. That's because surströmming, a staple of Swedish cuisine, is one of the nastiest-smelling foods in the world. It's basically slightly salted, fermented Baltic sea herring, typically purchased in a can.
Terrible smelly food. It's banned on airlines because of this.
The fermentation process takes about six months, at least, which is why opening a can of surströmming is not advisable when in public – the putrid smell might drive everyone away. It's so bad that it's actually banned on most airlines.
Swedes enjoy this smelly fish from the third Thursday of August, also known as 'surströmming day,' through early September.
Pro tip: if you're curious, best go outside to open the can. You might also want to wear a gas mask, but to each their own.
9. Durian fruit
The best way to understand durian fruit perhaps is to watch Formula 1 drivers Max Verstappen and Daniel Ricciardo trying to get into this incredibly smelly ingredient. Durian fruit is either loved or hated, and there's no doubt that it's one of the smelliest foods in the world.
It's super popular in Southeast Asia and the Chinese have developed an almost obsession for the fruit, where it's actually hailed as 'the king of fruits'. It is very high in nutrients such as magnesium, potassium, vitamin C, and vitamin B6. The fruit itself is like a spiky, incredibly tough bowling ball, so you'll have to work extra hard to get it open.
The fleshy interior of the durian fruit can be eaten fresh, paired with some sticky rice, or even added to sweets and candy.
10. Morcilla
Are you looking to step up your sausage game? If so, you might want to try morcilla, a Spanish blood sausage made from, basically, blood. It's a yearly Spanish tradition to gather family and friends around for la matanza, or the yearly slaughter.
This is when a fattened hog is sacrificed to make jamón, chorizo, and morcilla. Almost every single part of the pig is used in some way or another, and the blood is no exception. The hog's blood is drained quickly and placed in a large pan, after which it's mixed with the ground pork and topped with spices, seasonings, and some filler, like rice.
Then it's shaped by piping into cylinders, flash-boiled, to help the blood coagulate, and hung up to rest and cure. Once done, the morcilla is sliced and cooked in olive oil, or crumbled up and used in stews.
Unlike chorizo, which has similar ingredients and a similar taste, morcilla needs to be cooked before it can be consumed.
11. Salo
Salo goes by many names in Europe: сало in Ukraine, szalonna in Hungary, słonina in Poland, or slănină in Romania, to name just a few. It's very popular in Central & Eastern Europe, and consists of cured slabs of fatback, served either with or without the skin, depending on the region.
It's dry salt or brine cured, and enjoyed either raw or cooked, with onions and mustard, on rye bread, in stews or borscht, or on its own with a bit of pepper and garlic. The taste is somewhat similar to that of bacon. However, unlike bacon, salo has little or no lean meat.
It's also similar to Italian lardo, just a lot thicker and seasoned differently.
Interestingly enough, some people like to pair a nice slice of salo with jam or other sweet ingredients. Care to give it a try?
12. Muktuk
A traditional dish in Canada and Greenland, muktuk consists of whale skin and whale blubber – basically fat tissue. It's made from the bowhead whale, and sometimes meat from narwhals and beluga whales too.
It can be enjoyed either raw or deep-fried, cut up into cubes, and served with soy sauce or British HP sauce. This Inuit whale delicacy tastes a little bit nutty and oily, and chewing it takes a little effort.
It's definitely not for everyone, but it deserves a try, especially since it's a great source of vitamin C and vitamin D.
13. Vegemite
If you grew up in Australia or lived there for any number of years, then you'll already know that Australians have a thing for this weird spread called Vegemite. You might even have heard it mentioned in different movies or TV series. So what the heck is it?
Well, Vegemite is a thick spread made from leftover brewers' yeast extract, mixed with vegetable and spice additives. It's been a staple in Australian households since 1922, enjoyed on sandwiches, toast, crackers, as well as pastry filling.
If you're wondering what it tastes like, think of umami or beef bouillon. It's very salty, malty, and a little bitter, but the good part is that it's totally vegan, halal, and kosher.
14. Snakes
You might be familiar with Snakes on a Plane, but what about snakes on a plate? A lot of people are deathly scared of snakes, but that is definitely not the case in Vietnam.
Here, you'll commonly find snake dishes on restaurant menus: steamed, fried, served with lemongrass, chili, or rice wine – the options are limitless, really. Snake meat is said to have a lot of benefits; it can help relieve headaches, stomach ailments, and lower high temperature.
It's also a delicacy in China, often served as a hearty soup featuring as many as five types of snake, mixed with pork bones, chicken, and spices. Deliciousssssss.
15. Mopane worms
Remember that illustrated children's book by Eric Carle, The Very Hungry Caterpillar? Very cute, right? Well, if you want your childhood ruined, take a trip to Zimbabwe, Namibia or Zambia and try out mopane worms, a disturbing dish that consists of big, fat, fried caterpillars.
The dish contains the large caterpillars of the Gonimbrasia belina variety, or Emperor moth. These caterpillars feed on the leaves of mopane trees and they are indeed very hungry and can become pretty large.
Smoked or fried, they are a great source of protein, and, allegedly, they taste like well-done steak.
16. Balut
Balut, otherwise known as duck embryo, is a popular, yet controversial dish that consists of a boiled duck embryo seasoned with ginger, salt, pepper, and kumquat.
In Vietnam, it is a popular breakfast dish, but not everyone enjoys slurping underdeveloped duck embryos straight from the shell first thing in the morning. It is also a popular food in the Philippines and other countries in South East Asia.
Still, if you want a protein-rich, flavorful dish with a complex taste, and you're not put off by the presentation, you should give it a try.
It's a really common street food in Vietnam and the Philippines, so you won't have to look too hard to find it.
17. Bat soup
Bat soup, a popular dish in South-East Asia and Oceania, has gotten a bad rap in recent years. That's because bats were mistakenly pinpointed as the likely source of the new coronavirus in 2020. That turned out to be false, but would you want to eat them?
Bat meat might not be to everyone's liking, but in some parts of the world, it's quite common. The dish originates from Palau, Oceania, and it tastes a lot like chicken soup, although it definitely looks a lot different.
But, if you're willing to look beyond that, you'll find that bat soup is incredibly flavorful and a great source of protein.
---
Related: Nasty Food: 20 Disgusting Delicacies From Around the World
Related: Cursed Foods from Around the World
Related: Gross Drinks: 13 Most Disgusting Drinks Ever Made