16 Most Popular Arabic Foods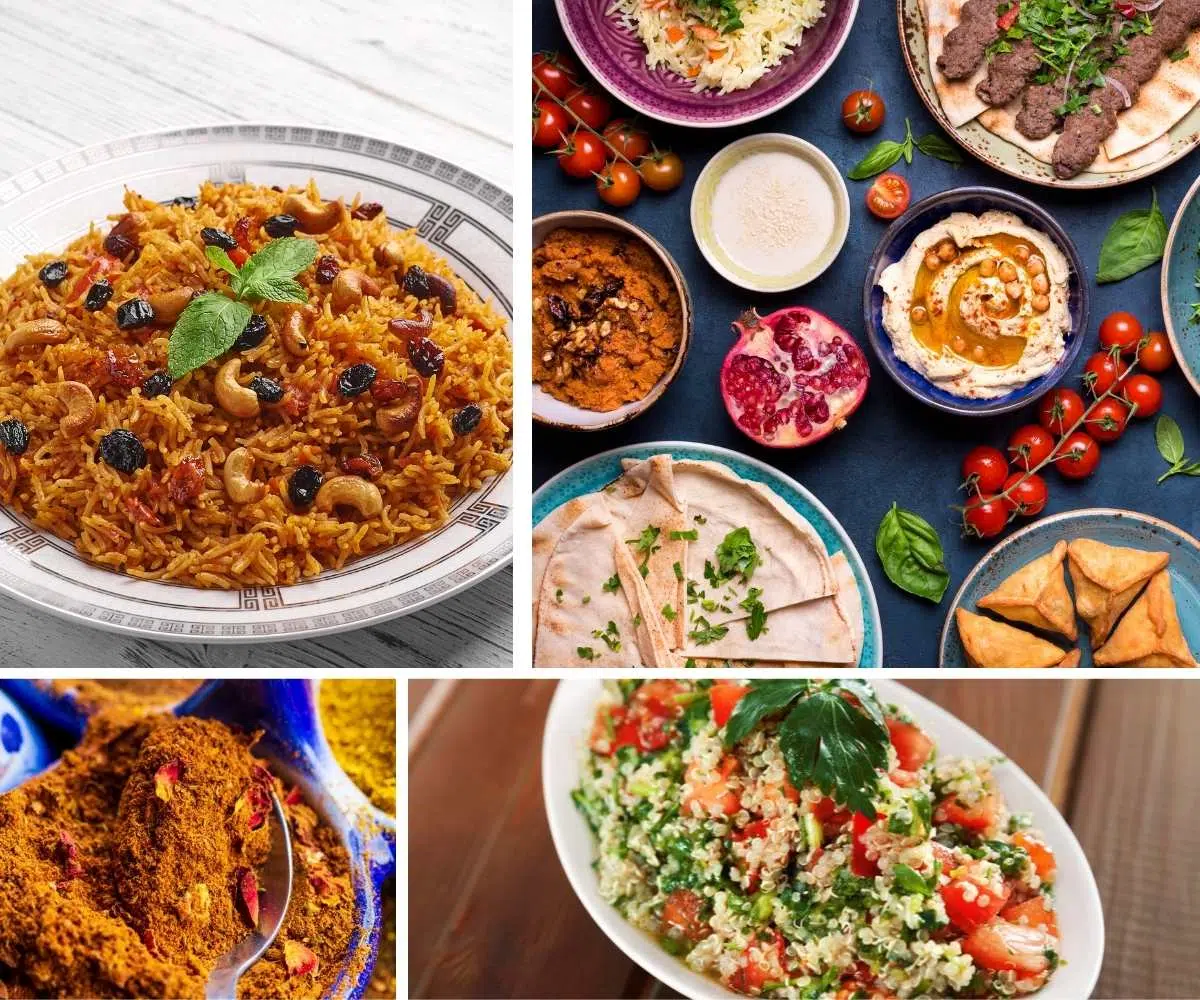 Arabia is home to dozens of regional cultures and thousands of different dishes originating from Maghreb to Makresh. Think of Arabian cuisine and we usually think of the Middle East.
Yet, Arab cuisine stretches from Morocco and Egypt to other continents with Arab communities. The rich aromas of Arabic cuisine has combined with new cultures which have embraced the cuisine and made it their own.
Since Islamic beliefs and practices heavily influence Arabic culinary culture, similar dishes can be found in many countries with Islamic beliefs throughout the Middle East and the Balkans. However, within this vast geography, every country, and even every city, has its own culinary traditions and techniques.
Traditionally, an Arabic meal consists of numerous dishes all served together on the table, and ends with desserts and coffee. This tradition began around Saudi Arabia and Yemen and then spread to the whole of the Arab region.
The most significant feature of Arabic cuisine is definitely the varying flavors and fragrances, both spices and flower essences. Turmeric, cumin, coriander, ginger, and cinnamon are used extensively in many dishes.
Sumac, lemon, pomegranate syrup, sour cherry, and plum are signature flavors.
As well as intensely spicy dishes, sour flavors are also typical. Sumac, lemon, pomegranate syrup, sour cherry, and plum are signature flavors.
Fresh and preserved seafood is consumed throughout the Arab region. The meat and offal of camel, sheep, lamb, goat, cattle, and chicken and game, such as rabbit, have a special place in the North African Arabic cuisine, which uses cooking techniques, such as stewing, baking, tandoor, and tajin. However, the most common cooking method is roasting.
The most common cooking method is roasting.
Arabic cuisine has left its mark on street food culture worldwide with its cooking techniques and signature dishes, especially shawarma.
Before examining the dishes specific to Arabic cuisine, we briefly look at the spice and dried herb blends used in almost every dish: baharat, za'atar, kammon hoot, and ras el hanout. Since these blends contain flavors unique to regional Arabic cuisines, they can be considered the basis of many Arabic dishes.
1. Baharat
Bahar means spice in Arabic, the plural being baharat. It is also the unique name of a spice mix, usually of 7 or 8 spices, such as nutmeg, cardamom, coriander, paprika, black pepper, cinnamon, cumin, and cloves. It is the most widely used blend in the Middle East and Arabian peninsula.
2. Ras el Hanout
Ras el hanout is an Arabic phrase meaning "head of the shop". Its name refers to the blend of the best spices a seller has to offer. The mixture is a blend of spices such as cardamom, cinnamon, clove, and coriander, as in baharat.
But there is no specific recipe. Each vendor's unique blend differs. Intense spices are commonly used, such as mace, allspice, fenugreek, turmeric, ash berries, orris root, anise seed, and fennel. This spice mix is also indispensable in North African Arabic cuisine.
3. Za'atar
A blend of spices and dried herbs combined in different proportions, za'atar is one of the essential and most consumed spice blends in the Arab world.
The most important feature that distinguishes this spice blend from others is the flatbreads or dipping sauces made with it. It is such a delicious mixture that it is possible to make a dish with it on its own.
Unlike other spice mixtures, dried herbs are used. Herbs such as marjoram, thyme, and oregano are mixed with savory spices such as cumin, caraway seed, sumac, coriander, and fennel seeds and blended with roasted sesame seeds to create this unique flavor.
Each za'atar bears the signature of the person who blended it.
4. Kammon Hoot
Kammon hoot is a spice blend native to Libya and is prepared with caraway, dried mint, cumin, garlic powder, coriander, and cayenne. It is generally used with seafood.
Arabic Rice dishes
High-aroma rice and meat dishes are staples for almost every household meal in Arab countries. Dishes in which meat is served with rice and cooked for a long time with aromatics such as turmeric, saffron, ginger, grated black lime, bay leaf, kammon hoot, and ras el hanout bare different names from country to country.
Often, the same dish has a different name within a country. Biryani, Saudi Arabia's kabsa dishes, al-mathbi, al-mandi, ruzz buhari, Oman's shuwaa, Iraq's qoozi, Egypt's koshary, Yemen's mandi, and Jordan's mansaf are actually reinterpretations of the same cooking techniques and similar aromatics with different vegetables, nuts, and meats.
Although the serving methods and the ingredients vary, these are some of the most characteristic and well-known dishes of Arabic cuisine.
5. Machbous
A version of the dishes mentioned above, machbous is prepared with baharat and lamb or fish and served with rice.
Traditionally placed in the middle of the table around which the whole family gathers and eaten using only the right hand, this dish is Bahrain's most beloved national dish. The dish of the same name in Kuwaiti cuisine is prepared with basmati rice and chicken or mutton.
6. Aashmazafran
Exclusive to the Emirates, this dish with saffron rice is prepared and served as a bed for many meat dishes. This rice dish harmonizes brilliantly with lahammurraq – a lamb dish with vegetables. You should definitely try these two dishes together for an authentic Emirates dining experience.
7. Muhammar
Bahrain's famous sweet rice dish, muhammar, can be flavored using many ingredients. Although traditionally sweetened with date molasses, nowadays caramelized sugar or honey is also used. Its distinctive golden yellow color from the saffron is the most characteristic feature of this dish.
The rice is sometimes fried to create a golden crust on one side, giving it a unique and delicious taste.
Rice is an essential ingredient of Arabic cuisine and is used in many different ways in many different dishes, sometimes as a pilaf, sometimes as a soup, sometimes as a porridge, and sometimes as dolma.
Warak enab (stuffed grape leaves), kousa mahshi (stuffed zucchini), and basal mahshi (stuffed onions) are the most popular types of dolma in Arabic cuisine. Variants can be found in Turkey, the Balkans, and the Middle East.
Dolmas, specially prepared for iftars and in particular during Ramadan, have pride of place in Arabic cuisine, even though they have only recently been incorporated into the cuisine.
8. Couscous
Dishes made with couscous, small granules of durum wheat semolina, are known by the same name, but there are also versions made with pearl millet, sorghum, and bulgur in some regions.
Couscous is one of the most essential nutrients in Algeria, Mauritania, Libya, Morocco, and Tunisia. Stews, tajine dishes, roasted meats, poultry, and fish are often served with couscous. Meat or vegetable dishes are rarely served alone.
It would not be wrong to say that couscous in North African Arabic cuisine holds the same position as rice in the Middle East and Arabian Peninsula Arabic cuisine.
Of course, grains aren't just served next to a meat dish. Sometimes they are cooked for a long time with meat and turned into a porridge. Madrouba, which is cooked for a long time with chicken and rice, is garnished with lime or lemon zest. Another porridge-style dish, harees, is prepared by pounding wheat cooked with meat or poultry for a long time.
Arabic Vegetable Dishes
When we think of Arabic cuisine, vegetable dishes may come as an afterthought. This is understandable as they are not as popular as rice and meat dishes with saffron or turmeric.
Dishes, salads, and appetizers made from the favorite vegetables of Arabic cuisines, such as leek, fresh fennel, asparagus, cauliflower, turnip, endive, carrot, chard, cabbage, okra, are incredibly underrated!
Speaking of vegetables, eggplant is very important in Arabic cuisine. Roasted eggplant or eggplant and meat stews are indispensable for tables in all Arab countries.
Although there are worldwide a vast number of uses for eggplant, eggplant-specific dishes have been developed in Arabic food culture, often paired with fermented sauces, nuts, and intense aromatic herbs.
9. Maghmour
This is a Lebanese moussaka. But don't let the name confuse you; this is not made with minced meat. This moussaka comes from the country with the greatest numbers of vegan options in the Arab world: Lebanon.
Maghmour is a classic eggplant stew. What makes it different is chickpeas, another favorite of the Arab world, and of the Lebanese in particular. Made with plenty of spicy tomato sauce, made with dried mint, cayenne, and paprika, plus onions, and garlic, this is an incredibly tasty treat.
10. Falafel
Chickpeas are definitely one of the cornerstones of Arabic cuisine, so it is impossible to leave out falafel! Falafel is fried balls of chickpeas or broad beans mixed with various herbs and spices. It's usually served with a pocket pita or lavash.
It can also be served with salads, various vegetables, and hot or tahini-based sauces. This extraordinarily well-known and nutrient-full dish is very popular in the West. It well deserves its fame.
Arabic Seafood Dishes
Fish and seafood dishes are often overshadowed by the rest of Arabic cuisine, but there are some real gems to be found, and you can explore these in your own kitchen.
Mashuai, mackerel served with lemony rice is unique to Oman. Then there is Saudi Arabia's variety of fish kabsa's and Morocco's fish soups and spicy samaka harra with tahini. And there are many more.
Try the spicy shrimp stew murabyan, one of the famous dishes of the United Arab Emirates, or the boiled crab gab-goo-ba maa-fourd, both of which make a great gastronomic experience.
11. Mutafayyah
Matfaiya or mutafayyah is a Yemeni dish of fish fillets that are first fried on both sides and then braised in tomato sauce. Fenugreek, coriander, and cumin are the distinctive spices for this dish.
Although meat, poultry, and seafood dishes are normally served with rice, this dish is an exception. It is served with a fenugreek sauce called hulbah and bread to soak it up.
12. Sayadieh
Another fish dish popular in Lebanon, Syria, and Bahrain and served with rice is sayadieh. White fish is generally used here with baharat. In the Lebanese and Syrian variant, pine nuts and almonds are added, boosting the flavor profile.
13. Muhammara
The word muhammara means red, blazing flame and bares no resemblance to the dish with a similar name, mohammar. Muhammara is a dish of Syrian origin. It is an extraordinary side dish that includes breadcrumbs, Aleppo pepper, walnuts, lemon juice, pomegranate molasses, and cumin.
It is usually served to accompany meat, chicken, and fish dishes, but it is also a great snack when spread on a piece of toasted bread!
Mezes and salads are one of the richest elements of Arabic culinary culture. There is always a salad or meze on the table at every meal. But they are also very popular in Western countries because they can be easily integrated into other culinary customs, taken there by Arabs who have emigrated.
14. Zaalouk
Tahini eggplant appetizers such as Moroccan eggplant and tomato salad, moutabel, and baba ghanouj are not restricted to the Arab world, they have become popular worldwide.
They are some of the most flavorful side dishes that you can make with eggplants.
15. Hummus
An Arabic appetizer made by adding lemon juice, garlic, salt, cumin, red pepper, and olive oil to chickpeas and tahini, hummus has become one of the most well-known Arabic dishes, particularly in the United States and Europe.
Because it is both vegan and easy to make, it can be included in any meal and works particularly well on breakfast tables.
16. Tabouleh
Tabouleh is made by blending bulgur, finely chopped tomatoes, cucumber, parsley, mint, onion, garlic, olive oil, lemon juice, and sour pomegranate syrup. This healthy salad, which should be in everyone's culinary portfolio with its satisfying and magnificent taste, is one of the stars of Arabic cuisine.
---
Related: Most Popular Middle Eastern Foods
Related: Popular Arab Desserts