Top 18 Most Popular Argentinian Foods (With Photos!)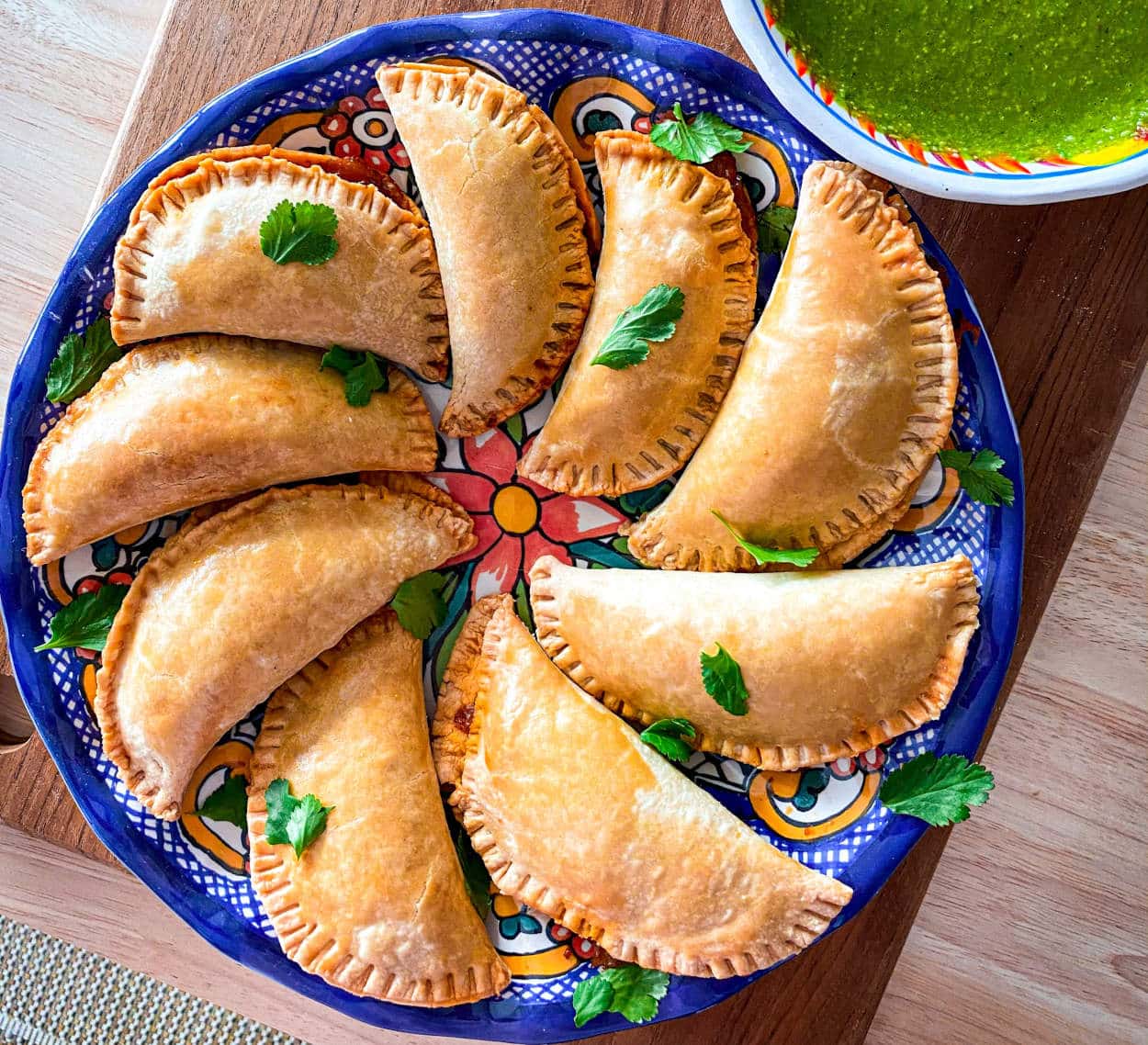 The first things we associate with Argentina are tango and soccer – the latter made so famous by two of the greatest representatives of the sport, Diego Maradona and Lionel Messi.
However, its cuisine doesn't come far behind, especially the beef and typical roasts.
Argentine cuisine is based mainly on beef, known for its excellence throughout the world, but there are also traditional dishes prepared from corn and squash, two ingredients that have a long history in the meals of the region.
Let's take a gastronomic tour of Argentina and find out how much there is to enjoy!
1. Asado (BBQ)
The barbecue in Argentina is a symbol of union, of meeting, of family. Every time guests are welcomed, the most typical gesture is to make them a delicious barbecue. Families gather on Sundays around the grill fire, made of charcoal or wood to share a delicious meal together.
There are different cuts of beef such as ribs, "vacío", and entrails, which are roasted to suit everyone's taste. The best flavor is a simple, undressed cut of meat, well-seasoned with salt and pepper, and accompanied with salads or French fries.
Argentine meat is some of the best in the world, due to the excellent cattle breeding that exists in the region.
This premium quality is why the "asado" is one of the nation's most famous meals.
2. Choripán
This is a typical Argentinian sandwich. If you go to a football stadium, you'll inevitably want to feast on a "choripán" from one of the famous food trucks located around the ground.
The choripán originated in rural areas, where the "gauchos" (Argentinian cowboys) gathered around a grill to roast stuffed sausages. As they didn't have plates or a space to eat comfortably, they put them inside bread and seasoned them with some spicy sauce.
Chorizo is a sausage of either pure pork or pork mixed with other meats. It is grilled, and placed in French bread when crispy. You can add chimichurri (a type of parsley-based pesto) or salsa criolla (made with peppers, tomatoes and onions), two typical dressings to add extra flavor and texture.
3. Parrillada
The "Parrillada" consists of roasted cow´s viscera. Chinchulines (cow intestine), gizzards, kidneys, are all accompanied by pork sausage and blood sausage called "morcilla" (a kind of sausage made with cow's blood and fat)
Everything is brought to the table on small grills that keep the meat warm and make our food really crunchy. A real Argentinian feast!
4. Locro
This is a typical food for national celebrations, which dates back to the Creoles who inhabited these lands in the 19th century.
This rich, tasty stew is made from white corn, squash, beef and pork, red chorizo, onion and pepper. It can be served with a spice mix known as "quiquirimichi", that contains ingredients such as ground chili and paprika, as well as onion and salt.
5. Tamales
Corn was one of the staple foods of the Incas and Diaguitas, the original people who lived in these lands and these tamales can be found in the northwest of Argentina, mainly in Tucumán, Salta, and Jujuy.
The dish is prepared inside the corn husk, which is filled with corn flour, squash, minced meat, onion, pepper, garlic and hard-boiled egg. The wrapper is tied and cooked in boiling water. Tamales are delicious and if you like spicy food, you will love them!
6. Empanadas
The arrival of the Empanada to Argentine lands has its origin in the Arab invasions of Spain over a thousand years ago.
Empanadas are wheat flour pastry circles filled with different preparations. The most typical is minced or finely diced beef sautéed with green onion. It can be completed with chopped hard-boiled egg and olives. In addition to being seasoned with salt and ground chili, cumin, that Arabic staple is and essential ingredient,.
They can also be filled with chicken, vegetables, mushrooms or corn. They can be baked or fried, and are also a popular choice on national holidays. Salta and Tucumán are particularly famous for their juicy and spicy empanadas. 
Related: Mushrooms Empanadas Recipe
7. Cordero Patagónico
This is more typical of Patagonia in the south of Argentina, where the landscape is characterized by its dry climate and hard pastures, which happen to be ideal for raising sheep.
To cook this dish, the lamb must remain in water for at least six hours to tenderize the meat. It is then opened and cooked on the spit, especially for "cordero al asador". It is eaten hot accompanied by homemade bread.
Lamb has been popular in Argentine kitchens since the 19th century and it is one of the most beneficial meats for health due to its low-fat content.
8. Humitas
This is one of Argentina's oldest foods, as it was prepared by indigenous communities, whose diet was based on corn and potatoes. Today it's typically found in the Salto-Jujuy puna and the Humahuaca regions.
It's prepared by grating dry corn kernels into flour, mixing them with milk to form a cream and then adding them to sautéed onion, basil, and paprika. Everything is then placed inside a corn husk, tied, and cooked in a pot of boiling water.
9. Milanesas a la Napolitana
This is the favorite food of virtually every child in Argentina. There is no house where milanesas in the napolitana style aren't eaten at least once a week. The most common are beef, but they can also be made from chicken, pork, and even fish.
It is a slice of meat marinated in beaten egg, a lot of garlic and parsley, and then covered in breadcrumbs. They are cooked in a pan with hot oil and left to rest on a dish with kitchen paper to absorb the oil. Then, tomato sauce, smoked ham and plenty of cheese are added and they are finished in the hot oven.
10. Papas Fritas a Caballo
Here's another children´s favorite, but let's face it adults love it too! It consists of a very abundant portion of French fries, with two fried eggs placed on top as if they were riding a horse, and it's eaten with homemade bread.
Kids love to dip the French fries into the egg yolk and eat with their hands. No fork or knife are needed, and you can order it in any Argentinian restaurant.
Not haute cuisine by any means, but nourishing, quick to make and delicious!
11. Dulce de Leche
This is the most popular sweet in the country. There is no dessert or cake that does not have added dulce de leche. As its name indicates, the main ingredient is cow's milk to which sugar is added as well as a touch of vanilla. Some people use a little baking soda to further enhance the caramel flavor.
To prepare it, you only need to place all the ingredients in a pot, and cook it over a very low heat, stirring constantly until it thickens.
Dulce de leche is considered part of Argentina's Gastronomic and Cultural Heritage, along with Malbec wine and asado.
In Buenos Aires, the great fiesta of dulce de leche is celebrated in the first week of November, an event even declared a national tourist attraction. The city is flooded with the smell of toasted caramel and you can taste a surprisingly wide variety of twists on the classic dulce de leche.
12. Alfajores
Alfajores are the best combination of sweets you can try in Argentina. Throughout the world they are known as a traditional part of the country's gastronomy and can be found in different flavors.
They are eaten at all times of the year and can be found at any kiosk. There are plain, triple top, chocolate and milk varieties. They can also be filled with fruit jam or chocolate mousse.
The most famous come from the province of Córdoba and Mar del Plata city. As both places are tourist centers, if you're lucky enough to visit, be sure to take some alfajores to your loved ones back home!.
13. Pastelitos de Batata
On Argentina's Independence Day, these famous sweet potato pastries are found on virtually every Argentinian table.
They're made with puff pastry that's filled with sweet potato, and fried in hot oil or pork fat. Once removed from the heat, they are slathered in syrup and decorated with colored dragees. They are a special treat and often served to accompany the afternoon mate.
14. Mate
In other countries you drink tea or coffee, while in Argentina there is no home where a round of mate is not made at snack time.
It is produced mainly in the Mesopotamian area. 'Yerba' refers to the herb leaves, while 'mate' is the name of the drinking cup. The dry yerba is placed inside, then covered with hot water. Once steeped, you drink it through a 'bombilla' (filter straw).
Mate is prized for its digestive and cleansing benefits and high antioxidant levels.
Such is the importance of mate in the daily life of Argentines that every November 30 the country celebrates national mate day.
15. Postre Vigilante
Typical, simple, and straightforward, this dessert is enjoyed in every home. It is a thick layer of soft, creamy cheese topped with a jelly-like paste of sweet potato or quince.
In some regions it comes accompanied with raspberries or bitter oranges. In some areas of the northwest they use goat's cheese and accompany it with cane honey.
In the southern region they prefer sheep's cheese. Undoubtedly, it is one of the traditional desserts of Argentina and loved by children and adults alike, since it can be consumed any time.
16. Grilled suckling pig
The grilled suckling pig is the star of the Argentinian Christmas dinner and it can be prepared whole, half or a quarter. The suckling pig takes between five and seven hours to cook and its ritual in many Argentinean homes.
It can be served hot or cold. Those who prefer not to spend so much time stoking a fire take the suckling pig to a nearby bakery to be cooked in the wood-fired oven. It is accompanied with the typical chimichurri, a preparation of oil, oregano, and ground chili.
17. Chimichurri
Talking about chimichurri – this is Argentina's most popular sauce.
This thick parsley-olive oil paste is as commonly eaten in Argentina as ketchup is in the rest of our world. There are several variations and I guess every chef in Argentina has his own special twist to it, however it always features Italian flat parsley, virgin olive oil, vinegar and garlic. Check out the chimichurri recipe here.
18. Stuffed Pionono
Another holiday favorite, stuffed Pionono is a semi-sweet dough filled with a variety of ingredients. In general, mayonnaise is spread over the dough and then layers of ham and cheese are added, plus a boiled egg, bell peppers, and olives.
You can also replace the ham with tuna. Everything is rolled up and cut into slices. It is fresh and delicious and goes well with salads.
Did you find your favorite Argentinian dish on our list? We'd love you to share any more suggestions you have with our community, so leave your comments below!
---
Related: Most Popular Argentinian Desserts
Related: Popular Argentinian Christmas Dishes