Top 25 Most Popular Middle Eastern Desserts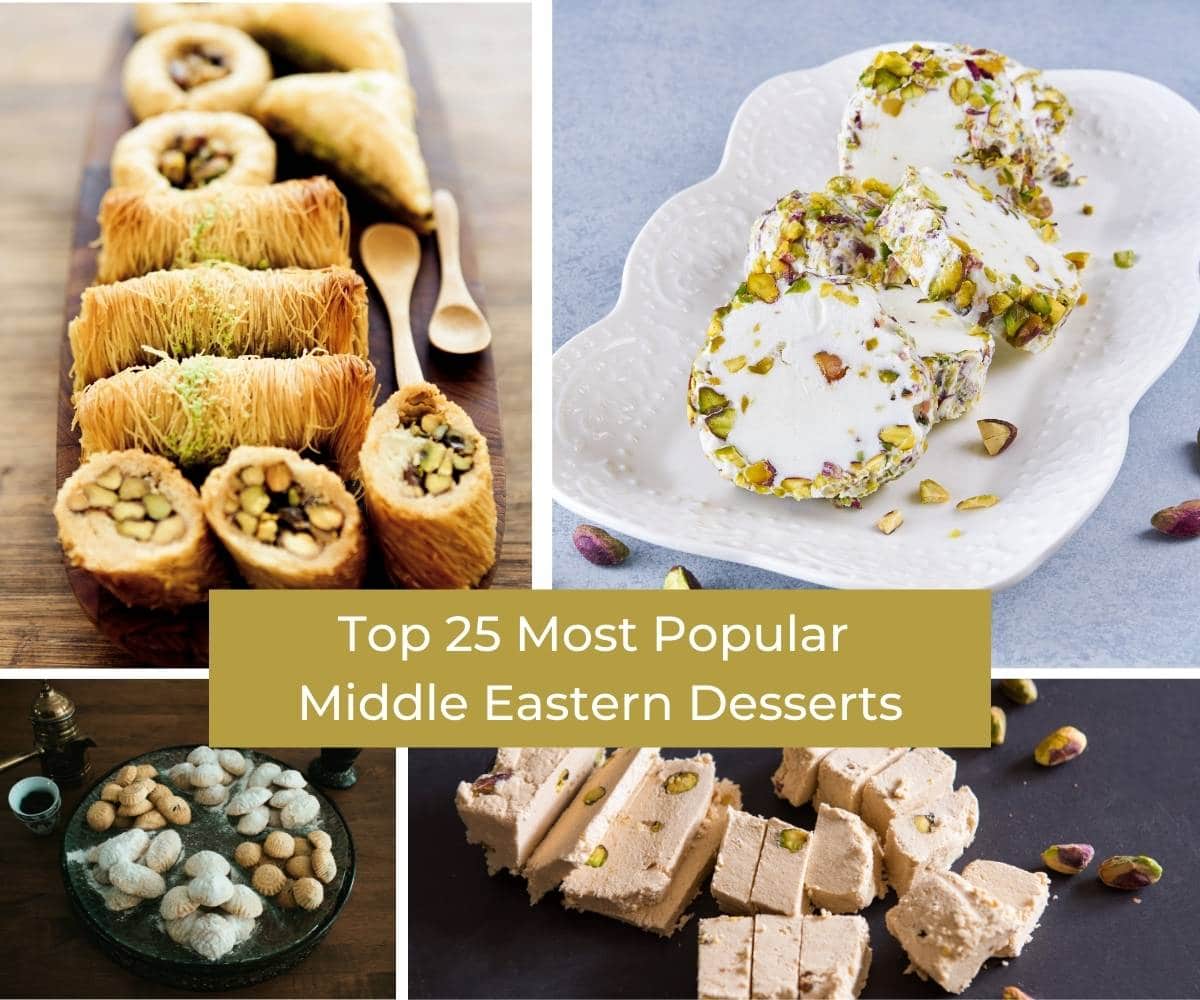 Desserts are an indispensable part of the rich and diverse Middle Eastern cuisine. There is always at least one kind of dessert ready to be consumed after a meal or at tea time during the day.
It is a deep-rooted tradition to serve dessert to guests with a foamy Turkish coffee or mint tea. Desserts, which are seen as symbols of friendship, happiness, joy, and generosity, are an essential part of any special occasion, such as weddings, holidays, festivals, and daily meals.
Let's dive into this culinary culture, which is becoming more and more popular in the world day by day, and look in detail at the most popular desserts. As the common Turkish saying goes, Let's eat sweets and talk sweet.
1. Baklava
Baklava is one of the most well-known desserts of the Middle Eastern cuisine. It is made by layering nuts, such as walnuts, pistachios, and hazelnuts, depending on the region, between thin phyllo dough. It is sweetened with a simple syrup made from sugar or honey.
Baklava, which is quite a difficult dessert to make, is carefully prepared for important guests, as it represents a symbol of their value. At the same time, it is an integral part of special occasions, especially during religious holidays, and at least one tray of baklava is prepared in every house.
It is possible to find baklava all over the world, but if you want the best of the best, you should definitely consider planning a trip to Gaziantep, the leading gastronomic city of Turkey.
2. Booza
Also known as Middle Eastern ice cream, booza is a frozen milk dessert with a flexible and chewy texture composed of sahlep, mastic, and whipped milk. This ice cream, which is quite different from regular ice cream in terms of its method and texture, is definitely worth trying!
In some countries, you can even find packaged booza in markets. But suppose you want to taste this delicacy on the spot. In that case, stop by the city of Kahramanmaraş in Turkey where you can try a different version of booza made with the same technique but with goat's milk while buying traditional handmade gifts for your loved ones.
3. Knafeh
Knafeh is a dessert flavored with a syrup called sherbet. It consists of a salt-free and stretchy cheese and thin-strand dough known as kadayif.
Although there are variations in its preparation according to the regions, the most basic recipe of the most famous version of knafeh is actually very straightforward. The kadaifs mixed with melted butter are pressed into a kind of copper tray, and a layer of cheese is placed between them. Sherbet is poured into the knafeh, or künefe, making the it turn brown on both sides.
In some regions, rose juice is also added to the sherbet. Cream and pistachios are also indispensable accompaniments to knafeh. If you want to taste different kinds of knafeh, Egyptian, Iranian, and Turkish variations stand out.
4. Arabic Honey Cake
In almost all of the region, countries have their own version of honey-sweetened cakes. Baked, fried, or eaten directly from the pan, there are many ways to enjoy them. It's generally served with a strong cup of coffee and can be made with many ingredients, including almond or wheat flour.
When you think of honey cake, perhaps the Russian dessert medovik comes to mind first. However, this light Middle Eastern cake with honey and usually almonds should definitely have a special place in your dessert dictionary.
5. Shirini Napoleoni
One of Iran's most famous desserts, Shirini Napoleoni is a dough with a soft cream filled between crunchy layers and served with pistachio pieces sprinkled on top. In fact, it is very similar to the famous French dessert mille-feuille made with puff pastry and pastry cream.
The name Shirini Napoleoni seems to be inspired by another puff pastry dessert of French origin, Napoleon dessert made with frangipane (almond cream) instead of pastry cream. Despite these similarities, this local dessert is an integral part of the Iranian national cuisine.
6. Ataif
Ataif, also known as Middle Eastern pancake, is a dessert often consumed during Ramadan. It is prepared by filling the pancakes with nuts or fillings, such as various cheese or cream, and closing them in a half-moon shape.
These filled pancakes can be served both fried and baked, and are usually accompanied by a simple syrup. Desserts prepared with the same method can be called by different names in different regions, such as taş or kadayif in Turkey and qatayef in Saudi Arabia.
7. Revani
Revani is a kind of semolina cake flavored with simple syrup called sherbet. It can appear with different names in different cultures such as namoura, basboosa, or shamali. Revani, a universal dessert throughout the region, is prepared by soaking a cake made with yogurt and semolina with sherbet and sweetening it.
Depending on the region, sherbet can be flavored with different flavors, such as orange and lemon peel, cinnamon, or rose petals. If you are looking for a light dessert that you can have with tea after dinner, this is the one for you!
8. Ma'amoul
Maamoul cookies are popular Middle Eastern shortbread sweets with dates or nuts inside. The main filling ingredients are walnuts and pistachio, but it can also be prepared with dried fruits such as fig and date. Almonds are also used on some special occasions, but it is not very common.
These cookies, whose shape changes according to the material hidden inside, are worth trying in every form. Ma'amoul, when made in round and dome shapes, is usually filled with walnut. When made in an elongated oval shape, it usually is filled with pistachios.
This dessert, which is very common in Diaspora Jewish cuisine as well as in Syrian and Lebanese cuisine, is indispensable on the tables during holidays such as Hannukah and Rosh Hashanah.
9. Muhallabia
This milk pudding made with rice flour, milk, sugar, and starch is seen in pretty much every Middle Eastern cuisine. It is one of the desserts that are made daily. Dried or fresh rose petals and a sauce prepared with it can be used while serving this dessert.
What makes this dessert so special for Middle Easterners is that it forms the basis of many other delicious desserts. For example, muhallabia is the base of tavuk göğsü and kazandibi desserts prepared with shredded chicken breast, which is consumed fondly in Turkey. However, the flavor of these desserts prepared with it can overpower the muhallabia itself.
Muhallabia made with almond milk, known as keşkül, is a delicious variety that has survived from the cuisine of the palaces of the Ottoman Empire.
10. Balizza
Since muhallabia is one of the most popular desserts of the Middle East, we also see versions of it enriched with fruits. Balouza, the most consumed version in winter, is an orange and milk pudding formed with starch.
This dessert, which resembles panna cotta, differentiates itself in its preparation, being made with starch instead of gelatin. Paluze, also known as Ottoman jelly, is another version of the same dessert made with rose water and water.
11. Riz bi Haleeb
Rice Pudding is a dessert that has found its place in almost every food culture in the world. The reflections of this in the Middle East appear with names such as riz bi haleeb and sütlaç.
In its Middle Eastern variations, the aroma of this dessert is enriched with rose water or orange blossom flavors, which are among the forthcoming aromatics of Middle Eastern desserts.
A custard-like structure is obtained by adding starch to rice, milk, and sugar, and this irresistible dessert is created. Its fried and caramelized version, known as baked rice pudding in Turkey, is not very common in home cuisine and is usually served in restaurants.
12. Om Ali
Prepared with small pieces of puff pastry, milk, sugar, pistachio, and walnut or pecan nuts, this bread pudding-like dessert is Egypt's most popular national dessert. Its origin is based on a legend that when Sultan Izz al-Din Aybak was killed and his murderer was caught, his first wife, Om Ali, prepared this dessert and distributed it to the public for celebration.
13. Ashure (Noah's Pudding)
Many dishes in the Middle East are based on legends and stories. To commemorate those legends and keep the culture alive, these desserts are traditionally prepared and distributed to neighbors and friends or served at celebratory meals at certain times of the year.
Based on the legend of Noah's Ark, this dessert represents abundance and must contain at least 7 ingredients. It is a porridge that can include multiple legumes, nuts, seeds, dried fruits, spices, and sugar in the ingredients, which can reach up to 40 in some places, and is occasionally served with pomegranate seed.
According to Turkish tradition, this dish is prepared with specific prayers for health, safety, and success during the 10th month, Muharram. The poor, as well as neighbors, friends, and family, receive ashure. Armenians always have this dessert at the center of the table during Christmas celebrations. The representation of abundance and fertility also appears in Armenian cuisine.
14. M'hanncha
This delicious dessert prepared with a rolled filo dough filled with ingredients such as marzipan, pistachio, date, and halva is flavored with a simple syrup made with orange blossom water or rose water.
The process of soaking the dough in the sherbet adds a pleasant floral sweetness. This roll is also likened to a snake, because it is a spiral from the inside out and is called m'hanncha, which means snake in Arabic. This unique dessert, which carries the influence of Iran's high culinary culture, is a must for special occasion meals of Morocco.
15. Kaak bi Loz
Another popular almond dessert in this region, where the use of almonds is quite common, is kaak bi loz, a compressed and cooked marzipan filled with pistachio paste. You can buy this dessert, which is rarely made at home, from bakeries and confectioners.
It is consumed quite often during religious holidays for Muslims and at Christmas time for Christian people in the Middle East. On these special days, it is kept in the house to serve to guests with coffee. If you are going to visit someone during these periods, it may be a good idea to buy a box of kaak bi loz as a gift!
16. Halva
It is known that halva, which has thousands of varieties and is known and consumed in many regions from Eastern Europe to Asia, is a dessert of Persian origin.
The recipe might differ significantly from one region to the other. It is primarily a rich, sweet dessert. Flour-based halva and nut- and seed-based halva are the two most prevalent types. Halva is commonly sold pre-packaged in Western countries, although it is more likely to be prepared in the Middle East.
17. Karabij
Karabij is a kind of ma'amoul prepared with mahleb, and served with soapwort meringue called natef. Karabij is a type of cookie filled with different nuts depending on the region. Karabij Aleppo walnut can be a filled dome shape, or it can be in an elongated oval shape. Karabij Lebanon is mainly prepared in elongated oval shapes and filled with pistachio.
18. Makroud
Semolina is an ingredient that gives life to many desserts in the region's cuisine. One dessert with no other way to achieve its desired taste without semolina is makroud. This dessert takes its name from its shape, which means diamond in Arabic. When its cut in the shape of a diamond, the filling material inside is revealed.
This dessert is filled with almonds and figs in North African countries and is sweetened with honey or dates. Clarified butter is one of the most essential features of this dessert, and to increase its flavor orange blossom water is added as well.
19. Ghorayebah
Speaking of clarified butter in the previous dessert, it would be unfair not to mention ghorayebah. It is prepared with 3 ingredients that can be found everywhere: powdered sugar, clarified butter, and flour. That's it. This dessert is so famous because it is prepared and served on holy days during Ramadan.
This is actually a bite-size cookie with a texture similar to halva. It is a delicious cookie that melts in the mouth.
20. Eish es Seray/ Ekmek Kadaif
Bread has been one of the most essential sources of nourishment in the region for thousands of years. These thousands of years of experience have brought about the mastering of bread and its development in different forms in various recipes.
Eish es seray or ekmek kadaif is a toasted bread with the edges removed and soaked with sherbet. Known in Egypt and Lebanon as aish el saraya, or saray bread, it has a taste fit for palaces when served with pistachio and clotted cream.
Even if it is prepared with the same method, the dessert known as ekmek kadaif in Turkey can be seen as a completely different dessert when served with tahini, clotted cream, and walnuts. The name kadaif might be confusing for some, but let's not forget that this is an entirely different dessert.
21. Sholezard (Zerde)
Sholezard is a rice pudding made using water and rose water instead of milk. The name of this completely vegan dessert comes from its color. In Persian, zard means yellow, and the main ingredient that gives this dessert its color is saffron.
Known as sholezard in Iran, this dessert is called zerde in Turkey, and sometimes turmeric powder can be used as well. This dessert is served on special occasions, such as religious holidays and weddings, with cinnamon, raisin, and pistachio sprinkled on it.
22. Qhotab
What makes this flaky, delicate, mouth-watering dessert unique is the combination of walnut, powder sugar, and cardamom.
This dessert, filled with walnuts and closed in the shape of a half-moon, can be traditionally both deep-fried and baked. This cookie-like pastry, which also has very common almond and pistachio paste-filled versions, is prepared precisely before Nowruz and heralds the new year's arrival.
23. Fruit Candied Desserts
Dough-based desserts and fruit-based sherbet desserts are pretty common in the Middle East. Cooking the fruit slowly until soft in a sugary syrup takes a lot of patience, but the result is always worth the wait.
Quince and pumpkin desserts are the most famous of this type. These desserts, which make you look forward to the arrival of winter, continue to delight the tables until spring.
24. Hoşaf (Khoshaf bil mishmish/Khoshaf al Yameesh)
Hoşaf or khoshaf is a compote prepared by slowly cooking fresh or dried fruits together with sugar and water. This dessert, which is served chilled with its juice, can be seen at the iftar tables every evening during Ramadan.
The most common ingredients are dried apricots, raisins, and dried prunes. It's a nice fact that the name of this dessert, which is frequently consumed as a side dish, means nice water in Persian.
25. Murabba
Murabba, one of the most beautiful forms of fruit, can be made in a consistency similar to marmalade or jam. It is boiled with sugar, water, and various aromatic spices, and allowed to absorb them sufficiently. It is indispensable for breakfast tables and is also seen at lunch and dinner. While you are trying murabba, which you can come across in its dried form, keep in mind that it is also used as medicine in some cultures.
The type of dish with the most symbolic meaning in the Middle East is probably dessert. Desserts and sweets have always been a symbol of abundance. Societies that believe sweets bring abundance attribute a type of sanctity to them. And for this reason, there have always been debates about which culture the desserts belong to.
Looking at the bigger picture, you can see that each culture added its own building block, contributing dozens of different versions of these magnificent desserts to the common heritage and enriching the culinary culture.
Some desserts appear in every corner of the world, but if you feel the refreshing orange blossom or rose water flavors in a dessert, then that sweet has brought you the flavors of the Middle East. Wherever you notice these, I guarantee you can trace it to genuine Middle Eastern cuisine.
---
Related: Most Popular Foods in the Middle East
Related: 7 Iconic Palestinian Desserts