Homemade Harissa Recipe
Harissa is a Tunisian hot chili paste and it's a popular ingredient in many Tunisian and Middle Eastern foods. The word 'Harissa' derives from the Arabic verb, 'harasa' which means 'to pound' or 'to break into pieces'.
Make sure you grind your chillis to get the maximum flavour out of them – the clues in the name!  Then add roasted red peppers, garlic, coriander seeds, cumin and extra virgin olive oil.
Spread harissa over a whole chicken and serve with roasted butternut squash, flatbreads and plenty of fresh coriander. It's simply amazing!
Harissa
Ingredients
50

grams

whole dried red chillies

1

teaspoon

cumin seeds

1

teaspoon

coriander seeds

2

teaspoons

caraway seeds

cinnamon

4

clove

garlic

Olive Oil

1/2

teaspoon

sea salt flakes
Instructions
Soak chillies in water for 1-2 hrs.

Preheat oven to 200 ℃ (400 ℉).

Drain the chillies and reserve the water.

Toss the garlic in some oil and place in the oven for 12 minutes or until soft.

In a dry pan over high heat lightly toast all the seeds until aromatic and remove them from the pan to a food processor.

Process all ingredients until thick.

Add 2 tbsp of reserved water.

Add 1/3 cup of olive oil and process until smooth.

Personally I make about triple this amount as once Iíve made it I tend to put it on everything.

It keeps for weeks in a jar, just cover the surface with a little oil and pop it in the fridge.
Notes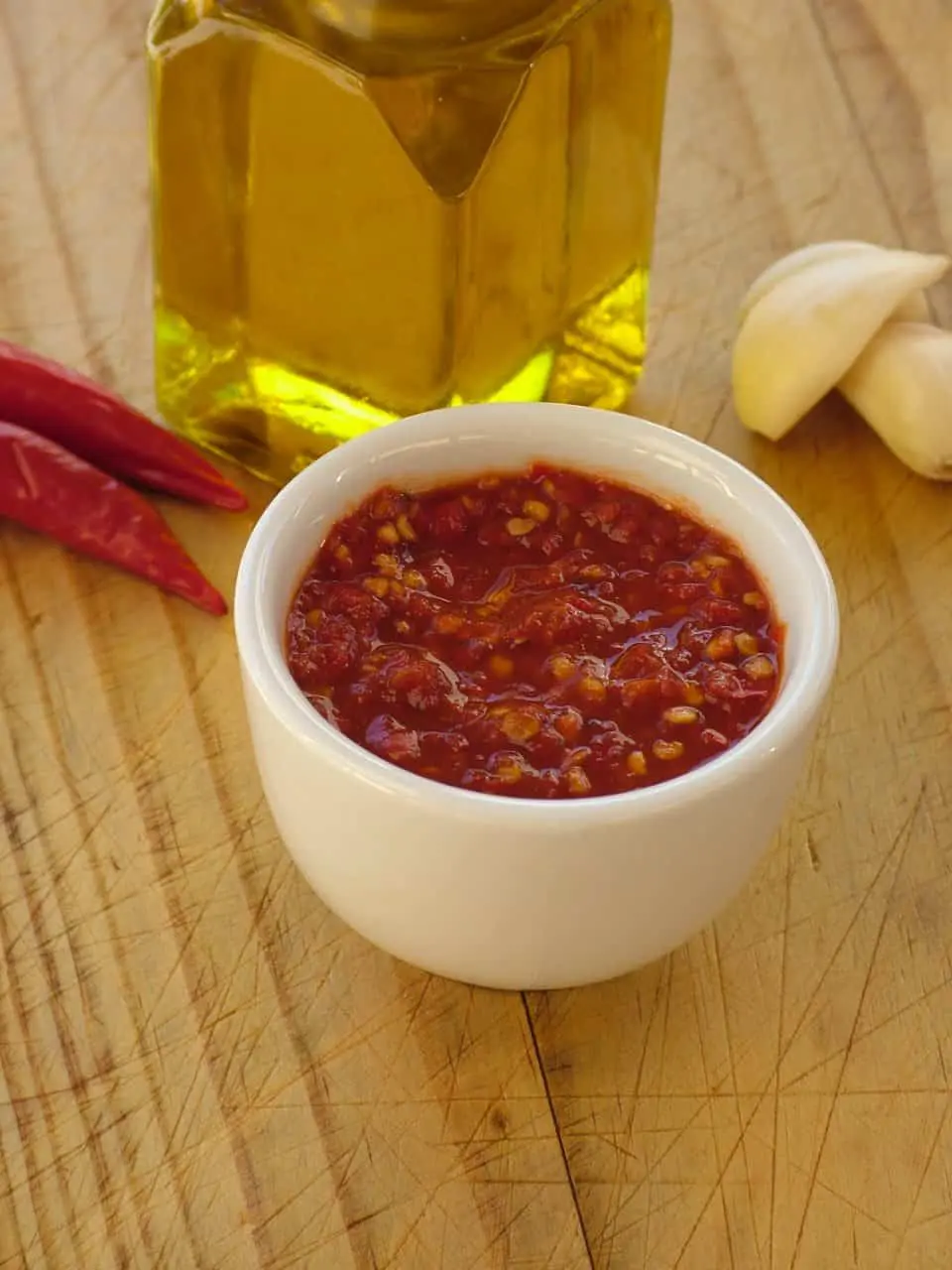 Related: Harissa Chicken on Corn & Coriander Fritters with Pineapple Salsa
Related: Baby Snapper with Harissa and Samke Hara Sauce