Top Venezuelan Christmas Foods
Christmas is a time to share and to enjoy with the family. Among the many Venezuelan traditions and customs at Christmas, eating delicious typical dishes at family gatherings is something very special.
Christmas Traditions in Venezuela
In Venezuela, the biggest holidays celebrations occur on December 24th and 31st. Unlike other countries, Venezuelans use Christmas Day and New Year's Day as a day of rest after the exertions of the festivities.
In Venezuela, Christmas celebrations have a religious aspect. It is not the arrival of Santa Claus, rather the arrival of baby Jesus on the 24th of December that is celebrated. On this night, everyone puts on their new clothes and enjoys a family dinner.
Let's now take a look at the 20 most representative Venezuelan Christmas dishes, including desserts and drinks.
1. Hallaca
Hallaca is perhaps the most popular Venezuelan Christmas dish. There is a saying in Venezuela: "Nothing is more Christmassy than a hallaca", and it is true. And while you will hardly ever see this dish at another time of year, it will be there on the 24th without fail.
Hallaca is a kind of tamale stuffed mainly with pork, among other meats, and some vegetables, which are prepared in a stew. The stew is covered with dough and placed inside banana leaves, then boiled until ready.
Fun fact: When someone's clothes don't look great, say, "You look like a badly tied hallaca".
2. Ham Bread (Pan de Jamón)
Ham bread is perhaps the second most iconic Christmas dish in Venezuela. It is a medium- or large-sized bread filled with various ingredients. In addition to ham, this bread also includes olives, raisins, and capers.
Ham bread is usually made at home, although it is so traditional that all bakeries offer it during Christmas time in Venezuela.
Fun fact: when a person does not want to eat the olives or any other ingredient in ham bread, they are often told, "You better eat a cachito." (Cachito is bread stuffed with ham that is regularly sold in bakeries).
3. Macarronada
Macarronada is a dish similar to pasticho. It is a macaroni pasta bake, incorporating queso de año cheese, potato, and stew. This dish can be found all over Venezuela but is very typical in the western region of the country, particularly in the state of Zulia. Here, families each put together their own variations, which include chicken or ham, among others.
4. Chicken Salad
After hallaca and ham bread, another key stape of Venezuelan Christmas cuisine is chicken salad. The name is a little misleading, however, as this salad is not actually made with chicken rather with hen.
Along with the hen, you can find vegetables such as potatoes, carrots, and perhaps some others added depending on the region. Chicken salad is usually accompanied by toasted bread, some leg meat, and a good old slice of ham bread. Yum!
5. Pernil a la Piña (Pork Leg with Pineapple)
Pork is the most traditional protein in Venezuelan Christmas dishes, and among the different cuts available, is pernil. Pernil a la piña is a delicious Christmastime favorite that involves a slow-roasted pork leg cooked with pineapple.
The juices emanate from the fruit, which is also used for decoration, resulting in a very juicy meat with a very particular combination of savory and sweet flavors. As Venezuelan's say, agridulce, meaning "bittersweet".
6. Salted Leg (Pernil Salado)
With no pineapple anywhere to be seen, pernil salado understandably has a rather different flavour to pernil a la piña. This leg joint is cooked in its own juices with olives, capers, and other ingredients, resulting in a strong, salty flavor. It is usually served with the pernil juice (caldillo), which is poured on top as a kind of dressing. Absolutely delicious.
7. Sanguchón
Sanguchón (a variation on the word "sandwich") is a typical sandwich cut horizontally, in several layers, with each layer containing different fillings and flavors. Often, sweet and savory layers are combined, so one can find, for example, cream cheese alongside jam, or tuna alongside salsa rosa (ketchup and mayo). Any combination works!
Sanguchónes are usually sprinkled with red paprika, olives, or other Venezuelan Christmas classics like such as capers.
8. Panettone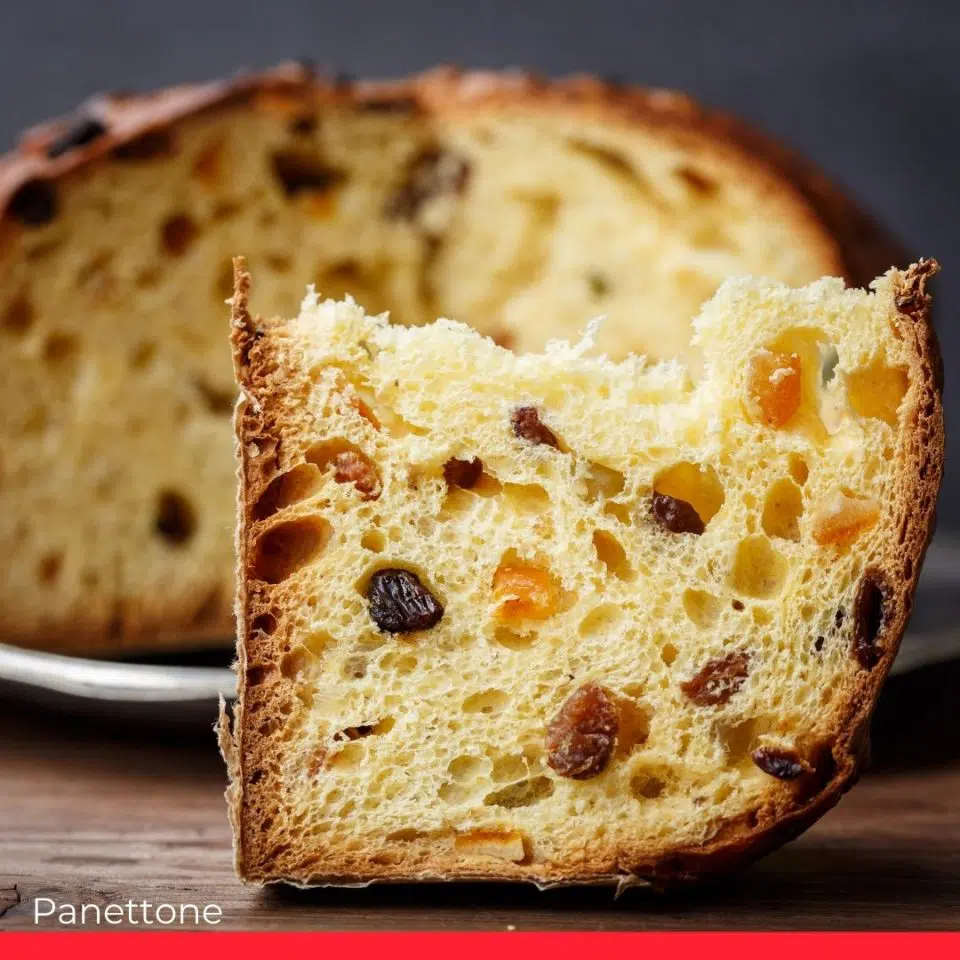 Among the traditional dishes in Venezuela, panettone has the peculiarity of symbolizing deeper cultural aspects than just Christmas. Panettone is also symolic of European traditions that were brought over during the 20th century by immigrants.
Panettone, a popular Italian Christmas dessert, is a bread filled with raisins and candied fruits, occasionally alongside pieces of chocolate and other sweet-tasting ingredients. You can find panettone at every supermarket and bakery during Christmas in Venezuela.
9. Torta Negra (Black Cake)
Rarely seen during the rest of the year, no dessert symbolizes a Venezuelan Christmas as much as torta negra, or black cake.
It is prepared with fruits which are macerated in water. Some people use liquor, which gives the fruit a much softer and smoother texture, and, of course, a lot of flavor!
10. Quesillo
Another Christmas favorite in Venezuela, quesillo is a delicious flan or pudding that can be eaten any time of year.It is made mainly with egg and condensed milk, varying in its texture depending on the recipe.
This yummy dessert is accompanied by a caramel topping that sometimes uses liqueurs, adding an interesting combination of sweet and sour.
11. Ponche de Crema (Cream Punch)
At Christmastime, Venezuelans, like the majority of people, make the most of their vacations, enjoying parties, getting nostalgic, and enjoying an alcoholic drink or two. And what better drink than ponche de crema (cream punch)? Egg and milk is mixed with rum, brandy, or something similar, for a satisfying Christmas beverage, which is usually served as a dessert.
To ensure great flavor and sublime texture in your ponche de crema, the eggs must be well beaten. Cream punch is so delicious that some families prepare it without alcohol for children. Kids love it as the taste and texture is similar to ice cream.
12. Stuffed Baked Turkey
As we've already mentioned, some Venezuelan Christmas traditions are adaptations of foreign traditions. With this in mind, locals choose to stuff turkey with something typically Venezuelans: pork, ham, or bacon, for a meaty taste explosion!
Along with roasted pork leg, this dish is one of the most exquisite and interesting preparations in terms of the main course of Christmas dinner in Venezuela.
13. Papaya Dessert
Many Christmas sweet dishes are quite elaborate, requiring a lot of hard work, but papaya dessert is thankfully very easy to prepare. All you need to do is macerate some papaya and throw in some cinnamon. What could be simpler?
Papaya dessert can be made any time of the year since papaya is available at the greengrocer's all year round. A real winner, it has a jelly or honey-like texture, with chunks of papaya nestled in the sweet goodness.
14. Cabello de Ángel (Angel's Hair)
This dessert is not as traditional in Venezuelan Christmas as the torta negra, however there are some regions of the country where it is a classic element in the Christmas dinner.It is an artisan treat, similar to papaya dessert in terms of texture, but made with pumpkin, combined with pieces of pineapple and a lot of sugar.
Cabello de ángel arose from the mixing of cultures that led to the arrival of the sugar cane in Venezuela. Always a favorite, it takes its name because of the fine, shiny strands of pumpkin that resemble the hair of angels.
15. Jamón Planchado
Another Christmas favorite, jamón planchado or "ironed ham" can be seen all year round in Venezuela, consisting of a joint of smoked ham combined with sweet ingredients such as pineapple chunks.
Just like pernil a la piña, this exquisite dish really knows how to mix sweet and salty flavors.
16. Bollo
Bollo is a salty Christmas dish similar to hallaca, but does not come wrapped in banana leaves. Many people serve it with avocado sauces or hot sauces. It is a delicious salty dough filled with mincemeat and various vegetables.
17. Torta de Tres Leches (Three-Milk Cake)
Popular throughout the year, torta de tres leches is so-called because it uses regular milk, evaporated milk, and condensed milk, alongside meringue or cream and a touch of cinnamon. Absolutely wonderful.
18. Negro en Camisa
Negro en camisa (black in a shirt) is a must-have Christmas dessert in Venezuela, and one of the most symbolic agricultural products of the country. Flavor-wise, the combinations on show e.g. the cocoa with the crème anglaise cause an experience like no other.
This Christmas classic gets in name from the combination of colors: the dark color of the pure cocoa cake with the white color of the English cream.
19. Christmas Log
As the picture shows, this is a rolled cake with delicious sweet cream inside, coated in a chocolate glaze to look like (what else?), a Christmas tree trunk!
20. Rosca Navideña (Christmas Wheel)
This traditional dessert is a sweet bread made from several very interesting ingredients. The rosca de reyes is favorite for the whole family and takes it name from its distinctive wheel shape.
Other Venezuelan traditions or customs that include Christmas dishes
Grapes
Although grapes are not necessarily a dish (much less a Christmas dish), it is tradition in Venezuela to eat 12 grapes during the final 12 seconds of the year. It is a custom that supposedly evokes prosperity and good wishes for the new year.
Arepa Stuffed with Pernil
Arepas are a typical Venezuelan dish that have nothing to do with Christmas, but at Christmas time many families prepare them with pork, eaten for breakfast or lunch on December 25th or January 1st. A great way to revive after the big celebration the day before!
---
Related: 23 Popular Venezuelan Dishes