Most Popular Christmas Dishes Around The World
Christmas is that magical time when friends and family come together for fun, togetherness, and fantastic food. For any cook, it's the culinary high point of the year when traditional foods we love take center stage. It's hard work, but it's worth all the effort for the happy memories we create.
While many of us enjoy our Christmas meal on December 25th, Christmas Eve is at the center of the celebrations in many countries. In the Christmas tradition, December 24th was the final day of the 40 days of religious fasting, when consuming meat would be forbidden. So Christmas Eve dinners tend to favor fish-based menus, while on Christmas Day, a meat-based feast could be enjoyed with relish.
Some countries like Georgia, North Macedonia and Ukraine, which follow the Julian calendar, will observe Christmas on January 7th, while Armenia celebrates Christmas on January 6th.
Each country with a Christian heritage has its proud tradition of food prepared for its most memorable meal. Most have a range of entrees, sides, mains and desserts associated exclusively with the Christmas holiday, and family recipes are passed down through generations.
In this article, we'll look at some of the most popular choices at the center of the Christmas meal and the many memorable and delicious ways in which they're typically prepared. There are too many to list, so if you don't find your favorite here, share your special recipe – we always love to hear from you!
Turkey
In the USA and Canada, turkeys are not only synonymous with Thanksgiving, but also with Christmas. However, turkey is at the center of Christmas dinner in many other countries around the world from Brazil to France and New Zealand.
Turkey is the Christmas food of choice across large parts of South America, including Chile, Paraguay, El Salvador, and Peru. And that's not surprising since turkeys were first domesticated by the Aztecs and the Mayas at least 900 years before Christ.
Each country has its mouth-watering take on how it should be served. For example, in Peru, roast turkey slices are served with a melange of creme fraiche, chicken broth, lime juice, Jalapeño peppers, fresh cilantro, and cayenne pepper. In Chile, roast turkey is traditionally stuffed with apples.
In the US, Canada, and the UK, roast turkey is served with various stuffings and sauces to offset the fact that the meat can quickly become a little dry while cooking. Sage and onion stuffing is popular in the UK, while in the States, it's rare to find a roast turkey without fresh cranberry sauce on the side. Roast potatoes are a staple side dish just about everywhere, with pumpkin being a typical accompaniment in the US and Canada.
Turkey is almost always the centerpiece of Christmas Eve feasts in France, where it's served with chestnut stuffing and sometimes surrounded by roast chestnuts and stuffed apples. Typical sides will be gratin dauphinoise, an alternative to roast potatoes, and perhaps green beans almondine.
Turkey is also a Christmas favorite in Greece. Although pork is a traditional staple, turkey has been popular since the late 19th century, when the Greek upper class fell under the influence of French culinary school. It's typically stuffed with minced meat, pine nuts, and chestnuts.
In Cyprus, on the other hand, finely chopped chicken giblets, rice, almonds, and raisins are combined to make the stuffing.
Pork
Although turkey may seem like the most iconic Christmas meat, pork-based Christmas dishes are actually more popular worldwide. This may be because it's not only a delicious and succulent choice but also endlessly versatile in how it can be prepared.
In Spain and Cuba, roast suckling pig is the centerpiece of the traditional Christmas table. Cubans typically serve their roast with black beans, rice and garlicky yuca; all washed down, of course, with Crema de Vie, a Cuban version of eggnog made with condensed milk, rum, and sugar.
The pork is slow-roasted in Spain until the skin turns a crisp, dark brown. It's typically served with caramelized potatoes and onions cooked under the meat and seeped in the succulent juices.
A popular Mexican Christmas food is a pork joint covered with a generous layer of homemade adobo, a thick chili paste with vinegar or citrus juice, and enriched with the flavors of onions, garlic, cumin, and oregano. 
The Christmas meal in Sweden is a lavish cold buffet with a few unique hot dishes. Julskinka (Christmas pork ham) is the centerpiece – a tradition that goes back hundreds of years to the myths of the Norse gods. Elsewhere in Scandinavia, pork rib "ribbe" is still the most popular choice in Norway.
Pork is a traditional favorite in Central and Eastern Europe. In Moldova (where Christmas is celebrated on January 7th), pork features in the most popular dishes on the festive table – because it symbolizes the desire for wealth and success. Besides roast, pork sausages, jelly with meat (racitura), and sarmale (cabbage leaves stuffed with rice and pork meat) are served.
Over in the Caribbean, in Trinidad and Tobago, glazed or smoked ham is the centerpiece of choice. At the same time, in South America, Paraguayans marinate their pork before cooking for hours in a brick oven or barbecuing it over hot coals.
Pork isn't often the first choice in Africa, but glazed gammon (ham) is a classic festive dish in South Africa. This significant cut of boneless pork is first cooked on the stovetop with vegetables and finished off in the oven. The fat covering the joint is scored in a diamond pattern, then glazed with honey and mustard for a glossy, golden-brown finish.
Moving east around the globe, pork also takes pride of place in Christian communities around Asia.
In Goa, India, which still retains vestiges of Portuguese influence, sorpotel is a popular festive dish. This fiery pork stew is cooked, then left to marinate for several days before it's proudly served – so that the flavors of the vinegar, spices, and chilis have time to mix together and tenderize the meat.
In Papua New Guinea, it's customary to roast pork in a mumu (earth oven) and serve it with local vegetables such as sweet potato.
Christmas dinner is also a massive celebration in the Philippines. Liempo, made from pork bellies, is an iconic dish in almost every Filipino home. The pork is sometimes marinated in soy sauce, with spices such as paprika and cayenne pepper for those who prefer a hot, garlicky flavor. But, again, slow cooking is the key to achieving perfectly crisp skin while the meat remains meltingly tender.
Fish (Carp and Cod) and Prawns
Seafood dishes (fried, baked, or jellied) have been popular on many Christmas tables for hundreds of years. There's an obvious reason for this – the fish is a symbol of Christ, so serving it preserves the connection with the holiday's religious meaning.
In addition, in some places, Christmas Eve is viewed as the final day of fasting, so meat is off the menu – and fish is the protein of choice.
In Europe, two kinds of fish are traditionally served for the festive meal: carp (a river fish) and cod (a sea fish).
Carp may seem a very surprising choice for many, as it's rarely eaten in countries like Italy or the United States. But in Central and Eastern Europe, carp fishing and farming have a long tradition and it's the Christmas food of choice in many households.
For example, in Austria, Christmas Eve dinner features carp fried in butter and a variety of vegetables and potatoes. In Slovakia and the Czech Republic, the carp is breaded. At the same time, in Poland, the fish is typically soaked in milk, then flour coated and fried. Alternatively, it's served baked in aspic (a savory jelly).
Carp isn't only served fried. In Hungary, the holiday feast isn't complete unless halászlé, or fisherman's soup, is on the menu. This spiced broth is seasoned with paprika and full of flavor. One of the reasons it's so loved is that Hungarians believe that the scales of the fish bring wealth and good fortune.
Traditional side dishes accompanying the fish include potato salad in Slovakia and the Czech Republic, pierogies (dumplings) in Poland, and freshly baked bread and salad in Croatia. In Finland, pickled beetroot is a popular side with Christmas Eve fish.
Carp isn't the only river fish that's served at Christmas. For example, in Ukraine, jellied trout is served cold, garnished with parsley, and perhaps accompanied by carrots, boiled eggs, and peas.
On the other hand, cod is a Christmas favorite in Italy, Portugal, and Brazil (likely due to the Portuguese influence). Baccalà or Baclau is codfish that's been preserved by packing in salt and drying. It's sold in slabs rather than by the fish. It has quite a chewy, meaty texture and tastes nothing like regular fish.
In Italy, cod is cut into chunks, dipped in flour, fried, and cooked further in tomato sauce. Naturally, the exact recipe varies by region. In every family, there's a nonna who knows her recipe is the most authentic. But Italian food is as diverse as its regions, and Christmas food customs also vary a lot.
Portuguese Christmas Eve salted cod, bacalhau de consoada, is a humble, traditional dish typically prepared with potatoes, cabbage, and hard-boiled eggs. And especially popular in the coastal regions of Brazil are 'bolinhos'. These are made from bacalhau, soaked overnight, shaped into balls, and fried in breadcrumbs.
It's not all about cod and carp, though. Down under, it's summer and perhaps too hot for a heavy meat-based Christmas dinner. Hence, Australians typically opt for a "barbie" featuring succulent local prawns!
Stuffed Cabbage Rolls
Stuffed cabbage leaves (or wine leaves) are a staple of Central, Balkan and Eastern European cuisine and they're a ubiquitous feature at Christmas meals. 
Stuffed cabbage rolls are known by different names in the region: sarmale in Romania and Moldova, holubtsi in the Ukraine, balandėliai in Lithuania, golubtsy in Russia, goląki in Poland, sarma in Serbia or sarmi in Bulgaria, töltött káposzta in Hungary or kohlrouladen in Germany.
German kohlrouladen stuffed with beef is an iconic comfort food that makes a filling dinner on its own, and partners well with mashed potatoes or spaetzle( egg noodle pasta).
A combination of two or more meats, such as pork and beef for the stuffing, is used in other countries.
Tamales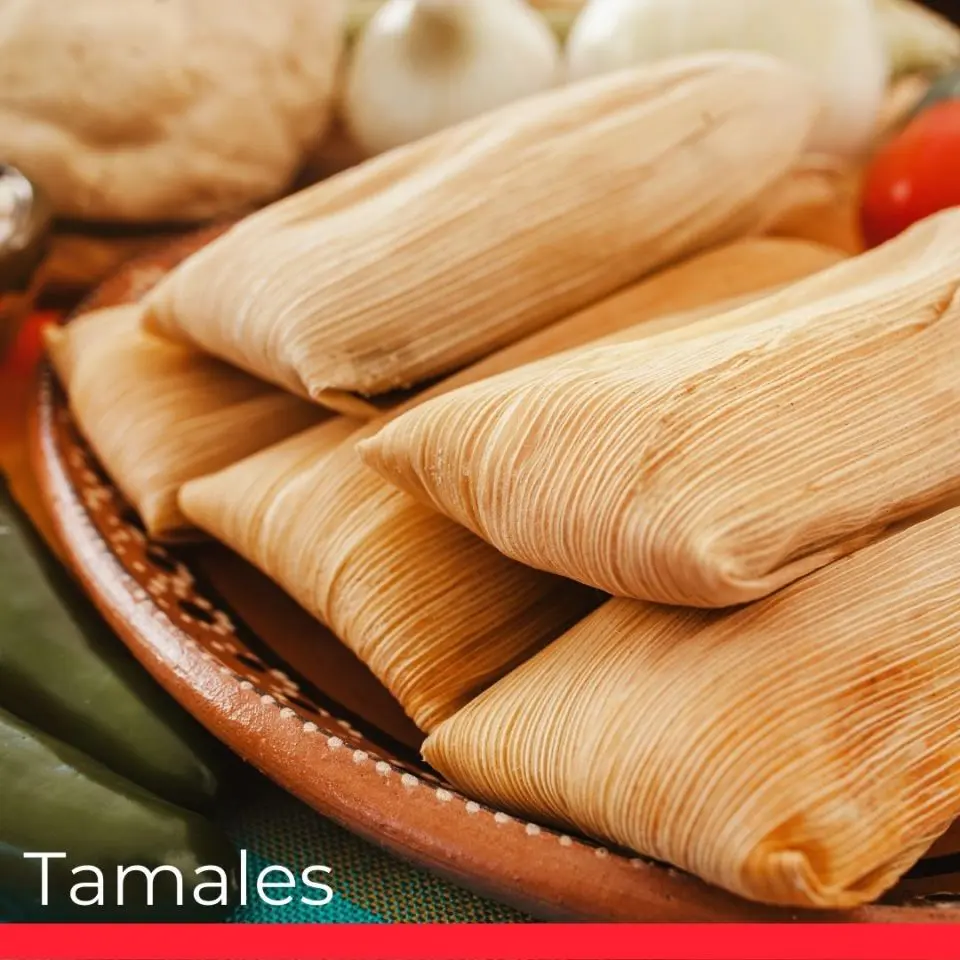 Across Central and the northern part of South America, tamales or (hallacas in Venezuela) are an iconic celebration food. Typically, they're made of corn dough (masa) which is stuffed with a variety of fillings including chicken and pork, before being wrapped in a banana leaf or corn husk, and steamed to eat on the move.
There are many different recipes and each country/region will claim their tamale recipe is the best. Tamales are a Mexican staple food and a Christmas favorite so Mexicans will claim their tamales are the best, but Guatemalan or Cuban tamales are also to die for. So if you have the opportunity, go ahead and try as many as possible as they are certainly delicious.
For many Latinos living in the USA, tamales are also part of their heritage and synonymous with the Christmas holidays. They're typically home-made with endless variations of the theme, and require the time and care that's so often a characteristic of festive specialties.
Duck and Goose
Duck isn't widely consumed at Christmas, but there's one country where it's adored, so we include it on our list! In Denmark – it's estimated that three out of four people consume duck on the big day, and no Christmas dinner table is complete without it. It's typically prepared with spices and includes plums and prunes.
Roast goose is a traditional Christmas dish in Central Europe. In Germany and Austria, while fish is eaten on Christmas Eve, the goose remains a popular choice on Christmas Day. It's traditionally prepared by stuffing it with apples before roasting and served with potato dumplings and braised red cabbage.
Chicken
In Brazil, one of the most popular Christmas alternatives to turkey is a "chester". This is a boneless, oval-shaped chicken package made from a special chicken breed that provides a high percentage of breast and thigh meat. Chesters are roasted and carved like boneless honey ham.
For a more traditional way to prepare chicken, Ethiopia's Doro Wat is a superbly flavorful, fragrant, and rich slow-cooked stew that's prepared for special occasions and family gatherings. For the Ethiopian Christian community, it's traditionally served as part of a Christmas feast, poured over injera, soft Ethiopian bread.
Maltese home cooks traditionally reserved their fattest capon/rooster, the 'hasi', for Christmas lunch. Often too large for the household oven, it would be prepared in a casserole with the requisite potatoes and vegetables before being taken to the local bakery to roast.
Veal/Beef
Although pork or turkey are popular holiday dishes, one of Argentina's most treasured Christmas dish is "vitel thoné", while neighboring Uruguay also features beef cuts on its traditional Christmas asado.
Vitel thone is a delicious take on an iconic Italian recipe made with sliced veal and topped with a sauce of tuna and anchovies. Exclusively prepared as a Christmas treat, people look forward to it all year.
Vegetarian Alternatives
You may ask why we'd include vegetarian options in an article about traditional Christmas dinners. But with 16 million Americans, 29 million Brazilians, six million UK citizens, and an average of two million in each European country identifying as vegetarian, they're a sizable minority.
Everyone should feel included at Christmas, so it's worth mentioning a few iconic vegetarian main dishes – chickpea meatloaf, whole roasted cabbage with mushroom gravy, or a chili cheese sweet potato bake. They're all delicious and definitely earn their place at a Christmas feast.
The best thing is that there are so many mouth-watering vegetarian recipes out there that even meat lovers will be delighted to join in!
So…. wishing you and your loved ones a joyful Christmas season! And plenty of fabulous food!