Top 20 Georgian Foods (With Pictures!)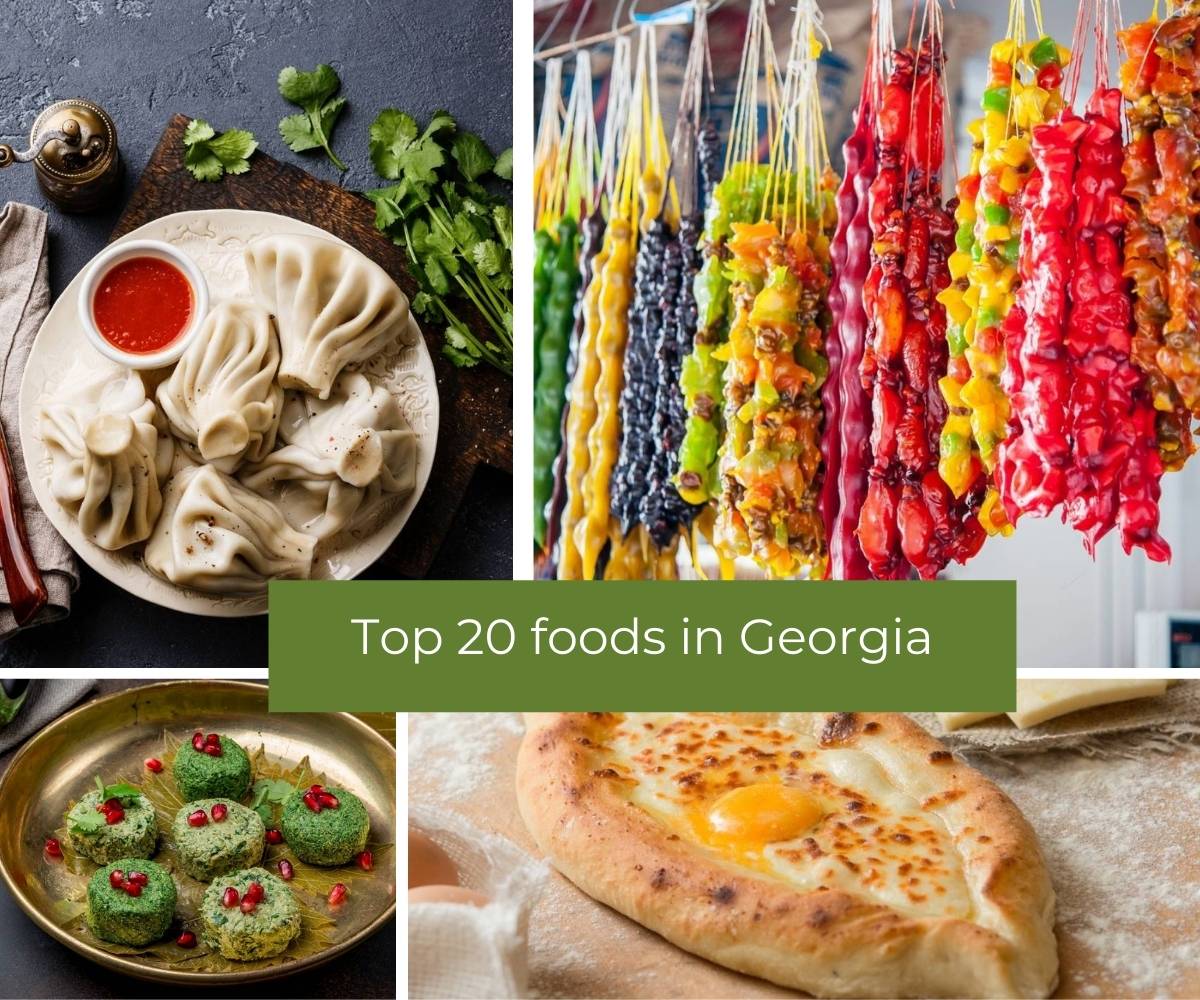 Georgia is a small country tucked away in the Caucasus mountains. Known for its unique and ancient wine culture, polyphonic music and breathtaking scenery ranging from Black Sea beaches to snowy mountains, the crowning jewel of this small but mighty nation is its cuisine.
You might have heard of the two dishes Khachapuri and Khinkali, but there is so much more to Georgian cuisine than these two popular dishes. Much like its diverse nature, Georgian cuisine offers something for everybody.
As most of the country's inhabitants are Orthodox Christian, they often lent, offering some creative and delicious vegan- and vegetarian-friendly dishes. Without further ado, here are the top 20 dishes that Georgia has to offer.
1. Khachapuri
There is a good reason why this delicious cheese-filled dish is one of the most popular around the world. Recognized as the national dish, Khachapuri is inscribed on the List of the Intangible Cultural Heritage of Georgia. There are many variations of this cheese-filled pastry, unique to different regions of Georgia.
One of the most popular iterations of Khachapuri comes from the seaside region of Adjara. Adjarian Khachapuri is dough shaped like a boat, filled with delicious Georgian cheese, egg yolks, and butter.
The history and symbolism of Adjarian Khachapuri are closely tied to its native region.
The boat-shaped pastry is said to have been cherished by fishermen and sailors, who would take it with them on long journeys across the waters. The egg yolk symbolizes the orange sun that they had been so used to seeing descend into the sea.
2. Ghomi
Ghomi is a dish from the Western region of Georgia, Samegrelo. It's a porridge traditionally cooked with foxtail millet or cornmeal. Ghomi is the Georgian term for foxtail millet, which was soon replaced with cornmeal to make the porridge after corn production became widespread.
Traditionally, Ghomi is made in large batches and is stirred constantly with a large wooden stick resembling a tennis racket. Throughout the centuries, it was the main side dish for many families in Western Georgia.
Often enjoyed with various meats and stews, the most iconic pairing for Ghomi is the Georgian cheese Sulguni. Resembling Mozzarella, Sulguni is a great melting cheese and pairs perfectly with hot porridge to create a hearty and delicious dish.
3. Khinkali
Khinkali is a dumpling originating in the mountainous regions of Georgia. Traditionally it's made from just a few ingredients, including minced lamb, onions, chili pepper, and salt. However, there are many variations of the dumpling, including various herbs and spices. You might also come across Khinkali with cheese, potato, or mushroom fillings.
Khinkali is usually eaten topped with black pepper. If you ever end up feasting with Georgians, they will always make sure to let you know the 'proper way' to eat Khinkali, which is by hand.
Since typical meat dumplings are juicy, the first bite can be used to suck out the juice before proceeding to eat the rest of the dumpling. The tops of the dumplings are usually left on the plate to count how many Khinkali you have eaten.
4. Kharcho
This hearty beef soup also hails from the Samegrelo region. Known for its unique combination of ingredients and distinct taste, Kharcho can bring happiness to the gloomiest of days.
Kharcho can also be made with other meats, including chicken, lamb, or goose. The distinct taste of this staple dish in Western Georgian cooking comes from the combination of cherry plums, walnuts, and a special spice blend.
Kharcho's consistency can be adjusted to accommodate different tastes. The amount of pureed cherry plum and walnuts affects the texture of the final dish. If on the thicker side, Kharcho can be poured over Ghomi and enjoyed that way, or with a runnier consistency, as a soup on its own.
5. Borano
Borano is a cheese dish from the Adjara region. Loaded with calories, it is not for the faint of heart. It is made with Georgian braided cheese and cultured butter made from Kaimaghi (also known as Kaymak).
Kaymak resembles clotted cream and is popular throughout Central Asia, the Balkans, and Turkic regions. Adjara directly borders Turkey, and the influence of Turkish cuisine is evident.
Borano is made by melting the cultured butter made from Kaymak and frying cheese in it. It is usually eaten hot with fresh bread, or as a side for main dishes or salads.
6. Nigvziani Badrijani
Nigvziani Badrijani translates as eggplants with walnuts. It is a staple of any Georgian feast. The dish is usually enjoyed as an appetizer or as a side dish.
Eggplant slices are fried and rested before being filled with walnut stuffing and tightly rolled to make Nigvziani Badrijani. The stuffing is made with finely ground walnuts, garlic, spices, and vinegar mixed together to a spreadable consistency. The dish is usually garnished with pomegranate seeds and fresh coriander.
7. Kubdari
Kubdari is meat-filled bread hailing from the mountainous Svaneti region. It is a fairly simple dish, but with the right technique and few key ingredients it gains its distinctive taste that so many admire.
Traditionally, Kubdari is made with beef or pork, onions, and a selection of Georgian spices. To make the Kubdari filling, the meat is diced into tiny cubes and kneaded with onions and spices, thoroughly infusing the meat with the flavors.
One key ingredient is Gitsruli—a wild herb that is grown in the Svaneti mountains. The spice is hard to find in ordinary grocery stores in Georgia. Therefore, in Georgia, those wanting to make authentic Kubdari often go out of their way to ask their Svan friends for the spice.
8. Shkmeruli
Shkmeruli is a baked chicken dish hailing from the Racha region of Georgia that has recently gained surprising popularity in Japan.
A whole chicken is first fried to make Shkmeruli. Before baking, the chicken is coated with garlic, spices, and milk (or sour cream). It results in a juicy chicken with flavorful infusions and a delectable creamy sauce great for dipping bread.
Shkmeruli is loved by many Georgians and you can find it in almost every restaurant in the country, but it has found its way into the hearts of many Japanese foodies.
Japanese food chain Matsuya started offering the dish in select restaurants in 2020. After gaining popularity, the chain started offering this Georgian dish in all of its locations.
Additionally, instant meal packets of Shkmeruli appeared in Japanese grocery stores and were named one of the top products in 2020.
9. Satsivi
Satsivi is a popular dish in Georgia, and it's a staple for any winter holiday feast. Satsivi is made from boiled chicken or turkey and a rich walnut sauce.
The sauce is made from walnuts, garlic, water, and a selection of spices. Whole chicken or turkey is fully submerged in the walnut sauce and is served cold. It can be eaten with Ghomi or simply with bread.
Satsivi sauce closely resembles another walnut sauce called Bazhe, which has a runnier consistency and uses vinegar as a base. It is often served with various fish dishes.
10. Lobio in a clay pot
Lobio also has a special place in Georgian cuisine. The name can mean a wide variety of bean dishes beloved by every family. From cold appetizers to stews, Georgians have found virtually every way to serve beans.
Lobio stew is made by soaking the beans and spices overnight and slowly cooking them along with vegetables the next day. The dish is often served hot in a clay pot, garnished with pomegranate seeds, and accompanied by flatbread or Georgian cornbread.
Lobio is also a basis for yet another popular filled bread in Georgia called Lobiani (translates as 'with Lobio'). Spiced beans, herbs, and onions are ground into a thick paste used to fill the dough; it is often enjoyed during lent by Georgia's Orthodox Christian population.
11. Jonjoli
Jonjoli is a peculiar dish unique to Georgia. Jonjoli is a name of Caucasian bladdernut bush that is native to the Western part of the country.
The bladdernut sprouts are pickled and often enjoyed as appetizers along with other pickled vegetables, such as onions, garlic, or tomatoes. Jonjoli particularly pairs well with traditional Lobio dishes.
12. Tashmijabi
This rich dish also comes from the mountains of Svaneti. This traditional dish is prepared with mashed potatoes and fresh cheese, or Georgian Sulguni cheese.
Sulguni closely resembles Mozzarella and is a great melting cheese. A common ingredient used in Khachapuri, Sulguni is key to making a delicious Tashmijabi.
To make Tashmijabi, boiled potatoes are mashed while still hot. Cheese, butter, and several Svan spices are mixed in well until the cheese is thoroughly melted. The result is a delicious dish that has an unbelievable cheese pull.
13. Gebjalia
Gebjalia is every cheese lover's dream. Essentially, it's cheese, stuffed with more cheese and served in a cheese sauce. Hailing from Samegrelo, this dish is also made using Sulguni melting cheese.
The cheese is melted in milk until stretchy and is shaped into a rectangle. A curd cheese mixture with mint and garlic is spread over the cheese and then it is tightly rolled and cut.
The sauce is made from the milk used to melt the cheese, sour cream, and more curd cheese. This hearty dish is served cold as an appetizer with traditional Georgian bread.
14. Gozinaki
This list has been heavy on savory dishes; now let's shift gears and move on to some sweet desserts that Georgia has to offer. There aren't many sweets Georgia calls its own, but the ones that are found in the country are delicious and unique.
Gozinaki is a traditional sweet made with walnuts and honey. To make Gozinaki, honey is boiled along with some sugar, toasted walnuts are added, and the mixture is spread in a thin rectangle. Before it cools down completely, the confection is cut into diamond shapes.
Gozinaki is an indivisible part of the winter holidays in Georgia as it is served on New Year's Eve and at Christmas.
15. Churchkhela
Churchkhela is another sweet snack often enjoyed around wintertime. This traditional Georgian candy is shaped like a candle.
Churchkhela is made in the fall when its main ingredients, grapes and walnuts, are harvested. Halved walnuts are threaded on a string and dipped into grape juice that has been thickened with flour. The final product is left in the sun to dry out.
When prepared well, Churchkhela can have a long shelf life, hence it being consumed primarily during the winter holidays. Traditionally, Churchkhela was a common snack for soldiers during wartime, due to its longevity and high calorie content.
16. Georgian bread (puri)
Traditional Georgian bread, or puri, is made in a special oven called tone. Tone is a cylindrical clay oven heated with open fire and ember.
Puri is leavened with yeast and is stuck on tone oven walls to bake. The bread baked using this method is a staple during celebrations and holiday feasts in Georgia.
Another popular bread in Georgia is Mchadi, a cornbread traditionally eaten with Lobio dishes.
A sweet version of the bread is known as Nazuki. Also baked in tone, Nazuki dough is enriched with milk, eggs, and sugar. Sweet spices, such as vanilla, ground cinnamon, and cloves are added to the dough. It is a popular pastry especially in central Georgia, often being sold along the highways as a road snack.
17. Kuchmachi
Kuchmachi is a popular appetizer made of chicken or pig livers, hearts, and gizzards. To prepare this dish, the meat is chopped, boiled, and fried with garlic, onion, walnuts, and spices. By the end of cooking, fresh coriander is added.
Kuchmachi is often topped with pomegranate seeds and can be enjoyed as an appetizer with the Georgian cornbread Mchadi.
18. Ajika and Tkemali
No list of Georgian dishes would be complete without Ajika and Tkemali. Ajika is a spicy dip made from red peppers, garlic, and various traditional herbs and spices.
Ajika on bread or cornbread can be enjoyed as an appetizer, or to flavor various traditional dishes.
Tkemali is a traditional Georgian sauce. It's made from cherry plum or Caucasus-native alucha. The flavor of the sauce is usually very tart, which can be adjusted by individual users by adding some sugar to the sauce.
Tkemali is eaten with everything from simple fried potatoes to grilled meat. This sauce is a must-have at any Georgian feast.
19. Pkhali
While Georgian cuisine has a name of being predominantly meat-based, many dishes can be enjoyed by vegans as well. Pkhali is certainly one of them.
Pkhali is made with minced veggies combined with lots of walnuts, vinegar, onion, garlic, and various herbs and spices. The most common Pkhali variations are made with spinach, beetroot, or beans.
Pkhali is often portioned in small sizes and offered as an appetizer. It can be enjoyed spread over the traditional cornbread Mchadi.
20. Chanakhi
Chanakhi is a traditional Georgian lamb stew made with meat, eggplant, tomatoes, potatoes, and various herbs and spices.
Making Chanakhi is an intricate and time-consuming process, as all the ingredients are layered separately into metal or clay pots and baked at a low temperature for several hours.
This hearty dish can be made in a larger pot, but traditionally, it was divided into individual portions and cooked in smaller pots. It is guaranteed to fill the house with delicious aromas and warm up even the coldest of winter nights.
---
Related: Most Popular Georgian Desserts
Related: Most Popular Georgian Drinks