Top 20 Traditional Polish Christmas Foods
Poland is one of the most devoutly religious countries in Europe, and as of 2019, approximately 88% of Poles identified as Catholic. No wonder, Christmas in Poland is lavishly celebrated.
Most of the Polish Christmas celebrations take place on 24th December, and to many Poles, it is the most significant day of the year. And so, Christmas Eve Dinner (Wigilia) is the most important Christmas celebration in Poland, full of magic and traditional distinctive Polish customs, a combination of ancient pagan beliefs and religious ones introduced by the Catholic Church.
A traditional Polish Christmas Eve dinner consists of 12 dishes: one for each month of the new year. Most dishes are cooked specifically for this special day—and only once a year! It is believed that one should try every dish to secure good luck throughout the upcoming twelve-month period.
The menu reflects the multicultural aspects of Poland, as Jews, Germans, Lithuanians, and other minorities lived together in the past in harmony.
What is quite astonishing, despite the fact that Polish cuisine is famous for its delicious sausages and hard liquor, Christmas Eve dinner is indisputably meat and often alcohol-free. Take a deeper look at the Polish traditional Christmas Eve dishes and discover how healthy most of them are… and that many are vegetarian or vegan! An unexpected culinary twist from a sausage-loving country.
Let's take a look at some of the most popular Polish Christmas foods.
1. Christmas Wafer (Opłatek)
Before sitting down at the table, all family members share a traditional Christmas wafer (opłatek) and exchange good wishes for health, wealth, and happiness in the New Year.
Opłatek is a thin, unleavened wafer made of flour and water, similar to the altar bread in the Roman Catholic Church. It is embossed with religious images like a figure of the Godchild, the blessed Mary, and the holy angels.
This tradition is linked to the breaking of bread at the Last Supper, and so the wafer is often sent by mail to the absent members of the family.
2. Red Borsch with Raviolis (Barszcz Czerwony z Uszkami)
Christmas Eve dinner in Poland always starts with a bowl of hot soup. Polish red borsch, the beetroot-based soup, is a true Slavic phenomenon and is the most popularly served soup on this Christian occasion. However, the Christmas version varies from the usual one.
Apart from a large number of beetroots and other vegetables such as cabbage, carrots, onions, and potatoes, the soup is served with tiny little dumplings called uszka which means little ears in literal translation. Uszka are generously filled with forest mushrooms and fried onion. A delicious combination of original Polish cuisine.
Editor's note: Borsch is also a popular Christmas dish in neighboring Ukraine and Russia.
3. Forest Mushrooms Soup (Zupa Grzybowa)
The taste of forest mushrooms is a true Polish culinary heritage. No wonder, the wild mushroom soup is a traditional Christmas Eve dish.
It is made of dried wild mushrooms, melted butter, and vegetable stock, and is usually served with square or thin noodles and a dollop of sour cream. 
4. Polish Fish Soup (Zupa Rybna)
Poland has a long and beautiful coastline, of 528 kilometers, to be exact, and over 10,000 lakes all over the country. These natural reservoirs deliver all sorts of culinary treasures that often meet in a hot bowl of traditional Polish fish soup.
Traditional Polish fish soup is a true fasting dish and also quite easy to make. It consists of fish fillets, vegetables, and a variety of spices and fresh herbs. 
5. Fried Carp (Karp Smażony)
Fried carp is a national food of Poland, though it is eaten only once a year—on Christmas Eve. Depending on local and family traditions, carp is fried with or without a coating.
Although in some Western countries, carp is seen as an inedible fish, in Poland it is bred in special conditions, thanks to which it becomes a real delicacy.
In addition, Poles believe that carp brings luck. If you put a scale from the carp into your wallet after your Christmas Eve meal, the following year, you will enjoy good luck.
Editor's note: Carp is a popular Christmas food in Germany, Czechia and other Central European countries.
6. Greek-Style Fish in Tomato Sauce (Ryba po Grecku)
Don't fancy carp? Ryba po grecku is a delicate white fish fillet, fried until golden, coated in a generous layer of grated root vegetables (carrots, parsley, and celery roots), and covered with a thick layer of shredded vegetables, swimming in a thick sauce made of tomato paste.
7. Jewish-Style Carp (Karp po żydowsku)
Jellied carp is very commonly served as one of the 12 dishes during Polish Christmas Eve dinner.
There is no one single recipe for this delicious course but generally speaking, the fish is always served cold in sweet jelly, to which raisins, flaked almonds, and sometimes slices of carrots and eggs are added.
This a bit awkward-looking dish originates from the Jewish Gefilte fish recipe, traditionally served on the Jewish New Year holiday. 
8. Dumplings with Sauerkraut and Wild Mushrooms (Pierogi z Kapustą Grzybami)
The most iconic Polish food of all time, pierogi needs little introduction. Polish dumplings are made of thinly rolled-out dough filled with endless varieties of fillings, both savory and sweet.
The Christmas version of this most recognizable Polish dish is stuffed with sauerkraut and dried forest mushrooms such as ceps. Always served steaming hot!
9. Barley Groat with Prunes (Kasza Jęczmienna z Suszonymi śliwkami)
This simple, healthy and rather old-fashioned meal is a delicious mixture of cooked barley groats with dried fruits, mainly prunes, and apples, and sweetened with a bit of honey. It originates from the less wealthy rural regions of Poland where Christmas dishes were made of the most available ingredients.
It's worth mentioning that groats have been a part of Polish cuisine for thousands of years. They were very much popular before Poland had even been established as a country and formed the basis of the Polish traditional diet.
10. Herrings (Śledzie)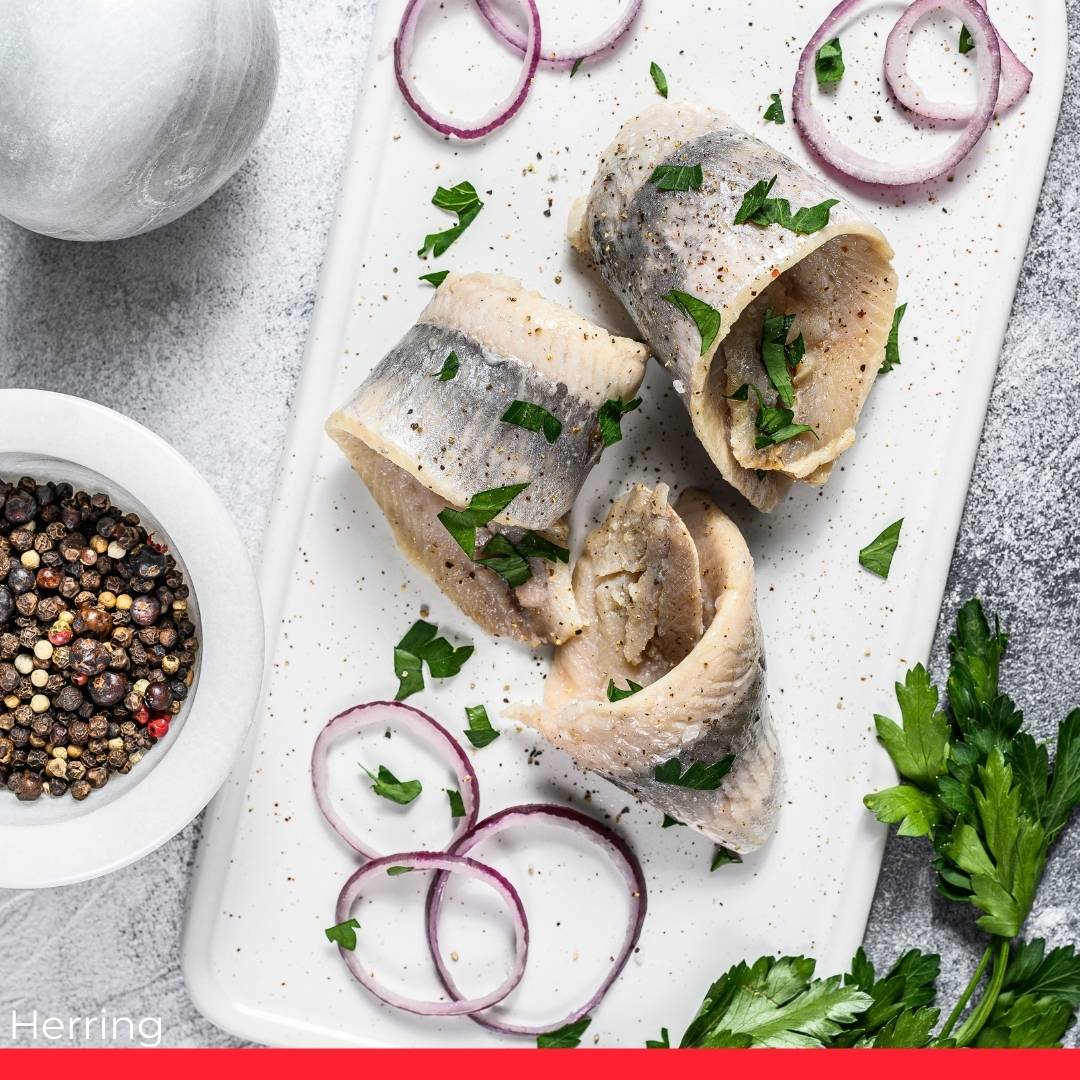 Herrings are very popular in Poland at any time of the year. No wonder they made their way to the Christmas Eve meat-free table.
The most popular preparations are classic herring fillets (matjes) served in oil, or with cream, sour apples, and chopped onions, often accompanied with a potato salad.
In addition, in the Great Lakes Mazury District, they have been even served fried for centuries.
11. Braised Sauerkraut with White Beans (Kapusta z Fasolą)
Sauerkraut is a true epitome of traditional Polish cuisine. And, a cabbage-loving Pole is a true stereotype of our nation. And, guess what? It's completely true!
Sour cabbage plays quite a role on the Christmas Eve table and braised sauerkraut with white beans is just one of many Polish traditional cabbage-based dishes. This simple mixture of braised sauerkraut and cooked white beans tastes best with a loaf of homemade rye bread and butter.
12. Braised Sauerkraut with Split Pea (Kapusta z Grochem)
Peas with cabbage have been served in Poland for nearly a thousand years! No wonder, we have this specific version of the braised sauerkraut Christmas meat-free dish.
It is an easy-to-make, delicious, and most of all super healthy snack or even a main course, where sour cabbage accompanies the yellow split pea.
13. Braised Sauerkraut with Wild Mushrooms (Kapusta z Grzybami)
Braised sauerkraut meets wild mushrooms in this typical Christmas Eve dish. Could you have anything more Polish than that? Serve it with rye bread and homemade butter and you will turn Polish before swallowing the first bite!
14. Cabbage Rolls (Gołąbki)
Gołąbki translates literally as little pigeons, although these cabbage rolls have nothing to do with birds at all. Typically, boiled cabbage leaves are wrapped around a filling of minced pork and rice.
However, for Christmas Eve dinner they go vegan. And, so cabbage leaves are delicately wrapped around a mix of rice, onions, and spices, layered with tomato sauce, and baked. 
15. Wild Mushroom Sauce (Sos Grzybowy)
Not surprisingly at all, we present another wild mushroom-based Christmas Eve dish—sos grzybowy (wild mushroom sauce). The sauce is used as a topping to buckwheat groats or rice.
The recipe is pretty simple and easy to follow. What is the catch? Finding forest mushrooms in December! Not a chance J. That is why forest mushrooms are collected in autumn, dried, and stored with care in the kitchen cupboard until Christmas. 
A poppy, containing thousands of seeds in one head, is a symbol of harvest and fertility in the Christian tradition. Therefore, Poles believe that eating poppy-seed cake during Christmas Eve dinner brings luck and prosperity.
Polish poppy-seed roll, which is basically a strudel-esque yeast cake filled with ground poppy seeds, honey, butter, raisins, and walnuts, is one of Poland's most traditional and most popular sweet foods. And, it is an absolute must at the Christmas Eve dinner table.
17. Noodles with Poppyseed (Makiełki)
In terms of poppy-related Slavic beliefs and why poppies ended up on a Christmas Eve Polish table, please look at the paragraph above.
In terms of the dish itself, it is basically the poppy-seed cake filling mixed with homemade noodles or pasta. It is sweet, full of calories, and absolutely delicious. Can be served hot or cold, depending on one's preference.
18. Polish Christmas Wheat Pudding (Kutia)
Kutia is a traditional Slavic dish of Russian origin and is really hard to define. It's kind of a pudding, a cake in some way, and a bit of a mousse…, but it's none of these, really. Kutia is simply kutia, and a true staple of every Christmas Eve dinner in Poland.
There are hundreds of variations of kutia, but original Polish kutia is a cooked wheat "pudding" consisting of whole or cracked wheat or barley, poppy seeds, honey, and extras such as dried figs, raisins, nuts, and sometimes cream.
19. Gingerbread (Pierniki)
Gingerbread is very much associated with the Christmas season in Poland. And so, these tasty treats are often baked at home together with all the family to the sound of Christmas carols.
Enough to say that traditional Polish gingerbread has been produced since the Middle Ages in the city of Toruń. The very first reference to Toruń gingerbread dates back to 1380! No wonder, gingerbread is today an icon of Polish cuisine. 
Related: 22 Amazing Gingerbread Houses
20. Dried Fruit Compote (Kompot z Suszu)
Last but not least, another iconic Christmas Eve dish, dried fruit compote. This traditional Polish non-alcoholic drink is based on local fruits, collected in the summer and early autumn, dried, and stored with care until winter.
Generally, kompot is like a fruit soup with loads of different local fruits floating on the surface (plums, apples, pears, etc.). It is served in glasses as a dessert either warm or cold, but it tastes best chilled, as it is great for quenching thirst.
---
Related: Popular Polish Christmas Cookies
Related: 25 Popular Polish Dishes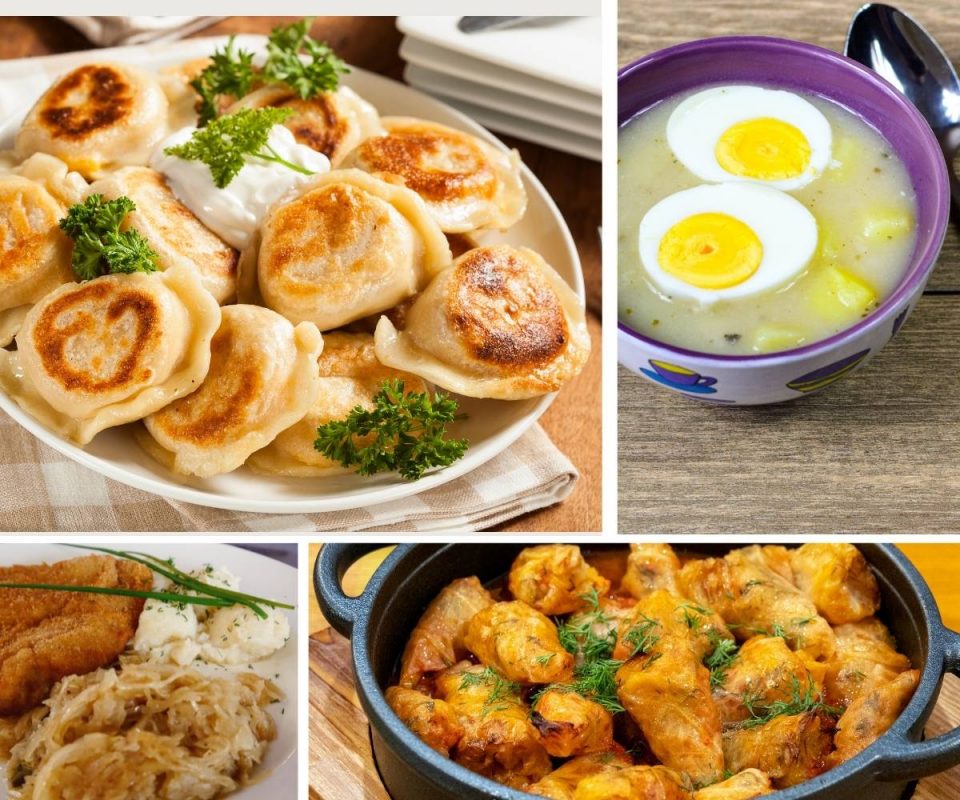 Related: 25 Popular Polish Desserts & Sweets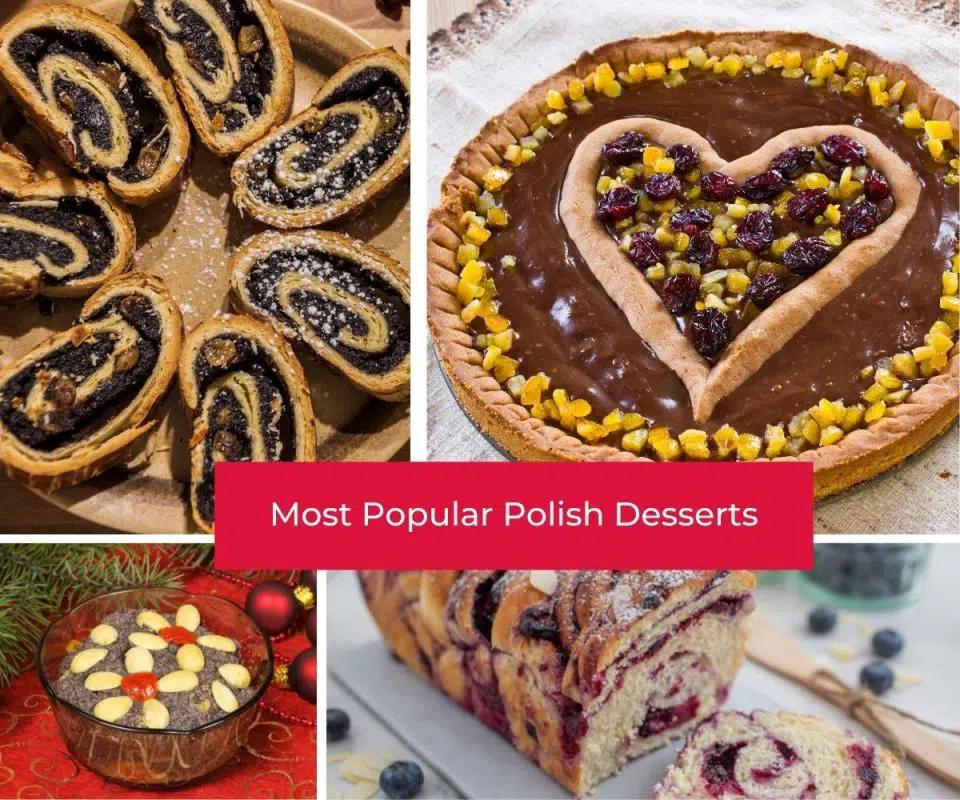 Related: Famous Polish Cheeses