25 Most Popular Foods in Singapore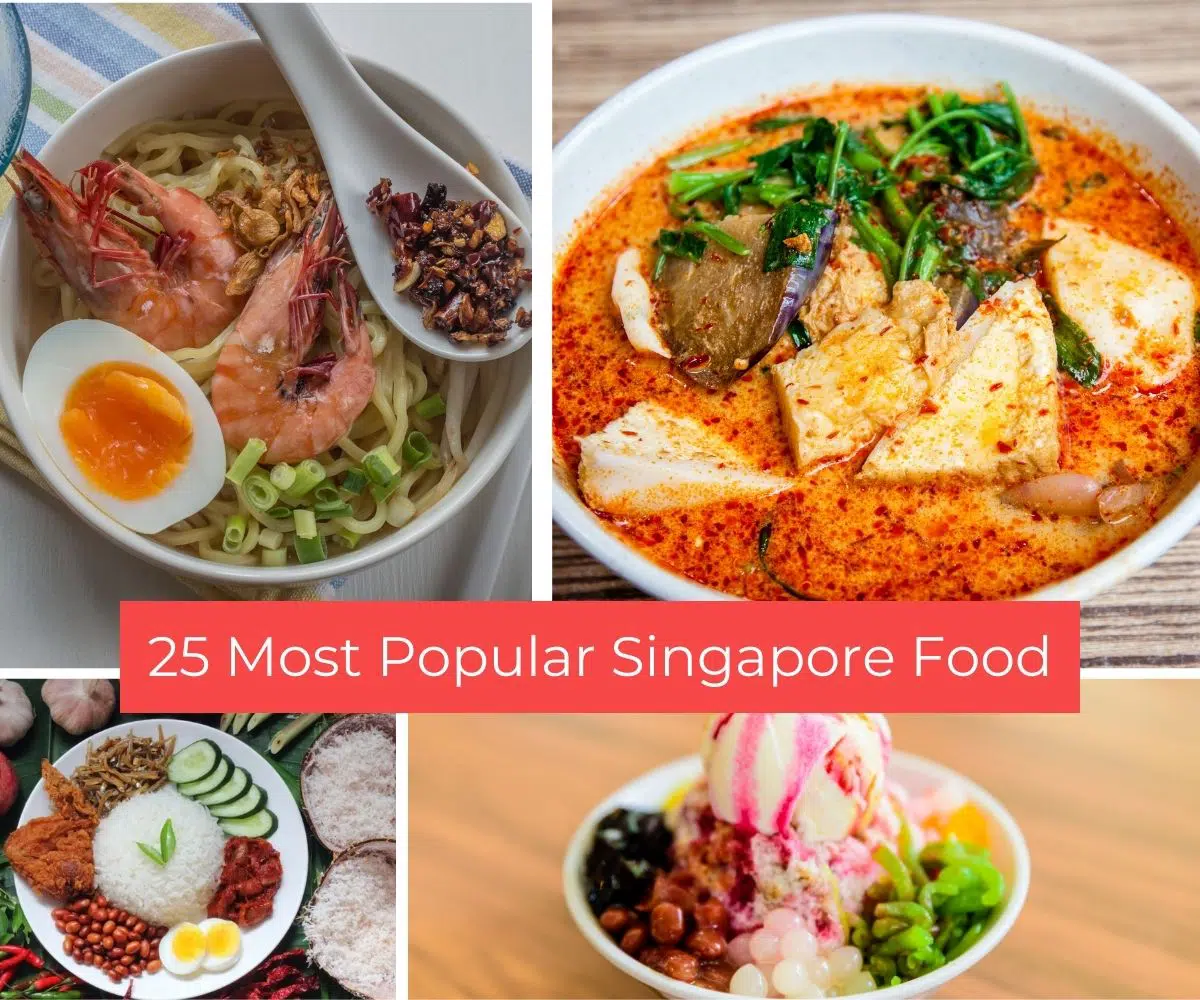 Although a mere red dot on the world map, Singapore is a hotpot of Asian delicacies. With a wide variety of foods from Chinese, Malay, and Indian cuisines, along with other Asian and Western influences, what is "uniquely Singapore" today is a historic mix of various backgrounds – a culinary representation of its cultural diversity.
Despite the country's humid weather, chilli is a defining feature of the local cuisine. Known for its "hawker culture", Singapore has many hawker centers and kopitiams, which house different food, drink, and dessert stalls in a shared dining space.
Local hawkers also competed with Gordon Ramsay in the 2013 Hawker Heroes cook-off, winning the Michelin star chef in two out of three dishes. In this multi-ethnic society, food is a common ground that brings people of different backgrounds together.
Let's round-up Singapore's most popular 25 foods.
1. Hainanese Chicken Rice
Starting off with one of the dishes that won the cook-off against Gordon Ramsay, this is a local favorite featuring sliced chicken on fragrant jasmine rice. It has two variations: silky, steamed or roasted chicken, which has a thin, crispy skin.
Served with cucumber, soup, and its own recipe of chili sauce, chicken rice is a simple yet classic dish.
2. Laksa
The second dish that won the cook-off is laksa, a noodle soup dish. Its rich, spicy broth is cooked with herbs and coconut milk and boasts a bold red color. For spice lovers, sambal belachan (chili paste) can also be mixed in for extra punch.
This flavorful dish is popularly served with sliced chicken, fish cakes, tau pok (tofu puffs), and cockles.
3. Chili Crab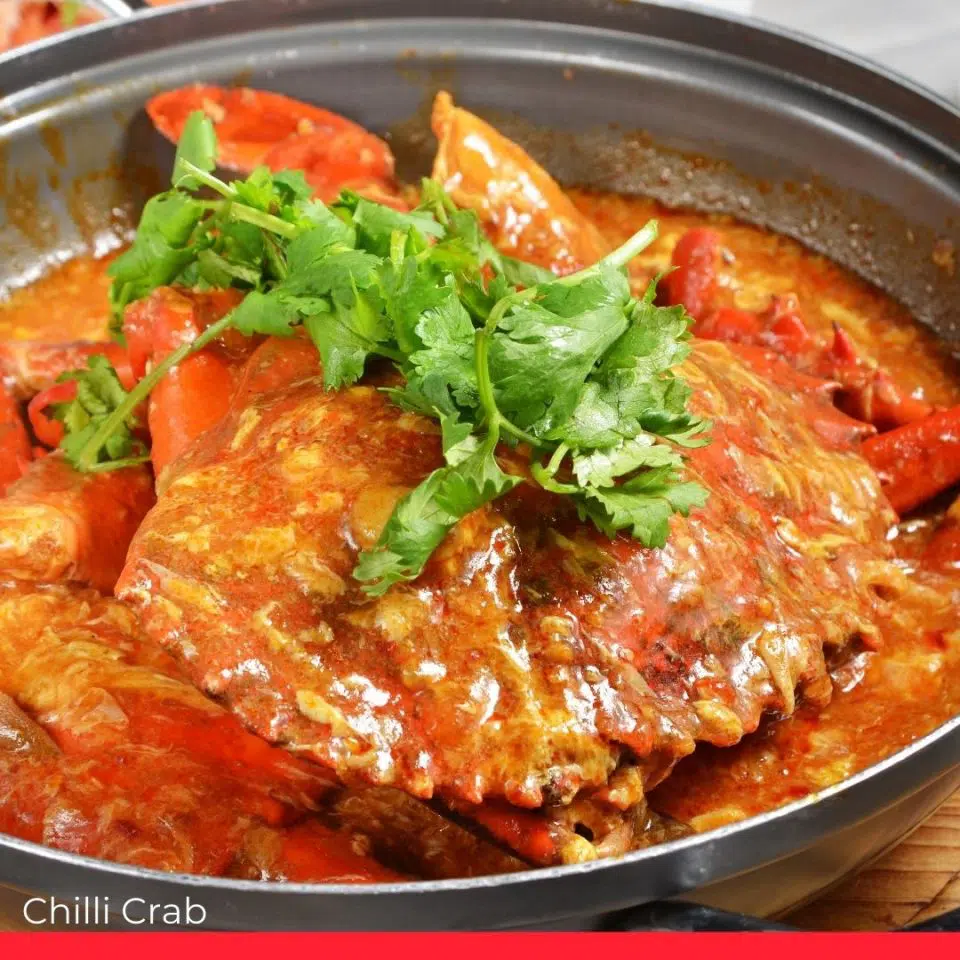 The final dish that competed, but lost, in the cook-off against Ramsay is chili crab, a sharing portion of whole crab served in a mildly spicy gravy. There is an element of challenge in shelling the crab, but the sweet taste of soft crab meat in savory chili makes it worth it. "Man tou" (crispy fried buns) dipped into the sauce make a great accompaniment to this dish.
4. Nasi Lemak
Translating literally as "fatty rice", nasi lemak is a well-loved food from Malay cuisine. This dish has a variety of ingredients that you can pick and choose from, such as fried chicken, grilled fish, and vegetables. It goes excellently with otah, a soft, spicy fish cake wrapped in banana leaves and grilled to give a smoky taste.
The aromatic rice is imbued with coconut milk and pandan leaves, and goes perfectly with sambal belachan, fresh cucumber, and ikan bilis (crispy fried anchovies) on the side.
5. Roast Meat
A staple at hawker centers and kopitiams, it is hard to miss the whole cooked poultry and thick cuts of meat hanging on display behind glass screens. When ordering from these stalls, you often get to watch the hawkers carving up your choice of roast meat with large cleavers.
Aside from chicken and duck, popular meats include char siew (barbecued pork) and shao rou (roast pork belly with a crispy skin). This is a simple yet satisfying meal served with white rice, cucumber, and chili sauce.
6. Nasi Biryani
A dish of Muslim and Indian origin, nasi biryani consists of basmati rice, cooked with various fragrant herbs and spices such as cinnamon and star anise.
This is often eaten with meat such as curry chicken and beef or mutton rendang, a rich and spicy coconut milk-based gravy. Cashew nuts and dried fruit mixed into the rice add to the richness and aroma, making it a simple yet hearty meal.
7. Hainanese Curry Rice
As its name suggests, the defining feature of this dish is the curry – a thick, savory gravy over white rice. Crispy fried pork chop and soft, tender kong bak (braised pork belly in dark soy sauce) add a mix of textures to the dish.
This is usually served with cabbage and fried egg. A a simple, hearty dish reminiscent of a homecooked meal.
8. Char Kway Teow
In Hokkien (a Chinese dialect), char means stir-fried while kway teow refers to a kind of flat rice noodles. Put together, it gives a popular hawker food: a savory noodle dish with a smoky flavor. Common ingredients such as Chinese sausage, fishcake, prawns, and cockles add a sweetness to the dish, while sambal chili and bits of crispy fried pork lard on the side make for an added salty crunch.
9. Hokkien Mee (Hokkien Noodles)
A popular hawker food, the name of this dish refers to its Chinese (Hokkien) origins. This is a savory dish consisting of yellow noodles and vermicelli wok-fried with eggs and served with prawns, sotong (squid), and lean pork belly.
The essence of hokkien mee is the sauce – a fragrant prawn stock imbued into the noodles. This is served with sambal belachan on the side and calamansi lime, which is squeezed over the noodles for added zest.
10. Oyster Omelette
Often sold alongside hokkien mee, oyster omelette is a savory companion to the popular noodle dish. Plump oysters are fried with eggs and batter to give a gooey-textured omelette with crispy edges. Each bite bursts with the fresh taste of the oysters and the salty, wok-fried smokiness of the egg.
11. Chai Tow Kway
Chai tow kway is commonly referred to as carrot cake in English. However, unlike the Western dessert, it is a salty, savory dish actually consisting of soft cubes of white radish, which are stir-fried with eggs and spring onions.
There are white and black variations. White carrot cake has more of a crisp at the edges while black carrot cake is mixed with a dark sweet sauce to give a wetter texture. A local favorite, this is a warm comfort food that goes with any meal.
12. Chwee Kueh
Chwee kueh literally translates from Hokkien as water cake. This is a spicy, salty dish that is a popular breakfast food at hawker centers. The round, steamed rice cakes are soft and tasteless, but eaten with sambal belachan and chai poh (preserved radish), they have a slight crunch and a rich flavor.
13. Kaya Toast
Kaya is a sweet, thick jam made of coconut milk, eggs, and sugar. A popular Singaporean breakfast in kopitiams is butter slices and kaya on toast, with a cup of kopi (coffee) or teh (tea) on the side. This is eaten with soft-boiled eggs seasoned with white pepper and dark soy sauce, combining sweet and savory flavors to awaken your taste buds in the morning.
14. Roti Prata
Of South Indian origin, this simple dish of round flatbread requires a high level of skill in tossing and frying the dough to get it crispy on the outside but soft and doughy on the inside.
Classic roti prata includes kosong (no ingredients – literally meaning empty) and egg prata and is usually eaten with curry. If you have a sweet tooth, you can eat it with white sugar, or opt for creative variations such as cheese, banana, or chocolate prata.
This is popular as a breakfast food and in Singapore's "supper culture", but is a versatile dish that can be eaten for any meal.
15. Fish Head Curry
A hybrid of Chinese and Indian cuisine, fish head (usually red snapper) is stewed in a light, flavorful curry along with vegetables such as eggplant and ladies' fingers. This is a dish meant to be shared with family and friends at mealtimes, and the sour and spicy gravy enhances the rice and other dishes.
16. Hae Mee (Prawn Noodles)
Hae mee consists of noodles served in a rich, mildly spicy broth that boasts the sweetness of prawns and pork ribs. Crispy lard, shallot oil, and a sprinkle of smoky chili powder elevate the fragrance and flavor profile of this dish. The various elements in this dish make this a wholesome and tasty comfort food.
17. Bak Chor Mee
This is a staple in hawker centers and kopitiams – bak chor mee, or minced meat noodles. It is either eaten dry or in soup and consists of a type of noodles called mee kia served with pork cuts, mushrooms, and bits of crispy fried lard. The dish is seasoned with vinegar and chili and makes for a wholesome, spicy, and savory meal.
18. Kway Chap
Kway chap consists of flat, broad rice noodles (kway) in a soup made with dark soy sauce (chap), served with sides such as beancurd, fishcake, preserved salted vegetables, and boiled peanuts. It is a daring dish, often eaten with unconventional cuts such as offal, intestines, and pig's ears.
However, for those who prefer more "traditional" meats, it is also delicious with braised duck meat and pork belly – a satisfying, savory meal.
19. Bak Kut Teh
Bak kut teh is a Hokkien term which translates as meat bone tea in English. This dish consists of pork ribs simmered in a broth infused with herbs and spices and possesses a distinct peppery flavor.
The tender pork pairs well with dark soy sauce and chili padi, and you tiao (fried dough strips) dipped into the soup impart the full warmth and aromatic flavor with an added crunch.
20. Satay
Satay is a dish of barbecued meat (chicken, pork, beef, or mutton) served on bamboo skewers. Traditionally, hawkers would cook satay over a charcoal fire and use hand-held rattan fans to control the flames.
The meat has a slight char, which gives it a distinctive smoky flavor. This is dipped in a spicy peanut sauce and served with fresh onions, cucumbers, and ketupat (rice cakes) to counterbalance the savory nature of the satay.
21. BBQ Stingray
Although stingrays are notoriously deadly, their fins are coated with a soft meat that is safe to eat and tastes delicious barbecued. Singapore BBQ stingray is heaped with sambal belachan and topped with onions, making each bite fragrant and flavorful. Calamansi lime juice can also be drizzled over to add a sour kick to this spicy, savory dish.
22. Rojak
Rojak is a Malay word that translates as mixture in English – a fitting name, for the myriad of textures and flavors packed into this one dish.
Of Javanese origin, this is a simple salad composed of fruit, vegetables, and tofu and sprinkled with chopped peanuts. However, what makes it unique is its dressing made of chili, palm sugar, and various sauces to give it a combination sweet, sour, and spicy tastes.
23. Sugar Cane
When ordering this drink at hawker centers, you will witness drink stall owners pushing large stalks of sugar cane through a press, which shreds them to extract the juice.
Sugar cane juice is light and refreshing with a subtle sweetness – a delicious beverage to complement a heavy meal. It is served with ice and sometimes garnished with lemon for a hint of zest.
24. Durian
Known as the King of Fruits, durian has earned itself quite a reputation in Southeast Asia. In fact, the roof of Singapore's Esplanade theatre was modelled after its distinctive spiky husk. Its notoriously potent smell and flavor makes it a controversial fruit, both loved and hated by many.
Durian flesh is a pale yellow like custard and has a similar soft, creamy texture, with a rich taste. After eating, some people wash their hands with the durian pits as it is said to remove the odor from your fingers.
25. Ice Kachang / Ais Kacang
Ais kacang (Malay for bean ice), or ice kachang, is a Malaysian dessert consisting of sweet ingredients buried under a mountain of shaved ice – perfect for Singapore's hot and humid weather. Rainbow colors drizzle down the sides of the ice, along with ingredients such as red bean, attap chee (palm seeds), and grass jelly, giving the dessert a vibrant, multi-colored appearance. A sweet treat for both the eyes and taste buds.
---
Related: Most Popular Foods in Malaysia
Related: Most Popular Foods in Indonesia
Related: Most Popular Foods in Bali
Related: Most Popular Desserts in Singapore