Top 25 most popular foods in Bangladesh
Bangladesh is a country of great cuisine. Its food has been shaped by its diverse history and its particular geography. Bangladeshi cuisine is influenced by Mughlai cuisine and many Persian, Turkish, Arabic, and Indian dishes are popular here. So you can guess how many different tastes you will find on any menu.
Exploring Bangladeshi Cuisine: 25 of It's Most Famous Dishes.
In Bangladesh, street food is incredibly popular. Wherever you are, you will come across food stalls on the street. Both sides of the road in crowded cities are lined with stalls, and long lines of people queue for the foods and tastes they love, tastes they come back for again and again.
The flavor of food is highly values in Bangladesh. That is why we use so much spice in our dishes, making them exquisitely tasty. So if you are a food lover, you should consider Bangladesh a place to visit, simply to try out this unique cuisine. So let's dive into the list of the top 25 popular foods in Bangladesh.
1. Panta Ilish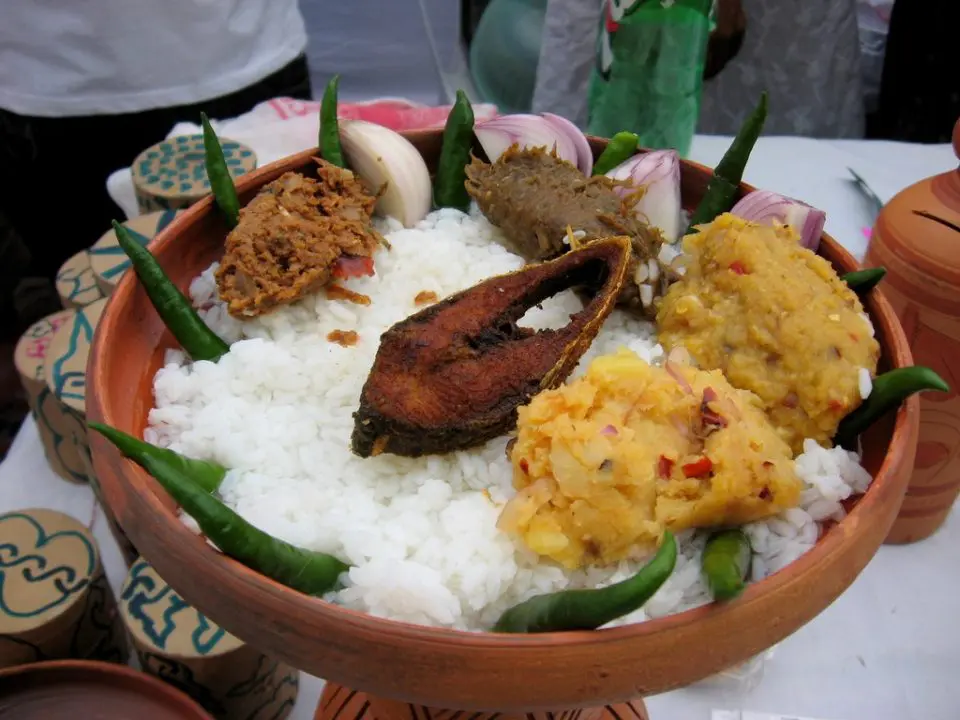 Panta Ilish is a traditional food that almost every Bangladeshi eats at the Pohela Boishakh Festival (the first day of Bangla year). It's the most popular food in Bangladesh. We love this dish as it is a great symbol and celebration of our culture and tradition.
It's a platter of leftover rice soaked in water and served with fried hilsa, achar, and dal. People eat Panta Ilish in the morning of Pohela Boishakh and then take part in cultural programs. The flavorful, crispy, and delicious hilsa fish served with water-soaked cold rice and spicy bharta presents a combination of salty and chili tastes. You will love it after your first mouthful. Another fish, American shad, tastes like hilsa, so you can buy that and have yourself some Bengali pleasure.
2. Kacchi Biryani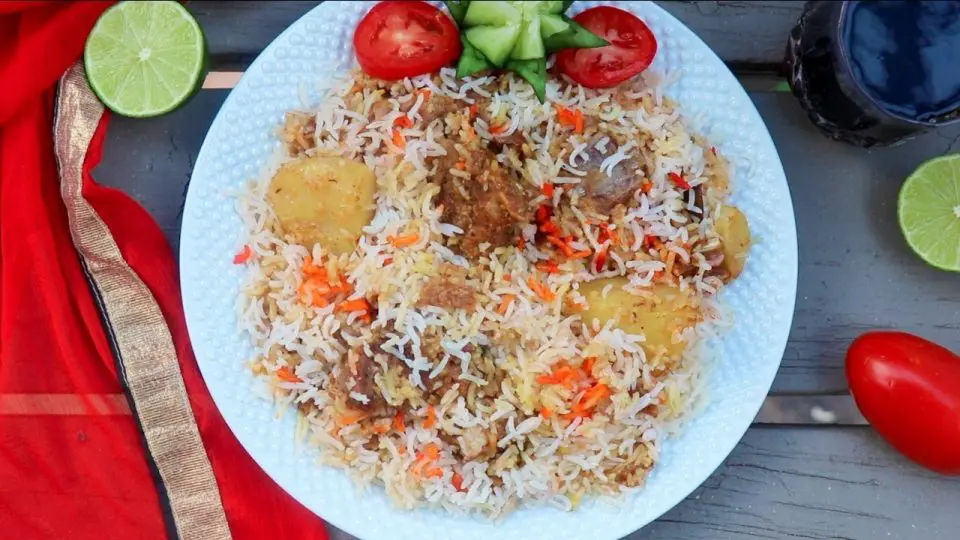 Kacchi Biryani is one of Bangladeshi people's most loved foods. It is so loved, it is served at most festivals and special occasions, such as weddings, picnics, etc. I love this dish.
The most popular biryani in Bangladesh is Dhaka Kacchi Biryani. You will always find the Dhaka street biryani stall crowded because of the huge demand for this food. The main ingredients are rice and marinated meat cooked in lots of spices, giving it its special taste. The spices are nutmeg, mace, pepper, cloves, cardamom, cinnamon, bay leaves, coriander, mint, ginger, onion, tomatoes, green chilies, and garlic. It is sometimes served with a boiled egg and salad.
This rich and flavorful dish is lip-smackingly good. A tip: take a half spoon of biryani and put it on your tongue without chewing it. You will feel the flavor spreading around your mouth. Everyone is happy with a plate of biryani, so you too should try this little bit of magic.
3. Vuna Khichuri/ Khichuri
Khichuri is a dish made of rice and lentils (dal). Vuna Khichuri (roasted) is cooked with different ingredients and spices from normal Khichuri. It's served with roasted meat and pickle. It's one of the tastiest and best loved foods in Bangladesh. Seasoned with a dash of turmeric and salt and topped with ghee, Khuchuri makes an ideal lunch or dinner.
But you can make it tastier and more "gourmet" by adding veggies, dried fruit, and meat or chicken. It's a comforting food for rainy days, and very popular at family get togethers.
4. Morog Polao
Polao is a rice dish which involves cooking a stock, and adding spices. Other varieties of this delicious, mouth-watering food are Morog Polao or Chicken Polao, which is Polao served with chicken.
Polao and biryani are cooked with the same rice but they taste different because of the different variety of spices used. But when you are eating Morog Polao, you know you are not eating something ordinary. It has the taste of royalty, and is often eaten at celebrations and other special occasions.
5. Grill Chicken With Naan Roti
Almost every restaurant in Bangladesh serves this dish, and more than 50,000 grilled chickens are sold every day throughout the country. There are different ways of grilling chicken and there are many variations of spices that are used. Many restaurants roast chickens in a glass oven placed outside to entice people in to eat. It's a very successful strategy.
Now, it is mostly eaten with Naan Roti. Naan Roti is an oven-baked leavened flatbread—the perfect food with chicken. The bread is a little sweet while the chicken is spicy. This combination creates a fabulous wild taste in your mouth.
6. Haleem
Haleem is an Arabic dish. It is a popular stew made with meat—usually beef or mutton—lentils, barley, and spices. It is sold on street stalls and in bazaars (markets) as a snack, and making haleem involves a lengthy and complex process. It can be served with mint, lemon juice, coriander leaves, fried onions, ginger root, and green chilies.
Haleem is a high-calorie dish, providing protein from the meat and fiber and carbohydrates from the combinations of grains and pulses. This is quite possibly why the dish is so popular for breaking fast during Ramadan.
7. Seekh Kebab
Seekh Kebab is a Turkish dish that has become very popular in Bangladesh. The beef is prepared with various spices creating unique flavors. It is a delicious appetizer, soft and succulent and seasoned with ginger, garlic, green chili pepper, powdered chili, and other spices.
The preparation of Seekh Kebab really brings out the flavor of the meat. Some people eat it with Roti, others prefer to eat it on its own.
8. Puchka
Probably the most loved snack and street food in the whole of Bangladesh is Puchka. It originated in India but has become popular in Bangladesh, Pakistan, and Nepal. Puchka is round or ball-shaped deep-fried, crisp flatbread which is served with mashed potato, dal, chaat masala, onion, and coriander.
As soon as you smell a puchka, you know you are going to have a great taste experience. You get the perfect mix of cold, spicy, tart, sweet, and crunch. So popular is it, people will often hang out with friends at roadside puchka stalls.
9. Rasgulla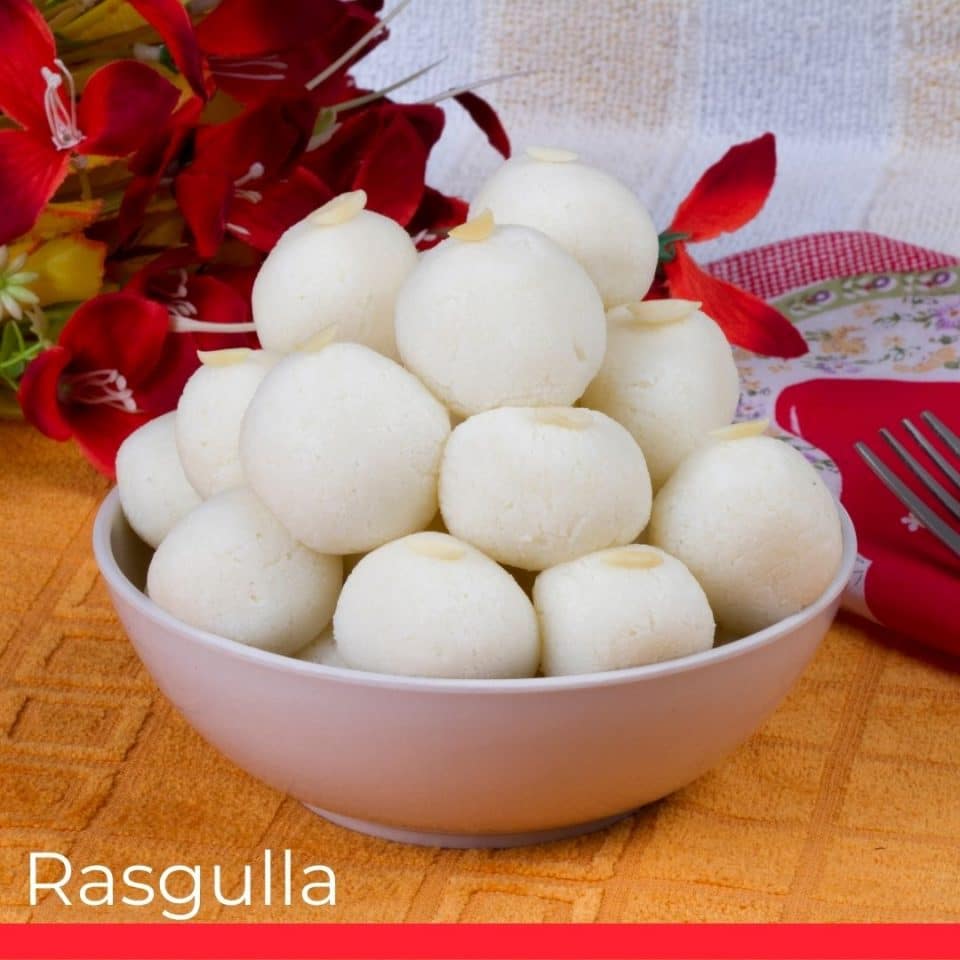 Rasgulla or Roshogulla (syrup filled roll) is one of the most popular sweets in Bangladesh. It is traditionally eaten after lunch as the people of Bangladesh love to eat sweet dishes after a heavy meal. Sweet and spongy rasgulla is also served to guests and at festivals and special occasions.
Its origins are contested. Some believe Rasgulla originated in East India while others claim is was Bangladesh. It is made from ball-shaped dumplings of chhena and semolina, cooked in a light syrup. The syrup soaks into the dumplings, creating soft, fluffy, syrupy white-colored sweets that melt in the mouth. They can be eaten hot, cold or at room temperature: and each one tastes different.
10. Mishti Doi (Yoghurt)
This is the second most consumed food at festivals and celebrations after biryani. Here, the tradition of eating something sweet after a heavy meal is served by Misti Doi.
Mishti Doi is fermented sweet dahi, originating from the Bogra district of Bangladesh. It is mainly made with milk and sugar, but it differs from plain yoghurt due to the preparation technique. Mishti Doi is prepared by boiling milk until it thickens slightly, sweetening it with sugar, either Gura (brown sugar) or khejur gura (date molasses), and allowing the milk to ferment overnight. Earthenware pots are always used for making dahi because the water gradually evaporates through its porous sides. This further thickens the yoghurt, but also creates the right temperature for the culture to grow. The result is a pale yellow yoghurt which is always served on a custom-made earthen plate.
Misti Doi tastes elegant yet is comforting and sweet. It has a creamy, pudding-like texture with a deep, rich flavor of dark caramel and a touch of acidity that makes it refreshing.
11. Ras Malai
Ras Malai is a sweet dessert. It originated throughout the region in India, Bangladesh, Pakistan, and Afghanistan. Ras malai consists of flattened balls of chhana soaked in malai (clotted cream) and flavored with cardamom. A little vinegar or lime juice is added to boiled milk to separate it. The whey is then discarded and the milk solids are drained, cooled and kneaded into a dough. The dough is divided into small balls, which are cooked in hot water with a little rose water in it. The balls are then cooked in milk with saffron, pistachios, and kheer as stuffing.
These soft, spongy cheese dumplings soaked in sweet, cardamom, and saffron milk taste sweet, creamy, and spongy.
12. Borhani
Borhani is a traditional yoghurt-like drink from Bangladesh that is a thick, frothy, herby and spicy savory drink. It is a type of lassi but containing sour doi, coriander, cumin, mustard, green chili, and mint.
In Bangladesh, people love borhani so much it is served at almost every special events, such as weddings, and at family gatherings to break fast during Ramadan. Borhani aids digestion, which is probably why it is eaten after heavy celebratory meals.
13. Jilapi
Jilapi or Jalebi is a popular sweet snack. It's made by deep-frying maida flour batter in pretzel or circular shapes, which are then soaked in sugar syrup. It's sweet and tasty. It has a somewhat chewy texture with a crystallized sugary exterior coating. Citric acid or lime juice is sometimes added to the syrup as well as rose water.
14. Shingara and Samosa
This triangle or pyramid-shaped food originated in the middle east and central Asia and later spread all over the Indian subcontinent. Bengali people called it Shingara. But in the West it is generally know as Samosa. This tasty snack is a fried or baked pastry filled with combinations of spiced potatoes, onions, peas, cheese, beef, and lentils. It is served with chutney, salad, or green chili.
Every middle-class restaurant in Bangladesh has Samosas outside their establishment to entice guests in.
15. Pitha
This food differs depending on the season, the culture, and the place. The best time to sample hot pitha is during winter, particularly in rural areas on a winter morning, but it is eaten all year round. Pitha is a light snack made from dough or batter that is fried, steamed or baked. Bangladeshi cooks use their amazing skills to create beautiful designs with this food.
There are many varieties of traditional sweet pitha: Vapa pitha, Puli pitha, Pagan pitha, etc, and making them requires a lot of skill.
16. Kala Bhuna
A great combination of beef, onion and plenty of spices, such as ginger, garlic, chili, and cumin, go through a long process of deep frying to give this dish its black color, as in its name: Kala Bhuna means Black Deep Fry. It is a traditional food that originated in the east-south of Bangladesh and became very popular all over the country due to its masala taste.
This heavy, black dish is served with roti, plain rice, and pulao. It is considered a delicacy and is served at weddings, eid, mezban, sehri, and iftar.
17. Prawn Malai Curry
A low lying country like Bangladesh is enriched with one particular food that is exported around the world, so it would be strange if it were not included among on their most popular food. It is the humble prawn. And one of the most popular prawn dishes is Chingri Malai.
The wonderfully tasting Prawn Malai curry is made with prawns and coconut milk. This dish is not so easy to make and involves a specific process. Its main ingredients are ghee or mustard oil, onion, turmeric, chopped green chili, garlic paste, and ginger paste flavored with spices and sugar.
More common in the south of Bangladesh, this is a heavy food mainly served at weddings and celebrations or for house guests.
18. Bharta
Bharta is a Bangla word meaning mashed. Any mashed food can be called bharta, but in Bangladesh it usually refers to mashed potato, eggplant, ilish, and dried fish. There are other varieties of bharta with different types of vegetables and fish. After mashing the ingredients, Bengali people generally use red or green chili, onion, salt, oil and other different masala, depending on their taste.
Bharta can't be eaten alone. But there is only one food that can be eaten with bharta and that is rice, the staple Bengali food. Bharta is eaten for breakfast or supper or it is eaten before a heavy meal. Every restaurant will have bharta on its menu in every region of Bangladesh.
19. Mughlai Paratha
This Bengali street food comes from the time of the Mughal Empire, where it is believed to have been prepared for the royal court of Mughal Emperor Jahangir.
Mughlai is generally soft fried bread or paratha stuffed with kemma (minced meat), wheat flour, ghee, eggs, onions, green chili and oil. Moghlai is a popular snack.
20. Shemai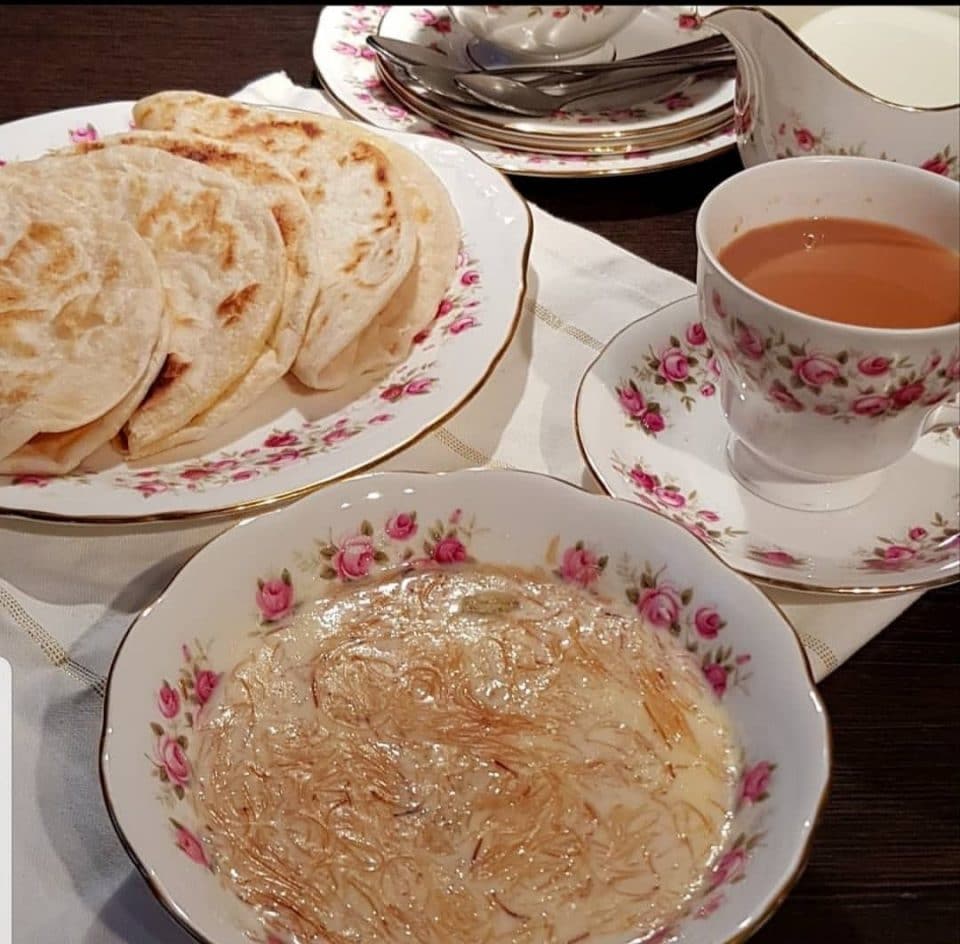 Shemai is a traditional dessert in Bangladesh. It is particularly popular at Eid, a celebration for the distribution of Happiness. But shemai is also consumed throughout the year.
This dessert symbolizes happy moments in the family, in society, or on any occasion. It is a sweet dessert made from milk, ghee, sugar, roasted vermicelli, and various assortments of nuts and spices. Although shemai is popular in Bangladesh, it is not a restaurant or street food; it is generally seen as a food for the family to enjoy.
21. Porota
Paratha is not only famous in Bangladesh, it is popular throughout the Indian subcontinent. Paratha is an amalgamation of the words parat and atta, which means layers of cooked dough. It is a flaky, healthy, delicious bread made from wheat flour, salt, and oil. This breakfast flatbread that is so versatile, it goes with anything and there are countless varieties. At breakfast it is served with dal, aloor dum, or mutton curry. But it can also be served with ghee, honey, and sugar.
22. Chop
One of the biggest occasions in Bangladesh is the Muslim celebration of Ramadan. One of the most popular foods for iftar is Chop, although it is eaten throughout the year as people enjoy the light, oily taste. There are different types of chop, but the common ingredients are pea-flour, oil, and salt. Then its name changes depending on the variety, for example Aloor Chop (potato chop) and meat chop.
Then there is Beguni, which is made with eggplant, and Piyagi, which is made with onion, and many more. To enhance the dish, different types of masala are served in or spread around chop.
23. Jhalmuri
In front of every school, college, and large institute and on any big occasion, there is always a guy wearing a lungi and a t-shirt selling one of Bangladesh's most favored foods, Jhalmuri.
Jhalmuri is made with Muri, which is puffed rice, and chanachur along with onion, chili, mustard oil, many types of masala, and salad. All the ingredients are put in one pot and shaken to mix them together. Bangladeshis call Jhalmuri sellers Mama, which speaks to the relationship between customer and seller.
This spicy food has a magical taste; you can feel the masala as you pop it in your mouth.
24. Luchi
This flatbread is deep-fried and requires a specific process to get the perfect round shape that lets it puff. In Bangladesh, the perfect sized luchi is called Jamai Babu Luchi. Luchi is made with flour (maida), oil, salt, and sugar.
Luchi can be eaten alone or with any type of sweet or spicy food. But it goes particularly well with aloor dum and mutton curry—simple but delicious.
25. Falooda
Falooda is a well known cold dessert made by mixing rose syrup and sweet basil seeds with milk, noodles, ice cream, and vermicelli. But in Bangladesh, it is made it a little differently. Here, it is made with pandan extract, pistachios, sago pearls, creamed coconut mango, milk, vermicelli, and even strong black tea.
Falooda is delicious. It is sweet but not too sweet and tastes quite different from any other dessert.
Bangladesh is a South Asian country bordering India and Myanmar and is yet get on the tourist map. There are very beautiful places to visit and the people are here exceptionally friendly and hospitable. Bangladesh's tourist attractions include historical monuments, resorts, beaches, picnic spots, forests, wildlife of various species, and many different tribal people. Activities for tourists include water skiing, river cruising, hiking, rowing, angling, sea bathing, and yachting. Together with our many delicious foods, a visit to this green and beautiful country is well worthwhile.
---
Related: Most Popular Foods in Bengal