Top 10 Traditional Ethiopian Christmas Foods
Christmas is the most celebrated holiday in Ethiopia, when families gather to celebrate the day together and join in the Christmas preparations, bringing their own recipes for a special feast.
The days before Christmas are for fasting, meaning dairy products and meat are not allowed. This is why everything includes meat and dairy once fasting is over.
Let's have a look at the top 10 traditional Christmas dishes served in Ethiopia.
1. Doro Wot
Doro wot is made with chicken, onion, egg, butter, berbere, ground pepper, ginger, and garlic. It is usually the first meal served in the morning. The family gathers together to eat doro wot and boiled eggs.
Doro wot is a spicy dish, so it is often served with locally made cheese or yogurt.
2. Sega Wot
Sega wot is the main dish served during the holidays. It's made with chopped meat, onion, butter, berbere, ground pepper, ginger, and garlic.
Sega wot is accompanied with injera and a side dish of locally made cheese, which helps to lessen the spiciness of the stew.
3. Alecha Sega Wot
Alecha sega wot is another main dish served during the holidays. This one is popular because it contains less spices, so not so hot. It's made with chopped meats, onion, butter, turmeric, ground pepper, ginger, and garlic and is served with injera.
4. Fit-fit
This dish is a favorite for kids. It's easy to make and can be served as a side to any dish. Fit-fit is made with white meat, onion, butter, turmeric, ground pepper, ginger, and garlic. It is served with minced injera or on its own.
5. Tibs
Tibs is a special and simple dish that all Ethiopians enjoy. It's made with sliced meat, onion, chili, ground pepper, black pepper, and butter. It will be served with a hot sauce called awaze. You can eat it with injera or bread.
6. Kitfo
Kitfo is made from raw red meat with butter, ground pepper, cardamom, and mitmita.
It is a favorite of the Gurage people. All ingredients in kitfo are prepared separately and mixed together, creating a unique taste that everyone loves. For those who prefer not to eat raw meat, you can ask for your kitfo to be medium roasted or well done.
Kitfo is served in a taba, a clay bowl, with a banana leaf on top.
7. Dulet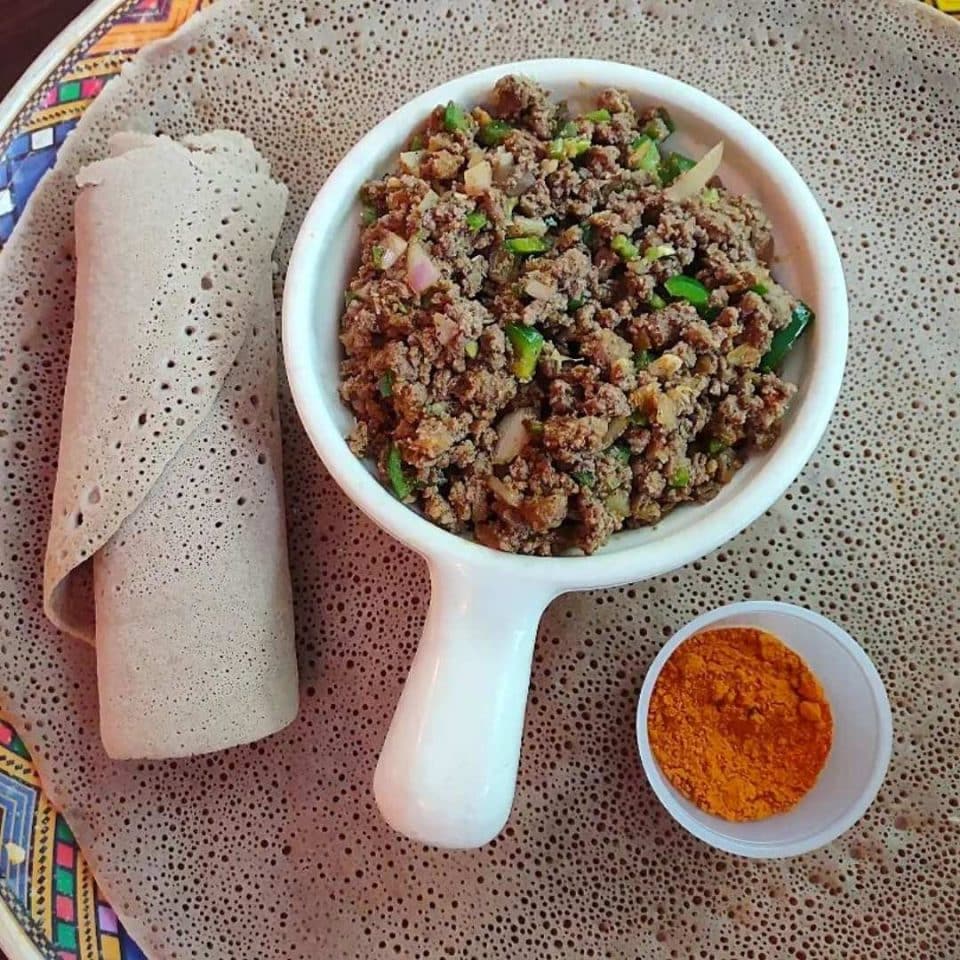 Dulet is made from minced liver, white meat, red meat, tripe, onion, ground pepper, garlic, and ginger. It is usually made in small portions and served for breakfast.
8. Ayibe
Ayibe is a locally prepared cheese mixed with mitmita and butter. It is a side dish served with kitfo or doro wot. Ayibe helps to reduce the heat of the dishes and adds to the taste. Ayibe is usually mixed with collard greens when served as a side to kitfo, when it is called ayibe with gomen.
9. Gomen Kitfo
Gomen is a collard green dish common among the Gurage as a side dish to kitfo. Gomen kitfo is made with collard greens, butter and chili or mitmita.
10. Defo Dabo
Defo dabo is a locally made bread made with wheat, sugar, salt, oil, banana leaf, and yeast. Every holiday starts with prayers and after that the head of the household divides the bread and hands it out to the rest of the family, wishing them a blessed holiday.
---
Related: 30 Popular Ethiopian Foods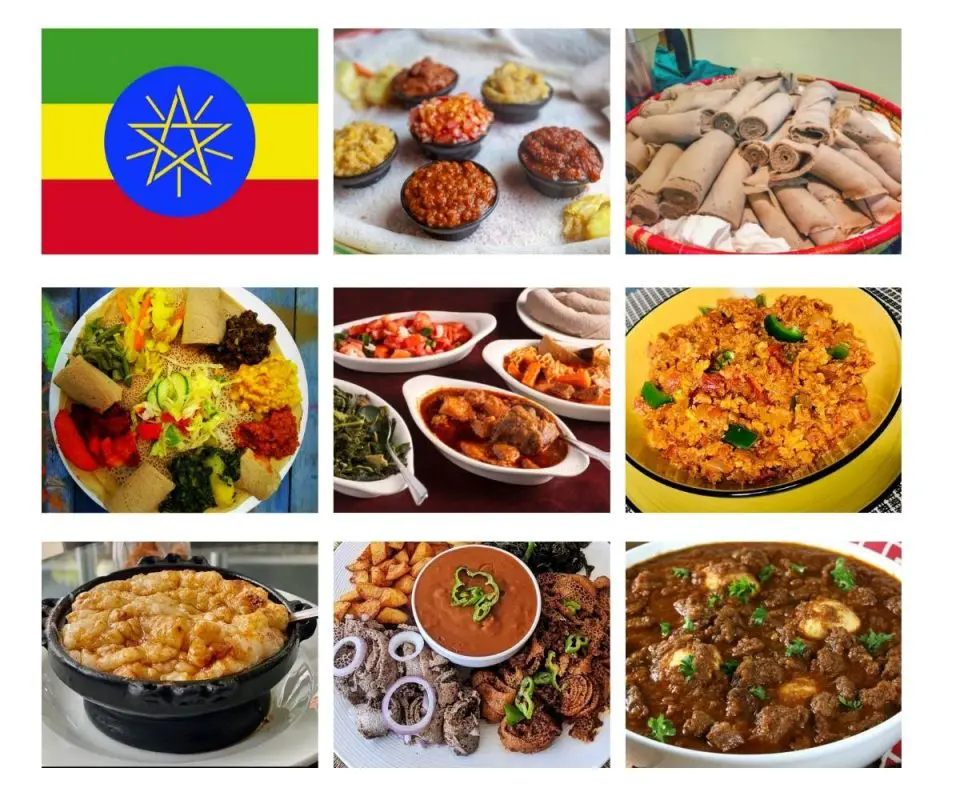 Related: Popular Ethiopian Desserts