Most Popular Christmas Foods in Hungary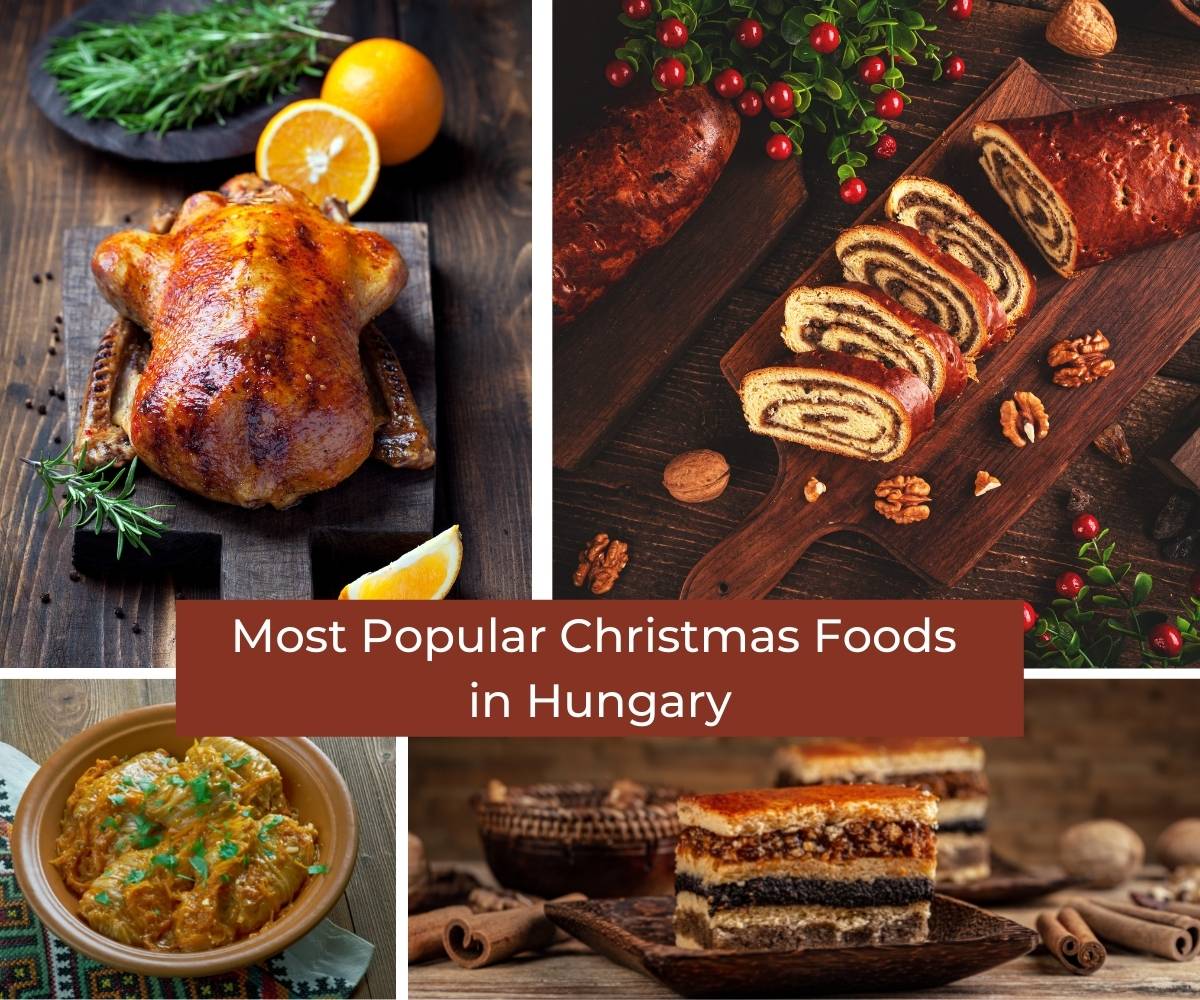 Like many countries, Hungary is rich in unique Christmas traditions, and this holiday is among the biggest events in a Hungarian's life.
The winter festive days start early December here, and feature family traditions that have been shared for generations. For example, the Advent wreath with its four candles, nestled in a bed of pine branches and tied with colorful ribbons (white, red, or purple). Every Sunday till Christmas Day families light a candle to represent love, joy, and hope. The Advent season symbolizes the time of waiting, when we Hungarians prepare our hearts and minds for Christmas.
Another mentionable Hungarian tradition is Luca Day on Winter Solstice (December 13). It's the shortest day, and the longest night of the year, filled with mystical folklore. The myth says if you carve Luca's chair from nine different kinds of wood, then stand on the chair at Midnight Mass on Christmas Eve, you will see the witches in the crowd.
Unlike many countries, in Hungary the most important day of the Christmas season is December 24, Christmas Eve. We decorate the Christmas tree on this day, and traditionally children can only see it when they hear the bell ringing, which means it's time for the presents.
In contrast with the American celebration, the newborn baby Jesus (Jézuska) brings the presents under the tree, not Santa Claus. Santa Claus (or as we call him here, Mikulás after St. Nicolas) visits the small ones on December 6, putting sweets in their newly polished shoes if they were good, or a bundle of birch sticks if they were bad.
After the decorations go on the tree, the Christmas feast begins. But what exactly do Hungarians eat at Christmas? Let's now take a look at 20 traditional Christmas dishes that are hugely popular in Hungary.
1. Halászlé – Fisherman's Soup or Fish Soup
The most typical Hungarian dish for Christmas is halászlé (Fisherman's soup), made with freshwater fish (the most common is carp or any kind of fatty fish) and spiced with deep reddish-brown Hungarian paprika powder.
Every region in Hungary has its own fish soup recipe: the most famous ones are from Szeged and from Baja, cities that lie by the Tisza and Danube rivers, respectively. While the Baja halászlé is served with sliced fish and comes with gyufatészta (egg noodle pasta) and , the fish in the Szeged halászlé is pureed, which makes it much denser. Eating fish during the holidays is very popular as it is believed that the fish scales bring us luck and wealth.
2. Töltött Káposzta – Stuffed Cabbage
After the fish soup, Hungarian stuffed cabbage is the most beloved and classic Christmas dish, usually served on the first day of Christmas (December 25). The recipe is simple: minced or ground pork, sliced smoked pork shoulder, and rice are mixed, then stuffed into steamed cabbage leaves.
The rolls can be tiny as a finger, or huge as your palm depending on the region, and they can be cooked with sour cabbage, dill, or tomato sauce. All in all, the mouth-watering stuffed cabbage is a Hungarian favorite.
Here we have another rolled Christmas food. No Hungarian Christmas table would be complete without the shiny and richly filled beigli.
Traditionally, there are two types of filling: walnut, and poppy seeds, each with their own symbolic meaning: walnut protects our home from evil hexes, while poppy seeds signify prosperity and welfare. The innumerable tiny seeds were originally meant as a fertility charm, to ensure a plentiful harvest in the coming year. In addition to traditional fillings, new flavors are popular too, like chestnut cream with raisins, or Nutella.
The real beigli is characterized by its shiny, marbled, slightly cracked look. What is the secret? It's the egg wash, first with the yolk, then the whites.
Another popular Hungarian poppy seeds-based dessert is poppy seed pasta, which is especially popular around Easter.
4. Rántott Ponty Majonézes Krumplisalátával – Fried Carp and Potato Salad with Tartar Sauce
The tradition of eating carp for Christmas comes from the Czech Republic, but many Hungarian families are fond of it.
Carp is a somewhat of a challenge, as it's full of bones. Whether fried or roasted, it's usually served with delicious vinegar-and-onion-flavored potato salad. We recommend you give it a try!
5. Gesztenyével Töltött Pulyka – Roasted Turkey with Chestnut Filling
Turkey is an essential part of the Christmas celebration in Hungary. It can be simply roasted in the oven, or filled with sweet and soft chestnut paste, and is usually served with roast potatoes and vegetables. After the Christmas Eve fish feast, we usually eat this course on the first and second day of Christmas, December 25 and 26.
6. Mákos Guba – Poppy Seed Bread Pudding
Mákos guba is also a popular dessert during Christmas time, and probably one of the oldest ones. The main ingredients of this bread pudding are roughly ground poppy seeds, sugar, milk, and a crescent-shaped bread called kifli. The drier the kifli, the tastier the guba. It's usually served with creamy vanilla sauce.
7. Forralt Bor – Mulled Wine
There's no Christmas fair without a hot cup of mulled wine, warming the heart and the cold hands too. The variations are endless. Hungarians make it with red wine, cinnamon sticks, orange, and lemon slices. The seasoning is balanced, not too sweet, but not too sour neither.
Be careful not to let the mulled wine boil, as the alcohol will quickly evaporate. Just keep it warm, and enjoy it while it lasts!
8. Mézeskalács/Mézes Puszedli – Gingerbread/Honey Cookie
Mézeskalács is a festive and traditional soft biscuit in Hungary. The tradition of gingerbread making goes back for centuries. And guess what, there's no ginger in our gingerbread; honey is the main ingredient, along with cinnamon and cloves.
For Christmas, we take our special cookie-cutters and make them into all sorts of shapes: pine trees, stars, comets, snowmen, reindeers, and more. Once they have been cooled down and been iced, mézeskalács, they often end up on the Christmas tree as a nice ornament.
9. Szaloncukor
The history of szaloncukor (candy store sweets) goes all the way back to the beginning of the 1700s when the first chocolate-dipped sweets were made in France. German pastry chefs then brought szaloncukor into Hungary at the beginning of the 19th century. These little bites of heaven are usually wrapped in colorful tinfoil, and go on the Christmas tree as decoration.
The most popular filling is still jelly, followed by marzipan, and coconut. In the weeks running up to Christmas, they are sold by the kilo everywhere, from street vendors to fancier shops, and bakeries.
10. Hókifli – Hungarian Snow Crescents
Hókifli are pieces of delicate walnut-filled crumbly shortbread, shaped like a crescent moon and topped with copious amounts of icing sugar. These delectable treats keep for over a week, so you can make them in a relaxed way long before Christmas day. Yum.
11. Pálinka
Is there any time of the year when Hungarians don't drink pálinka? The answer is… absolutely not. Pálinka is a brandy made of fruits like plum, peach, or cherry with at least 40% alcohol content.
Traditionally pálinka is drunk before and after Christmas dinner, which helps with appetite first, and digestion last. And when it's time to toast, put your glasses together and say, "Egészségedre!"
12. Narancsos Kacsasült – Whole Roasted Duck with Orange Sauce
Orange and duck as a Hungarian festive food? Well, our recipe is slightly different from the Chinese one. The delicious and shiny glaze of the duck is made from white or red wine, and the juice of oranges. This is an outstanding combination of flavors, perfect for the Christmas celebration.
13. Kolbásszal Töltött Karaj – Pork Loin Stuffed with Sausage
Pick a nice pork loin, make a hole in the middle, put the sausage inside, then roast it in the oven till it's soft and spicy. Easy! This meat feast makes a great centrepiece to the Christmas talbe, but the great thing about it is that you can eat it for breakfast too.
14. Tepertős Pogácsa – Crackling Scones
A simple but essential snack for Christmas is crackling pogácsa (scones). The savory, crackling-filled dough must be folded three times. Buying crackling in Hungary is not a big deal, but if you can't find it at your butcher, you can make it at home by rendering lard. And then enjoy your pogácsa with a hot cup of tea on a snowy afternoon.
15. Töltött Sertésdagadó – Rolled and Stuffed Pork Belly
Another delicious festive meal with rich flavors. The pork belly is traditionally stuffed with a moist mixture of chopped apple, grounded pork, garlic, eggs, and breadcrumbs. After making the stuffing, we put it in the pork belly, roll it up, and tie it with string.
It takes almost three hours in the oven, but it is worth the wait. We usually serve it with roast or mashed potato.
16. Harcsapaprikás Túrós Csuszával – Catfish Stew with Cottage Cheese Pasta
When it comes to common Hungarian holiday meals, catfish stew is one you shouldn't miss. Apart from the obvious catfish, the main ingredients are: diced onion, crushed garlic, and sour cream. The seasoning is usually our famous grounded paprika powder.
The ideal side dish to accompany this is generally pasta with cottage cheese. Túrós csusza consists of slippery egg noodles smothered in sour cream and túró (cottage cheese), sprinkled with crispy pork cracklings. This pasta can stand as a main course too after the holidays.
17. Zserbó
Christmas is just unimaginable without the magnificent zserbó, a homemade, layered cake with finely grounded walnut and apricot jam filling, topped with dark chocolate. Over the years there have some newer iterations on the classic version, such as zserbó made with plum jam, honey, apple, or poppy seed.
The name Zserbó comes from the Hungarian pronunciation of (Emil) Gerbeaud, who was a famous confectioner and the master of chocolate-making, responsible for developing this dangerously delicious dessert.
18. Flódni
The traditions of flódni come from the Jewish community. It's a layered cake, like zserbó, rich in ingredients. Warning: Flódni is very addictive! Once you start, you simply can't stop eating it.
The classic flódni consists of five layers and four different fillings: apple, walnut, poppy seed, and plum jam. The jam must be very thick so it doesn't flow out of the layers.
These colorful fillings and the pastry represents the unity of people of different religions and ethnicities living together. Making flódni for Christmas is really time consuming, but definitely worth it.
19. Püspök Kenyér – Bishop's Bread
While the desserts we've just seen require expert baking skills, here's a holiday treat that you can whip up even if you have only one hour before the guests arrive.
Püspökkenyér is a sweet cake baked in a round-bottomed loaf pan with a plenty of raisins, walnuts, candied cherries, dried apricots, and plums. After baking, sprinkle with powdered sugar. Delicious for your holiday breakfast with a nice cup of tea or coffee.
20. Hólabda – Snowball or Kozak Hat
This delicious dessert looks like a snowball (or a fluffy Kozak style hat), but we promise you it won't taste like one. The recipe is easy: spongy cake layers filled with vanilla buttercream. The trick is we use a round cookie cutter for the snowball-like shape, then coat the balls with cream and roll them in coconut shreds. The only problem is that it's gone in the blink of an eye.
We hope that after reading our mouth-watering compilation, you get in the mood to try out some traditional Hungarian Christmas food!
---
Related: 12 Popular Hungarian Cookies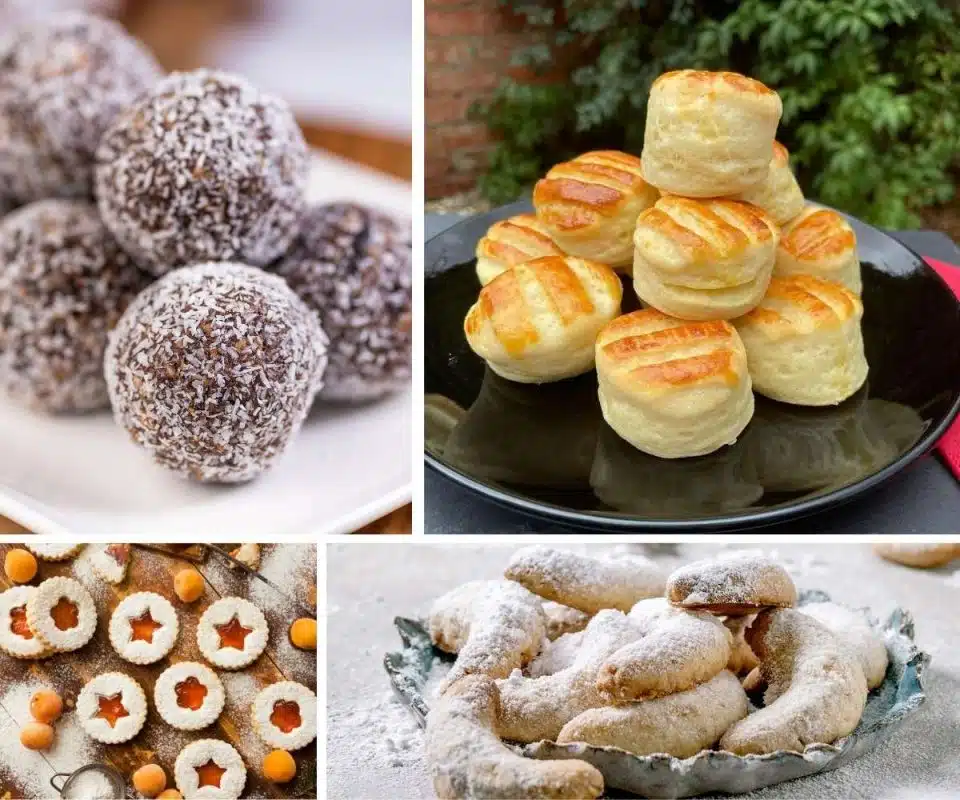 Related: Traditional Hungarian Foods
Related: Most Popular Hungarian Sweet Wines
Related: Most Popular Hungarian Cheeses