Top 25 Foods in Trinidad and Tobago (With Pictures!)
One needs to know where the people came from to truly appreciate and understand what makes up the cuisine of Trinidad and Tobago. Trinidad was formerly colonized by Spain and Tobago by France, then England, which united the two islands as one country. And the country's lip-smacking food was born during those times.
The twin-island is famous for its rich melting-pot of cuisine, influenced by a multitude of cultures. Over the years, both the colonizers and slaves left their mark on the islands' food. Hence, the Republic of Trinidad and Tobago has a rare and exceptional diversity within their cuisine, making it unique in the Caribbean.
However, the most popular dishes came from countries such as India, Africa, Syria, and Spain. The evidence is very apparent in the list below, with the curry from India, the Spanish influence in the Pastelles, and the dasheen from Africa. Nevertheless, fusing these influences and distinct flavors is what makes up the rest of the popular foods. These various mouthwatering dishes are always accessible and readily available, especially on the island of Trinidad.
Below are the twenty-five must-eat foods you really need to get hungry for on a visit to these islands.
Street Food
Doubles is undeniably the most popular street food on the island. It resembles a vegetarian sandwich. This food is made up of 2 baras (pieces of fried dough), filled with channa (chickpea), topped with various sauces such as pepper sauce, cilantro sauce, tamarind sauce, and coconut chutney, grated cucumber, or kuchela. Or all of the above!
Aloo pie is a long fried pocket filled with spiced mashed potato (aloo is the Hindi word for potato). The potato is cooked with chadon-beni and garlic. The dough of the pie is fried, sliced open, and filled with curried chickpeas, then sprinkled with pepper and/or tamarind sauce, and combined with various other toppings.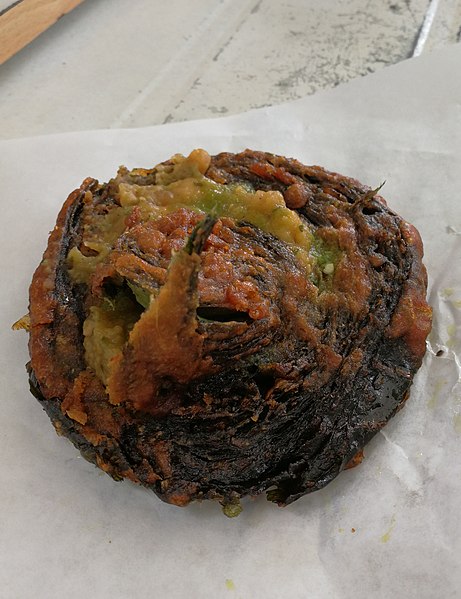 Saheena is mouthwatering and, without doubt, one of the most loved street foods in the country. It is also a popular Divali (the Hindu festival of lights) dish. It is made with dasheen leaves, yellow split pea flour, turmeric, and a variety of spices.
Another popular street food on the island is Pholourie. These fried blobs are made from a batter of chickpea flour seasoned with garlic, onion, tumeric, peppers, and then deep-fried. Commonly, they are eaten with tamarind or mango chutney.
Fruits are abundant on the island of Trinidad – there is always a fruit in season. Nevertheless, as with all their food, Trinbagonians need it to be spicy. Thus, chow is chopped fruit, usually, mango or pineapple, marinated in lime juice, black pepper, garlic, and chadon-beni.
6. Bake and Shark
Bake and shark is two pieces of fried dough filled with a fried fillet of shark. However, it's all about the toppings. The combinations are endless: mustard, ketchup, pepper sauce, sliced cucumber, sliced pineapple, tomatoes, lettuce, mayonnaise, or chadon-beni sauce can all be added. Of course, this dish is predominantly found on the beach.
7. Gyro
Yes, you read that right, Trinidadian Gyro. There is a Syrian/Lebanese population in Trinidad, thus, it was only natural that their favorite meal made it to the food scene of Trinidad and Tobago. The base of the Gyro is the same in terms of the spit-roasted meat. However, the local vegetables and sauces are what make the difference.
8. Souse
Souse is made from either chicken feet or pig's trotters with cucumbers marinated in lime juice, onion, and peppers. At first, it does not have the most appealing look, especially when one sees bony feet sticking out of the pot. However, for adventurous foodies, it is a snack that is worth it!
9. Barbecued Pigtail
People on this island don't believe in wasting any sort of meat. Therefore, pigtail is part of its tradition and islanders can turn these cheap cuts into delicious meals.
10. Black Pudding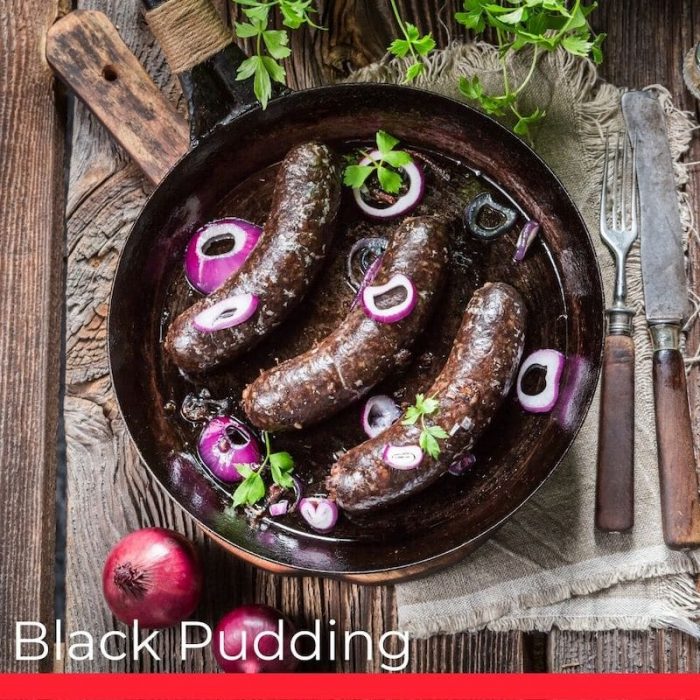 To clarify, it is not a pudding in the least bit! It is a sausage made with pig's blood, local herbs, and various spices. It is mostly eaten with the local bread, called hops, or by itself (on a sheet of wax paper) with pepper sauce, of course. Unquestionably, it is an acquired taste.
Meat Dishes
11. Crab and Dumpling
The name describes it precisely: sticky pieces of unevenly cut dumplings cooked in a mild coconut-milk curry sauce with crab. It is a messy meal, but so delicious. This dish is found mainly on the island of Tobago.
12. Pelau
Pelau is a one-pot dish. It is stewed meat cooked with rice and vegetables. Firstly, the meat is marinated in seasoning and then caramelized in oil and sugar. The meat caramelizes for a while before rice, vegetables, and coconut milk are added to the pot.
13. Oil Down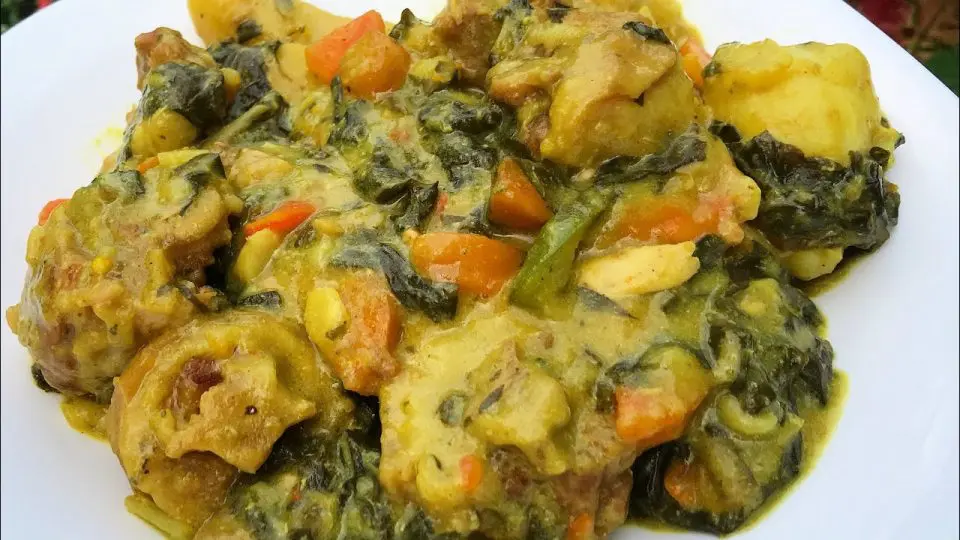 Vegetables are stewed in coconut milk until it is absorbed and just a little coconut oil is left in the bottom of the pan, hence the name. Breadfruit is often used when cooking this meal.
14. Pastelles
Pastelles are made during the Christmas season. Their roots go back to the Spanish colonizers. This dish is made with cornmeal and stuffed with beef, pork, chicken, or a mix of all. Finally, it is wrapped in banana leaves and steamed.
15. Roti
There are many variations of roti. However, the most common types of roti in Trinidad and Tobago are paratha and dhalpuri. Paratha is soft and flaky, whereas Dhal Puri is filled with split peas. Both are eaten with either vegetables or curried meats. Regardless of which one is eaten, one has to use their hands!
Vegetarian Food
16. Buljol
Buljol is made by soaking and boiling pieces of salted fish. It is flaked, then mixed with hot peppers, sweet peppers, onions, tomatoes, garlic, and oil and eaten with hops or fried bake. It is a popular breakfast dish.
17. Coo-Coo
Coo-coo is a simple meal made out of cornmeal and okra.
18. Callaloo
Callaloo is a one-pot wonder with strong origins in West Africa. It has the consistency of a soup and is usually eaten with rice, macaroni pie, and stewed chicken for Sunday lunch. In this Caribbean island, both the leaves and stems of the dasheen plant are cooked down with pumpkin, okra, onions, spices, peppers, and coconut milk to make a creamy dish.
19. Dhal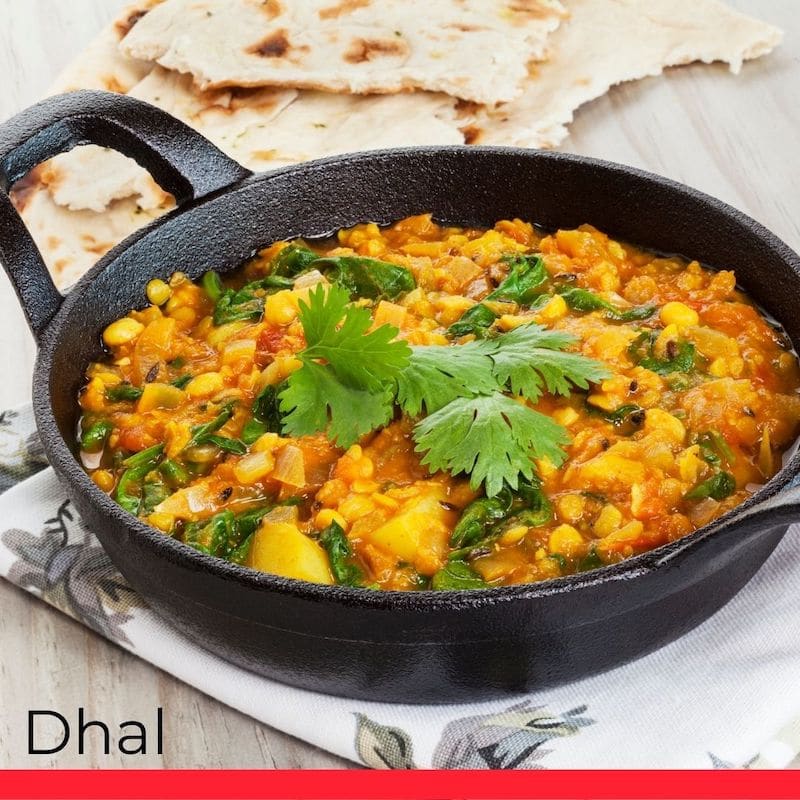 As mentioned previously, Trinidad and Tobago have a strong Indian influence. Thus, there is a Trinbagonians style of Dhal. Dhal takes some time to prepare and cook, as one has to boil the split peas until they soften or leave them to soak overnight. This dish is cooked with ingredients such as garlic, onions, pepper, and turmeric or saffron. It is mostly eaten with rice.
Soups
20. Cowheel Soup
The soup-eating roots of the islands originate from the days of slavery and indentured labor, and soups continue to be a popular dish (mainly on Saturdays) in the country to this date. Cowheel soup is made of peas and beef.
21. Fish Broth
Fish broth is a tasty soup made from vegetables, fresh herbs, fish, noodles and, dumplings. However, the flavor of the broth depend a lot on how the fish is seasoned.
This soup is filled with lots of corn, potatoes, carrots, yellow split peas, pumpkin, dumplings, and many spices in a rich coconut-based broth. One can find this "after-party" meal served on the streets everywhere, after football games and every late-night party.
Desserts and Sweets
23. Pone
When it comes to desserts, one must try the cassava pone of Trinidad and Tobago. Cassava pone is made mainly from grated cassava, coconut, and pumpkin. Bound together with sugar, cinnamon, milk, and raisins, it is thick, sticky, and moist.
24. Kurma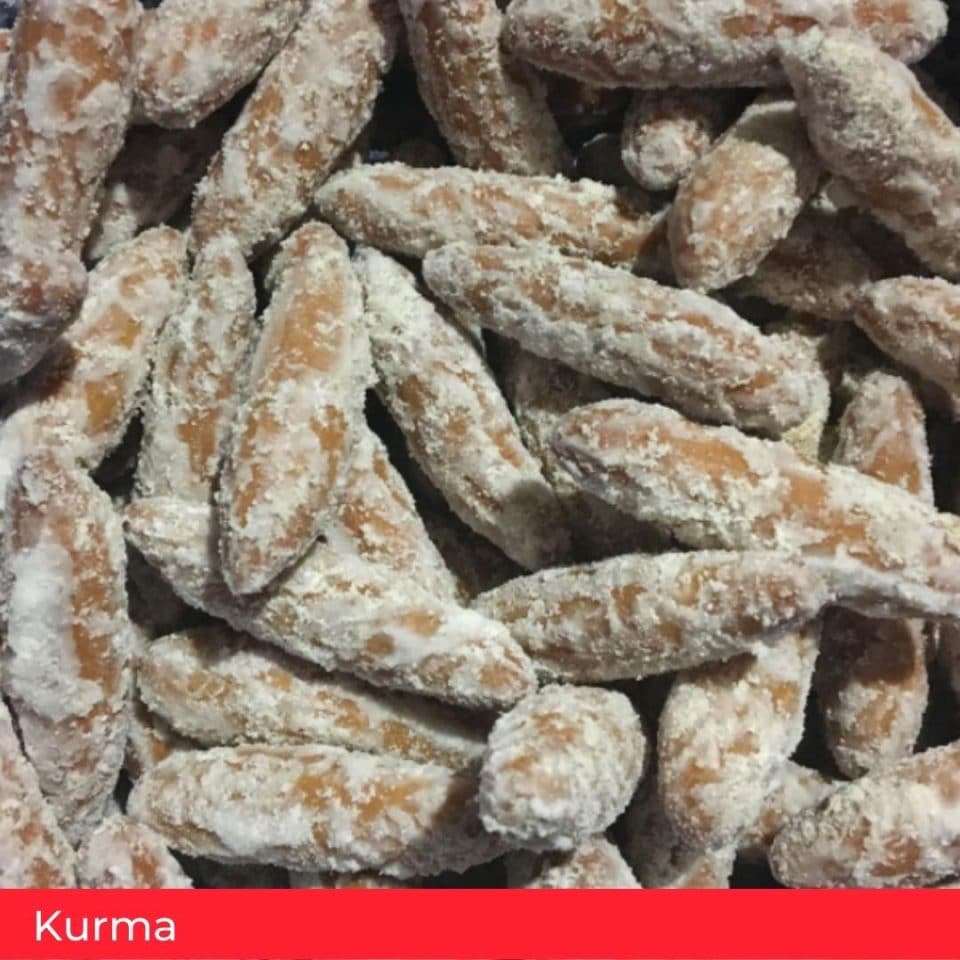 Kurma is a popular Indian sweet, mainly prepared for Divali (a Hindu Festival), but it's also served at Hindu weddings. Kurma is made from fried ginger-spiced dough that is coated in sugar syrup and left to harden.
25. Soursop Ice Cream
This ice cream is a dessert that is particularly popular in Trinidad and Tobago. Soursop is made from ripe soursop, water, cornstarch, condensed milk, salt and, a few splashes of bitters.
So there it is, the twenty-five (25) dishes one has to try when visiting Trinidad and Tobago. It is impossible to starve with all the readily available street food and various fresh fruits and vegetables in this country. Everyone can find some sort of food to their liking. However, be aware of the pepper sauce!