The Top 20 Christmas Foods in Bulgaria
Christmas is one of the biggest holidays in Bulgaria. Some preparation, such as decorating the house and tree, begins as early as the beginning of December.
The main religion is Orthodox and a lot of the preparations around the holiday are deeply rooted in Christianity. Many people even fast for the 40 days between 15 November and 24 December, with the food on the Christmas Eve table being dairy and meat-free.
It is common to have an odd number of dishes (5, 7, 9 or more) on Christmas Eve, with honey, fruits and nuts being part of the count.
There should be a loaf of bread made without dairy products, called pitka, which has a coin hidden in it. The head of the household burns incense, wafting it around the house and the table, to free the house from evil spirits. Some families hold to the tradition of saying a prayer before eating.
Bulgarian Christmas is full of tradition. After midnight on Christmas Eve, young men, called Koledari, dress in traditional Bulgarian clothes and go from house to house singing Christmas carols. This tradition has been somewhat lost in the big cities, is still popular in smaller villages.
Presents are opened on Christmas Day, when the fast ends so the Christmas meal includes meat and dairy. Usually, Christmas Eve involves only the closest family members, while on Christmas day more relatives and friends get together.
Let's have a look of the dishes that find their way to the Bulgarian table. First, we look at the traditional meals found on Christmas Eve in Bulgaria and then the dishes preferred on Christmas Day.
1. Pitka
Pitka is a bread made with baking soda that contains no dairy products. Before baking, the cook puts a coin in the dough, a symbol of health and prosperity whoever finds it.
Traditionally, the eldest person at the table breaks the bread, leaving the first two pieces aside, one for the house and one for Mary, mother of Jesus.
2. Sarmi
Sarmi is a traditional Bulgarian meal made with rice, sometimes meat, and spices stuffed in grape or cabbage leaves. It is an essential dish on the table for both Christmas Eve and Christmas Day.
On December 24th, sarmi are made with grape leaves and without meat while on the 25th, sarmi are made with rice and meat and typically with cabbage leaves. Some people add crushed walnuts to the mixture.
3. Stuffed Peppers
Another favorite Bulgarian dish is stuffed peppers. Usually, they are stuffed with rice, which is cooked separately, then baked.
But on Christmas Eve, many people stuff the red peppers with beans, again cooked separately, then bake them in the oven.
4. Bob
There is another way beans find themselves on the Christmas Eve table. Bob chorba, a bean soup, is a very popular dish.
Usually, this is cooked in a traditional Bulgarian clay pot, together with djodjen, or mint, which gives bob chorba its unique taste.
5. Sauerkraut
Sauerkraut is a main ingredient for a lot of dishes consumed during autumn and winter. This vegetarian dish is made with rice and baked.
In some parts of the country, sauerkraut is slow-cooked with beans in a clay pot. Sauerkraut is often used in salads.
6. Salads
Boiled or mashed potatoes with onion is one of the most popular winter salads. It is easy to make and tastes really good.
Lettuce with cucumber, tomatoes, and olives is another option for a fasting dish for when shopska salad can't be served because it contains cheese. Grated carrots, celery, and beets, also know as vitamin salad, is another favorite. The options are limitless.
7. Turshia
Bulgarian Turshia is a favorite appetizer. It is also known as Tsarska turshia and consists of pickled vegetables, such as carrots, cauliflower, peppers, and garlic.
The vegetables are put in a jar and pressed down then a marinade of vinegar, vegetable oil, salt, and sugar is added.
8. Tikvenik
Tikvenik, the cousin of banitsa, is one of the most popular meals in Bulgaria. While the banitsa includes sirene (Bulgarian white brine cheese) and eggs, tikvenik is an alternative option for Christmas Eve.
It is made of pumpkin, sugar, nuts and phyllo dough. It is the perfect holiday dessert.
9. Banitsa with Apples
Banitsa with apples involved no dairy products so is the perfect addition to the Christmas Eve's table. It is made in a similar way to tikvenik and is a great option for people who are not keen on pumpkin. Banista with apples is sweet and tasty.
10. Oshav
Another popular dessert for Christmas Eve is oshav. This compote of dried fruits is very easy to make. The dried fruits are put in boiling water and cooked until they soften.
11. Roasted Pumpkin
Yes, Bulgarian Christmas Eve can consist of more than one dessert. This is very easy to make and is also very delicious.
Slices of pumpkin, or pumpkin stuffed with nuts and raisins, are baked in the oven for hours. Whichever you choose, it smells heavenly and is incredibly tasty.
12. Honey and Nuts
Honey is a must-have on the Christmas Eve's table. It symbolizes wisdom while the nuts symbolize fertility and abundance.
Pitka is torn into pieces and they are dipped in honey and sprinkled with nuts. It is believed that the quality of the walnuts is a sign of what the New Year will be like. If the nuts are whole and nicely shaped, the year will be good, but if the nut is rotten, the year will not bring much happiness.
13. Wheat
Boiled wheat is another dish that should be on the table on Christmas Eve. Boiled wheat with nuts, which are a symbol of abundance and fertility is very popular and in some parts of the country, pitka is put on the boiled wheat to ensure a fruitful year.
14. Kapama
Kapama is a traditional and very popular meal for Christmas Day. It consists of different types of meat, mainly pork and veal, sauerkraut, rice, red wine, and spices including cumin, black pepper, and bay leaves, giving the dish its distinct taste.
Kapama is slow-cooked in a traditional Bulgarian clay pot. While, it does take a while to prepare, it is pretty easy as everything cooks together in one pot.
15. Pork Steak
After the 40 day fast, many people are really hungry for some meat. Pork steaks are a popular main dish prepared on the stove or baked. They are usually served with mashed potatoes or salad.
Another popular recipe is pork steaks stuffed in cabbage leaves. The steaks are seasoned with black pepper, salt, and cumin and wrapped in cabbage leaves. Then they are put in a clay pot and cooked slowly in the oven.
16. Sauerkraut with Pork
Awe have seen, sauerkraut is the star of Christmas Eve and Christmas Day. For kapama, different kinds of meat and ingredients are used. But sauerkraut is cooked only with pork, bay leaves and black pepper, and no rice. It can be cooked in a pan or a clay pot.
17. Christmas Cookies
What is a holiday feast without cookies? Ingredients and frosting vary, but cinnamon, ginger, and honey are popular choices.
The dough is rolled out and cut into shapes, such as Christmas trees, stars, deer, snowmen and more. The frosting also varies in color and design.
18. Banitsa
We already know that banitsa is one of the most beloved meals in the country. On Christmas Day, once the fast is over, banitsa makes a comeback.
Usually, it is served with lucky charms on New Year's Eve, and in many parts of the country the same tradition applies to Christmas Day. Some of the lucky charms consist of a note of just one word, such as Health, Wealth, Luck, etc., while others are jokes or anecdotes.
19. Baklava
Baklava is not traditionally Bulgarian. But the country has a very rich history and the cuisine is influenced by the many nationalities that have lived here through time.
Bulgarian baklava is made with phyllo dough and filled with crushed nuts, usually walnuts, and sugar. It is cut in diamond shapes and, once cooked, is topped with a cold sugar syrup.
20. Roasted Chicken
Another popular dish, particularly those who don't like pork or veal, is roasted chicken. It is usually stuffed with rice and walnuts, baked in the oven, and served with a side of baked or mashed potatoes and salad.
Every part of the country has their own and distinct recipes. But, most often than not, beans, sauerkraut, honey, and fruits make their way to every table in Bulgaria during Christmas. Bulgarians love their holidays and traditions and take pride in the preparation of the meals.
---
Related: Most Popular Bulgarian Desserts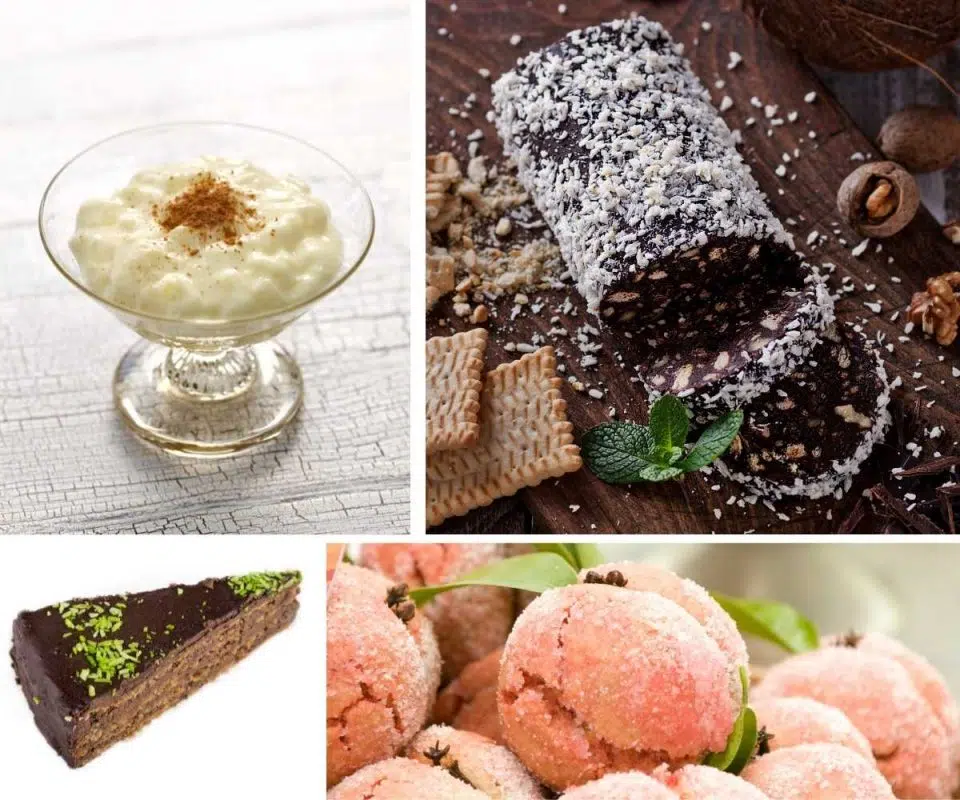 Related: Most Popular Bulgarian Drinks
Related: Typical Bulgarian Breakfast