Top 18 Most Popular Spanish Christmas Foods
The arrival of Spanish Christmas is always preceded by a unique aroma. Weeks before these special dates, the smells and flavors of delicious Christmas fare, both sweet are savory are already in the air. Indeed, Christmas in Spain is a time to taste and enjoy unique dishes, to share food with friends and family and around the table.
How many Christmas foods are there in Spain? The real answer would be thousands, since since each family, town and region has, over centuries of history, developed their own delicious creations and traditions. From this enormous array of delights, we present to you 18 of the most popular Christmas foods in Spain.
Polvorones are an essential part of the Christmas table. They are a small flour cake made with sugar, butter, and almonds, and have a mild flavor and a dense consistency.
These sweet delights are enjoyed by children and adults alike, and melt in the mouth. They are made all over Spain, but some polvorones are considered more presitigous, those those made in the following places: Estepa, in Seville, Fondón in Almería, San Lúcar de Barrameda, in Cádiz, Tordesillas in Castilla y León, and Tafalla in Navarra. In many places, polvorones are served with nougat. However, they can show up as an accompaniment to any Christmas meal.
A Spanish Christmas could not be complete without delicious meat on the table. Roast suckling pig is a big hit on Christmas tables, most typically in Castilla y León, Castilla-La Mancha, Madrid, Aragón, and Navarra. As you can imagine, suckling pig has a lot of fat, so you'll need to skip your diet for this one!
Preparation methods vary from region to region, but the standard method involves need lard, garlic, lemon, vinegar, parsley, thyme, rosemary, olive oil, water, and salt. A rich and filling feast, you'll often find an apple placed in the pig's mouth for decoration.
Don't forget to serve it with an excellent wine!
Very typical in the Basque Country and Cantabria, caracoles a la montañesa (snails, mountain style) mark the arrival of Christmas, along with turrones, polvorones, and other typical sweets. They are a key part of Christmas Eve, containing the characteristic flavors of both regions: sausage, chili, and Biscayan sauce.
4. Escudella i Carn D'olla
Not everything is sweets and meats when it comes to Spanish Christmas. In Catalonia, escudella i carn d'olla is the flagship dish around these dates -a meat and vegetable stew, similar to cocido madrileño, puchero andaluz, or cocido montañés.
Among the many ingredients, you can find bacon, sausage, onion, carrot, potato, pasta, or rice. Also there are pilotas -elongated meatballs made from meat, egg, garlic, parsley, and bread.
As you can see, escudella i carn d'olla will fill even the largest of bellies. A variation of this dish, called escudella de Nadal, is usually the usual first course of the Christmas meal. This is a kind of soup featuring shells of pasta (galets). Delicious… and very filling!
Thistle, or cardoon, is a prevalent food in La Rioja, and at Christmas, we can find it on family tables and in restaurants, served with almonds in a kind of bechamel sauce. If you come across it, this unusal dish is certainly worth a try.
Guirlache is a sweet made of almonds and solidified caramel that can be found in many parts of Spain, especially in Aragon, Catalonia, and Valencia. Of Arabic and medieval origins, there are definite similarities to nougat. As well as being a Christmas sweet in its own right, guirlache can be found as part of other cakes and sweet treats.
7. Jabugo Ham
And what would Spain be without its delicious Jabugo ham? Considered one of the best hams in the world for its texture, aroma, and flavor, Jabugo ham is a delicacy that forms part of many Christmas lunches and dinners, whether on Christmas Eve, Christmas Day, New Year's Day, or Epiphany (Jan 6).
Of course, ham can be enjoyed at any time of the year, but deserves special special mention here as it is one of the most popular foods in Spanish gastronomy. Make sure to look out for the Jabugo Protected Designation of Origin.
In southern Spain, especially in Cádiz (Andalusia), chicharrones are a staple during the Christmas season. These pork belly strips are cooked in a large frying pan with garlic, oregano, salt and lard, served with a bit of salt and lemon on top. If you love meat, these are for you.
Fish and broths are a deeply-rooted Spanish tradition at Christmas, and cod ajoarriero is one of the simplest and tastiest. This dish is made with various vegetables cooked in olive oil a frying pan. Once again, varieties abound depending on the vegetables, the region, or the cook… there is no single recipe to follow here, folks!
The cod is prepared on a sauce made from tomato or tomato sauce, onion, piquillo peppers, peppers, garlic, and potatoes as garnish. You could also add choricero peppers or chili peppers, with some regions adding seafood also.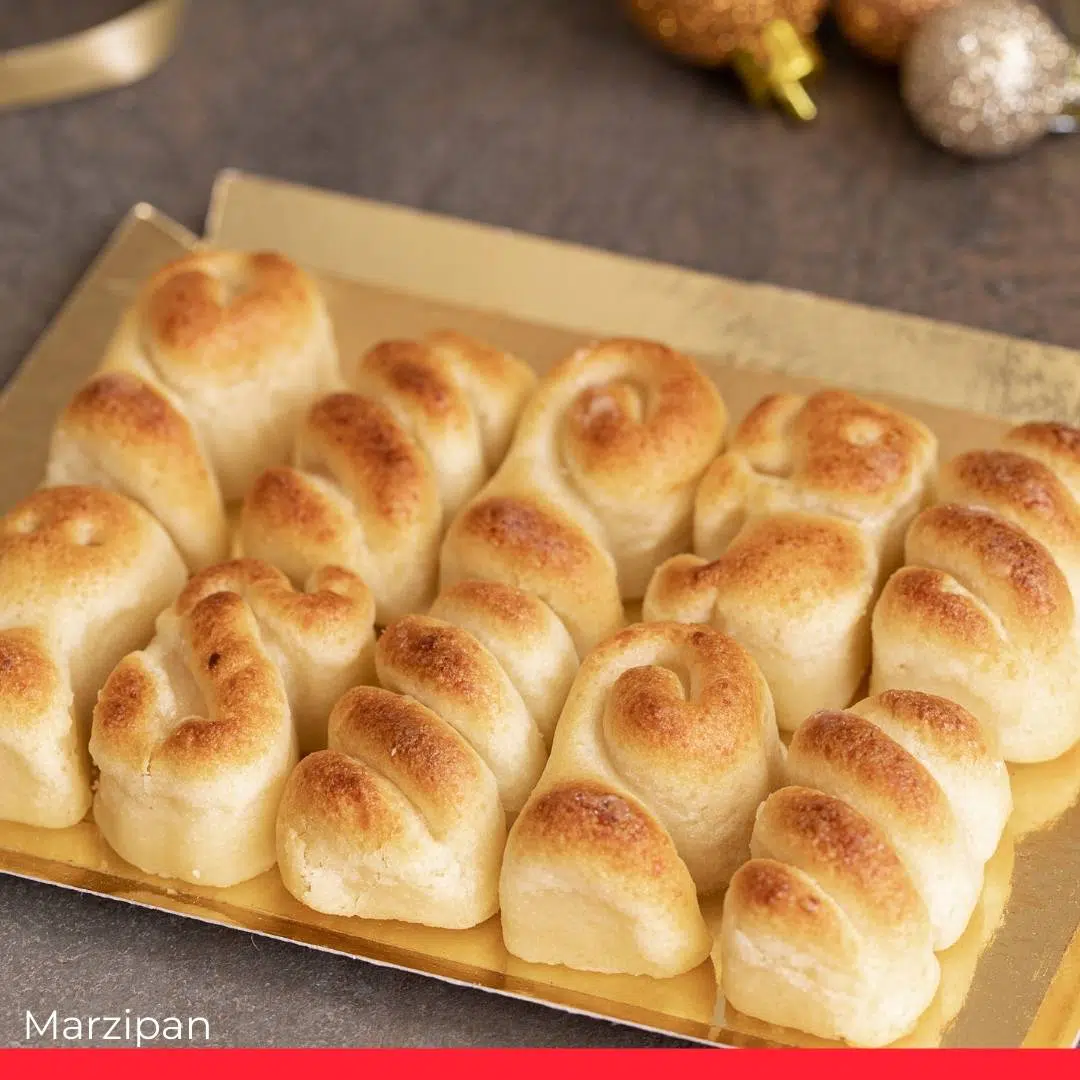 Marzipan is a symbol of Iberian gastronomy, catching the eye of many tourists looking to try typical Spanish Christmas foods. It is a sweet made of almonds and sugar crushed with a mallet, hence its name in Spanish (maza and pan equal mazapán).
Legend has it that marzipan originated in Toledo at the hands of the nuns when the city was under siege during a great food shortage. However, other sources claim that it is of Arab origin.
Should you visit a restaurant in the Basque Country, in northern Spain, you will most likely find hake in green sauce (merluza a la koskera) on the menu. It is very popular not only along the Cantabrian coast but across the whole country. Its delicate taste can be perfect to accompany other heavier dishes, and, as we all know, at Christmas, eating light is far from a widespread custom!
The fish is cooked in slices in an earthenware casserole dish, alongside boiled egg, asparagus, and, clams in a green sauce which is made from garlic, parsley, olive oil, and salt. Peas are added to the same broth to give it its characteristic green color.
12. Sancocho
Sancocho is one of the most popular dishes in Spain's Canary Islands. This hearty dish is a mix of salted fish, boiled potatoes, sweet potatoes, and mojo -the iconic Canarian sauce made from oil, peppers, garlic, vinegar, and cumin.
It is an easy-to-prepare dish that comes in many variations, even within the Canary Islands, where it is popular both at Christmas and Easter.
The roscón de reyes is a light pastry that is traditionally eaten on Three Kings Day (Jan 6), but can be enjoyed before and after this date. It is a large ring of light, sweet bread, decorated with slices of candied or crystallized fruit of various colors.
Some roscones contain cream and even chocolate. Somewhere inside the bun, hidden, there is a religious figurine. Whoever comes across it is supposed to pay for next year's roscón. Watch your teeth!
14. Seafood
Seafood is the star product of Galicia, and there are so many that we could not include them all in one section. Yes, it is safe to say that in this part of Spain, Christmas would not be Christmas without tons and tons of seafood.
Amongst all these delicacies, we can find cooked spider crab, stuffed scallops, mussels, clams, shrimps, crayfish, and barnacles —endless possibilities for dishes!
Related: PULPO A'LA GALLEGA
Related: OCTOPUS SALAD
Turrón is a delicacy eaten absolutely everywhere in Spain at Christmastime. It is a sweet made of honey, toasted almonds, sugar, and egg white, whose history originates from the conquest of the Iberian Peninsula by the Arabs.
These days there are hundreds of types of turrón, incorporating anything from chocolate, pistachio, anything to satisfy the palates of the young and not so young. But when it comes to Christmas, two classics will always remain: the hard turrón from Alicante, with its almonds embedded in sweet white nougat, and the Jijona turrón, which is light brown, and soft in texture. Both are delicious
As the name itself indicates, Asturian tortos come from Asturias, in the north of Spain. Round in shape, they are one of the region's most typical dishes, and an exquisite accompaniment to other dishes, such as fried eggs or the magnificent Cabrales cheese. Although tortos are commonly made with cornflour, you can also use wheat flour. Are you familiar with arepas from Latin America? Well, they're something like that!
In the old days, red cabbage could be found in the markets in late autumn, just before Christmas Eve or Christmas Day, making it a typical holiday dish: lombarda de Navidad.
Popular in Madrid and Castilla y León, this dish consists of crunchy cabbage, seasoned with vinegar or wine. Spices such as cinnamon, star anise, or cloves can be added, with apple another great favorite, regardless of the region.
Pestiños are small, ribbon-shaped pastries that appear at Christmas and Easter, and are not precisely lacking in many family gatherings at these times of year. Made from flour dough, and fried in olive oil, they can be made with both honey and sugar. Totally delicious!
---
Related: Most Popular Spanish Dishes
Related: Most Popular Spanish Drinks