Sarmale (Romanian Cabbage Rolls)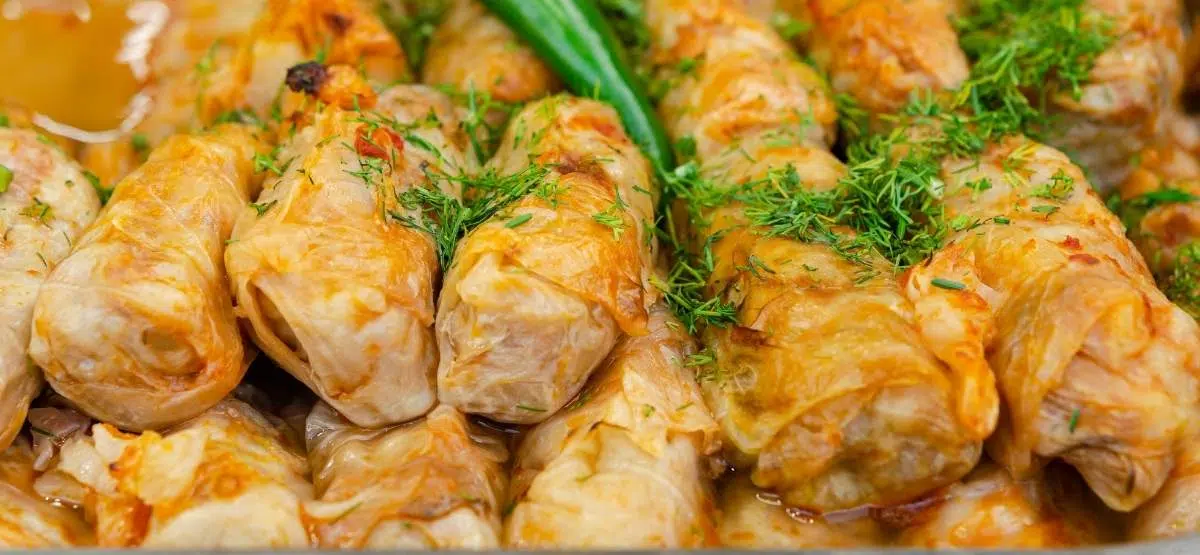 The Romanian word "sarma" is borrowed from the Turkish language – sarmak, where it means "to wrap, to wrap." Sarmale is just that – cabbage (in this case, sour cabbage) wrapped around minced pork, rice and sometimes vegetables. In some regions, wine leaves are used instead of cabbage.
Sarmale is a favorite dish in many central and eastern European households, with recipes passed down from generation to generation, and Romania doesn't make an exception. You can easily call sarmale Romania's most popular food, a favorite dish to celebrate both the Christmas and Easter holidays.
It is safe to to say that the traditional sarmale recipe always includes some kind of ground meat (typically a combination of pork and beef) and also rice, as well as traditional sour cabbage leaves. As it is a rather heavy food, it is most commonly prepared in winter, and served on polenta, sometimes with potatoes or bread, "cooled" with yogurt, cream, dill and horseradish.
While the traditional sarmale recipe is made with ground meat, Romanians also make a vegan version (sarmale de post) during lent. In the vegan version, ground meat is usually replaced with mushrooms.
Sarmale (Romanian Cabbage Rolls)
Ingredients
Ingredients
1

kg

Combined ground pork/ beef

½

cup

Rice

1

Large onion 

1

tbsp

Dried oregano

1

tbsp

Dried basil

2

tbsp

Olive Oil

1

Large sour cabbage

700

ml

Tomato juice

10

slices

Smoked bacon

3-4

Bay Leaves

Salt and pepper
Instructions
How to Make Sarmale:
Prepare the meat stuffing.

Boil the rice till it's almost ready. Set aside to cool

Meanwhile chop the large onion. Sauté half of the quantity for a couple of minutes, saving the other half for later and set aside.

In a large bowl mix all types of ground meat, add sauted onions and boiled rice, dried herbs, 1 teaspoon water, salt and pepper and mix well using your hands.
How to Make the Rolls:
Remove gently not to break the cabbage leaves.

You will only need the large leaves to make the rolls.

The middle part will be chopped and added between cabbage rolls layers.

Cut each large leaf in half, removing the tough core part too to make it easier to roll them.

Add a tablespoon of ground meat mixture to each half leaf.

Cover the filling with the edge from the base of the leaf. Bend edges on both sides and cover over the filling.

Roll the stuffed cabbage leaf holding firm, so they won't break during cooking time. Repeat these steps until you finish all of your group meat mixture.

Roughly chop smaller leaves or some that broke during the rolling process and set aside.

Place big saucepan over medium heat, add 2 tablespoons of olive oil and sauté the rest of chopped onions for 2-3 minutes.

Add part of chopped sour cabbage leaves and sauté for another 2 minutes.

Distribute the whole mixture on an even bottom layer and turn the heat to minimum.

Start adding the rolls, creating a first level.

Add some chopped smoked bacon, 2 bay leaves and some more chopped sour cabbage.

Start creating the second level, putting rolls to the saucepan.

When you finish the layer, add some more chopped sour cabbage on top, smoked bacon, another 2 bay leaves and some fresh thyme.

Add half part sour cabbage juice and half part water to cover the rolls entirely.

Place a lid on top of the saucepan and braise them on low heat for at least 2.5 hours, or bake in a 300 degree Fahrenheit oven for 3 hours.

Serve hot immediately with sour cream on top.
Notes