Top 20 Traditional Czech Foods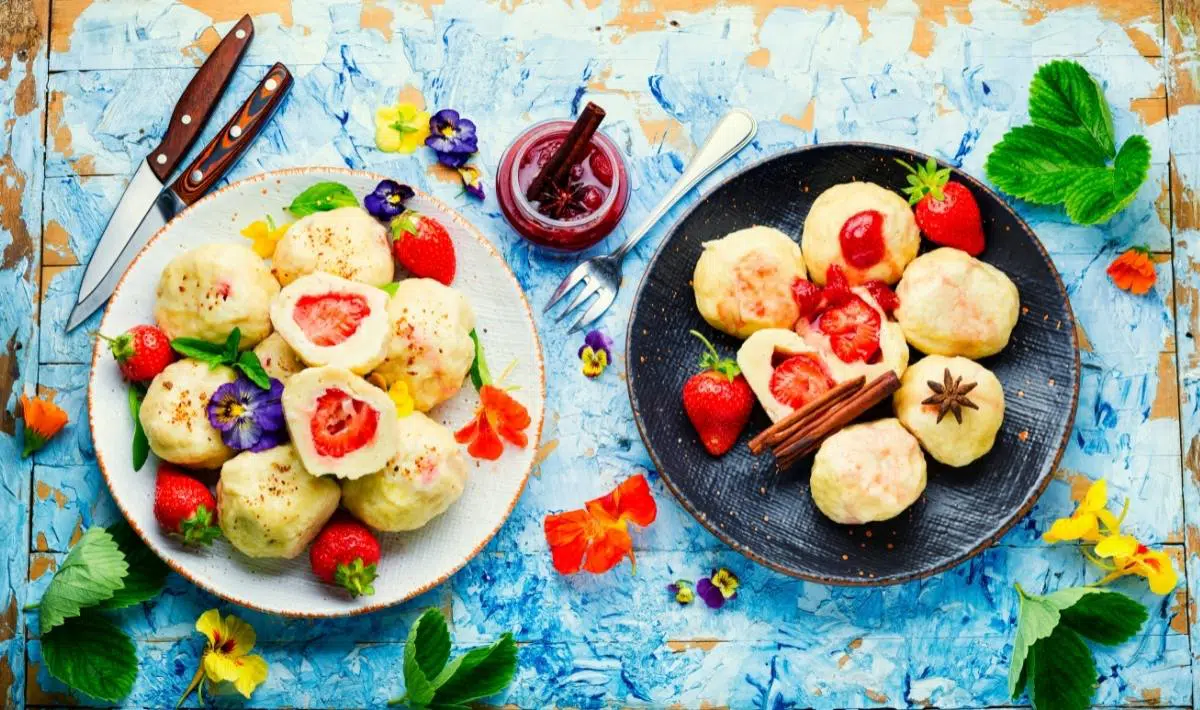 "Dobrou chuť!" is a phrase you could typically overhear when passing a table of hungry Czechs, seated and ready to dip into their heaped plates of various (and sometimes strange looking) Czech dishes, and that could best be translated as "Bon appétit".
The concept of Czech cuisine is pretty recent, with the first Czech cookbooks being dated around the 19thcentury. However, foreign influences had been helping to form this particular national cuisine long before that.
The major one came from Germans, who brought the roast goose, sauerkraut, and dumplings, which have since become Czech classics. Later on, around the 16th century, when Bohemia was ruled by the Austrian King Ferdinand I, the schnitzel came. And since present-day Czechia served as a crossroad to other European countries, other culinary influences arrived from Hungary, Eastern Europe, and even more areas.
In contrast to many English-speaking countries, lunch (usually hot) is the most important meal of the day in the Czech Republic. And the Czechs surely know how to make this central part of their daily diet nothing less than a masterpiece.
A Czech lunch can consist of up to 3 courses, with soup as a starter, then main course and a dessert, usually in the form of a baked buchta or koláč (cake or pie). Czechs love their soups, creamy sauces, leavened cakes and pies, dumplings, and plenty of other delicious and sometimes stomach-heavy masterpieces.
1. Vepřo Knedlo Zelo (Pork, Dumplings and Sauerkraut)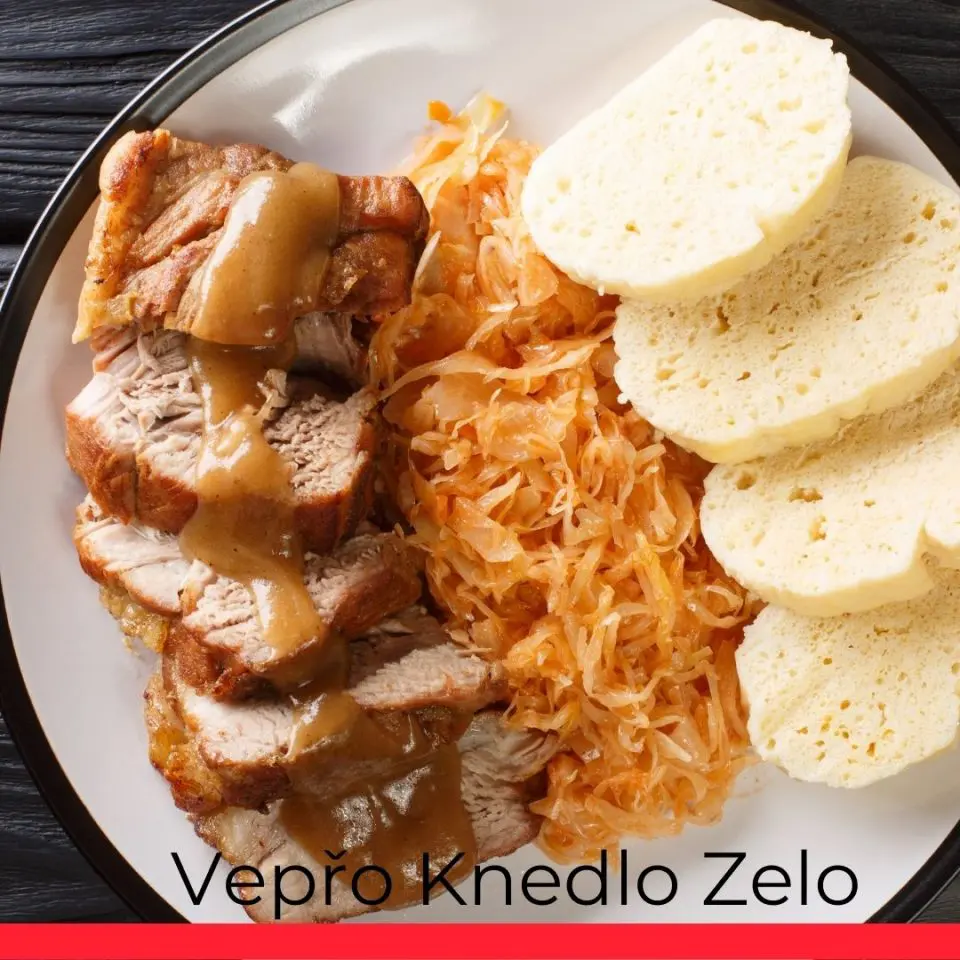 This Czech classic is widely recognized as the national dish, even though its origins can be traced to neighboring Bavaria. When translated, the name of the dish gives you a clear idea of what to expect on your plate—pork, dumplings, and sauerkraut.
The pork neck is usually slow roasted in the oven with spices, onions, and garlic, and the resulting roast is literally just pieces of tender pork meat swimming in delicious juices.
Accompanied by sweet and sour stewed sauerkraut and dumplings (either bread, yeast, potato, or a mixture of all), this makes a perfect and filling dish after (hopefully not in the middle of) a tiring day at work. Oh yes, and don't forget the ice cold Czech beer!
2. Moravský Vrabec (Moravian Sparrow)
Literally translated as Moravian Sparrow, this dish is another common main course you can order in almost every traditional Czech restaurant. It originated in the Moravia region (as you can guess by the name), but fortunately does not contain any sparrow whatsoever.
The three main ingredients are the same as in vepřo, knedlo, zelo—pork, sauerkraut, and dumplings, and the "sparrow" part here arose from the small chunks of pork meat that resemble birds. Strange, isn't it?
It's basically the same dish as the previous one with the only difference being in the shape of the meat and its fat content (sparrow is usually fatter). Czechs simply love their roast pork!
3. Svíčková na Smetaně (Roast Sirloin in Sour Cream Sauce w/ Dumplings)
With this particular dish, we take a dip into the Czech passion for creamy sauces. Svíčková got its name from the type of meat dominating this dish, sirloin, and the whole dish could be translated as roast sirloin in sour cream sauce with dumplings (yes, the dumplings again!).
Svíčková is very often a source of amusement among English-speaking Czechs, as they tend to comically call it "the candle sauce", which would be the literal translation.
Should you attend a Czech wedding, there is a 80% chance you will be served this as a main course. Expect a slow roasted sirloin in a juice/base of carrots, celeriac, parsley root, and onion, which is later on blended into a very smooth sauce softened with full-fat cream.
The sauce is then poured over the thin slices of tender sirloin, accompanied by the now well-known dumplings and garnished with cranberry compote and a slice of lemon. Due to the time-consuming and overall difficult nature of this dish, once a girlfriend pulls out a perfect svíčková, she's believed to be ready for marriage and starting a family.
We're not leaving the sauces just yet, as koprovka is another favorite and Czech-specific dish. In contrast to the previous dish, should you be served this at a wedding, something's not quite right. Koprová omáčka, creamy dill sauce, is more a specialty and signature of Czech grandmothers.
It's made from cream, vinegar, fresh and pickled dill thickened with flour. And even though it may not sound overly appetizing, believe me, it is!
Koprovka is usually served with—guess what? You got it right, dumplings! But people also eat this creamy sauce with a side of boiled potatoes and, of course, don't forget the meat. This time it's boiled beef. Koprovka is a controversial dish in Czechia as people either love it or hate it.
The sauce 'n dumpling ride continues with another Czech classic, sweet tomato sauce. A signature of many Czech schools and kindergartens, rajská omáčka is an undeniable part of every Czech's childhood.
This tomato sauce is nothing like the tomato sauces you know or come across in other national cuisines though. It's sweet and sour, and the taste of tomatoes is usually overshadowed by the various spices, such as bay leaves, allspice, black pepper, and, in some families, the not-so-secret ingredient, cinnamon.
Once the simmering and cooking is over, the sauce gets blended into a very rich and creamy texture and is ready to be served with slices of boiled beef or bell peppers stuffed with minced pork and dumplings.
Smažený řízek, or Schnitzel, as the name suggests, is not considered a Czech original; they borrowed this deep fried masterpiece from the neighboring Germans.
No Czech (or even Slovak) Sunday family gathering is complete without a heaped pile of breaded schnitzel. Thin slices of tenderized pork or chicken are seasoned with salt, pepper, and garlic, and then coated with flour, beaten eggs, and breadcrumbs. Once golden brown, řízek sometimes goes into the oven, where it gets tender and juicy, but this is not obligatory.
Řízek is usually served with another typically Czech side—potato salad. But don't be fooled! This salad is no healthy lifestyle maniac's friend! Potatoes are boiled with the skin on, then cut into fries, mixed with sweet and sour canned vegetable mix or boiled vegetables and onion. Sounds healthy? Wait for the last ingredient. When the mixture is done, pour the largest jar of full fat mayo over, stir well and serve! The rule of thumb in many families is: the more mayo, the better the "salad"!
This is a dish that many tourists coming to Czechia have never seen in their lives and can't get their heads around. But once they try it, they're absolutely hooked. In fact, the dish is so popular among tourists and locals alike, that restaurants all over Czechia can afford to charge ridiculous amounts of money for this simple, yet addicting fried delight.
And what exactly are we talking about here? Nothing more than a slice of cheese, preferably a quality one (but this, unfortunately, is not always the case in restaurants and food stalls), thrown into a fryer with a hearty portion of French fries. Voilà!
That's it, served with tartare sauce or ketchup, whichever you prefer. And for busy people always on the go, many food stalls around Czechia will also throw the fried cheese into a bun for you, so that you don't miss out even on the busiest of days.
This and the previous dish are almost identical. But while the previous recipe uses mild cheese (such as Edam or Gouda) cut into thick slices and then deep fried, this one uses something called tvarůžky instead.
Tvarůžky are round slices (or rings or cubes) of traditional smelly cheese from Olomouc (hence their name, Olomoucké tvarůžky) made from fat-free sour curd.
I bet you haven't smelled or tasted anything like this before, so don't forget to give them a try! You might get a strange look here or there when ordering and dipping into these melting smelly beauties in a restaurant, but who cares? Everyone likes them, but only a few will admit it! Be one of the few and give them a chance.
Similar to other traditional dishes, guláš also came to existence in a neighboring country. Its roots can be traced to the 9th century. Around this time, the dish was more of a meat soup rather than the main course stew we know of in contemporary Czech cuisine. While, upon crossing the border, the consistency of the dish changed, the nature remained the same.
Czech guláš lacks the original carrots and csipetke balls, but is still loaded with big chunks of tender beef and onions spiced with paprika. And unlike Hungarians, the Czechs like their sauces and stews rich and thick, and therefore they thicken their version of guláš with flour. The resulting chunky sauce/stew is then served with either dumplings or slices of sourdough bread and garnished with raw onion. Similar to vepřo, knedlo, zelo, you can't fully enjoy this hearty Czech lunch without a proper ice cold Czech beer.
10. Pečená Kachna se Zelím (Roast Duck with Sauerkraut and Dumplings)
Roast duck with sauerkraut and a mixture of dumplings is a festive Czech dish, usually served on special family occasions or ordered in a restaurant as a treat.
The whole sorcery, when it comes to the quality of the resulting dish, lies in the right seasoning, the slow-roasting of the duck, and the right balance of sweetness and sourness in the red or white sauerkraut.
The duck needs a good amount of garlic, onion, and other spices such as caraway. Again, expect nothing else than a mixture of delicious dumplings to complement this flavor-rich meal. And if the occasion is beyond special, for example after Christmas, Czechs take this classic even a tad further, and replace the duck to treat themselves on goose.
This is a traditional Czech meatloaf prepared in various ways in different families. It usually consists of minced pork and beef mixed with eggs, breadcrumbs, and spices such marjoram and caraway. This mixture is then shaped into loaves and often enriched with stripes of pork fat, smoked bacon, or an egg in the middle and baked in the oven. The loaf is served sliced with mashed potatoes and the juices poured over the top.
Bramborák means potato pancake and is a signature dish (or a side) often seen at Czech fairs, markets, and festivals, but also in traditional Czech restaurants.
They are very simple to prepare and will not glue you to the kitchen counter for long. Grated potatoes, crushed garlic, onion, milk, caraway, marjoram, flour, and eggs are mixed into a dough and, using a ladle, poured into a pan. Here they sit until golden brown and crisp on both sides and then go straight to your plate. They pair very well with a cold beer, gouláš, or both!
13. Tatarák (Steak Tartare)
Even though not originally from Czechia, tatarák (or steak tartare) ranks very high when it comes to popularity among locals.
This rather strange Czech food is basically raw beef (minced) served in a burger-shape with some raw egg on top and a variety of mix-ins. You can either mix all the ingredients (salt, pepper, diced onion, garlic, paprika, ketchup, and mustard) in yourself or order a pre-mixed and ready to eat steak tartare. Tatarák is always served with fried bread and you are supposed to treat it as a spread.
The mighty soup! Czechs believe that garlic soup, aka česnečka, is the perfect cure for the ordinary cold or a hangover!
In fact, Czech cuisine loves garlic in any form and amount. Some people even swear by garlic as a prevention against any sort of illness, and consume it raw or even mixed with honey and lemon juice! But back to the soup. This one will surely put you back on your feet after a long night in the company of delicious Czech beer or slivovice.
15. Kulajda (Mushroom, Potato and Dill Soup)
Kulajda, or creamy dill, mushroom, and potato soup with poached egg, is another proud representative of the sweet and sour dish family.
It originated in southern Bohemia, but is widely consumed all over the country, sometimes with a few alterations to the original recipe. And since Czechs consider themselves avid mushroom pickers, they can make use of their freshly picked mushrooms in the summer and dried ones in the winter.
The procedure is simple: you sauté some diced onion in a pan with butter, add flour to make a roux, then add broth. Then you add your soaked, boiled or sautéed mushrooms, depending on which you use, and season the soup with bay leaves, allspice, salt, and pepper. Add boiled potatoes to the soup and cook. Soften with sour cream and some chopped dill and you're done. Serve with poached egg on top.
Both are traditional Czech soups featuring sauerkraut as the main ingredient and are very often used interchangeably. Zelňačka is the generic term, while kyselice is often used for the Wallachian variant of this soup.
The soup's color can be used as the decisive factor here, as kyselice will usually be brighter (almost white) due to added cream, while zelňačka is often of a reddish color due to the added paprika.
In fact, there is no single recipe for kyselice or zelňačka, and every Czech family has their own. But you can rest assured that if you order one of these, it will be loaded with fermented cabbage (aka sauerkraut), potatoes and Czech smoked sausage (or other smoked meat). The sour taste of the sauerkraut often has to be neutralized by adding sugar and/or cream, which makes the resulting soup very rich both in flavors and nutrients!
17. Šišky S Mákem (Potato Cones with Poppy Seeds)
Now entering the sweet territory of Czech cuisine, the first sweet main course worth mentioning is šišky s mákem, or potato cones with poppy seeds. And even though you probably won't impress your hungry Czech husband with this one, Czech kids will love you for serving this at home. And it doesn't even take long to prepare.
The cones are made from dough made with boiled potatoes, rolled by hand into cute-looking "šišky" and then topped with melted butter and a mixture of icing sugar and poppy seeds.
In contrast to the previous sweet dish, prepare to spend some time in the kitchen while making these babies. These fruit dumplings can be served as a main course or a dessert. But don't confuse them with the other kind of dumplings—the ones that accompany Czech meat dishes. The truth is, everyone makes this sweet dish a bit different.
This first space for variety lies in the dough itself. This can be a typical yeast dough made with flour, milk, eggs, yeast, sugar, and a pinch of salt, or a dough made from the very Czech ingredient that doesn't have its real equivalent in Western cuisines (although could be translated as a type of curd cheese) tvaroh.
The fillings also vary greatly, from plums and strawberries to apricots, cherries or blueberries. The mixture of fruit and sugar goes into small pouches made from the prepared dough and the dumplings are then boiled in water. The toppings also vary a great deal. People usually pour melted butter on top, together with sugar, roasted breadcrumbs, grated tvaroh, cinnamon, poppy seeds, or even whipped cream.
19. Žemlovka (Bread Pudding)
Žemlovka, or bread pudding/pie, is another typical Czech and Slovak dish that can be served both as a dessert and a main course. Similar to rajská omáčka, this one can also be seen very often in school cafeterias, and people tend to have the classic love/hate relationship to it. And even though its translation speaks otherwise, you won't find any bread on your plate when ordering this delicious sweet treat.
The term refers to bread roll or rohlík. Rohlík is an unmissable grocery item for every Czech family, consumed in large quantities daily, and in this recipe often replaces the standard white bread used to make toast.
The dish itself is very simple and consists of layers of Czech bread rolls soaked in sweet, vanilla-flavored milk, filled with grated apples, tvaroh, raisins, and cinnamon, and baked in the oven. Some people also add a top layer of meringue.
20. Utopenci (Pickled Smoked Sausages)
When translated to English, this Czech pub classic sounds like nothing you would want to enjoy with your cold pint. Let's be honest, when was the last time you were craving some "drowned men"? Hopefully your answer is never.
But in fact, these drowned men are nothing but pickled smoked sausages (or špekáčky). They are sliced open, filled with mustard, onion, chilli, allspice, and bayleaves and then thrown overboard into a large jar with sweet and sour brine and left to their own devices, no lifejackets provided. Served with a slice of Czech rustic bread and a pint!
---
Related: Most Popular Czech Desserts