20 Mouthwatering Eastern European Foods
Eastern European cuisine is famous for its simple yet luscious foods. Mostly hearty and filling, due to the harsh winter season, but also savory and refreshing, these dishes will tickle your taste buds and make your stomach dance with joy.
Grab a napkin, we're sitting down at an abundant Eastern European table. You won't be allowed to leave before you've tasted it all. Spoiler alert: the servings are huge here.
Editor's Note: There is no consistent definition of the term Eastern Europe, and it has a wide range of cultural, political, and ethnical connotations. Many countries that Westerners label as Eastern Europe are actually geographically located in Central or South-East Europe, and may or may not share strong cultural or culinary links with countries located on the far east of the continent. For the sake of simplicity, we have included in this story dishes from all countries that were once part of the Eastern Bloc.
Hearty Eastern European soups that will steal your heart forever
The battles over who owns the authentic borscht recipe are ongoing. Most cultural historians ascribe its origin to Ukraine, but Poland, Russia, Lithuania, and Belarus also claim their exclusive rights to this fantastic red-beet soup.
Despite some variations in the ingredients and serving preferences, all foreigners adore this comfort dish. It's the first must-try of the region.
2. Sorrel Soup
Some people never know what to do with sorrel. But Eastern Europeans have came up with an interesting popular for Easter. Cooked with a handful of vegetables and hard-boiled eggs, this soup is served with a generous helping of sour cream and some finely chopped chives on top.
The contemporary modified recipes might also include ramsons and even dandelions for a chic touch. Sorrel soup is often seen as a younger brother of red-beet borshch and is commonly referred to as green borshch.
3. Meatball Soup
Eastern Europeans are crazy about soups, as you've probably already noticed. Most traditional households will eat soup on a daily basis, and meatballs are a great addition for making it more filling. You'll find all kinds of ingredients, depending on the region and season, but it is common to combine simmered vegetables with grains or pasta to make the soup thicker.
Check out our Romanian meatball soup known locally as ciorba de perisoare.
4. Goulash
When you hear about Hungary, this is probably the first mouthwatering dish that comes to mind. Savory and delicious, goulash is a hearty meat-based stew with lots of chopped vegetables. While it is also quite common in Serbia and Transylvania, Serbians mostly leave out the vegetables and focus exclusively on the beef, pork or lamb. Well, they just love meat in the Balkans.
Scrumptious Eastern European Main dishes you cannot miss
5. Grated Potato Pancakes
These flat crunchy cakes are genuine proof that everything divine is simple. Made with raw grated potatoes fried in sunflower oil – with a pinch of salt and pepper and, sometimes, finely grated garlic – they are served with sour cream or stewed mushrooms (for special occasions).
If you happen to travel to Eastern Europe, you'll find them on every menu, regardless of the restaurant: deruny in Ukraine, draniki in Belarus, kartupeļu pankūkas in Latvia, placki ziemniaczane in Poland, and bulviniai blynai in Lithuania.
6. Stuffed Cabbage Rolls
Whoever you ask in Eastern Europe, they'll be 100% sure they were the ones who invented this dish. In reality, these meat-stuffed rolls were brought by the Tatars and now slightly modified variations are enjoyed in each country.
Ukrainian holubtsi, Lithuanian balandėliai, Russian golubtsy, Polish goląki, Serbian sarma, Romanian sarmale, and Hungarian töltött káposzta, they are topped with a dense layer of sour cream and stewed in tomato paste. For Bulgarian sarmi, the sour-cabbage coating is typically replaced with vine leaves.
7. Ćevapi
Eastern Europeans love meat, with grilled meat having an almost sacred value. This explains the popularity of skinless minced-meat sausages, ćevapi for Serbians and Bosnians, mici for Romanians, and kebapche for Bulgarians.
Similar to Turkish kebab, this dish takes its roots from the Ottoman Empire. Arguably, the most popular street food, it should be offered with flatbread and rings of raw onion on top. Yummy and pungent.
8. Buckwheat
Something you won't easily find on supermarket shelves in Central Europe or the US, buckwheat is the most popular cereal in Ukraine, Russia, Belarus, Estonia, Latvia, and Poland. The main grain ingredient in a soup, a daily side dish, or the basis for pancakes, buckwheat is something you don't want to miss. It also marries perfectly with cutlets and pickles.
9. Stuffed Dumplings
Dumplings are popular all over the world; what distinguishes them regionally is the stuffing. While Ukrainian vareneky, Belorussian kolduny and Polish pierogi are commonly filled with mashed potatoes, cottage cheese, and sour cabbage, Russian pierogi and Lithuanian koldūnai are primarily meat-based.
As a dessert, one can even make berry dumplings, filled with cherry, rhubarb, or blackberries. Dumplings are usually cooked in boiling water, but they may also be pan-fried. You want to cover them generously with sour cream or top them with hot butter and finely chopped oil-fried onions.
Signature Eastern European Appetizerz and cold dishes you'll just love
10. Salo
Salo is historically attributed to Ukraine and looks like a distant relative of bacon (without lean meat) and lard (not rendered though).
An essential part of the national cuisine, it is the Ukrainian signature food. However, it is also popular in Russia and Belarus (salo), Poland (słonina), Romania (slănină), Serbia and Bulgaria (slaina), Hungary (asszalonna), and Lithuania (lašiniai). This appetizer is served skinless, salted, on a slice of brown bread, or as a stand-alone slice to complement strong spirits.
11. Eggplant and Pepper Dip
Eggplant-based foods are especially popular in former Yugoslavia, where the traditional ajvar originated. Zacusca in Romania and lecso in Hungary, it is made of roasted peppers, white onions, and tomatoes, a so-called Eastern European salsa. Also canned to be used in winter times, this dip accompanies various meat dishes.
12. Pickled Vegetables
Harsh seasons forced many Eastern Europeans to devise ways of storing their vegetables all year round. Pickling was the solution. As simple as it may seem, cucumbers, tomatoes, cauliflower, cabbage, carrots, and peppers brined in sugar and vinegar make great company for liquor and marry well with all kinds of main dishes. If your granny comes from Eastern Europe, she definitely has a cellar full of pickle jars.
13. Shuba
The cold queen of the Russian national cuisine, under-the-coat herring or shuba is popular across Eastern Europe, especially in cold seasons.
This salad looks the same in Ukraine, Russia, Belarus, and the Baltics: tender strips of herring are one of its layers along with boiled carrots, potatoes, eggs, and fresh onions, all generously spread with mayo.
14. Meat Jelly
Slavic countries treasure their traditional aspic – Ukrainian and Russian kholodets or Estonian sült. This jelly-like dish is made of stock bones boiled in broth and cooled down to release the natural gelatin. While Ukrainians serve it with beetroot salad, Latvians prefer mustard, and Estonians top it with sour cream, grated horseradish is essential in all countries.
Irresistible Eastern European pastry and desserts, even if you don't have a sweet tooth
15. Tree Cake
Polish sękacz, Lithuanian šakotis or Belarusian bankukha, this thick batter cake features many layers and looks like a branched tree. Because of its exquisite taste and despite the lengthy preparation time, the recipe has spread across other parts of the region, giving rise to the Hungarian kürtőskalács and Romanian colac.
16. Honey Cake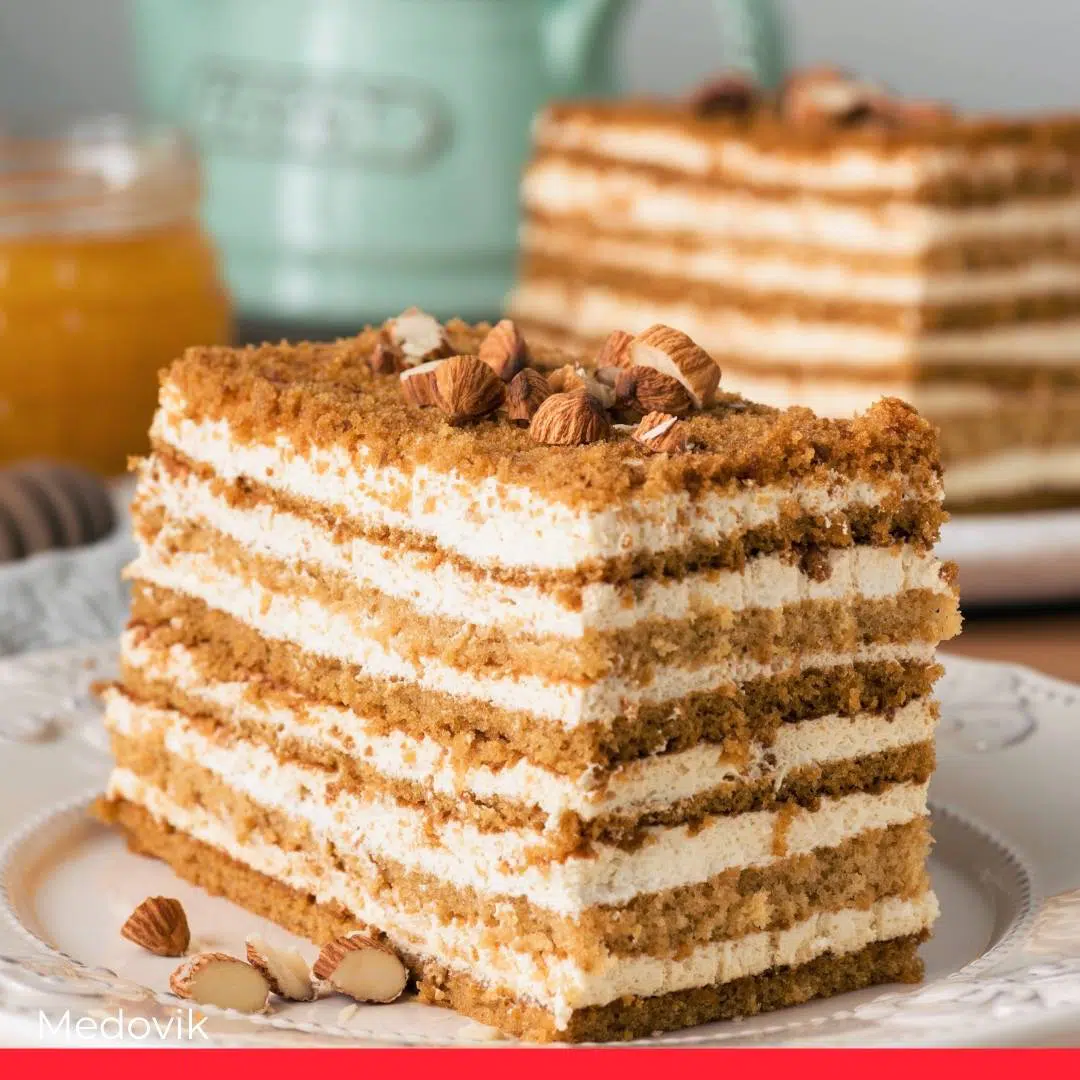 Arguably the most delicious post-Soviet cake, medovik requires much time and effort to make. A multi-layered sponge cake with honey-and-cream filling, it is topped with crumbled walnuts. The cake is supposed to sit for a whole day before it is served. This way, the sponge layers get soaked with honey and feel like heaven on your tongue.
The taste of this dessert is just as good as its name. Looking like a meat salami, it is made with crumbled tea biscuits, cocoa, lots of walnuts, butter, and sugar. All these are mixed and shaped into a sausage. Having been popularized during the times of the Soviet Union due to its cheap ingredients, this sweet sausage still holds top position in the region.
18. Banitsa
Either as a sweet variety or a salty one, banitsa is the pastry to die for. It is made of phyllo dough stuffed with all kinds of brined cheeses and yoghurt for a savory option or apples for a sweet one. Considered the national dessert in Bulgaria, banitsa is widely enjoyed in Serbia too. In the latter, it is known as gibanica and is traditionally stuffed with walnut paste.
Refreshing Eastern European beverages that will help you digest it all
19. Kefir
Whoever comes from Eastern Europe is quite used to having a carton of kefir in their fridge in all seasons. Accompanying stuffed dumplings as a potable substitute for sour cream or consumed after a hearty meal, this thick dairy beverage is both sinfully tasty and enormously healthy.
20. Kvas
Another non-alcoholic drink that you won't find everywhere is kvas. Associated with hot summer days to quench thirst, this fermented rye bread beverage is sweet and refreshing. You'll find it sold on the streets of all Eastern European countries on sunny days.
Have you picked your favorite option on the Eastern European menu already? That's challenging, right? And this lengthy list is by no means exhaustive. Each country out there has something up its sleeve to surprise you. So just go there, taste the specialties, and let yourself be surprised.