16 Popular Brazilian Christmas Foods
Christmas in Brazil is a widely celebrated holiday, no matter who you are, your religion, or race. You can feel the Christmas mood just by walking down the street a couple of weeks into December. We do not have snow, as Christmas occurs in the summer.
With Christmas approaching, Brazilians feel the warmth is not only in our climate but in people's hearts. It is the time of the year when families get together from all corners of our continental country so that everyone can celebrate with a delicious, two-day tropical-colored feast.
Brazilian Christmas food incorporates elements from cuisines across the globe, each adapted to our local palate. Local ingredients enrich not only the flavor but also the appearance of our traiditonal Christmastime fare.
Without further ado, here is a list of the most popular dishes present at the Christmas celebration in Brazil!
Turkey might not be a Brazilian creation, for it is a non-native bird. Nevertheless, the tradition of serving a highly seasoned turkey as the main dish for Christmas celebrations runs deep in Brazilian culture, thanks to influence from the American thanksgiving celebration.
It is very common to stuff the inside of the turkey with crunchy farofas (toasted cassava mix) and serve with brightly colored tropical fruits, adding an experience for all the senses.
2. Leitão a Pururuca (Pururuca Pig)
A traditional dish that was served during the first Christmas celebration in colonial times, some hundreds of years ago. An entire pig is bathed in wine and slow-cooked for several hours, until the meat becomes juicy and tender, and the skin becomes a crunchy delicacy in itself called torresmo.
The long wait for this dish is worth it, and one can forgive the hours being tortured by the amazing smell but not being able to eat it yet.
The meat here will safely serve at least a dozen people. While still a popular Christmas dish, it is less common in cities, due to the delicate and laborious preparation (not to mention fitting an entire pig inside your oven). It is, however, the favorite pick for farmers and people that live in rural areas.
In Brazil you can't call a meal a dinner if there is no rice. It is easy to cook, cheap, delicious, and nutritious. Usually it is seasoned with olive oil, garlic, onions, and a bit of salt. But it would be no fun if they served it the same way during the Christmas celebration as the rest of the year.
The popular "Christmas Rice" is usually seasoned with carrots, raisin grapes, and cashew nuts. Each family will put together their own variation on Christmas Rice, resulting in surprising flavors that you would not expect from a rice-based dish.
4. Tender (Christmas Ham)
Next we have smoked pork leg, a really popular Christmas dish, often served as a starter. This variety usually features slightly darker meat and thicker skin.
It is traditionally seasoned with cloves and egg stripes, that potentialize Its exotic flavor. You can buy a delicious one at most markets, but be fast. This is usually the first dish that goes out of stock during celebrations.
Salpicão is a flavor-packed salad dish -a mixture of many fruits, vegetables, and peppers with the shredded meat of poultry of choice (usually turkey) drenched in mayonnaise. This creation originates from Portugal, but after centuries of development, the Brazilian salpicão does not even have a slightly similar look or taste when you compare it to its European counterpart.
Salpicão is a firm favorite in Brazil. I personally cannot imagine a Christmas celebration without it!
6. Rabanada
These might look harmless if you never had them before, but the Brazilian rabanada (originally a traditional Portuguese recipe), is an absolute calory bomb! Slices of bread are soaked in milk and wine, then dunked in egg and fried. Fresh out of the oven, you shower them with sugar and cinnamon, and they are ready to go!
I suspect the rabanada is the main culprit when it comes to Christmas leftovers, for if you eat more than one of these, chances are you won't have room inside your stomach for much else!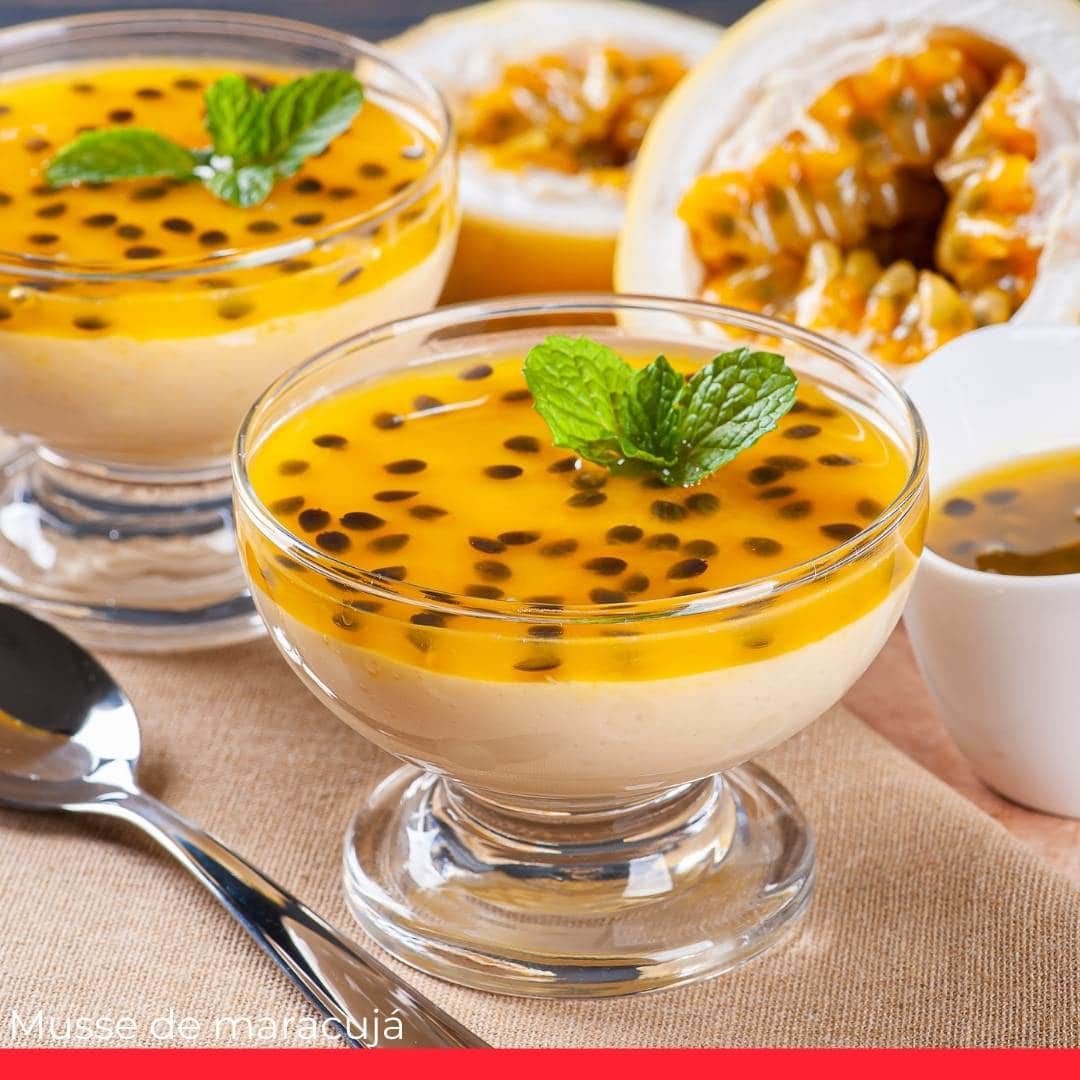 The musse de maracujá has a really unique appearance. Ideally served ice cold, there's no better choice if you want a refreshing dessert when the heat of the Christmas summer starts getting a bit too much. The citric flavor of the passion fruit blends perfectly with the various sweets, leaving an amazing bittersweet aftertaste.
Farofa is basically a baked dish featuring copious amount of butter, onions, and optionally eggs, fried bananas, or some kind of meat like bacon, Brazilian sausages, or jerked beef. Everything is covered with the key ingredient: toasted cassava flour.
This is one of the most popular Brazilian side dishes, and goes well with basically anything: fish, poultry, meat, adding a crunchy texture that keeps you coming back for more.
Christmas Farofa follows the same trend as Christmas Rice. All the usual ingredients are thrown in, along with some that are not that usually there, like nuts, raisin grapes, bell peppers, and other local peppers. There seems to be a trend of Brazilians enjoying strong, multi-flavored dishes at their Christmas celebration!
If turkey is the main dish of Brazilian Christmas, pavê is the main dessert. It is a generous pielike creation, made of several layers of biscuits with bricks of sweet heaven in between! It is an important part of the dinner feast, but when it comes to quantity, Brazilians approach with caution, not because they don't want a big serving, simply because when the pavês are served everyone is stuffed!
The end result is that the host often ends up having a sweet week while waiting for the New Year celebrations to come around.
While less popular than pavê, torta Alemã is loved by most, and it is always good news when the host is serving it. Despite the German monicker, the recipe is actually Brazilian.
According to the story, a German immigrant missed her homeland recipes so much that she tried to replicate them with the very different temperate climate ingredients she had available. It was apparently an instant hit, perhaps even improving on the original. At the very least, Brazilians liked it enough to incorporate it into their own culture.
This famous Portuguese dish was also incorporated into Brazilian culture. Bacalhau is the first (and usually only) option for anyone that might be in the mood for some fish during Christmas festivities.
The most popular way to serve bacalhau is with potatoes, olives, eggs, and multi-colored bell peppers. It has a unique salty taste that might be too much for some!
12. Fruit!
There are so many kinds of fruits in Brazil, and they are so abundant at peak summer (December), that they are used exuberantly in several dishes you wouldn't usually expect to find fruit in. Not only they are appreciated for their flavor, but they usefully provide most important decoration of a Christmas table.
Fruits are served besides nearly every dish, there are slices of pineapple around the turkey, small cubes of mangoes coloring the salads, several banana dishes like fried bananas… the trend goes beyond native fruits like grapes: at a a Brazilian Christmas you can find different berries, lychees, and cherries. When it comes to fruit, anything goes!
13. Panettone
Panettones are coveted so much that Brazilian folk gift these amazing sweet breads left and right during the Christmas festivities. It is not rare at a Christmas party for the number of panettones to outnumber the guests!
A couple of decades ago they were only sold when the Christmas season was getting closer, but at some point, manufacturers must have realized that people loved them so much that they would buy them at any time. Few things conjoure up thoughts of Christmas for a Brazilian person than a box of panettone.
Panettone is a staple Italian Christmas food, though hugely popular in other parts of world such as Venezuela.
14. Chester
Many Brazilians opt for serving Chester instead of turkey. Not only because they are considerably cheaper, but they are also considerably easier to cook than an entire turkey.
But what is a Brazilian Chester anyway? The Chester is basically a pumped-up chicken that was bred using genetic selection processes so that they could have more than double the amount of breast and thigh meat. The meat is impressively juicy and tender for poultry, and there are several recipes that bring out its flavor even more.
Brazilians look for any excuse to cook these delicious homemade bonbons: brigadeiros, loved by children and adults alike. A simple can of sweetened condensed milk mixed with butter and chocolate powder can achieve that creamy yet solid consistency if properly cooked slowly. If you try a Brigadeiro, you will understand why it is impossible to eat only one.
For more amazing Brazilian desserts, check out our round-up of the 25 most popular Brazilian desserts.
16. White Wine
With so much food, surely we need something to wash it all down with? Let's round off our list, then, with a nice drink.
During Christmas celebrations, Brazilians certainly enjoy a nice glass of white wine. Not only does white wine feature several Christmas recipes, but it is also a great choice to serve with poultry-based dishes. And what could be more refreshing on a hot, summer's Christmas Day?
---
Related: The most popular foods in Brazil
Related: The most popular drinks in Brazil
Related: 17 Delicious Brazilian Cheeses