13 Austrian Christmas Foods You Must Try!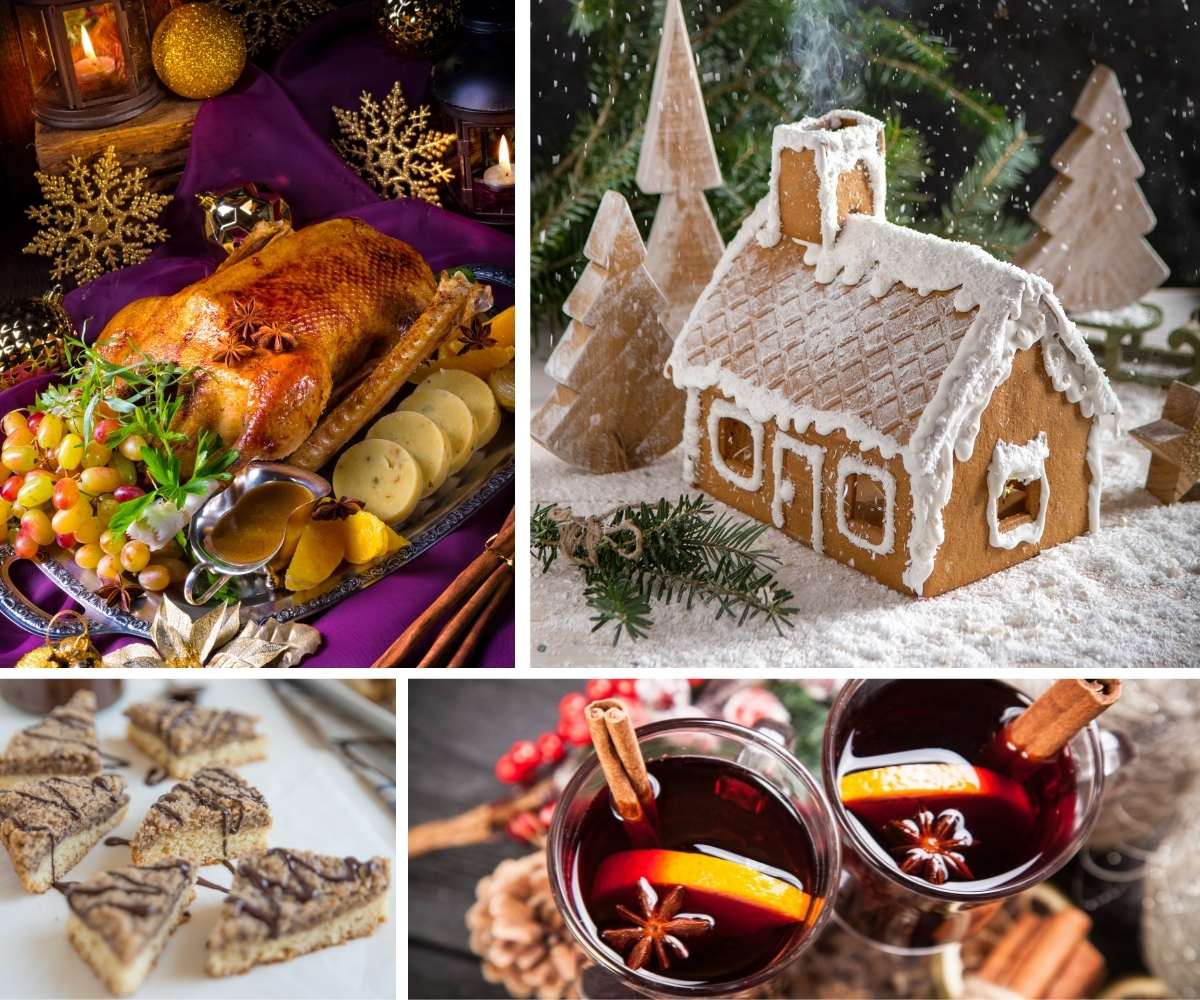 Austria's snowy Alps and romantic Christmas markets make it the perfect place for a winter holiday. And given the cold temperatures during the festive season, it isn't surprising that the Austrian people have come up with a myriad of recipes that are sure to warm up your belly and your heart.
And don't you worry. Even if you can't make it to Austria this year, you can bring the delicacies of this country right into your home. Whether you decide to try out one of Austria's delicious Christmas cookie recipes or go for something simpler like mulled wine, baked chestnuts, or the all-famous Christmas goose, the following must-try dishes will transport your taste buds right into the holiday season.
1. Weihnachtsgans (Christmas Goose)
While Christmas traditions vary from family to family, the Christmas goose is one of the most favorite dishes served in Austria on Christmas day or Christmas Eve.
Filled with apples, baked chestnuts, and cloves, seasoned with salt, pepper, marjoram, and shallots and served with potatoes, red cabbage or dumplings, this Christmassy comfort food is a favorite with Austrian families.
2. Weihnachtskarpfen (Christmas Carp)
Families choosing not to eat a baked goose for their Christmas Dinner usually opt for the famous Weihnachtskarpfen as an alternative. To guarantee maximum freshness of this baked carp dish, some Austrians even go so far as buying it alive and letting it live in their bathtub until Christmas day. Be that as it may.
This baked fish recipe is sure to bring the festive season right into your belly! To re-create this traditional Austrian Christmas dish, simply season a carp with lemon juice, white wine, pepper, and salt.
Add some potatoes on the side and let it bake until it's ready…
3. Maroni (Hot Chestnuts)
As soon as Christmas season starts, you will notice a myriad of food-stands offering hot chestnuts popping up all over the city of Vienna.
Known as maroni, this wintery snack long ago became a staple of an Austrian Christmas. And, as any true Austrian will tell you, there are few wintery foods that are as good at warming your insides on a cold December day.
While there is nothing like going to a maroni stand to get your winter calories in, this Austrian street-food is incredibly easy to re-create at home. Simply buy some chestnuts, make a cross-shaped cut into their shell and bake them in your oven at 200 degrees for 25 to 30 minutes.
And that's not all: baked chestnuts contain a lot of minerals and vitamins, making them as healthy as they are delicious!
4. Weihnachtspunsch (Christmas Punch)
While not technically a food, the Austrian Christmas season cannot be imagined without the famous Christmas punch.
This hot alcoholic beverage usually consisting of a combination of tea, sugar, red wine, cinnamon, and some kind of strong liquor. Depending on the recipe, you could also find apples, oranges or berries in a cup of this traditional Austrian drink.
Served at Christmas markets and the many stands that pop-up all over Austria during winter, this hot drink serves as a perfect way to warm yourself up on your way home from work. It also makes a great alcoholic dessert for your next Christmas party or New Year's Eve get-together.
5. Backapfel (Baked Apple)
Another simple, yet surprisingly delicious Austrian Christmas dish is baked apple. Simply cut open an apple and replace the seeds with a mix of chocolate, hazelnuts, cinnamon, and cardamom.
Baking the apple in the oven for 10 minutes will not only create a mouth-watering and belly-warming treat, but make your entire house smell of Christmas.
Little tip: As counter-intuitive as it may sound, many Austrians love to accompany their freshly baked apple with a scoop of vanilla ice cream. 
6. Glühwein (Mulled Wine)
Christmas Punch isn't the only festive drink that is essential for a proper Austrian Christmas. Mulled wine, the so-called Glühwein, is another beverage you will not only find on every Christmas market but also across pop-up stands all over Austria during the cold winter season.
Luckily, this warm drink is incredibly easy to re-create at home. Simply add oranges, cloves, cinnamon, and sugar to a pot full of red wine and let it simmer for about 15 minutes. 
7. Schaumrollen (Foam Rolls)
Another favourite Austrian Christmas delicacy is the famous Schaumrollen. Consisting of a crumbly exterior filled with a sweet, foamy cream, it is hardly surprising that they have become a favorite festive treat.
While undoubtedly delicious, these puff-pastries are a little bit complex to make, which is why most Austrians opt to buy them from the store or Christmas market. If you want to try your hand anyway, you will find a recipe for this sweet dessert here.
8. Christmas Cookies
One of Austria's most popular Christmas traditions is baking Christmas cookies. Most families will spend the four weeks leading up to Christmas day in the kitchen, baking different types of cookies. While Austrians love to snack on cookies in the days around Christmas, the baking process itself has become a cherished yearly tradition in many Austrian families.
Usually, the entire family participates in these cookie-baking marathon sessions, which are often accompanied by Christmas music, story telling, and some mulled wine.
Once the cookies are done, they are stored in boxes until Christmas Eve, when they will be enjoyed by the family and gifted to visiting friends. While the list of Christmas cookie recipes is endless, we introduce you to the most popular in this article.
9. Vanillekipferl (Vanilla Croissants)
Vanillekipferl are vanilla-flavored cookies that are famous for their half-moon shape. And as surprising as it may be, only five ingredients are needed to create these famous Austrian delicacies.
Simply add together 300 grams of flour, 120 grams of icing sugar, 250 grams of butter, and 100 grams of grated almonds. Let the mix rest for 1 hour before kneading into half-moon-shaped cookies. Finish off by baking for 9 minutes at 170 Celsius and rolling them in a mass of vanilla sugar and icing sugar once they are fully baked. You can find an English recipe here.
Little warning: While the recipe is as simple as can be, getting the cookies into the right shape requires quite a bit of practice.
10. Zimtsterne (Cinammon Stars)
Cinnamon stars are another cookie delicacy rarely missing from the Austrian holiday season. As the name suggests, these star-shaped beauties are famous for their cinnamon flavor.
To re-create these winter treats, simply mix together ground almonds, icing sugar, powdered cinnamon, egg whites, and almond liquor. But what makes these cookies all the more delicious is the white icing made from egg white and sugar. You can find the full recipe here.
11. Nussecken (Nut-Corners)
Nussecken are another delicacy that should not be missing from any list of Austrian Christmas foods. With a dough consisting of flour, eggs, sugar, butter, vanilla sugar, and a lot of hazelnuts, this Christmas specialty, while not exactly healthy, will help you get at least some of your daily protein in.
While all the ingredients above help to create the heavenly taste of this cookie, it is the layer of apricot jam and the corners dipped in chocolate that turn them into a mouth-watering symphony. You can find a full recipe here. 
12. Kokusbusserl (Coconut Kisses)
Kokusbusserl are a Christmas cookie that is as sweet as its name. These coconut-flavored balls of joy only require five ingredients: egg whites, icing sugar, grated coconut, lemon juice, and wafers.
The baking process is incredibly simple. All you have to do is mix the ingredients together, place the dough on top of the wafers and bake them for 15 minutes. You can find a full recipe for this light and fluffy treat here. 
13. Lebkuchenhaus (Gingerbread-House)
We all know the famous fairytale of the two children who got lost in the forest and lured into a witch's house made of gingerbread. While they decided to skip the part about the witch, Austrians have adapted the famous tale of Haensel & Gretel into their cuisine by creating their very own version of the gingerbread house.
Decorated with nuts, gummi-bears, and other sweet treats, this Austrian Christmas food is usually exhibited in the family home for numerous days or weeks before it is eaten. Some families even go so far as to re-create the Christmas nativity scene using a gingerbread house, thereby giving it the triple-job of being a Christmas decoration, a Christmas food, and a spiritual reminder.
Little Tip: While the creation of a Lebkuchenhaus is a lot of fun, you need to plan ahead. This is mainly because gingerbread-dough needs to rest in the fridge overnight and the house can only be glued together and decorated once it has fully cooled off. 
This is just the beginning…
While these dishes represent some of the most famous Austrian Christmas foods, the list goes on and on. This is mainly due to the fact that Austria has an endless number of Christmas cookie recipes. If you want to celebrate Christmas like a true Austrian, we highly recommend turning the baking of cookies into an activity for the whole family.
It is not only going to be a lot of fun, but it will fill your hearts, your nose and your stomach with Christmas spirit. After all, there is nothing more comforting than the smell of fresh cookies in the oven and nothing more bonding than working together to create something truly delicious.
---
Related: Most Popular Austrian Foods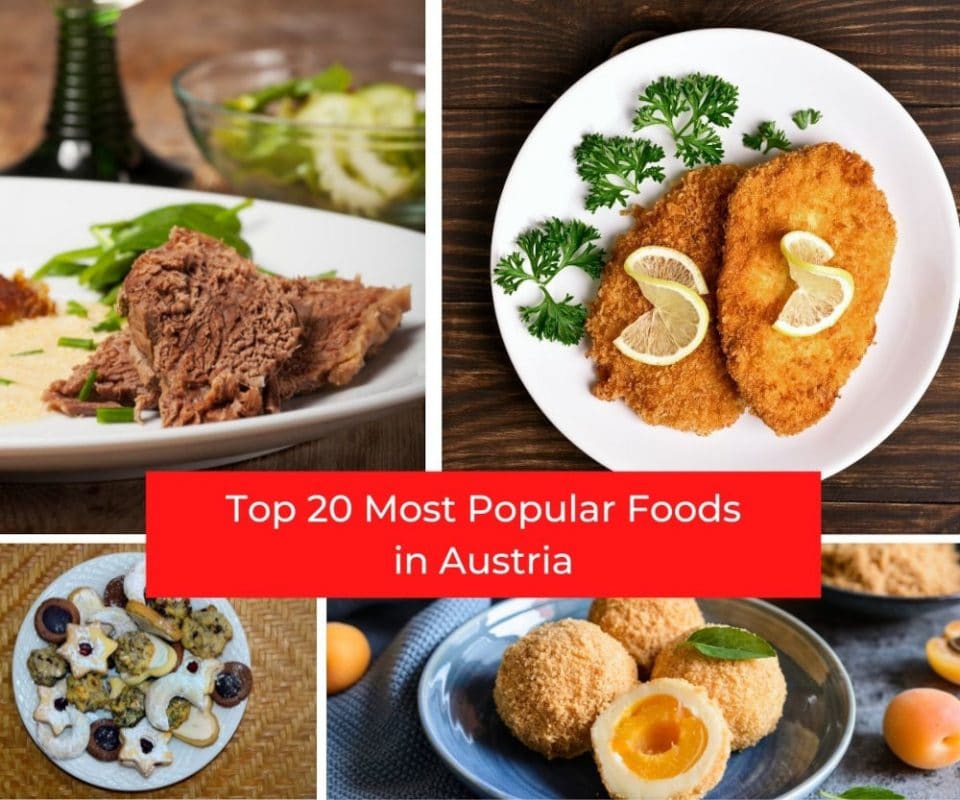 Related: Most Popular Austrian Desserts