30+ Balkan Dishes To Die For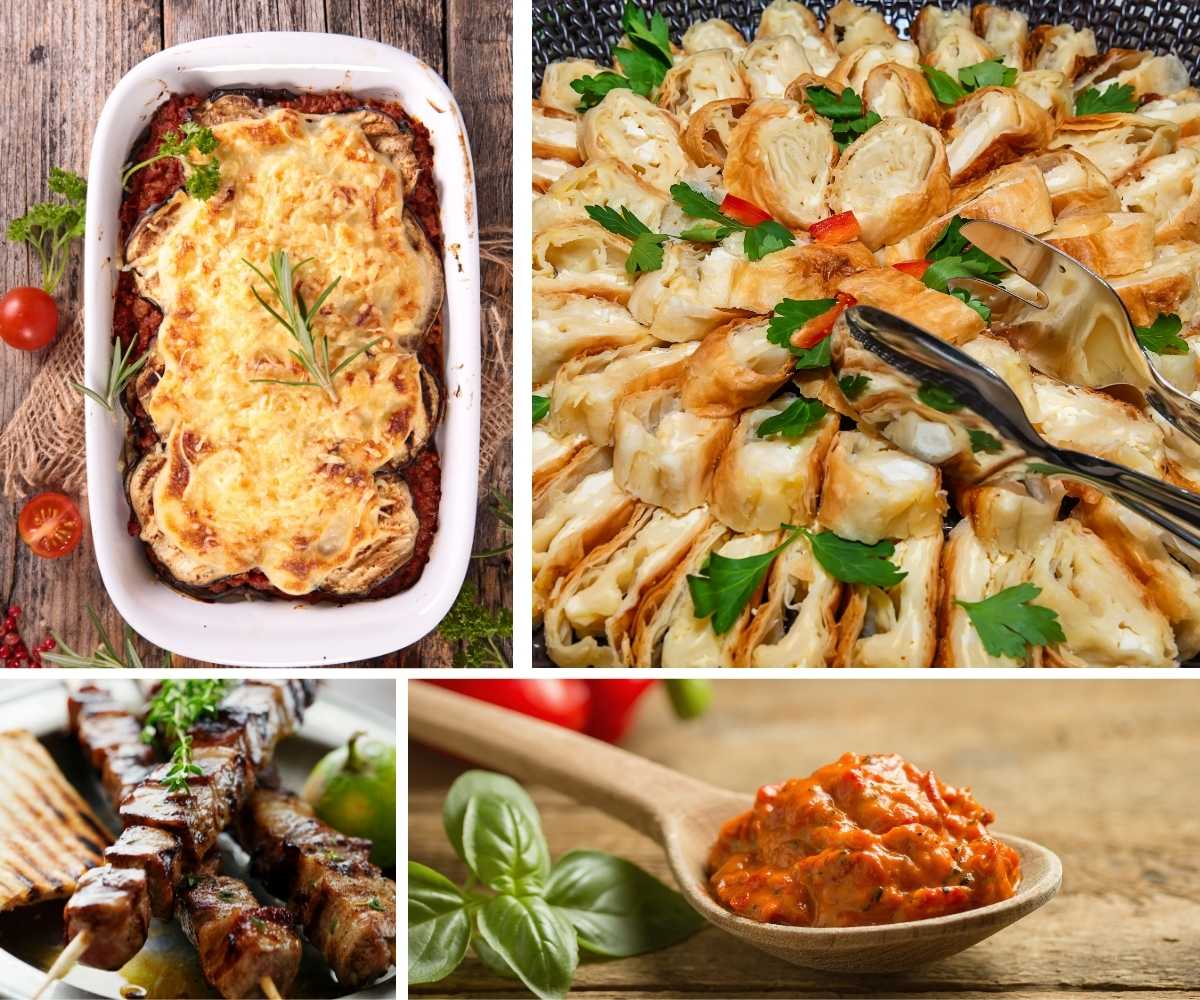 The Balkans are a melting pot of various languages, cultures, and religions. It is a bridge between Europe and the Middle East. Here in the Balkans, people are more relaxed about counting calories than in most other European countries. They enjoy every bite of food like it's their last. And no wonder – Balkan dishes are gastronomic works of art.
When it comes to Balkan cuisine, there is something for everyone, as you'll see from this comprehensive list of more than 30 delicious Balkan dishes. You are sure to find something that will make your mouth drool, so keep reading!
1. Sarma (Sarmale)
One of the most popular Balkan dishes, sarma (in some regions: sarmale), is usually made with minced pork or beef meat rolled in sauerkraut leaves, or in some places, in grape leaves. Instead of meat, some recipes use fish or vegetables, such as rice, beans, and potatoes.
Sarma belongs to a larger group of dolma dishes, the main difference being that sarma is a vegetable leaf rolled up with meat, rice, or a bean mixture, while dolma is a vegetable stuffed with the mixture. Most dolma dishes use bell peppers or eggplants.
2. Bograč
This dish shares its name with a type of cooking pot, also called bograč, a pot for cooking dishes over an outside fire. The usage of bograč can be traced back to nomadic equestrian cultures that roamed the Balkans many centuries ago.
Bograč is a Slovenian variety of the Hungarian goulash. It is a spicy stew made with three types of meat: beef, pork, and venison. True Slovenian bograč is made without a single drop of water. Instead, the meat is cooked in its own juices, and when it's almost done, you add a little bit of white wine.
3. Ajvar (Zacusca, Ljutenica, Pindjur)
A condiment made with eggplants, bell peppers, and a little bit of garlic, ajvar is a favorite side dish in the Balkans, especially in the ex-Yu countries. Depending on the pepper variety used, ajvar can be mild, piquant, or spicy hot.
There are many ajvar varieties and similar condiments in the Balkan region, such as pindjur in Macedonia, ljutenica in Bulgaria, and zacuscă in Romania.
Fun fact: ajvar got its name from caviar. Before the 20th century, caviar was widely collected from sturgeon in the Danube river. However, caviar production became unstable after labor disputes, and soon it was replaced with a special pepper salad that later got the name ajvar.
4. Cicvara (Mamaliga cu Branza)
Cicvara is a type of porridge traditionally made in Bosnia and Herzegovina, Serbia, Montenegro, and Croatia. In the past, it was usually eaten by peasants because it was cheap to make, but today, many restaurants include cicvara on their menus.
Cicvara is made of cornflour, cottage cheese, milk, water, salt, and kajmak. Usually, it is served in wooden bowls and topped with herbs, fried bacon, and sour cream.
5. Leskovačka Pljeskavica (Leskovac Patty)
Leskovac is a town in Serbia widely popular because of its grilled food. Leskovačka pljeskavica is a meat patty usually made with pork or beef. Minced meat is mixed with chopped onions, hot peppers, black pepper, and other spices. This gives leskovačka pljeskavica its distinct spicy flavor.
If you love spicy food, make sure to try leskovačka pljeskavica, with a fresh somun or lepina. Vegetables such as cucumber, tomato, and cabbage pair well with leskovačka pljeskavica, as well as condiments such as ajvar, mustard, mayonnaise, and ketchup.
6. Burek (Byrek, Börek)
Also known as byrek, börek, or lakrok, burek is a dish made with layers of thin flaky pastry filled with minced meat. This dish is extremely popular in the Balkans and Turkey. In some countries, burek is only made with minced meat, but in other countries, burek can be made with different fillings, such as cheese, mushrooms, and even with dock leaves.
Burek is mostly eaten as street food, wrapped in paper, and served with yogurt or ayran. It can be cooked in a pan and cut into squares. or it can be rolled up and then made into a spiral.
7. Gibanica
A pastry dish popular across the Balkans, especially in Serbia and Bosnia and Herzegovina, this is made with several layers of thin dough filled with a mixture of cottage cheese and eggs. Gibanica can be eaten alone, but you can also eat it with a glass of yogurt, or spring onions.
Gibanica is probably the most popular pastry dish in the Balkans. Festivals dedicated to gibanica are held in Slovenia, Croatia, Bosnia and Herzegovina, and Serbia. In 2007, the largest gibanica was made in the town of Mionica, Serbia. It weighed over 1,000 kilograms and was included in the Guinness Book of Records.
8. Polneti Piperki (Stuffed Peppers)
Polneti piperki (ardei umpluti in Romania) is a good example of a dolma dish, as mentioned when talking about sarma. Polneti piperki are made by stuffing red or green bell peppers (or regular peppers that are big enough) with a mixture of minced meat, rice, and spices. N. Macedonians place a slice of potato on top to close them up.
Polneti piperki have a similar flavor to sarma, but instead of being wrapped in a cabbage leaf, the meat is stuffed into a bell pepper.
9. Ćevapi (Mici)
One of those dishes you mustn't miss when visiting the Balkans, ćevapi are made with minced meat and formed into small cylindrical pieces.
The word ćevapi is derived from Turkish kebapi, and this food was brought to the Balkans by the Turks. However, today, Bosnia and Herzegovina makes undoubtedly the best ćevapi, usually served in lepinja or somun, along with diced onions, kaymak, and ajvar.
Each of the larger towns in Bosnia has its own ćevapi variation, and the most popular are Sarajevski ćevapi, Banjalučki ćevapi, Travnički ćevapi, and Tuzlanski ćevapi.
Mici are the Romanian version of ćevapi and they are one of the most popular Romanian foods.
10. Tarator
When eating all of the spicy food with lots of meat becomes too much for you, refresh yourself with tarator. Tarator is a cold cucumber soup, made with fresh cucumbers, walnuts, garlic Bulgarian yogurt, dill, herbs, vinegar, or lemon.
This soup is usually eaten in the summer months as a first-course, but you can also eat it as a side dish to the main meal. Very often, tarator is served with fried squid meat.
11. Pilaf (Pilav)
A rice dish that involves cooking rice in a broth, together with other ingredients, such as vegetables, meat, and various spices. Similar dishes to pilaf can be found all around the world and on each continent.
Pilaf with chicken is especially popular in the Balkans, and it is safe to say that it has become a staple food. This dish is especially appealing because of how easy is to prepare, and it tastes so good. In Serbia, Bosnia and Herzegovina, and Croatia, pilaf is called pilav.
12. Moussaka
Although this dish originated in Greece, moussaka is widely popular in many Mediterranean and Balkan countries. Hence, there are many moussaka varieties, but in my opinion, the original version is the best. You can try several different variants and make your own judgment.
Greek moussaka is made with layers of sautéed aubergine, minced lamb, puréed tomato, onion, garlic, and other spices, sliced potato, and topped with béchamel sauce and cheese.
13. Kranjska Klobasa (Sausages)
Kranjska klobasa is the most famous Slovenian food. It is a sausage made from high-quality pork, often served with sauerkraut, sour turnip, mustard, and grated horseradish.
Kranjska klobasa is an excellent ingredient for various stews, especially when you want a spicier flavor. And, if you are a beer lover, you will be happy to hear that this sausage goes exceptionally well with all kinds of beer.
The first mentions of Kranjska klobasa date back to the beginning of the 19th century, in old cookbooks from the Austro-Hungarian monarchy. Even the emperor Franz Joseph praised this sausage and ate it quite often.
Sausages are incredibly popular throughout the Balkans and every country has its own varieties.
14. Qofte (Köfte, Polpeti)
Also known as ćufte, polpeti, and köfte, qofte are meatballs made with beef, chicken, lamb, or pork. Minced meat is mixed with breadcrumbs, paprika, black pepper, chopped onion, and other spices. The meatballs are usually fried or baked, then served with various sauces.
Each country has a slightly different recipe for these delicious meatballs, for example, in Albania, feta cheese is added to the mixture before cooking.
15. Pijani Šaran (Drunk Carp)
Pijani šaran is a traditional Croatian dish, originating from Slavonia and Baranja regions. It got its amusing name because of the wine used in the recipe.
This interesting dish is made by stuffing carp with garlic and bacon, and then baking it in a mixture of rosemary, wine, and oil. Usually, pijani šaran is garnished with lemon slices and chopped parsley, and it is served with baked potatoes and a glass of local wine.
16. Jota
Jota is a traditional stew that originates from Istria, where it is considered not only a tasty dish but also medicine and a way to stay warm during the cold winter months.
It is usually served during the winter. Beans, potatoes, and sauerkraut are cooked together with smoked pork ribs and bacon. It is seasoned with minced garlic or garlic powder, salt, black pepper, and bay leaves.
17. Doner Kebab /Shawarma
Similar to gyros, the meat for doner kebab or shawarma is cooked on a vertical rotisserie and sliced thinly. The modern sandwich variant was popularized by Turkish immigrants in Berlin in the 1960s. The meat is usually accompanied by various vegetables, onions, garlic, and sauces.
However, you can still find kebab wrapped in pita bread, and it is known as dürüm kebab. Another interesting thing about doner kebab is that there are more kebab stores in Berlin than in Istanbul. 
While doner kebab is popular in some Balkan countries, shawarma (a doner kebab subtype) is more popular in others such Romania.
18. Janjetina Ispod Sača (Lamb under the Bell)
Balkan cuisine includes many recipes that are cooked with the "under the bell" method. This method involves placing the cooking pot directly on the hot embers. The cooking pot is covered with a lid, and then with more embers. This way, the ingredients inside the pot will cook not only in the hot air but also in their own juices. As a result, you get a tender, juicy, and delicious meal.
Lamb is especially popular for cooking with this method. When cooked under the bell, lamb is a delicacy, so soft it almost melts in your mouth. It is a perfect gourmand experience!
19. Njeguški Odrezak (Njeguš Steak)
Njeguški odrezak is a perfect dish for avid meat lovers. It is a grilled beef steak seasoned with thyme and stuffed with njeguški pršut (prosciutto) and cheese. It is usually served with potatoes and broccoli. You can find njeguški odrezak in most restaurants in Montenegro.
The recipe for the dish was created by a famous Yugoslavian cook, Mićo Stojanović. Mićo Stojanović was the personal cook of Josip Broz Tito, and with this recipe, he won a gold medal in Luxembourg in 1986.
20. Brav u Mlijeku (Montenegrin Lamb in Milk)
Brav u mlijeku is a boneless lamb shoulder cooked in milk for 7 hours, along with root vegetables such as potatoes and carrots. It can be cooked under the bell or in the oven. The milk makes the meat and vegetables soft and tender.
Brav u mlijeku is seasoned with fennel seeds, chopped parsley, vegeta, rosemary, and minced garlic. It is a rhapsody of complex flavors and rich aromas.
21. Njeguški Pršut
If you love Italian prosciutto, you need to try Njeguški pršut too. It is a type of dry-cured ham, served uncooked. It is cured for 3 weeks in sea salt, pressed for another 3 weeks to remove the excess liquid, and then lightly smoked and dried in the cool mountain breeze for 2 months.
This type of prosciutto got its name from the village where it was first made, Njeguši, Montenegro. Today, it is the most popular meat specialty from Montenegro.
22. Tavë Kosi (Albanian Sour Milk Casserole)
This dish is made by baking lamb and rice in a mixture of flour, butter, yogurt, and eggs. It can also be made with chicken. Tave kosi is probably the most famous Albanian dish. It is easy to make, but very delicious, especially when seasoned with chopped parsley and rosemary.
Tave kosi is also popular in North Macedonia, Greece, and Turkey, where it is called Elbasan tava, after the Albanian city of Elbasan.
23. Meshana Skara (Mixed Grill)
This dish is great for those who love meat in every form and can eat a lot of it, or for serving to guests. Usually, it consists of kebapche/ćevapi, meat patties, meat on a skewer, steaks, qofte/ćufte, etc. Apart from meat, you can find potato fries, mushrooms, rice, and vegetables such as carrots and cauliflower.
Meshana skara is popular in many Balkan countries and has several different names: plata sa mesom, miješano meso, mešano meso, etc.
24. Shkembe
If you are a picky eater, you might want to give this soup a miss. Shkembe is a soup made with tripe, the stomach lining of cows, pigs, or sheep.
But give it a go as you will be pleasantly surprised. It has a distinct taste and aroma, and it is seasoned with garlic, hot red peppers, and vinegar, which makes it quite spicy.
25. Drob de Miel (Lamb Haggis)
Drob de miel is a meatloaf with an unexpected twist: it has boiled eggs on the inside, which looks really cool when sliced. It is also quite tasty because minced lamb offal is mixed with garlic, green onions, eggs, dill, parsley, and bread dipped in milk.
Drob de miel is usually served for Easter in Romania and it is served cold. There are other variations with turkey or chicken liver. You can find this dish in most Balkan countries, but it is the most popular in Romania.
26. Istarski Fuži (Istrian Fusi)
Another Istrian specialty, Istarski fuži is a type of traditional pasta originating from Istria and Slovenia. It is usually served with veal, truffles, beef, and mushrooms. The sauce for this pasta dish is usually made of beef stock and wine, but tomato sauce is also often used.
This dish is highly influenced by Italian cuisine, just like many other Istrian and Dalmatian dishes. However, the way it is prepared and served makes it a 100% Istrian dish.
27. Pomana Porcului
The name of this dish means literally "honoring the pig". It comes from an old rural tradition of slaughtering pigs for Christmas. When a pig is freshly slaughtered, meat cuts are taken and fried in a deep pan in their own fat. This meat is served with pickles, polenta, and sour cream.
You can find this meal in many Romanian restaurants, but it is important that Pomana porcului is made from a recently slaughtered pig, otherwise the meat won't have its specific taste.
28. Tavče Gravče (Baked Beans)
Probably the most famous North Macedonian dish, tavče gravče has a rich flavor and is enjoyed by families all over the region. It is a traditional dish that has been cooked for centuries. Boiled beans are seasoned with a roux (called zaprška) containing dry red pepper. The beans are then baked with sausages, ribs, or fresh paprika.
Traditionally, tavče gravče is eaten on Fridays, but if you visit N. Macedonia on any other day, don't let that prevent you from trying this delicious meal!
29. Gyros
Sometimes confused with doner kebab, gyros is probably the most popular Greek-style fast food. It is made with meat from a vertical rotisserie. The meat is shaved off the rotisserie, wrapped in pita bread and served with vegetables and tzatziki sauce. Rosemary, dill, basil, oregano, and other spices give the meat an unparalleled flavor.
The difference between gyros and doner is their flavor. Although quite similar, gyros has a more Mediterranean flavor, while doner kebab is more Middle Eastern. However, the main difference between them lies in the meat. Gyros is most often made with pork, while doner is made with lamb.
30. Jumari (Greaves)
Cooked at the same time as Pomana porcului, jumari is also from a freshly slaughtered pig and cooked in a deep cooking pot over an open fire. Jumari is basically pork fat with a tiny amount of actual meat. When cooked, jumari becomes crispy and golden-brown.
Jumari is eaten in all Balkan countries, though with different names. In Serbia, Croatia, and Bosnia and Herzegovina, jumari is known as čvarci, and it is considered a delicacy. It is eaten as a snack or as a starter to the main dish.
31. Pastrmajlija
Did you know that N. Macedonians have their own pizza and its name is pastrmajlija? Pastrmajlija is a bread pie made with a crust topped with small chunks of diced pork or chicken. Sometimes it contains pork fat. It can also be topped with hot peppers.
Pastrmajlija is so popular in North Macedonia that the city of Šip began an annual festival dedicated to this dish, called Pastrmajlijada.
32. Souvlaki
Souvlaki is usually a slice of pork served on a skewer, along with fried potatoes, onions, and tomatoes. It can also be eaten wrapped in pita bread, similar to gyros. In some parts of Greece and North Macedonia, souvlaki is called kalamaki.
Souvlaki is an ancient dish that dates back to 2000 BC, which is quite impressive. Greeks have used skewers to eat souvlaki and other food since the Bronze Age.
33. Idrijski Žlikrofi (Idrian Dumplings)
Idrijski žlikrofi are potato-filled dumplings originating from the town of Idrija in Slovenia. Men working in a nearby mine would take these dumplings for lunch to sustain them throughout the working day. Nowadays, Idrijski žlikrofi aren't the preserve of miners and their families; they have become a popular food throughout the whole of Slovenia.
Idrijski žlikrofi are made of noodle dough filled with potatoes, chopped onions, pork fat, and spices. Apart from their characteristic shape, similar to Italian ravioli, Idrijski žlikrofi is similar to East-European pierogies.
---
In recent years, the term "Balkan" has been heavily criticized for being a more geopolitical than geographical term. Let's ignore the politics for a moment, it is evident that people living in the Balkans, although belonging to different cultures, nations, religions, and speaking different languages, still have one thing in common, and that's food.
Throughout their history, Balkan nations have interacted with each other in many different ways, and those interactions have resulted in so many delicious dishes being shared, each country with its own variant (and each country claiming their variety is the "right" one). So, if you visit any Balkan country, make sure to try out as many local dishes as possible – you won't regret it!
Related: Most Popular Desserts in the Balkans