20 Popular Christmas Foods in Australia
What comes to mind when you think of Christmas?
For many people, the thought of Christmas day will evoke images of glistening white snow, roaring log fires, and silly Christmas jumpers. For Australians, however, their winter wonderland tends to look somewhat different. Instead of winter walks, think summer beach trips. Instead of white snow, think white sand.
But have no fear, Mariah Carey still makes her annual appearance in the charts, crackers still get pulled, and you'll still eat until you're fit to explode. No, the blazing hot sun and 30-degree heat won't stop Aussies from putting on a good feast!
So, let's take a look at the top 20 food and drink essentials for the perfect Aussie Christmas.
1. Pavlova
What else could have taken the top spot? No Australian Christmas would be complete without a giant homemade pavlova taking centre stage. Meringue is piled high with fresh cream, heaps of berries, and sweet passionfruit pulp, to create this classic Aussie favourite.
Check out this delicious Pavlova with Yogurt Recipe or our classic Pavlova recipe by Chef Paul Hegeman.
2. Seafood Platter
We've all heard the famous "shrimp on the barbie" line from Paul Hogan in the 1984 Australian Tourism Campaign. Australians actually call them prawns, but they certainly do love to throw them on the barbie! In the 36 hours leading up to Christmas day, Sydney Fish Market sell over 130 tonnes of prawns!
Seafood platters are extremely popular all year round in Australia, but especially so at Christmas. Compared to a traditional roast, seafood takes virtually no preparation and barely any cooking. Perfect for sharing and catering to all tastes, add whichever seafood you like for an ideal Aussie Christmas meal.
How about combining fresh king prawns with scallops, lobster, and barramundi, and smothering it all in a mouthwatering lemon garlic sauce. Delicious!
Tip: Pop open a crisp, chilled bottle of bubbly for the ultimate pairing.
3. Christmas Ham
A roast ham at Christmas is generally quite traditional in many countries. However, many Australians will often cook it a couple of days in advance and then serve it cold on the big day. Who wants to be slaving over a hot oven in already boiling temperatures! While each family will have a unique recipe, typically, the ham will be glazed in a sweet and sticky coating of honey and mustard, pineapple juice, or coke.
There's always plenty to go around, and you'll definitely be eating it in sandwiches for weeks to come. But who's complaining?
Christmas pudding was a tradition initially brought to Australia during early British colonization. This boiled dessert is stuffed full of dried fruits, nuts, spices, and a big hit of rum or brandy. The only acceptable way to present this pudding is to cover it in more booze, set it alight, then serve with a massive pour of creamy vanilla custard on the side.
It contains fruit, so it must be healthy, right?
Pivoting back to beloved seafood, oysters are a well-loved luxury on Christmas Day. Before the colossal feast, many Australians enjoy this delicious, light starter. Try squeezing some fresh lemon juice for a perfectly zesty mouthful.
If you feel like going all out (after all, it is Christmas), why not try Oysters Kilpatrick? Oysters topped with Worcestershire sauce and crispy bacon. They are a real crowd-pleaser.

Tip: Add a dash of Tabasco for a fiery heat.
Another British dessert that has made its way Down Under. And thank God that it has. An Australian mince pie is typically made from sweet pastry encasing sultanas, apple, almonds, mixed spices, and a splash of brandy for good measure. Perfect when served with cream for an afternoon treat once you've recovered from the lunchtime food coma.
7. Prawn Cocktail
A classic Christmas Day starter. You may have started to notice that Christmas Day in Australia is not complete without seafood appearing at least once on the menu. A prawn cocktail is fresh, simple and the perfect all-rounder with the added bonus of just taking minutes to make!
Related: Belgian North Sea Prawn Cocktail Recipe.
8. Meat and Cheese Boards
Either as a sharing starter or a late-night, post-dessert snack, nothing beats a good meat and cheese board. Its versatlility allows you to combine textures and flavours to create a complete showstopper to wow your guests.
The meats ususually include salami, prosciutto, chorizo and mortadella, while on the cheese side we can find burrata, blue cheese, cheddar… and you would never be forgiven if you forgot to add a nice slab of King Island Triple Cream Brie. Throw in some crackers, fruits and pickles, and you've got yourself a winning platter.
The beauty of this dish is the choice to add in or take away any elements that you want or don't want. It is entirely up to you.
9. Trifle
If you're thinking, "But I don't like trifles", then you clearly haven't created your own Christmas trifle. As long as it has the essential layers of fresh fruit, cream and jelly, the creative freedom is yours. Black forest trifle? Sure! Chocolate trifle? Why not! Rachel Green's half-meat half-cream trifle? Whatever floats your boat!
Related: Cherry, Almond and Mascarpone Trifle Recipe
10. Stuffed Capsicum
A recipe that originates from Greece, stuffed capsicum (pepper) is a well-loved addition to the Christmas lunch table. Large capsicums are filled with cooked beef mince, onion, garlic, tomato and rice, before heading to the oven to bake. Simple, but so so delicious.
Tip: We like to top with grated cheese before baking for an extra decadent dish.
Related: How to Roast Capsicum
11. Roast Turkey
Not all Australians enjoy a seafood dinner for Christmas; many stick to the traditions of a fat roast turkey at the centre of their feast. The stuffing, basting, and roasting of a turkey can be somewhat time-consuming, so most people get to work a day in advance.
Unsurprisingly most Australians enjoy their roast dinner hot, however, many will eat the meat cold with various salads instead.
Tip: Try a mix of bacon, sage leaves, onion, egg and breadcrumbs for a delicious stuffing.
12. Christmas Salads
As mentioned above, for many Aussies, the Christmas meal mainly consists of cold meats or a barbecue accompanied by… salads. And there are no rules when it comes to salads; get creative, try new flavours and ingredients. Aim to impress!
A traditional potato salad or coleslaw will always be a winner, but how about trying different dishes to go with them. A halloumi, pomegranate, and watermelon salad is a super-refreshing summery salad that is sure to add colour to your table. Or what about a roasted cauliflower salad with avocado dressing as part of your barbecue lunch?
White Christmas is a traditional Aussie dessert made from dried fruits such as glace cherries, desiccated coconut and sultanas, mixed with sugar, white chocolate, rice bubbles and coconut oil. Think of it as Chocolate Crackles' white chocolatey, Christmassy cousin! It's best to prepare this yummy dessert on Christmas Eve to give it enough time to set overnight. White Christmas is simple to prepare and an easy dessert for the kids to help make.
13. Christmas Punch
It's no secret that Australians love their booze, and the festive period is the perfect excuse to get creative with the drinks selection. In the heat, you'll definitely want something cool and refreshing, so punch is an ideal choice. How about a fruity rum cocktail, or thirst-quenching ​​raspberry rosé punch. You could even go all out to impress your guests with a chocolate dessert cocktail to finish off the day.
15. Potato Bake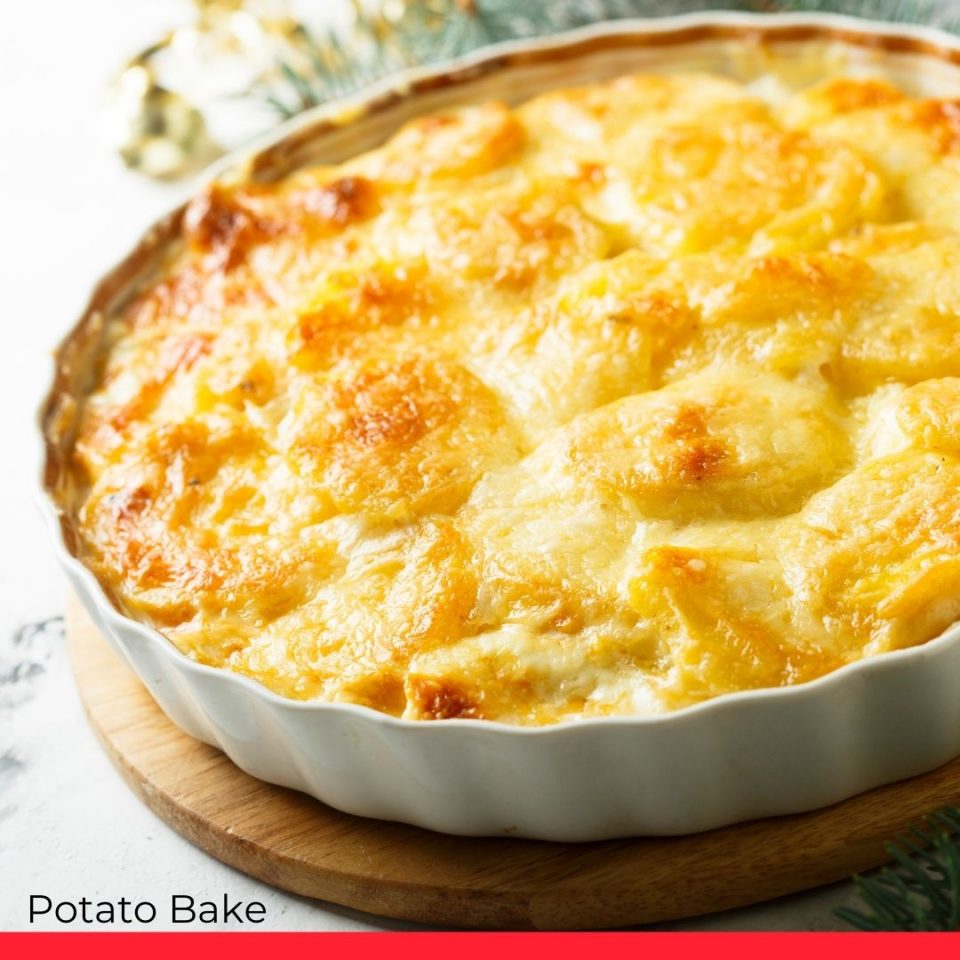 You may know it as potato bake, potato gratin, or scalloped potatoes. Whatever you call it, it sure is one delicious side dish. Take thinly sliced potatoes, and layer with a thickened cream, garlic, and milk sauce before topping with enough grated cheese to give anyone nightmares for a week (totally worth it). This creamy and indulgent dish will have people reaching for seconds, thirds, and probably fourths. It's the perfect accompaniment to a roast dinner or barbie.
Tip: If you want to be extravagant, try adding crispy bacon throughout.
16. BBQ
Aussies love to chuck anything on the barbie, and Christmas Day is no different. There's nothing better than having your family sit out in the sun with the smell of the barbecue cooking away behind you.
Christmas Day truly is perfect for putting on the best barbie of the year. It doesn't always have to be seafood. Australia has some of the best meats, so go all out with your choices. Mini steaks? Lamb cutlets? Go full Aussie with some snags? Why not? It's Christmas!
Related: 23 Fantastic BBQ Gifts
17. Gingerbread
Is there anything better than the smell of freshly baked gingerbread wafting through the house? Impress your guests with your baking skills, and make some comforting cookies for everyone to enjoy.
Try creating different shapes and characters to be iced and decorated by the little ones. Or how about a gingerbread house for an impressive dessert-table centerpiece?
Related: 22 Amazing Gingerbread Houses
18. Roast Potatoes
No roast dinner would be complete without perfectly-crispy-on-the-outside, fluffy-on-the-inside roast potatoes. So simple and easy to prepare and cook, you'd be silly to leave this crowd-pleasing side off the table.
You need to pick the right potato to get that mix of textures that we all know and love. Look for a floury potato such as a Dutch cream, coliban or Sebago. Parboil your potatoes and get your oil in the oven to heat up (we love using goose fat).
Once they're partially boiled, chuck them in the hot oil and give them a good coat. Put them in the oven for 30 minutes, then turn and cook for another 30 minutes until golden and crunchy. Serve with lashings of gravy. Perfection.
It might not be everyone's taste, but we think that eggnog is a must-have at Christmas. You may have experienced shop-bought flavorless eggnog poured from a carton, and sure, that's never going to give you the best eggnog experience. So why not have a go at making it yourself?
Eggnog should be a thick, creamy, boozy, luxurious drink, with a hit of nutmeg. Eggnog doesn't skimp on the booze, requiring three dark spirits in equal parts: brandy, bourbon, and rum. After ageing in the fridge, it takes on a similar quality to an Irish cream liqueur. Yum!
Tip: For best results, make the eggnog two weeks in advance. It can keep for up to a month.
Chocolate Ripple Log Cake is an all-time favourite Australian dessert made using Arnott's famous Choc Ripple biscuits, covered in copious amounts of whipped cream, and decorated with more chocolate bars and fresh berries. It's the ideal solution for when you suddenly realise at 10 p.m. on Christmas Eve that you haven't prepared a dessert yet. It uses two ingredients and takes only minutes to prepare!
Tip: For an extra chocolatey pud, why not add cocoa powder and icing sugar to your whipped cream to create a double-chocolate version.
With that we have come to the end of our list of the top 20 food and drink essentials for the perfect Aussie Christmas. Whether you're sinking a beer outside by the barbie, or sitting around the table with a hot roast dinner, we hope you enjoy these Australian Christmas traditions!
---
Related: 25 Must-Try Australian Food & Drinks
Related: Traditional Christmas Dinner in England
Related: Traditional Irish Christmas Dinner
Related: Most Popular Australian Desserts
Featured photo by Lynda Hinton on Unsplash;