Mapped: National Dishes of Europe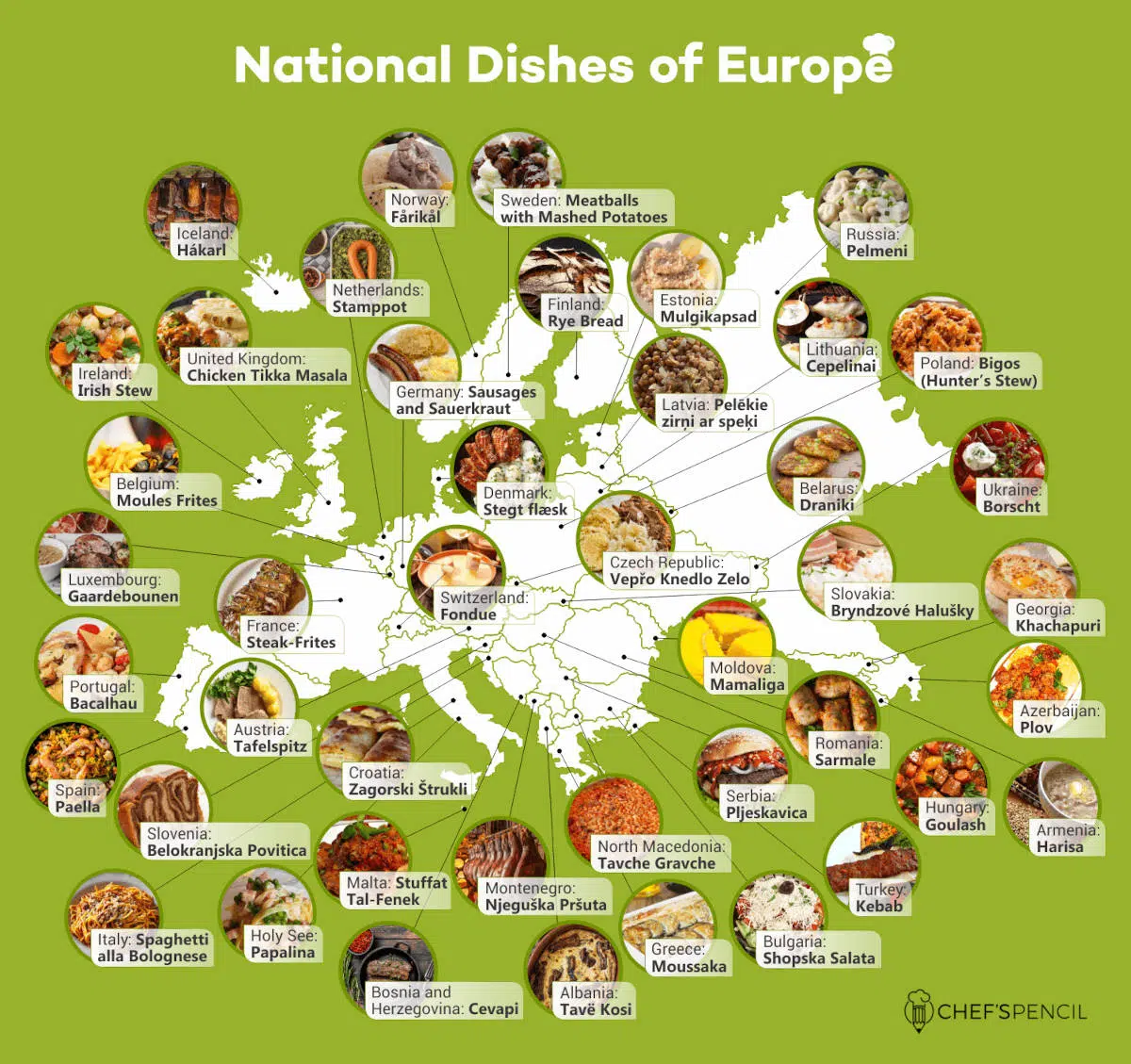 The food culture of Europe is incredibly rich and varied. We've taken a whistle-stop tour around the continent to bring you the national dish of each country. Each one has its own story of origin, but what they all have in common is the pride that goes into preparing these typical dishes, often with their unique family recipe.
We're aware that certain some of our choices may be controversial. Based on our research, it became clear that in some cases multiple dishes could be considered equal or almost equal contenders. Although we think we've selected the key dishes, if you have an alternative suggestion, just let us know in the comments below.
Albania: Tavë Kosi
This mouth-watering blend of garlicky lamb, butter, rice, and oregano, is topped with creamy yogurt and baked until it's covered with a golden crust. An archetypal Mediterranean dish, it not only reminds Albanian ex-pats of home, it also motivates those who've never been there to pay a visit! It's also known as Elbasani, after its central Albanian city of origin.
Andorra: Escudella
This typical Andorran dish was traditionally made with whatever ingredients were available. In hard times, it would consist of vegetables, rice, and perhaps a little meat. However, for celebrations and important occasions, a variety of meats, including chunks of pork, homemade sausage, chicken, and lamb came to be included.
It's a deep-rooted Andorran tradition that in January, on the feast days of Saint Anthony and Saint Sebastian, religious brotherhoods prepare Escudella to share with the local population.
Austria: Tafelspitz
Austria's national dish is a delicious combination of meltingly tender boiled beef, root vegetables, and spices. It forms the heart of a delicious meal and is most often served with applesauce or horseradish sauce and fried potatoes.
The typical cut of beef for tafelspitz is tri-tip, from the base of the loin, but sirloin or rump are also sometimes used.
Belarus: Draniki
The national dish of Belarus is a simple potato and onion pancake. What makes Draniki so irresistible is their creamy texture and the delicious flavor that comes from being fried in pork fat. So be warned, if you get the chance to sample them, one won't be enough!
Belgium: Moules Frites
Moules (mussels) and fries are an undisputed Belgian classic, but they can be prepared in several different ways. They're typically steamed or poached in a sauce of white wine, shallots, garlic, and butter, but every chef will have their twist, perhaps adding heavy cream or even some spicy sausage to the mix.
The one indispensable part of the dish that cannot be left out is an abundant supply of fresh fries to mop up that sauce.
Bosnia and Herzegovina: Cevapi
Cevapi are like elongated meatballs. They're made from a simple mix of meat, salt, and pepper. Traditionally they're cooked over a charcoal grill, which imparts a distinctive smoky flavor.
Many cities have their own tradition of cevap making. While cevapi from Sarajevo are the best known, those from Banja Luka (cooked in blocks of four) or Travnicki (smaller cevapi served in portions of 20 with traditional somun bread, soaked in broth) are also highly popular. Well worth a gastronomic tour!
Bulgaria: Shopska Salata
This refreshing and colorful salad was originally invented in the 1950s to help promote tourism. It features the colors of the Bulgarian flag with brilliant red tomatoes and peppers, green cucumbers, and onions. Usually served with a dressing of red wine and sunflower oil, it's topped with a good serving of crumbled Bulgarian sirene cheese (similar to feta).
Each family has its take on the classic recipe, but the key to this light and delicious offering is the use of fresh locally-grown ingredients.
Croatia: Zagorski Štrukli
Zagorski Štrukli is claimed as part of Croatia's 'intangible cultural heritage' by the country's Ministry of Culture.
This iconic Croatian dish is composed of a filling and delicious combination of dough and cheese, baked together. It's most often prepared in the northern regions of Hrvatsko Zagorje and Zagreb.
Czech Republic: Vepřo Knedlo Zelo
The name of the Czech Republic's national dish means, simply, 'pork, dumplings, sauerkraut'. Typically, pork neck is slowly roasted with garlic, onions, and spices until it's meltingly tender, then served with the braising liquid.
The dumplings are usually made with flour, but sometimes potato is added to the mixture. Sauerkraut is an essential addition at the end, and the dish goes perfectly with some of that beer that the Czech Republic is famous for.
Cyprus: Souvla
Souvla is probably the most popular dish in Cyprus, and the main attraction at celebrations, family gatherings, and Sunday lunches.
It consists of large cuts of pork, lamb or chicken cooked on long rotating skewers over charcoal (using the charcoal grill known as foukou). Since the cuts of meat are quite large, they are cooked for a long time at a low temperature.
Demark: Stegt flæsk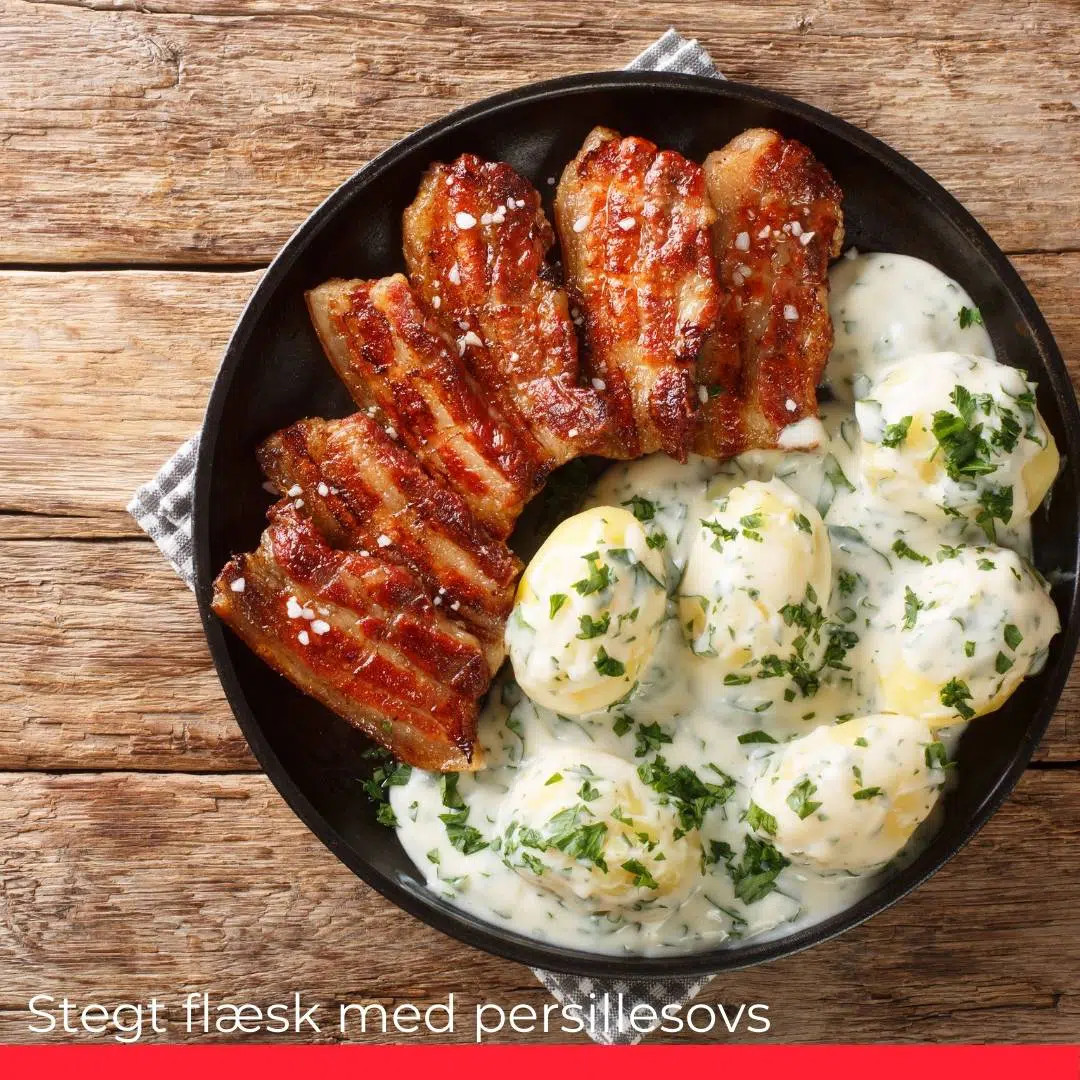 Aka, fried pork breast with parsley sauce, this dish has long been acknowledged as Denmark's national dish.
Most popular as a winter warmer, it consists of thick slices of well-salted pork breast, served with boiled potatoes and parsley sauce. Pickled beetroot is a popular accompaniment.
Estonia: Mulgikapsad
This typical Estonian dish is made with sauerkraut, pork, and barley. It gets its name from 'kapsad', meaning cabbage, and the Mulgima region in the south of Estonia, which is famous for its distinctive culture, traditions, and food.
Mulgikapsad is often served with boiled potatoes and is traditionally accompanied by a drink of fermented milk.
Finland: Rye Bread
Update! The results are in! In a national poll of almost 50,000 people, more than 1 in 4 chose dark, chewy rye bread as the national food of Finland. Karelian stew, a spiced combination of pork and beef, came a close second.
France: Steak-Frites
No other nation has earned such an elevated reputation for refined gourmet cuisine. But today, the simple combination of perfectly cooked steak and delicious fries is considered by many the ultimate expression of modern French cooking.
It is often served alone, simply seasoned with salt and black pepper, or a accompanied by a classic peppercorn sauce
Germany: Sausages and Sauerkraut
Germans have many contenders for their national dish award, but two foods that Germans love and are best known for have to be sausages and sauerkraut.
Sauerkraut is seen as the German side dish, which is why the British often refer to Germans as "Krauts". But Sauerkraut is best enjoyed with a piece of meat, and what best then a pair of German sausages (lots of great options here!), though pork knuckles are a favorite choice as well.
Greece: Moussaka
There are many contenders for the title of Greece's national dish, but perhaps the best-loved is the internationally famous dish of moussaka.
It's the ultimate comfort food. Layers of meat and eggplant, topped with a creamy béchamel sauce and finished with a cheesy crust. Every Greek cook will have their own variation, and every Greek family will claim that the way they eat it is the best!
Holy See: Papalina
We've selected Pasta Alla Papalina as the national dish of tiny Vatican City, mainly because it's a Roman recipe named in honor of Pope Pius XII. It's classically made with egg-based pasta (usually fettucine), but the debate over the correct ingredients rages on.
But should the ham be cooked or cured? Should the cheese be pecorino or Romano? Are peas an abomination? Does cream make it inauthentic? Our advice is to try all the different versions and decide for yourself!
Hungary: Goulash
The origins of Hungary's national dish date back more than 1,000 years! Magyar shepherds were known to prepare it in iron pots or bogracs. When the Ottoman Turks introduced paprika in the 15th century, it became an integral part of the recipe.
Is goulash a soup or a stew? It's in-between, as it's not packed with meat or vegetables, but during cooking, the liquid turns into a mouth-wateringly rich sauce. Add some sour cream and serve with fresh crusty bread.
Iceland: Hákarl
One of Europe's most unusual national dishes, this is a must-try for every visitor to this fascinating country. To prepare: first, cut the head off a Greenland shark. Dig a ditch as close to the sea as possible. Place the shark in the hole, cover and weigh it down with stones. Leave for 12 weeks. Then dig it up, hang for 7 or 8 weeks and then it's ready to enjoy.
If you'd prefer to sample a less adventurous Icelandic alternative, try plokkfiskur (fish stew), or perhaps puffin.
Ireland: Irish Stew
Irish stew is also called Ballymaloe or stobhach gaelach in Gaelic. This filling peasant stew typically contains chunks of lamb or mutton, potatoes, onions, and parsley (when available). Simmered for 2 or 3 hours over low heat, the ingredients blend to create a full meal that's nourishing and delicious.
Related: Most Popular Irish Foods
Italy: Spaghetti alla Bolognese
Known and loved worldwide, the first reference to this regional Italian dish appeared in a classic Italian cookbook published in 1891. The author notes that the cuisine of Bologna is 'rugged but tasty and wholesome.'
The ragù (sauce) is made with finely minced meat and vegetables, cooked in butter, although today olive oil is generally preferred. Mushrooms and even cream are sometimes added (to the horror of purists).
Latvia: Pelēkie zirņi ar speķi
Latvia's national dish is a traditional stew made with a tasty combination of local grey peas, fried onions, and chopped speck. The dish was created to enable Latvians to put their supplies of dried and preserved food to good use, especially through the winter. The dish is typically served with kefir and rye bread.
Lichenstein: Käsknöpfle
This is a meltingly cheesy, eggy pasta combination that Liechtensteiners claim as their national dish. Yes, it's a bit like mac and cheese, but taken it to a whole different level.
Typically, three kinds of cheese are combined to create a delicious creamy sauce: Gruyere, Emmenthal, and Fontina. It's served with noodles, crusty bread, and sometimes applesauce as a side dish.
Lithuania: Cepelinai
These zeppelin-shaped potato dumplings are made from grated potatoes stuffed with minced meat, mushrooms, or curd cheese, and boiled. Filling and delicious, they're served as a main course.
The size of the cepelinai gives a clue to their region of origin; they tend to be the biggest in the west of the country. They're usually accompanied by sour cream and bacon bits.
Luxembourg: Gaardebounen
Although it's only a small country, Luxembourg has several contenders for the title of national dish. One of the best known is Judd mat Gaardebounen, which is based on smoked pork collar and broad beans, and a delicious creamy sauce of white wine and fresh cream.
Malta: Stuffat Tal-Fenek
Malta's national dish is a flavorful combination of locally caught rabbit meat stewed and a rich tomato sauce, cooked until the meat is meltingly tender. Maltese families traditionally serve it in two courses. The first course consists of the sauce and pasta, while the meat is served as the main with vegetables.
Moldova: Mamaliga
Mamaliga is the Romanian and Moldovan version of polenta. Used to make a type of cornmeal porridge, it's often called the country's national dish. It's usually served with cream or butter, although thick yogurt can make a healthy substitute. It makes a tasty accompaniment to meat dishes, fried eggs, vegetables or cheese.
Monaco: Barbagiuan
In Moneguasque, Barbagiuan means Uncle John. Tradition has it that a certain John thought that his pastry was too dry, so he creatively stuffed it with chard and ricotta, then fried it.
The exact recipes are passed down within families, with each one having its unique variation.
Montenegro: Njeguška Pršuta
Montenegro's national dish is a unique ham prepared by covering it with sea salt then smoking and drying it in the pure mountain air.
After maturing for a year, it is smoked over beechwood before being thinly sliced to serve with bread, cheese, and pasta dishes.
Netherlands: Stamppot
A perfect winter mixture of comfort and nourishment, stamppot, often considered the national dish of the Netherlands, is a tasty combination of kale and mashed potatoes, topped with smoky sausages.
North Macedonia: Tavche Gravche
Tavche gravche (baked beans) is a traditional Macedonian dish which is cooked in a stone pot, traditionally over an open fire. It's healthy and easy to prepare.
In addition to onions, hot peppers are sometimes added, and it can be served with sausage, bacon and ribs, kofta, or fish.
Norway: Fårikål
Voted Norway's national dish in 1974, this simple but delicious meat dish consists of layers of lamb and cabbage cooked slowly together with whole black peppercorns, then served with parsley-garnished potatoes, boiled in their skins.
Poland: Bigos (Hunter's Stew)
This hearty stew was originally made with wild game – hence the name. However, over more than 700 years, the recipe has evolved and it now features smoked sausage (kielbasa) or other meat, cabbage, sauerkraut, and mushrooms.
Bacon, veal, or beef can also be used, and every cook has their own secret recipe. There are two common variations – one featuring tomatoes and the other prunes.
Portugal: Bacalhau
Cod fishing by the Portuguese stretches back over 700 years, and today Bacalhau, or dry-salted cod, is such a popular staple that it's considered the national dish. It's often claimed that there are 101 ways to prepare and serve it.
The tradition of serving cod at Christmas and Easter, shared by many European countries, originated in Portugal.
Romania: Sarmale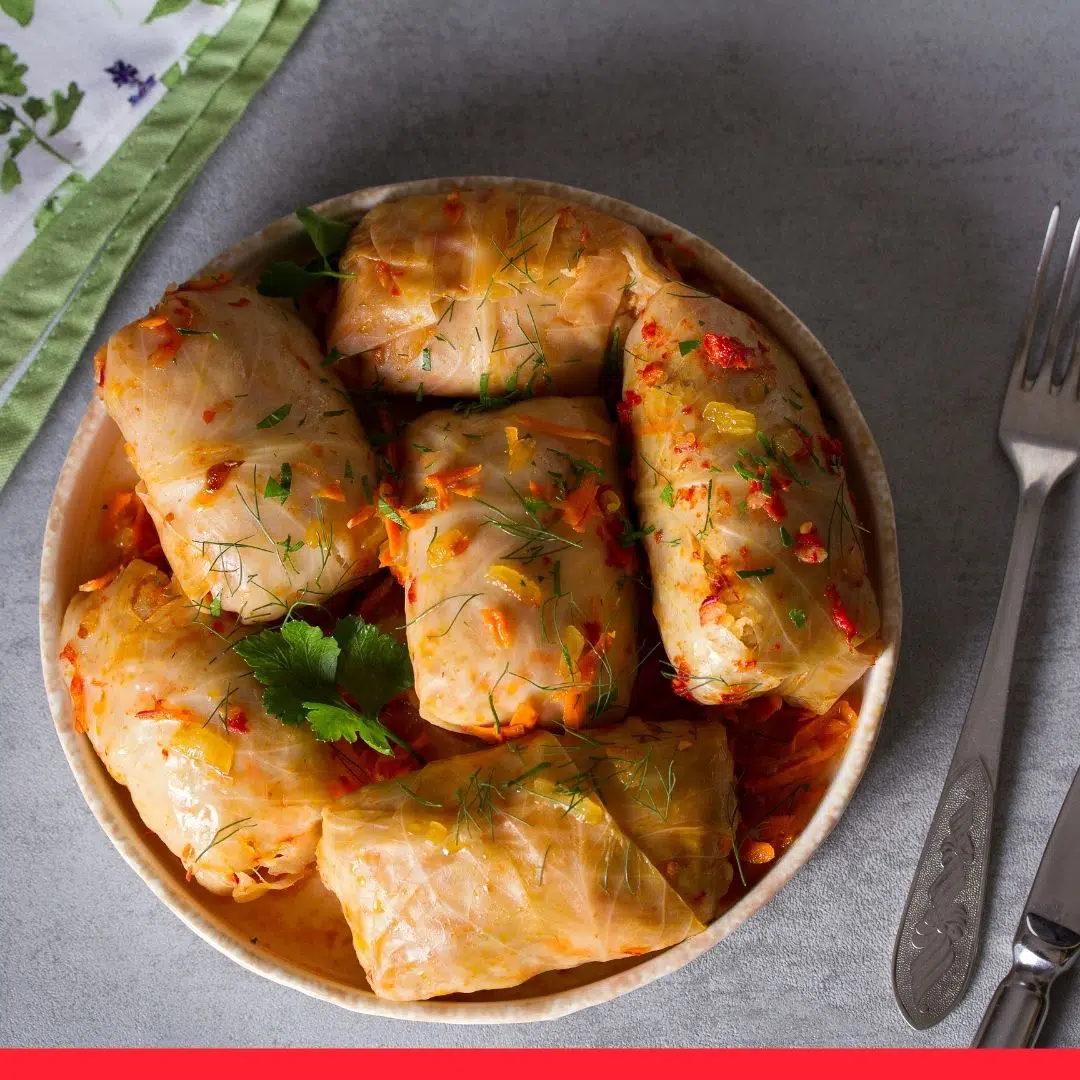 Romania's national dish, stuffed cabbage rolls with finely ground pork and rice are slowly cooked for hours. They are both delicious and warming.
As with many of these traditional dishes, there isn't one definitive recipe for sarmale. Each family has its own prized recipe, which is firmly believed to be the most authentic and the most delicious.
Russia: Pelmeni
Originating in Siberia, pelmeni are small, boiled, meat-filled dumplings, made with a soft dough of flour, water, and eggs. Made in homes but also found in cafes and restaurants, these tasty savory favorites are ubiquitous, and they can be topped with sour cream, vinegar, red onions, dill, or mayonnaise.
San Marino: Torta Tre Monti
The first national dessert on our list! This delicacy from the tiny nation of San Marino is named after its famous peaks. It comprises delicately layered wafers filled with hazelnut spread and cream.
As if that's not enough, it's then glazed with chocolate icing and often served with a topping of dark chocolate gelato. Then, a cherry on top. Who could resist?
Serbia: Pljeskavica
Massive tasty meat patties involved a whole range of delicious condiments enveloped in a soft puffy flatbread. Considered Serbia's national dish, they bear no resemblance to the standard western burger, as they're literally dripping with flavor!
They're usually served with ajvar, a roasted pepper and eggplant sauce, kajmak (a type of clotted cream), and perhaps some chopped white onions.
Slovakia: Bryndzové Halušky
Bryndzové Halušky, or potato dumplings, are made with sheep's cheese and topped with bacon and bacon dripping. Salty, creamy, and very filling, the national dish of Slovakia is fairly easy to make and impossible to resist!
Slovenia: Belokranjska Povitica
Slovenia's national dish, Belokranjska Povitica, is thought to have originated in the southeast of the country in a village called Bela Krajina.
It resembles a strudel and is typically prepared for special occasions – whether for a family or a village. Interestingly, there are sweet and savory variations on the traditional recipe.
Spain: Paella
Originating from Valencia in eastern Spain, Paella was originally a dish for farm laborers, cooked over a wood fire for the midday meal. It was made with rice plus tomatoes, onions, and snails, rabbit or duck, and perhaps a few beans. On special occasions, chicken with a little saffron was added.
Paella is traditionally eaten straight from the huge pan with each person using his own wooden spoon. Nowadays, seafood is often added, though not everyone agrees with it.
Sweden: Meatballs with Mashed Potatoes
Although Swedes love their pastries, they're famous throughout the world for their meatballs, which are served in a rich, creamy sauce.
There are countless variations on the basic recipe, but traditionally allspice and nutmeg are included, with perhaps the addition of mustard to provide an even more tantalizing flavor. Served with fluffy mashed potatoes, they're a perfect filling winter dish.
Switzerland: Fondue
Switzerland's famous national dish, the fondue, has a thousand variations, and every household will consider their version the best.
What they all have in common is the crockery fondue pot or caquelon and the rechaud (heater), and the sociable ritual of dipping pieces of bread into the thick creamy mixture with long, two-pronged forks.
Ukraine: Borscht
This traditional soup is not only nourishing and delicious, it also looks very attractive because of its striking rich red color. It's very versatile as the broth can be made with chicken, lamb, or pork. In some versions, meat is replaced by beans. The only must-have for Ukraine's national dish is, of course, beets.
United Kingdom: Chicken Tikka Masala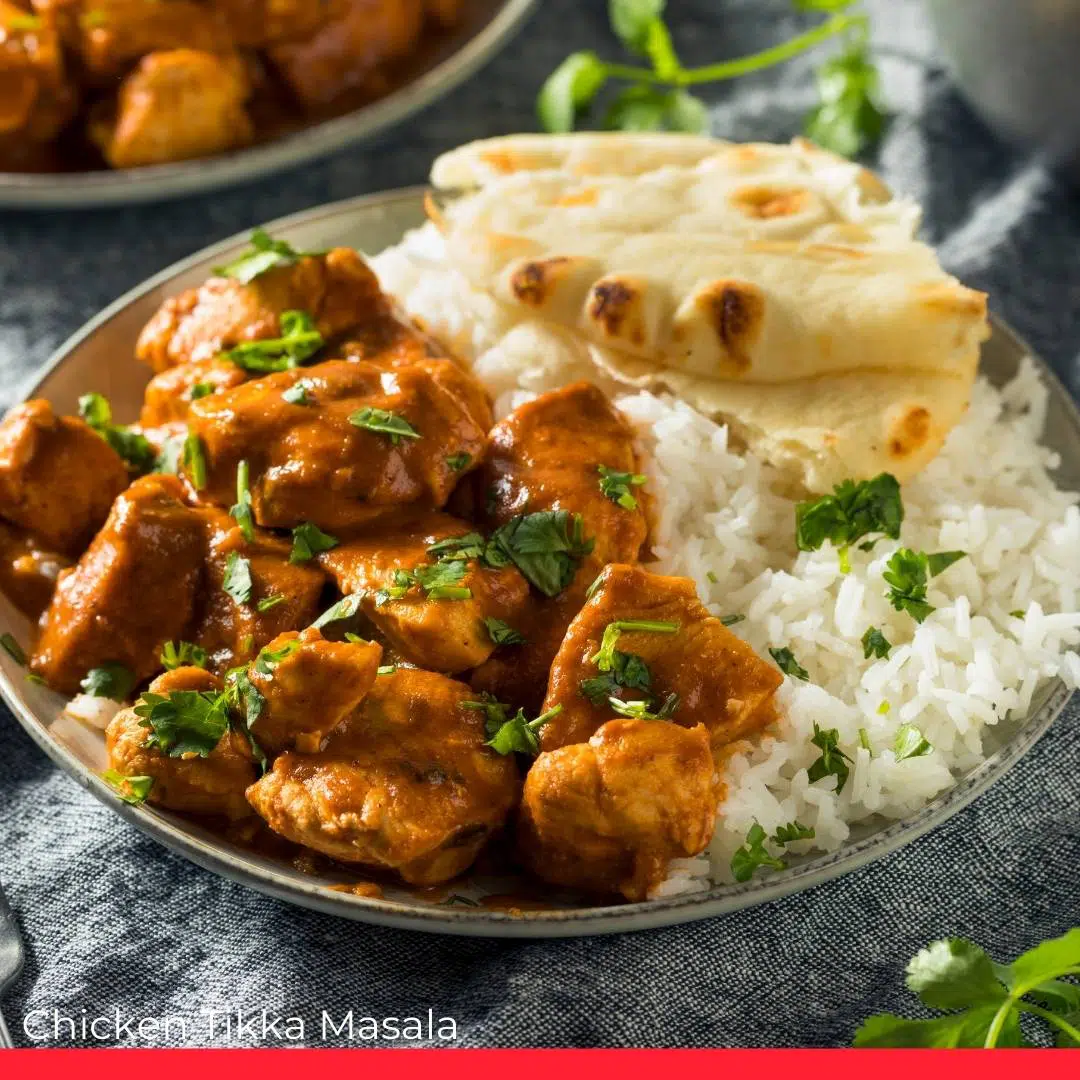 Surprisingly, this Indian-inspired cross-cultural staple has recently been voted the UK's national dish, beating more traditional contenders such as fish and chips and roast beef. It consists of boneless chunks of chicken marinated in yogurt and spices, roasted in a tandoori oven, then covered in a mild, creamy sauce.
---
Related: Most Affordable Michelin Restaurants in Europe