Maltese Food: 15 Popular Dishes
Malta is not only synonymous with sea, sun, and history. It's also remarkable for its tasty and varied Mediterranean cuisine, which combines influences from Sicily, Italy, England, France, and North Africa.
Maltese people take their food pretty seriously, and indulging in delicious, plentiful dishes is one of the things that puts huge smiles on their faces. Their dishes are very much inspired by local produce, and arise from recipes handed down from generation to generation.
With rusticism at its base, Maltese cuisine offers everything from delicious snacks to seasonal mouth-watering meals and desserts.
Here's what you can expect from an eating spree on the Maltese Islands. Enjoy your meal, or as the Maltese people say: "L-ikla t-tajba!"
1. Ħobż biż-Żejt (Maltese Bread)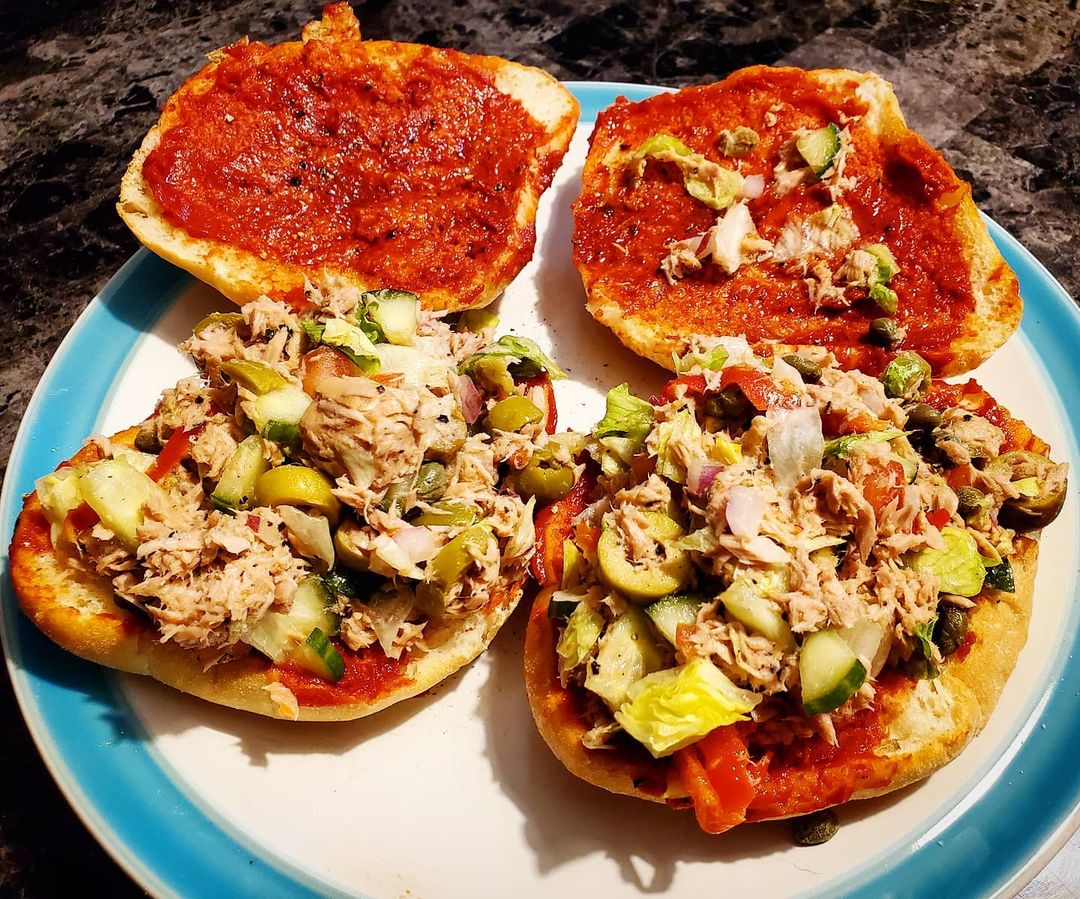 Maltese bread or Ħobż tal-Malti is a Maltese staple. It is to Malta what the baguette is to France. With its crusty, rounded exterior, and an irresistibly fluffy interior, you'll never look elsewhere after trying this local bread.
Literally translated from Maltese as "bread with oil", Ħobż bi-żejt is an extremely versatile dish. In its simplest form it is rubbed with olive oil and tomato paste, then seasoned with salt and pepper. Alternatively, one can throw on typical ingredients like tuna, capers, olives, onions, ġbejniet (local cheeselets made from cow or goat milk), and sun-dried tomatoes. On top of that, a sprinkling of herbs such as basil or mint.
This easy-to-make snack is popular at lunchtime, especially in summer, and tastes extra delicious after a swim in Malta's salty sea. Tourists can discover a true taste of Malta in one single bite.
2. Ftira
Ftira is the flattened version of the Maltese loaf, and is typically cut along the middle and filled with the same ingredients that are used for ħobż biż-żejt. But feel free to try other fillings, like ham and cheese, or as a much-loved Maltese variation: beef and pork sausage, bacon, and fried egg. Ftira is extremely popular in lunchrooms across the Maltese Islands.
3. Kapunata (Maltese Caponata or Ratatouille)
Kapunata is the Maltese version of the Sicilian caponata, which is similar to France's famous ratatouille. The main ingredients are aubergines and bell peppers, cooked with fresh tomatoes and flavored with olives and capers. It is best enjoyed as a main dish accompanied by fresh, crusty Maltese bread, or as a side dish with tuna steak.
4. Minestra (Minestrone soup)
When winter comes knocking at your door, you should try the Maltese minestrone. It is a hearty soup incorporating seasonal vegetables such as carrots, marrows, kohlrabi, and pumpkin. For an even heartier version, try using barley or pasta, lentils, beans, and potatoes. It is seasoned with parsley, and pairs very well with Maltese bread and olive oil.
5. Soppa tal-Armla (Widow's Soup)
This is another Maltese soup that can warm your humid winters. Even though 'soppa tal-armla' is simple (hence the name) with ingredients even a poor widow could afford to buy, it's a tasty blend of potatoes and vegetables, enhanced with the flavor from ġbejniet (cheeselets) and broad beans.
6. Pastizzi (Savoury Cheese or Pea Cakes)
These are Malta's most treasured and desired national fast food. They come in the form of round- or diamond-shaped puff pastry pockets, filled with either ricotta or mushy peas. You can find these freshly baked all over the island in small shops called pastizzerias, or in bars and cafes. Be careful though; eating too many of these could compromise your waistline!
7. Timpana
A popular and very filling baked pasta dish, timpana is usually available in the aforementioned pastizzerias, and in some Maltese restaurants serving local food. Also popular as a home-baked dish, it makes for an extremely satisfying meal, with its delicious mix of meat, vegetables, bolognese sauce, and cheese. Topped off with a golden-brown layer of shortcrust or puff-pastry lid, it satifies even the hungriest Maltese stomach.
8. Imqarrun
This is a dressed-down version of the timpana, similar but lacking the top layer of pastry. It's a baked macaroni and cheese dish cooked in a red meat sauce, with a few hard-boiled eggs thrown in.
9. Lampuka Pie
Fish has always been a huge hit in Malta. That's what you'd expect from an island country, right? You'll find locally caught sea bass and sea bream, grouper, tuna, as well as many other species.
The most popular fish dish is undoubtedly lampuka pie, so-called because it contains a generous dose of meaty lampuka, also known as mahi-mahi or dolphinfish, cut up into chunks and mixed into a pungent tomato sauce containing olives and capers.
10. Fenek Moqli jew Stuffat tal-Fenek (Fried or Stewed Rabbit)
Served either as a stew or fried in white wine and garlic, this immensely popular platter can be enjoyed at one of the many traditional restaurants clustered around the Mgarr area in the northwest part of mainland Malta (though you can also come across it in other parts of Malta and Gozo). The rabbit is typically accompanied by fries or roasted potatoes.
11. Braġioli (Beef Olives)
Known more commonly in Malta as 'braġioli', these sausage-shaped meat rolls are a delicious concoction of ground veal or beef mixed with bacon, garlic, onion, parsley, hard-boiled egg, and breadcrumbs, wrapped in beef topside, and slow-cooked in a rich, red wine sauce.
They're best eaten with sliced Maltese bread, potatoes, and vegetables, especially peas.
12. Zalzett Tal-Malti (Maltese Sausage)
While we're on the topic meat, we can't ignore the Zalzett Tal-Malti. These sausage-like meat rolls pack an interesting flavor punch with their tasty ground Maltese pork infused with crushed coriander, peppercorns, garlic, parsley, and other spices. They're also great on the barbecue.
13. Qagħaq tal-għasel (Honey Rings)
On to the desserts! Qagħaq tal-għasel (honey rings) are rings of pastry stuffed with blackstrap molasses, star anise, cloves, and allspice. They're best eaten fresh when the pastry is crusty and the interior is still as soft as honey. Even though they're meant to be a Christmas treat, you'll see many Maltese enjoying these at any time of year.
14. Imqaret (Deep Fried Date Rolls)
Now, these make for another round of sinful indulgence, second to the pastizzi. This deep-fried filo pastry and date rolls can be smelt from miles away, making them hard to resist. But don't! Give in to temptation, and make sure you enjoy them hot!
You'll often see them being sold at mini kiosks around Malta particularly during village feasts. Many restaurants serve imqaret for dessert, accompanied by ice cream. They go great with vanilla or stracciatella, but, if available, I suggest you opt for the ġelat tan-nanna (Grandma's ice cream). This is a Maltese ice cream recipe made from cinnamon, finely chopped glazed cherries, roasted almonds, and vanilla essence. Yum!
15. Figolli
We're going to end our list with a grande finale. True, you'll have to hold on till Easter time before you can try these, but they're definitely worth the wait.
Figolli are flat cakes made from lemon zest, pastry infused with a juicy almond filling (or marzipan), and decorated with brightly colored icing sugar. If you don't have much of a sweet tooth, you can simply admire their interesting Easter-themed shapes, colors, and decoration. Sitting on top of the icing, you'll usually find half a small chocolate easter egg.
And with our figolli, I've come to the end of my Malta food tour. I hope you have built up a big appetite while reading this. Again, I wish you l-ikla t-tajba!
---
Related: Most Popular Maltese Desserts