Top 20 Most Popular Foods in Montenegro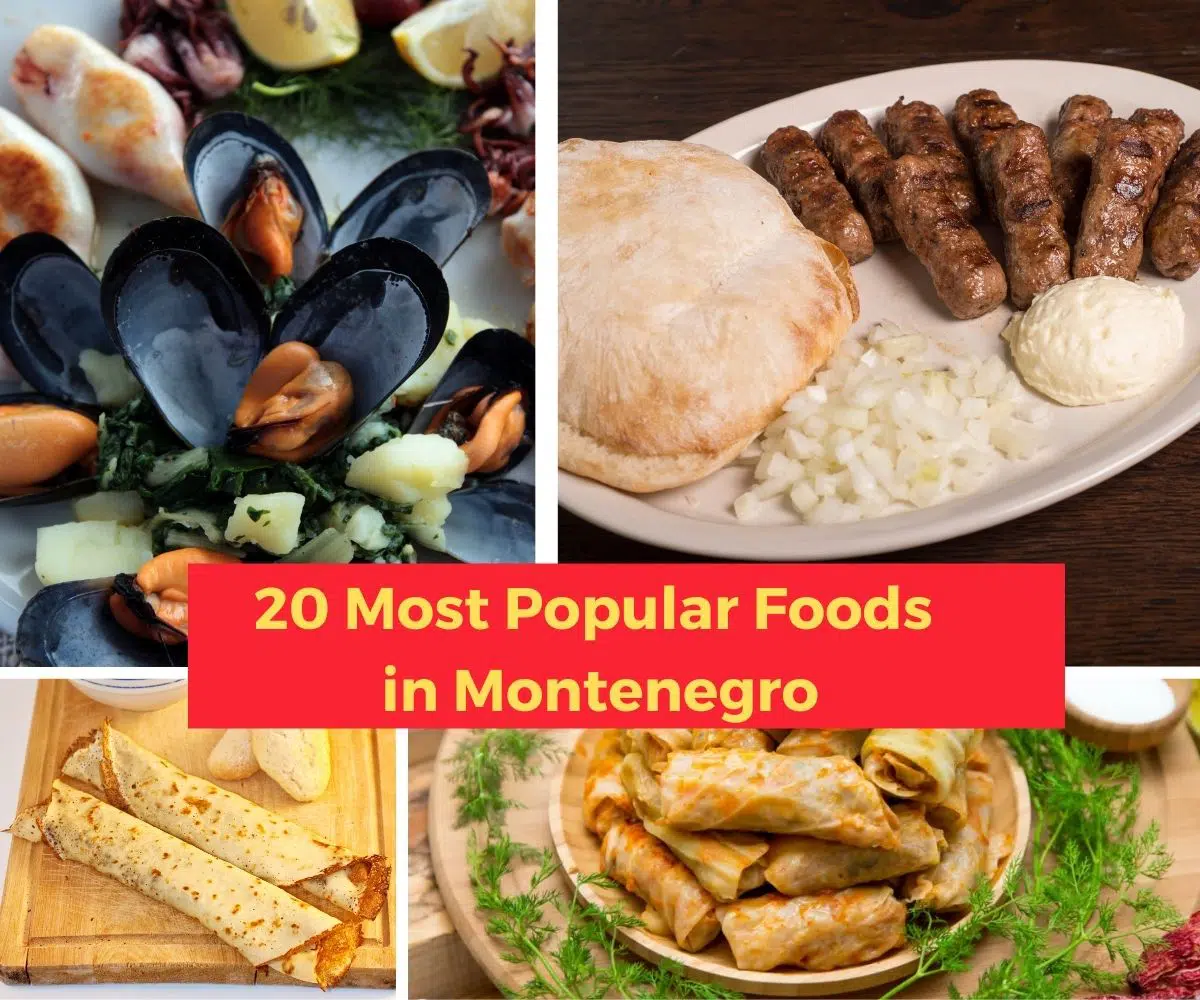 Montenegrins are hearty eaters. The cuisine, being a delicious fusion of Mediterranean and Central European flavors, is unique. People are drawn to Montenegro for numerous things, but one of the most common is its traditional cuisine.
Customary dishes feature a wide range of meat as well as fish, together with a wide variety of plants and milk. Mutton, lamb, pork, beef, and poultry are essentials for pretty much every main dish and are often served with homemade side dishes, such as kajmak.
Montenegrin cuisine has benefited from centuries of connections and trade with neighboring countries, resulting in very delicious dishes indeed.
1. Njegusi Prosciutto
A great representative of Montenegro's national dish is Njegusi prosciutto, which is part of its cultural legacy.
Njegusi is a place located in Cetinje, the old capital of Montenegro. This food is served in almost every household as the ultimate symbol of hospitality and respect.
Njegusi prosciutto is a combination of the magnificent dark color and rich flavor of pork, giving you the impression that you are genuinely tasting luxury.
There is only one method of producing authentic Njegusi prosciutto: dried in dryers of meter-thick walls of locally carved stone, which is why no one is indifferent to the flavor of Njegusi prosciutto.
2. Montenegro Lamb in Milk
Montenegrin lamb in milk is a regional specialty available in northern Montenegro. The lamb slowly simmers in milk with potatoes, carrots, fennel, rosemary, garlic, parsley, and spices. This meal is traditionally cooked in a sack over coals, and the meat becomes delightfully tender.
3. Cevapi
Cevapi are grilled sausages from south-eastern Europe that burst with a smoky aroma and go great with flatbread and sliced onions.
Cevapi are also very popular in Bosnia and Herzegovina, Serbia, Croatia, North Macedonia, and other countries in south-eastern Europe. The resemblance of cevapi to a Turkish kofta kebab, which is a mixed-meat sausage formed on skewers for easy cooking, demonstrates the Turkish influence.
The sausages are placed in a local flatbread, known as lepinja, and topped with sliced onions and a sweet red pepper sauce, known as ajvar, or sour cream.
4. Burek
Burek is made up of layers of phyllo dough filled with a variety of savory ingredients, such as cottage cheese, spinach, and potatoes.
Burek is generally baked curled into a snail-like shape and can be found in bakeries, but traditional restaurants often prepare it in the shape of a pie that is cut into quarters for serving. This dish is quite dominant all across the Balkans.
5. Sarma
A highly exceptional gourmet specialty that is required for every special occasion, sarma has a cherished reputation. Because it is such a rich dish, sarma is popularly eaten in the winter months in Montenegro, particularly during the slavas season (family's patron saint day).
Sarma is traditionally prepared using sauerkraut, minced meat, and rice. A combination of meat, rice, and spices is wrapped in cabbage leaves and set in a pot to cook for a long time.
Vegetarians can also enjoy sarma as it can be prepared without meat, with rice or potato.
Sarma is another dish that can be found throughout Central, South-East and Eastern Europe. Sarma is a staple dish in the traditional kitchen of Romania, Ukraine, Poland, and Hungary.
6. Musaka
This meal is fantastic! Creamy, juicy, and utterly tasty! Musaka is one of the most popular Mediterranean dishes – something similar to a Greek casserole.
It's a classic bake with sumptuous layers of juicy beef or lamb mince cooked in a tomato-based sauce, stacked with tasty eggplants and potatoes, covered with a creamy béchamel sauce, and baked till golden!
I like to serve my moussaka with a classic Greek salad and crispy bread.
7. Rastan
Rastan, collard greens, is without a doubt the most often cooked dish in Montenegrin cuisine, and it is named from the plant that goes in it, a sort of dark green wild cabbage, with added white potatoes. The flavors are exquisite when combined with pork and sausages.
It's sold in fresh food markets and even supermarkets, but it is best to buy it straight from the farm. This traditional meal is worth checking out not only because of it lovely simple flavor but also because of its health benefits.
Rastan is high in vitamins A and C, as well as all B vitamins, except B12. It also contains magnesium, cellulose, calcium, copper, and carotenoids.
8. Kacamak
Kacamak is commonly served at lunch meetings and even romantic dinners, and is either offered as a warm appetizer or as a main dish.
The dish is believed to have originated in the north of Montenegro, shortly after the bishop Petar I Petrovic Njegos returned from Russia with potatoes in 1786. It is not really a refined dish but is rather a quick family dish.
Cheese, kajmak, and potatoes were scarce in the alpine pastures. Due to the limited options, many people would mix ingredients to make numerous additional meals similar to this.
It is usually made in a large pot or wooden bowl, and, being high in calories, it used to be eaten by agricultural workers who worked in the fields all day as it gave them long-lasting energy.
9. Ajvar
There's nothing like homemade ajvar! Ajvar is produced from ripe red peppers that are picked in the fall. The peppers are traditionally roasted over direct heat until their skins sear and they collapse in on themselves, sweet and sticky.
After being roasted, the peppers are seeded and peeled before being crushed into a thick paste, later mixed with various condiments.
The consistency may vary from a fine paste to a chunky mush, but it doesn't matter because every ajvar is equally good.
10. Priganice
If you are a fan of small, tasty bites, then priganice are made for you! Priganice are deep-fried dough balls that are offered as an appetizer or dessert, depending on whether they are garnished with honey, jam, or even kajmak.
The outside should be thin and crispy, and the inside fluffy and full of air.
11. Pasulj
If you crave comfort food in the winter food, pasulj is the way to go. It is a bean soup. The beans are frequently cooked with sausage, bacon, or ham, as well as veggies such as onions and carrots. Seasonings such as paprika, bay leaves, and garlic are typically included.
12. Traditional Montenegrin cheeses
For generations, milk production and processing have been the primary occupations of the majority of Montenegrin farmers. As a result, there is a diverse range of dairy products that play an important role in Montenegrin cuisine, both historically and today.
Pljevaljski, Njeguski, Lisnati, and Prljo are the most famous, best quality, and most regularly consumed cheeses. Pljevaljski is a full-fat, soft cheese that ripens for at least four weeks in a wooden vat. The cheese has a nice milky-sour flavor and smell, a white to yellowish color, and a compact texture suited for slicing as it ripens.
Lisnati is a kind of pasta filata cheese. It got the name lisnati due to being cut into exceedingly thin slices that resembled a leaf (lisnati = leafy). The low-fat, semi-hard cheese Prljo is made in Montenegro's northern mountain area.
With a glass of local wine, a slice of ham, and olives, the cheese from Montenegro proves itself a top quality specialty.
13. Buzara
Many Montenegrins have grown up with some variation of this meal, whether they live in Boka Bay, Dalmatia, or another area of the Adriatic.
Buzara is a coastal seafood specialty that can be served in a variety of ways, each more delicious than the last, which is why you need to know more about this tasty dish.
Buzara is a meal that can be found in every restaurant along the coast, but the recipes vary significantly. However, there is one dish that buzara is sometimes confused for, and that is Dalmatian brodet (or brujet).
A buzara version comparable to brodet is called red or shrimp buzara, and it is generally cooked with shrimps and tomato juice (or whole, peeled tomatoes for a deeper flavor), accompanied by red wine, olive oil, and parsley. It is typically eaten for lunch.
14. Octopus salad
The Adriatic Sea provides the most intriguing meals in Montenegrin cuisine. One of them is octopus salad.
The octopus is sliced into small pieces and fried with garlic and parsley, creating this salad's famous flavor. Eat it with or without potatoes.
But generally, potatoes and red onions are the main ingredients, creating a delicious summer combination that complements the delicately grilled octopus. The salad is traditionally seasoned with olive oil and vinegar.
15. Patispanj cake
Patišpanj is an old Montenegrin cake. It is the result of the influence of Western cultures, as it is the domestic version of the sponge cake Pan di Spanga, and its name was only slightly modified.
There is a legend that patišpanj originated at Petrović's court when Queen Milena and the children returned from Spain.
Upon their arrival, the chef asked Queen Milena what the children would like to eat, and the Queen, who heavily influenced by Spain, answered "Pan di Spanga", which in translation means Spanish cake or bread. He went to the kitchen and told his assistants that the Queen and children wanted to eat "patish".
That's how he remembered the Queen's order and that's how the word patišpanj was included in Montenegrin traditional cuisine. For the first time, the cook made the famous cake, from the ingredients he had in the kitchen, which were eggs, flour, and sugar.
It is, however, not found in pastry shops or supermarkets, and it is never served on formal occasions. Patišpanj has become a part of intimate family events, and we are always thankful it is. Patišpanj goes well with tea, coffee, or hot chocolate.
16. Palacinke
Are you familiar with French crepes? Let me introduce you to a better version of those: palacinke!
You can find these everywhere, in restaurants, at small street kiosks… Palacinke have been around for centuries, even having Greco-Roman origins. You can choose between savory and sweet fillings, depending on your preference. Eurokrem, a hazelnut spread that has been loved for decades, is the most popular topping.
17. Baklava
Greeks and Turks continue to debate about its origin, both nations claiming the honor. I would say that we just don't care, as long as we can enjoy the luscious taste. Anyone who has tried this dessert will understand why.
The tastes and textures are one-of-a-kind, simply wonderful! Layers of phyllo pastry alternate with layers of ground walnuts.
The entire luxury is soaked in sugar syrup and topped with a flavour of lemon. No wonder it has been among the best desserts in Montenegro for ages!
18. Montenegrin wines
Surprisingly, Montenegro has Europe's largest vineyard. Vranac is the most important autochthonous grape type. In honor of the dark red grape, this red wine is named after a traditional Montenegrin word for the black horse.
Krstac is a local white wine varietal that grows only in Montenegro, absolutely nowhere else in the world.
Plantaze winery is the leading producer, and its easy-to-drink wines go well with most meals. Montenegro's winemaking history stretches back to the pre-Roman period. It has overcome many difficult years to re-emerge as part of the country's national heritage.
19. Rakija
Rakija, according to locals, is the elixir for longevity. Many people believe that a small glass of rakija in the morning provides them with energy and wellness.
Rakija is a traditional alcoholic beverage across the Balkans. It is produced from a range of fruits, including plums, prunes, apricots, quince, pear, cherry, and others. The majority of families produce and sell their own rakija or have a close family member who does.
Rakija is served in tiny cups that resemble shot glasses. It is sipped slowly. It can be consumed as an aperitif or digestif. In the winter it can be heated up.
20. Local beer
Niksicko is the beer of choice in Montenegro. It's manufactured in Niksic and is one of the country's primary industries.
The first brewery in Montenegro dates back to the late 1800s, when a local requested permission from King Nikola to open the first factory for beer brewing in Niksic. Water, barley malt, hops, and yeast are the four fundamental raw ingredients used in beer manufacturing. Montenegrins enjoy beer almost as much as they do wine!
---
Related: Most Popular Montenegrin Desserts