Top 20 Most Popular Albanian Foods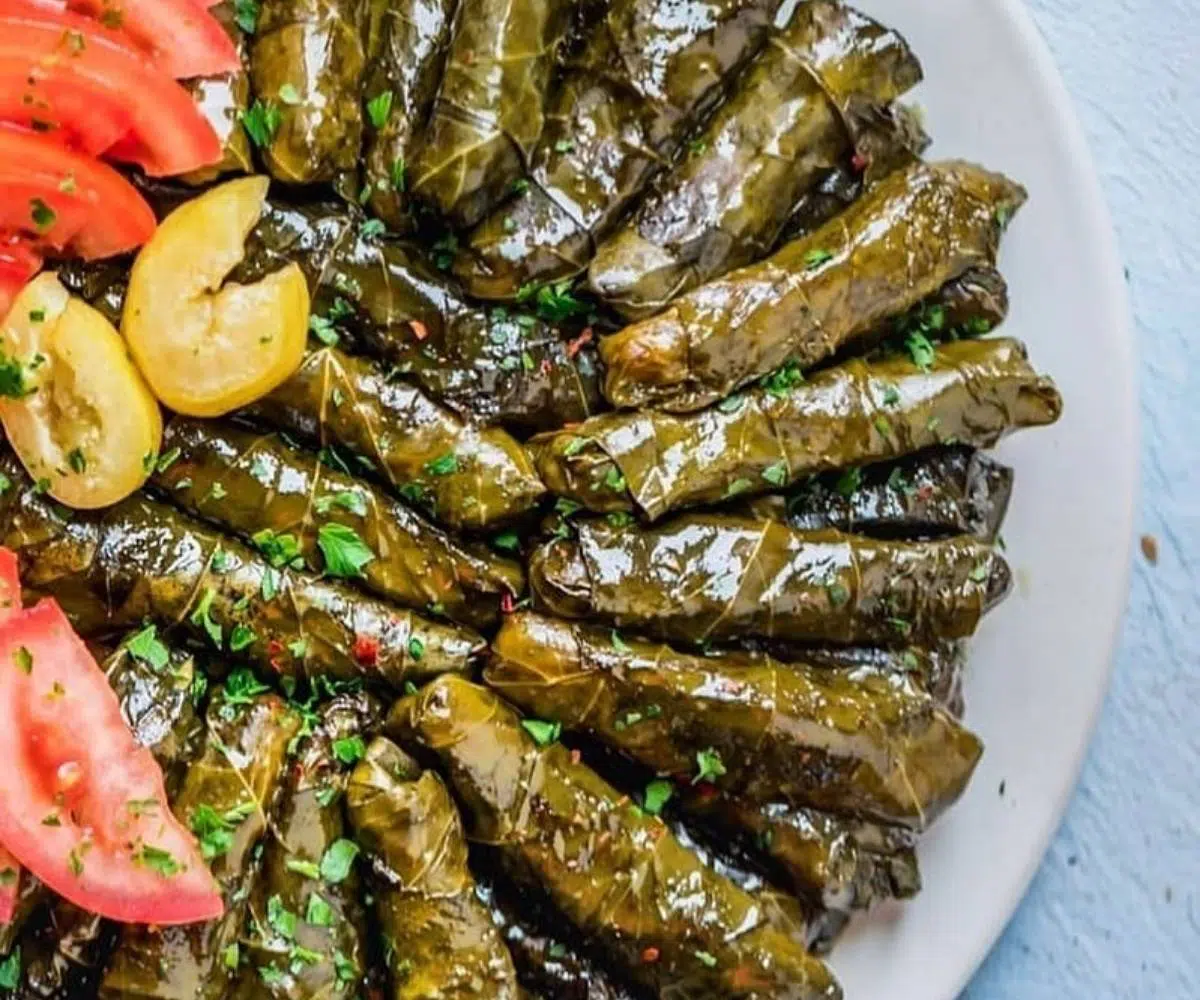 Everyone has heard about Mediterranean culture, history, and, especially, its cuisine. The Mediterranean world is a large mosaic of many countries, one of them being Albania or, as they call themselves, Shqiperia.
Located in southeast Europe, on the coasts of the Adriatic and Ionian Seas, both part of the much larger Mediterranean Sea, Albanian food is representative of the widely known Mediterranean cuisine, recognized by many as the healthiest diet in the world.
Albanian cuisine is primarily based on healthy ingredients such as vegetables, fruit, fish, dairy products, and meat. Olive oil is the most popular cooking fat used in traditional Albanian dishes. Herbs are widely used as well, adding distinct and delicious flavor to the food. Garlic is a staple, as are onions, which may be the most popular ingredients in the entire country.
Meat such as beef, lamb, pork, and poultry are commonly used. They are part of many traditional Albanian food recipes, but Albanian cuisine has its fair share of vegetarian dishes as well.
Historically, the openness of the Albanian culture has always resulted in the combination of gastronomy and hospitality. Being welcoming and friendly is a fundamental aspect of Albanian society, whether it's to friends or strangers.
Modern dishes have their roots in the Ottoman Empire, and Turkish influences are quite noticeable. Other modern culinary influences include Italian and Greek.
With foods characterized by the rural areas, mountainous regions, and coastline, Albanian gastronomy is excellent, fresh and tasty and there are so many exciting flavors to try. Get ready for amazing tastes and textures as we explore 20 traditional Albanian foods and what makes them so delicious.
1. Fërgesë
Fërgesë is, without a doubt, one of the most traditional foods in Albania. The dish consists mainly of tomato sauce, cottage cheese, green peppers, and garlic. The dish is sometimes called summer stew because many Albanians like to eat it once it has cooled for 2-3 hours. This gives it a thicker consistency and makes the ingredients stand out more.
Fërgesë is usually eaten only with bread. The dish is a typical menu option in Albania countryside restaurants that serve traditional food.
2. Byrek
Byrek is an appetiser, a snack, a breakfast staple, and is even eaten as a late night snack.
This dish is very typical among all Balkan countries. Albanians usually spell it byrek, some other countries in the Balkans call it burek and in Turkey it is börek. However it is spelt, the recipe is largely the same and refers to layers of wheat-based phyllo pastry filled with vegetables, meat or cheese, and probably originated in the Ottoman Empire.
The most common Albanian byrek is filled with cheese or tomato, and sometimes with spinach and meat. It is cooked in a large pan in the oven and then cut into squares, triangles or rectangles for serving.
Individual byrek are also available and usually are in the shape of a rolled sausage. Because byrek is such a popular food in Albania, you can find it in any bakery across the country and at most restaurants.
3. Pispili
Pispili is another traditional Albanian food. It is made with cornbread and leeks or spinach. The thickness of the cornbread varies from place to place. Sometimes it is thin, like a shortbread, other times you can find it thicker, with more consistency, like a sponge cake.
Pispili is usually a bread base topped with vegetables and baked, but sometimes the vegetables are layered in between the cornbread or the two are mixed together. Feta cheese can be sprinkled on top.
As cornbread can be quite filling and dry, pispili is best enjoyed with yogurt, which is usually served with it, or with Fërgesë, moistening the dish.
4. Tarator
This appetizer is a great dish that Albanians usually eat before a meat-based entrée. It is usually served during the summer due to it being chilled before serving. The dish is made with yogurt, cold water, shredded cucumber, and salt.
It has the consistency of a soup, so it is normal for this dish to be served in a bowl, and tastes very similar to the traditional Albanian drink dhallë, a traditional drink similar to yogurt but with a thin consistency and added salt.
The older generation love this appetizer, while youngsters seem to prefer dhallë because it is easier to consume.
5. Flija
This dish is common in the regions of northern Albania. It is a simple recipe that is often homemade or served in local traditional restaurants.
Flija is an easy crepe-like dish that has a crispy texture on the top and a softer texture on the bottom. Added butter gives Flija its delicious taste. The dish is usually served with fresh dairy such as cheese or yogurt.
6. Petulla
Fried dough, or petulla, is a popular dish eaten throughout the Balkans. In Albania, fried dough is traditionally served in many different ways and is commonly eaten as a snack or during dinner. It is rather like a doughnut, but with a heavier consistency though has the same crispy outside and soft inside.
You can find food stands that serve petulla with various toppings all over the country. Toppings include chocolate, strawberry jam, shredded cheese, or ketchup.
Fried dough is quick and easy to cook and is most commonly eaten with feta cheese or honey. Another less popular but delicious topping, mainly in the northern region, is yogurt and garlic.
7. Speca te mbushura
Speca të mbushura or, in English, stuffed bell peppers is a very popular local dish. It is served in all regions of Albania.
The exact recipe depends on the way it was passed on, but the dish consists of bell peppers stuffed with rice. Chopped lamb or tomatoes can also be added. The stuffed peppers are baked and served hot.
This dish is served with yogurt, feta cheese, or dhallë. Adding chili peppers or black pepper is also common, as the spicy kick complements the dish's mild taste.
8. Tavë Kosi
In Albania, lamb baked in yogurt is a highly loved traditional dish, commonly served at lunchtime. It is widely known throughout the Balkans as Elbasan tava, named after the Albanian city from whence it came.
Tave kosi is usually made with lamb but can be found with chicken. The yogurt is mixed with rice and eggs and baked together with the meat.
The dish has a unique taste: the baked yogurt has a soft texture and tastes a bit sour, while the meat balances it well, giving the dish its juicy meaty flavor.
9. Perime në Zgarë
Perime në zgarë (grilled vegetables) are incredibly tasty and, because locals like to grill, it is common to have plates of these colorful, grilled vegetables with a main dish.
The vegetables can be drizzled with balsamic vinegar for flavor or can be marinated beforehand. Either way, they are a delight, especially for veggie lovers.
10. Peshk në zgarë
While most of Albania's touristic spots are inland and prime meat destinations, Albania has great beaches along the Riviera, where you can enjoy the fresh seafood of the Adriatic and Ionian coast. Likewise, the country also has numerous rivers and lakes, where you can try freshwater fish.
As is meat, fish is relatively simply cooked, usually grilled or baked whole in the oven, with potatoes or tomatoes, onions, peppers, some herbs, and a generous dose of olive oil.
Grilled fish and seafood is one of the healthiest dishes you can eat in Albania and because the produce and ingredients are so fresh; it is also full of flavor.
11. Trileçe
Trileçe, or milk cake, is a light Albanian dessert with unknown origin, but is widely consumed in southern Europe and south America. What is interesting is that the name comes from Albanian and Italian languages: tri means three in Albanian and leçe means milk in Italian.
It is a popular dessert made from three different kinds of milk: evaporated milk, heavy cream, and condensed milk. The cake is then topped with brown syrup, giving it a strong sweet taste.
Depending on the region, this Albanian cake can be light, full of bubbles of air, or thicker and concentrated. The consistency of the cake itself all depends on how much butter is used in the recipe.
Trilece has a very unique taste nd texture: it is light, crispy, and sweet on the top, soft and light in the middle, and juicy on the bottom.
If you love a soft, moist, and sweet dessert, then look out for this cake in any Albanian pastry shop.
12. Kackavall në furrë me domate
Kackavall is a traditional Albanian cow's or sheep's cheese. The consistency of kackavall depends on which animal the milk is from.
Albanians love to eat this cheese with different types of traditional dishes. Often, kackavall is baked with chopped tomatoes and herbs. Baked cheese with tomatoes is a side dish, as the melted cheese adds flavor when to different kinds of meat.
13. Fasule
Fasule is a white bean soup that is a highly rated dish in Albanian cuisine. It was commonly prepared during the Albanian famine era, as it is very cheap and filling. Once the famine ended, white bean soup retained its popularity.
The soup is made with tomato sauce, onions, and white beans and is often served with pickled vegetables or yogurt. Albanians often eat this soup with kulac, a homemade baked bread.
14. Qofte
Qofte are grilled, baked, or fried meatballs made with minced meat: beef, chicken, lamb, or pork. Other ingredients may include herbs, spices, and vegetables.
Qofte is a traditional Albanian food but is found all across southeastern Europe and the Middle East, as far as India. You can eat it as a snack, with a salad, dipped in yogurt, with bread, or as a side during dinner. Traditional qofte is made from lamb, diced and mixed with herbs.
Homemade qofte are a little different to that found in typical Albanian restaurants. At home, the meat is mixed with bread crumbs and they are served are round and flat. Usually, they are eaten with tomato soup.
15. Albanian Bakllava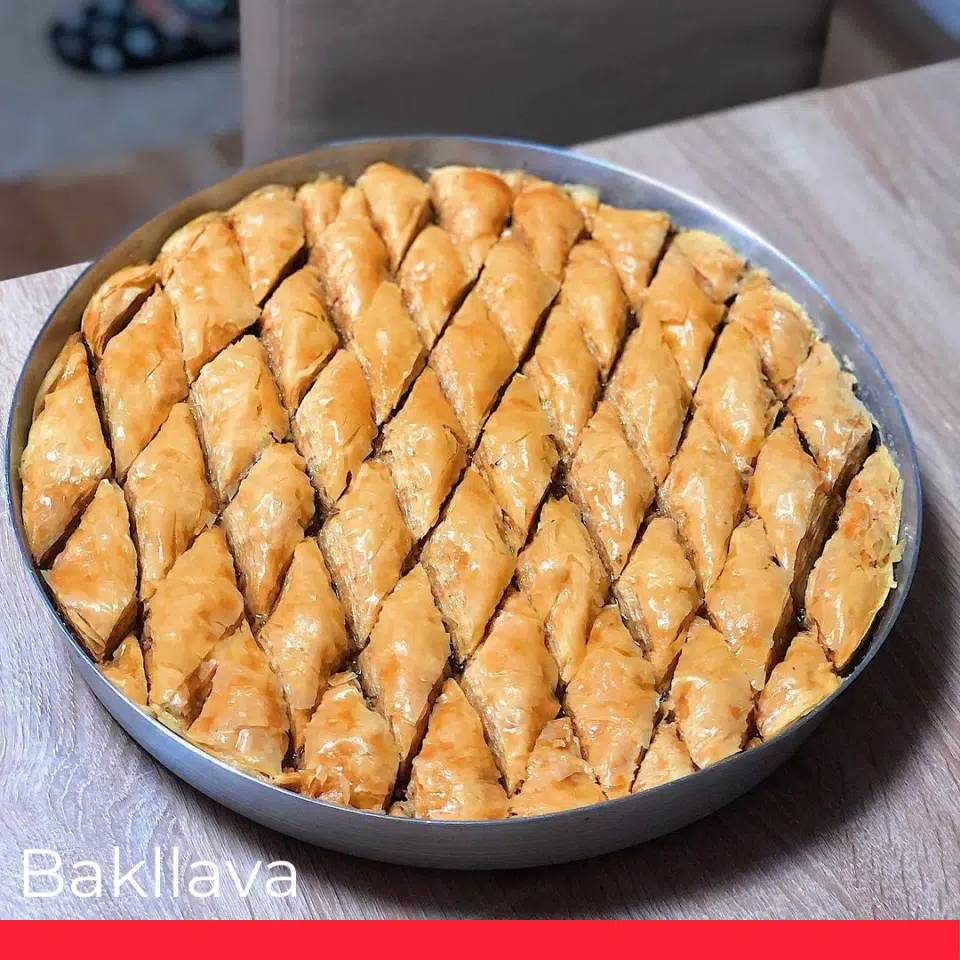 Bakllava or baklava is a crunchy sweet made with honey or syrup, walnuts, and layers of phyllo pastry.
While baklava is very typical of many countries, from Turkey to Azerbaijan, Iran to Morocco, Albanian baklava is extra good because, instead of the most commonly used peanuts, Albanian baklava is more often found with walnuts.
The bitterness of the walnuts makes the baklava a bit less sweet and the use of watered down honey, which is freshly farmed in Albania, makes them lighter than some of the really sweet syrupy versions.
16. Dolma japrak
Another popular snack or appetizer in Mediterranean and Albanian cuisine is dolma japrak, a dish of stuffed grape leaves.
Stuffed with various things like onions, rice, tomatoes, cabbage, peppers, herbs, seasonings, and sometimes meat, the leaves are then rolled up to make a fun but delicious dipping snack.
17. Qifqi
Regarded as the only traditional dish from Gjirokaster, a city in south Albania, qifqi is difficult to find anywhere else, even in Albania. In that sense, it is one of the most authentic and typical Albanian dishes imaginable.
As a UNESCO World Heritage-listed town, Gjirokaster is itself worthy of a visit, but the presence of this delicious savory finger food makes it even more worthwhile. Qifqi are small balls made with boiled rice, eggs, herbs, salt and pepper, and occasionally cheese.
18. Gjel Deti me Përshesh
A traditional dish of central Albania, gjel deti me përshesh is baked turkey with bread mash.
This dish is usually prepared for holidays, especially Christmas or New Year's Eve. Përshesh is traditionally made with cornbread crumbled into the turkey cooking juices with the meat and liver cut in small pieces, onion or leek plus herbs and spices.
The turkey is baked separately and at the end is served together with përshesh, with melted butter poured on top. The baked turkey and përshesh mixed together create an amazing unique taste.
19. Patëllxhan të Mbushur
This dish translates as stuffed eggplants and is one of my personal favorite dishes because it is truly yummy, creamy, and so simple to prepare.
Eggplants are a star vegetable during the summer months, enjoyed from May to Autumn. As Albanians usually eat what is in season, you are guaranteed to find this dish everywhere at any time of day.
The eggplants are cut into halves, the insides scooped out, and then they are filled with a mixture of fried onions and other vegetables, usually tomatoes and peppers, plus meat and spices. Once filled, they are baked in the oven.
Patëllxhan të mbushur is a very filling meal so is usually eaten on its own as a main.
20. Ballokume
A typical Albanian cookie, ballokume has its origins in the town of Elbasan (central Albania), as does tavë kosi above.
Made with cornflour, butter, sugar, and eggs, ballokume is a simple cookie traditionally prepared for "Dita e Verës", an Albanian national holiday celebrated annually on the 14th of March.
They take time, as it is all done by hand. First, the butter and sugar are mixed until pale and doubled in volume, and then the eggs are added. Lastly, the cornflour goes in and the mixture is spooned onto a baking tray. The cookies are baked and left to cool before serving.
The taste of ballokume compares with no other dessert in the Balkans or southeast Europe, making them one of the most authentic dishes of Albanian cuisine.
---
Related: Most Popular Albanian Desserts
Related: Most Popular Foods in Kosovo